1994 Europe Motorcycle Trip

(6/??/1994 - 7/??/1994)
WHAT THIS WEB PAGE IS ABOUT: In 1991 I went to Europe for the very first time in my life to work for three months for GMD-IPSI in Darmstadt, Germany. While working there I met and co-authored a technical paper with Joerg Haake (alternatively spelled in German that is Jörg M. Haake). Jörg invited me back a couple years later to go on a two week motorcycle trip with him, and Jörg took the film pictures found scanned on this page. I found them in a drawer recently (2010) and decided to scan them in. Click on any picture below for the highest quality original I have.
That is Jörg Haake on the left and Brian Wilson (me) on the right in front of our motorcycles before leaving on our two week trip. We packed pup tents and stayed in campgrounds in Germany, France, Switerland, Spain, and Italy. After two weeks Jörg went home and I spent another one week alone coming back through Austria to see Saltzburg. Jörg is driving his own 1993 (?) Honda ST1100 "Pan European". Jörg bought me a used Yamaha (FJ?? 950??) in his name for the duration of the trip, and we sold it for about the same as we bought it after the trip was over.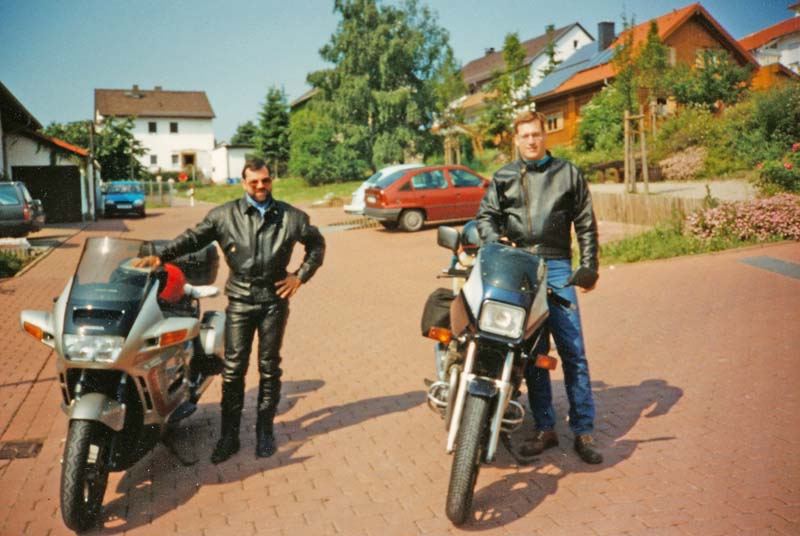 Jörg and Brian, mounted up, ready to depart.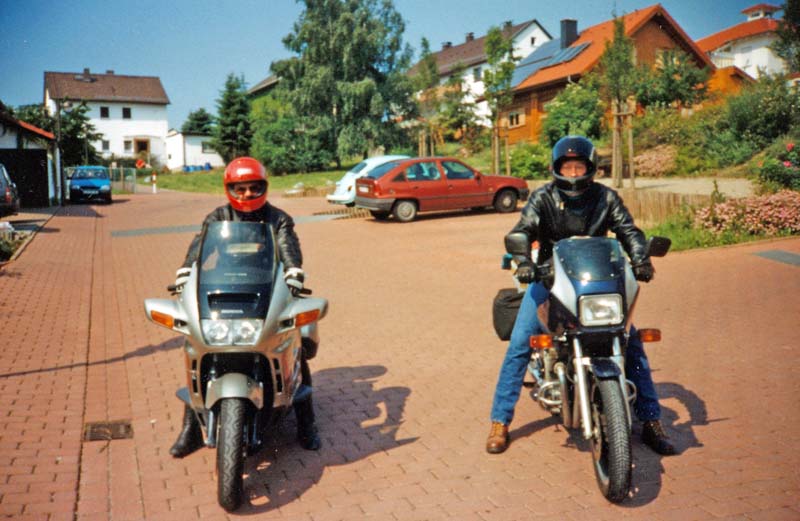 Here you can see the loaded motorcycles. We had pup tents, sleeping bags, sleeping pads, and all of our clothing for a three week trip with us. I bought soft luggage and sewed rings onto bags and figured out how to bungee cord all of it to my motorcycle.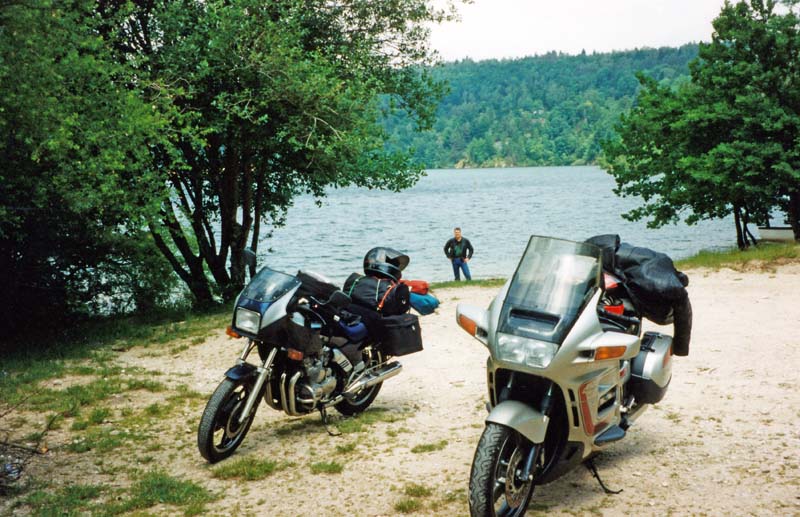 Here is Jörg at the top of Stelvio pass looking down the famous set of switchbacks we just came up.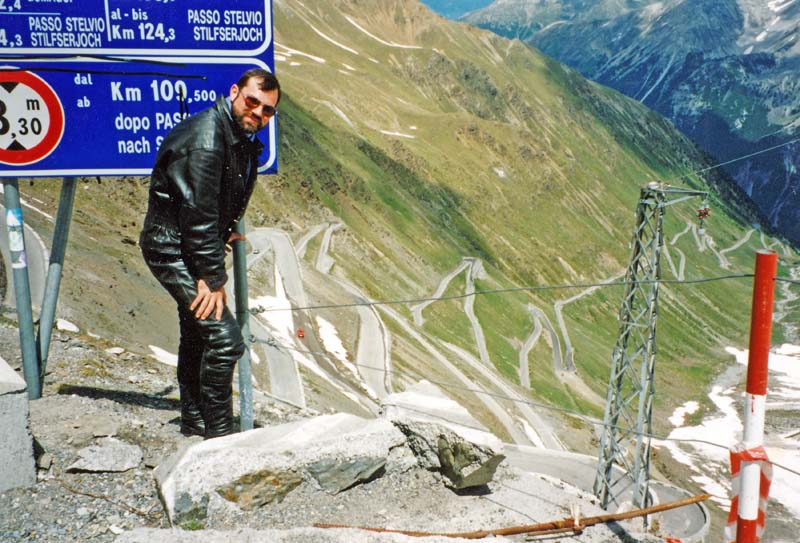 Here I am (Brian) at the top of Stelvio for the first time in my life. I have returned to this spot several times over the years since this picture was taken 20 years ago, like here in 2001, also in 2004 here, and in 2007 here.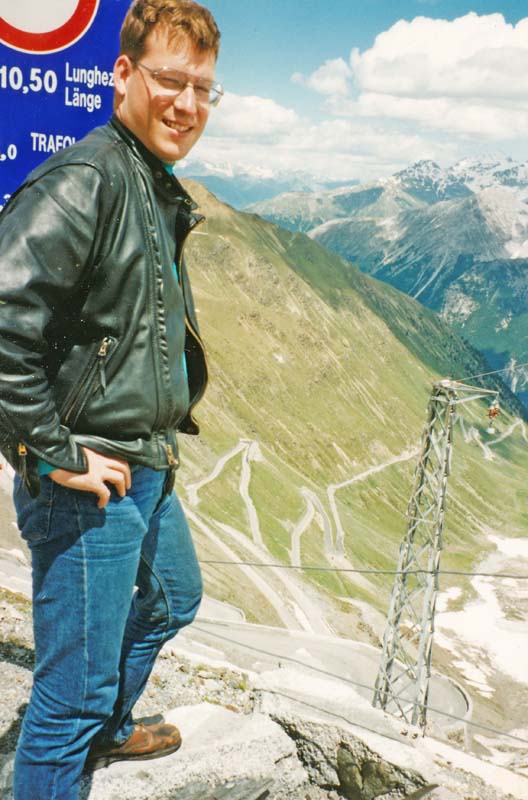 A nice picture of Stelvio taken by Jörg.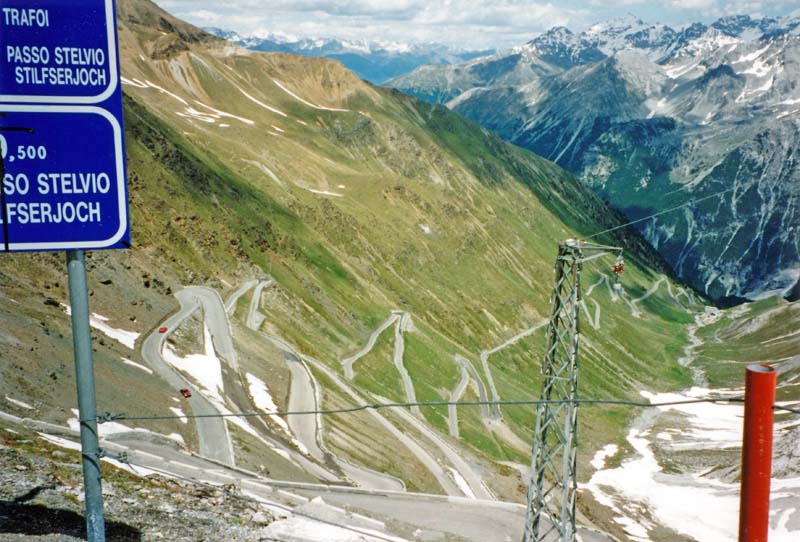 The top of Stelvio Pass around 1993.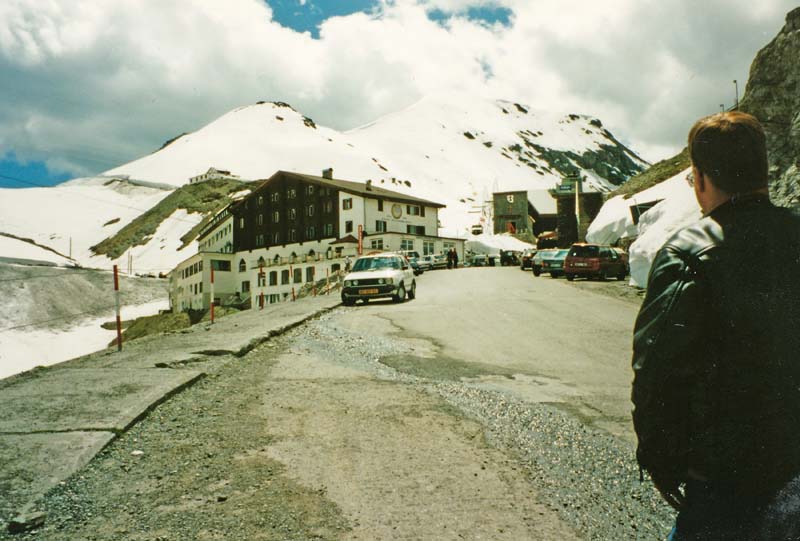 I'm not sure exactly where this is, might be near Stelvio, might be a different pass. This is the middle of summer (late June) and the snow is still visible at the top of the mountain passes we go through.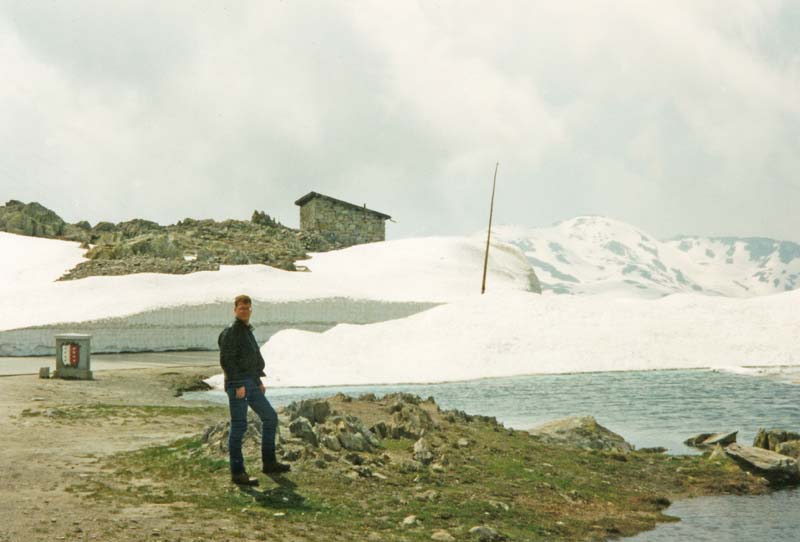 A random picture of a valley in Europe.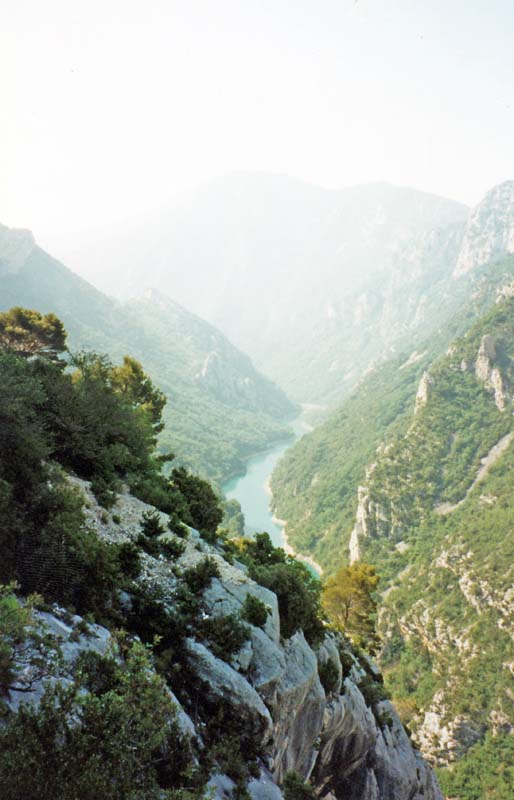 Me (Brian) in front of a beautiful lake, probably in France somewhere.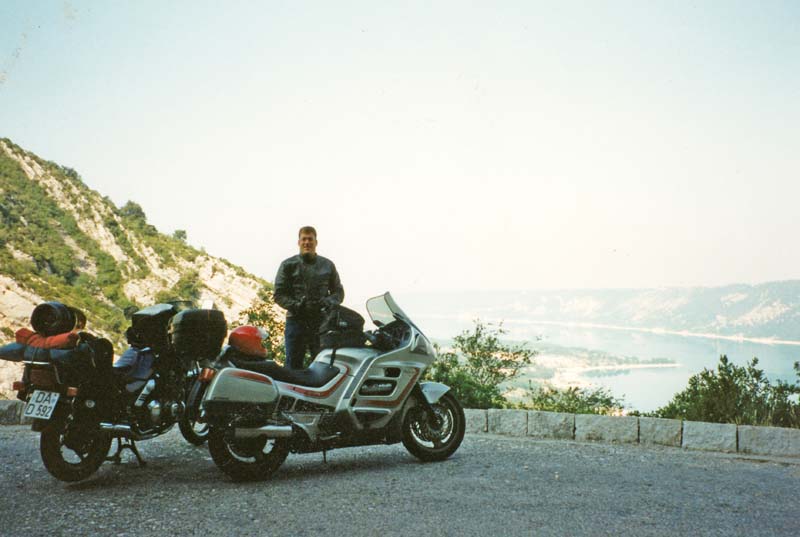 Me (Brian) and that kind of looks like the Seine river to me, but could be something else.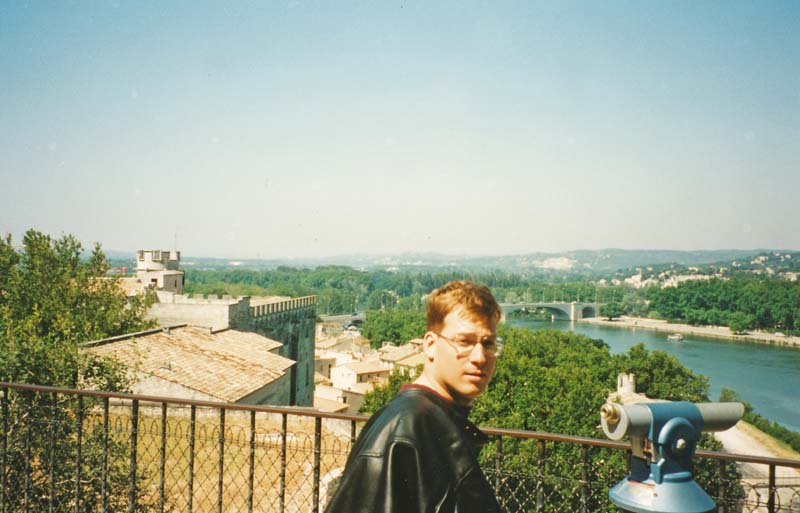 Motorcycle trip pictures are always taken when we stop and get off the motorcycles. :-)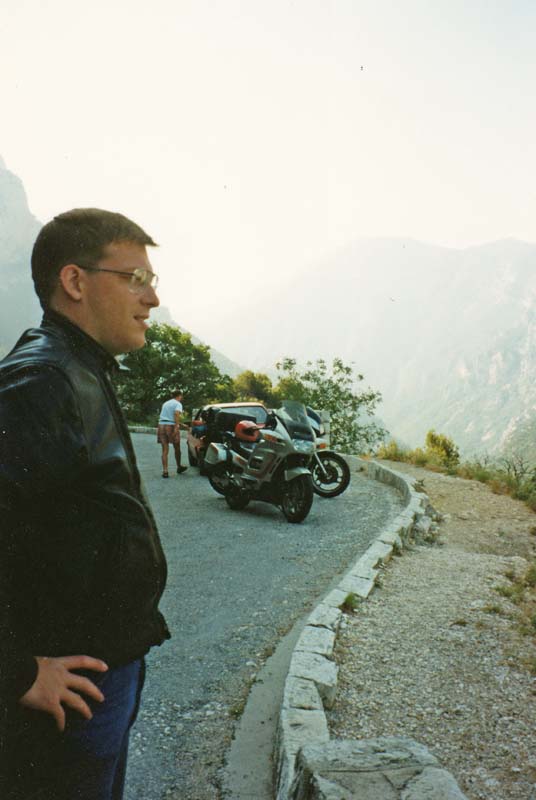 During the trip, we made it as far south as Barcelona, Spain, to visit my friend Leann Sucht who was spending a year in Barcelona. Below I'm walking up a path and Leann is walking up the path behind me.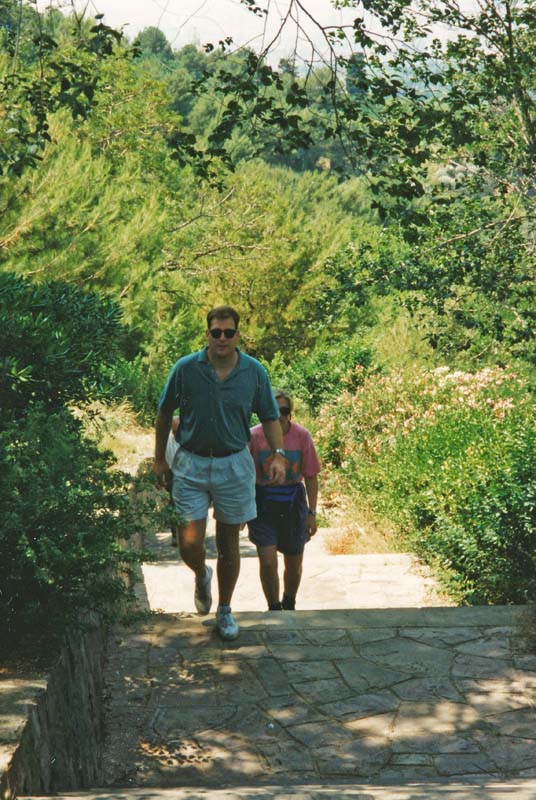 Walking around Barcelona.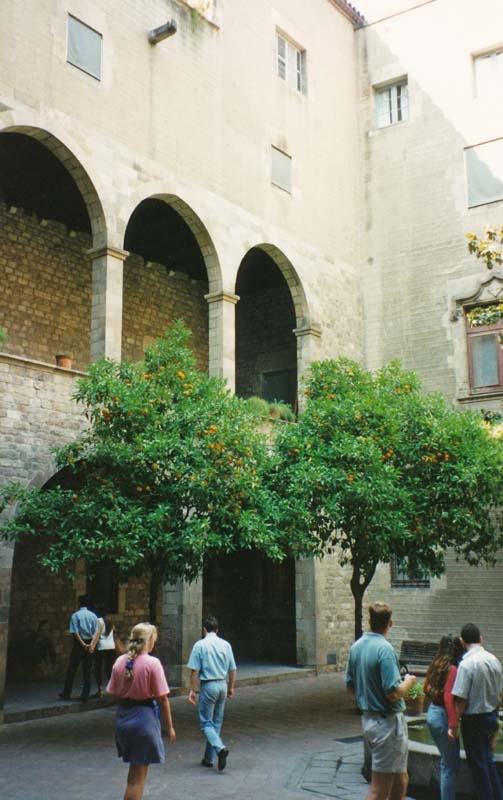 This is Leann Sucht and I in front of the "National Palace" in Barcelona. I think this is called "Palau Nacional" to the locals?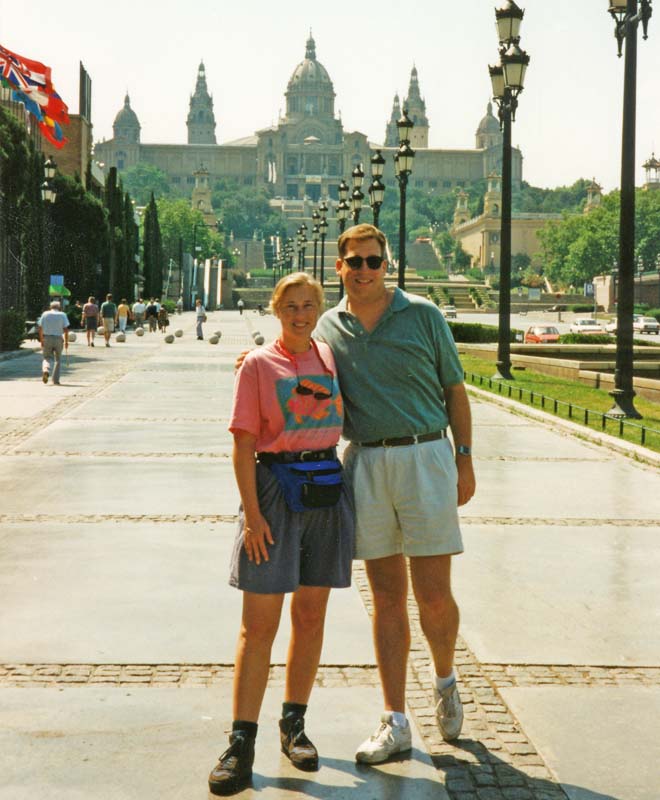 Here I am holding an ice cream snack in Barcelona. I cannot believe I was ever that young. :-)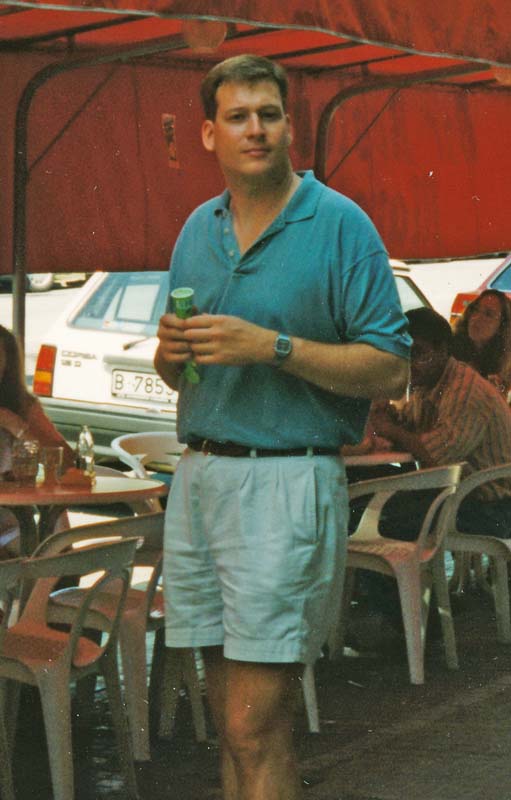 Moving along on our motorcycle trip, Jörg and I headed east over into Italy to see the Leaning Tower of Pisa. I think the picture below is of the old town not far from it, but it could be a totally random picture from somewhere in Europe.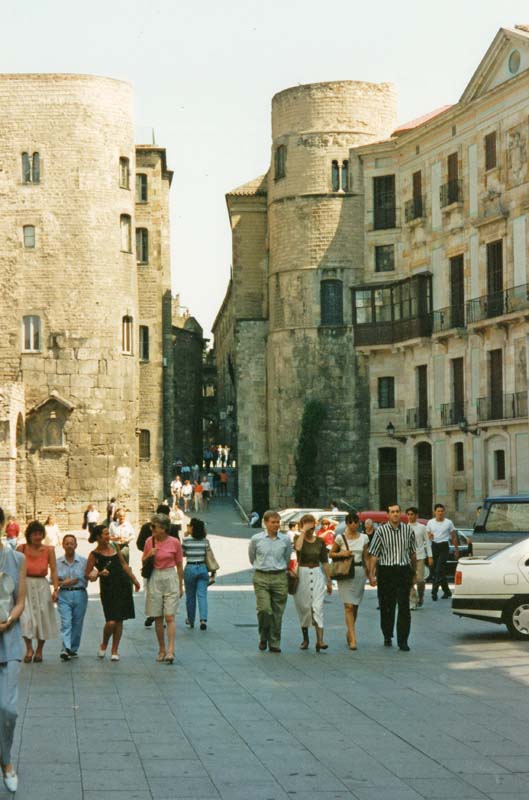 Below is the Baptistery which is a building in the "Piazza dei Miracoli" which is the "Cathedral Square" that contains the Leaning Tower of Pisa.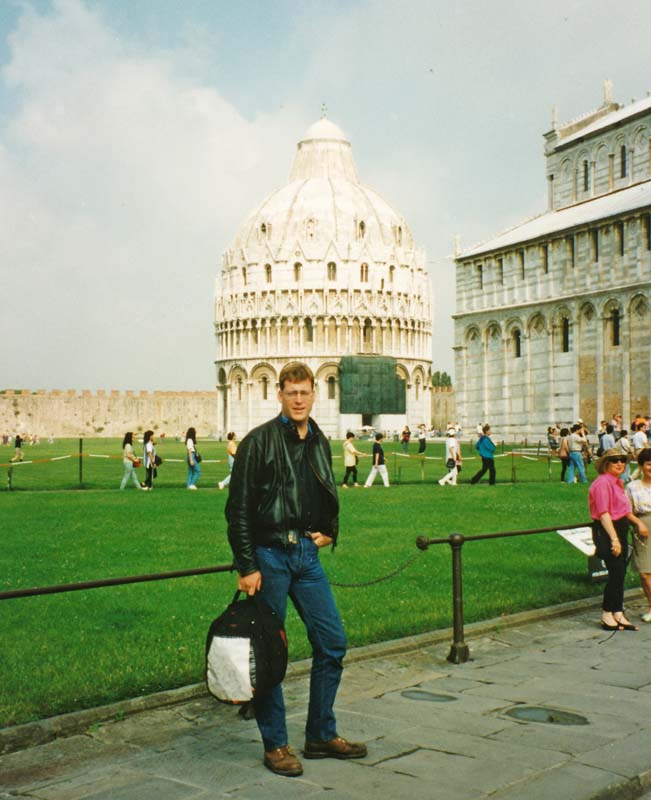 Here is a funny picture where we tried to take a picture of the Leaning Tower of Pisa, but the camera was obscured. We're standing inside one of the other buildings on a high floor.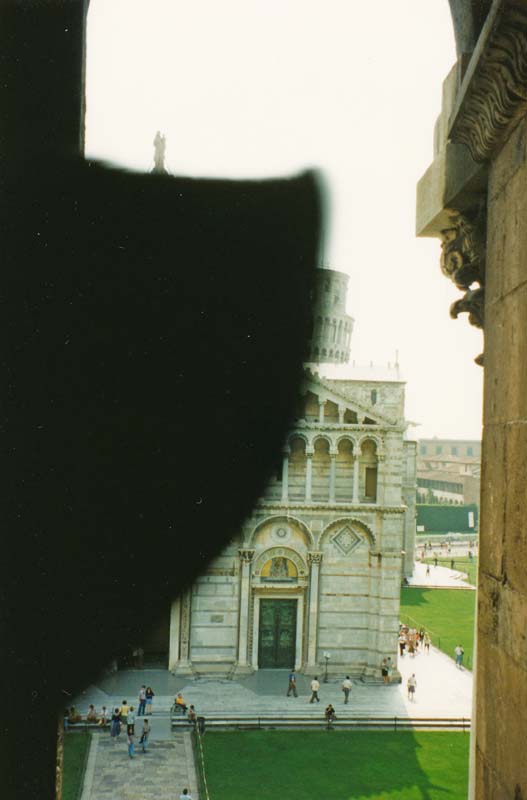 This is Jörg standing in the window with the Leaning Tower of Pisa behind him.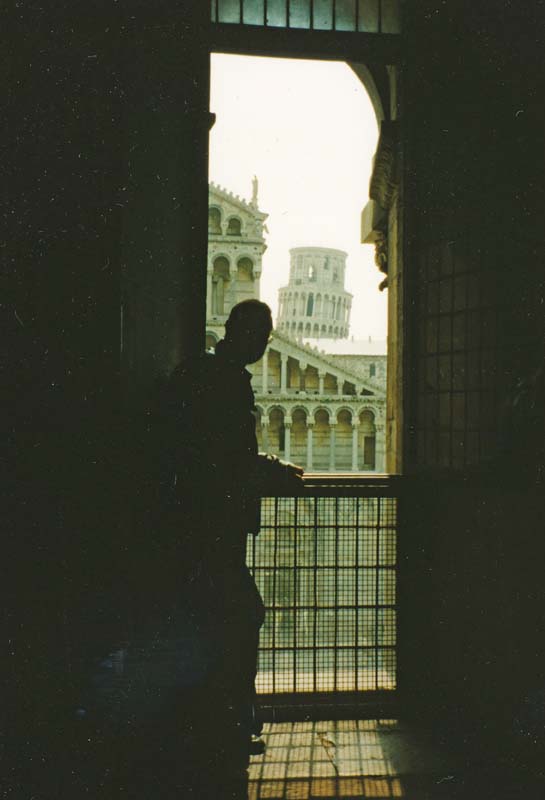 And that's it!