2006 Europe Motorcycle Trip ("Paraglider Launch")
(8/31/06 - 9/04/06)
On this page are pictures of a paraglider launch pad we stumbled upon. Click on any picture or panorama for an ENORMOUS version. Click here to go to the homepage and get a description of what this is all about and why we were in Europe looking for paraglider launch pads.
Below is a panorama overlooking a lake in France. The lake is "Lac d'Annecy" and the largest town on the side of this lake is "Talloires". This paraglide launch point is at "Col de la Forclaz" (which is a small mountain pass on a small road) and the altitude is 1104 meters. Use your horizontal scroll bar on the browser to see the whole thing, or click on the picture for a HUGE version.

A slightly different angle to see it is a fast trip to nowhere.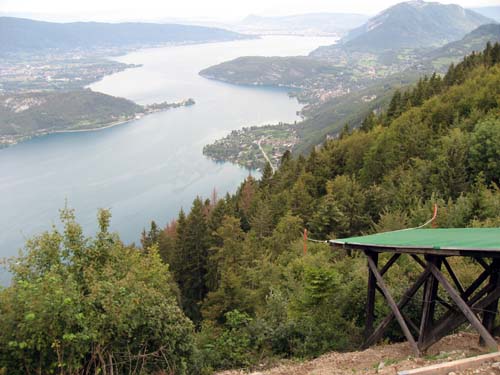 Another slightly different angle to see the whole 15 foot long launch pad. Look at the windsock! It's insane, it's like a big joke.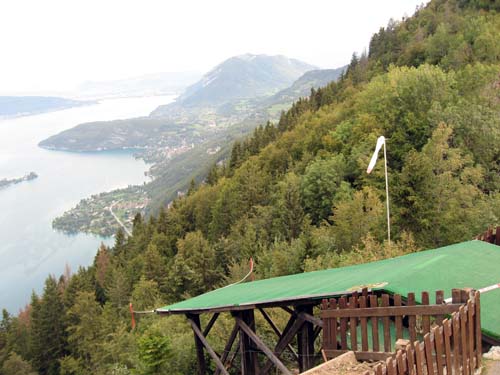 This donkey was sitting right behind the wooden fence, I guess he brays in laughter every time a paraglider or handglider falls off the end of the launch pad and dies.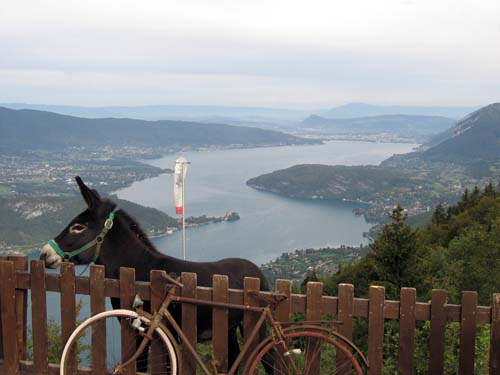 Return to 2006 Europe Motorcycle Trip