2006 Europe Motorcycle Trip (Pictures of BrianW by BrianB)
(8/25/06-9/10/06)

On this page are pictures taken by Brian Beach (BrianB for short). All of these pictures I borrowed from BrianB because they have me (BrianW) in them, and so I can appear in my own vacation photos. :-) Click here to go to the homepage and get a description of what this is all about.
Here I am going up Klausen Pass, Switzerland on my motorcycle on 8/28/06. Picture by BrianB.
A foul weather day on our motorcycles outside of Colmar, France on 8/30/06. Picture by BrianB.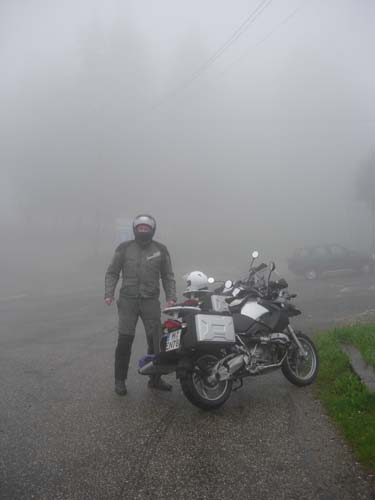 On that same foul weather day of 8/30/06 on our motorcycles, we stopped at the top of "Col du Hundsruck", France, for lunch. We ordered "Plat du jour" (today's special). The picture below is of myself, and a few of the courses, we had to turn down desert and coffee that came with the meal because we were so stuffed. French food is GREAT, even in the remote mountain passes. Picture by BrianB.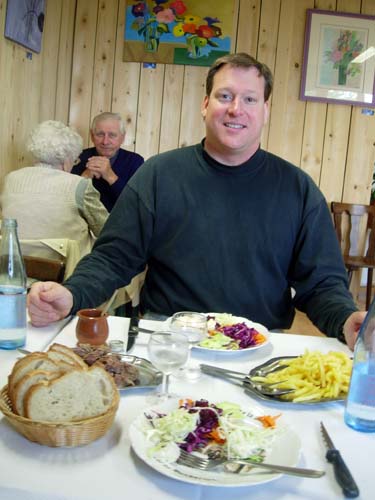 Below I am in a parking lot waiting to meet up with a couple other riders who are getting gas for their motorcycles. It is 9/1/06 and we are on our way to Chamonix, France on the motorcycles. Picture by BrianB.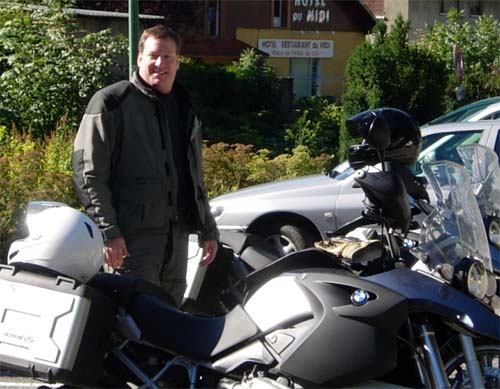 The picture below was taken on 9/2/06, I am on the far left in the picture. We ran into these other riders on our tour, left to right is Gretchen (in back holding up a gloved hand), Jane Manchester (in red), Rob Beach (the tour guide owner), and on the far right with blue parts on his jacket is Peter Manchester. Picture by BrianB. We are all heading up to Col de la Madeleine, France on our motorcycles (you can see the sign behind us).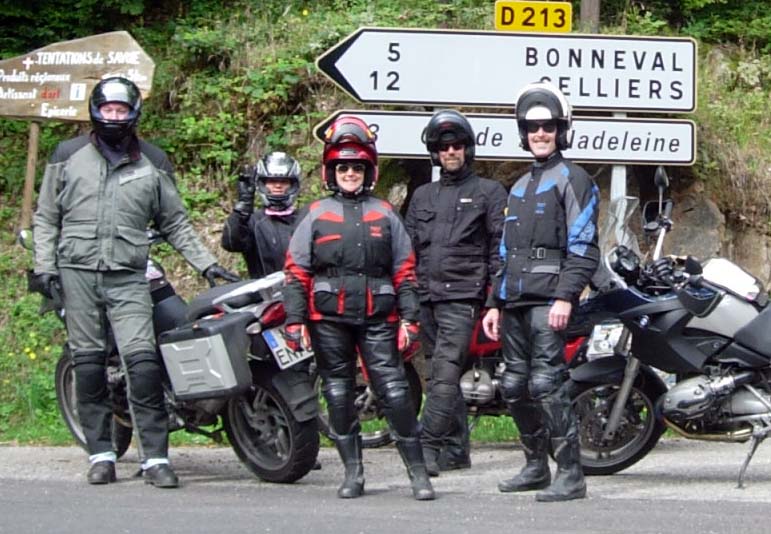 I like the picture below because it shows me stopped to take a picture on my motorcycle. This is at "Alpe-d'Huez", France, on 9/2/06.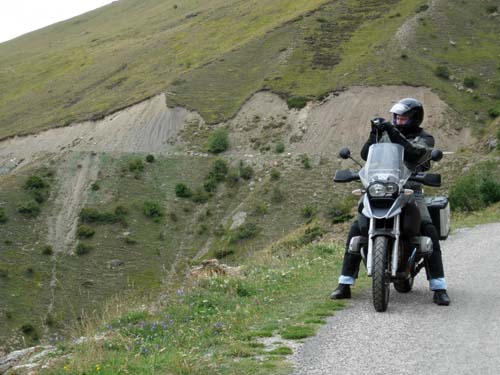 Arriving in the parking lot of our hotel on our motorcycles in Guillestre, France that night, I see Alex Walker for the first time since he broke his arm playing in the yard (had nothing to do with motorcycles). Here he is telling me story. Picture by BrianB.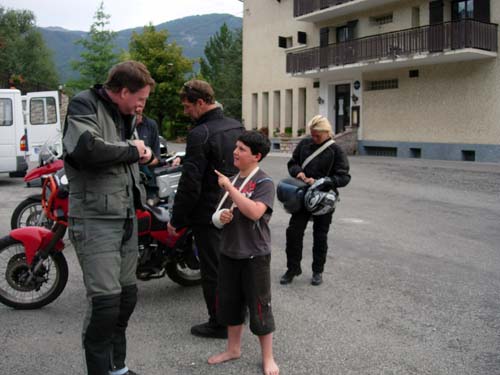 On 9/4/06 we rode for a few hours on the gravel road on our motorcycles pictured below with the tour guide (Rob Beach) scouting out this route. Here we are taking a break. Picture by BrianB, I am the guy in the white shirt.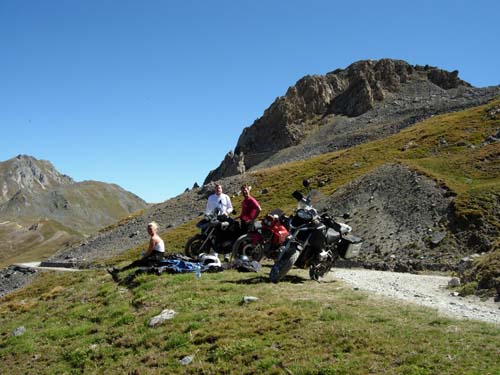 I like the picture below because it is of me (BrianW) taking a picture of some cows at Col du Pré, France. Click here to see the pictures of the cows! The picture below is by BrianB.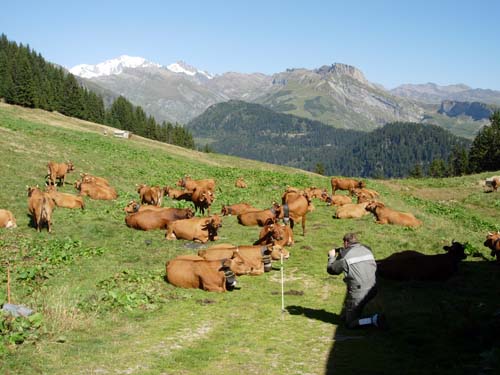 The lake in the background of the picture below is Lake Maggiore, Italy. That's me in the blue shirt taking a coffee break after a morning of riding motorcycles. Picture by BrianB. This is right at the very top of the mountain pass near Indemini, Italy.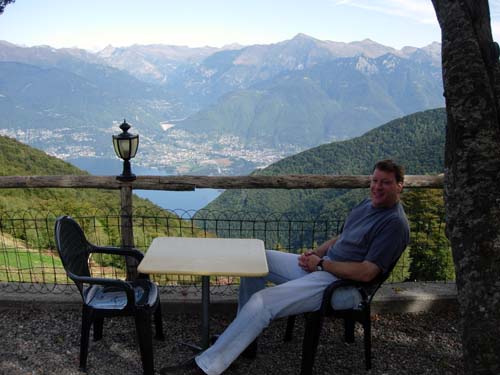 Also click Amsterdam_Bicycles to read about lot of Bicycles in Amsterdam, Netherlands. I took these pictures while on this trip.
Return to 2006 Europe Motorcycle Trip Top Level