2011 Pacifica 4th of July

(7/4/2011)
Some photos from our 4th of July barbeque on 7/4/2011. Click on any picture below for a higher quality original.
Below is a picture of the beach at 7:45am of the day of the BBQ (4th of July).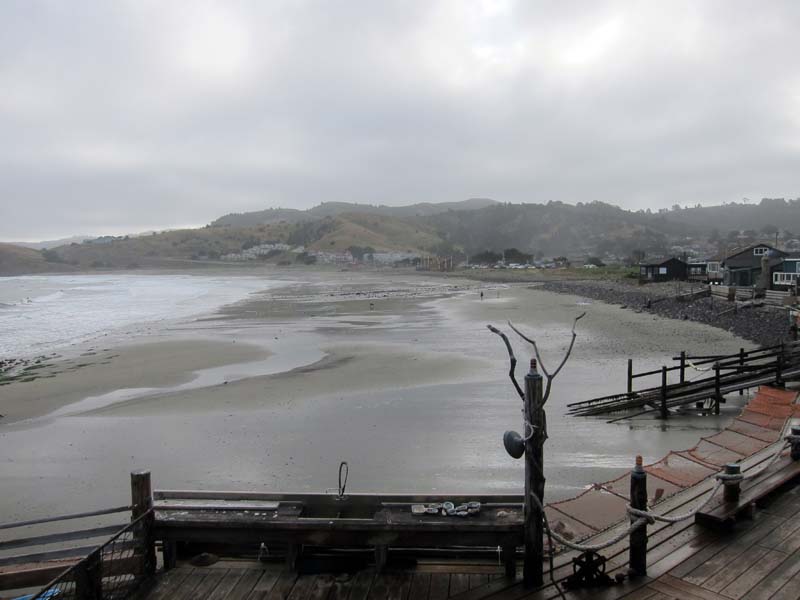 Around 2:30pm friends started showing up, that is Katherine Chung on the tall chair and Shawn with red cup.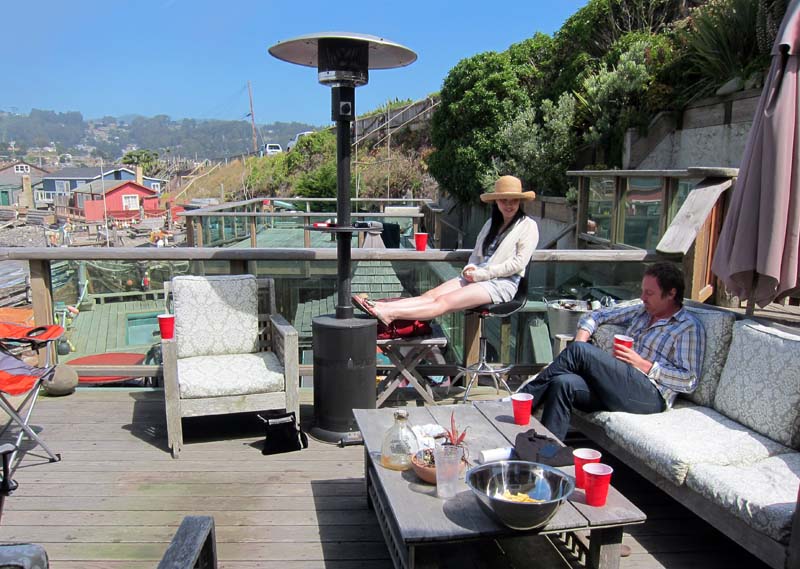 Natasha holding red cup, Wyatt in the background, and Seth in plaid shirt talking with Natasha.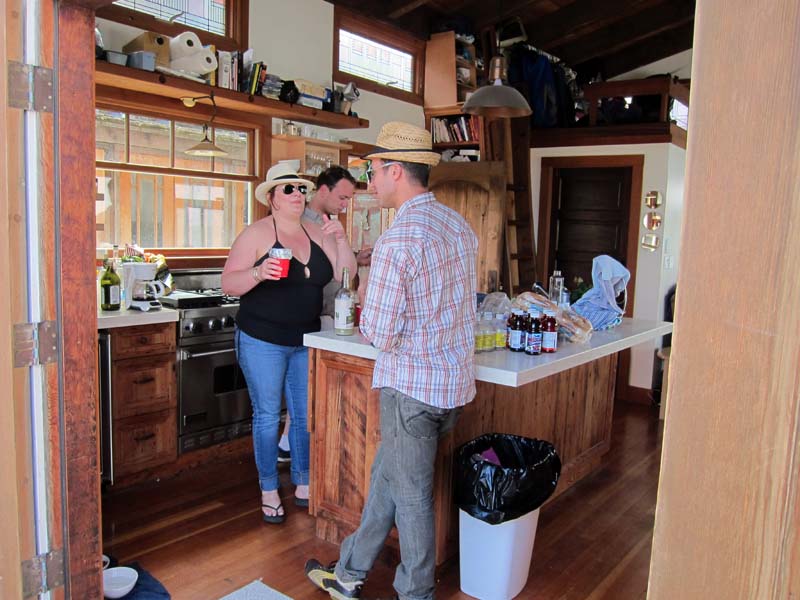 Some people who are missing from these pictures but were at the party: Stuart Cheshire, Leann Sucht, Sam (neighbor), Philipe, others?
Mike in black hair in back (mostly obscured), Colleen in pink shirt hugging Breanna. Dannielle in bright red shirt stepping down on the right. Dannielle and Breanna are twins.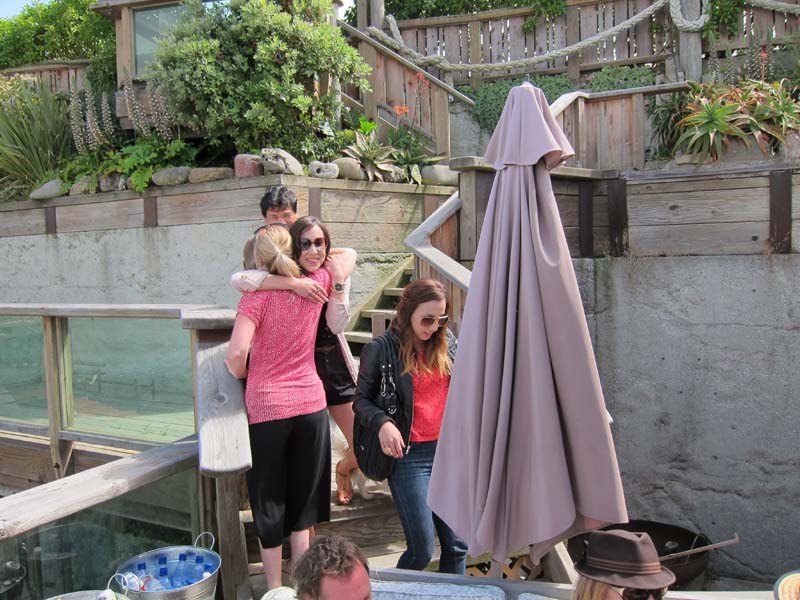 "The Girls" - from left to right in front: Colleen in pink top holding Riley (the dog), Dannielle in black jacket holding June Bug (the dog), Katherine Chung in light colored hat and white sweater. From left to right in the middle row is Christi, Heather (holding her dog "Tuesday" leaning on Katherine's shoulder), Zoey, Kymberly. From left to right in back are: Natasha (white hat with black band), and Breanna.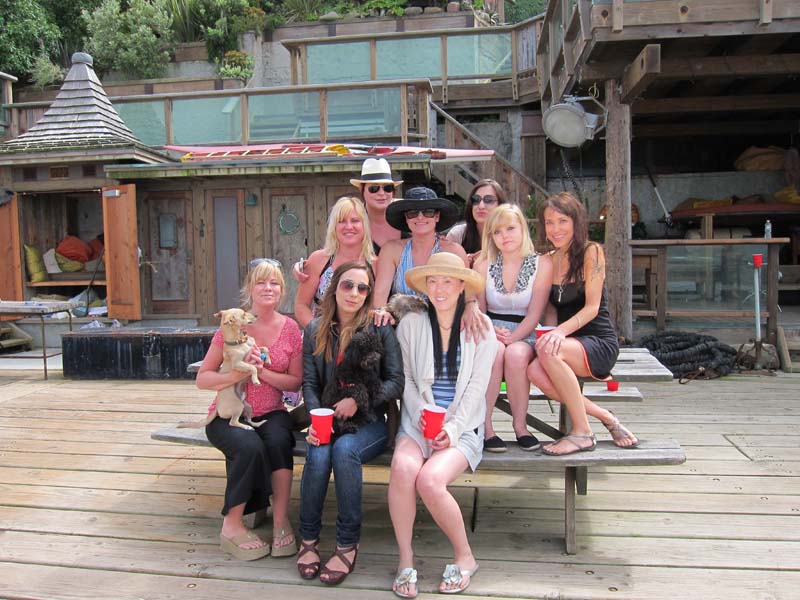 Eric Hawkes in blue short sleeve shirt holding a beer.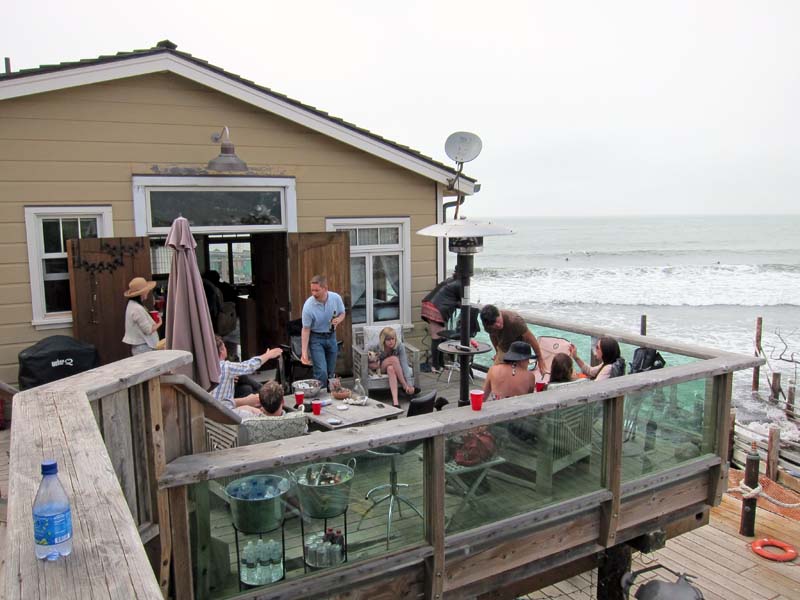 From left to right: Colleen in pink top, Jennifer (Jen) and Casey, and Jenny (black hair in front of ladder) and Michael on right in brown sweatshirt.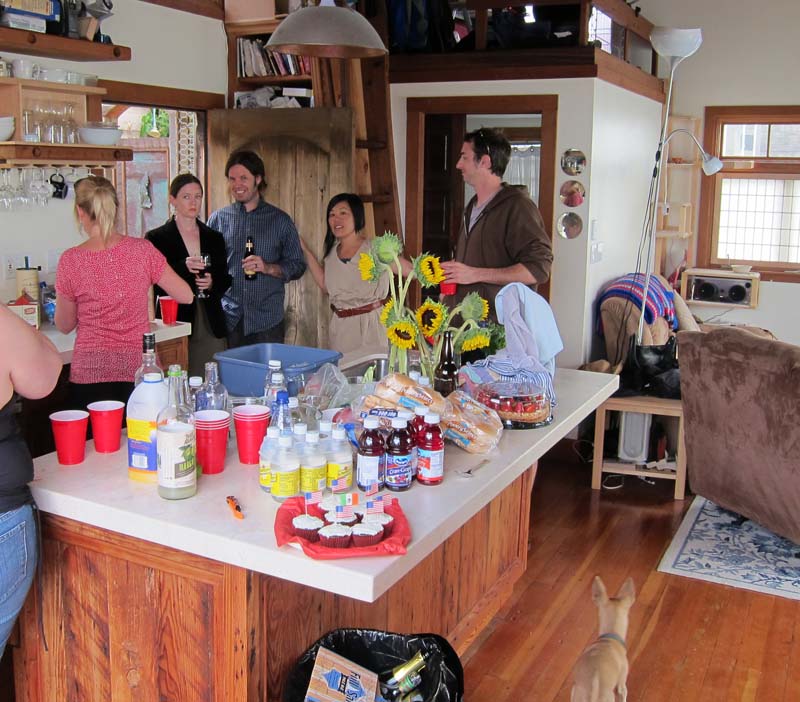 Howard Chartock on left, his friend, Andrea (neighbor), and Amada Wilkison on the far right.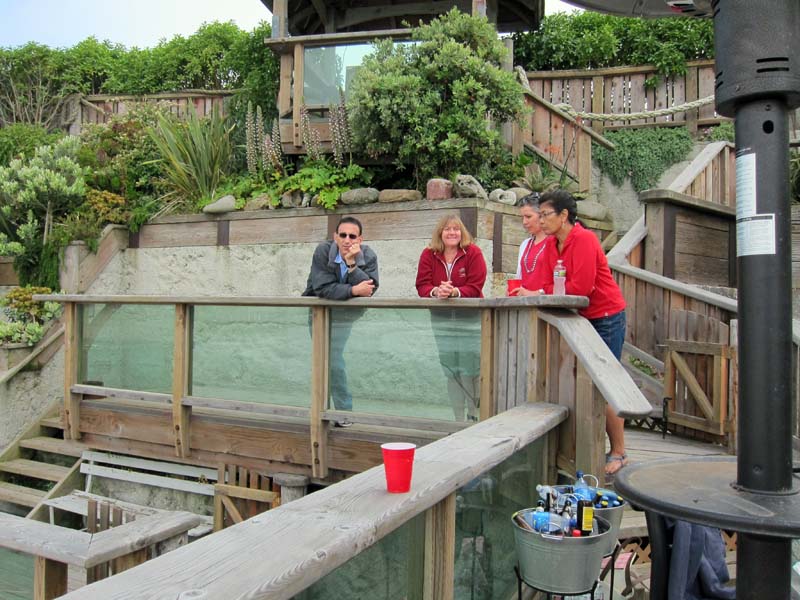 Chris Pirazzi, Shelly Spearing, Katherine (blue shirt) and Shelly's son Bridger in glasses on stairwell.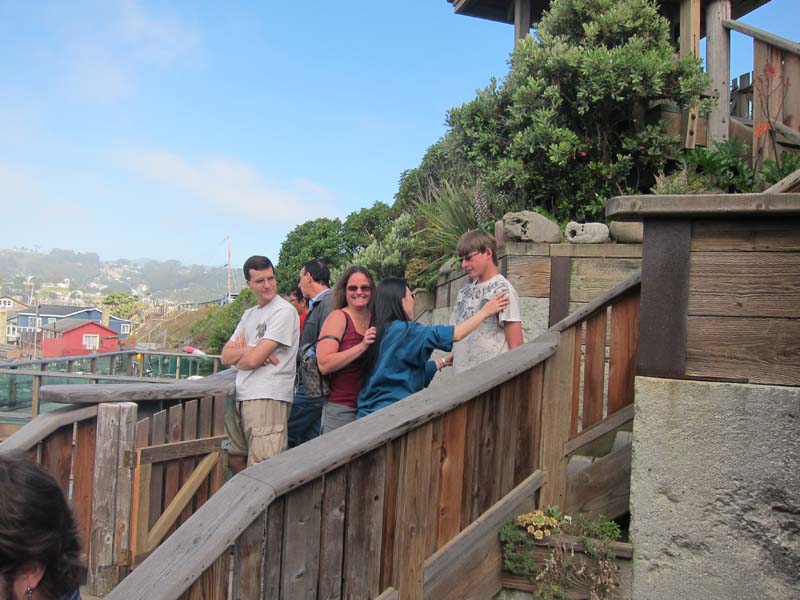 Shelly next to Bridger proudly holding fireworks. :-)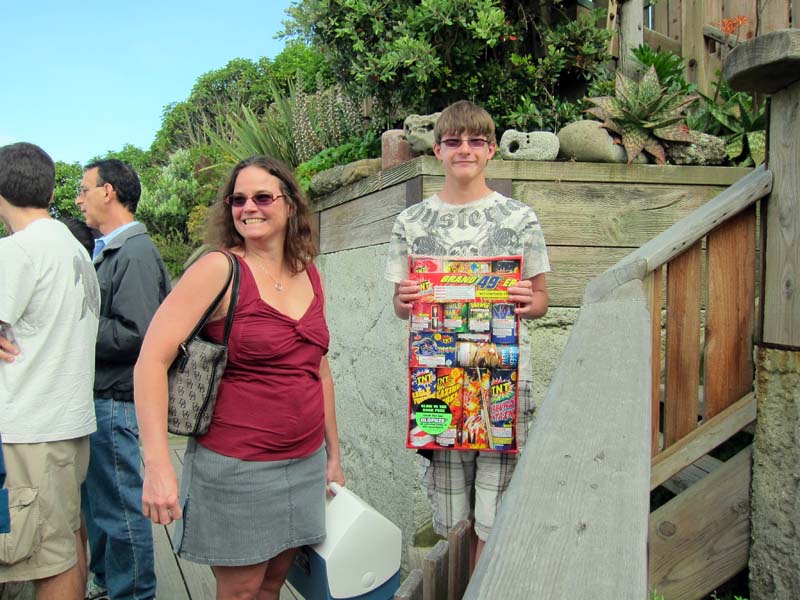 Random guests out on the deck, that is Pamela Caudle in brimmed hat in far back corner, and Nick in white hat almost obscured by the umbrella.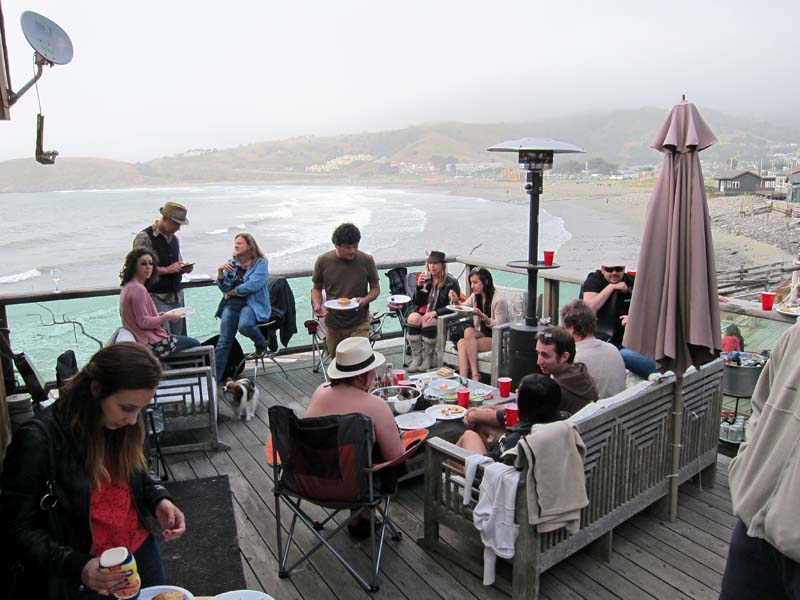 Some people went down and built a fire.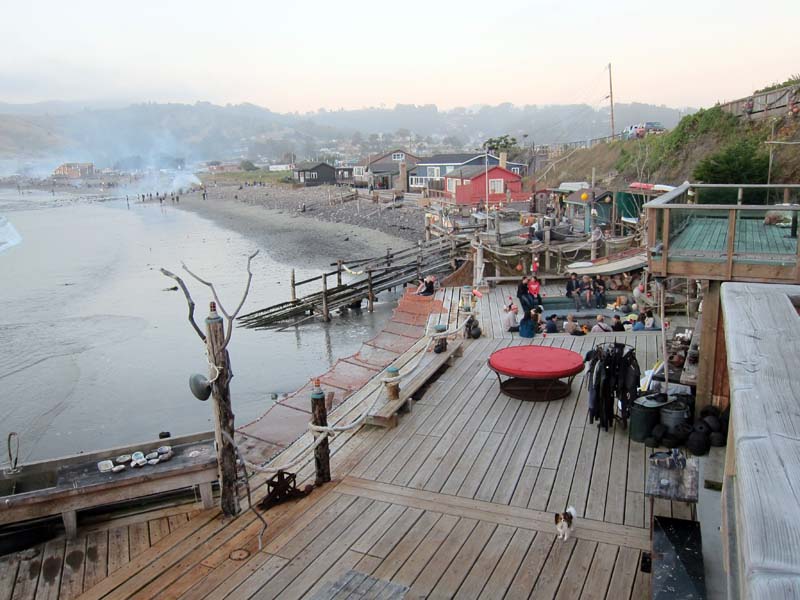 A close up of the fire pit, from left to right along the back is James, Michelle (in red hoodie), Loki, Christina Curry, Danny (in hoodie holding wiener dog named "Steven"). From left to right in front is Shawn, Katherine (facing away in blue shirt), Dannielle (waving), Kymberly and Nick hidden behind Dannielle, Heather (waving), unknown_c (playing guitar), Seth (playing guitar), Pamela, unknown_d, Colleen (blonde) and unknown_e in very corner.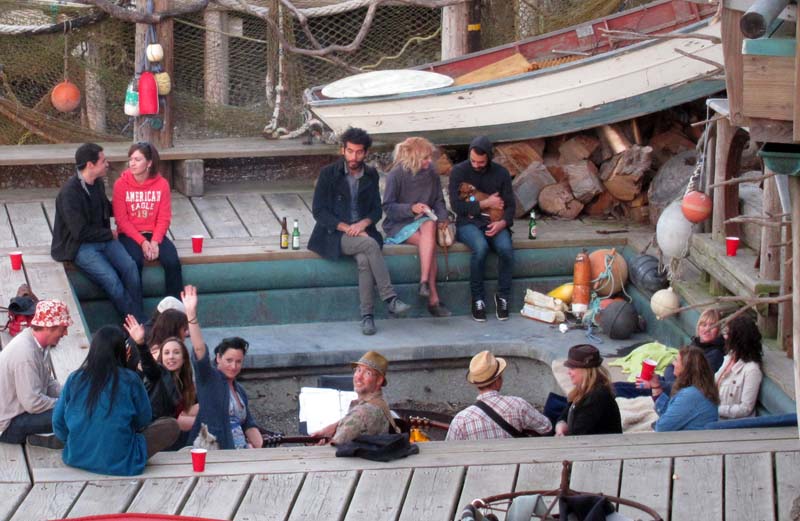 Same group, with the waves in the background.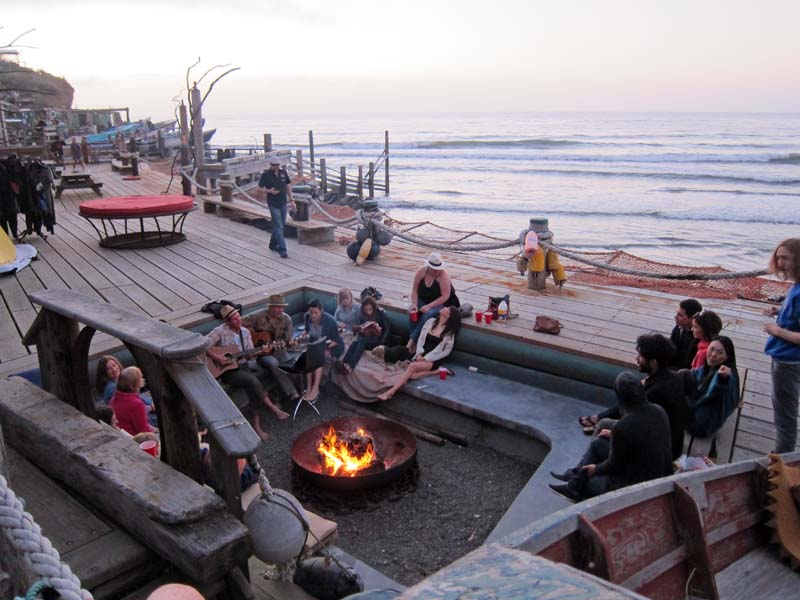 Below is a (boring) 30 second movie showing everybody sitting by the fire singing songs and waiting for the fireworks, then at the end of the clip is a 5 second clip of the fireworks on the 4th of July, 2011, on Linda Mar Beach, Pacifica. Click Here for a QuickTime original movie of higher quality (WARNING: Windows users probably cannot play QuickTime!!)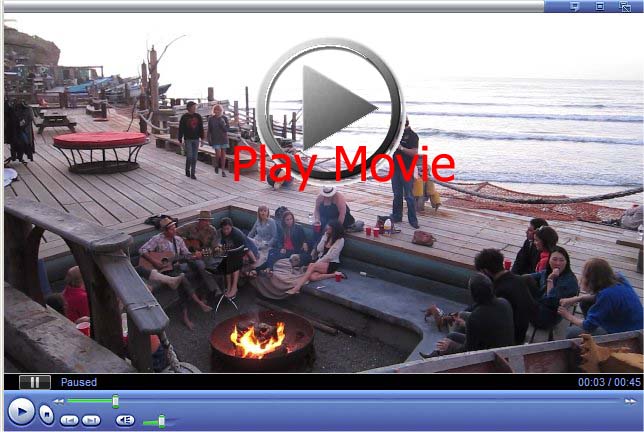 Fireworks start going off on the beach at 9pm.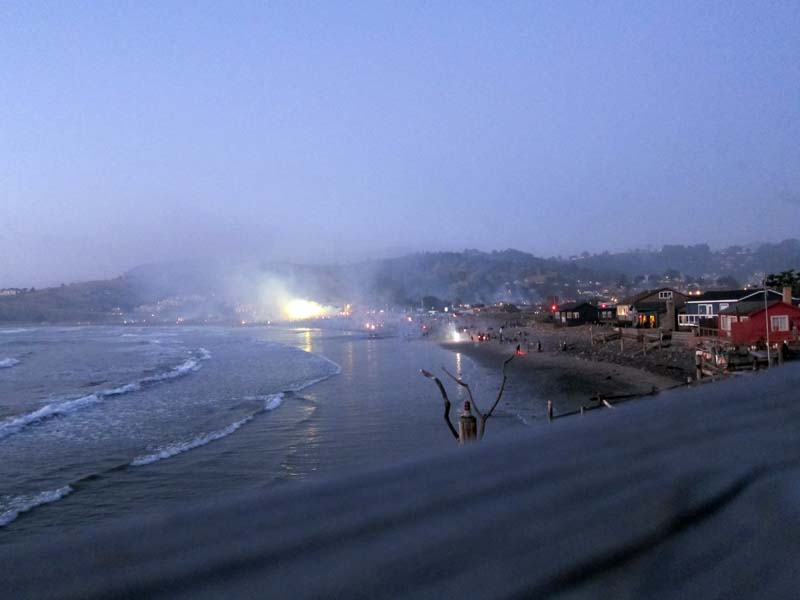 More fireworks.
The large "burst" of fireworks over the beach is not technically legal, but done a lot in this area around the 4th of July.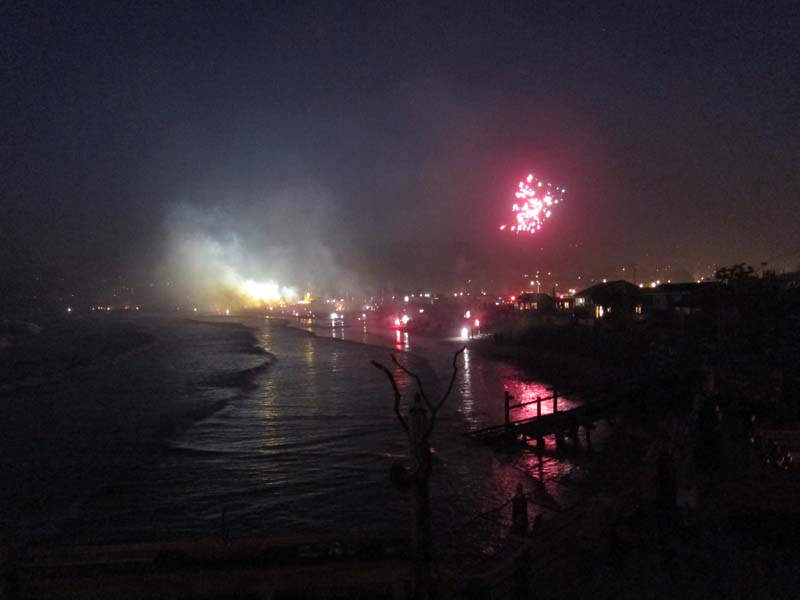 The next morning, this is all the trash we generated (11 garbage bags).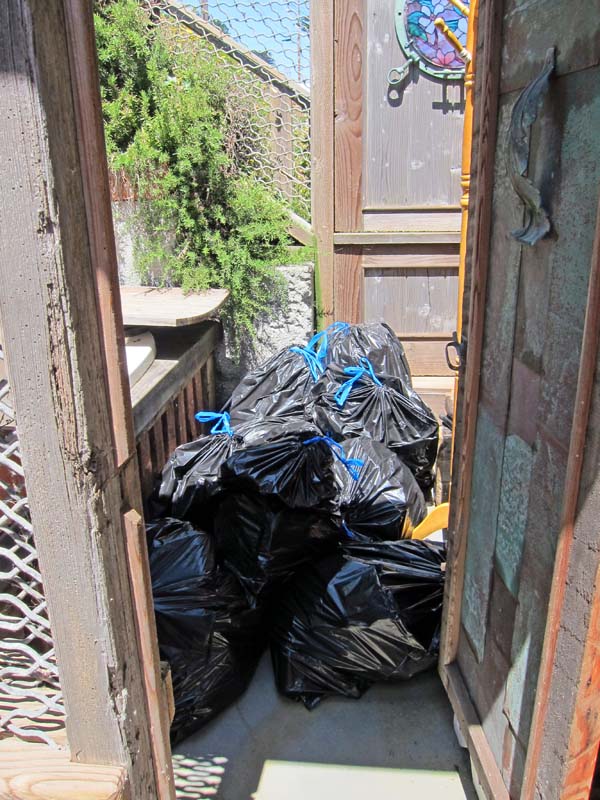 The party consumed: 3 fifths of vodka, 1 fifth of tequilla, 1 fifth of Bombay Gin, 1 fifth of Scotch, most of 1 fifth of "Fireball Cinnamon Whiskey", 8 bottles of red wine, 7 bottles of white wine, a bottle of champagne, and two cases of beer. I count 231 drinks worth. The guest list looked like this: 1) Brian, 2) Katherine, 3) Shawn, 4) Wyatt, 5) Seth, 6) Natasha, 7) Stuart, 8) Shelly, 9) Bridger, 10) Leann, 11) Sam, 12) Andrea, 13) Mike, 14) Colleen, 15) Breanna, 16) Dannielle, 17) Christina, 18) Christi, 19) Heather, 20) Zoey, 21) Kymberly, 22) Nick, 23) Eric, 24) Casey, 25) Jennifer, 26) Jenny, 27) Michael, 28) Howard, 29) Amada, 30) Amada's friend, 31) Chris, 32) unknown woman, 33) unknown woman, 34) James, 35) Michelle, 36) Loki, 37) Danny, 38) uknown guy with two guitars, 39) Pamela. Dogs that attended: 40) Chou Chou (Katherine's dog), 41) Steven (Danny's dog), 42) Riley (Colleen's dog), 43) June Bug (Dannielle's dog), 44) Tuesday (Heather's dog), 45) Ruby (Zoey's dog)
And this is the deck all cleaned up, fresh for a new day at the beach on July 5th, 2011!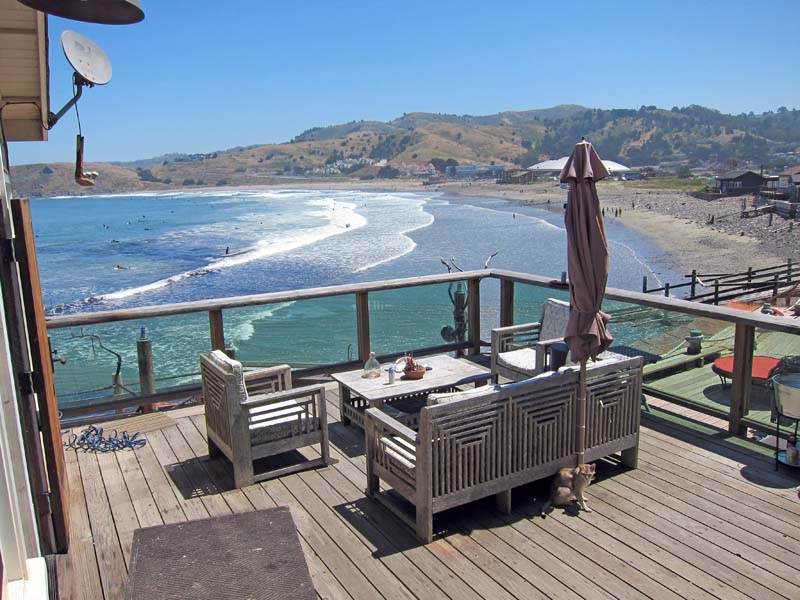 All done!