2013 Maldives and Singapore Trip

(Vacation: 11/11/2013 - 11/22/2013)



On November 10, 2013 I went on an 11 day vacation to the Maldives with Katherine Chung, on the way there we stopped for a day in Singapore. Below are pictures and videos from the trip. Click on any picture to get a HUGE version of that photo. Click Here for a Google map of some of the interesting locations on our trip. (Here for long form of the Google Map URL.)

Our 15 Favorite Maldives Pictures: Click Here for about 15 Maldives pictures we like the most.
Where Did We Travel?
We flew from San Francisco to Korea (Incheon Airport), then flew to Singapore (and rested for 2 days). Then we flew Singapore to the Maldives. Below is a map (click on map to make it larger!):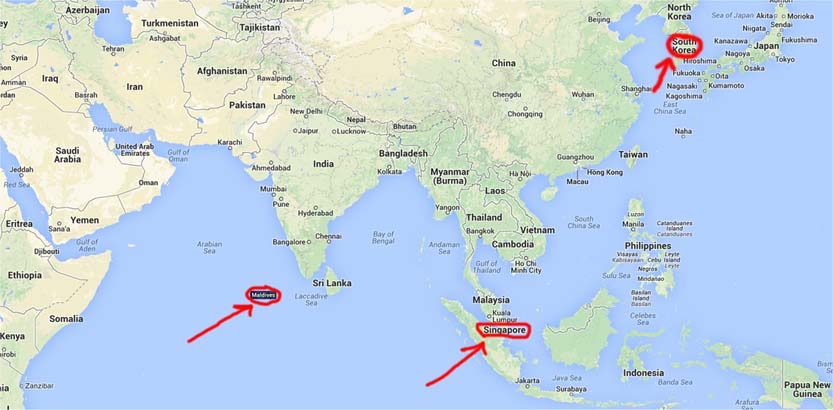 Singapore Thoughts:
This was my first time in Singapore and I really enjoyed it. As I hope you can see from the pictures below, Singapore (as an economy and society and infrastructure) felt extremely vibrant to me. The brand new HUGE buildings were also "fun", like our hotel (Marina Bay Sands in Singapore) is shaped like a ship balanced at the top of a 57 story tall tower. They have a soccer field FLOATING in their bay. The Singaporeans built an air conditioned forest in a bubble in their city! It just had a vibrant feeling of a society that is on the upswing. I compare this to my own San Francisco, which is slowly dying. We no longer invest enough in infrastructure or housing (San Francisco is doubling in population but only adding 1/10th the housing it needs), we no longer build any buildings with fun or interesting architecture (the last fun building was probably the "Transamerica Pyramid" completed over 40 years ago). Anyway, Singapore also has GREAT food of all types, and is even famous for some of its dishes like "Singapore Chili Crab". I found the time I spent in Singapore invigorating. The biggest negative was probably the heat and humidity (Singapore sits only a few miles from the equator). However, it is worth mentioning EVERY taxi we went into and EVERY shop was wonderfully air conditioned. There was always a safe haven a few feet away.
Maldives Thoughts:
This was also my first time in the Maldives, and it was really, really pretty. The trip was very interesting because it was different from what I expected. First of all, the Maldives is an island country, it is made up of hundreds of TINY islands - but you are not really free to explore or visit any of them except your one resort you chose. I contrast this with our experience in the British Virgin Islands where "by law" you can land on any beach, and more importantly the vast majority of islands welcome visitors with open arms and a rum punch. In the Maldives, we managed to sneak away and visit a "local's island" but only after a negotiation and being assigned a "guide". In the Maldives we even asked permission to have lunch at a neighboring resort and we were refused with an obviously fake reason!! So they are not really an open, happy, relaxed, island country. Instead, the Maldives is more like a tense set of nervous island occupants, uneasy with their relationship to the (rich) tourists which visit.
The next most important realization for me was that the Maldives is a Muslim country with a twist. The Maldives is Muslim in that only Muslims are allowed to be citizens. It also means that dogs are forbidden in the Maldives (unclean animals), as is pork and alcohol. HOWEVER, what we discovered is that every island in the Maldives is very specifically EITHER a "locals island" (no pork, no alcohol, women in Hijab or even full Burqa), or the island is a full on tourist island with women wearing string bikinis, sipping champagne by the pool, and eating bacon sandwiches. Remember that while this is happening, the people SERVING the bacon to the ladies in bikinis are all local Maldivians who live on an island maybe 1 mile away and take the ferry each morning from the locals island over to crazy tourist island. I think they live with all of this because the economy of the Maldiveses is entirely made up of tourism (and a little fishing). The "tourist islands" (like the one we were on called "Cocoa Island Resort") have all the natural beauty of the Maldives (utterly mind blowing gorgeous light blue lagoons, coral reefs, insanely colorful tropical fish), but then has been enhanced with a fake veneer. An example of the "fake veneer" is the resorts employ armies of local Maldivians to quietly clean the beaches every morning (get rid of trash, sticks, twigs, anything but the white coral sand), and they have built luxurious accommodations out over the water with air conditioning and room service. Don't get me wrong, these resorts are a really REALLY nice place to spend a week, but staying at these resorts and going stand up paddle boarding from your hotel room has NOTHING to do at all with Maldivian culture, food, or experience, other than the fact that it shares the same gorgeous blue water.
On to the Pictures!
The pictures are basically in "Time Order" so they start very slow with a lot of packing and airplane flights. In rough terms, it takes about 24 hours of flights to get to the Maldives, plus layovers. So there are a lot of pictures on planes. :-) Below are the contents of a single bag that we sent ahead to our resort in the Maldives by very slow FedEx. Katherine and I have travelled by airplane quite a bit, and they lose and delay luggage (way more than FedEx loses packages). Also, this means we travel "lighter" with fewer bags to carry. So we sent some stuff ahead like snorkels, rash guards, sandals, sun block, our personal (high tech) life preservers, a few pieces of extra clothing, etc.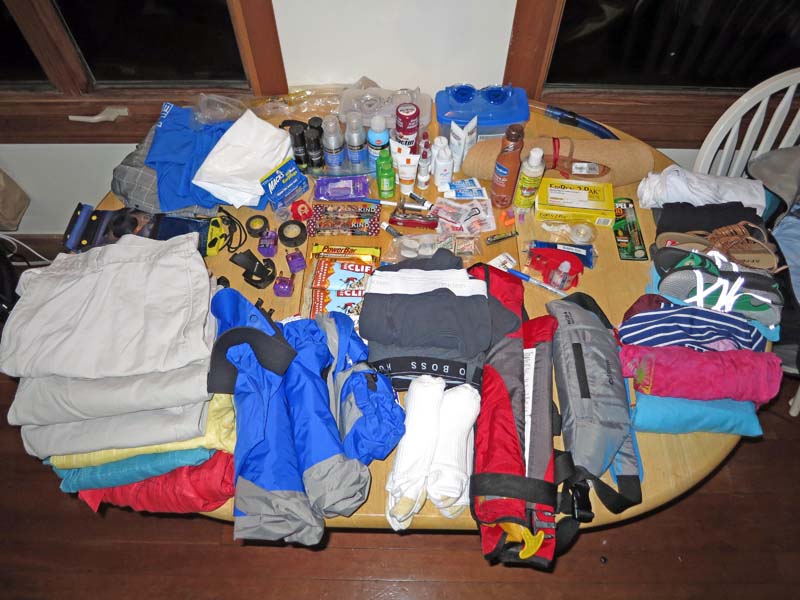 The contents from above all packed in a bag and ready to FedEx! We put a strip of bright orange duct tape around the bag (easy to identify when describing it over the phone) and black sharpie pen labeled it with the destination.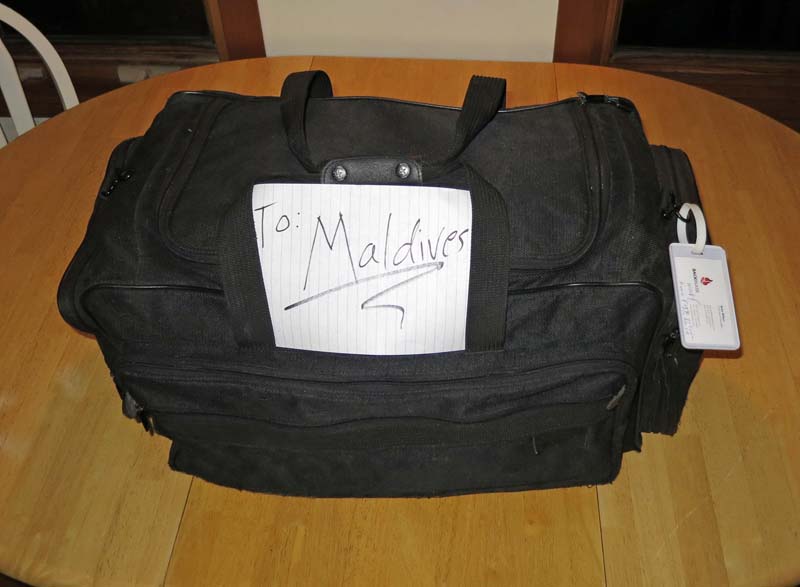 At noon on Sunday, November 10th, we depart San Francisco Airport (SFO) for the first leg of our journey to Incheon Airport in Korea. Below Katherine opts out of the backscatter radiation scanners and gets a full pat down. (I was asked not to video it, I'll put up the video of being asked not to video soon.)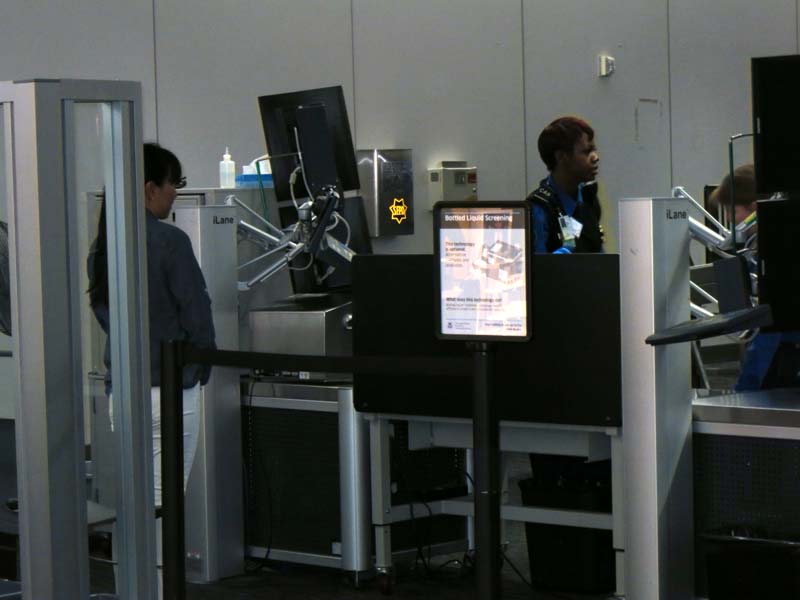 At the boarding gate, this is in San Francisco.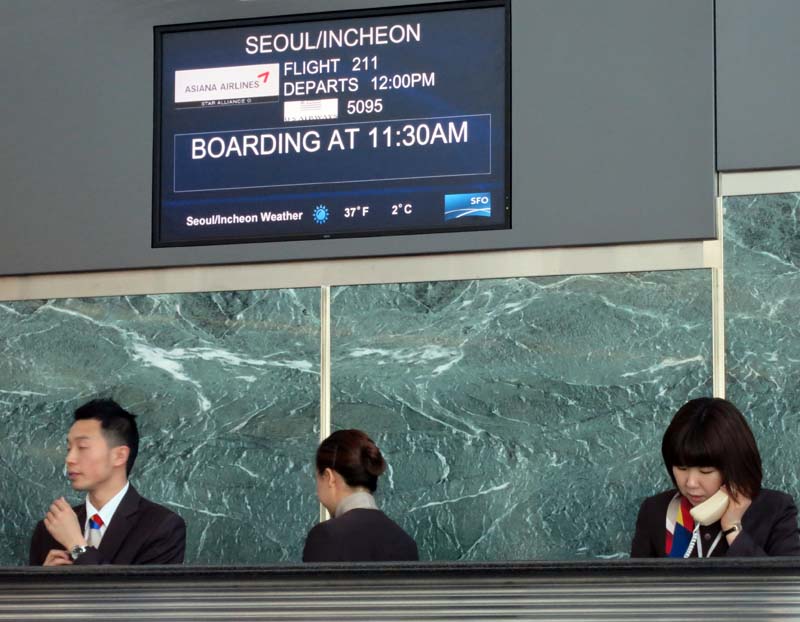 Our flights are "free" because we are flying the whole way ENTIRELY on United Airlines frequent flier points (an old stockpile Katherine had been hoarding for almost a decade). United has partners of Asiana Airlines (yes, the Asiana Flight 214 crashed at SFO recently) so that's our first hop to Korea.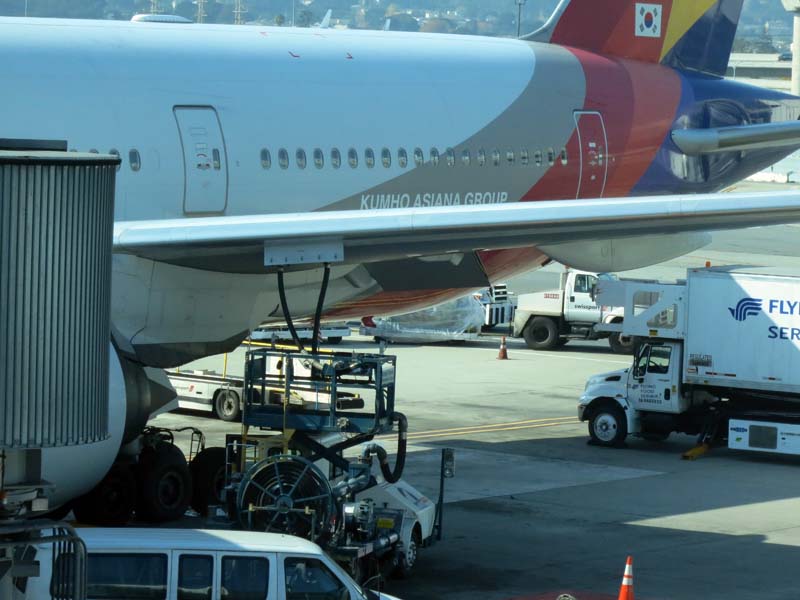 We are flying business class all on frequent flier miles. Below is Katherine getting ready in her Asiana business class seat. Notice the seats are "staggered" to give more legroom (I can put my legs side by side with the person in front of me, but they are enclosed so he cannot see or get kicked). It's an interesting design.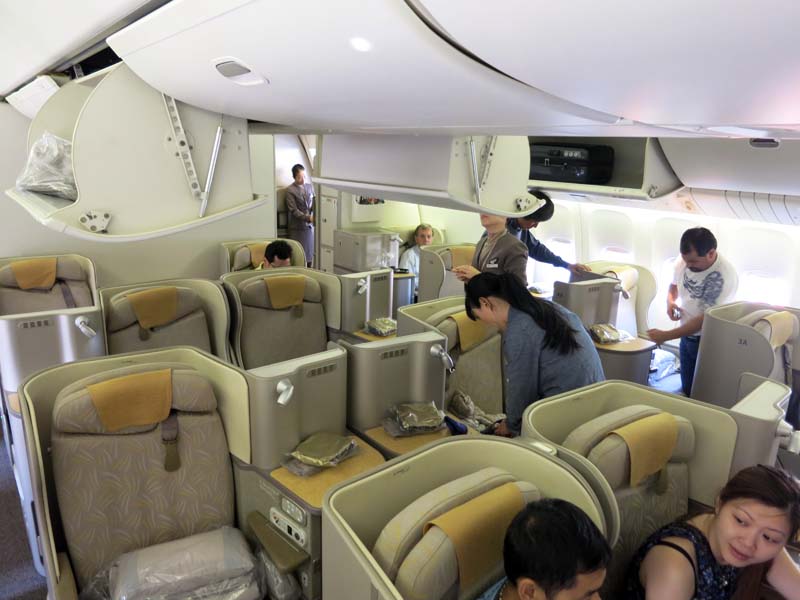 Below you can see the way business class is laid out in Asiana airlines. I can put my feet down low or up high, and I have my own private video screen. The video has movies on demand (for free) and you can also play some really bad video games like driving a car around a track. In the picture below, I'm 6'3" and my legs are FULLY extended and don't touch the end. These seats recline to almost completely flat, but in that mode they are about 6'2" long so it is "tight" for me to sleep that way.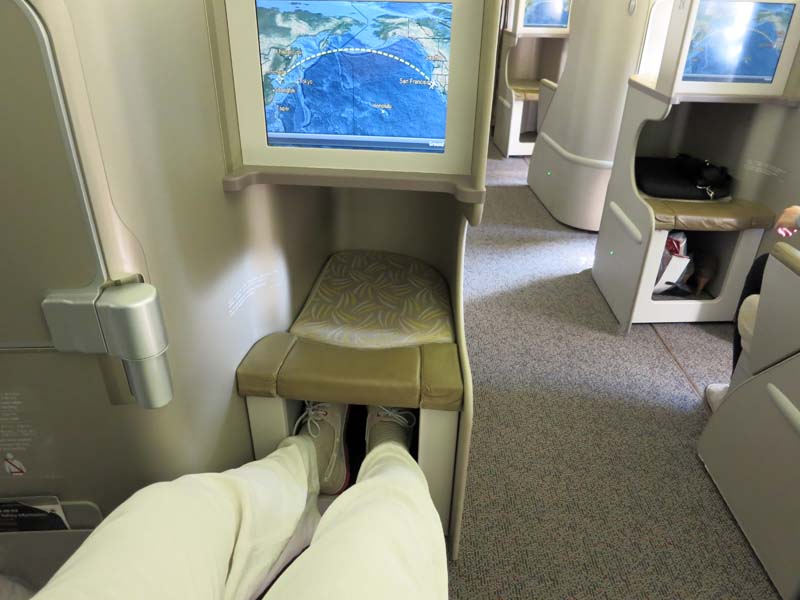 Katherine reading her iPad mini. Notice the white tablecloth - Katherine is about to get dinner. Remember, we flew business class on frequent flier points, they would have been very expensive if we paid cash.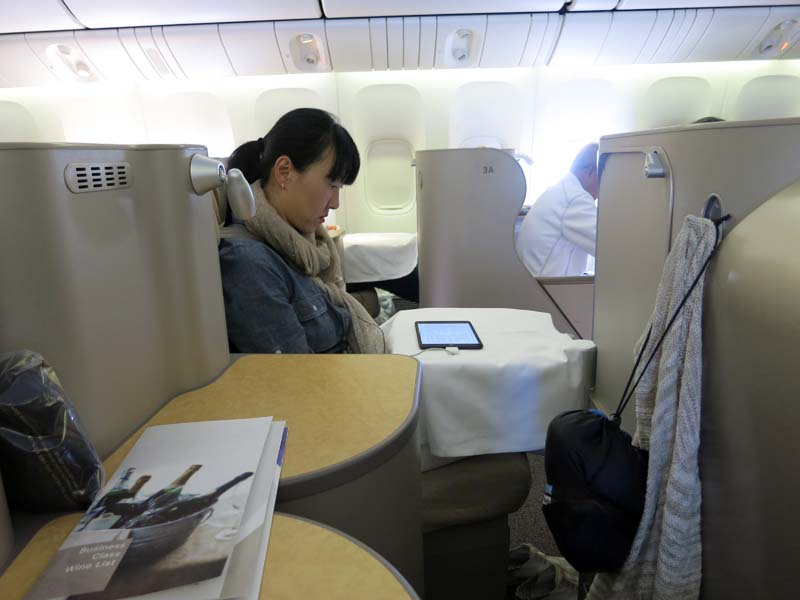 We are flying "Business Smartium Class" on Asiana airlines. (This is how they branded the staggered seats and fully horizontal flat-bed sleeping.)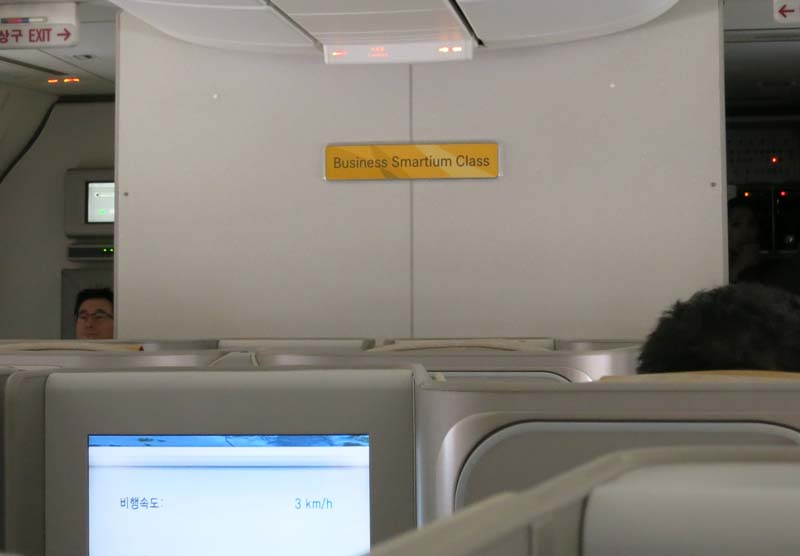 Katherine is excited to have a Korean meal for dinner. :-) The menus generally had three choices for every meal: 1) American, 2) Korean, 3) Chinese. Katherine had Bibimbap for dinner with a fish soup and a small side of Kimchi (spiced cabbage).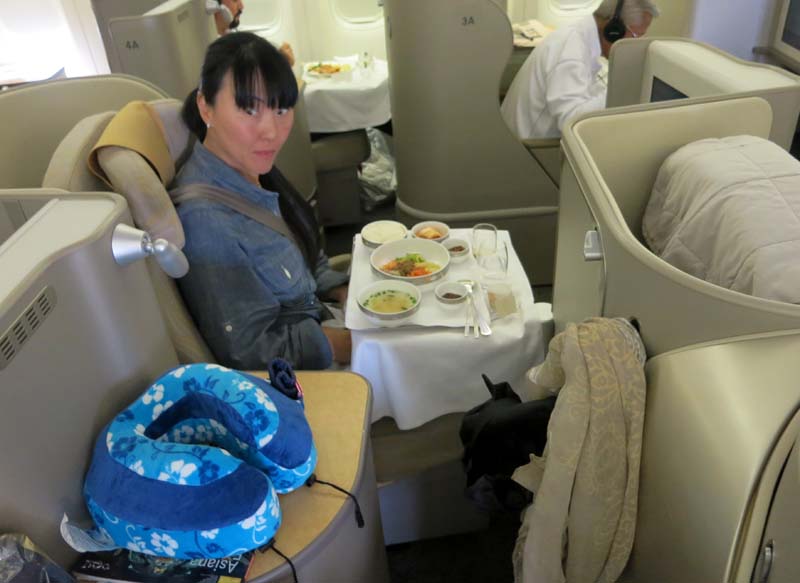 Here we are 10 hours later, just landed in Korea! The world is a very small place.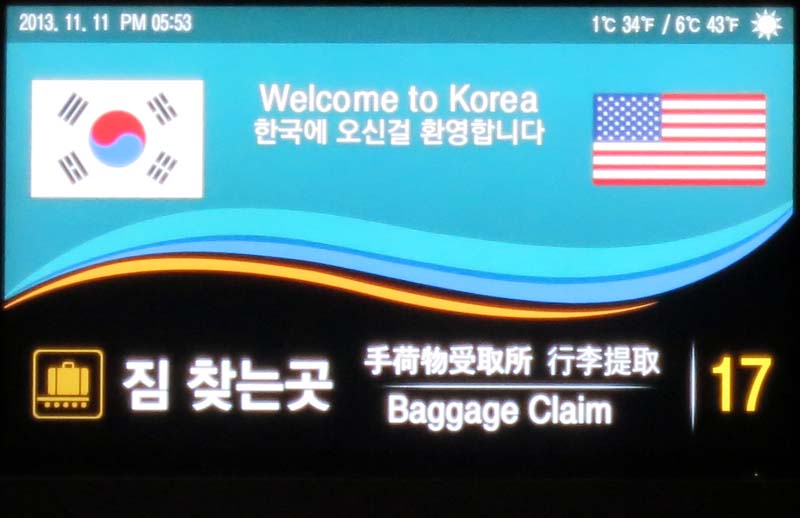 I liked the picture below of a screen I walked by because it's so international. Would you like to go to Osaka (Japan), Shanghai (China), Manila (Philippines), Ho Chi Minh City (Viet Nam), or Phnom Penh (Cambodia)?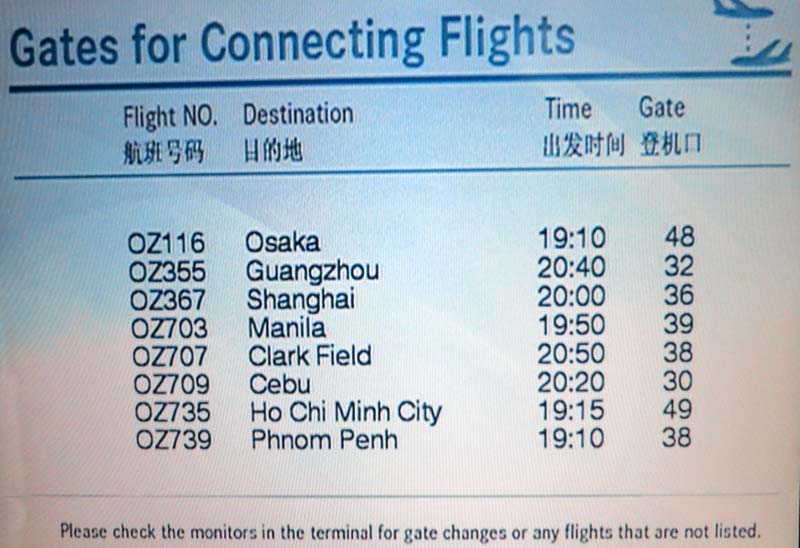 A picture of the inside of Incheon Airport in Korea.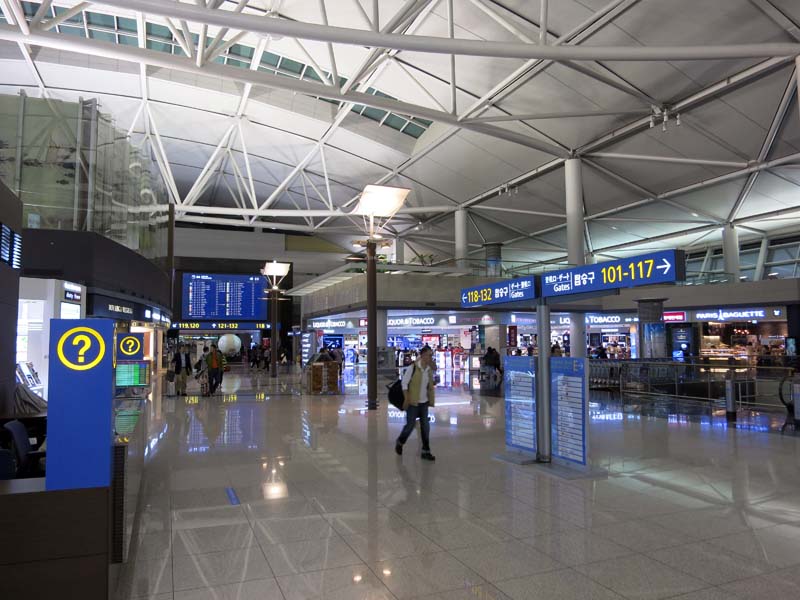 Incheon Airport is very nice, and it has "recharging stations" for your electronics that feature several international style outlets, including one for Americans. Below Katherine is asleep during the 4 hour wait for our next flight. I had to stay standing and drinking coffee most of the time because if we both fell asleep we would certainly miss our flight. :-)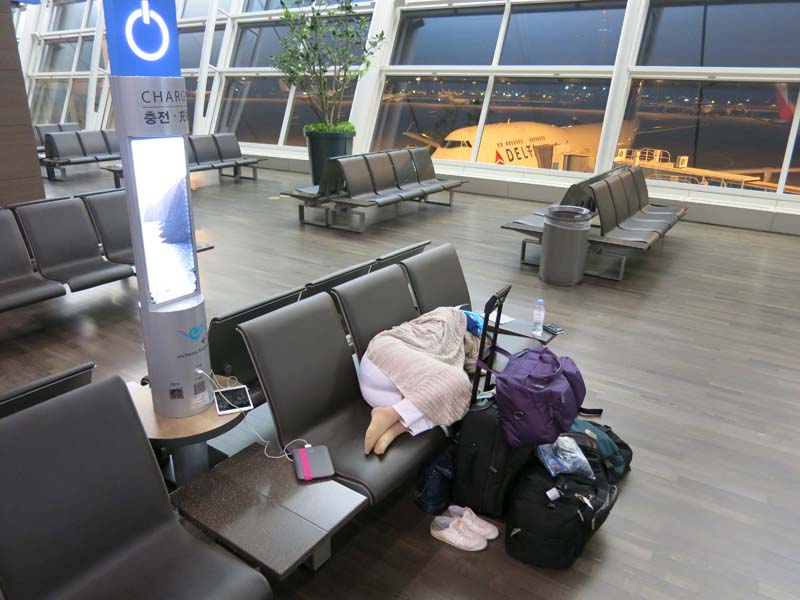 The next leg of our journey is a flight from Korea to Singapore on "Singapore Airlines". Below is the Airbus we eventually boarded.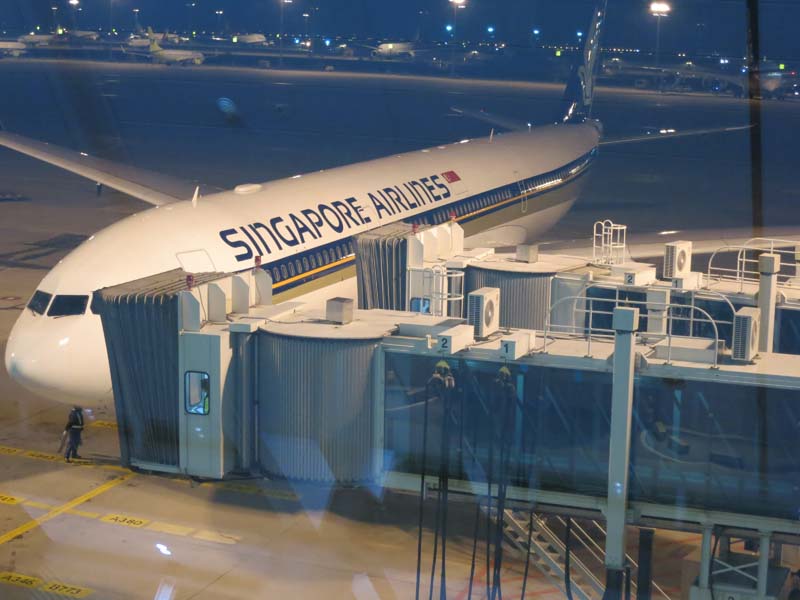 This is our boarding gate on Singapore Airlines, boarding in Incheon.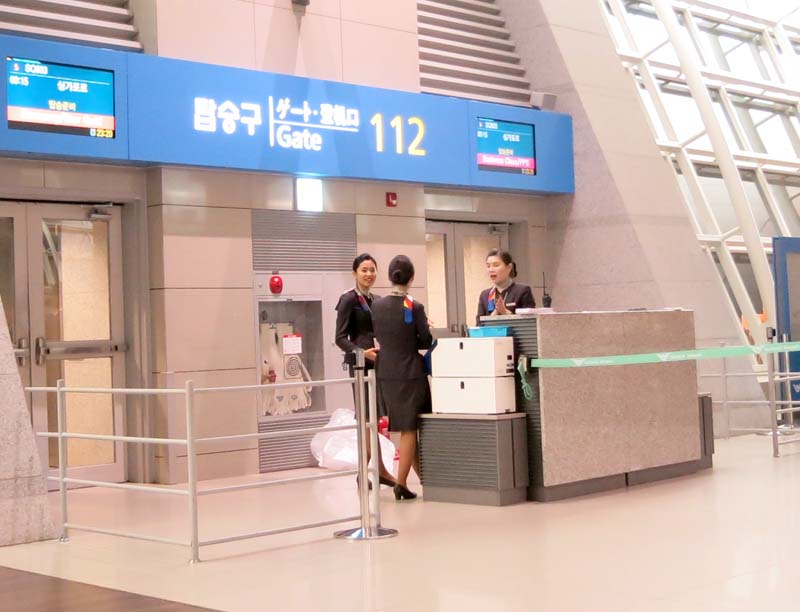 Again we fly business class (entirely on frequent flier miles). The configuration on Singapore Air has nice storage compartments for "stuff" like ipads.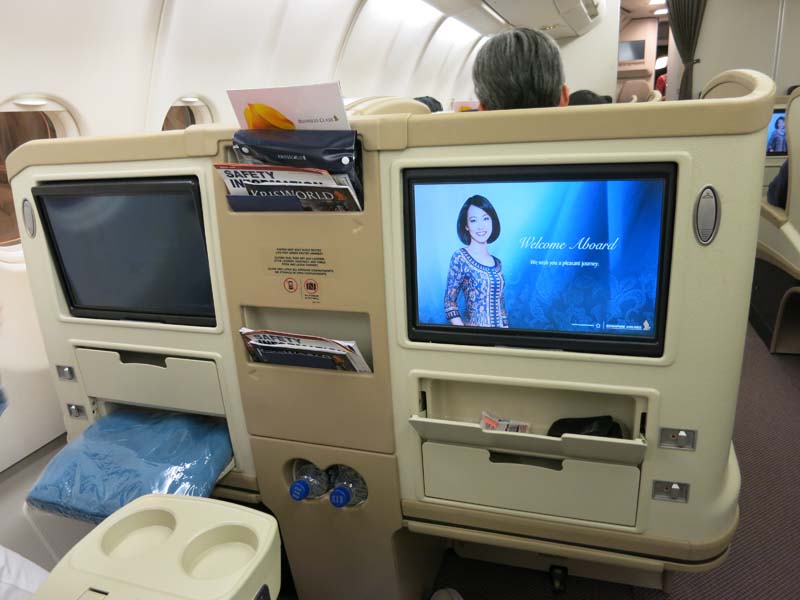 Especially nice is a full AC electrical plug and two USB charging plugs to the left of my business class seat. On the way home I edited videos on my laptop the whole way plugged in. The space to the left of my seat (just in front of these plugs) easily fits most laptops when closed up, which is also very very nice.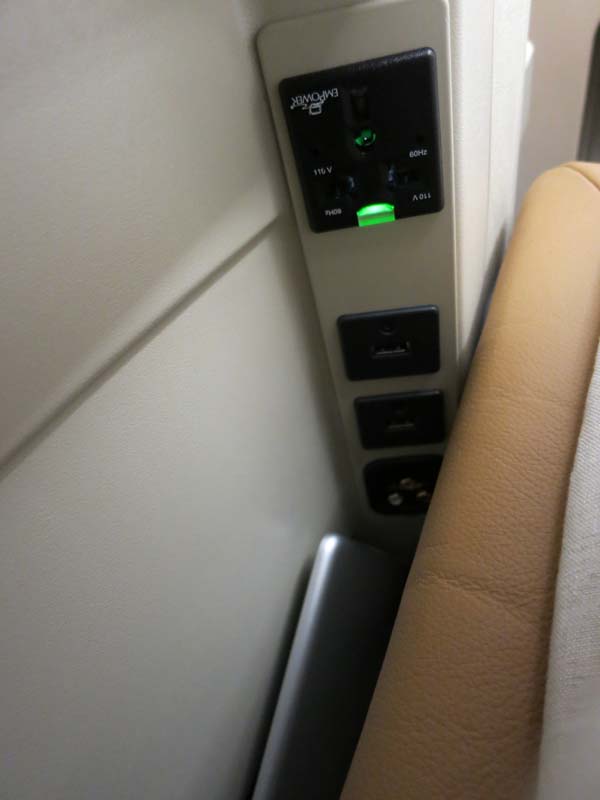 I had never flown Singapore Airlines before, and the most striking thing is how the stewardesses wear these beautiful dresses. They are also extremely attentive and helpful, I enjoyed all my flights on Singapore Air. Below the stewardess is handing out newspapers and you can see her dress.
This is a picture from a later flight, but has two stewardesses from Singapore Airlines wearing their dresses.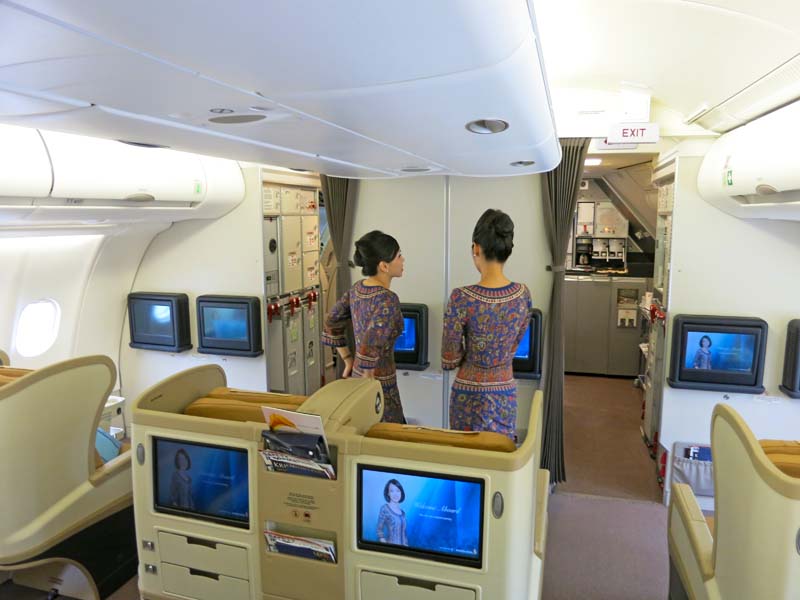 I peeked back into the rear section of the airplane to see what "economy class" looked like. Fairly standard - looks like a cattle car but more cramped.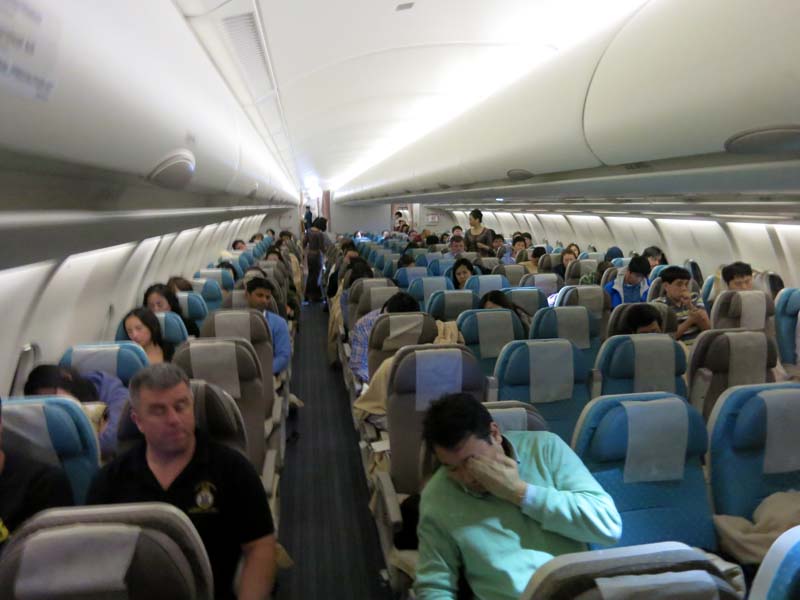 Just landed in Singapore! Interesting side note about airport security: each nation has different procedures. In Korea you do NOT have to take laptops out of your carry on luggage, in no place other than the United States do you ever have to pull out "liquids" separately. In no place other than the United States do you have to take off your shoes either. The United States really enjoys their security theater.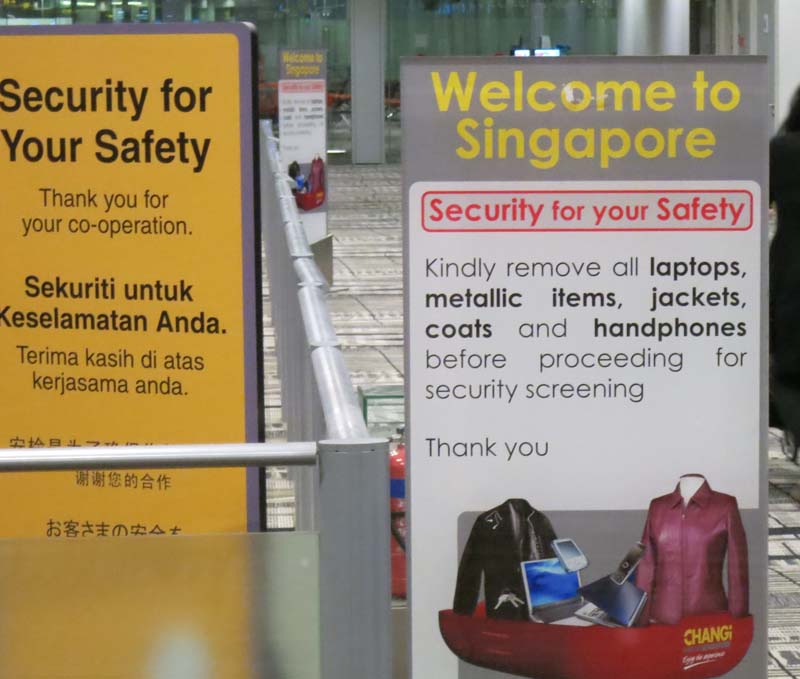 Our hotel has a complimentary limousine pickup - our driver was waiting with a sign with our names on it as we got off the plane. Below we are in the limousine which I think is a BMW 7 series, the driver is on the right side. It is a short ride to our hotel.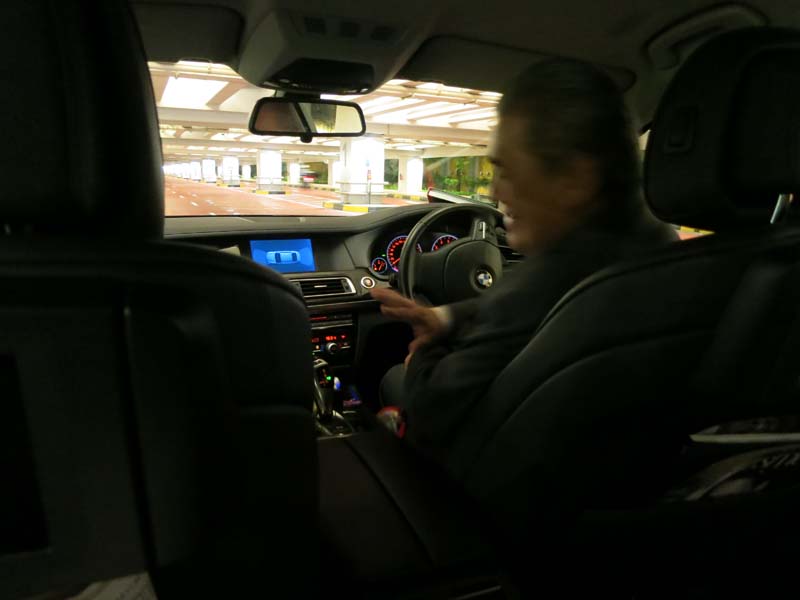 As we head to our hotel, our driver points out the large lit Ferris wheel is the "Singapore Flyer". Also, the large monolithic structure on the far right in the picture below is our hotel we are heading to which is the Marina Bay Sands in Singapore. The two domes to the lower left of the Singapore Flyer are the "Gardens by the Bay" that we visited later.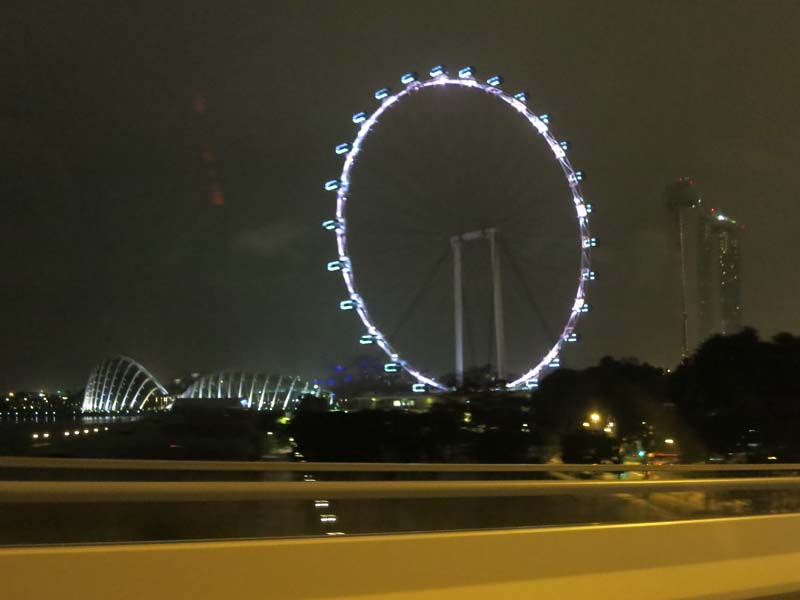 Below is a picture of the outside of our hotel (Marina Bay Sands in Singapore). I took this picture a day later, but it's here for the explanation. The hotel architecture is a gigantic ship perched atop three gigantic pillars each of which is 57 stories tall. On the "deck" of the ship are a few restaurants and an incredible "infinity pool" where you can sit in the water and stare out over the city of Singapore. This is one of the most famous infinity pools in the world, Wikipedia uses it as the first example of an infinity edge pool. I really, REALLY like that the Singaporeans have this much fun with such a large architectural project.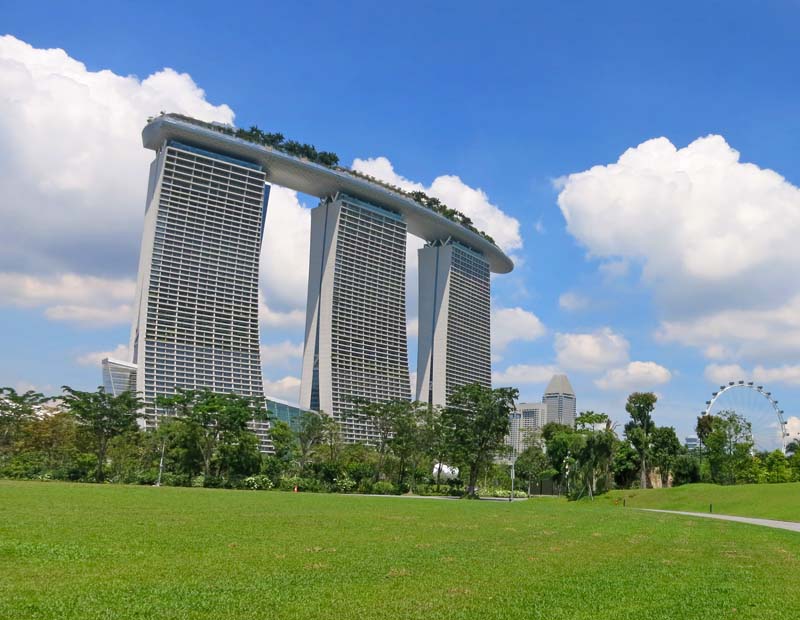 We are tired, but Katherine reminds me to take a couple pictures of our clean hotel room before we toss our luggage everywhere and spread out. :-) Below is the main living room of our suite in the Marina Bay Sands. This is room 5206 on the 52nd floor. The picture was taken at 7am, notice how dark it is outside. Tropical rain with lightning that day!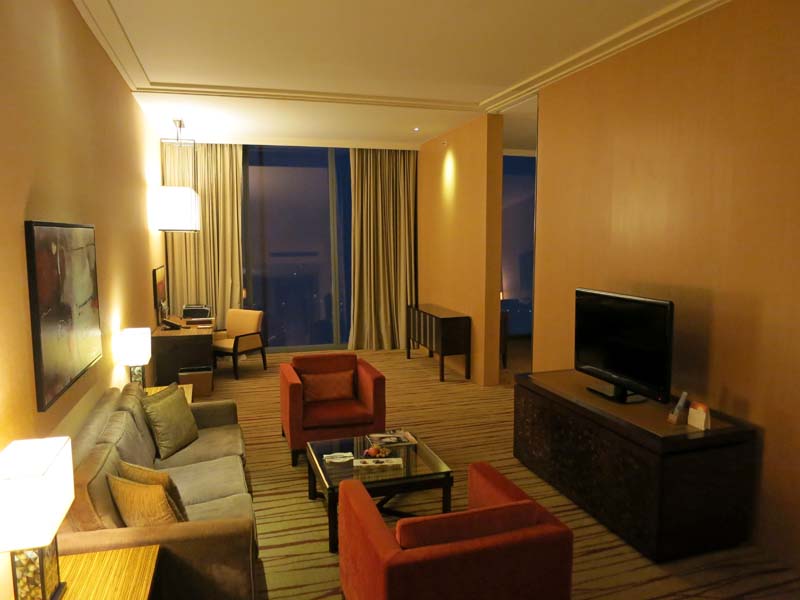 The bedroom/bathroom half of the suite is the same size as the living room. We think a "suite" means they use EXACTLY two standard room floorplans. You can see floor to ceiling windows in both the bedroom half and a sliver of the living room window in the picture below.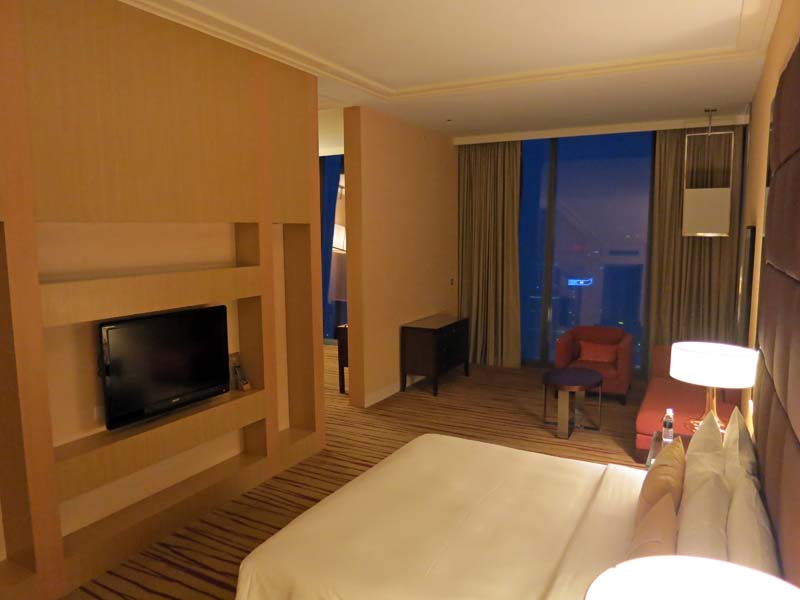 Below is a panorama I took from our hotel room window (5206) on the 52nd floor of the Marina Bay Sands hotel in Singapore. Below you can see the "Singapore Bay" and the skyline of interesting buildings. There was some rain for this picture, so it isn't fabulous. The wacky white structure that looks like a gigantic artichoke is the "ArtScience Museum in Singapore".

Here is a close up of the "ArtScience Museum" in Singapore. I took this picture later when walking by it.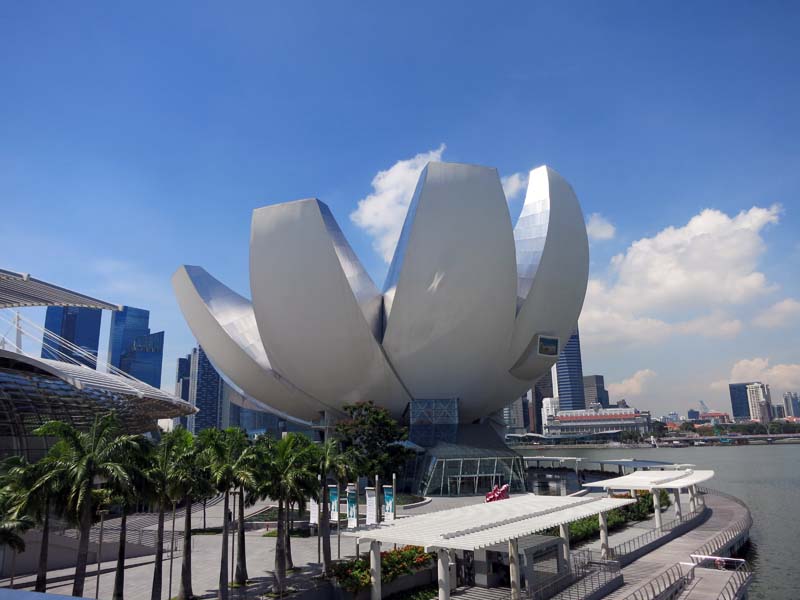 We go up to the 57th floor to the "infinity pool" on the roof of the Marina Bay Sands in Singapore to have breakfast. It's a spectacular view of the city.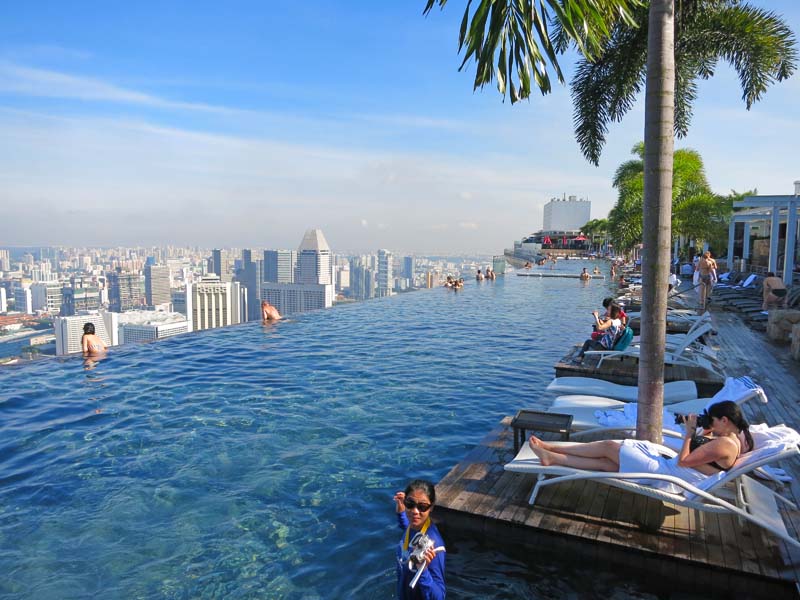 On top of the "ship", in addition to the large infinity pool, there are small infinity "hot tubs" perched against the walls. Below is a picture of an infinity hot tub with a guy enjoying the view. Notice all the freighters waiting their turn to dock and unload. Singapore's harbor was filled with them!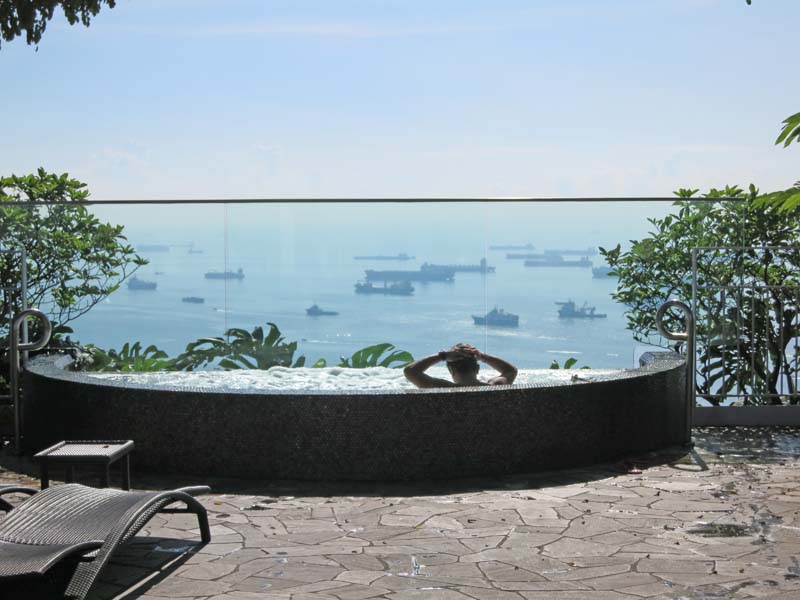 The first morning it was raining, so the next few pictures aren't the best. But here is another angle on the "infinity pool" on the roof of the Marina Bay Sands in Singapore (we are at breakfast).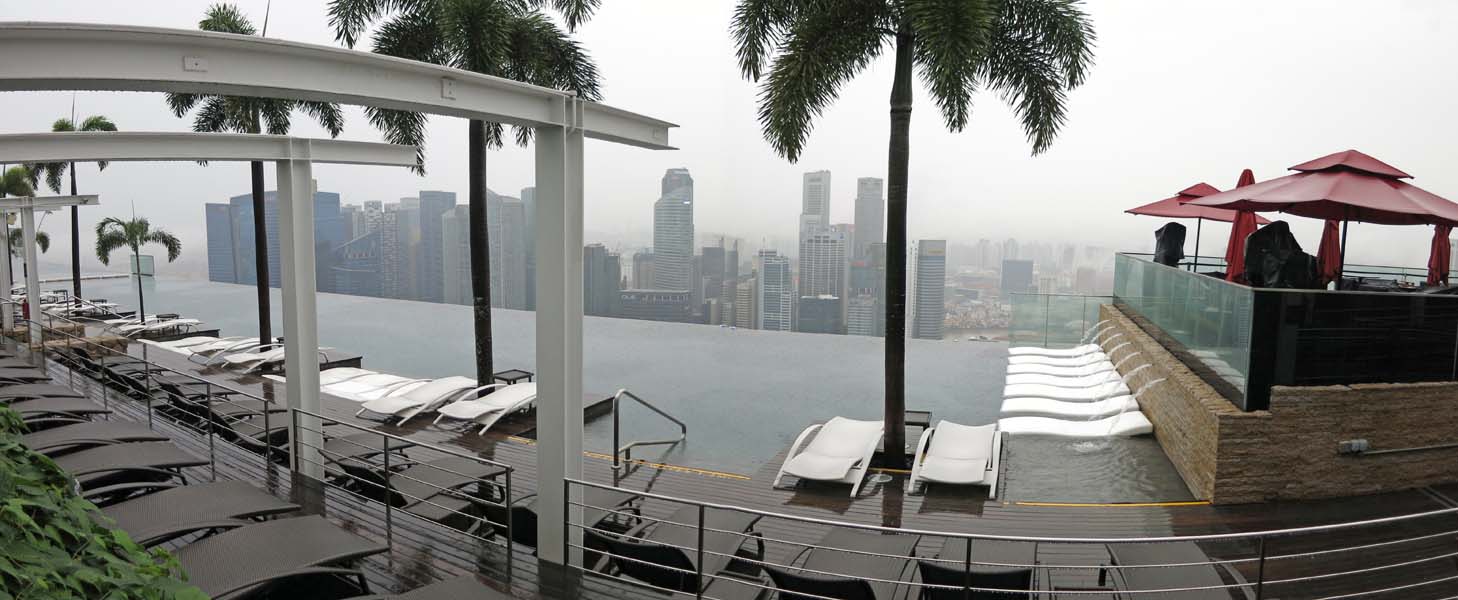 Same infinity pool, same rainy morning, just a different angle.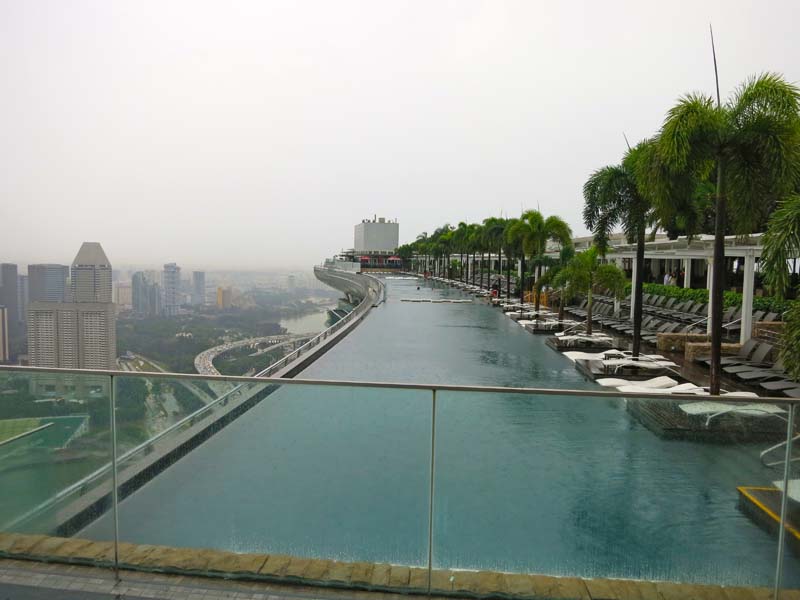 The Marina Bay Sands is a large "ship" perched on the 57 story tall towers. The picture below I took looking out the end of the hallway in our tower looking up at the "hull" of the ship above us and extended down to the street below. This type of enormous structure (bigger than any one or even one hundred people could possibly create alone) makes me proud to be a member of the human race.

Below is the night view from our hotel room window.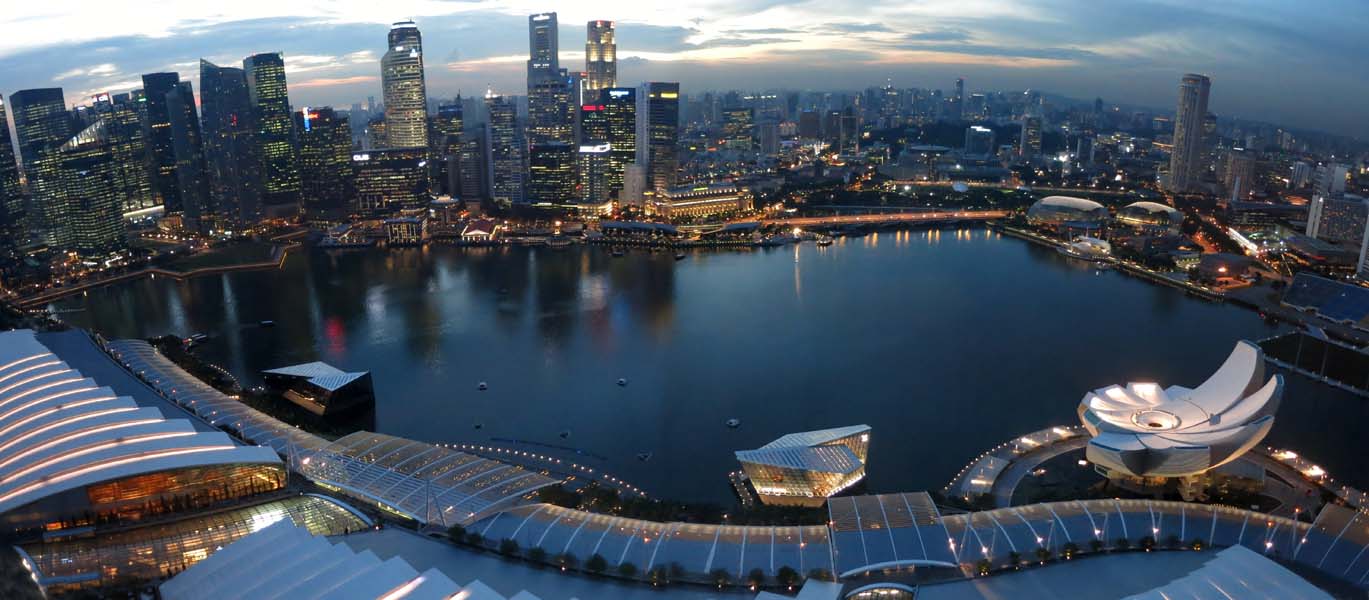 A picture from the same view, but not a panorama.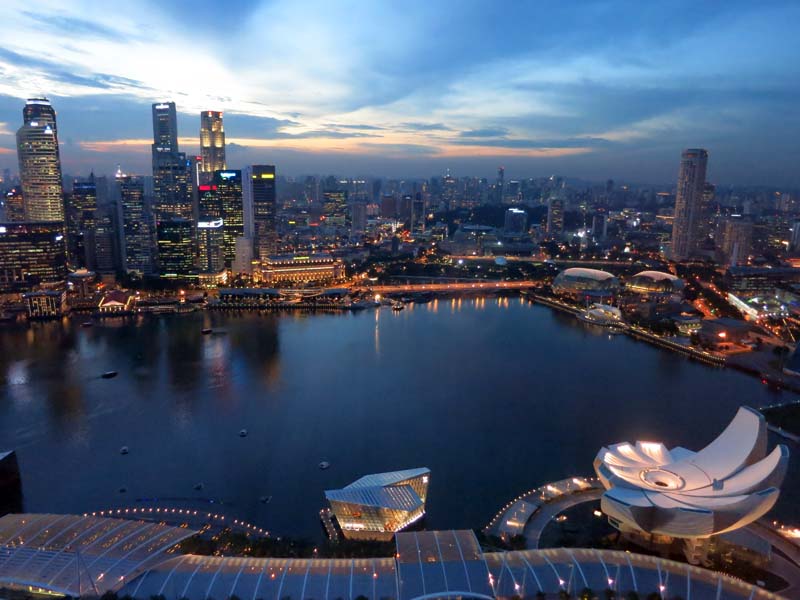 Katherine and I go to the "Ku De Ta Restaurant" that is on the 57th floor of the Marina Bay Sands hotel (where we are staying). I THOUGHT we ordered the "tasting menu" with wine pairings, with an extra glass of the first Louis Roederer Brut Premier champagne to start (we thought it only came with 1/3 tasting pours). I also upgraded to the Wagyu Beef. What happened next still confuses me. The water asked if we would like better seats (he mentioned it was based on the large amount of money we were spending). So we were moved from our small table with no view (seen below) to a SPECTACULAR balcony view outdoors, with waiters shooing away anybody who wandered into our view of the beautiful Singapore evening. When the bill came at the end of the night, it was the most expensive meal I've ever eaten in my whole life, a little more than a thousand dollars for the two of us. I'm lucky in that I can afford that, and this is a once in a lifetime type of trip. But I still cannot figure out where that price is on this menu. Below we are happy at our little corner table.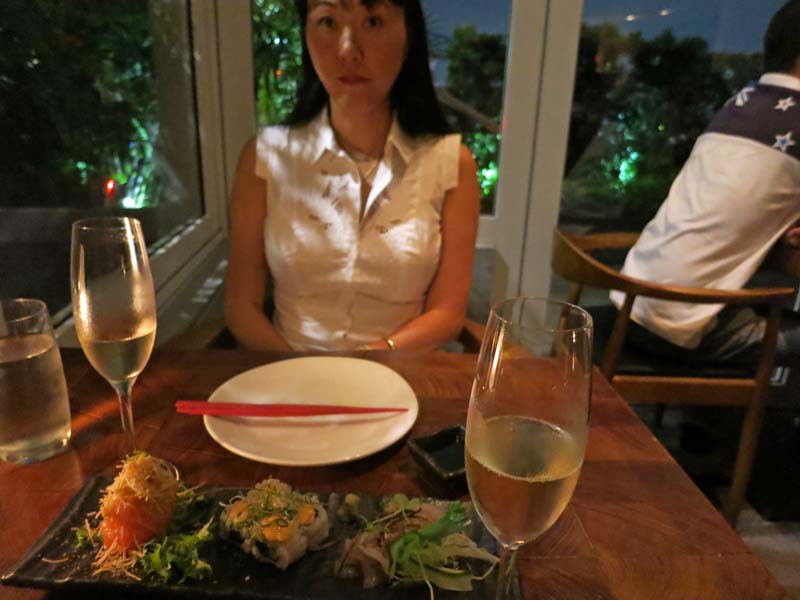 And here is the view from our new table - good gracious it's AMAZING. The large white "bubbles" you see low in the picture are the "Gardens by the Bay" in Singapore lit up at night.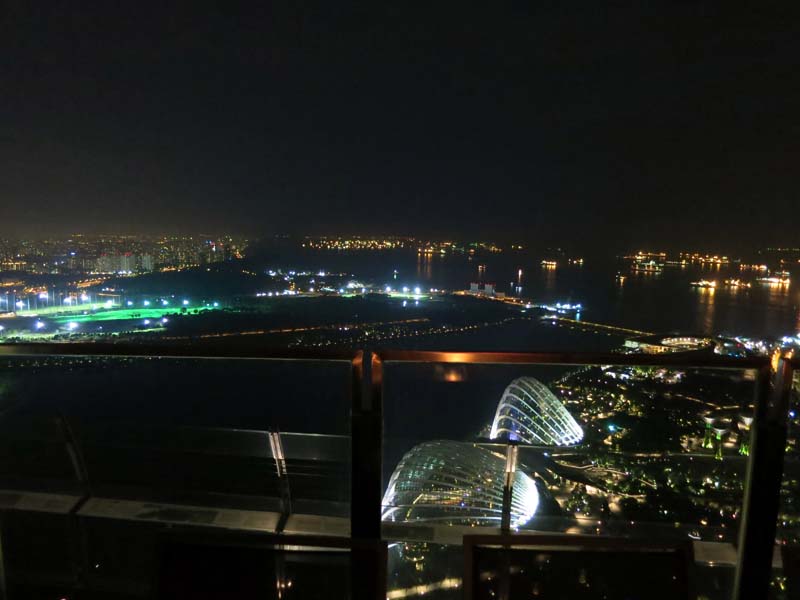 Below is a picture of one of our courses. It really was a wonderful meal with a wonderful view, I'm glad we did it. Even if it was the most expensive meal I've ever had. :-)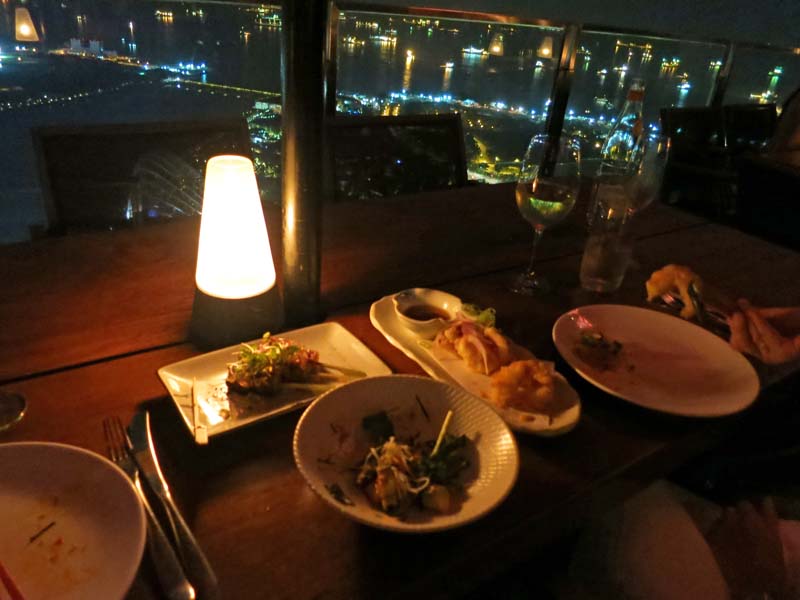 Dessert. It's been a long, wonderful meal with great views and a few too many glasses of wine.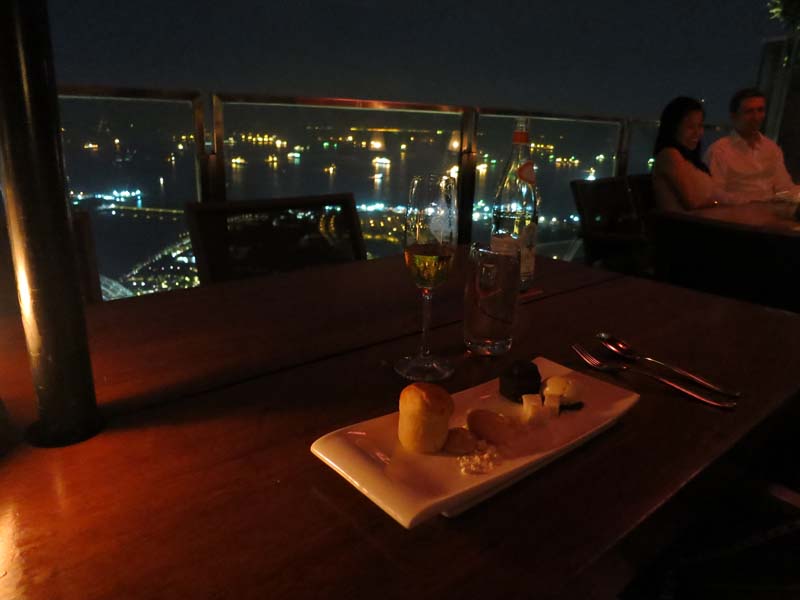 A different angle on dessert and our seats.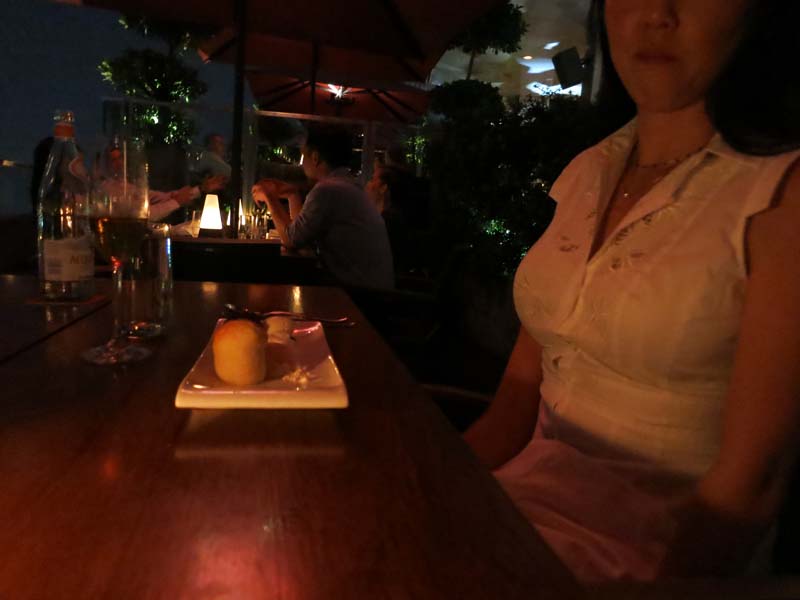 A quick picture over the balcony at the Singapore night.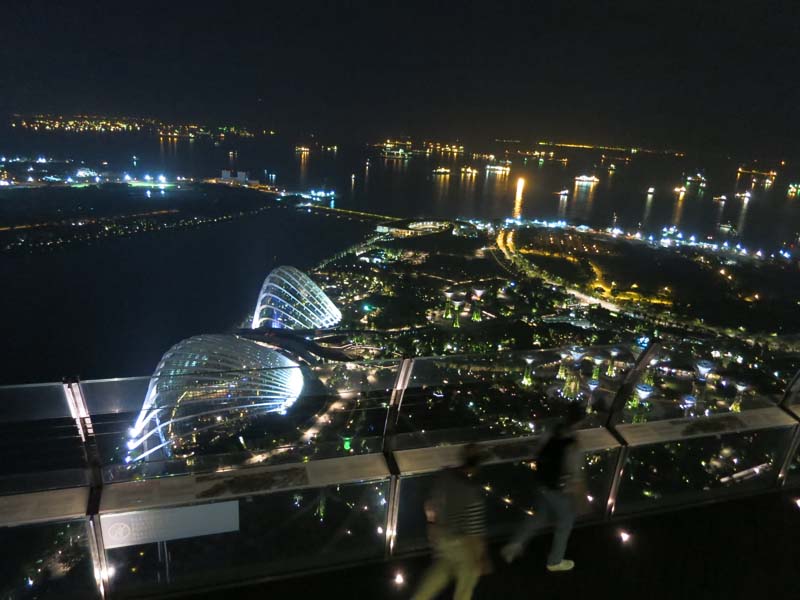 We take a quick walk around the "SkyPark Observation Deck" after dinner. The Observation Deck is located 1 floor down from the restaurants on the 56th floor.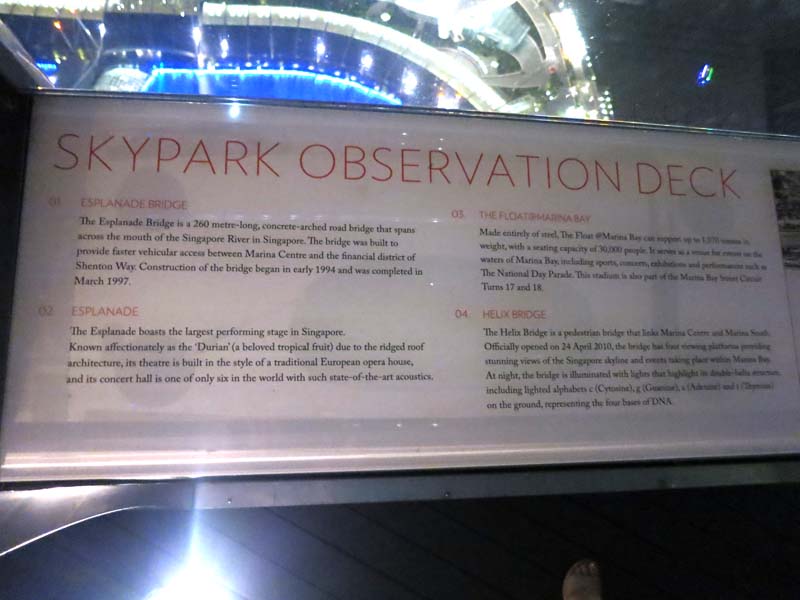 Katherine standing on the SkyPark Observation deck staring out over the Singapore Flyer (the Ferris wheel looking brightly lit thing). I think her long black hair is beautiful.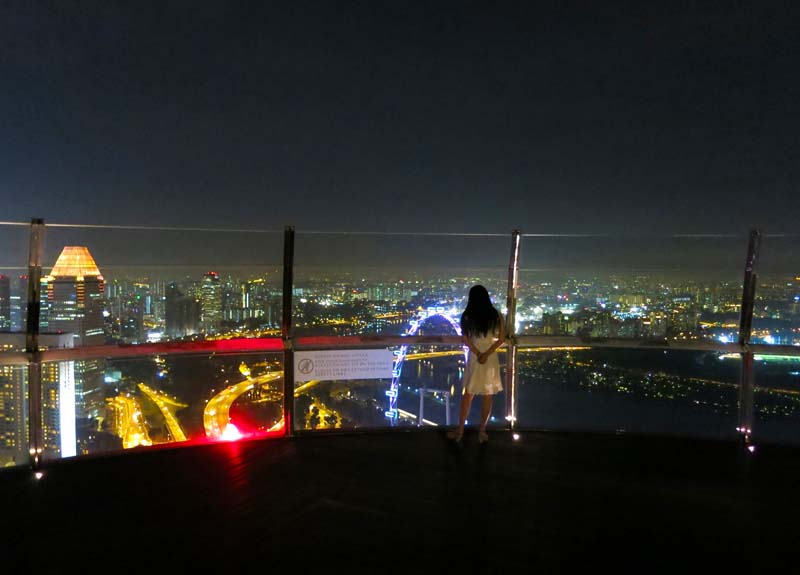 The night view panorama from the SkyPark Observation deck at the top of the Marina Bay Sands in Singapore. To get the shot "steady" I balanced the camera on the railing, it turned out pretty well.
I really like this picture below, I'm proud of it. As we walk home, this cute couple was all alone in the infinity pool staring out over the city.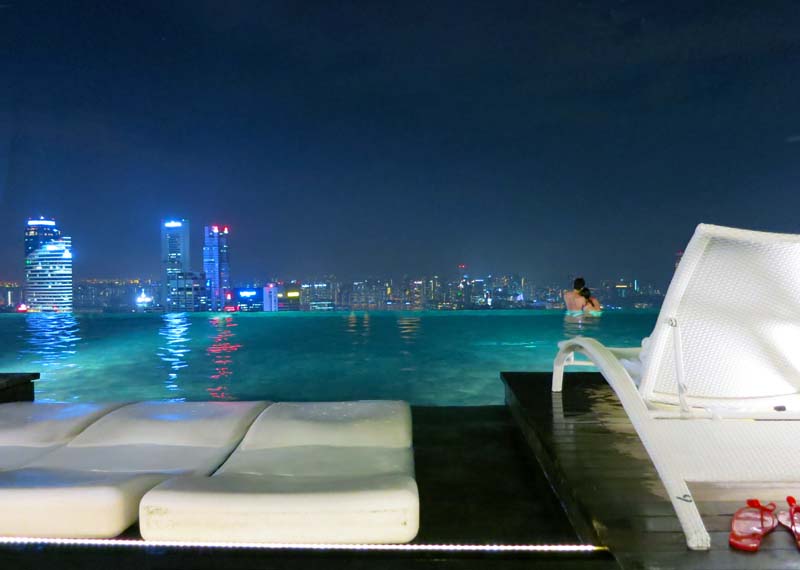 The next morning we want to go off and explore a little bit of Singapore. In the picture below, you can see the "Gardens by the Bay" in Singapore, the two huge dome structures on the left house air conditioned forests, and the strange "towers" off to the right of the domes are "super trees". More explanation lower down on this page.

YET ANOTHER panorama from the skydeck at breakfast of the exact same scene. (Are you getting tired of it yet?)

There is a mall underneath the Marina Bay Sands, we walk through it on our way to go sightseeing.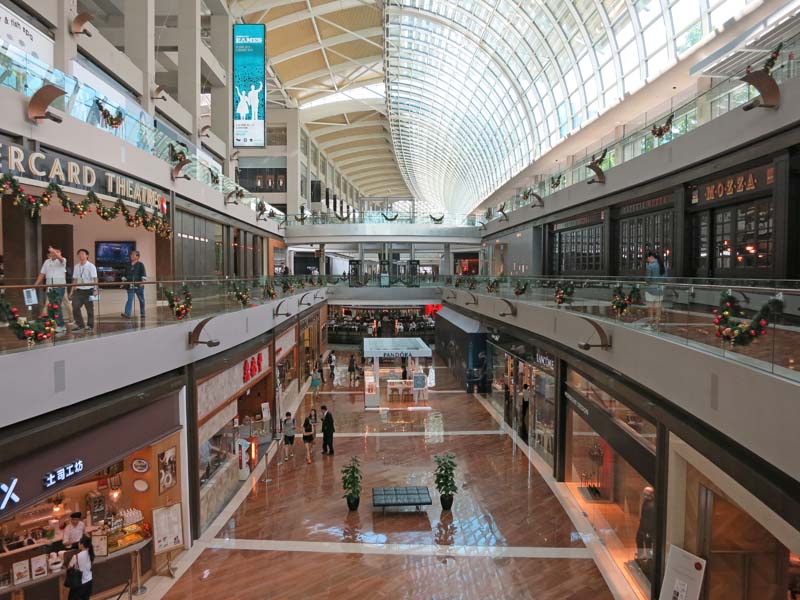 Dim Sum place in Singapore that Katherine never got to eat at. It is called 鼎泰豐 or in English that is Din Tai Fung.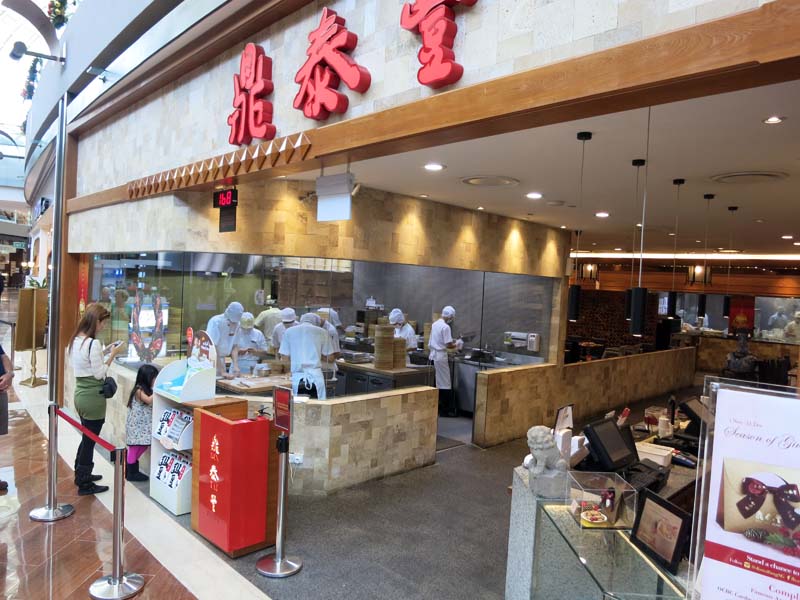 Katherine looking at the menu trying to figure out how to order it for breakfast tomorrow. :-)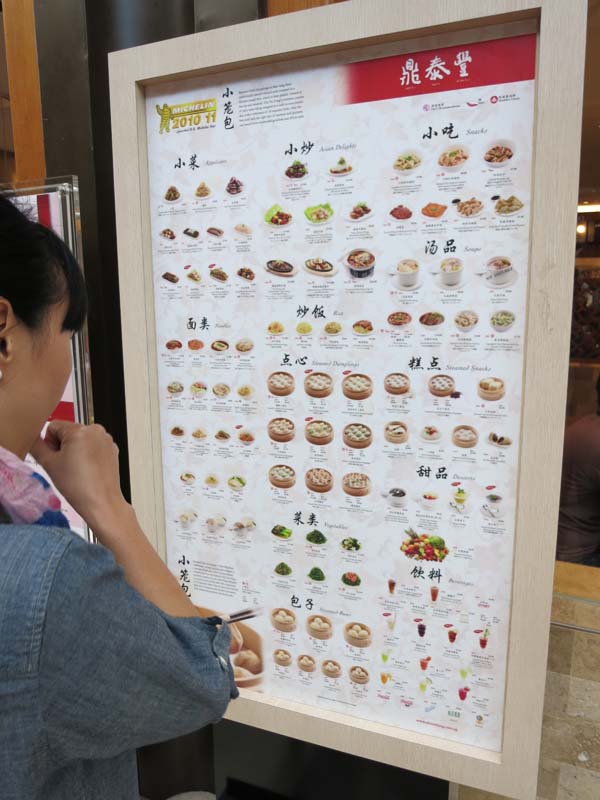 I made Katherine pose for this picture. :-) It's the Samsung store in the shopping mall below the Marina Bay Sands hotel in Singapore.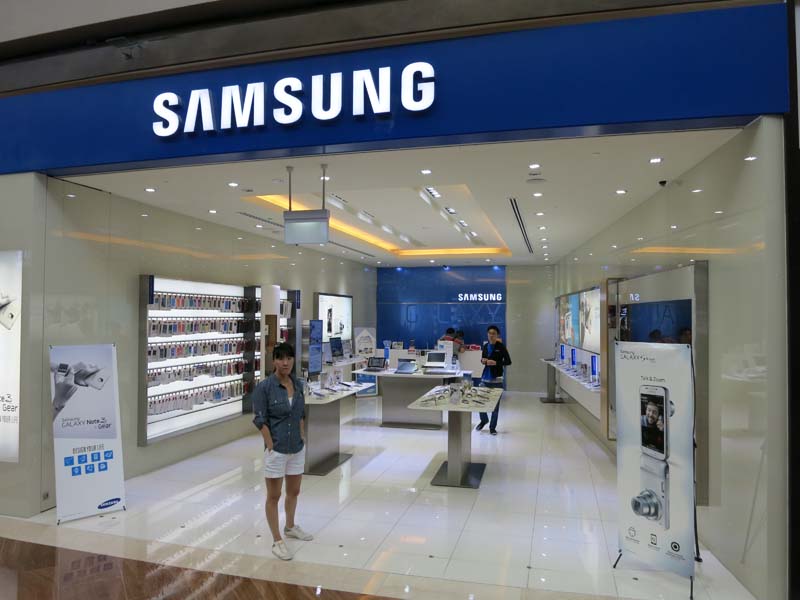 Just outside the shopping mall is the "Helix Bridge" in Singapore. We walked across it, it's pretty interesting, but by the time we got to the other side the sweltering heat got to us and we took an air conditioned taxi the rest of the way to the Gardens by the Bay.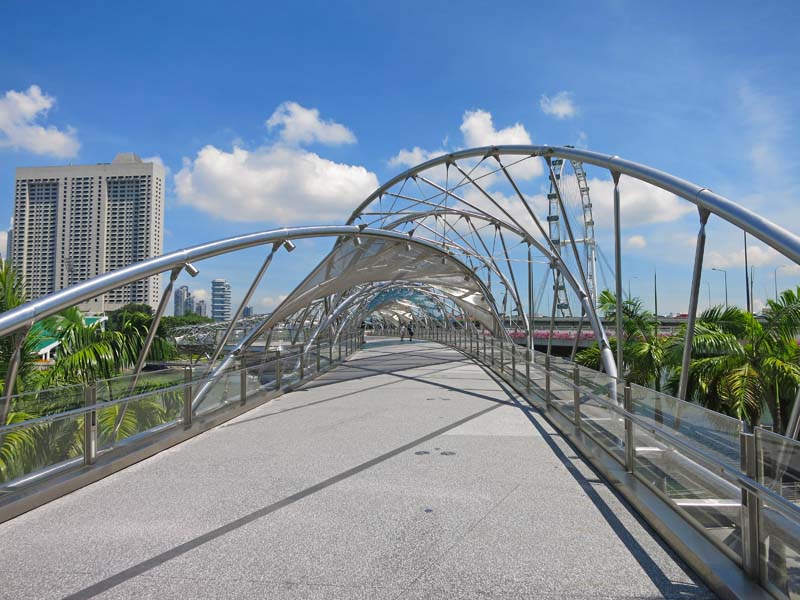 Standing on the Helix Bridge looking up at our hotel (The Marina Bay Sands) in Singapore.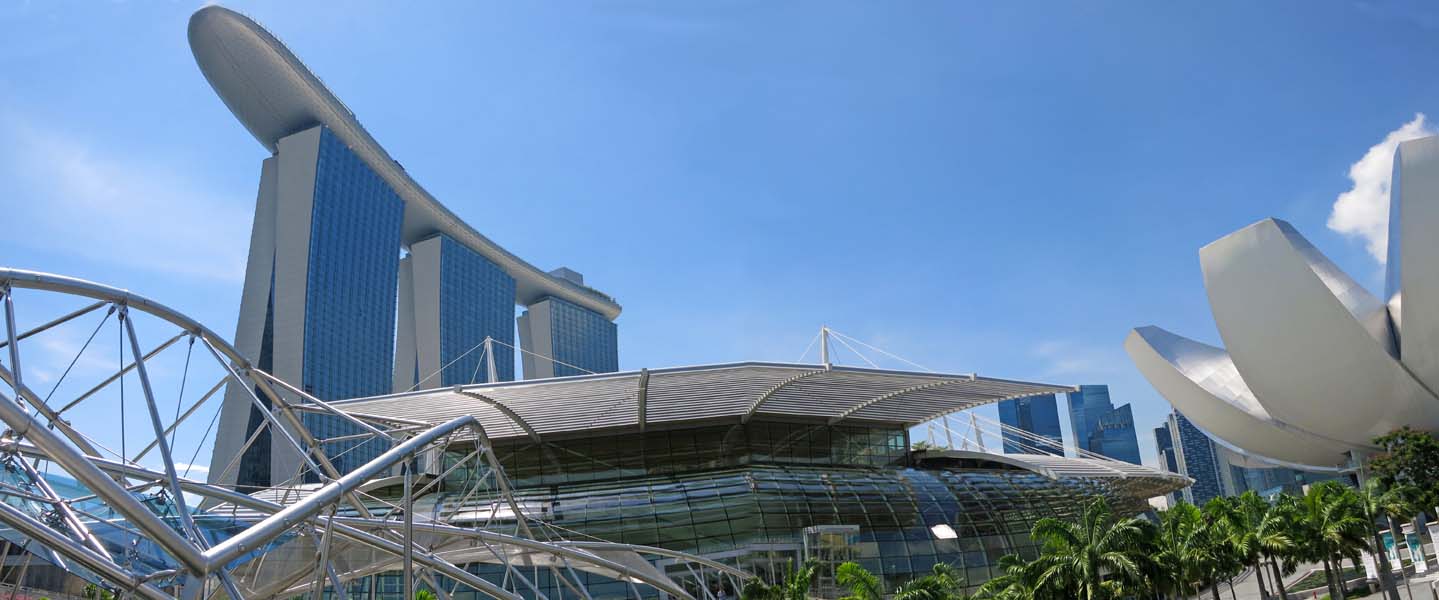 Below is a picture of a floating soccer field! This is called "The Float at Marina Bay" and it's yet another example of amazingly fun and interesting architecture here in Singapore.

As we arrive at the "Gardens by the Bay" in Singapore, Katherine notices these Vertical Garden displays.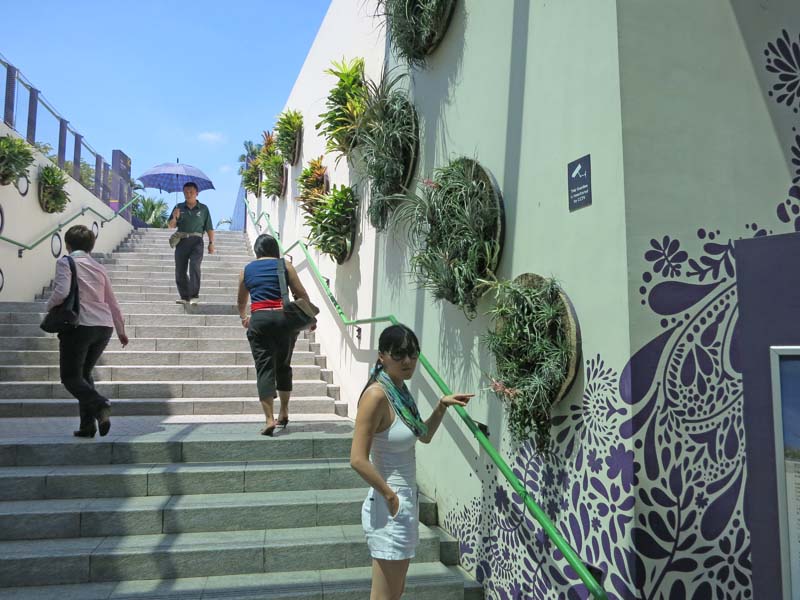 We decide to go for a quick driving tour of the Gardens by the Bay.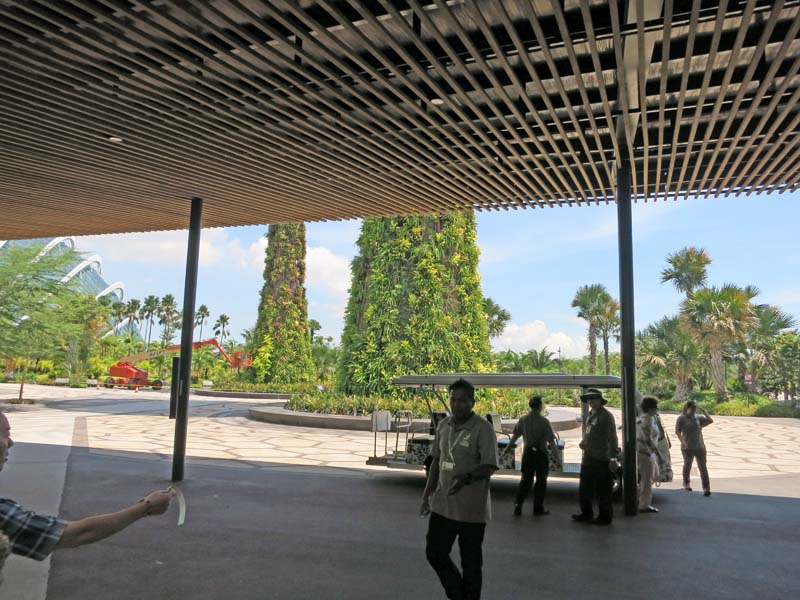 We ride around in a little golf cart getting a tour.
At the Gardens by the Bay, there are these huge things they call the "Super Tree Grove". They are man made steel scaffolds 16 stories tall with vines growing through them. Very impressive, and they light them up at night. Below is a quick upwards picture of one while we ride our little golf cart on tour. Something really interesting about how they light the super trees: 11 Supertrees are embedded with environmentally sustainable functions like photovoltaic cells to harvest solar energy.
Another picture of one "Super Tree".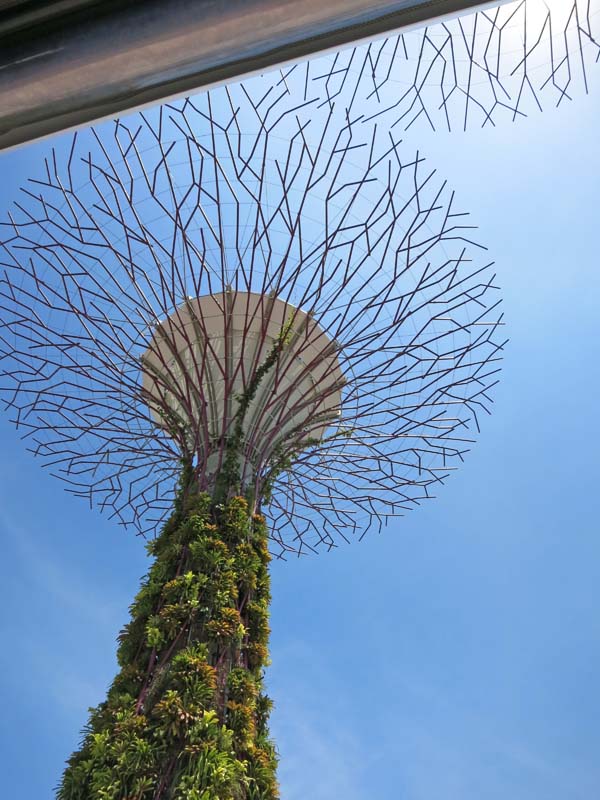 One of the large enclosed air conditioned domes at Garden by the Bay in Singapore. The domes allow them to grow plants that couldn't survive in the heat and Singapore environment naturally.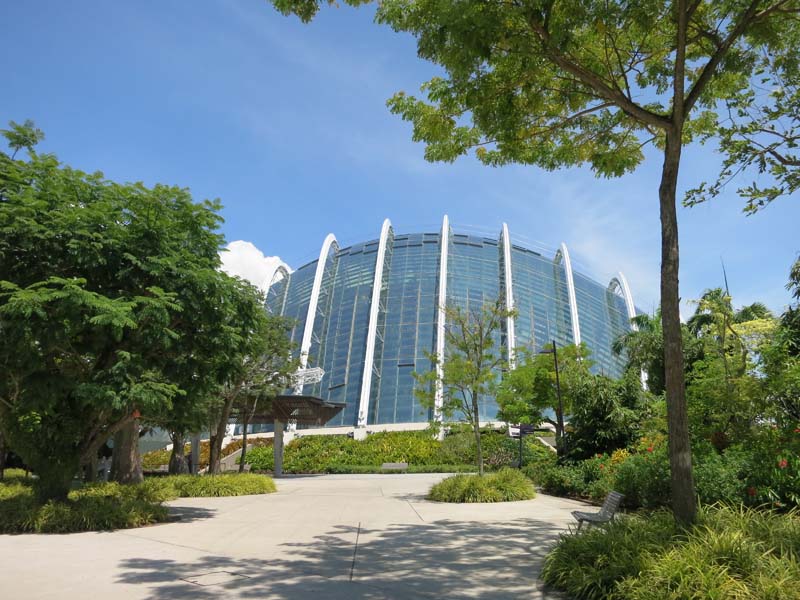 Entrance to the "flower dome". For some reason, a number of schools were on a field trip on the day we were at the Gardens by the Bay. Notice that you can easily identify your school by their uniforms.
A quick picture of our hotel (The Marina Bay Sands) which is a ship perched atop three gigantic towers. Picture taken from the Gardens on the Bay in Singapore.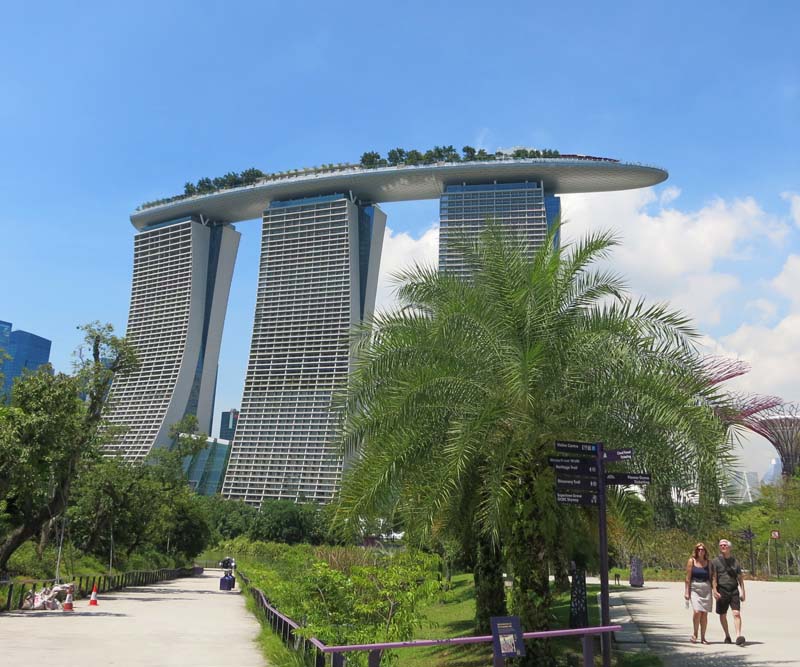 There are different "Heritage Garden" sections of gardens representing Singapore's heritage with representative plants, this is the "Indian Garden" section.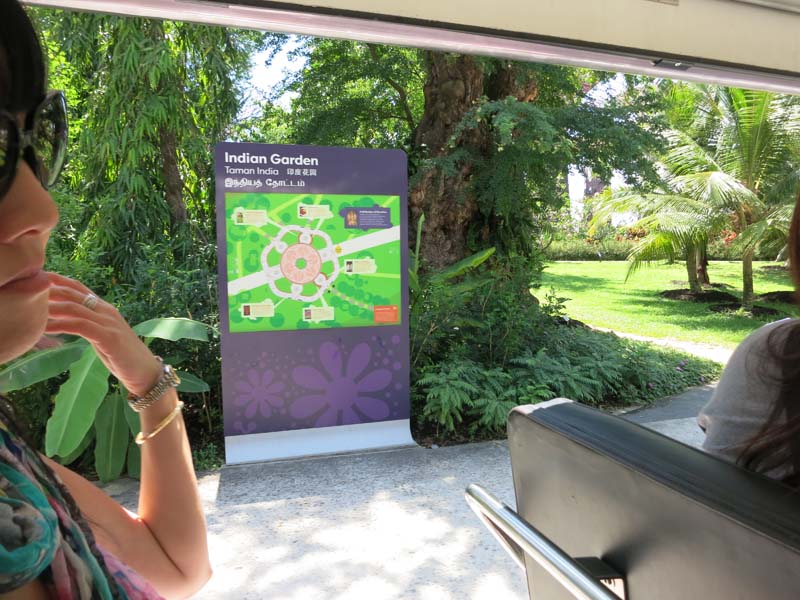 The "Chinese Garden" section of the Heritage Gardens.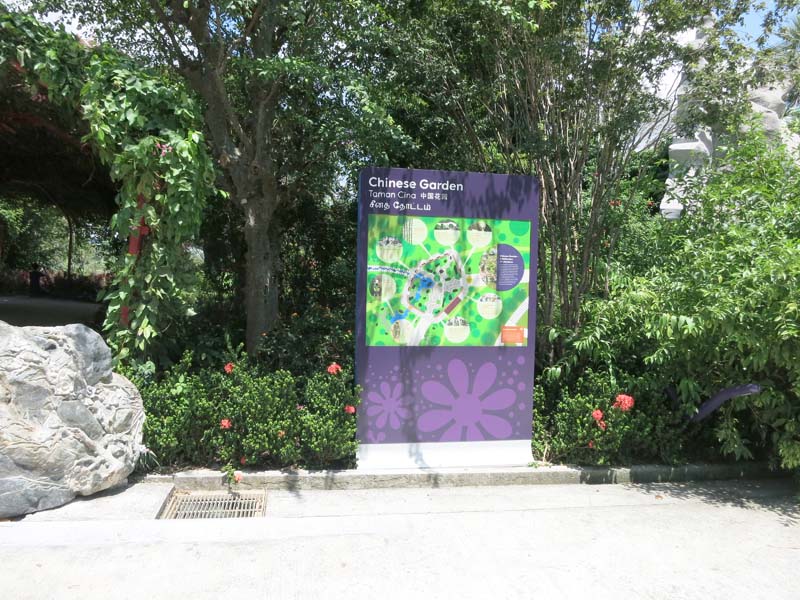 I think this is a coy pond from the Chinese Heritage garden.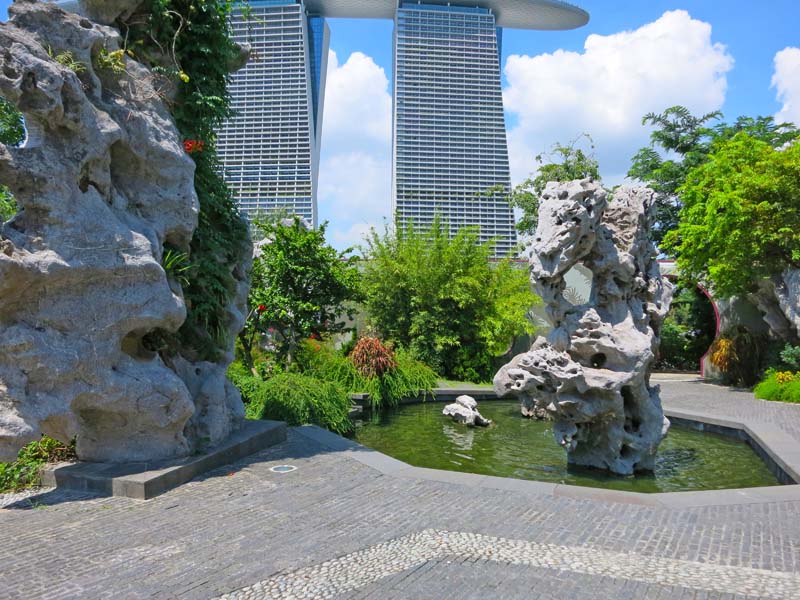 Singapore is rich in cultures: Malay, Chinese, Indian Colonial. The garden pays tribute to each of these major influences by showcasing plants, flowers, and architecture that was introduced by each of these cultures. The picture below is possibly the "Malay Heritage Garden"?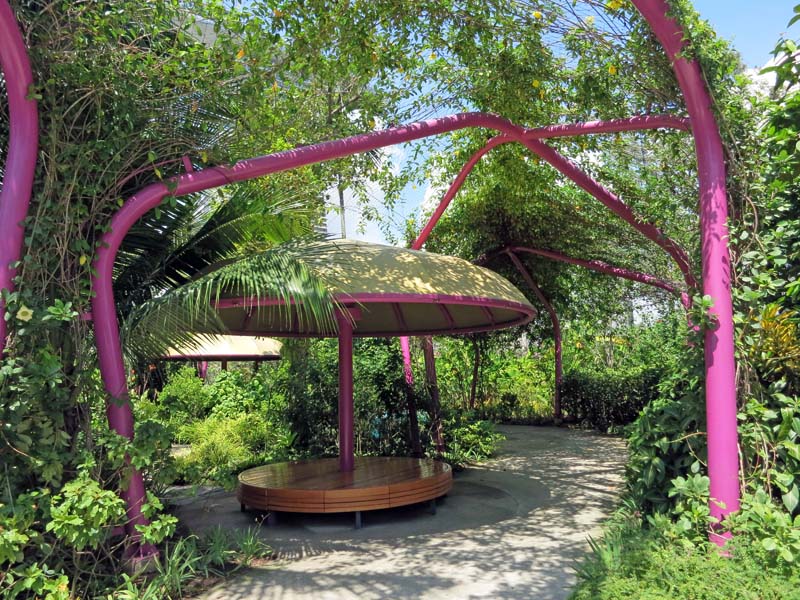 Super Tree Grove.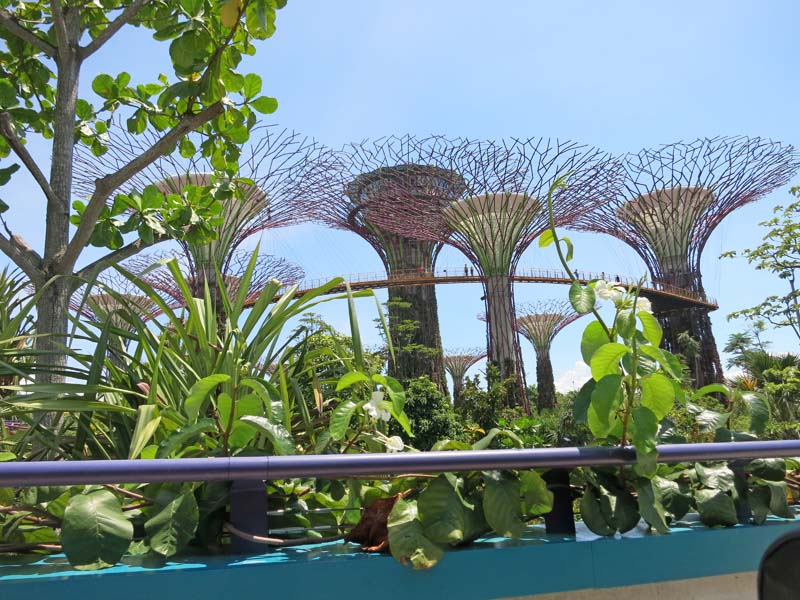 A good picture of the "Super Tree Grove". Notice that there is a 22-meter-tall walkway that connects 2 of the trees together. Also, we ran out of time, but there is also a cafe 50 meters up for folks who want a quick bite to eat and want a view.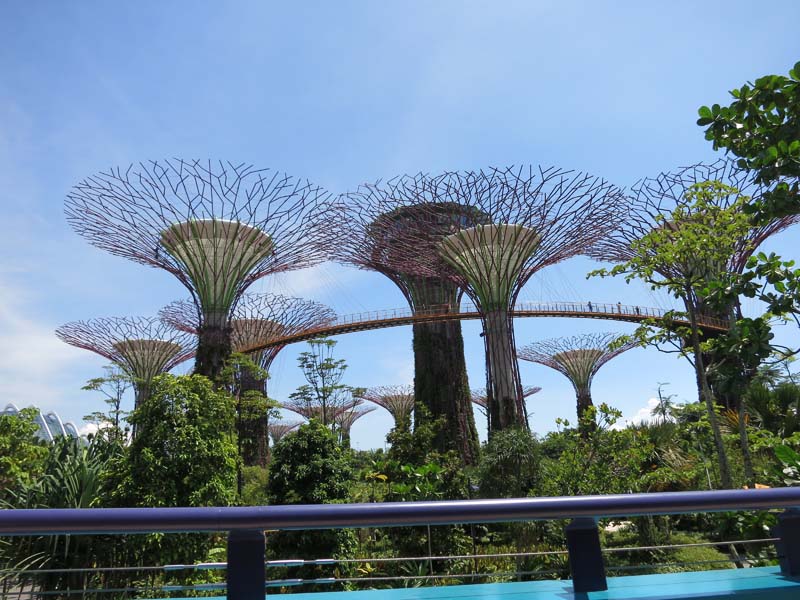 This next part was just bizarre. We drove by a gigantic naked white baby. This is a display by artist Marc Quinn called "Gigantic White Baby Rules Earth". Ok, I'm kidding, it is actually called "Planet" which is even more strange. Oh, it is a sculpture of Marc's son. I really have no idea why it is here in the Gardens by the Bay, it doesn't make any sense to me, but it's so loopy and huge I figure what the heck. This sculpture was intriguing because the baby's arm was the only part of him touching the ground. (And YES, the baby is definitely a "he".)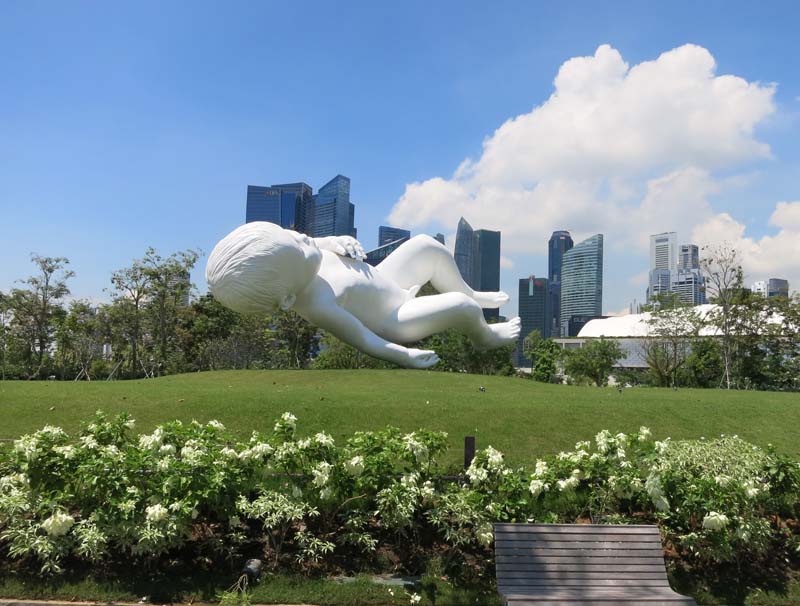 Yet another picture of the Marina Bay Sands hotel, it's hard to escape without seeing it looming overhead.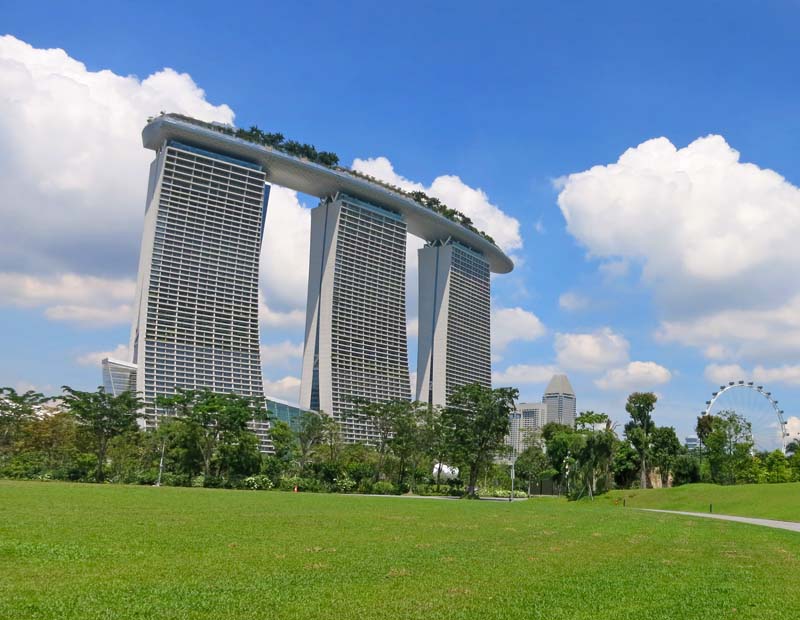 To give an idea of how large the super trees are, I point out there are people walking around on the platform between the trees. Click on the picture to zoom in!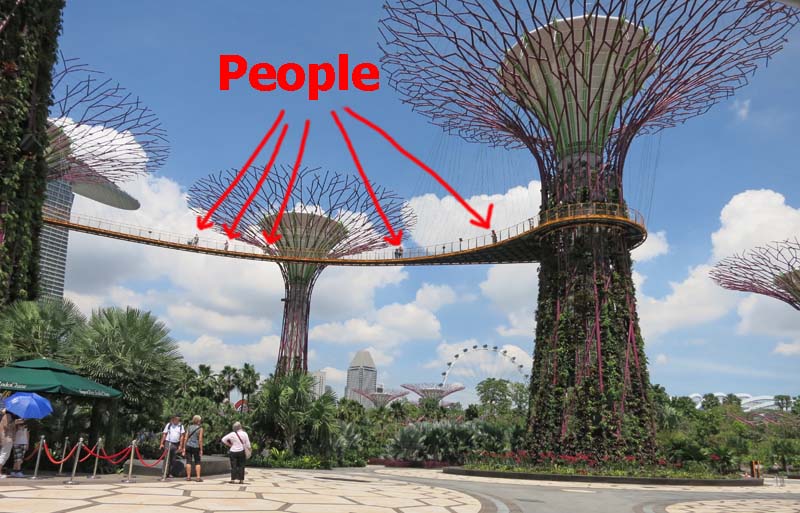 In this picture of the Super Trees, you can see some of the scaffolding.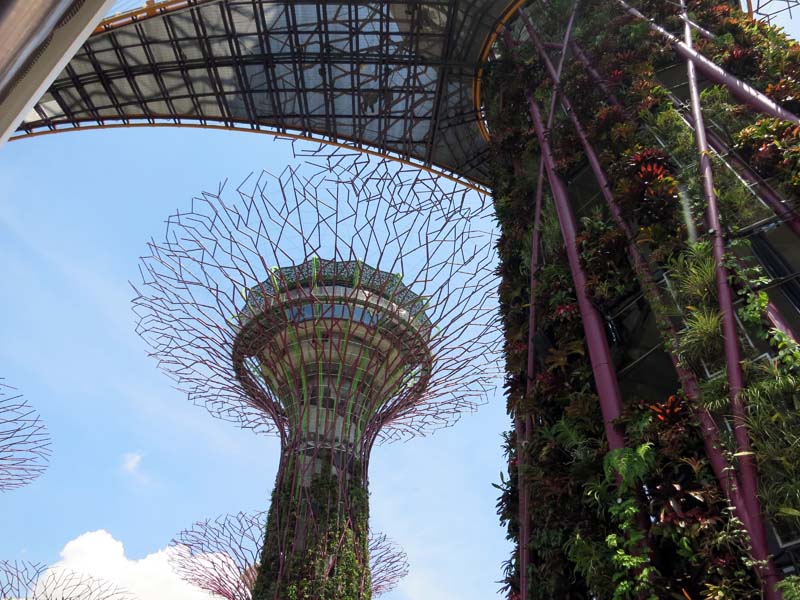 Super tree grove.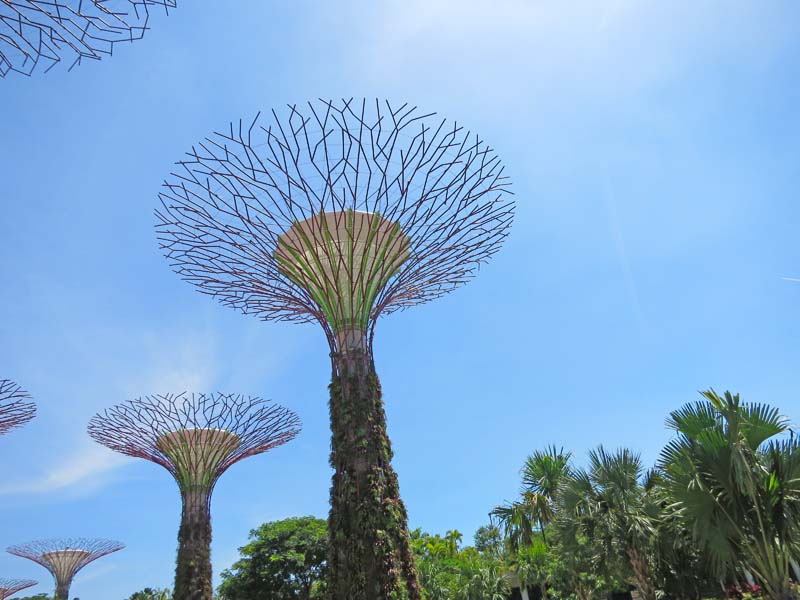 More super tree grove. These things really are huge (16 stories tall) but it's hard to tell from these pictures.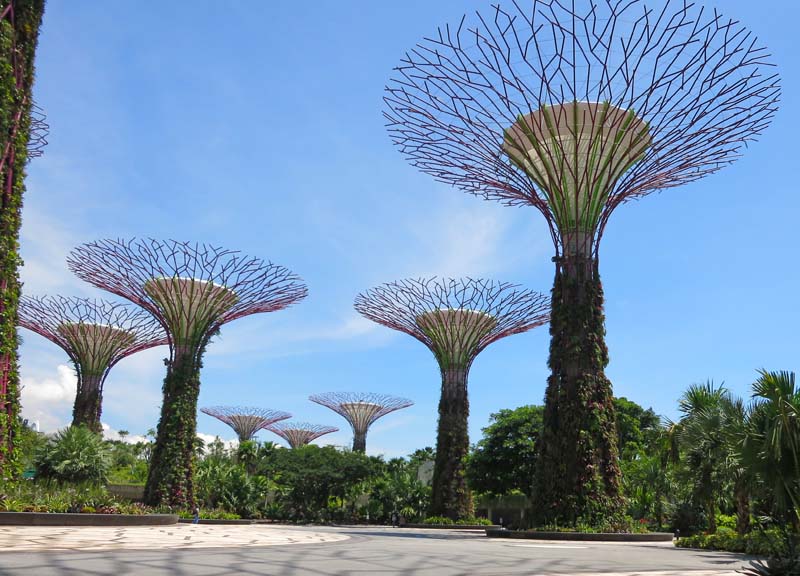 After the driving tour, Katherine and I decide to go for a really nice walk through the air conditioned "Cloud Forest Dome". It's SUPER pleasant an a nice change from the hot Singapore weather. Below is a 7 story tall waterfall inside the Cloud Forest Dome. It's supposedly the world's tallest indoor waterfall measuring at only 35 meters. Feels like someone should try and beat this record, right?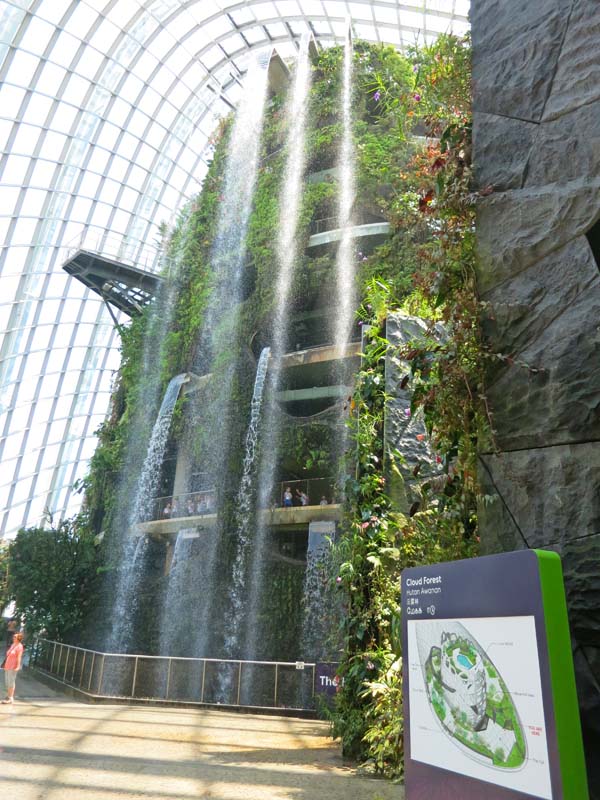 The whole cloud forest has vertical gardens everywhere, here is my best attempt to get one in a picture (too tall, I'm too close!)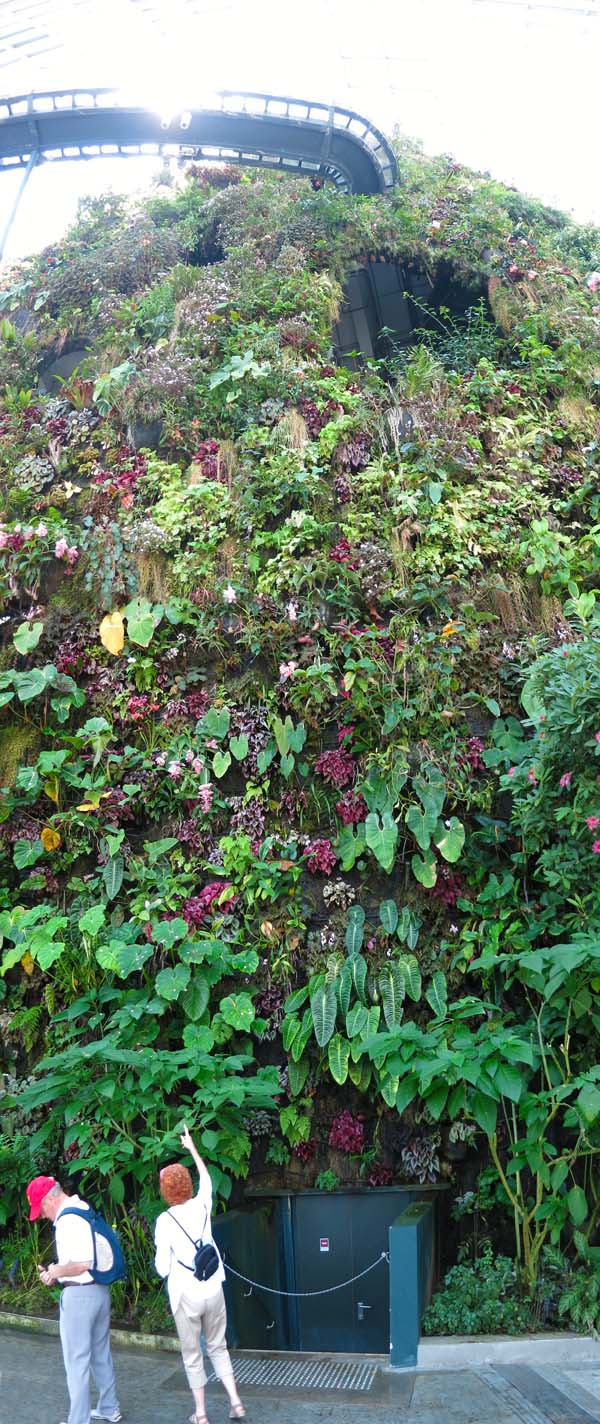 Katherine standing at the bottom of the vertical wall of flowers an greenery. Katherine had to put her shirt back on because the cool misty air was giving her the chills after being outside in the hot Singaporean air.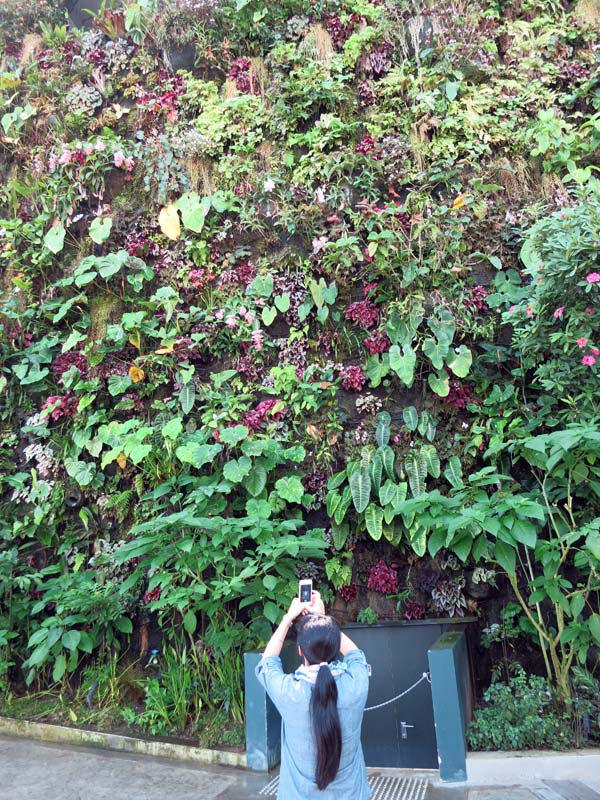 We take the elevator to the top of the "Cloud Forest Dome", notice each of the levels have names.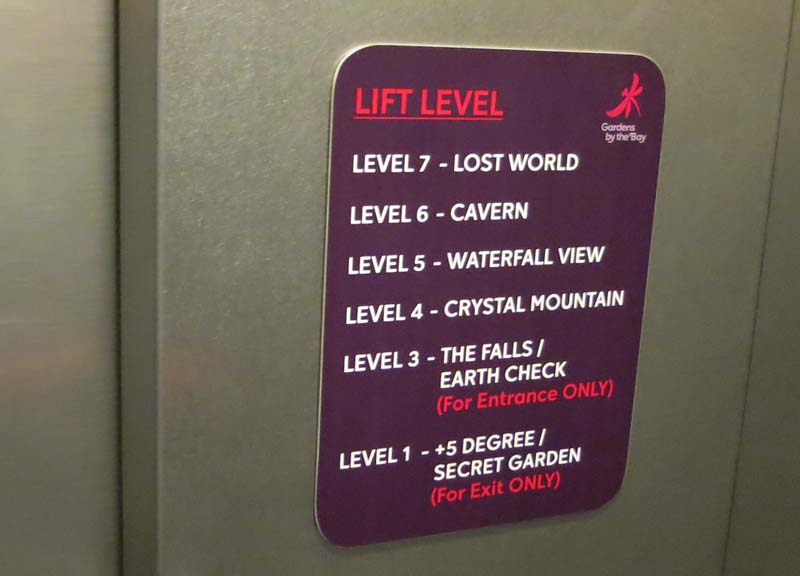 Here we are at the very top of the Cloud Forest Dome, you can see the Marina Bay Sands hotel beyond the dome.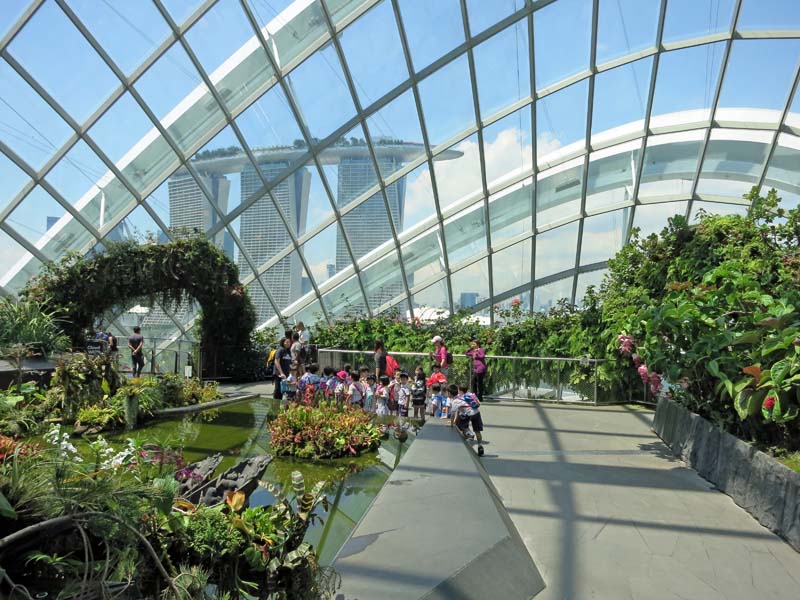 A beautiful woman with an awesome mane of black hair looking out the dome from the top floor.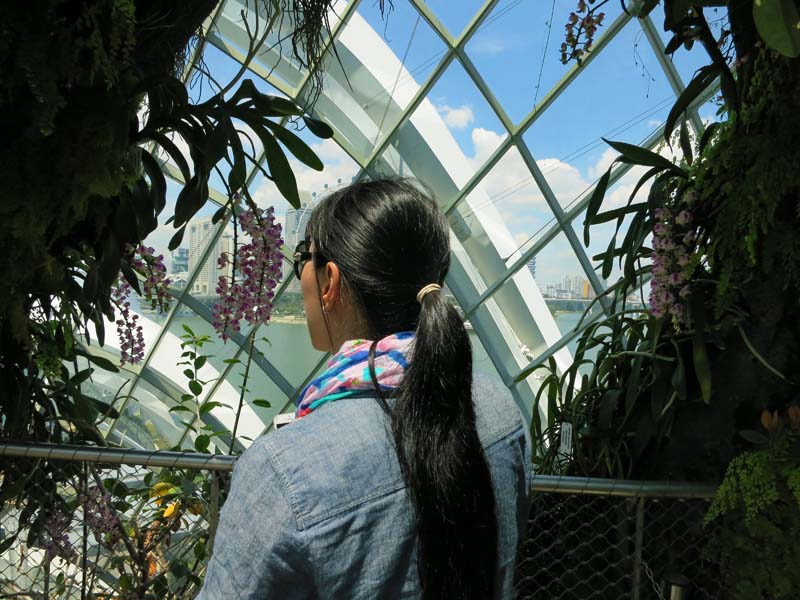 In the Cloud Forest, they have Venus Flytrap plants (Carnivorous Plants). Here is a close-up.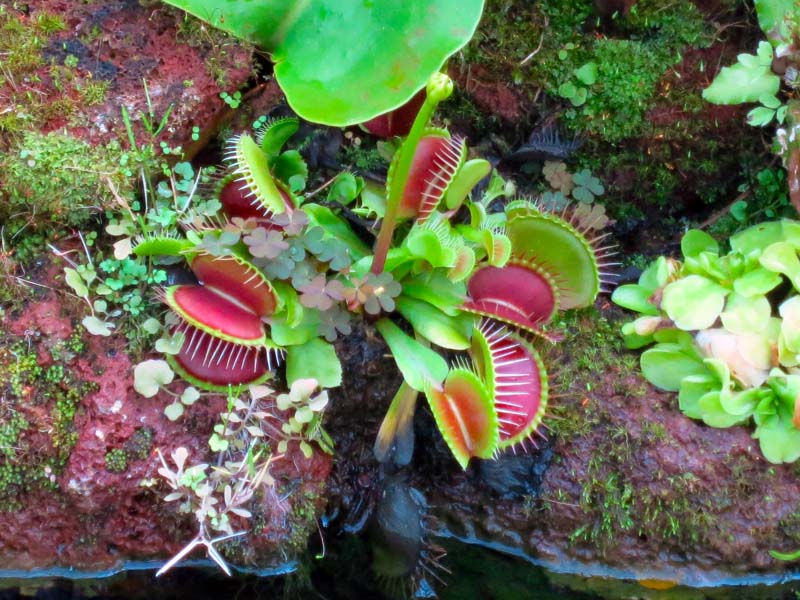 Another close-up picture of some carnivorous plants, I wish I knew what they were called? They look like little trumpets, and some of them have "Pitfall Traps".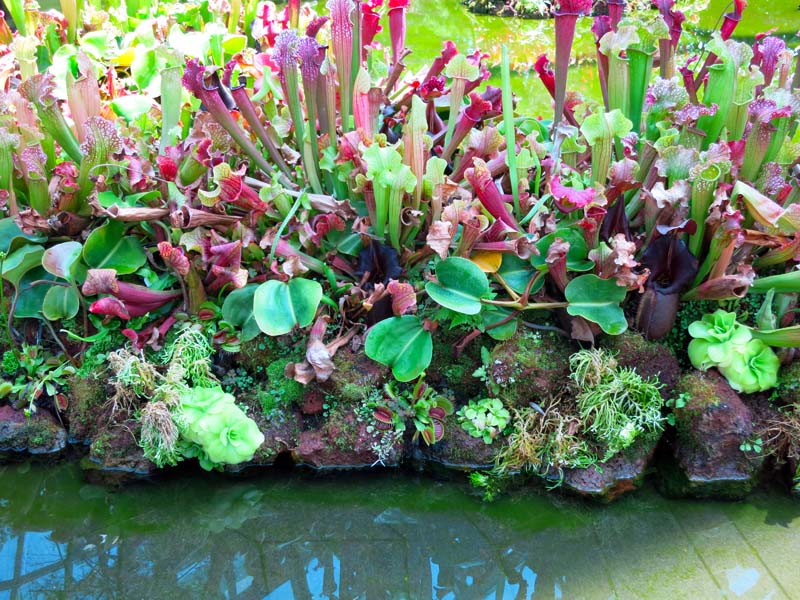 Some Pitfall Traps in plants in the Cloud Forest in Singapore.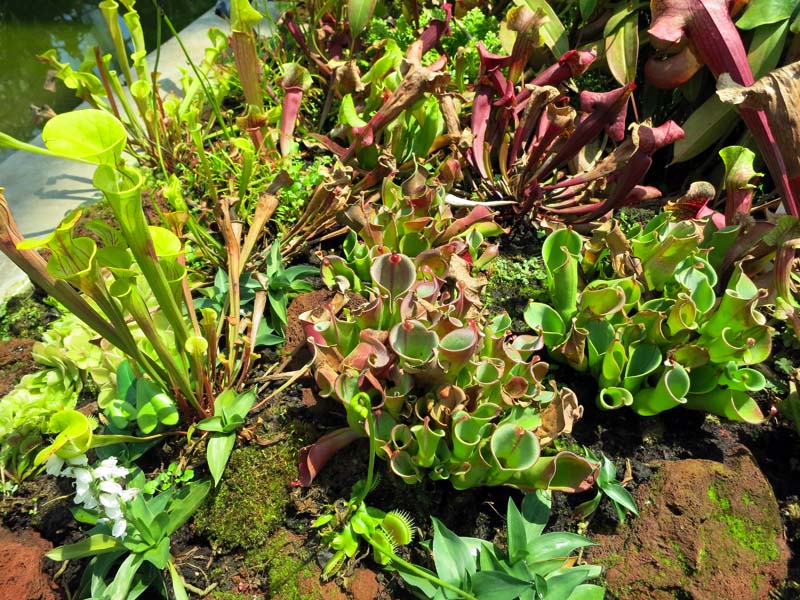 The "Cloud Walk" is the relaxed metal bridge.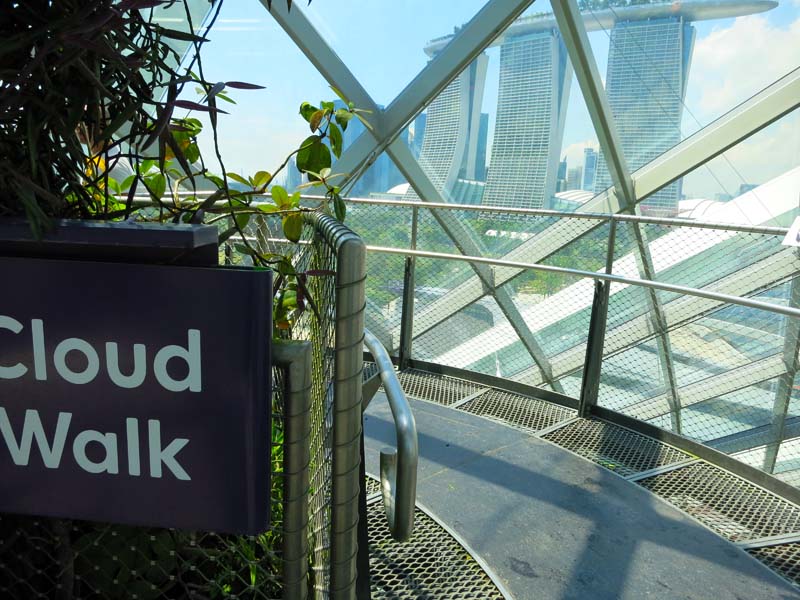 A nice picture of the "Cloud Walk" in the "Cloud Forest Dome" in the "Gardens by the Bay" in Singapore.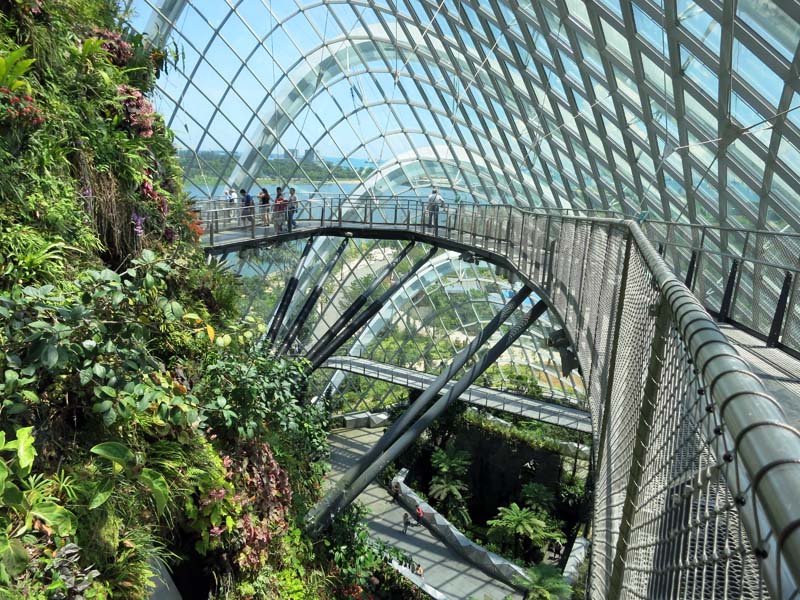 If you look down, you can see other people several floors below you. Oh, and that is my foot.
School children in Singapore wear uniforms, the ones below are on a field trip.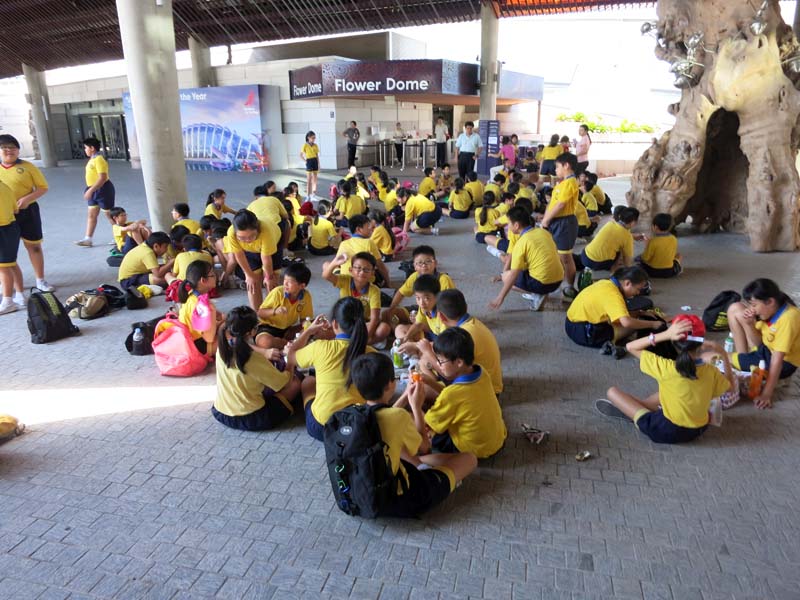 In the picture below, a crew trims one of the super trees using a cherry picker (also known as a "boom lift").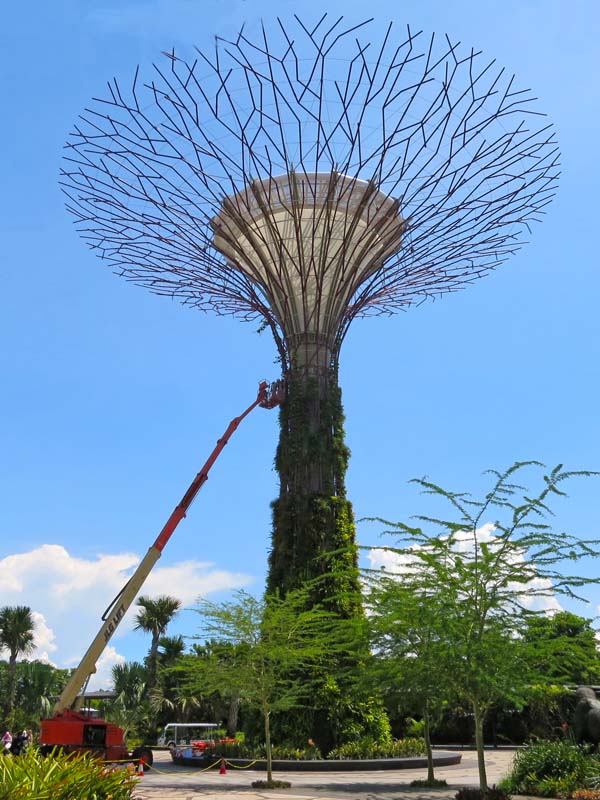 After the Gardens by the Bay, Katherine and I wanted to try the famous "Chili Crab" so we went to a recommended restaurant found on "Sentosa Island". Sentosa Island is a resort area not far away from the center of Singapore (maybe a 10 minute taxi ride). The taxi just dropped us off here at "Festive Hotel".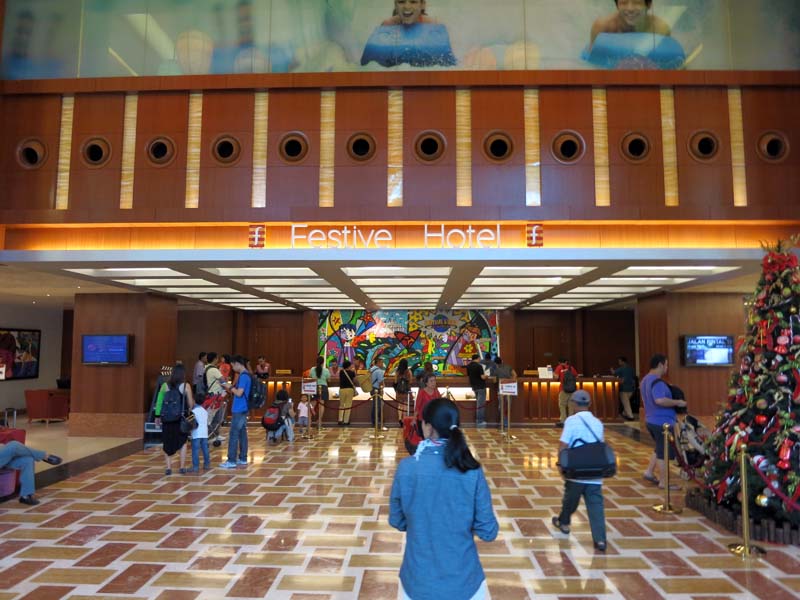 Everywhere we go are the same style of SUPER high end mall in Singapore. The brands you see are "Cartier", "Tag Heuer", etc. Very VERY high end stuff.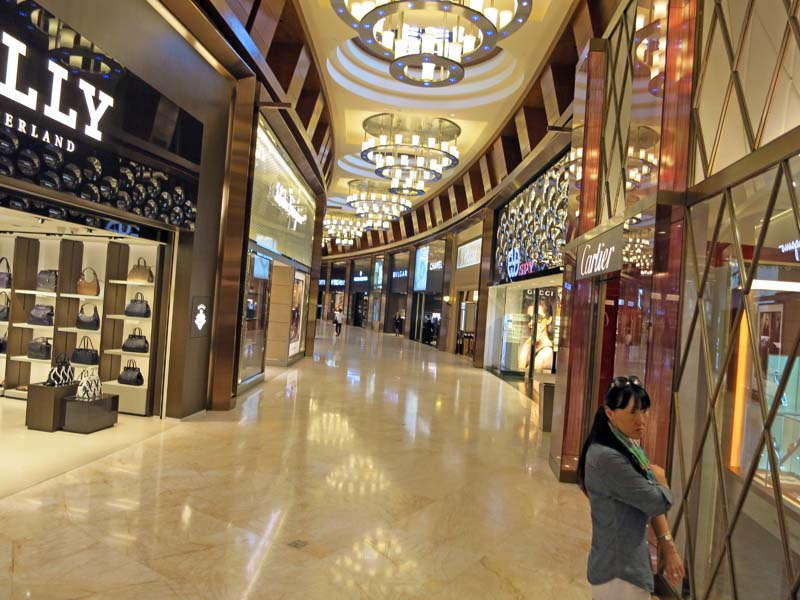 This is the outdoor area of the Sentosa Island resort. It's clean and fanciful, I really liked it. The only downside of it is being outdoors - no air conditioning and no misters - so it was very hot even for a short 5 minute walk in the late afternoon heat.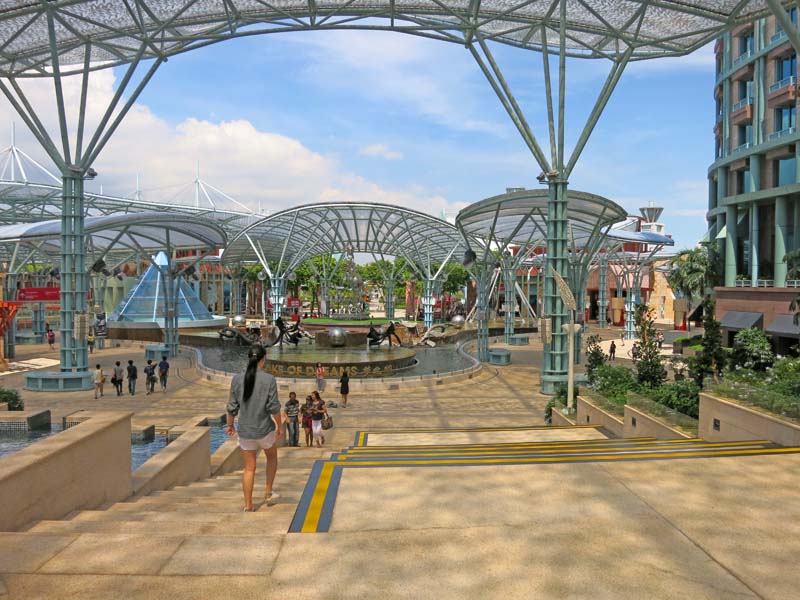 A tiny little "Lake of Dreams" at Sentosa Island in Singapore.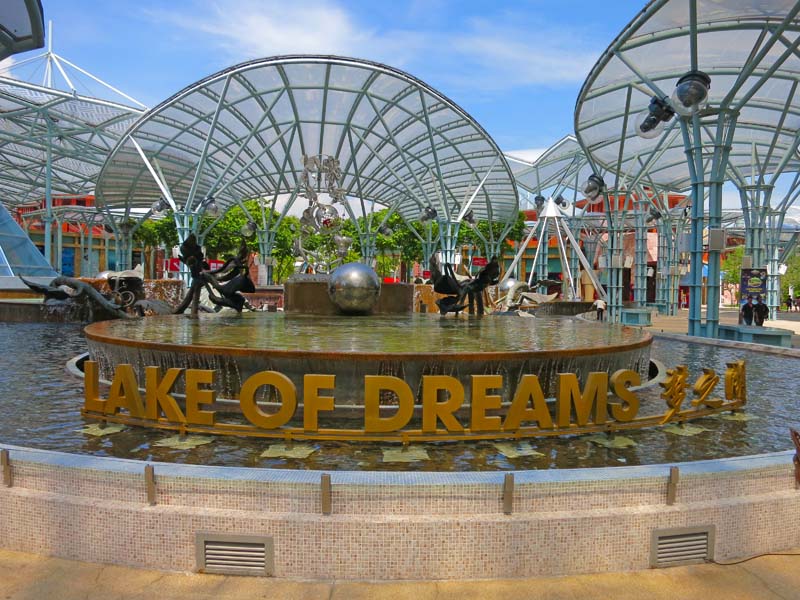 We find our restaurant we were told served excellent food. The restaurant is "Singapore Seafood Republic" and we are here to have "Chili Crab" which is a famous Singaporean dish.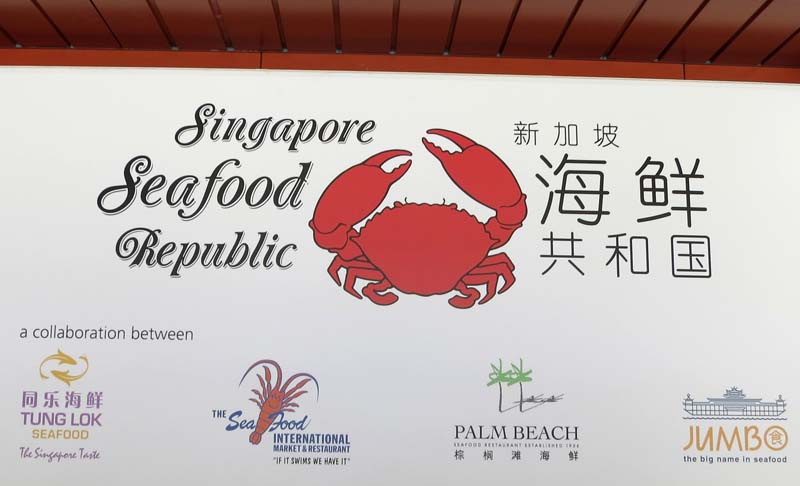 And here we are! Katherine ready to dig into the delicious "Chili Crab" and fried buns. In the big serving dish is 1 whole crab. It's been segmented, but it's up to the diners to crack and get into the crab meat. The fried buns are used instead of a spoon for any of the delicious sauce you want to scoup up. A very messy meal!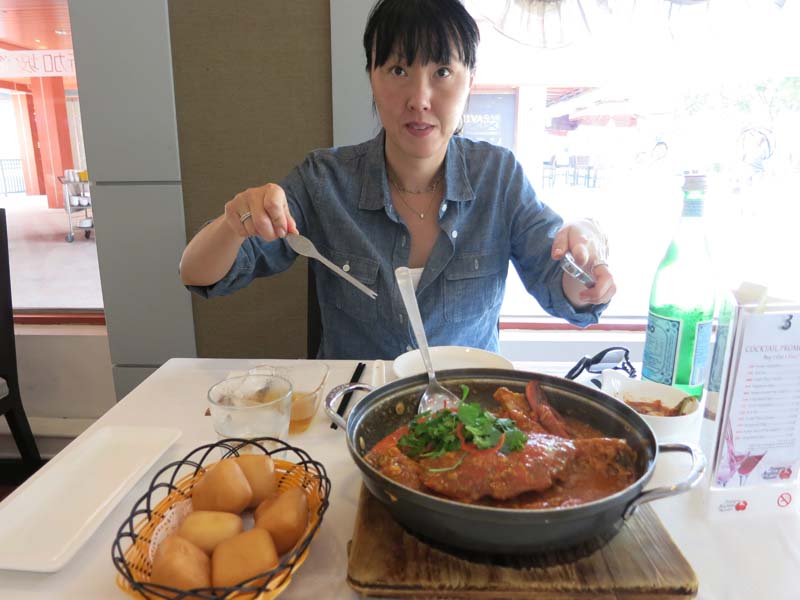 We have to have a picture of me sometime, and here I am below. I'm wearing sunglasses because I have a stye on my eyelid and I look hideous.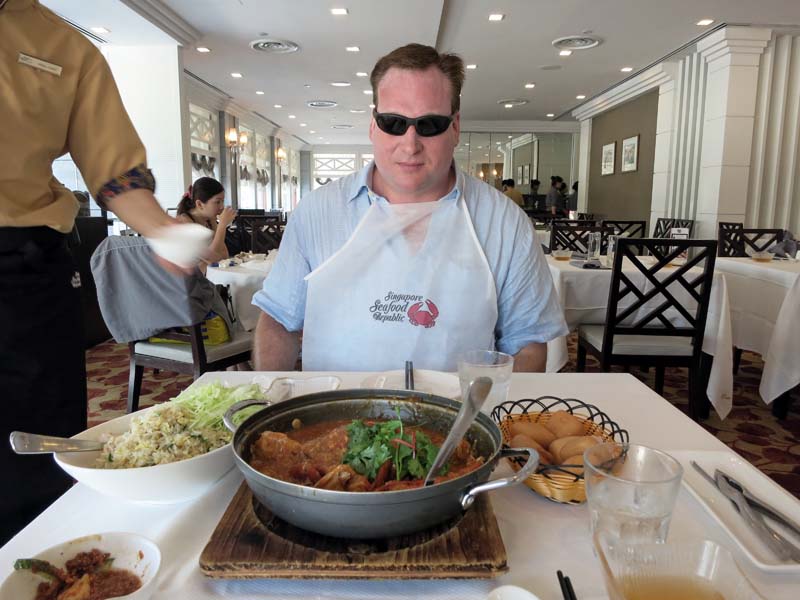 Flash forward a few hours after a nap, and we decide to stuff ourselves with more Singaporean food. This time we visit the "Swissôtel The Stamford" in Singapore which is one of the tallest hotels in the world. Naturally from our seats we now LOOK DOWN on our Marina Bay Sands hotel (the three towers with a ship across them).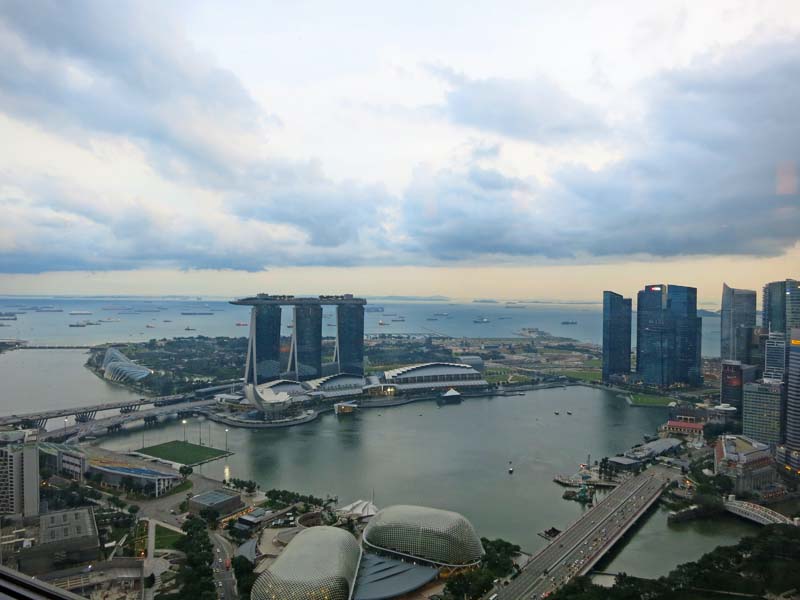 A zoomed in view of the Marina Bay Sands hotel in Singapore, picture taken from the "Swissôtel The Stamford" restaurant.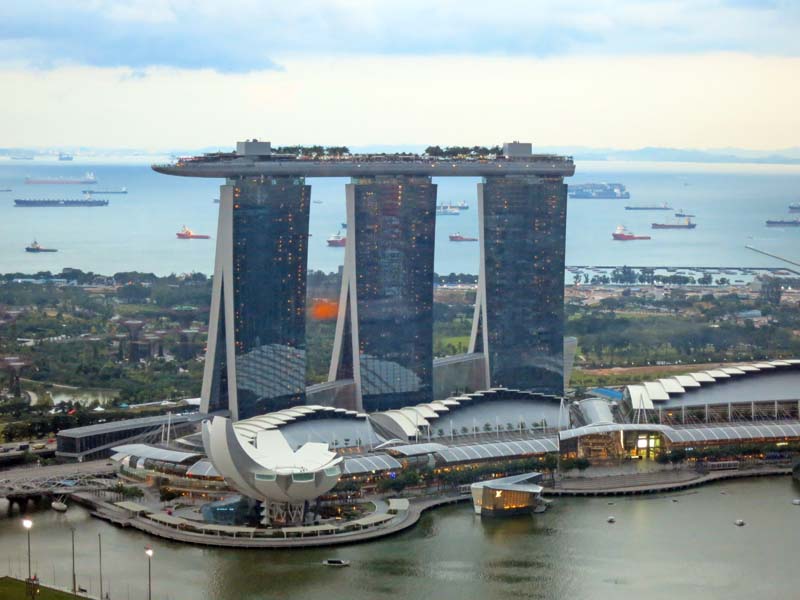 I like the picture below because it has both the Singapore Flyer (Ferris wheel) and the Marina Bay Sands Hotel in the picture. And if you look closely, you can also make out the Helix Bridge. (Click on the picture for an enormous zoomed in version.)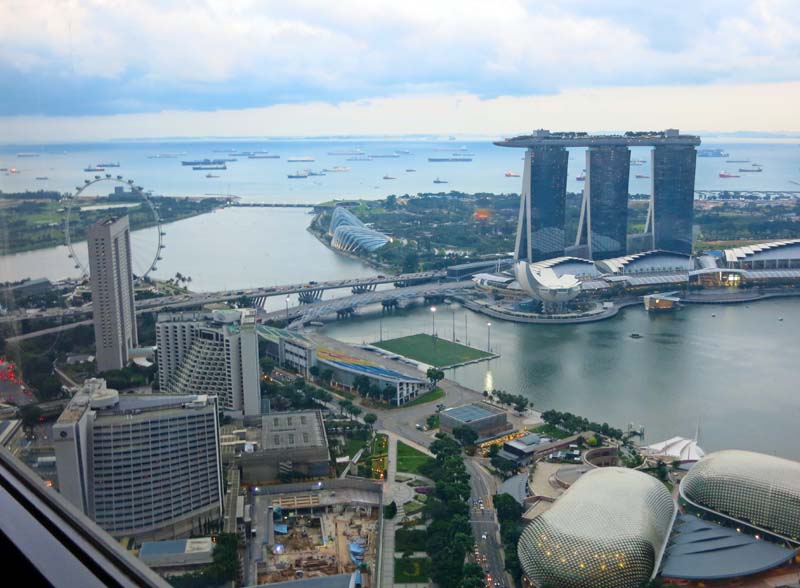 A picture of our food in the Equinox restaurant at the top of the Swissôtel The Stamford in Singapore.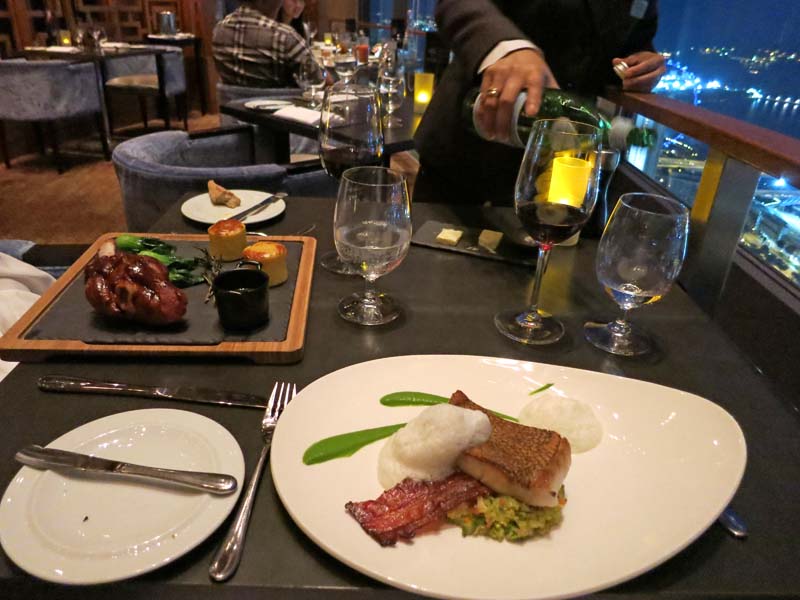 As the night goes on, here is a sunset view. You can see my ghostly reflection in the window, it's kind of like I'm a Godzilla monster towering over Singapore.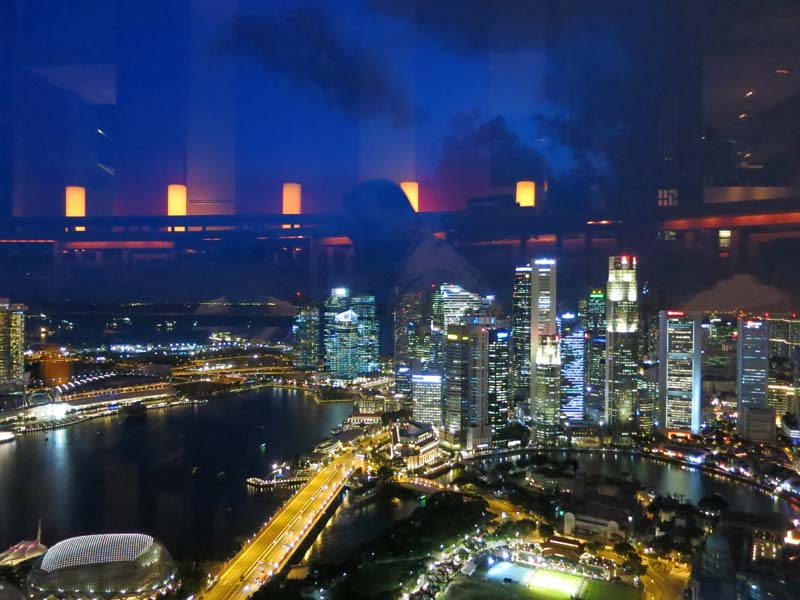 One of the well known parts of this hotel is the "New Asia Bar" at the top (71st and 72nd floors) of the "Swissôtel The Stamford". It has a slanted floor that is kind of disconcerting. This is a picture out the other direction at night in Singapore (looking out from the "New Asia Bar").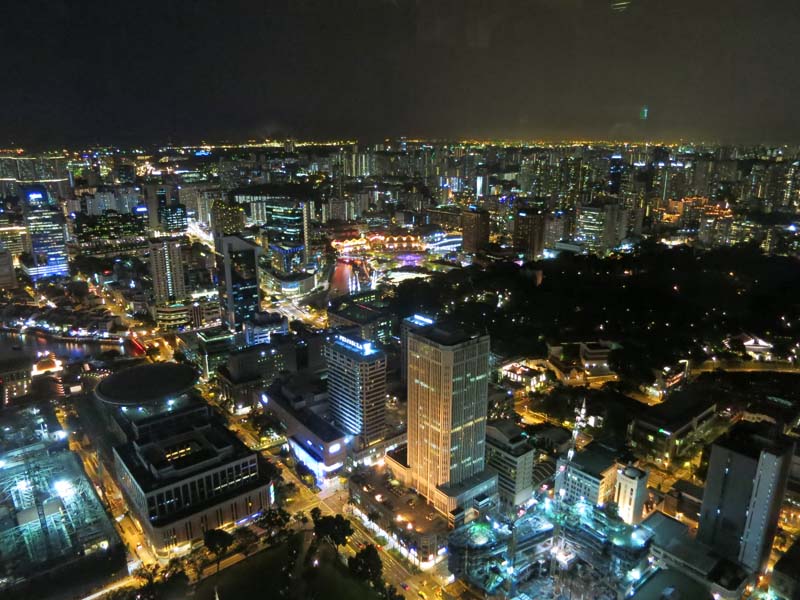 We awake on Thursday, November 14, 2013 ready to fly from Singapore to the Maldives! (I take the picture below to remind me what the heck is going on in these pictures.)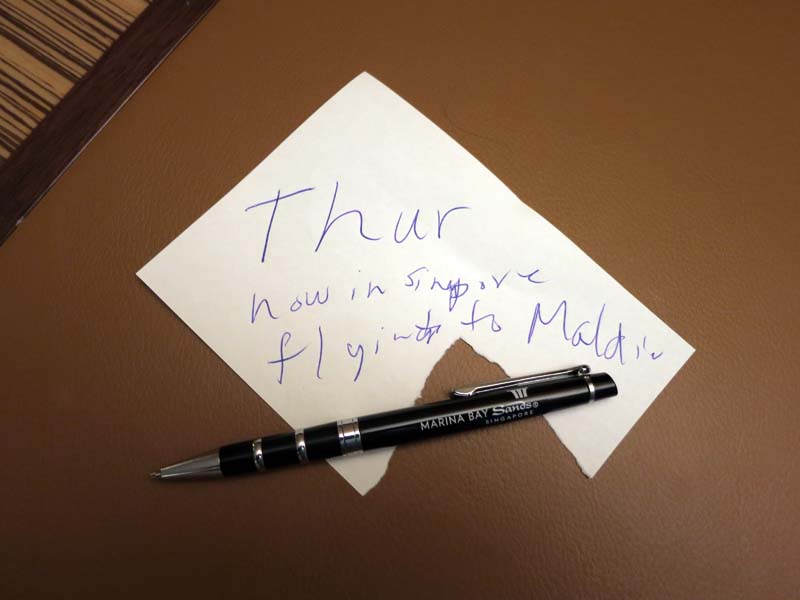 Thursday, November 14, 2013 - This day we flew from Singapore to the Maldives! Below is a screenshot of a Google map of where the Maldives and our Cocoa Island Resort is. Click Here for a Google map of some of the interesting locations on our trip. (Here for long form of the Google Map URL.)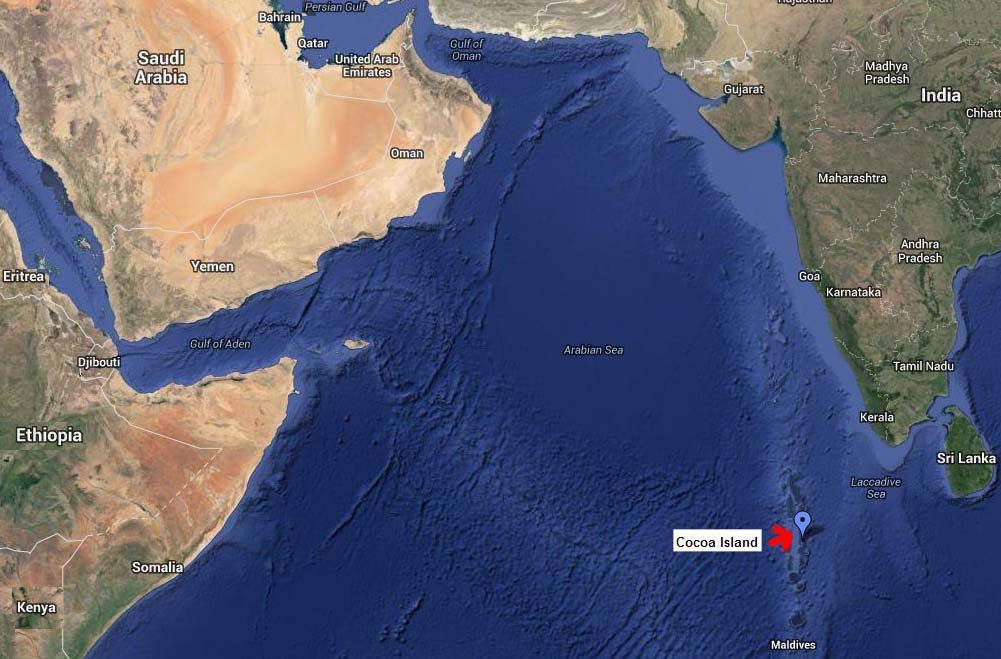 Map of the Maldives islands is below (click on the map for a large Maldives Map). The Maldives is a country made up of 63 islands, just a few miles from the equator. The climate is hot, tropical, the water is warm and beautiful.

On our way to the Singapore Airport, we notice they have Xmas decorations on the trees! We leave Singapore in the same wet weather as when we arrived. Only one day of sun sandwiched between gray wet weather.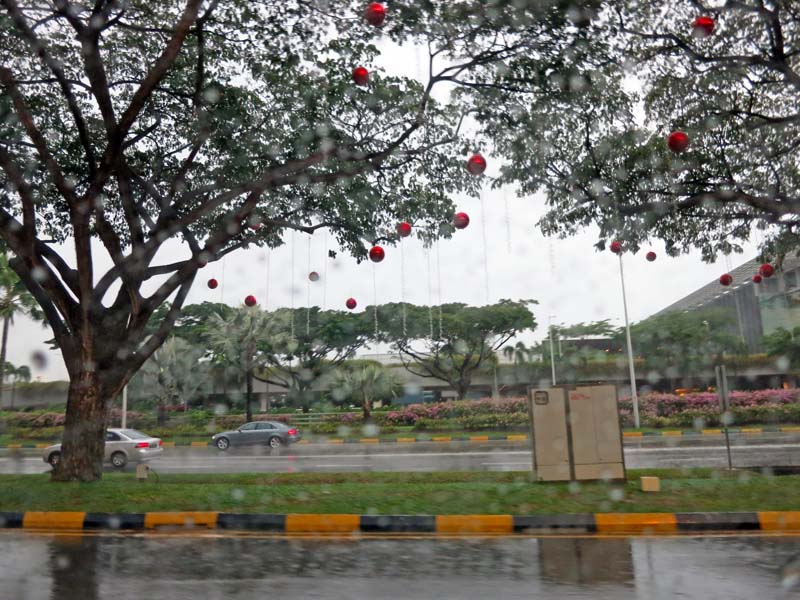 Including some reindeer displays!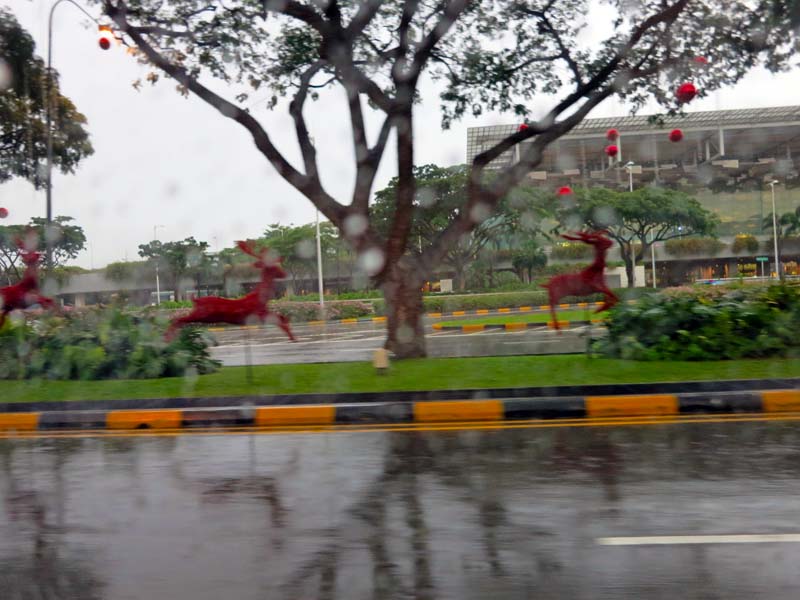 A tree near the Singapore airport with Xmas ornaments.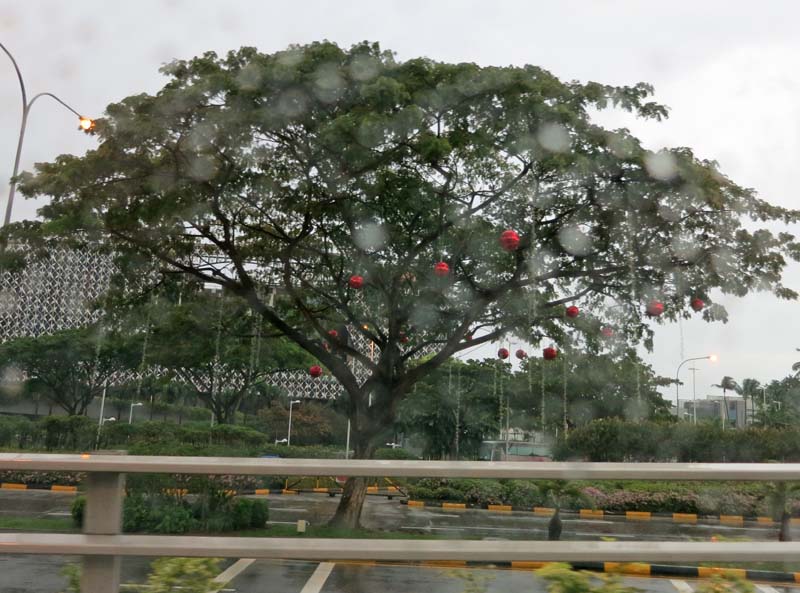 We arrive in the Singapore Airport, and here is a sign which indicates to me finding the clinic, a bathroom, and a prayer room is about equally important in an airport. The "prayer room" kind of worries me, is it that common to pray for the planes not to crash?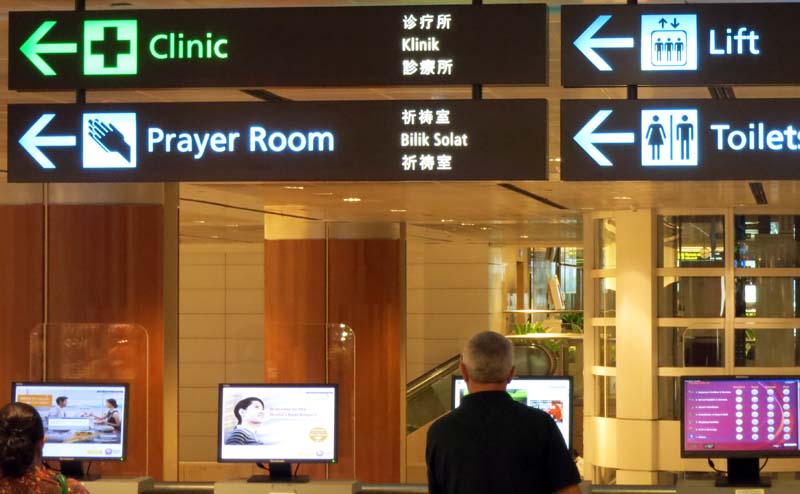 We fly out in an hour, this is our last taste of Singaporean food - and we choose airport dim sum! :-) The big fat buns below are kind of a chicken dumpling bun, they aren't bad.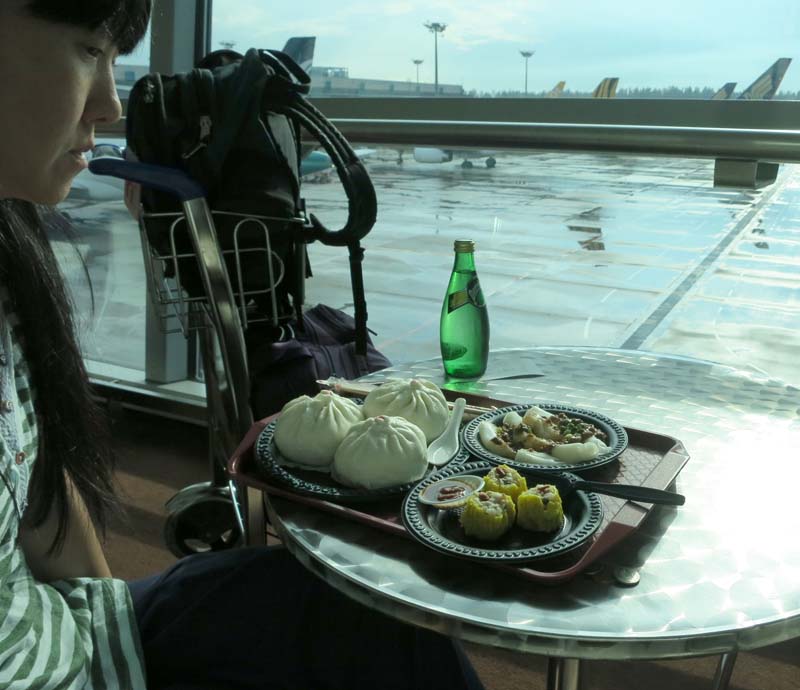 In the Singapore Airport, you can never have enough Tiger Balm on hand in the pharmacy.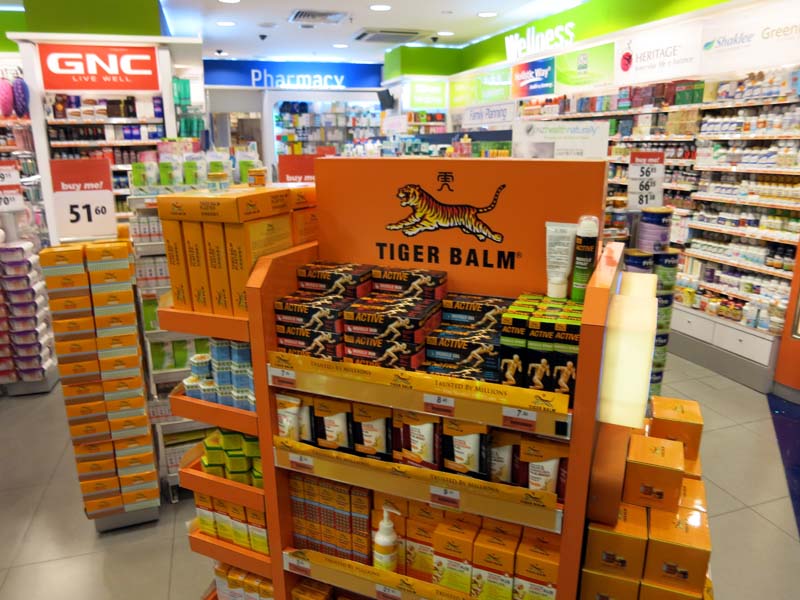 I would call this a "moving walkway", but in Singapore it is called a "Travellator". Wikipedia says it sometimes called a "horizontalator" which I think is a great term for it.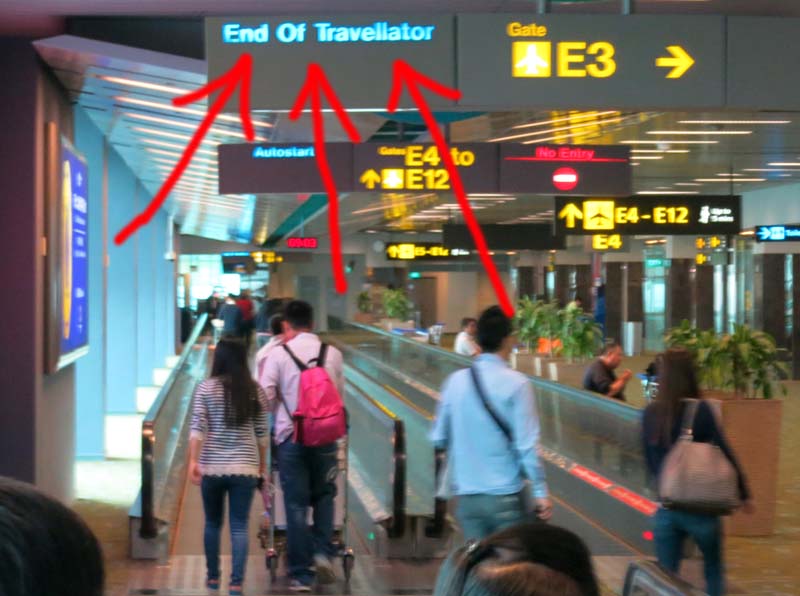 To enter the Maldives, we fill out an "arrival card". Notice in the picture below the list of 12 prohibited items. I really think banning all "chemicals" is going too far. Doesn't that ban people and airplanes which are made up of chemicals? I feel obligated to point out that alcohol is banned from import, but you can buy metric tons of it in your resort at very high prices. To me it appears that this list is made up of "safety concerns" (like weapons and explosives) and "financial concerns" (making sure your resort can extract the maximum amount of money out of you) plus some "bat shit crazy" stuff like banning dogs. But it is their country I wish to visit, I will abide by their well stated rules while I am there.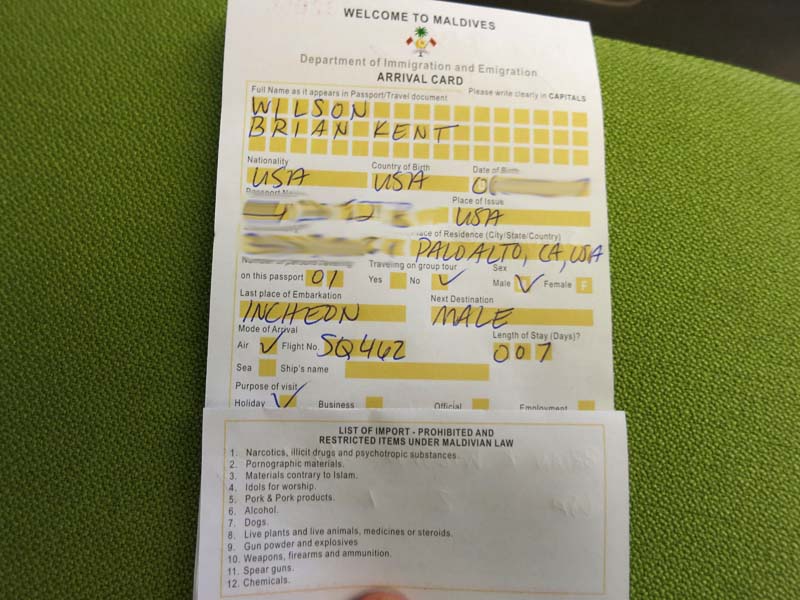 Business class (because it is all free with frequent flier miles). Back on Singapore Airlines on our way to the Maldives!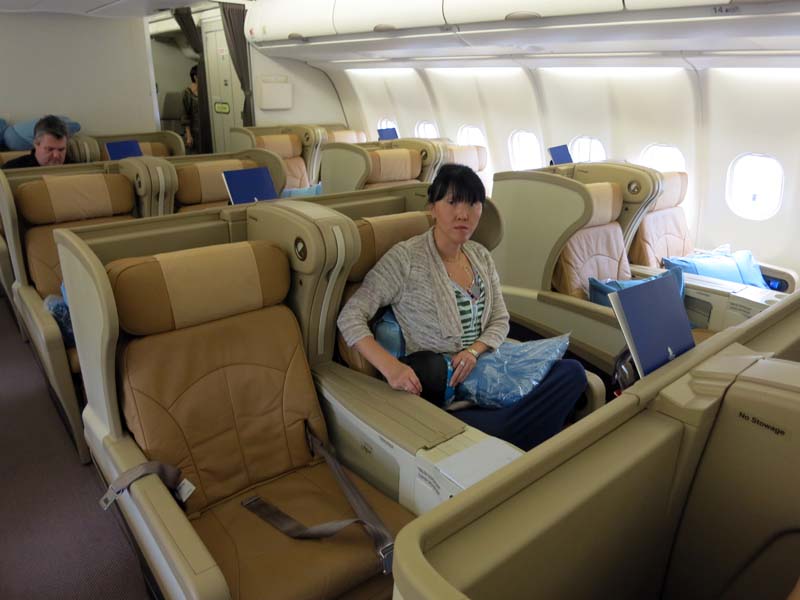 Two stewardesses from Singapore Airlines.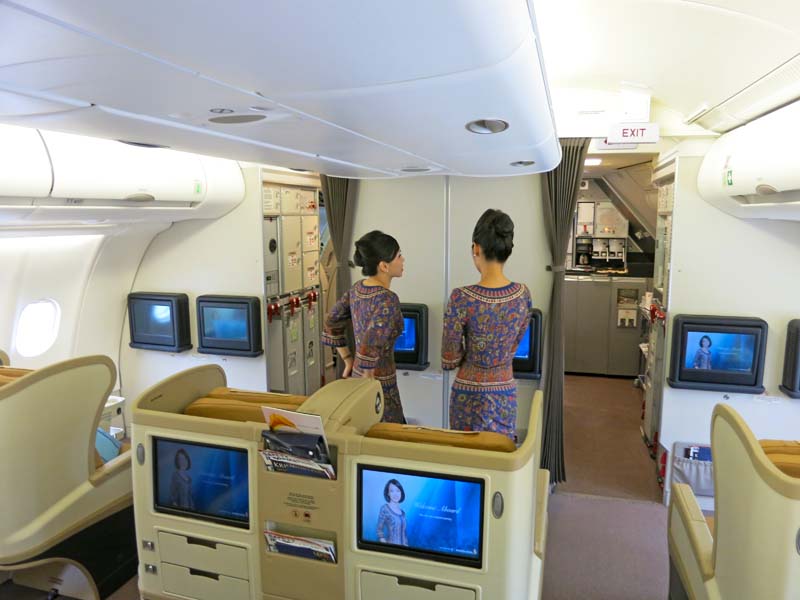 As we begin to take off, I snap this picture of "Jett8". Notice the airplane has no windows in it, it is probably a cargo plane? It's a big beast of a plane, whatever it is.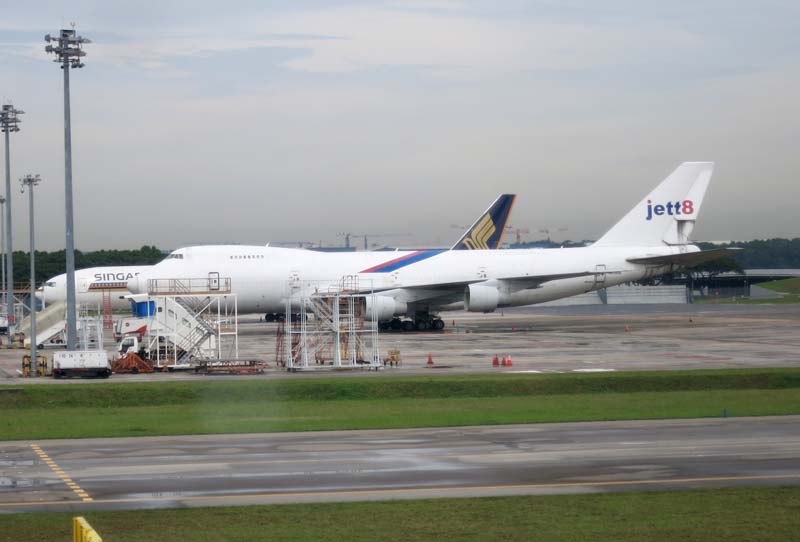 We're on Singapore Airlines, there is one of their fleet now.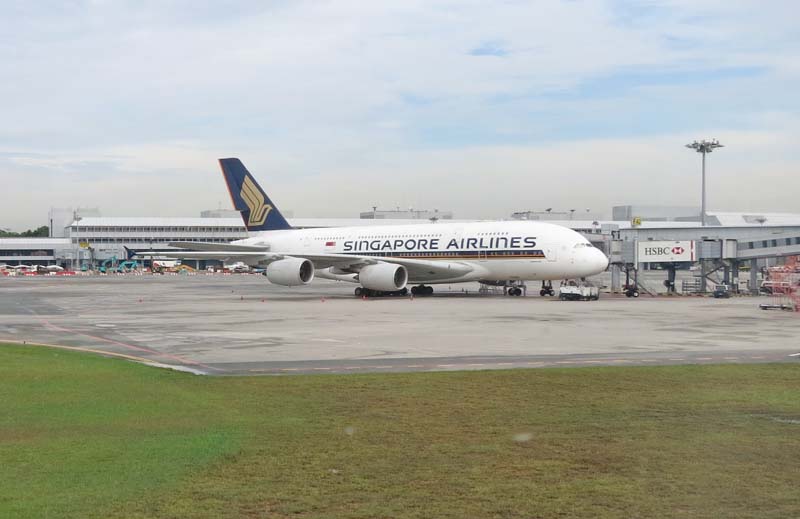 OH MY GOODNESS!! I caught the guy in the picture below using one of his electronics during takeoff! :-) I think it's funny because I took his picture with a different piece of electronics. That, and hand held electronics are now known to be perfectly safe and not affect airplane physics during takeoff.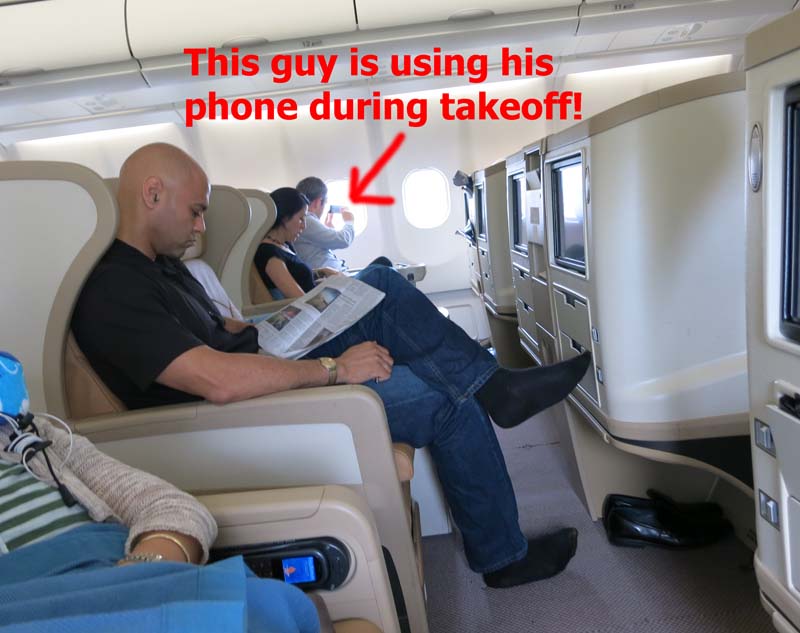 As we lift off and leave Singapore behind, a picture of the shipping below.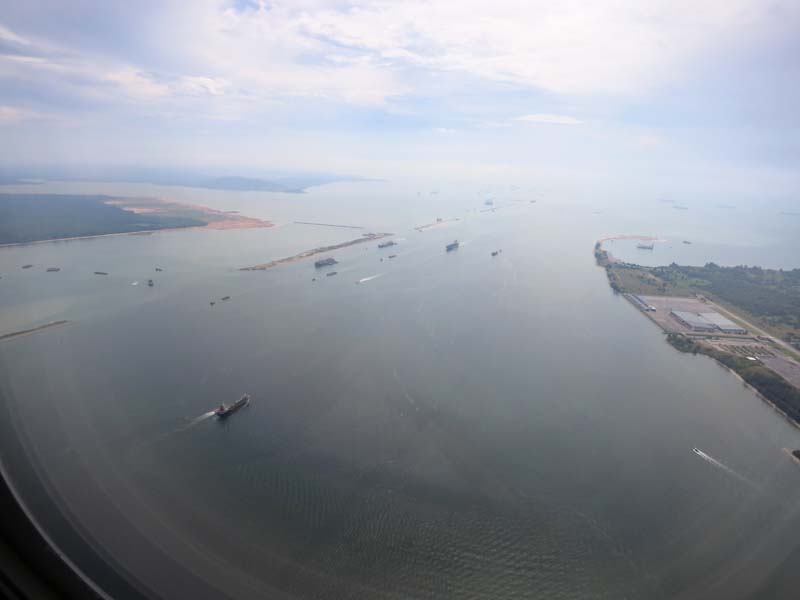 Here is a good map of our flight path. It is on the monitor in front of me. :-)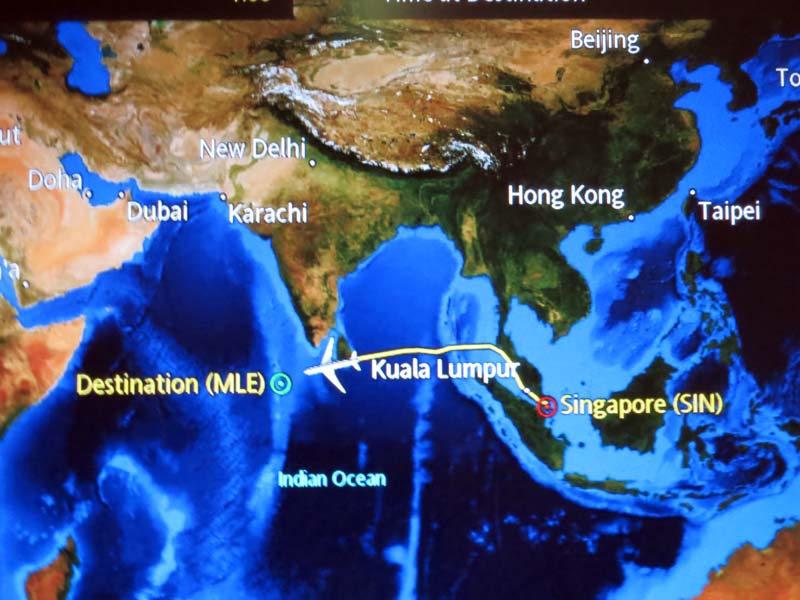 As we approach the Malé International Airport we start descending for landing and I snap a few pictures through the window of the plane of some islands.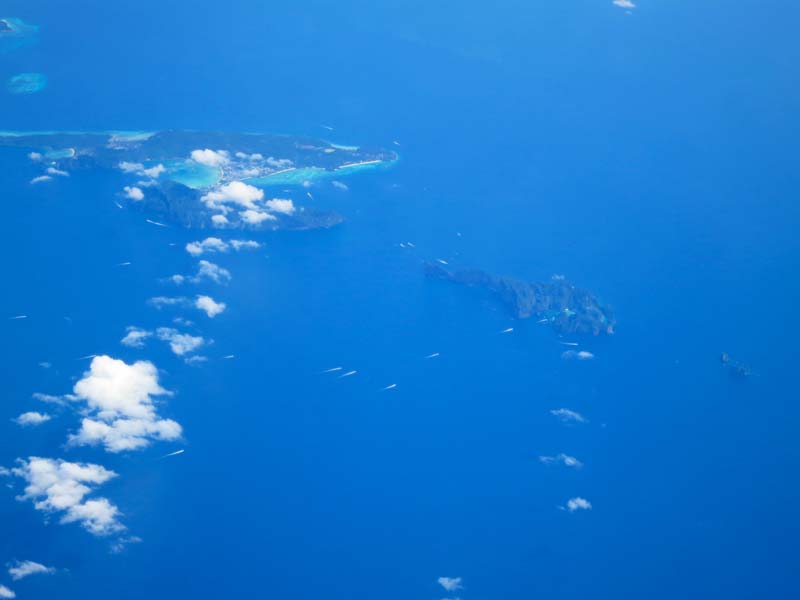 An island near the Maldives.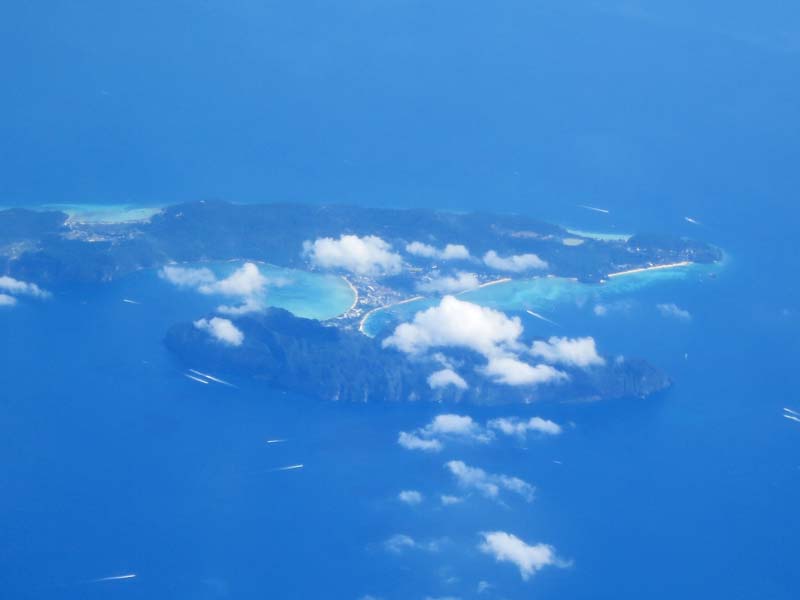 Very pretty coral reefs and islands passing under our airplane as we descend to land in the Maldives.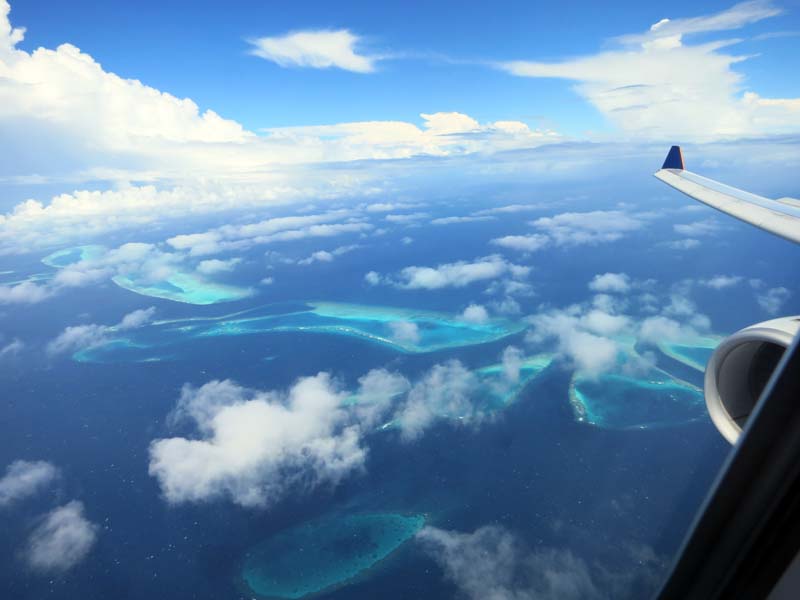 The "light blue" spots are shallow water.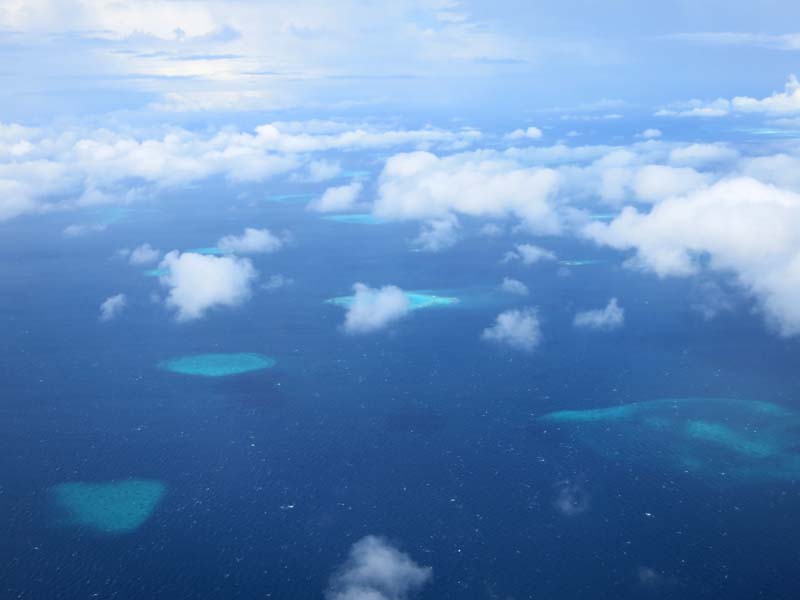 These islands near the Maldives are tiny!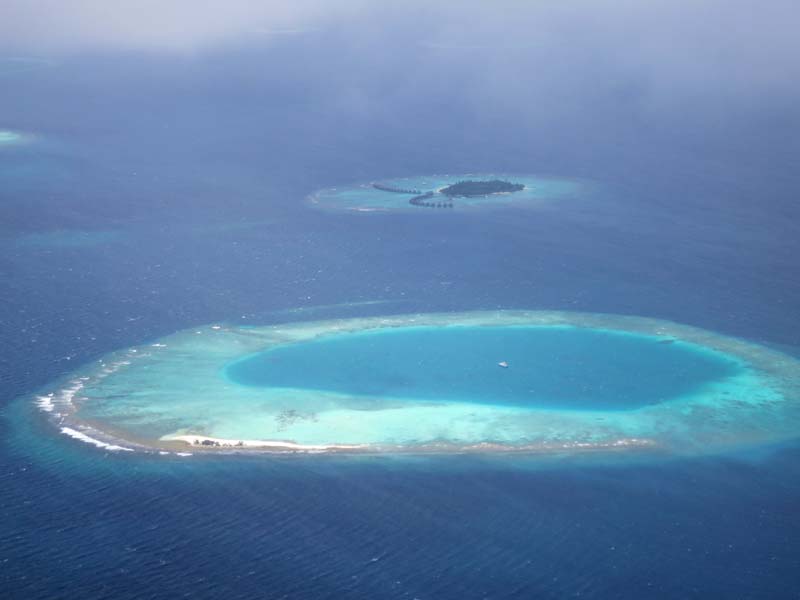 Coral rings under the water, small islands sticking up with vegetation.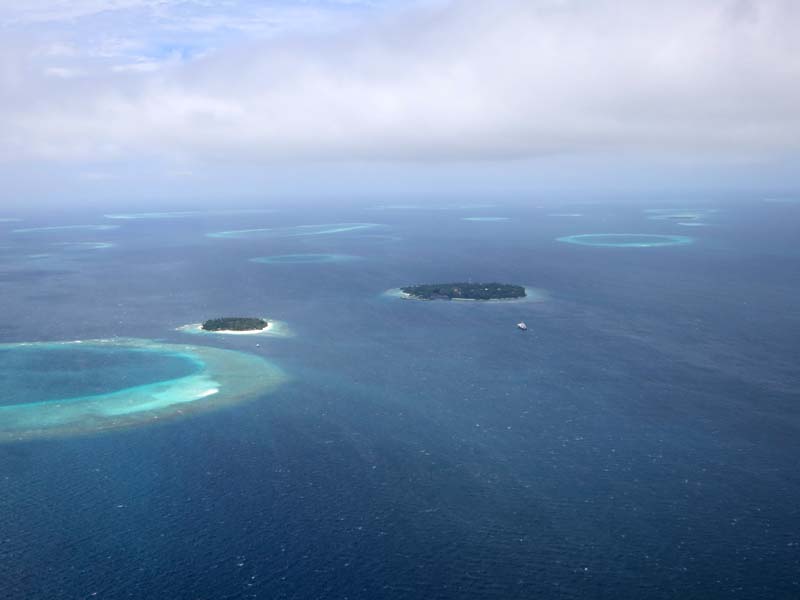 I think this is the Thulhagiri Island resort I see pass under our airplane.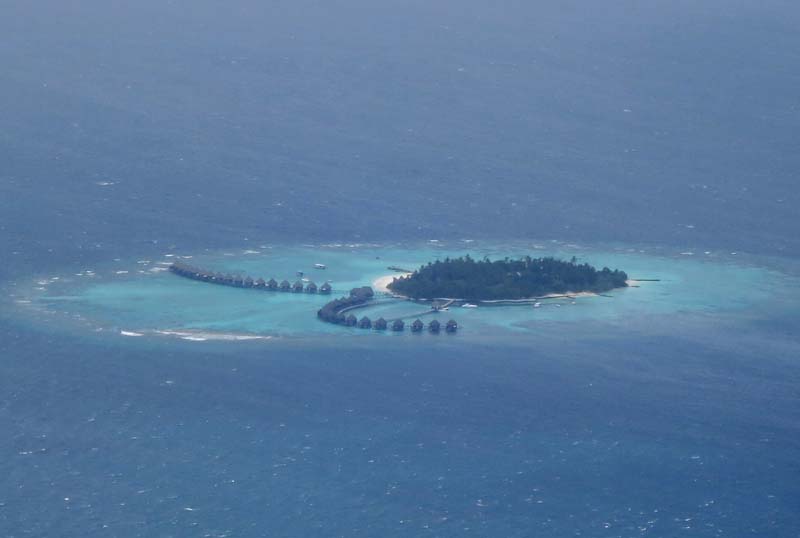 Another resort, but I can't identify it. It must be very near Malé.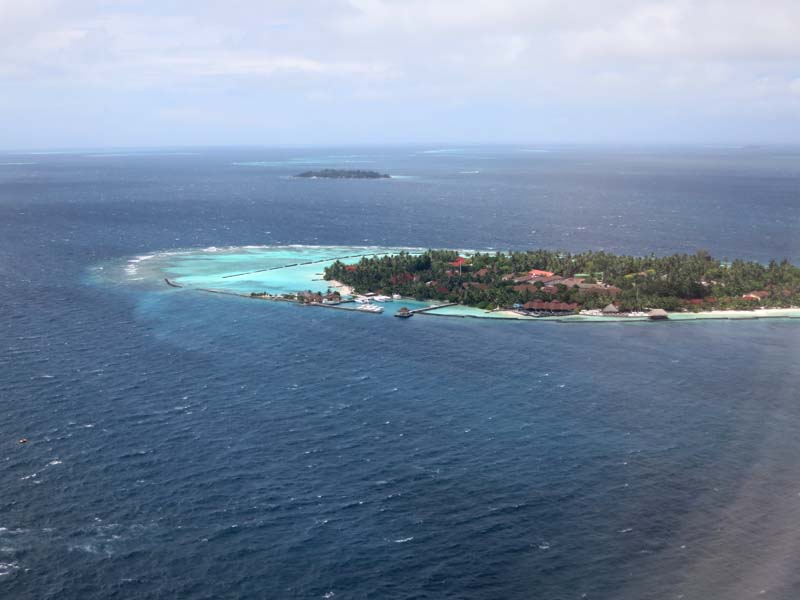 Below is a VERY short 1 minute movie showing islands below us as we land in Malé Airport in the Maldives. The airport is only 6 feet above sea level. Something else you might notice is that a lot of the resorts only have one narrow area where a small boat can maneuver between coral to land on the resort. You definitely want to watch the markers because you can suddenly be in shallow coral reefs if you aren't paying attention to where you are. Click here for a VERY LARGE high quality original (only for Macintosh, it is QuickTime format, it will not play on Windows).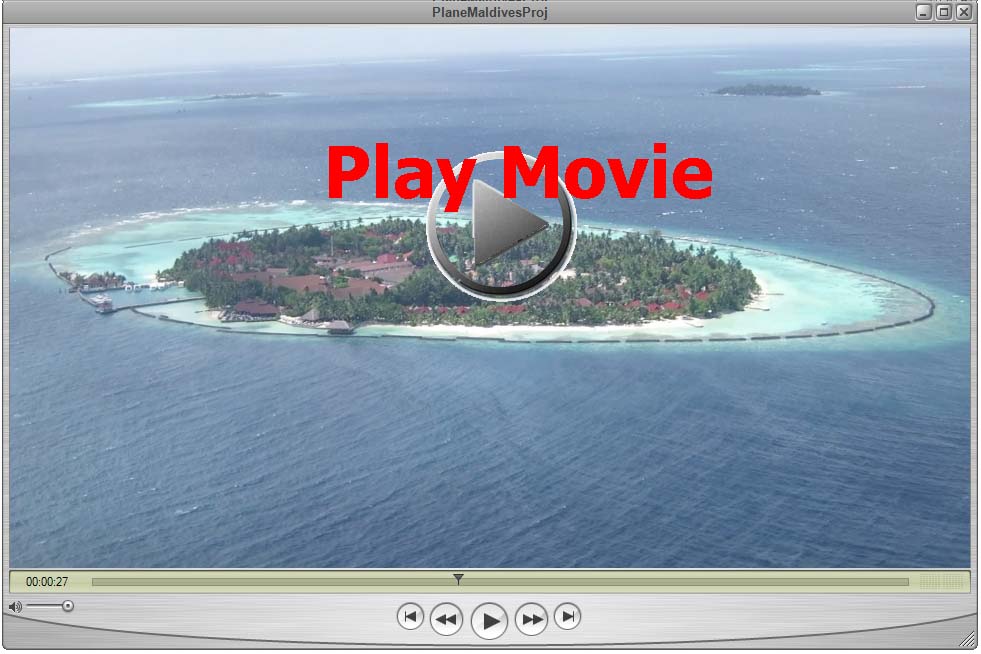 As we touch down in Malé Airport in the Maldives you can see Malé across the water.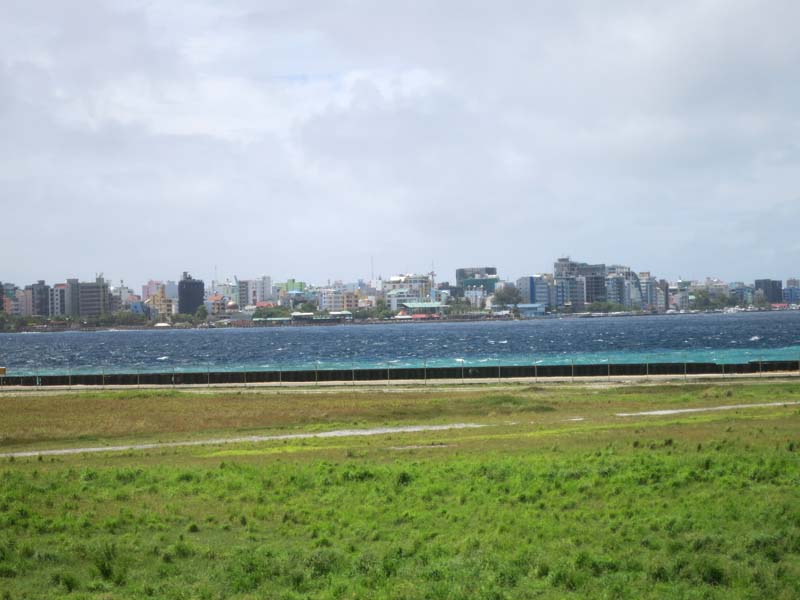 As we first step outside the plane, I turn around and take a picture of our massive steed that brought us here to the Maldives from Singapore. I think that is an Airbus A320.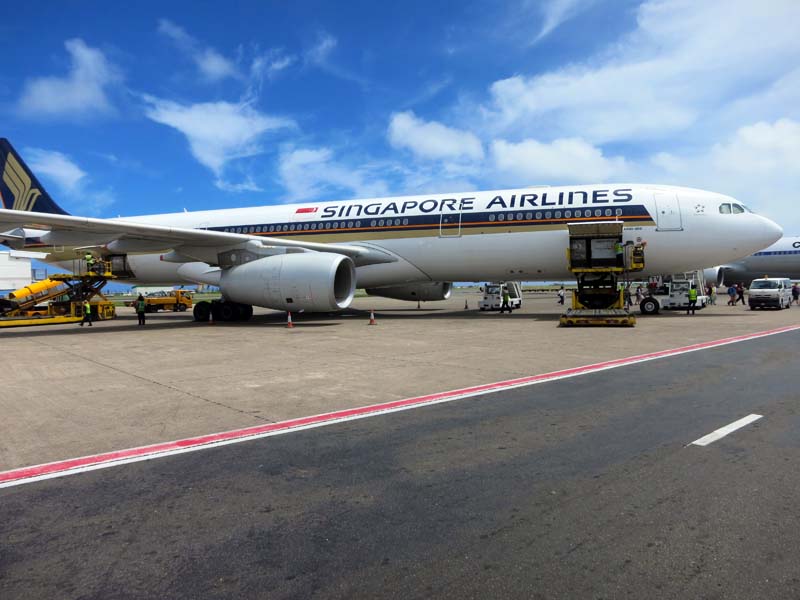 Outside baggage claim, our resort kind of forgot about us, so I stood under this fan because it was really, REALLY hot and humid in the airport.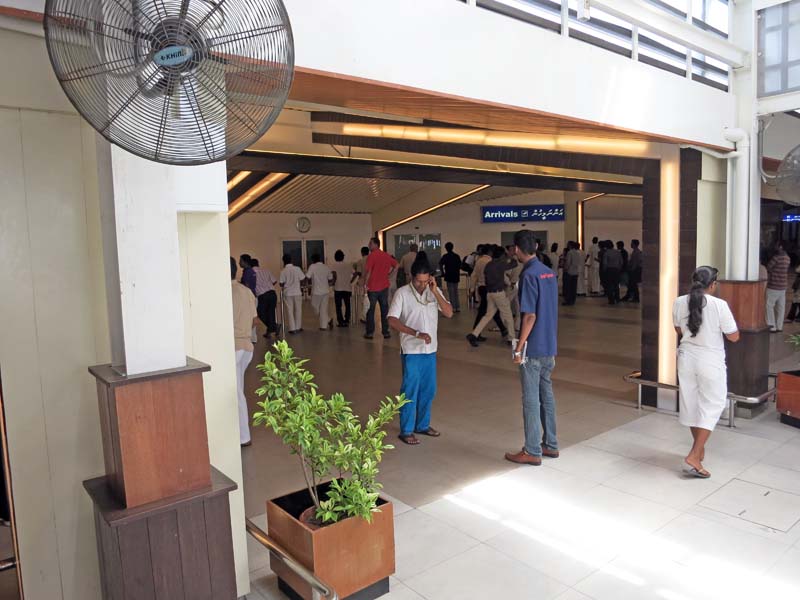 We found our hotel shuttle (seen below) and after a brief conversation on the telephone about whether or not our JetSki would be allowed (it was just delivered to the resort) we climbed aboard and took a 40 minute ride on the most choppy seas we would see for the remainder of the trip.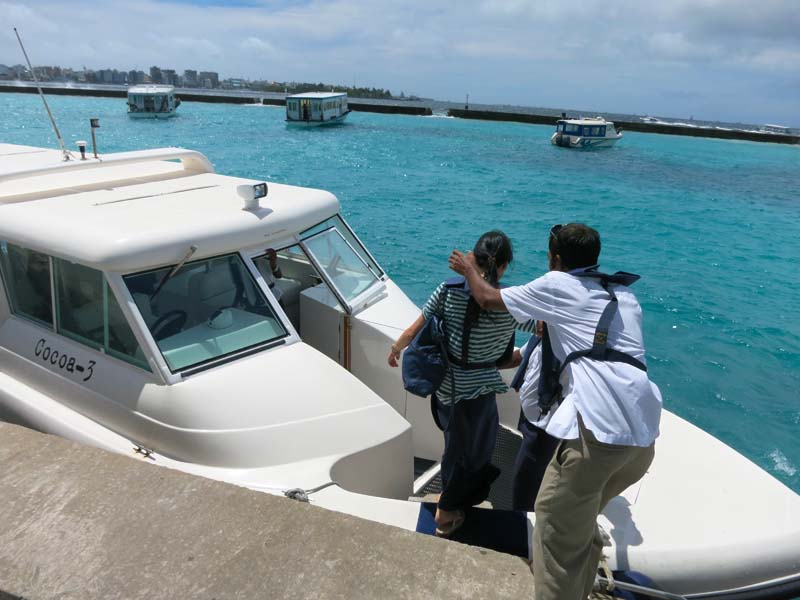 This is the inside of "Cocoa-3" boat.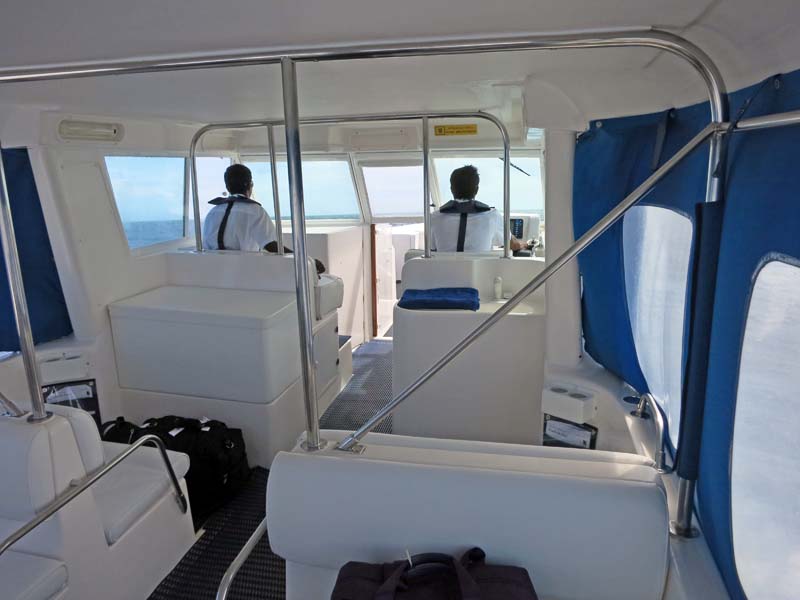 Katherine doesn't get sea sick, which is good because this is a really rough ride.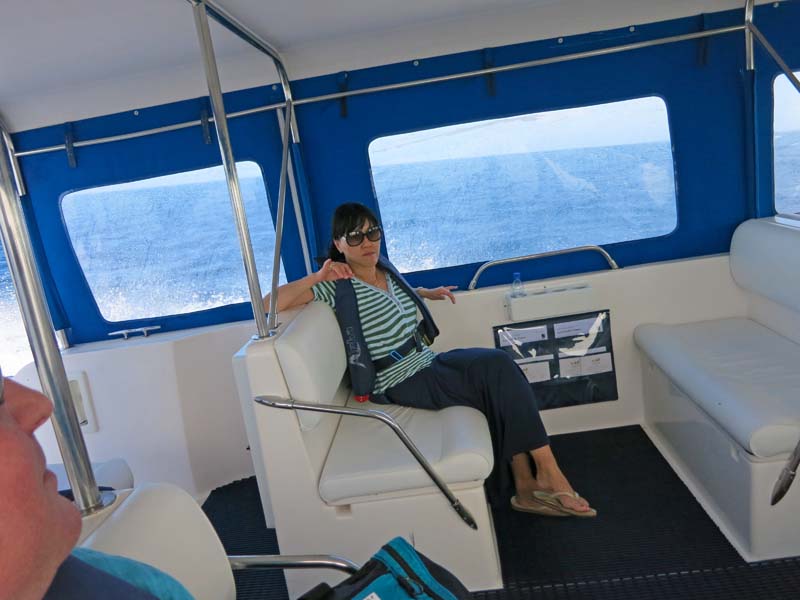 About 40 minutes later, here we are arriving at Cocoa Island Resort in the Maldives.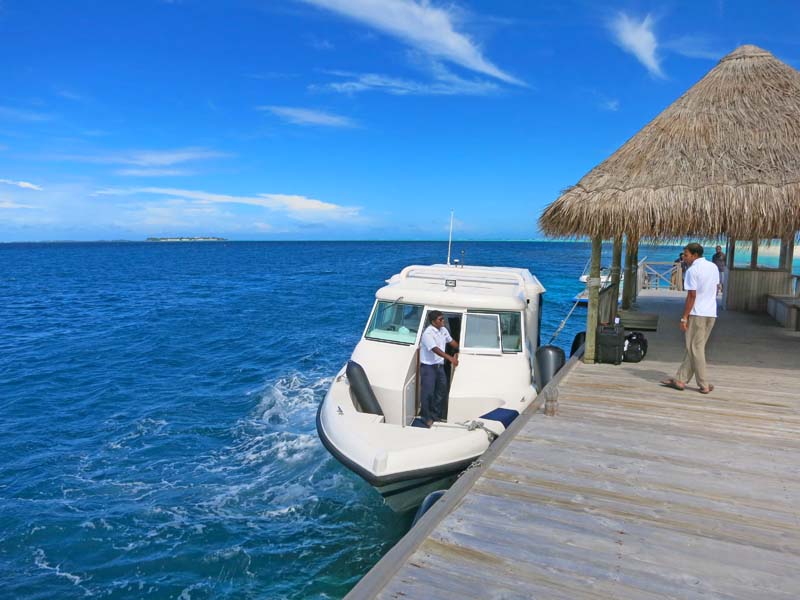 The "front desk" is a permanently outdoor thing, there is no "indoor office" on the island. The weather is warm enough year round.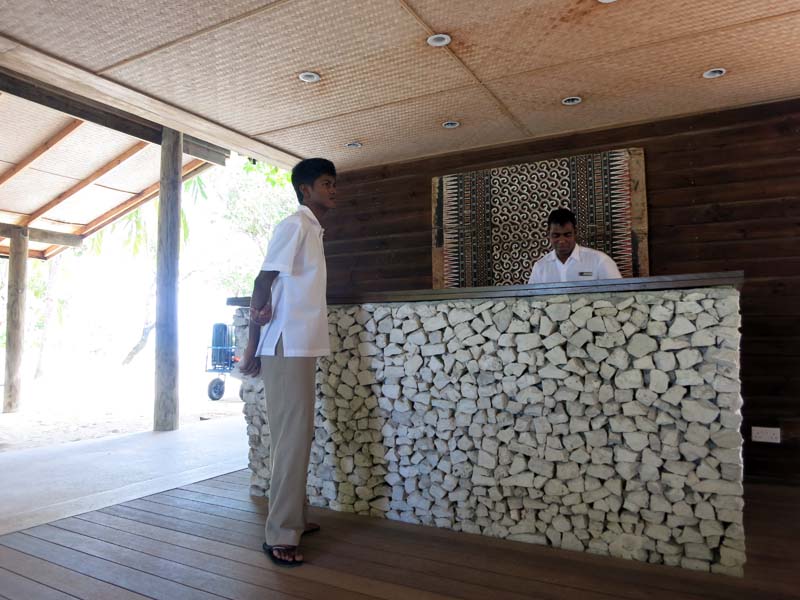 While waiting to check in, Katherine takes a picture of this mysterious fruit. It's called a "Pandan". The plant has lots of uses: woven leaves for textiles, used for cooking, used to flavor and sweeten the foods.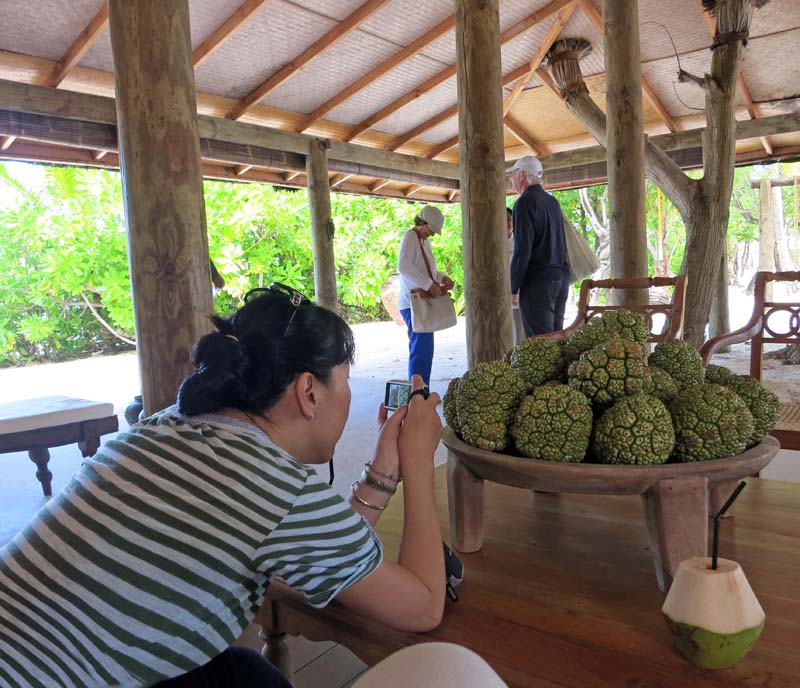 The weather is overcast, so these first few pictures don't do the pool justice.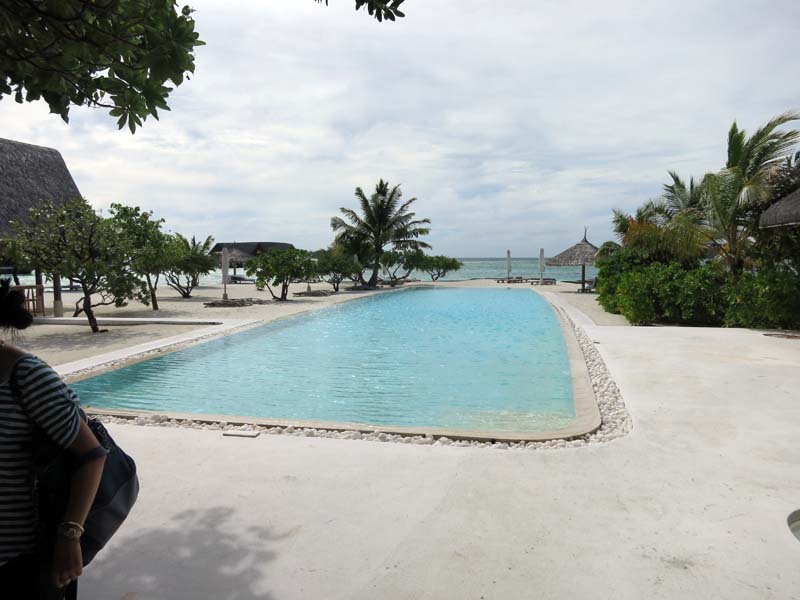 We meet our friends, from left to right Lia MacDonald, Will MacDonald, Nicky Greenshields, and cut off to the right is Bob Greenshields.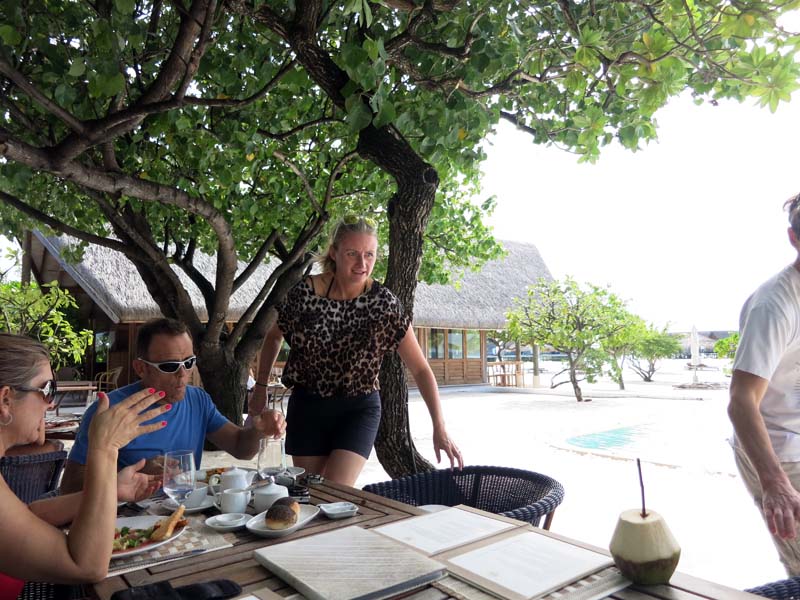 After a quick lunch, we go find our room. Below you can see our rooms which are out over the water. The rooms are created to look like an enclosed dhoni boat, but they are actually permanent structures, little buildings on pilings.
I borrowed the picture below from the Cocoa Island Resort webpage to show the general layout of the island. We just landed on the far side (top in the picture below), and now we walk out to our rooms across the wooden dock walkways at the bottom of the picture. The very light blue water between the rooms and the island is about 1 foot deep at low tide, maybe 3 or 4 feet deep at high tide. We would often see many different kinds of colorful fish on our walk to our rooms.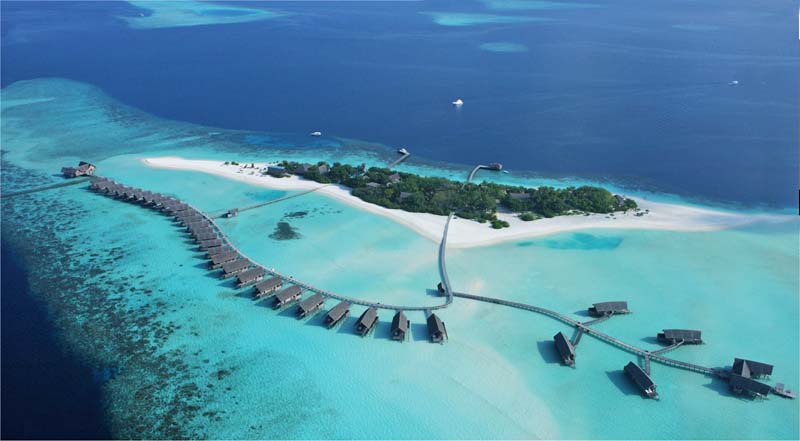 The rooms are not really boats, these are just styled to look like boats. Each room is bolted to a foundation on the coral reef. It's a very pleasant illusion.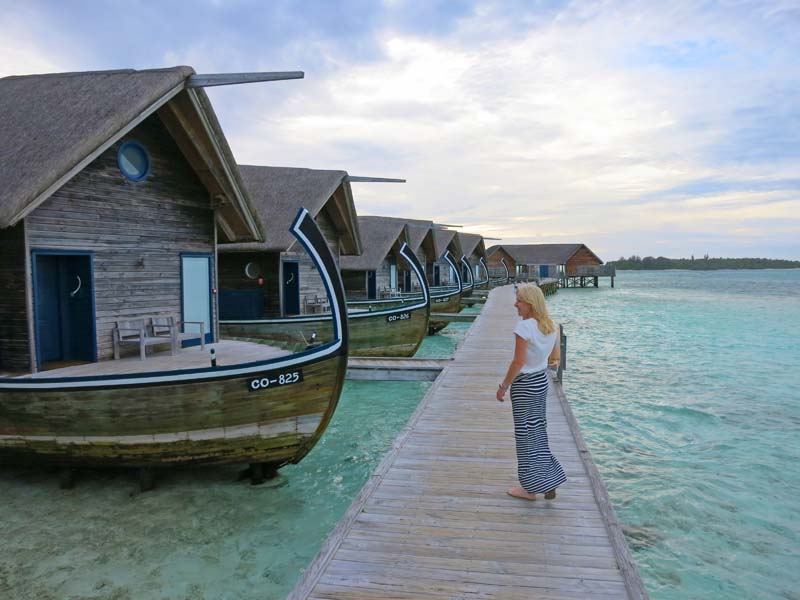 A picture of the inside of our "Dhoni Loft Suite" at Cocoa Island Resort. The word "Dhoni" is from the traditional boat in the Maldives. Below is the main living area, with the stairway on the far right to enter the loft.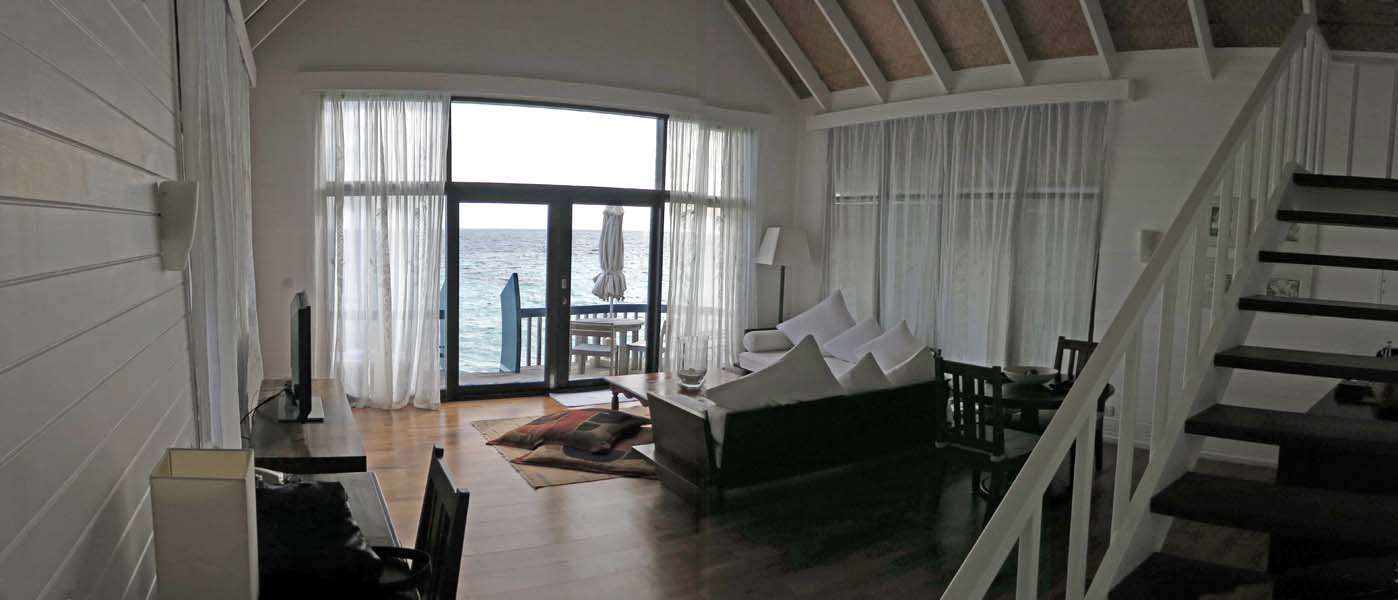 The picture below is the same room from a different angle. See the stairway into the loft? The bathroom is the room "under the loft".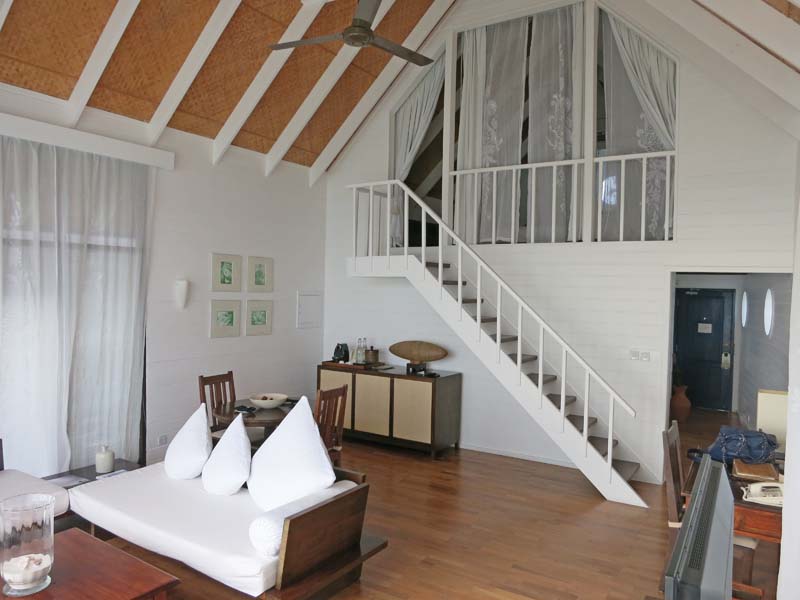 The bed in the loft. Behind the curtain is a toilet and sink. There is a main shower, tub, toilet and dual sinks directly below this loft.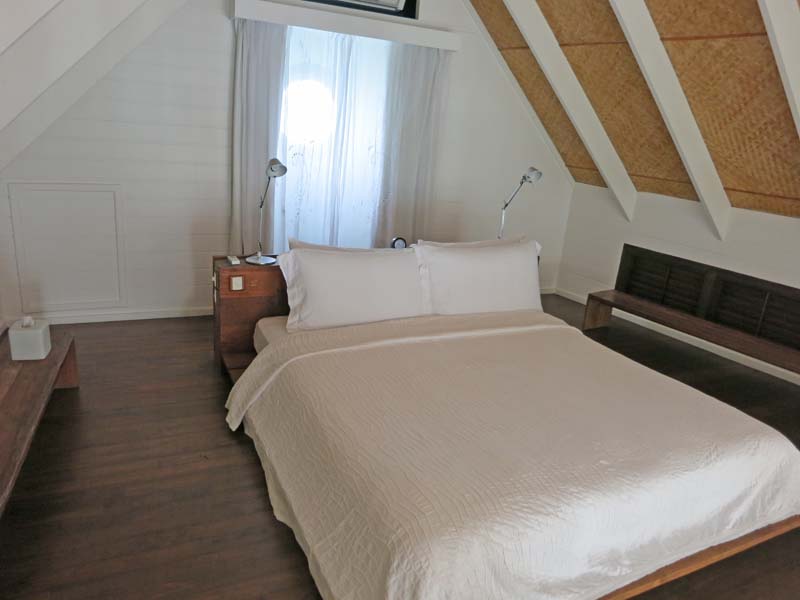 Not a great picture because of the contrast, but you would normally see the water from your bed.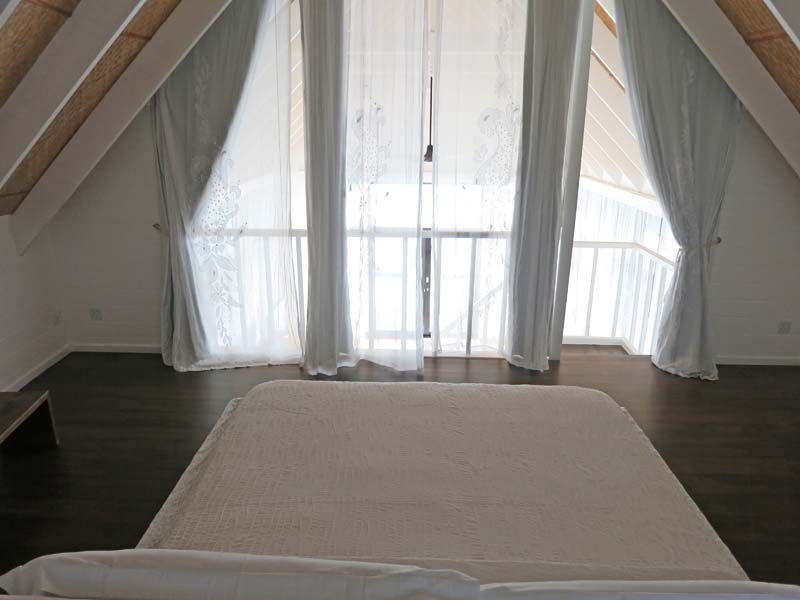 A picture from several days later (staged) where we are looking through our feet to the water beyond in the morning.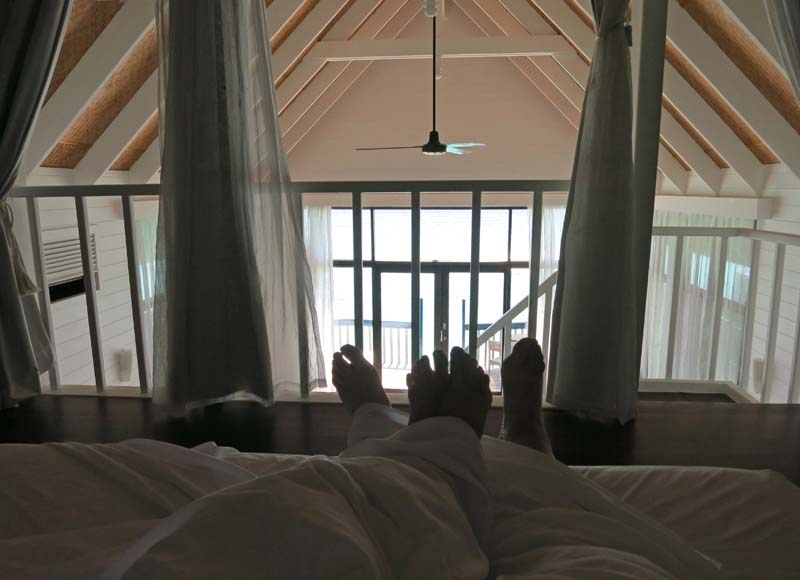 A picture of the back deck. The steps lead DIRECTLY into the water, and (best at high tide) we would swim and snorkel right off the back deck. At low tide it was only 2 feet deep at places so it was hard to keep from scraping the coral.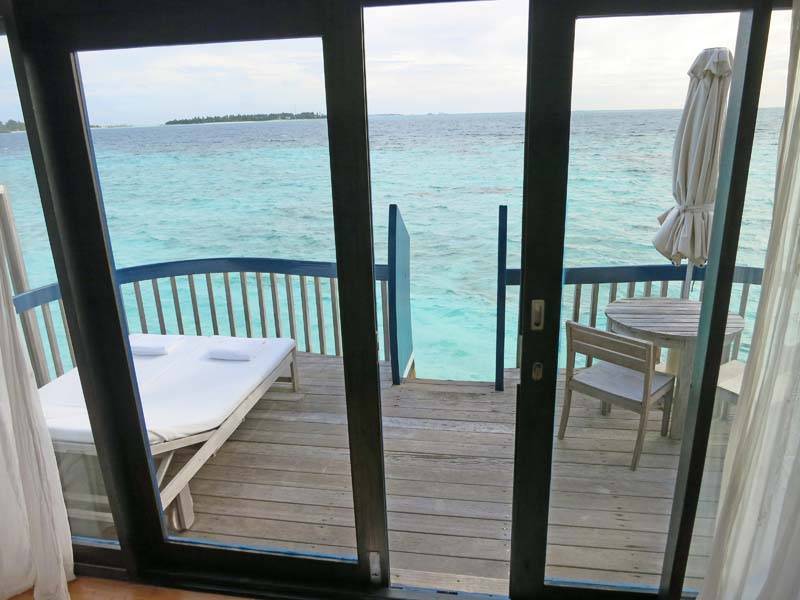 The steps leading into the water. A person would come by almost every day and quietly scrub the steps clean so they were not slick with algae.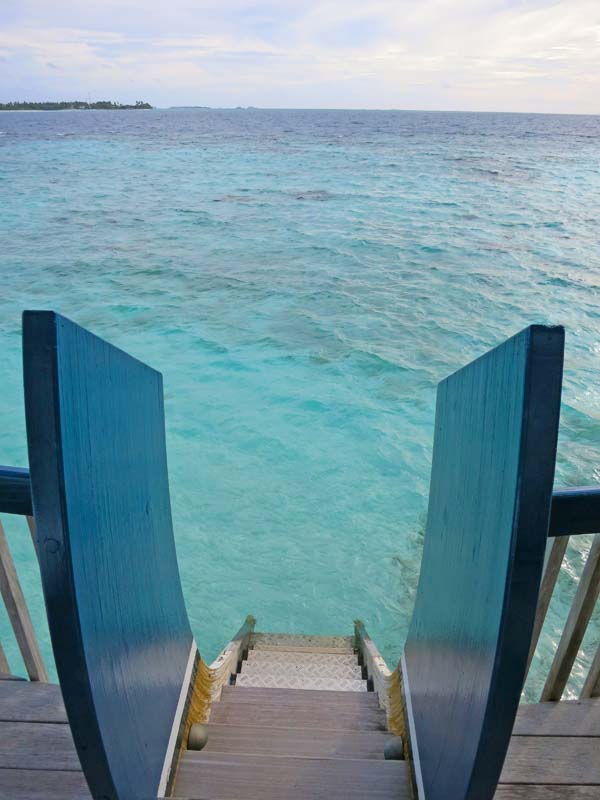 Below is a one minute long movie of Will MacDonald kite surfing, we were still figuring out our room and he comes zooming by. Click here for a very high quality QuickTime Version (probably will not play on a Windows computer)!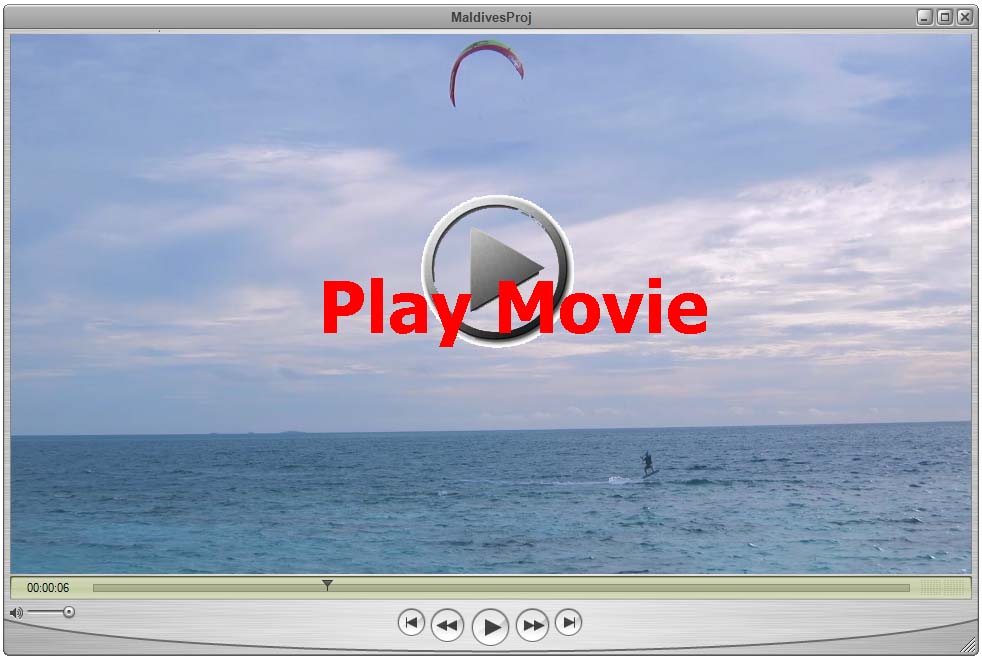 The first evening, at low tide we walked out the "sand spit" which would appear for several hours each day. You could walk maybe a mile out away from the island at low tide on this sand.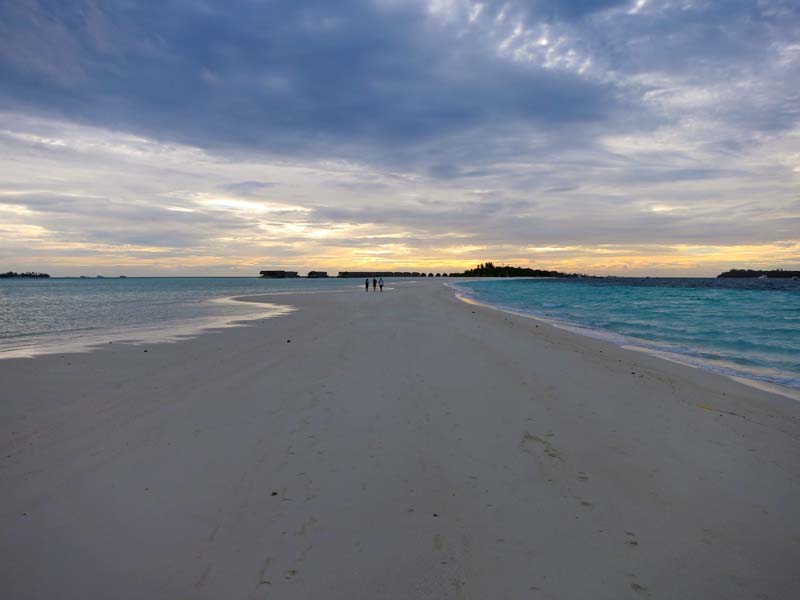 Lia, Katherine, Nicky, Bob examining what we called "ghost crabs" (turns out that was their real name!) which were completely white and all over the place.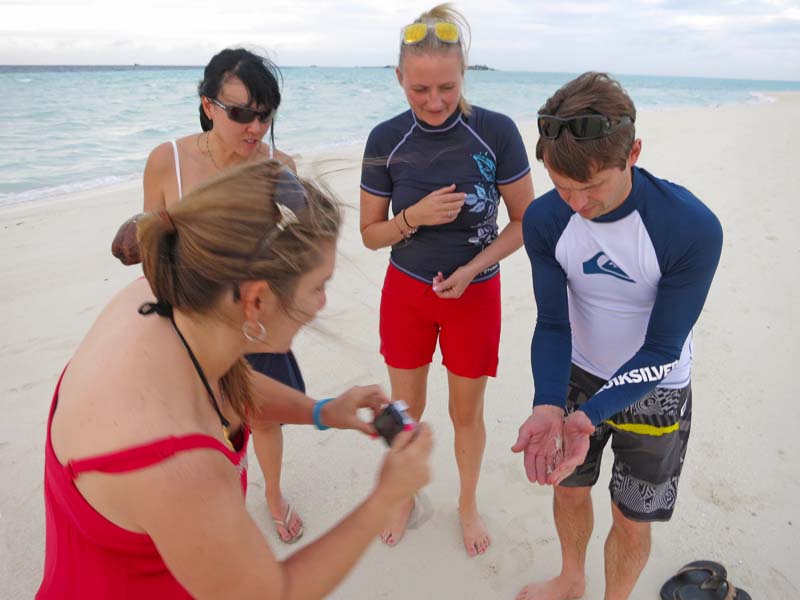 Below is a 30 second long movie of us prodding a crab out of it's hole on the beach. Click here for a very high quality QuickTime Version (probably will not play on a Windows computer)!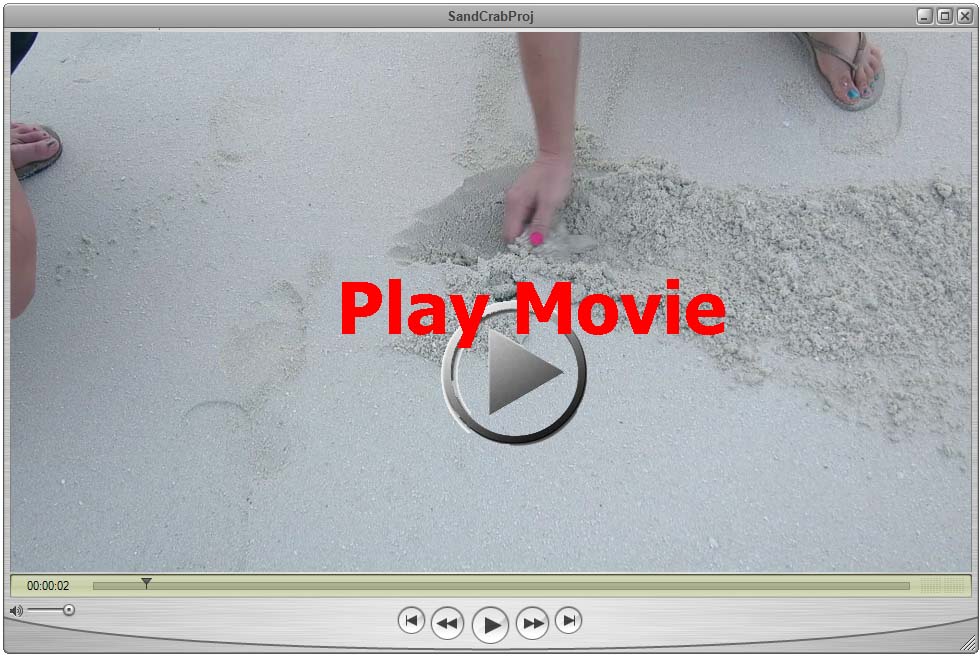 Walking back to the Cocoa Island Resort as the sun sets.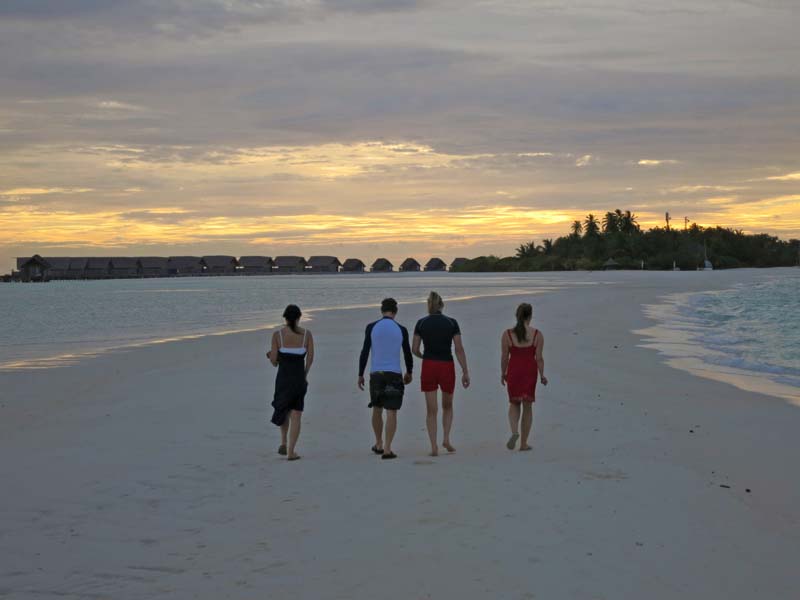 As we walk along the "docks" in front of our rooms, we would often see brightly colored tropical fish, here is one of them: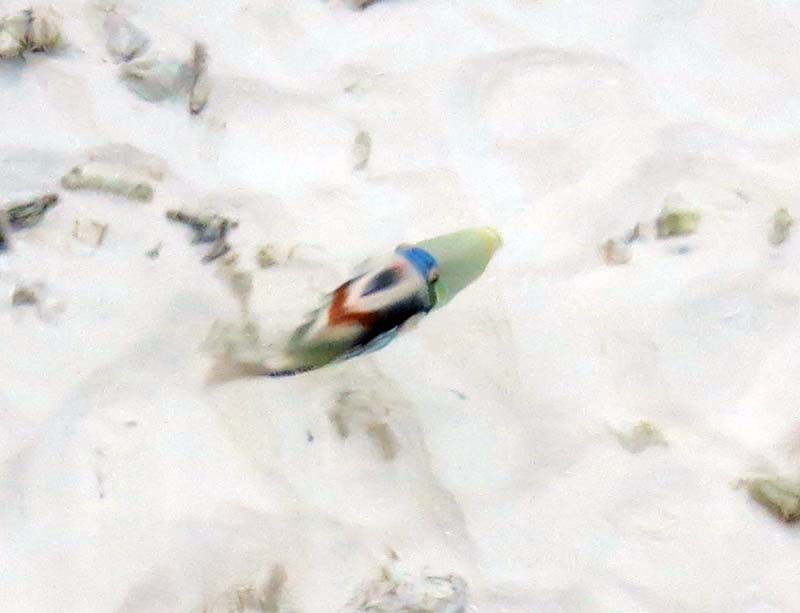 The first night we were at Cocoa Island, here is the "bar area" right by the swimming pool, it is maybe 7pm, Alastair Irving (blue shirt standing) and Susan Irving (far right black shirt) have just surprised everybody by showing up! We didn't know they would be on this trip.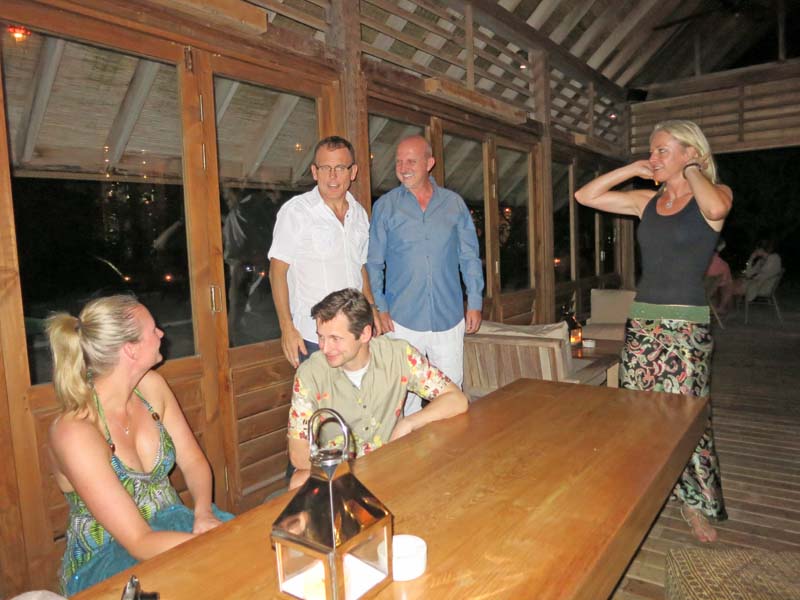 Oysters on the half shell, part of the buffet / salad bar half of the first night's meal.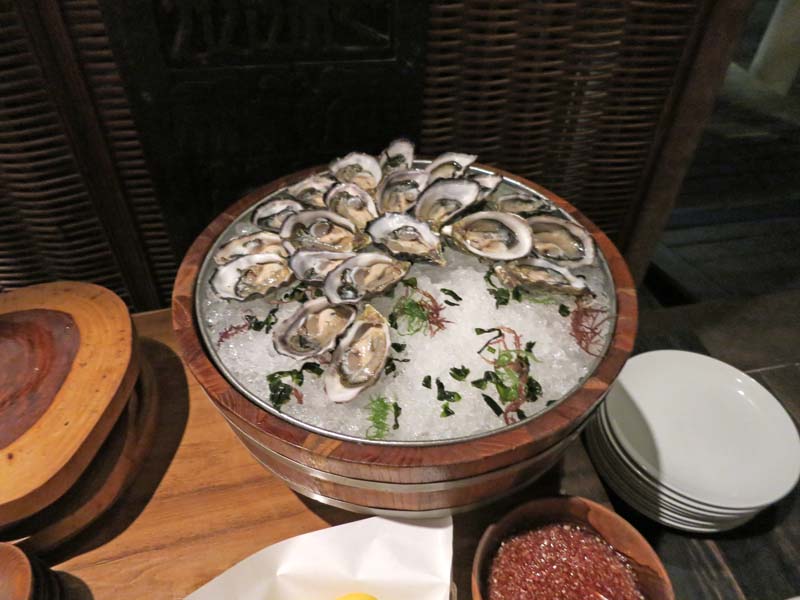 Our group having dinner in the outdoor seating just outside the main dining area.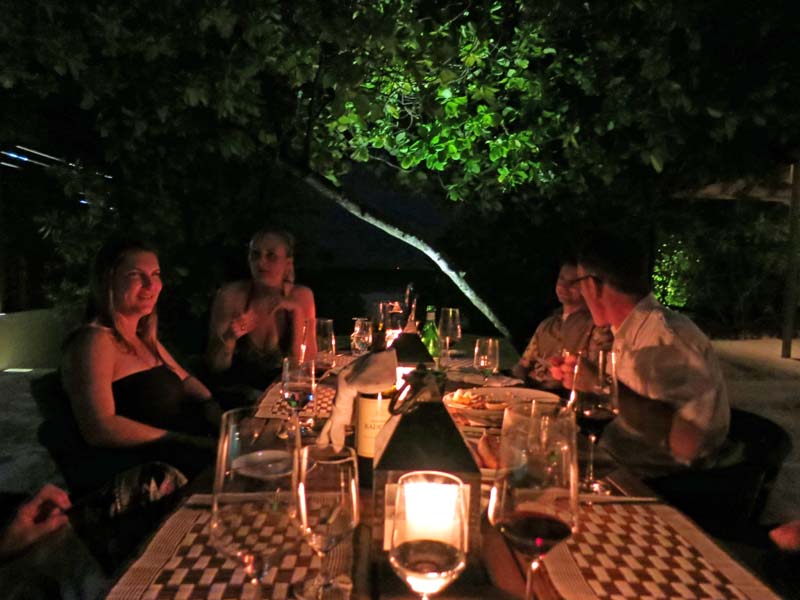 A picture of Katherine and my "room", which is Room 825. The rooms are permanent (on pilings), but made to look like traditional "Dhoni Boats". We stayed in a "Dhoni Loft Suite" - you can tell it is a "Loft" because of the round window at the top - rooms without a round window are regular non-loft rooms.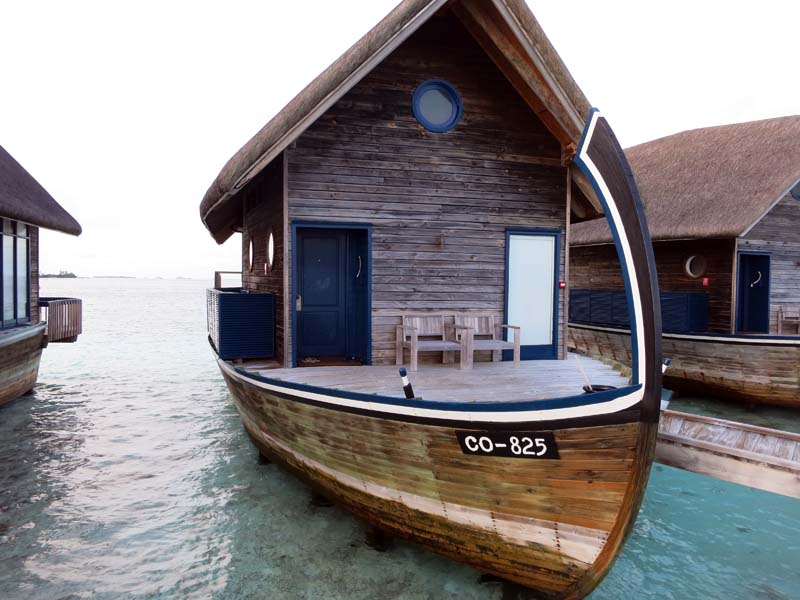 The first and second day we were in the Maldives the weather was slightly overcast, like in the picture below. This cleared up later so I have more pictures of this EXACT scene with perfect sky.

A picture of the main dining area (pyramid roof) and the pool area (to the left of the pyramid roof).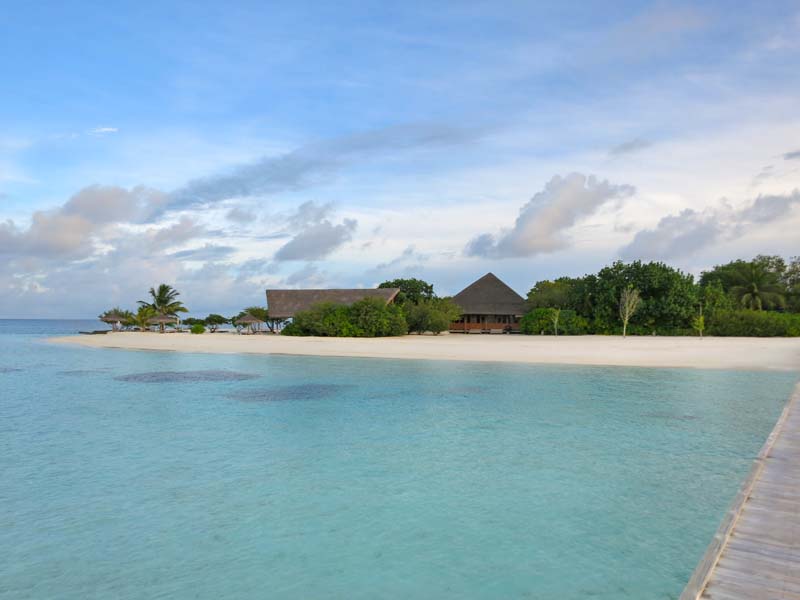 Breakfast is included in our "half board" - here is the buffet portion. You can also order french toast, bacon, eggs, omelette, etc. Every dish I had the whole week was really very good (expensive, but delicious).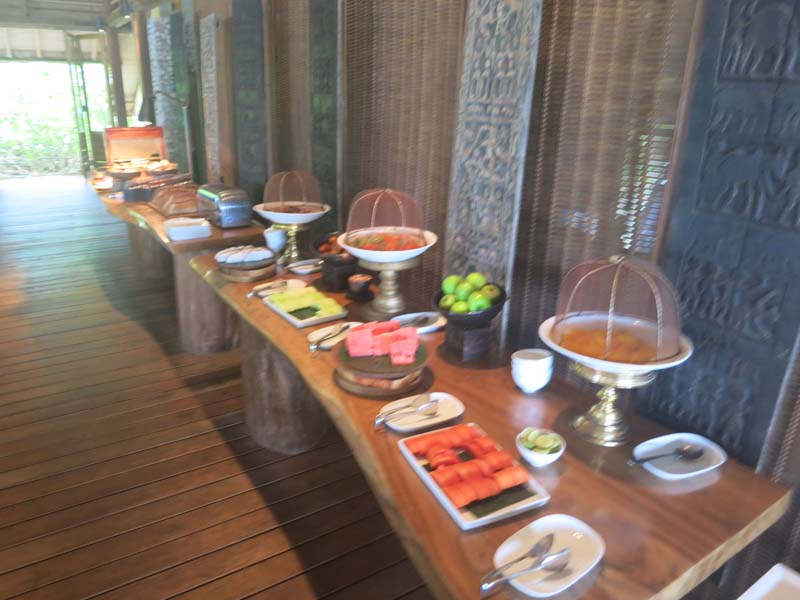 At breakfast I thought this "honeycomb honey dispenser" was quite the exotic sight.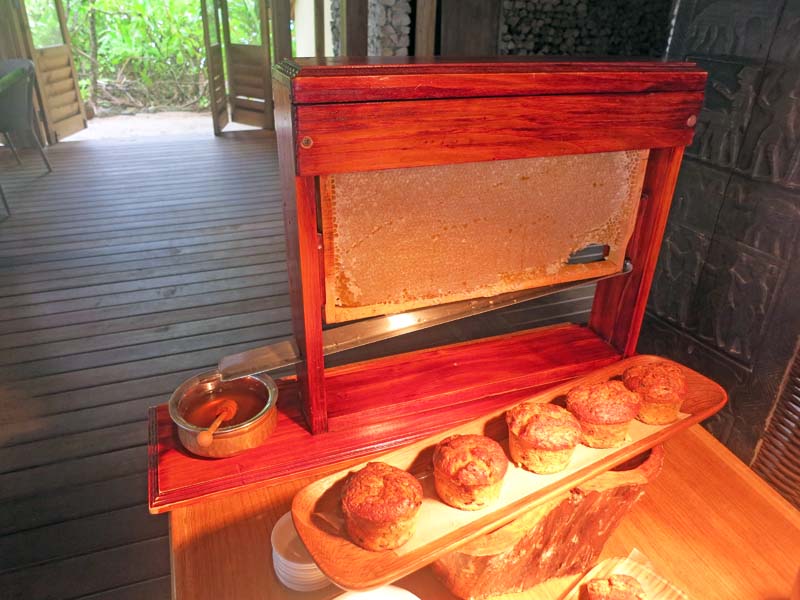 Below is a panorama of the front two docks (where transport boats come and go). That's Katherine in a blue sarong picking up sea shells.

Katherine in blue sarong looking down at the beach.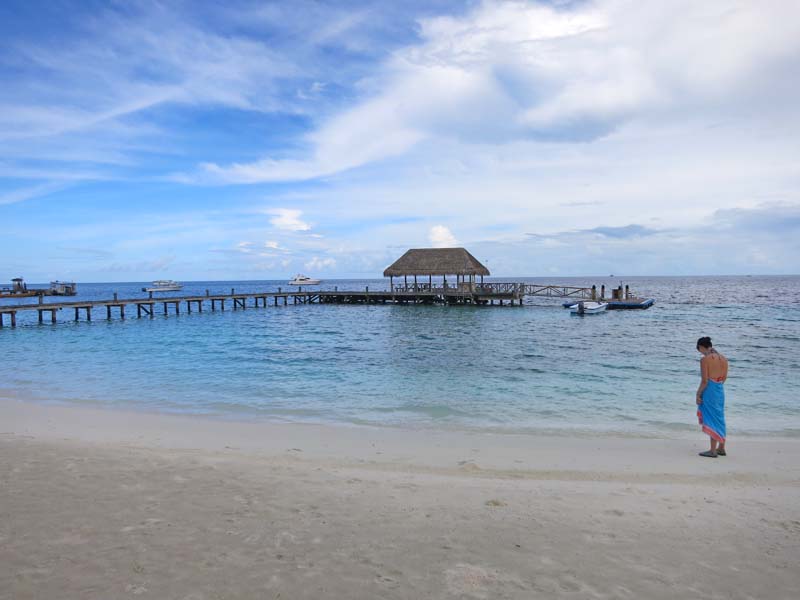 I took this picture of the pool while standing in it. It's mostly a wading pool, only 4 feet deep.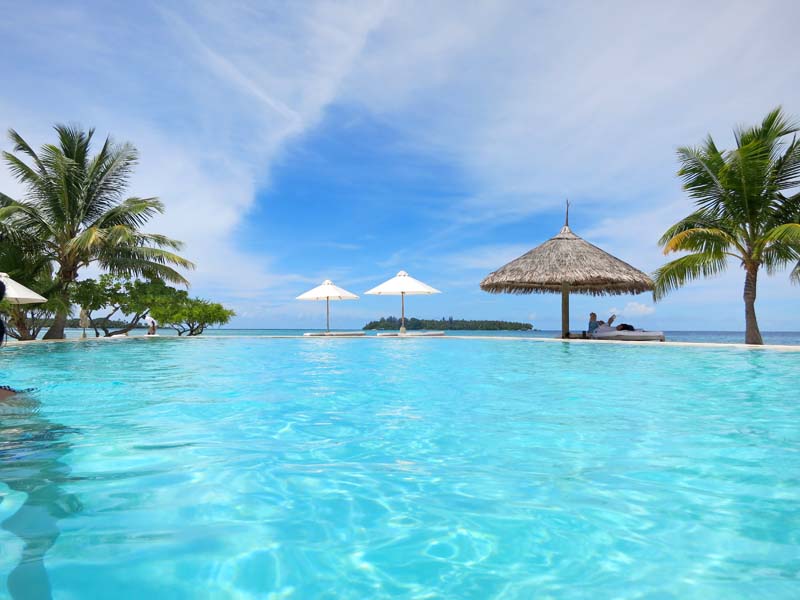 A panorama of the pool area taken from standing inside the pool. That's Katherine in the white brim visor.

Same pool, facing backwards towards the main dining room, the "bar area" is the building on the right of the pool. The dining area and bar are all "open" to the outsides, covered from rain and sun but completely open walls.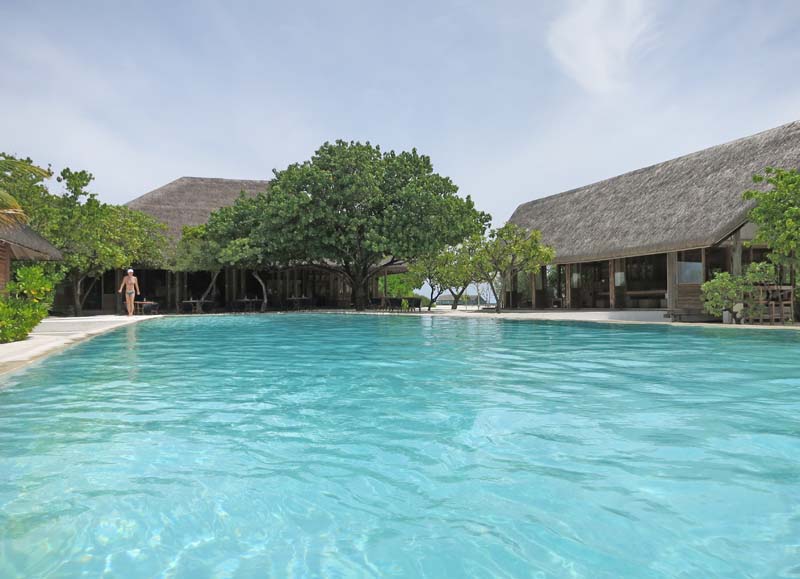 Katherine laying out on the beds they provide at various places on the island. These were always completely clean, newly laid out. There is a small army of local Maldivian men working at the resort trying to disappear in the background doing stuff like changing linens on these beds, putting the mattresses inside at night, combing the beaches to remove any trash, etc.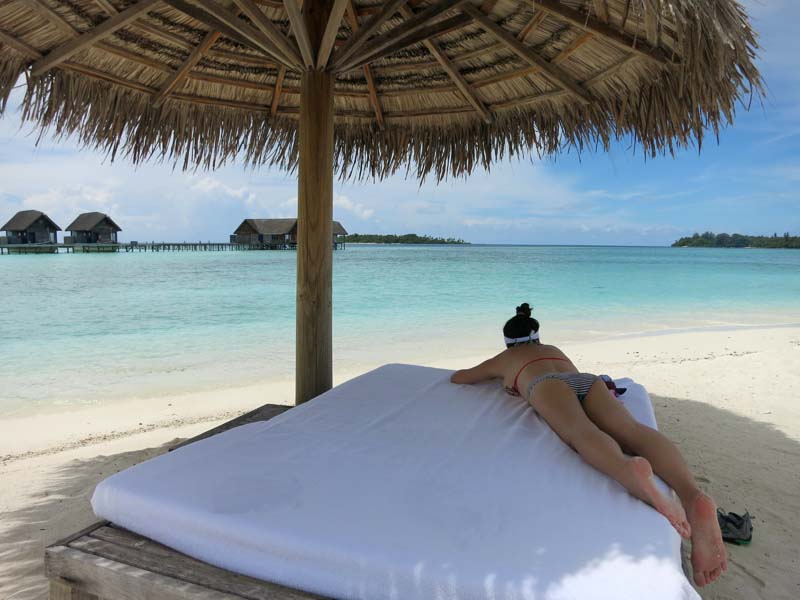 The second night's dinner, that's Lia MacDonald on the left and Katherine Chung on the right. We're in the main dining area, you can see the open walls out to the beach beyond.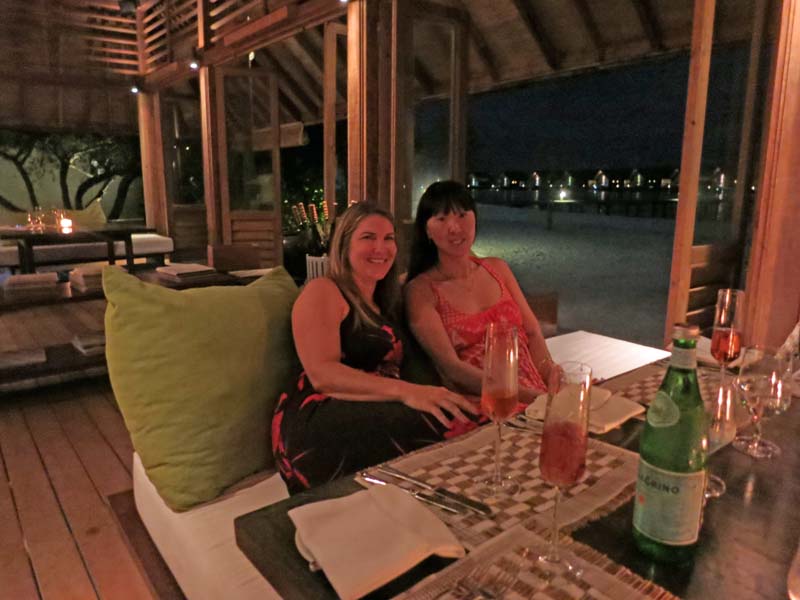 From left to right: Lia, Katherine, Susan, Nicky, Alastair (white pants cut off).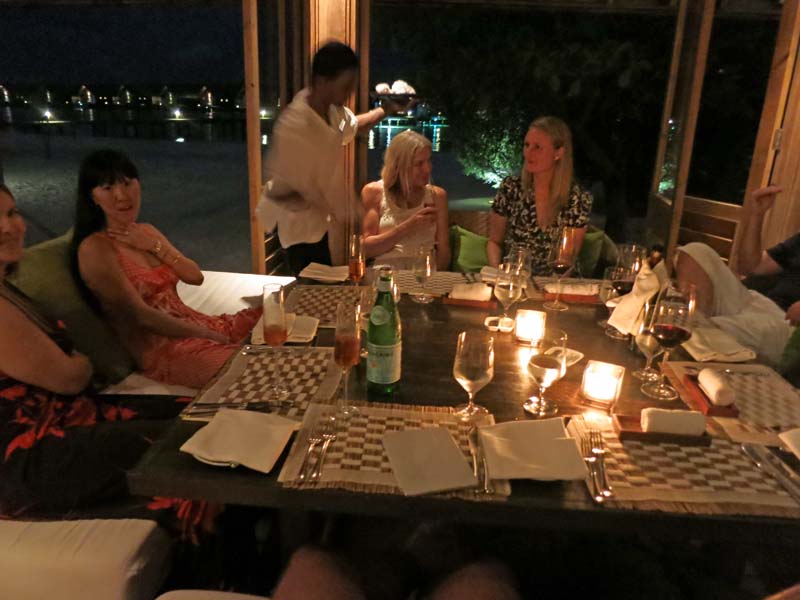 The next morning, Katherine in her robe on our back deck having coffee. The sun is so powerful that the only "pleasant" time to be outside is VERY early morning or after dark. Anytime "mid-day" you need to be half submerged in water or inside air conditioning or you are sweating.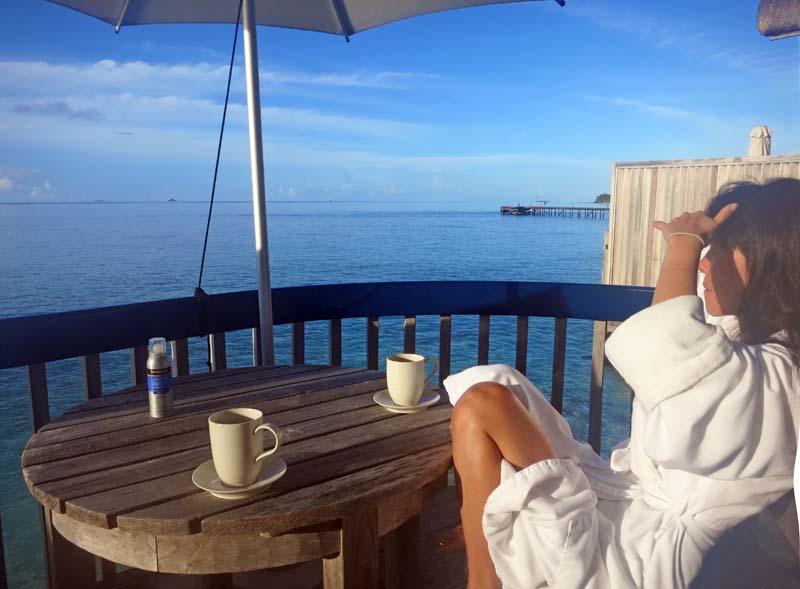 The view from our room's private back deck. At high tide it is about 4 feet deep and at low tide is about 1 foot deep (the "swing" is only 3 feet at most).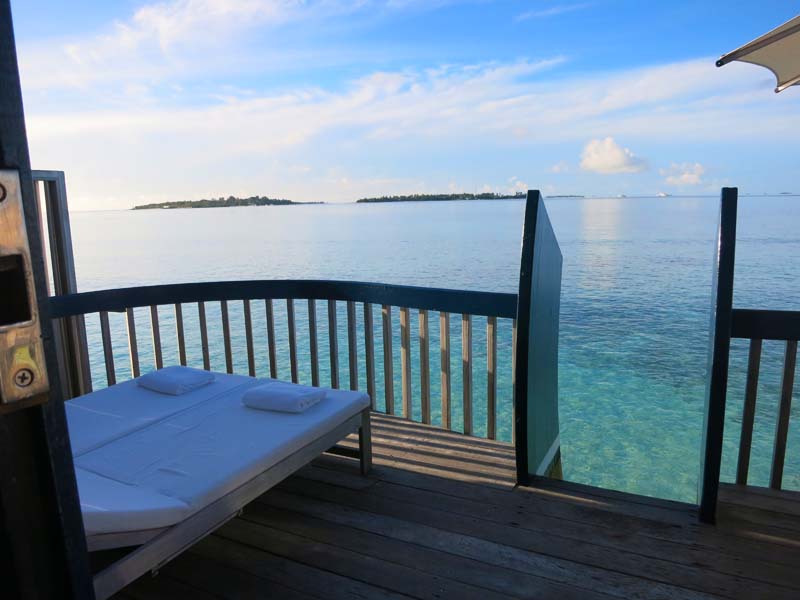 Katherine hanging out a little later in our air conditioned room reading a book (on iPad mini).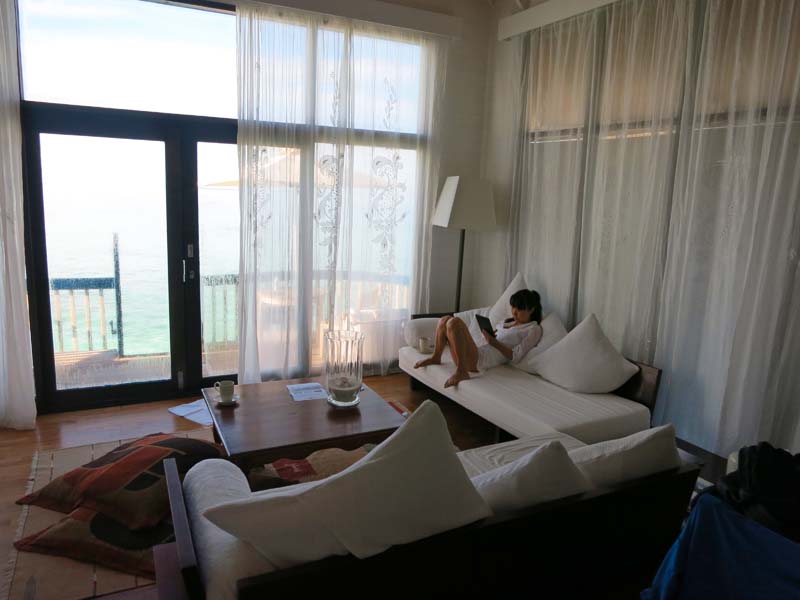 Breakfast with Alastair, Susan, and Lia.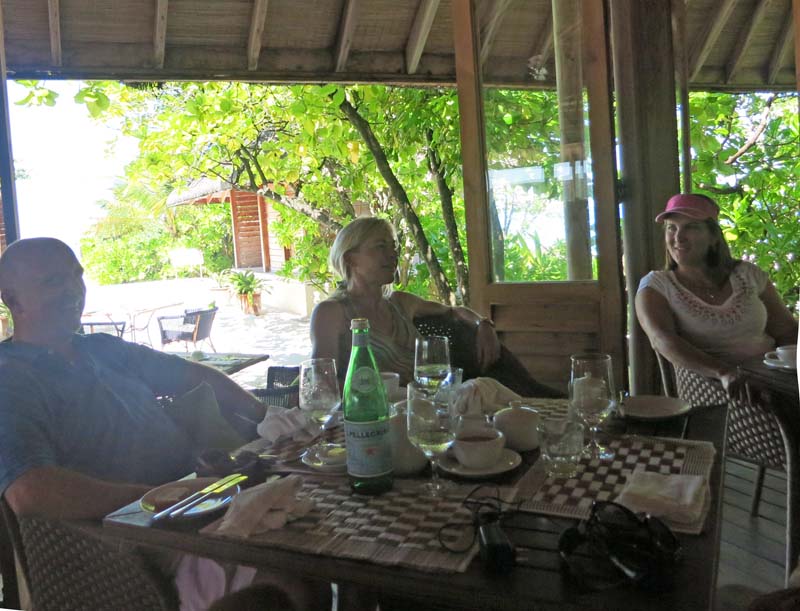 In the dining area, there are "bathrooms" (toilets) that are private from the dining room by thick locked doors, but open to the beach outside!! Strangely enough there is a little path there, it would stress me out to use these. :-)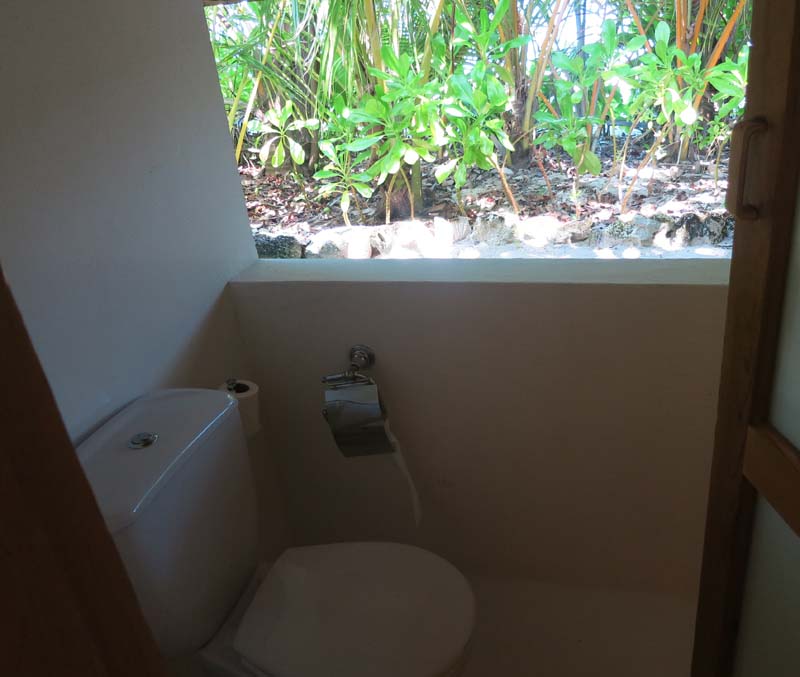 The weather gets better, so here is another picture of the row of dhoni boat rooms at Cocoa Island resort in the Maldives.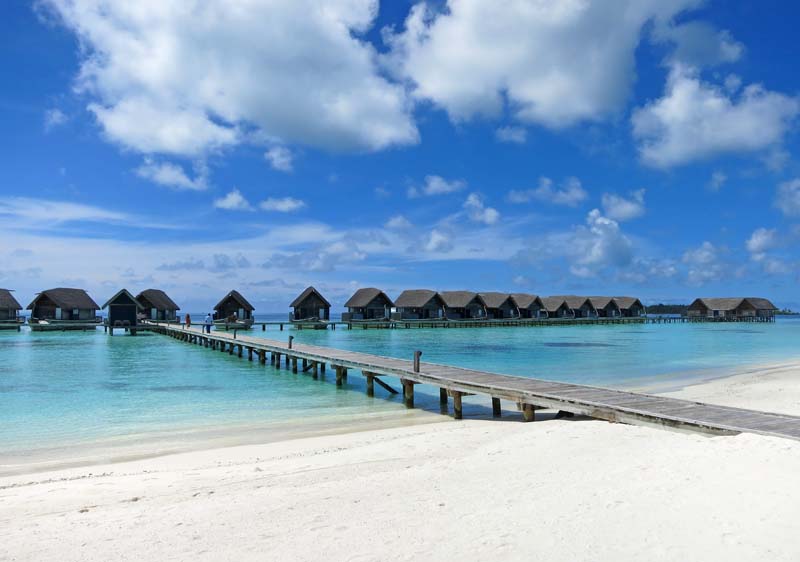 A long panorama of all the rooms you can stay at at the Cocoa Island Resort.

An HDR (high dynamic range) picture of the end of the rooms and the lagoon. My camera is a Canon S110 and it has this as one of the modes.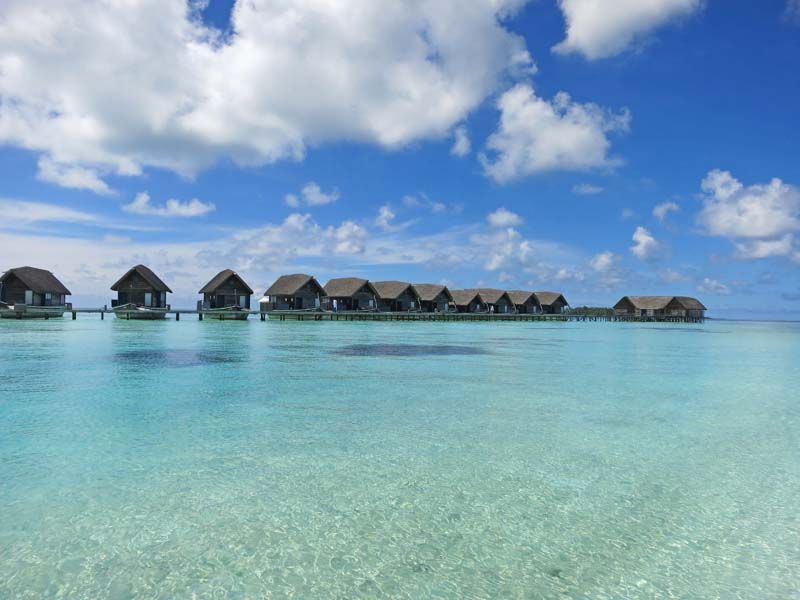 The "villas" are the largest rooms at Cocoa Island, I think this one is Sunrise Villa.
A panorama of the rooms at Cocoa Island resort taken from the walk way.

A picture of one of the "Dhoni Boat Rooms" at Cocoa Island Resort.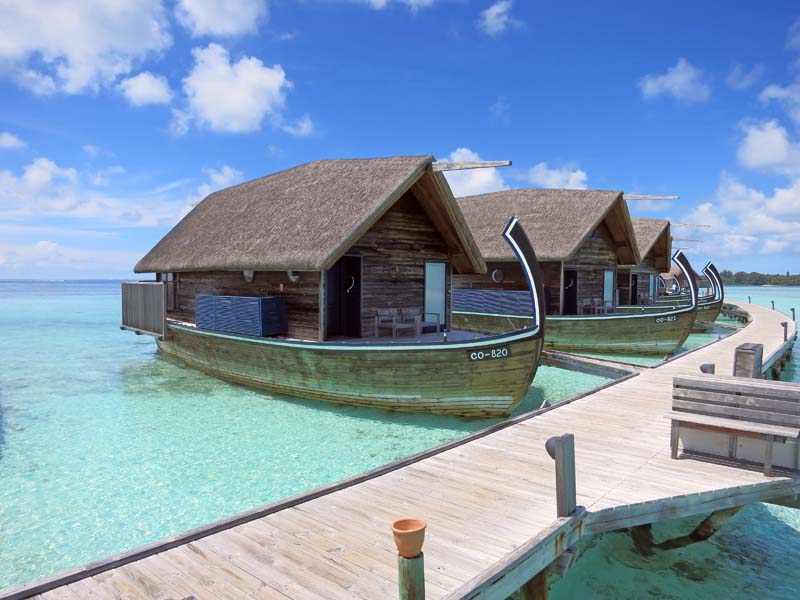 This is our room: 825.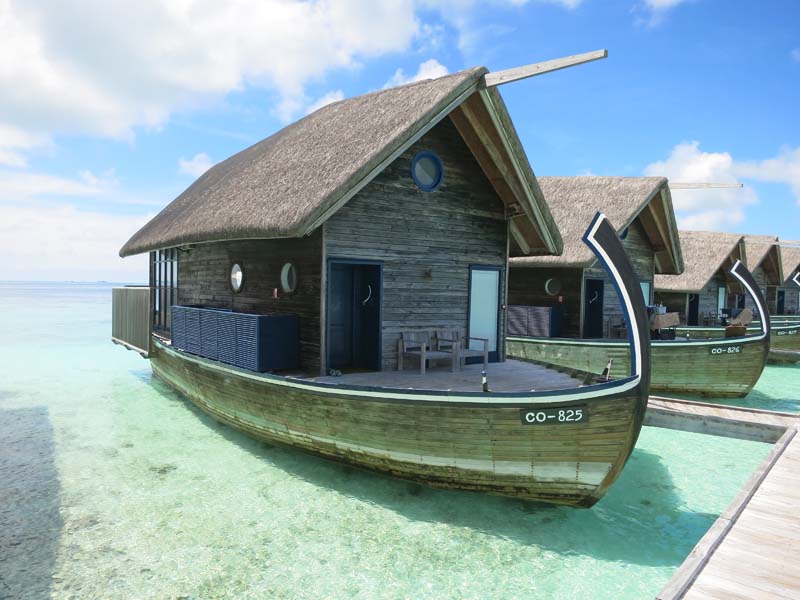 A picture of our room's front entrance.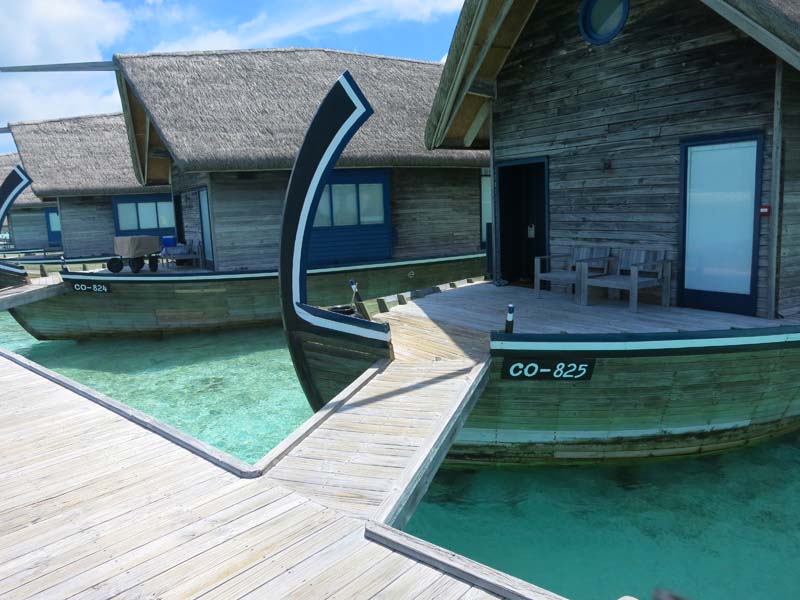 A picture from the front of our Dhoni Boat Room 825 facing outwards.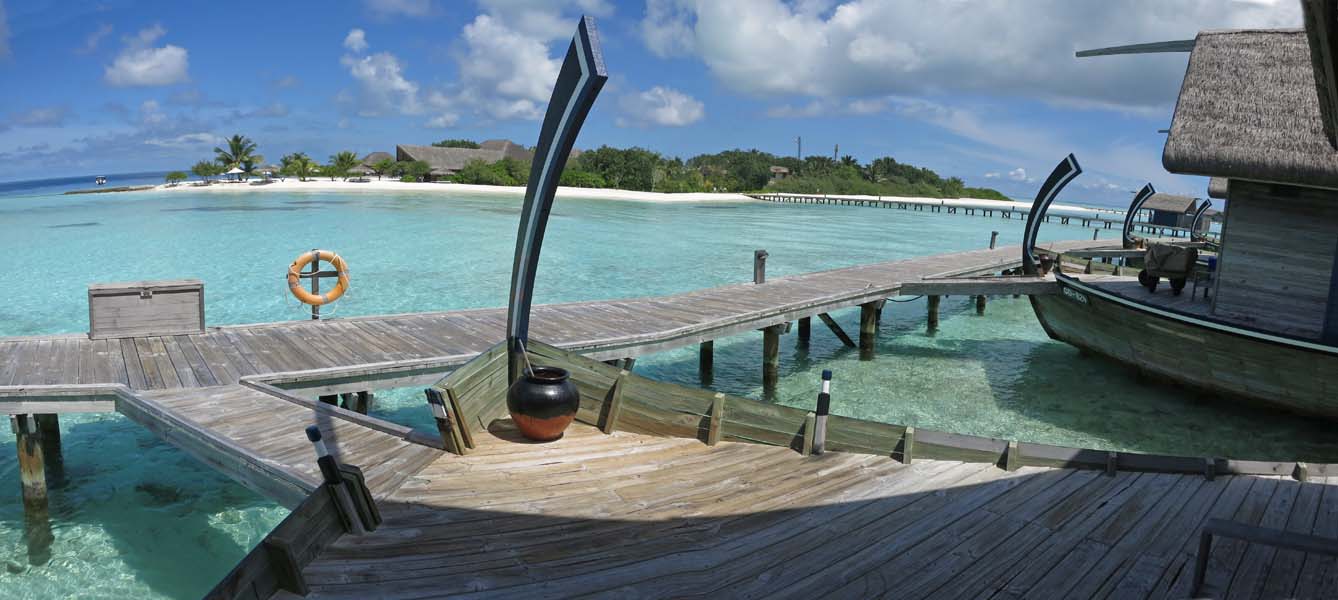 Katherine and I decided to hop over to the very next island where there is a Holiday Inn Resort (Kandooma Resort). Our island is Cocoa Island, the boat trip takes about 2 minutes, and our island had to call ahead for "permission". The whole thing confused everybody, nobody thought it was "normal" to want to leave your own island for lunch. Our island charged us $100 for the round trip boat ride. Contrast this to where the locals can take ferries to their islands or to the capital (Malé) for about $2 US. Ultra super high fees is the norm for tourists. Below we are leaving our dock at Cocoa Island.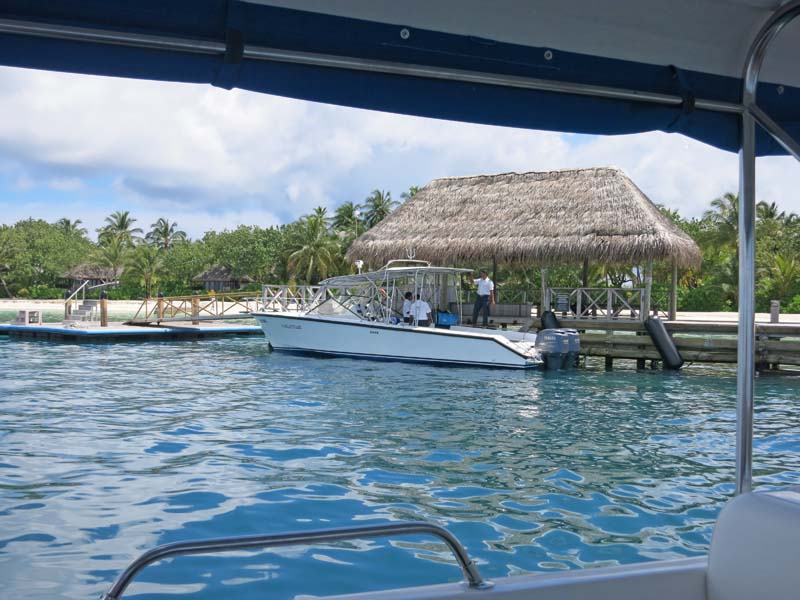 It took three drivers to take us 2 minutes to the next island over. You can see Holiday Inn in front of us.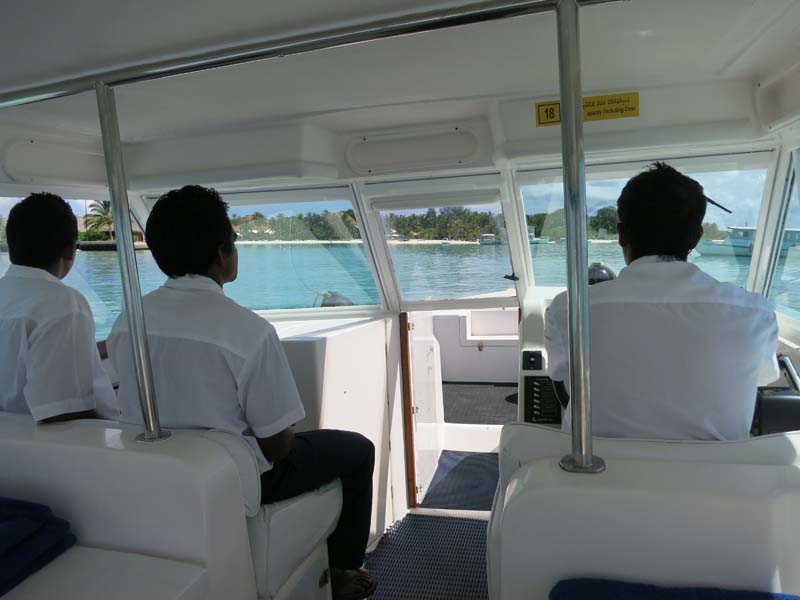 Here we are entering the Holiday Inn Harbor.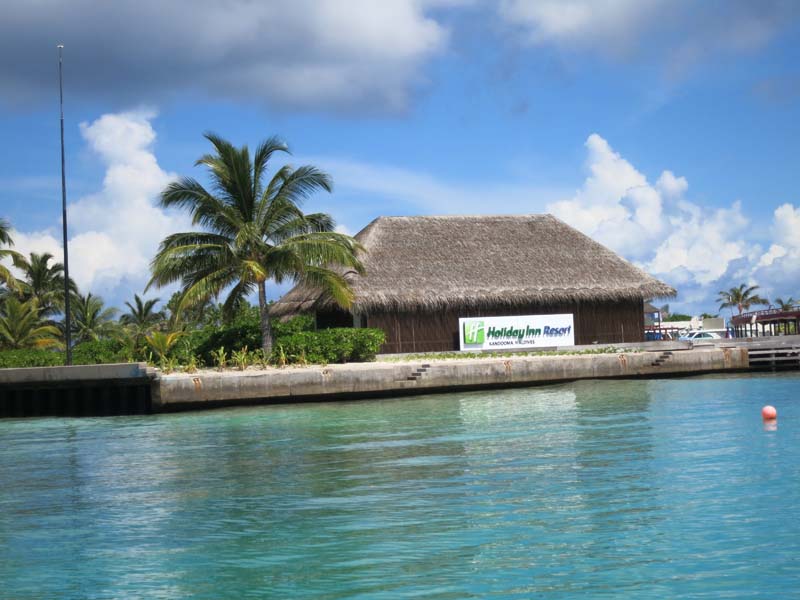 We had lunch by the main fresh water swimming pool at the Holiday Inn. Staying at the Holiday Inn is costs about half what it costs on our Cocoa Island. Holiday Inn is probably about $500/day, Cocoa Island is around $1,000/day for the same type of "package". For half the price, most things were Ok, but not quite as nice as Cocoa Island.

This was the lunch menu by the pool, I thought it was funny that "Chinese Roasted Pork" was available so I ordered that for lunch. Pork is forbidden in the Maldives because it is a Muslim nation, but (like alcohol) it is allowed on the tourist islands.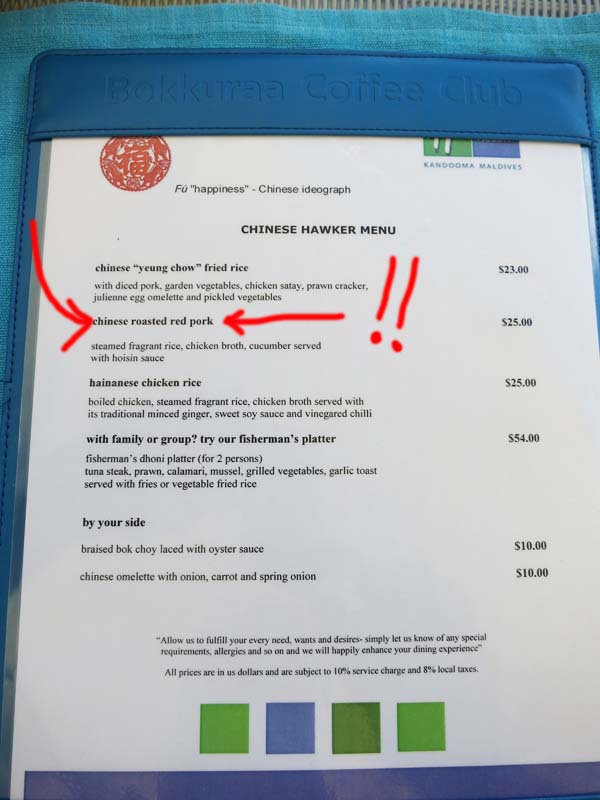 The Maldives is a Muslim country, but on the resorts you can order any alcohol you like, here is a picture of the prices and selection in the Holiday Inn.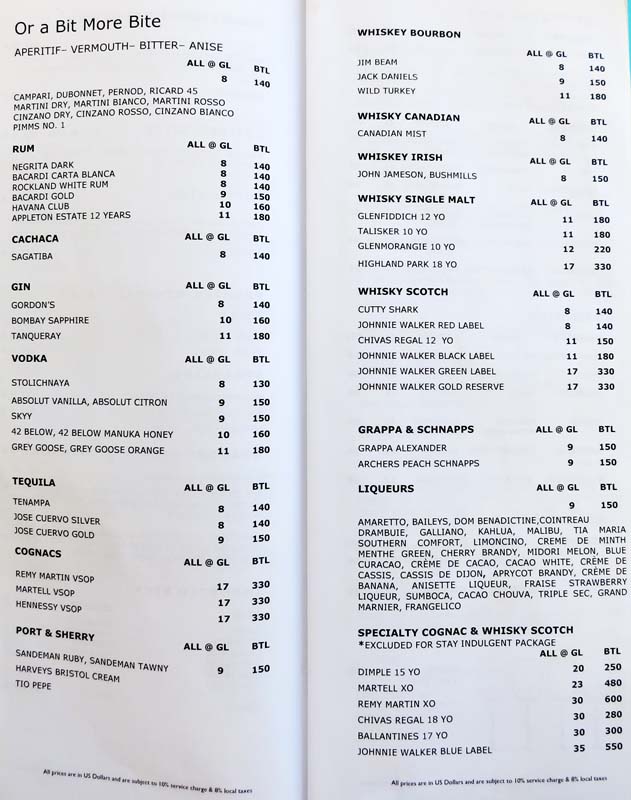 Or a mixed drink if you prefer, I had a Mai Tai with lunch.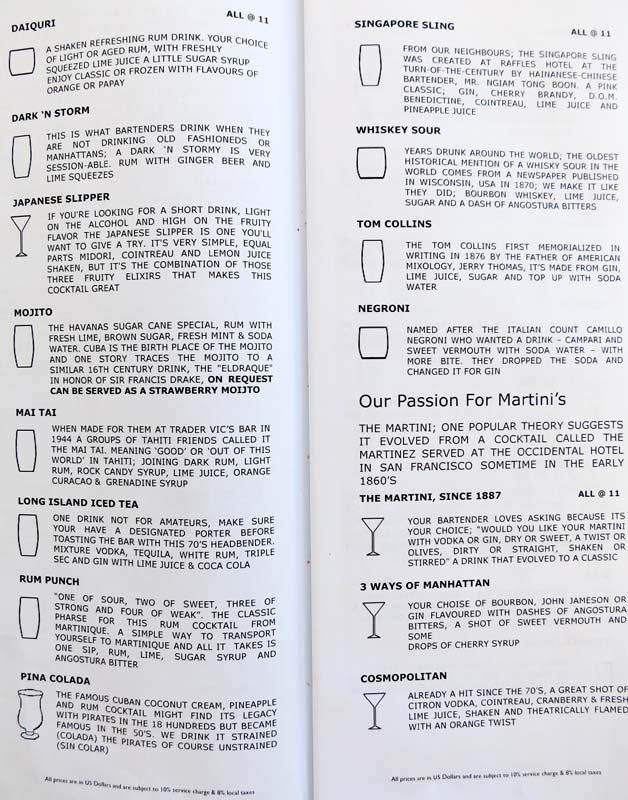 Our lunch, it was Ok.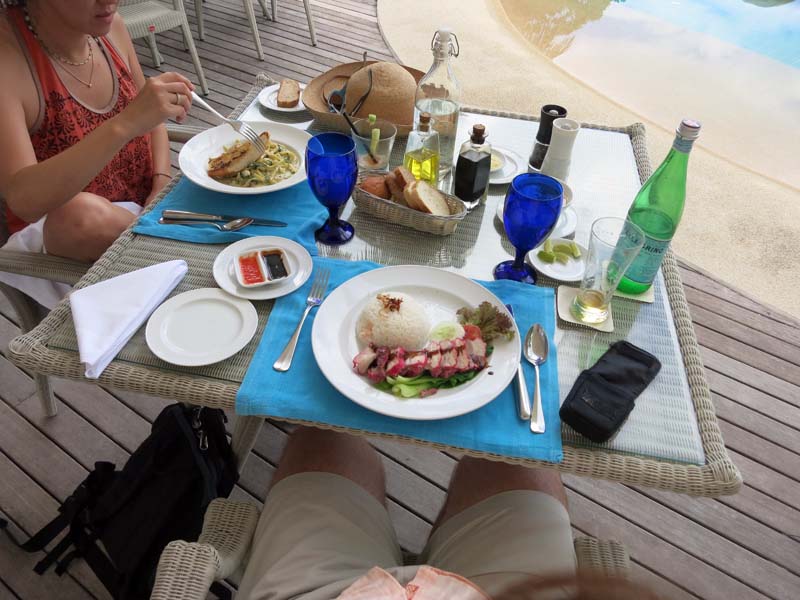 We were told not to wander around (just eat lunch and leave), so OBVIOUSLY I had to figure out what they were hiding. I ran around the island after lunch quickly taking some pictures. Below is a beach facing room at the Holiday Inn Maldives (Kandooma Island Resort). The "room" you sleep in is up above me, this is kind of a nice shaded area underneath it, this is "private" to one room, not a shared space. Things were just a tiny bit more "used" or "run down" than on Cocoa Island, but honestly not that bad for the price.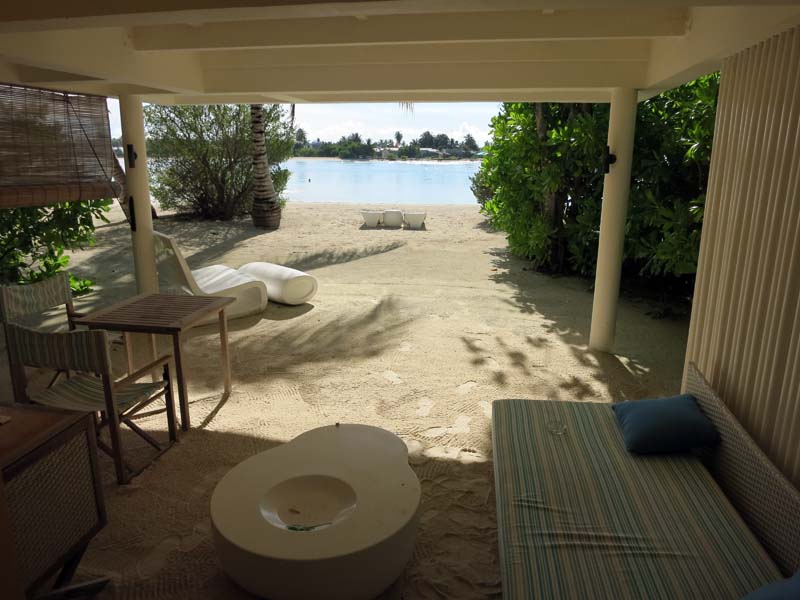 This is the same ocean facing room, my back is to the ocean as I take a picture of the "room" which is a flat roof stand alone building.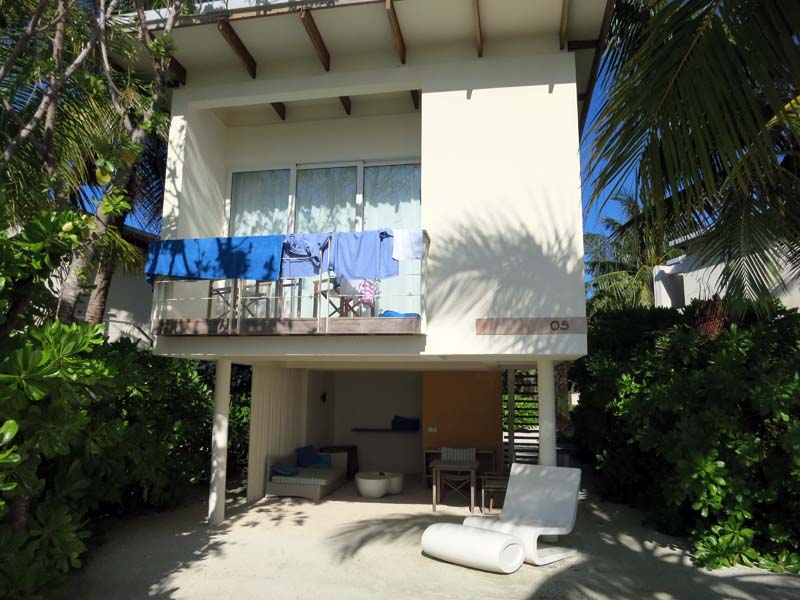 The only "over water" accommodations on the Holiday Inn Kandooma are seen below. Not quite as picturesque as Cocoa Island, but half the price.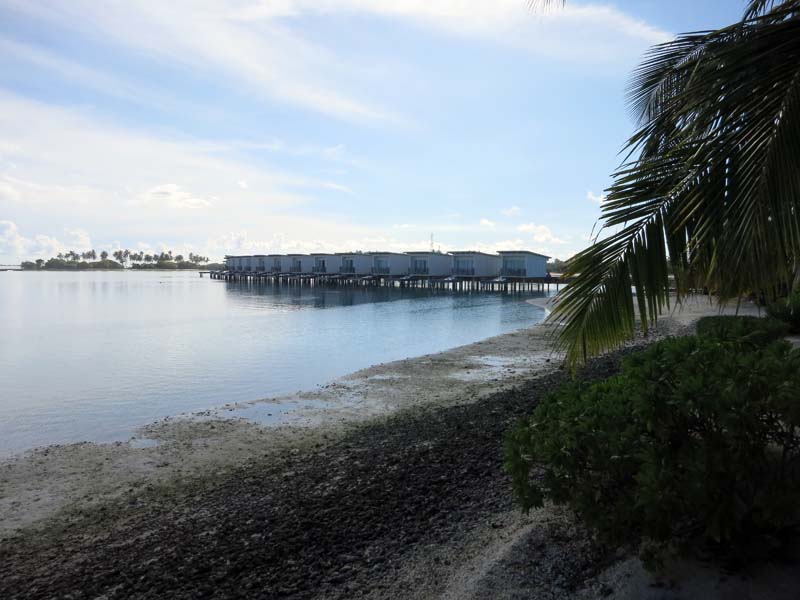 Out behind the Holiday Inn Kandooma Maldives island was a coral beach, kind of a reef, and some waves that looked like they might be surfable on the right day.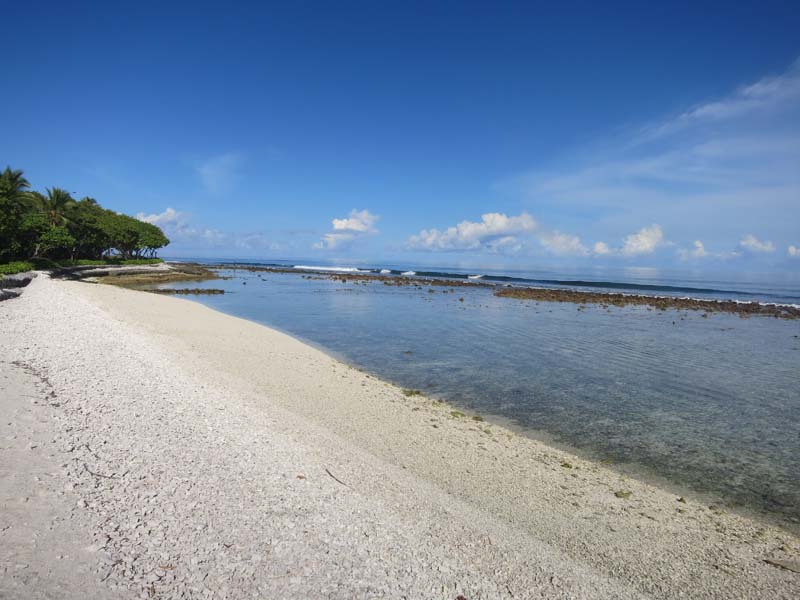 There are at least three restaurants on the Holiday Inn Kandooma - the pool side cafe area, a main slightly industrial looking cafeteria, and the better looking ocean facing "The Kitchen" restaurant (only open for dinner) below.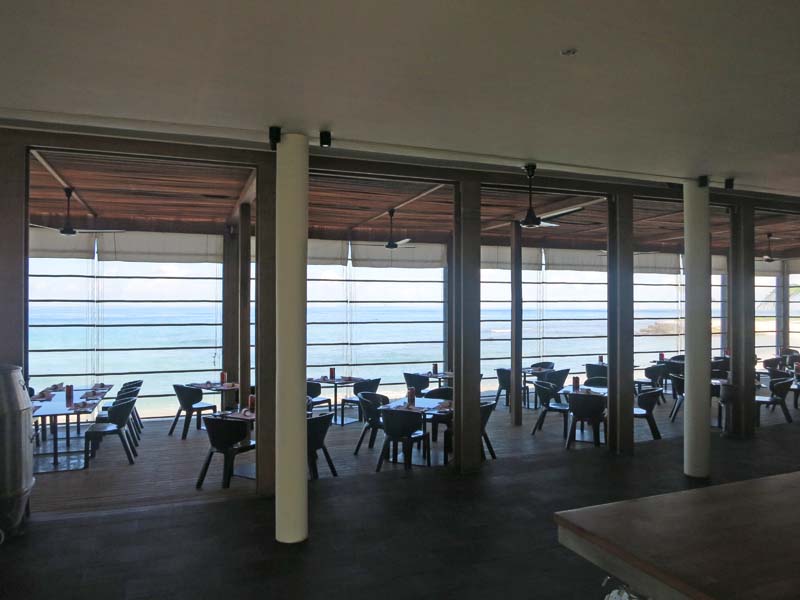 I took this picture of the Holiday Inn Resort Kandooma Maldives letterhead with a note about "The Kitchen" to remind myself for later what it was all called.

A picture of the "alcohol bar" by the fresh water swimming pool. All the brands you would want, like Grey Goose Vodka.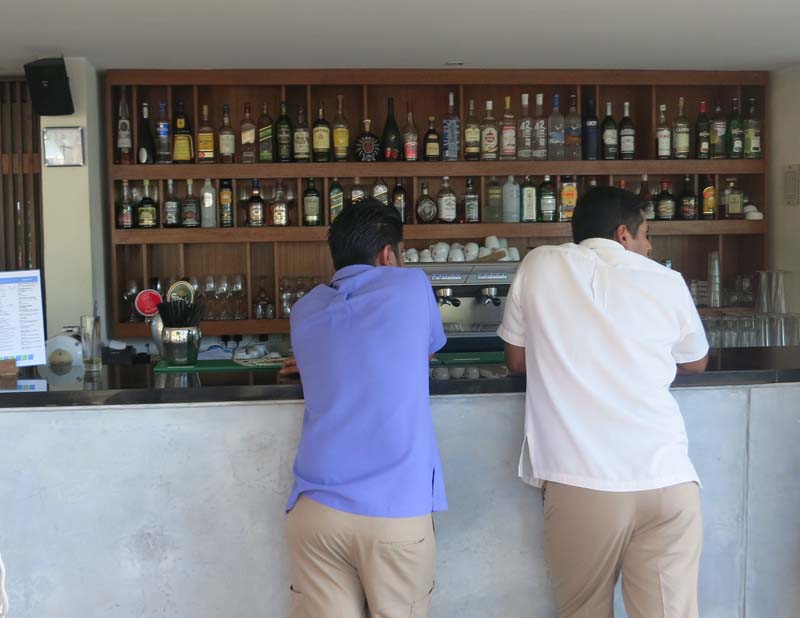 Below is the slightly industrial looking cafeteria in the Holiday Inn Kandooma.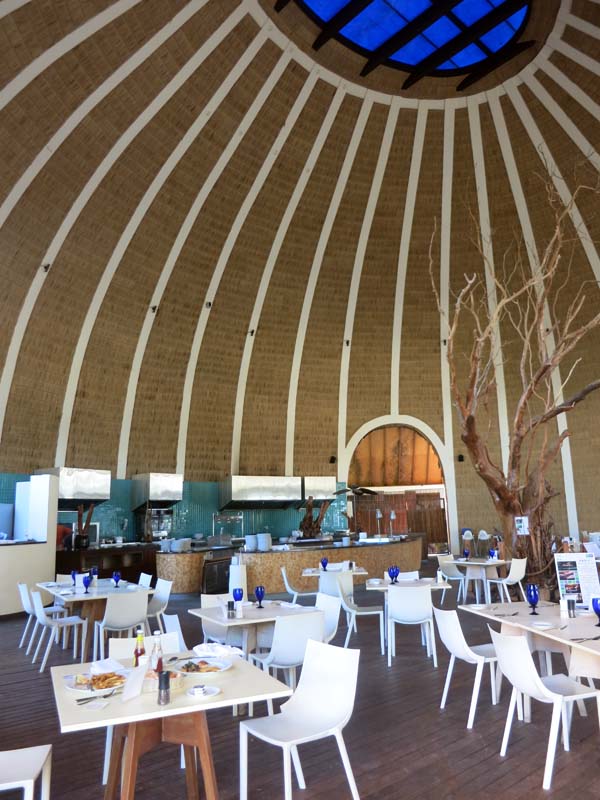 We return to the "dive dock" to catch our boat ride back to our Cocoa Island. Across the way you can see the fresh water swimming pool where we ate lunch behind the white beach.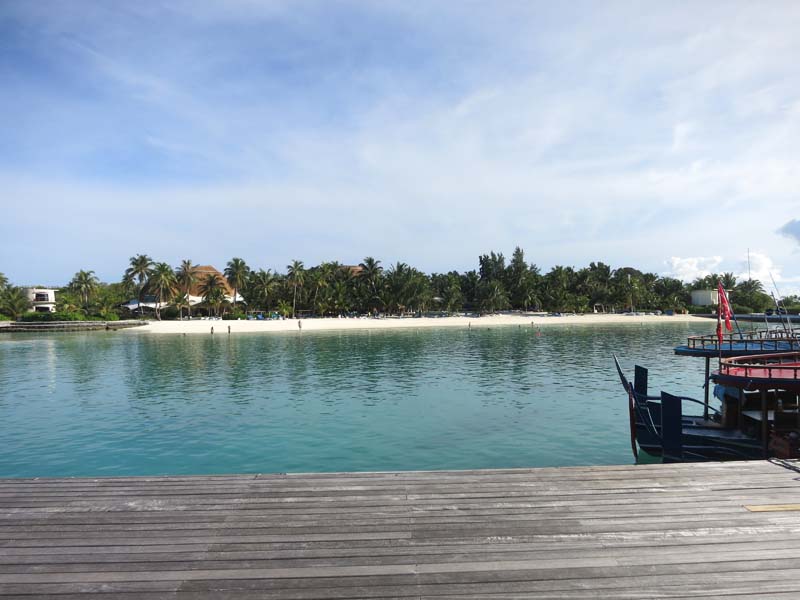 The Holiday Inn Kandooma is a larger resort than Cocoa Island, it looked like there were more boats and more activities and a bigger dive program. Below is "Kandooma Purple" as one of the boats.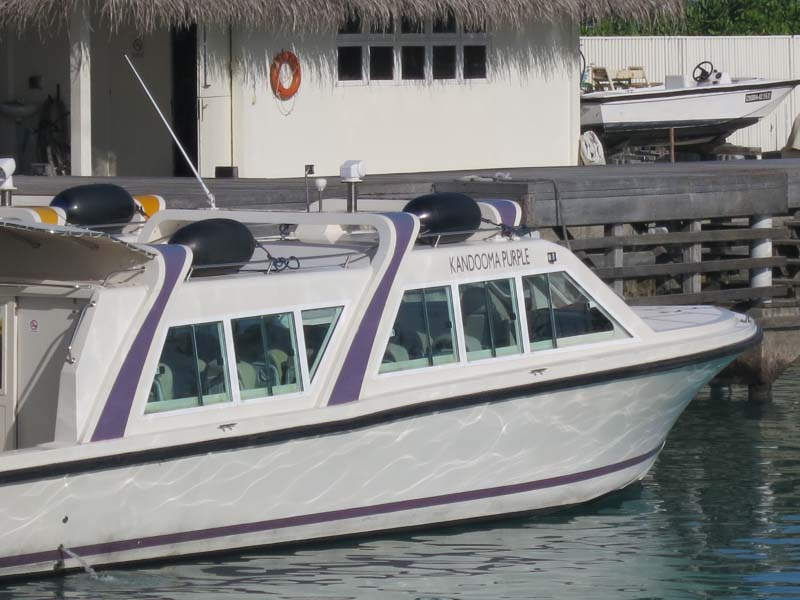 This is the view just 20 seconds out the front of the Holiday Inn -> the view is of our rooms at Cocoa Island.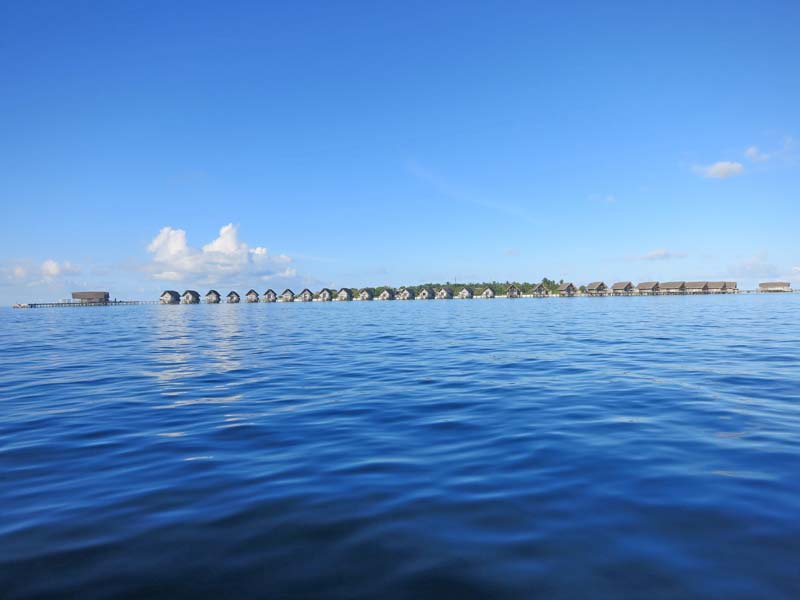 Back home as the sun sets over our rooms.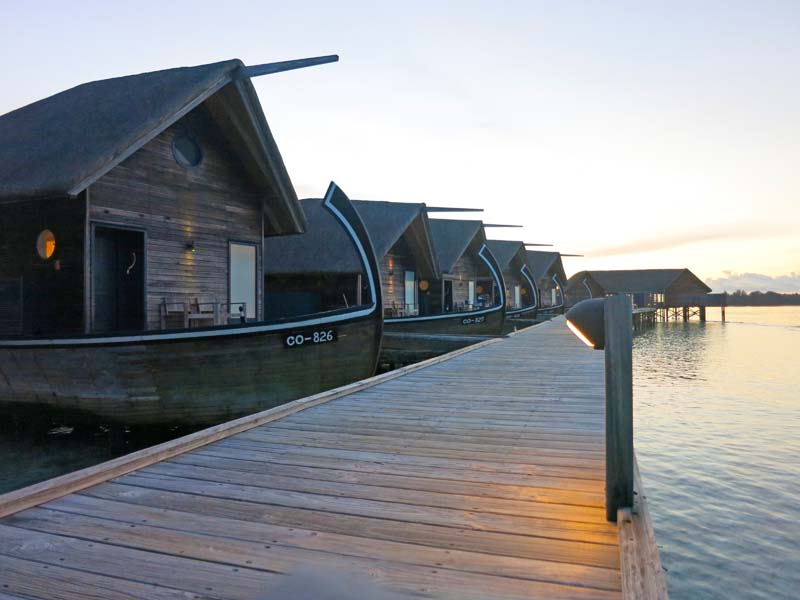 Another picture like the one above.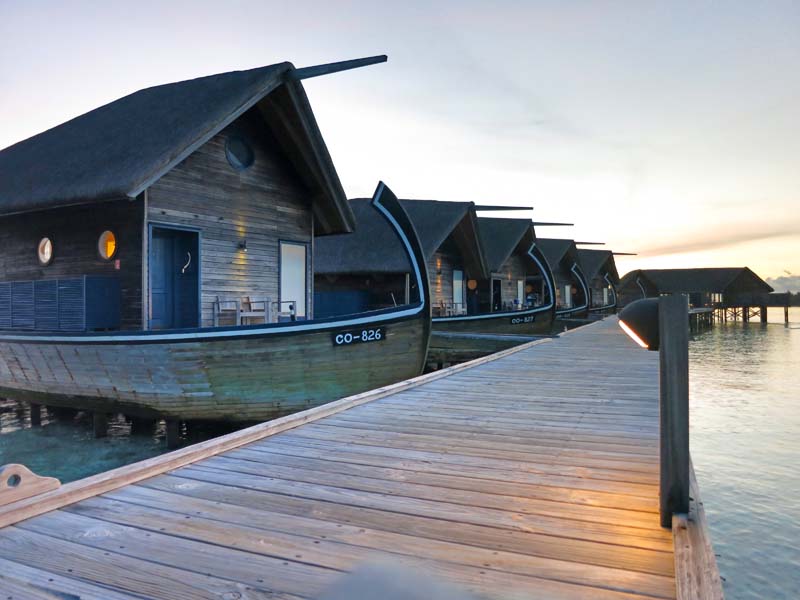 Moon rise before the sun is completely set makes a pretty picture at Cocoa Island Resort, Maldives.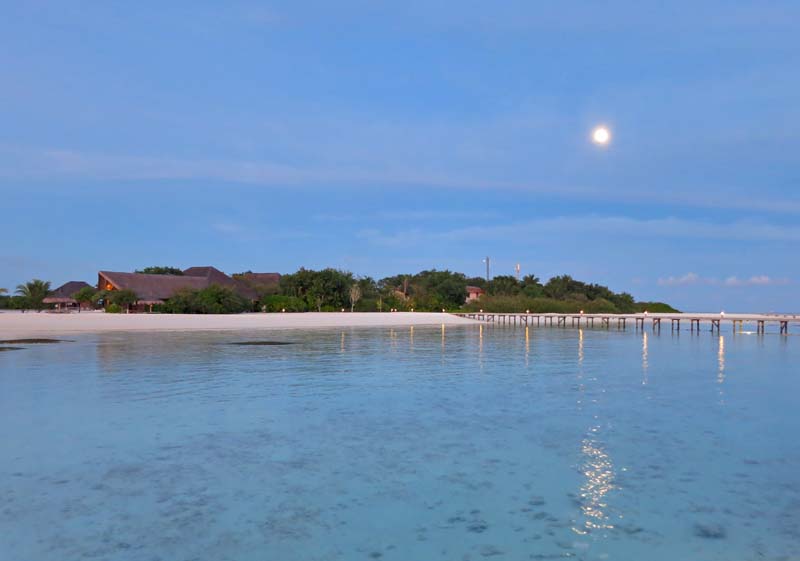 Another picture a few minutes later.
There are some wind surfing setups available totally for free for guests to borrow and play with, seen below.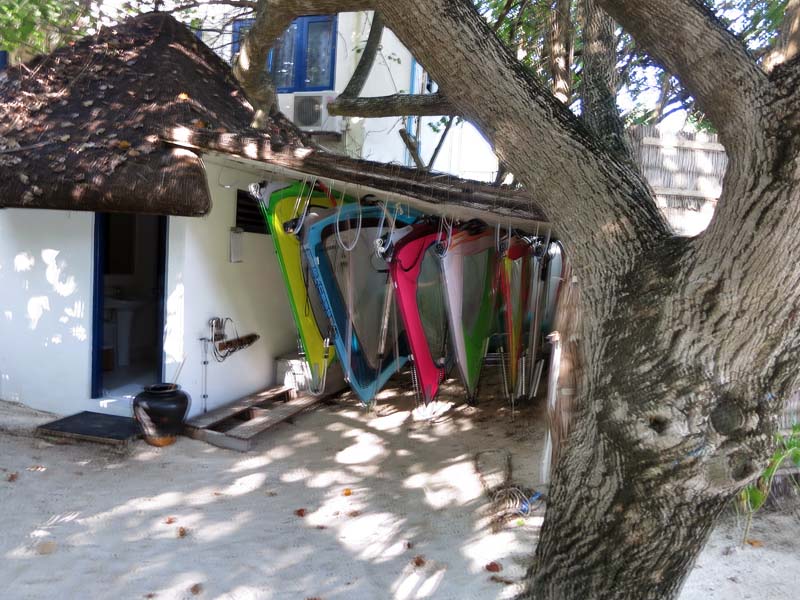 Also sea kayaks are free, just take one.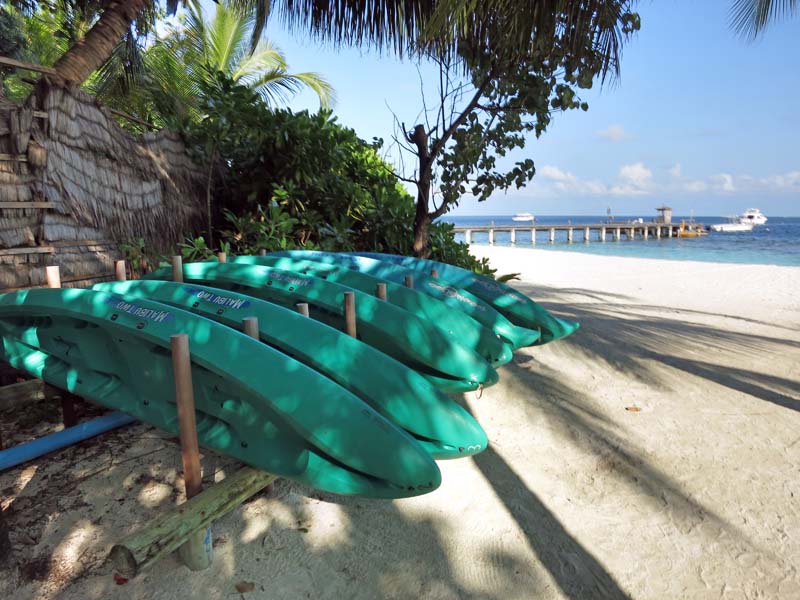 Cocoa Island Resort does not normally have JetSki or Wave Runners available, but I had called ahead and arranged for this one to be there the whole week for me. The owner is Ilyaas Dawood and he owns and runs http://www.watersportsmaldives.com/ which can rent Wave Runners ($300 / day) or Ski Boats ($600 / day) or some other fun toys. His nick name is "illi" which is written on the side of the Yamaha Wave Runner below.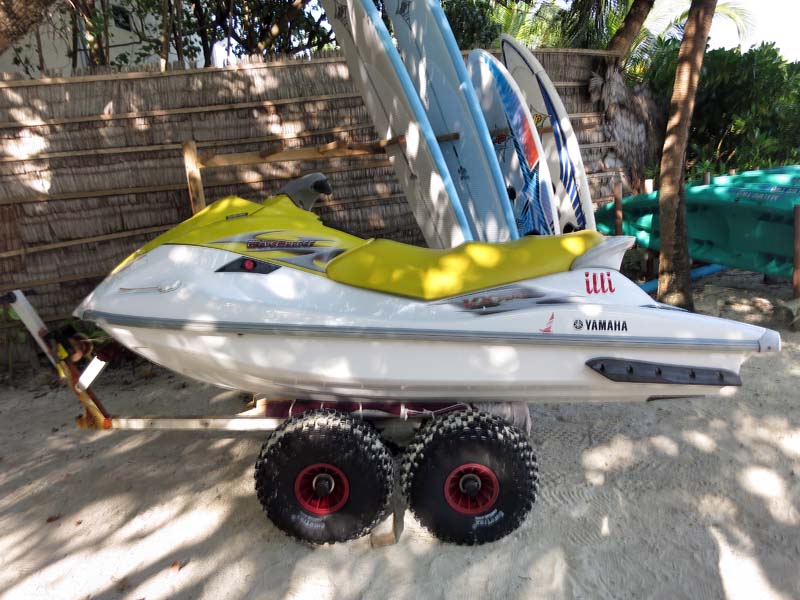 A cleaner (non-fuzzy) picture of the Wave Runner with "illi" on the side. Whenever I wanted to use the Wave Runner, the Cocoa Island staff would lower it into the water for me, and they would pull it out of the water afterwards.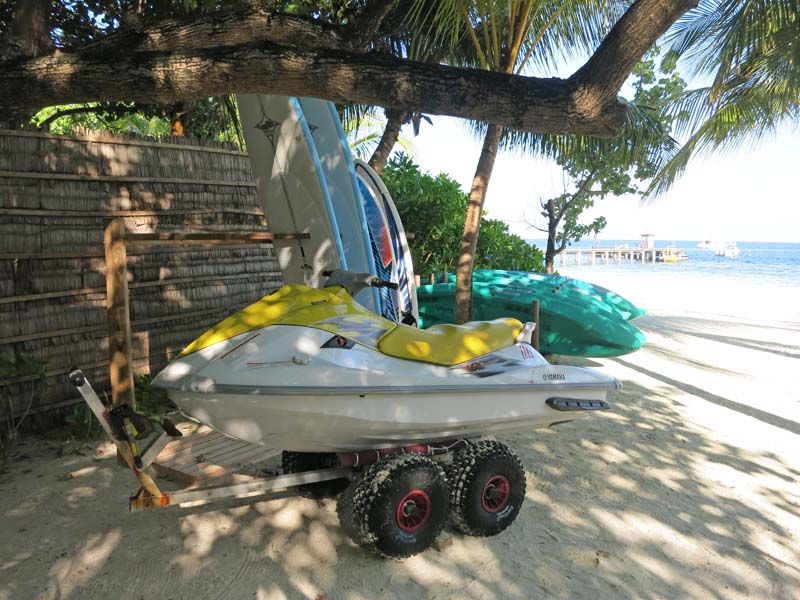 Here I am on the WaveRunner.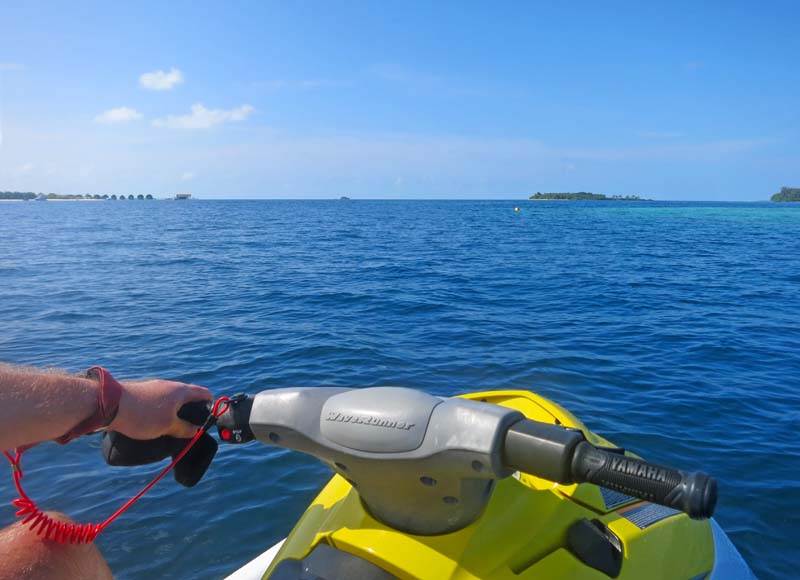 Below is a silly 2 minute movie of me driving a JetSki (technically it is a WaveRunner) in the Maldives near Cocoa Island. Click here for a very high quality QuickTime Version (probably will not play on a Windows computer)!
While out exploring on the Wave Runner, I found this tiny island sandbar BARELY above the surface of the ocean. We came back in a couple days and spent a day goofing around out here.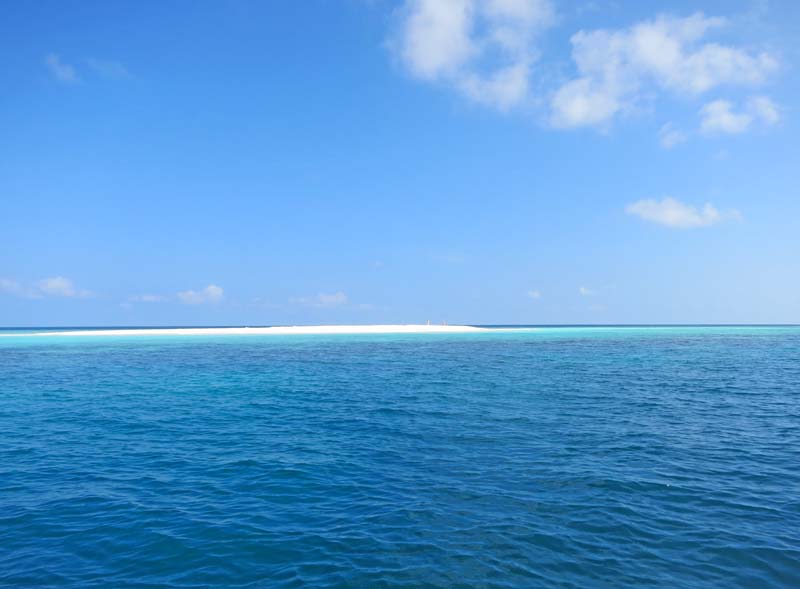 A nice panorama of our rooms at Cocoa Island resort taken from the back of the Wave Runner.

Below is a picture of the "shallow water" around back of our rooms at the Cocoa Island Resort in the Maldives. The "light blue" water is literally only 1 or 2 feet deep at places.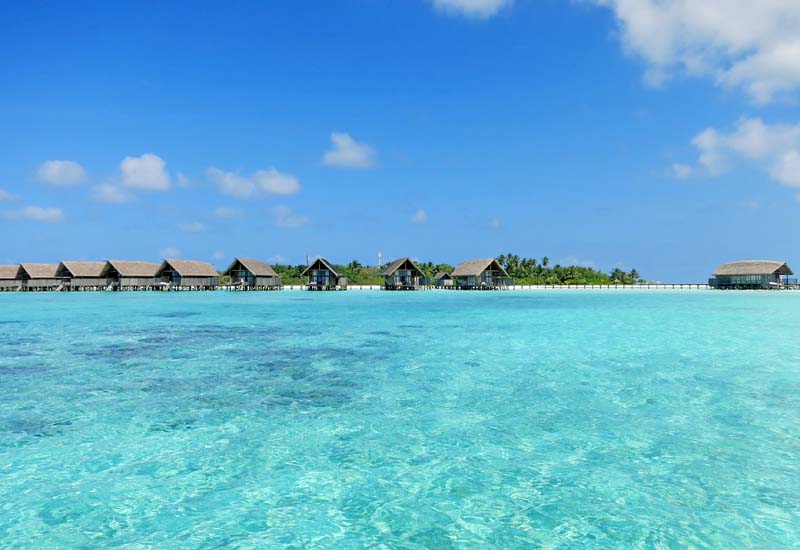 Super shallow water behind our rooms in the Maldives.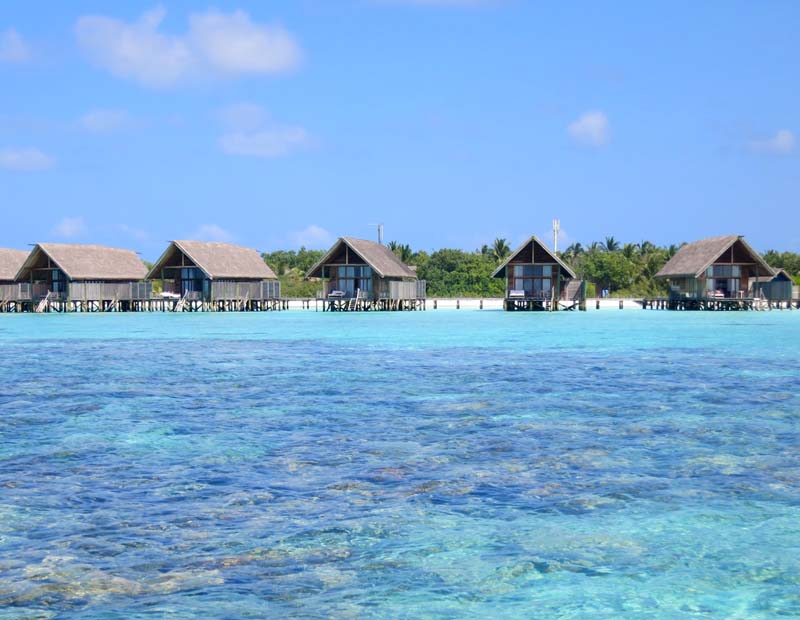 A picture of the "Sunset Villas" (large rooms) at Cocoa Island Resort in the Maldives.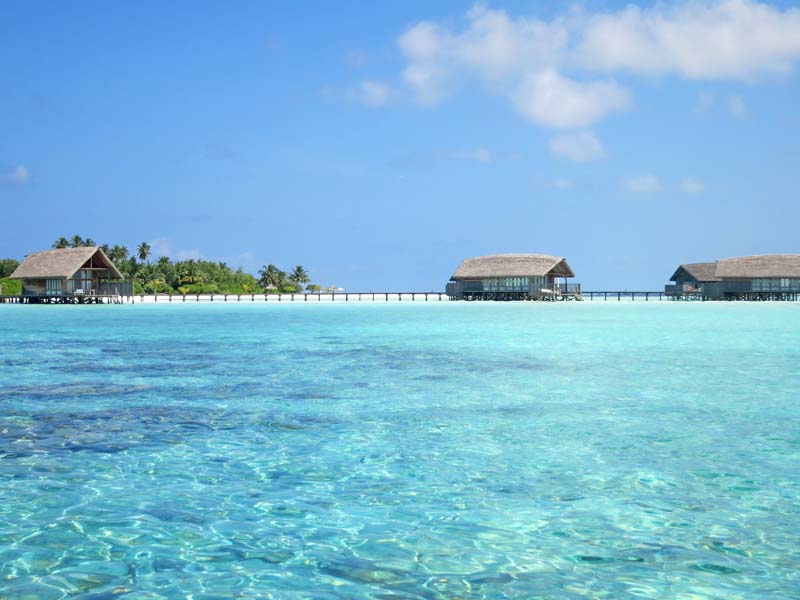 A picture of the Sunrise Villa (largest end unit) at the Cocoa Island resort.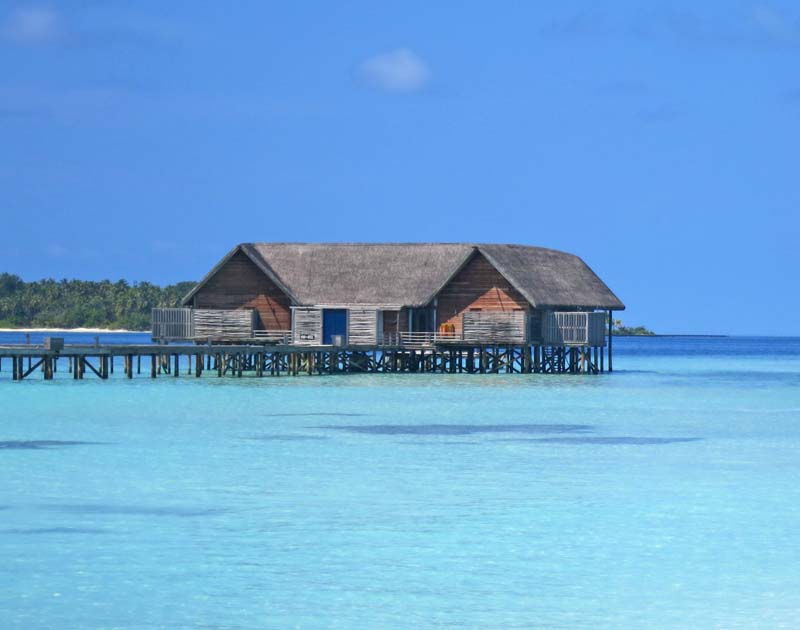 A picture of the beach and the lagoon and a woman walking along at the Cocoa Island Resort.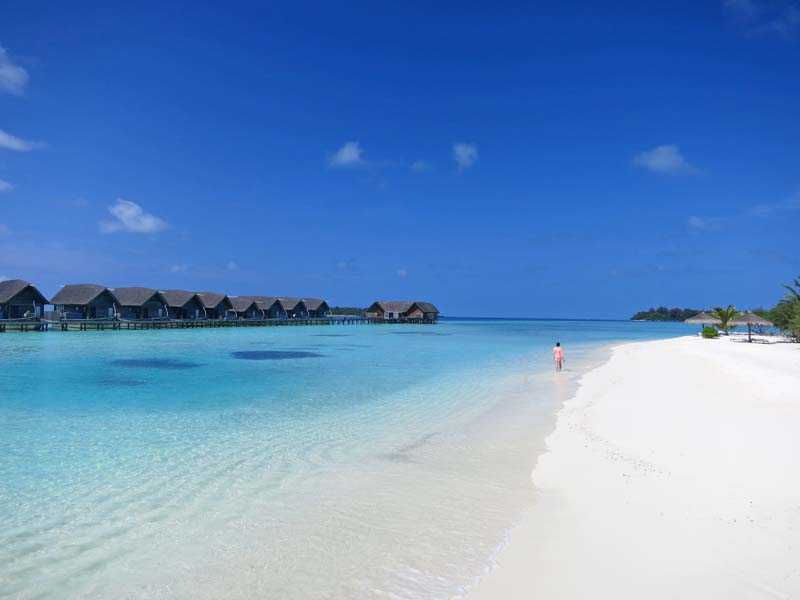 Random woman walking all alone on a beautiful beach at the Cocoa Island Resort.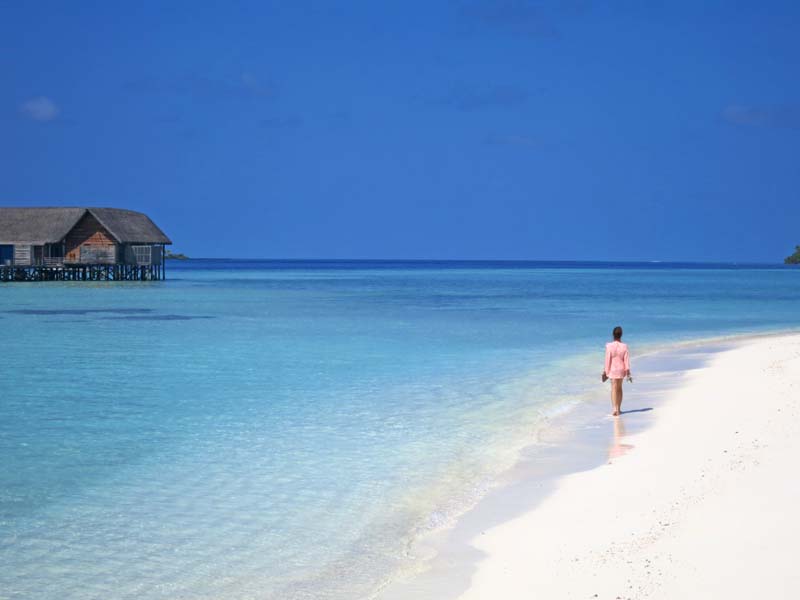 The lagoon gets more beautiful each day.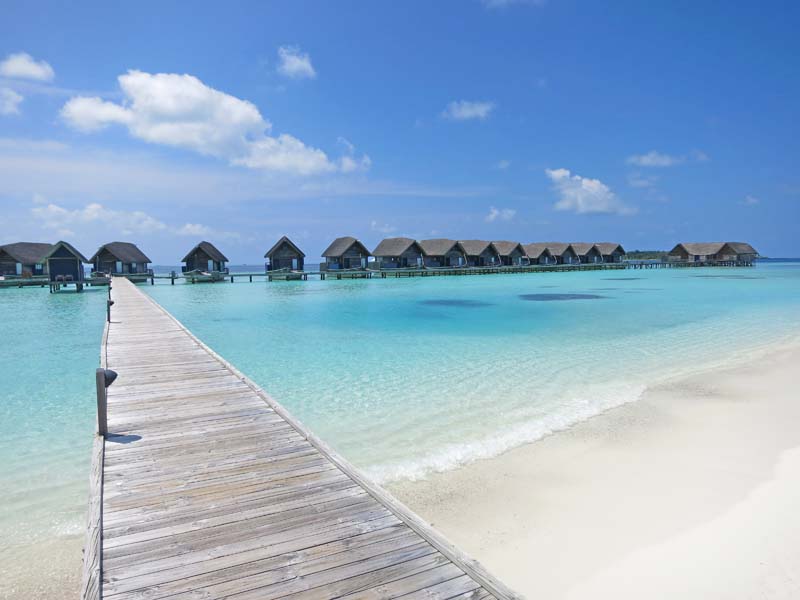 The next day we decide to go to ANOTHER neighboring island, this one is a 3 minute boat ride away. The island we visited is called "Maafushi" and it is a "locals island" in that it isn't dedicated just to tourists. Our island assigned us a guide, and was nervous about this whole trip. Below Will MacDonald in white on the ride over.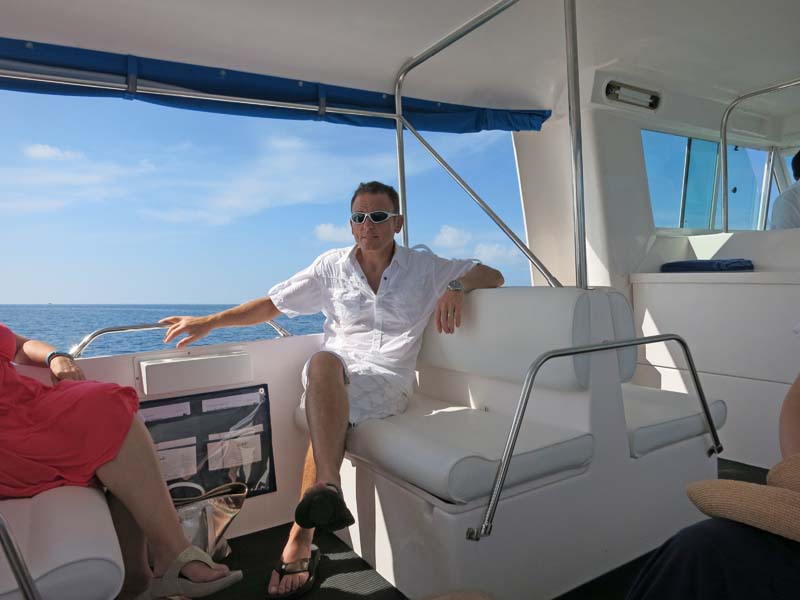 Katherine Chung on the ride over to Maafushi island.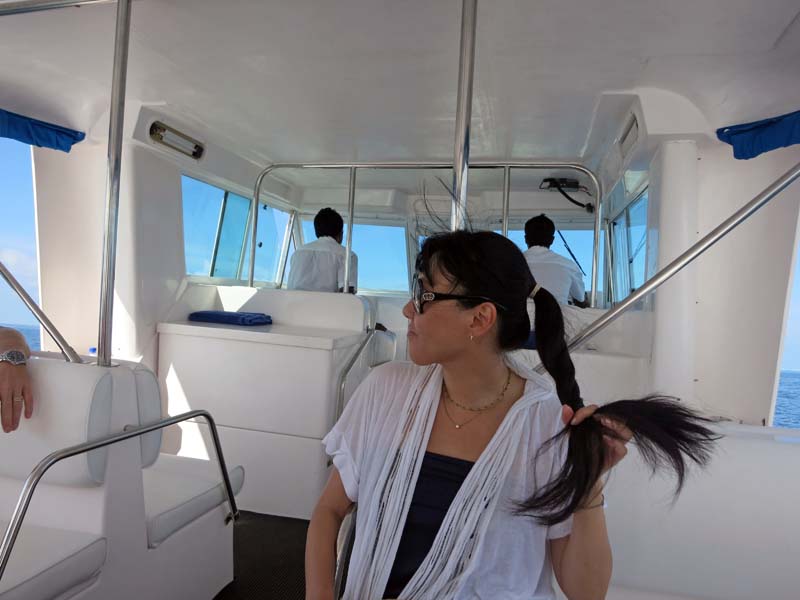 Ok, wanding through the "locals island" of Maafushi in the Maldives. The buildings are colorful and things are clean, but it is a TOTALLY different experience than the "fake" environment inside the resorts.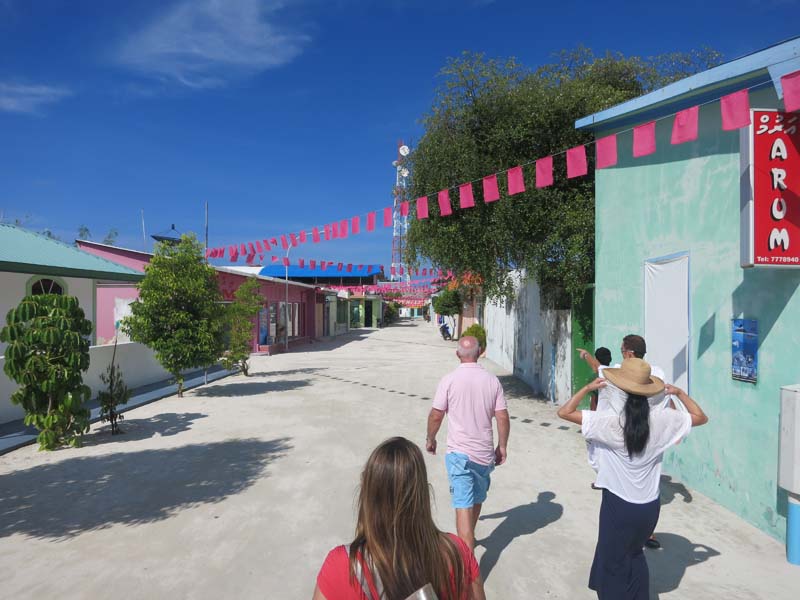 Notice the communications tower at the end of the road.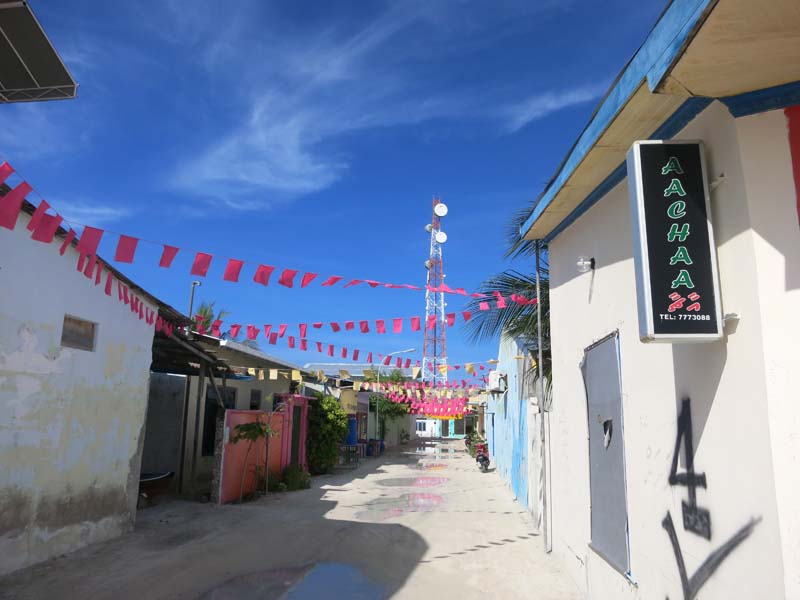 We asked the guide to take us to a local store, Lia (in red below) bought some "crisps" (I would call them potato chips but Lia lives in England).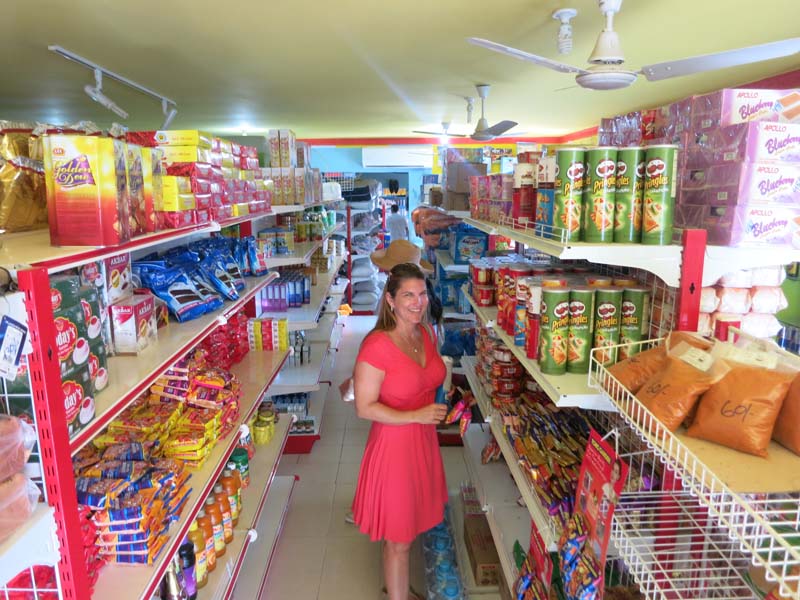 A picture in the store shows familiar brands like Coca Cola, Sprite, Red Bull. But no alcohol here (the "beer" on the far right is non-alcoholic beer).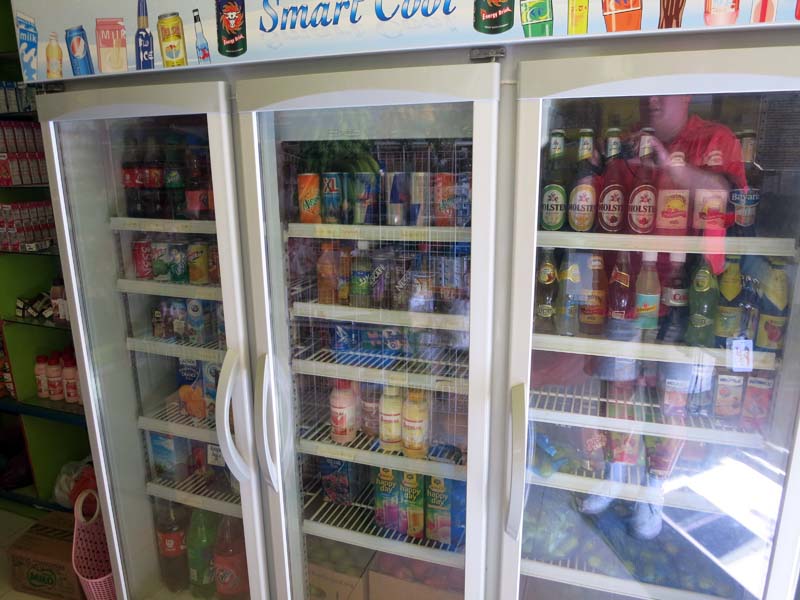 Soap, conditioner, feminine products. All western looking brands.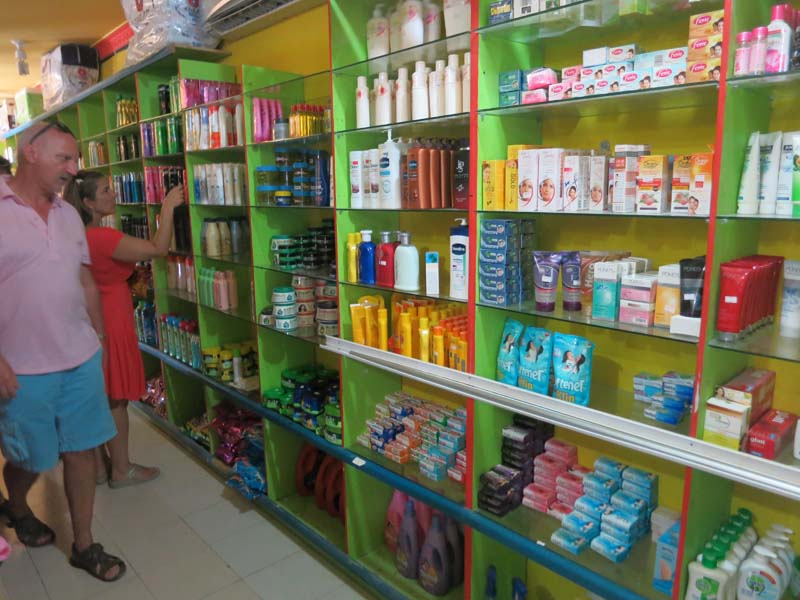 A bunch of blue PVC plastic pipes and glue for them for sale here in the same store. I'm not sure exactly why no metal but a lot of PVC, maybe the ocean air dissolves metal?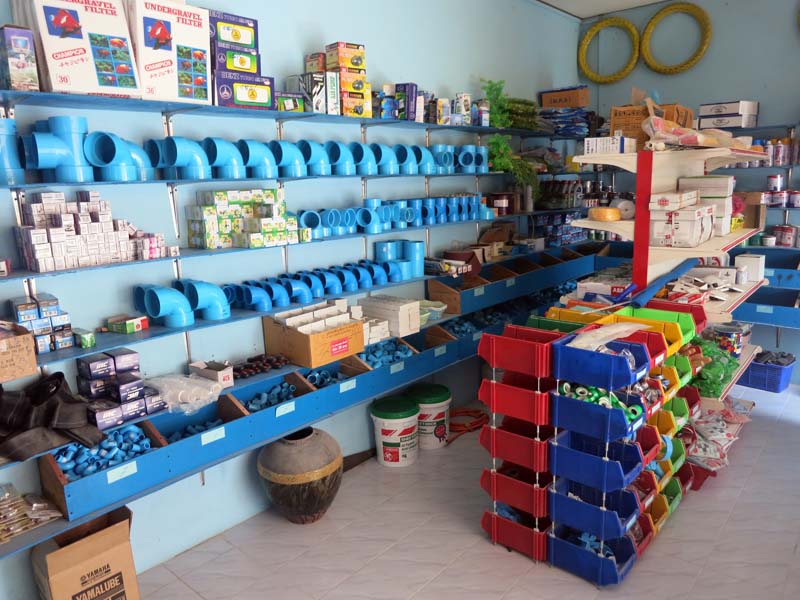 Outside many of the houses were these inventions, which are CHAIRS for people to hang out in. In the blistering heat it makes so much more sense to be suspended than to lean against a cushion.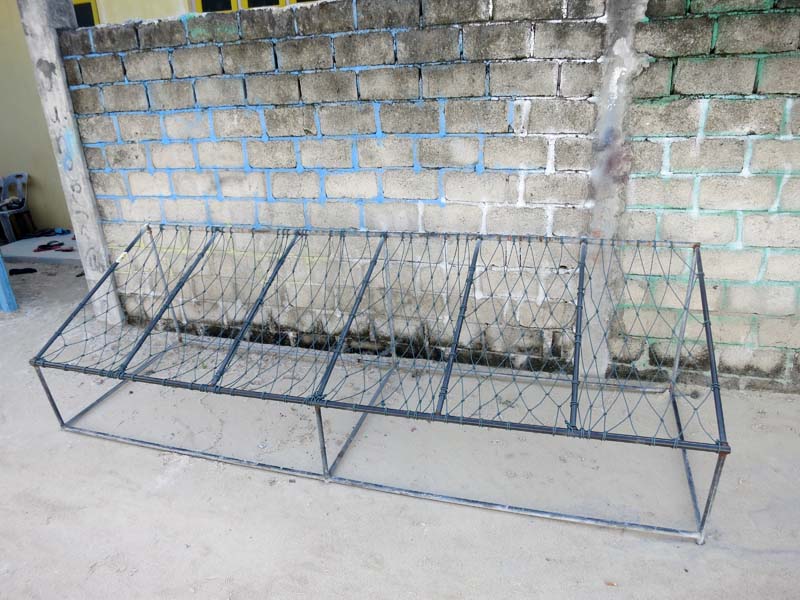 This island was damaged in the 2004 tsunami and they are still rebuilding. We're on the far side that was hit.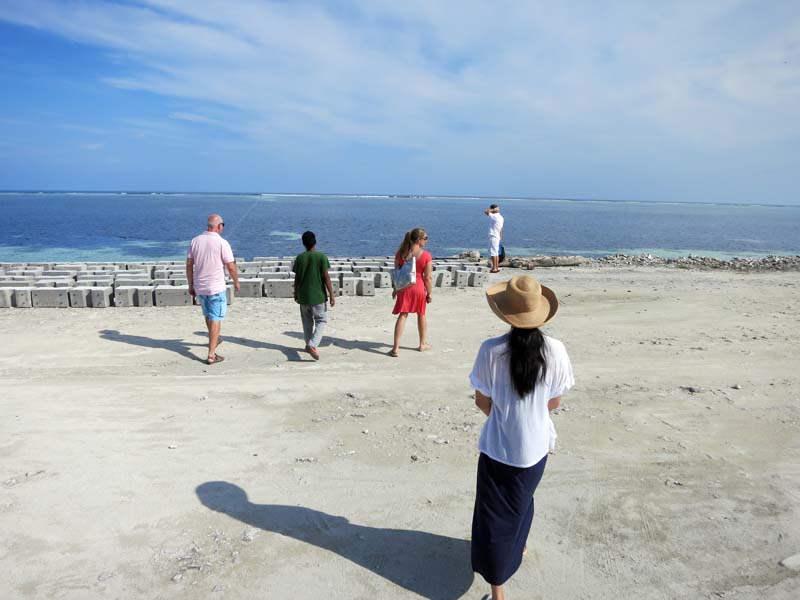 I didn't see a single car or truck while on Maafushi, but tens of these sorts of scooters. Here are two locals that went by without stopping or saying hello.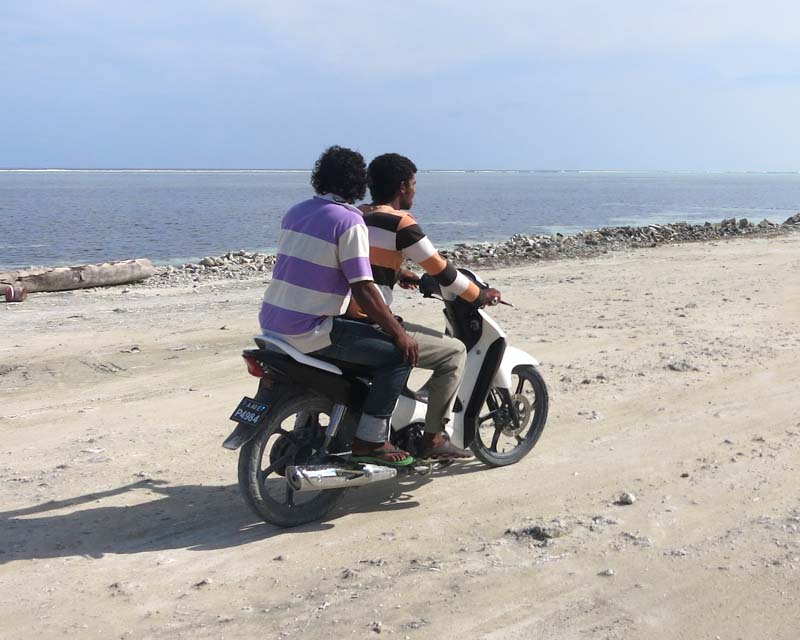 A pipe that goes far out into the ocean past the reef, I think it was probably to take raw sewage out to the ocean?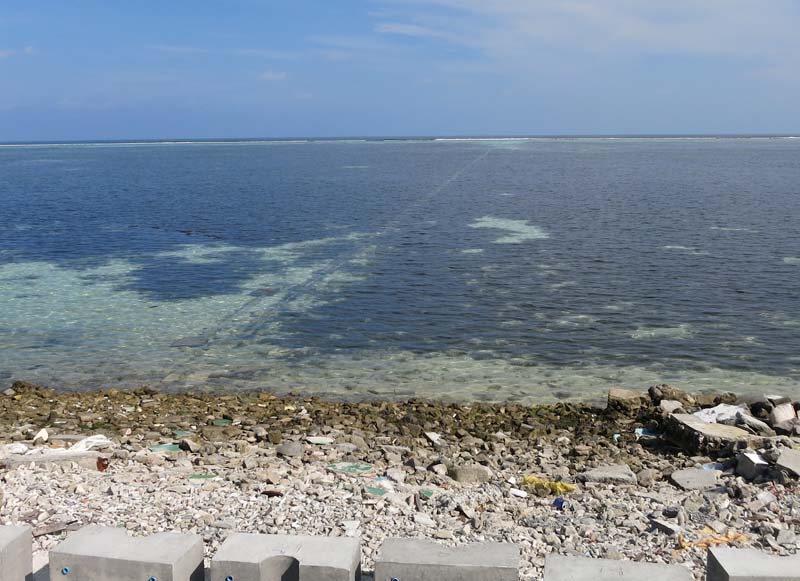 Notice the shoes by the front doors, no shoes in this house, front door is left open, so no air conditioning.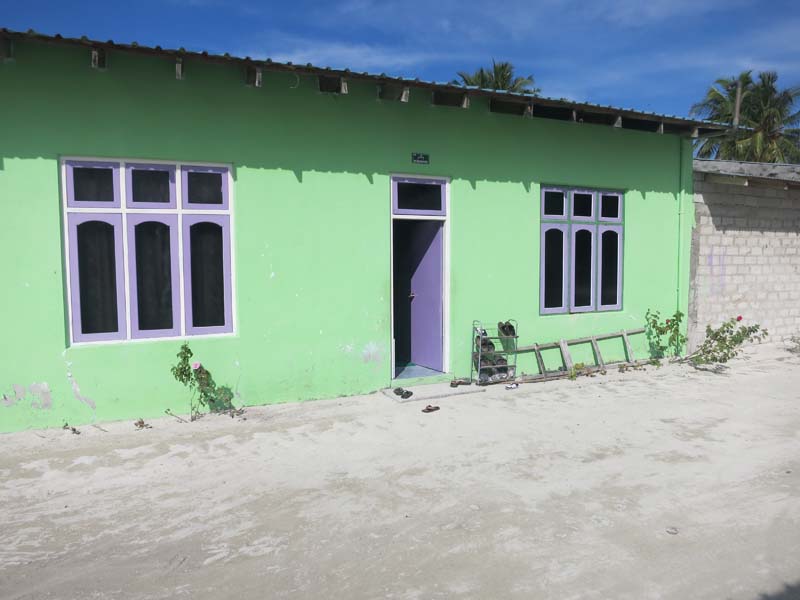 A close up of the shoes left outside. I like the brightly colored homes.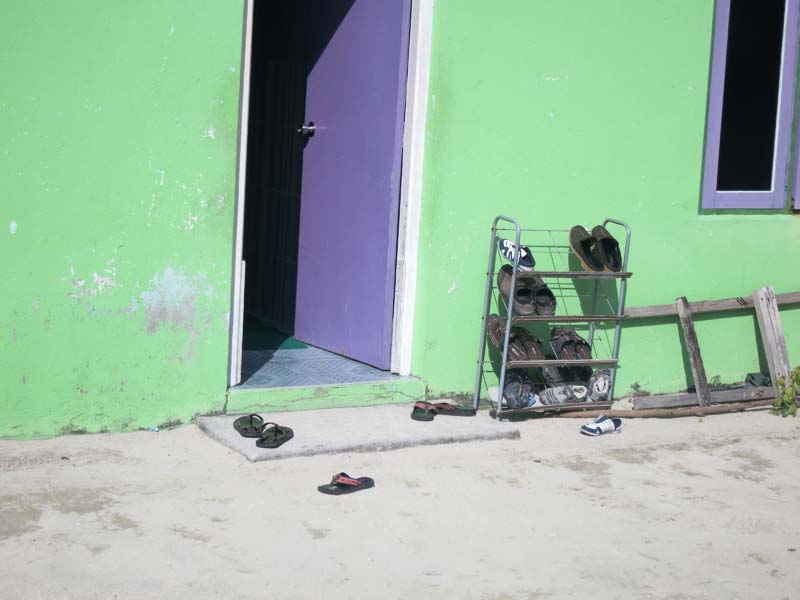 This business is called "Bat Fish Souvenirs" on the island of Maafushi, Maldives.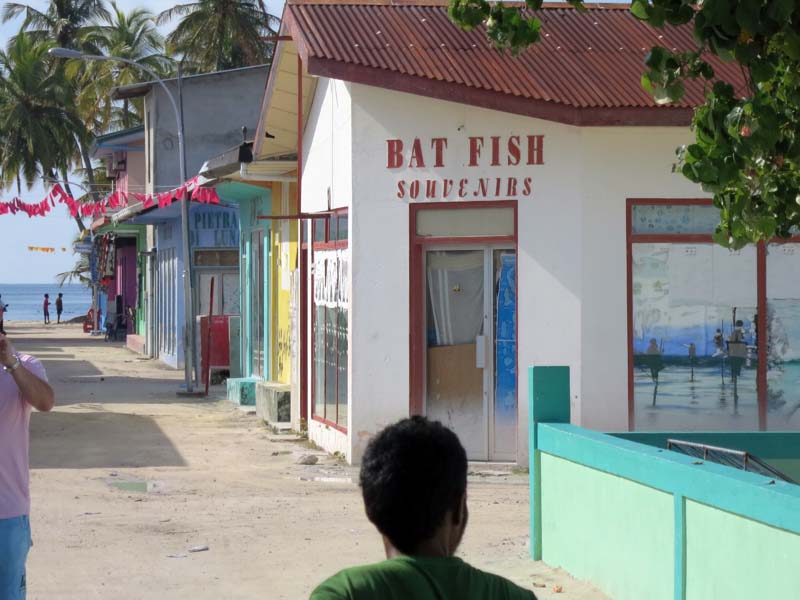 It was closed when we walked by, but this business is "iCom Company Pvt Ltd - Speed Boat & Internet Service".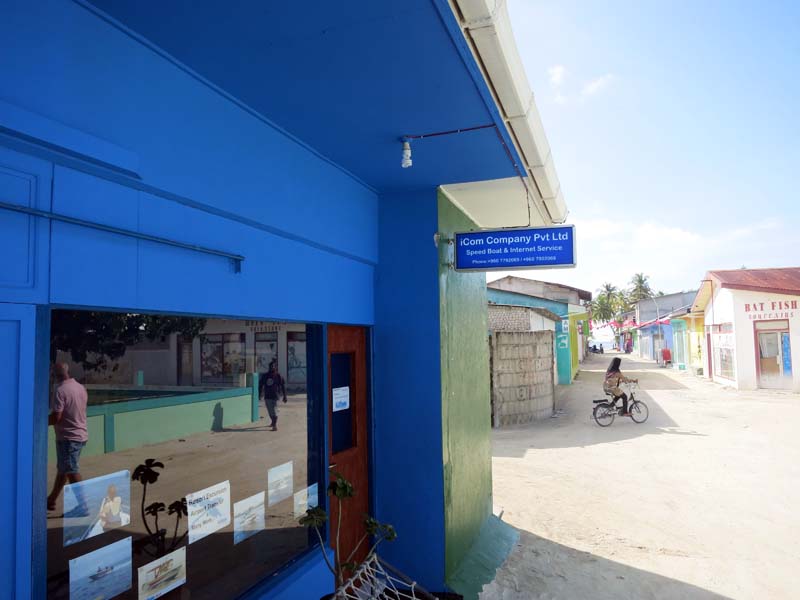 This company seems to be available to rent Jet Ski or Wave Runners, boats, transfer between airports, etc. Scrappy locals, might undercut the hotels.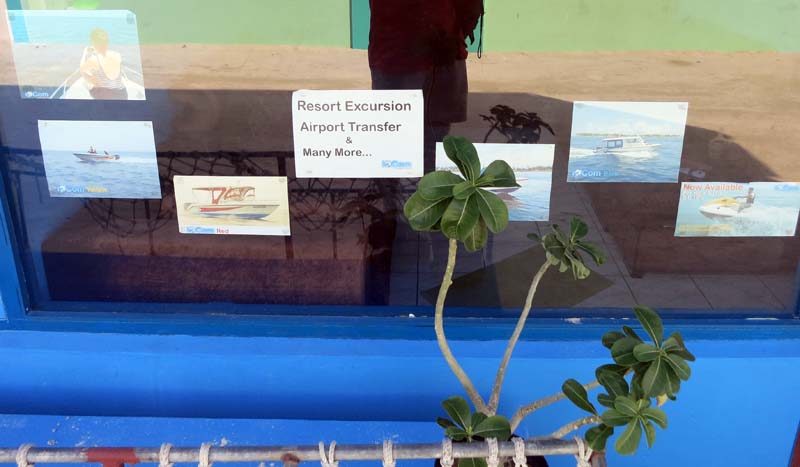 "iCom Company Pvt Ltd" phone number on Maafushi Island in the Maldives: +960 7902069 / +960 7792069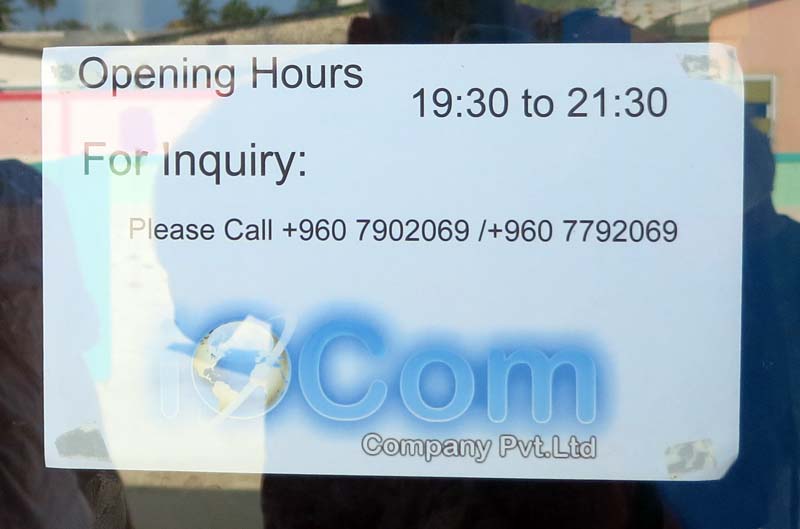 Our guide points out that this is a 100 year old mosque on Maafushi, other buildings were harmed by the tsunami but this one was spared. Our guide laughed and said some people think it was a miracle (as he shakes his head no). :-)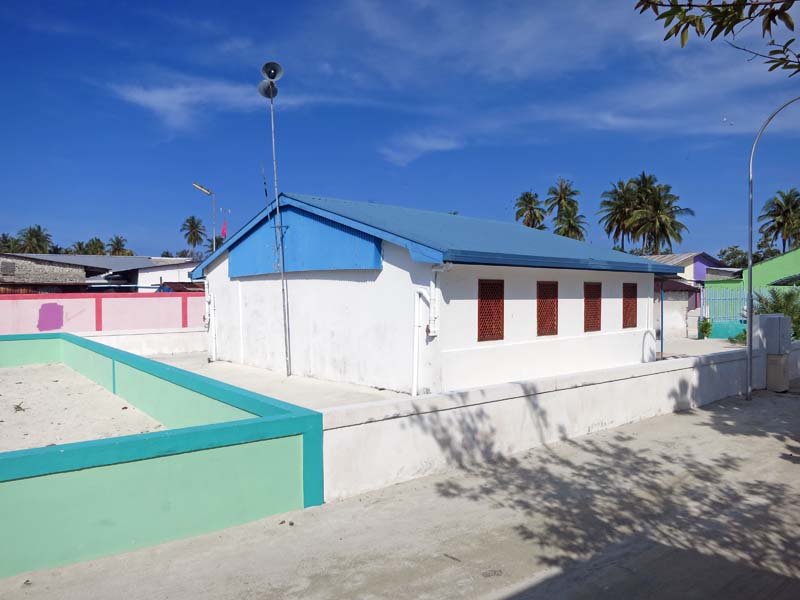 A muslim woman in a full burqa riding a bicycle in Maafushi.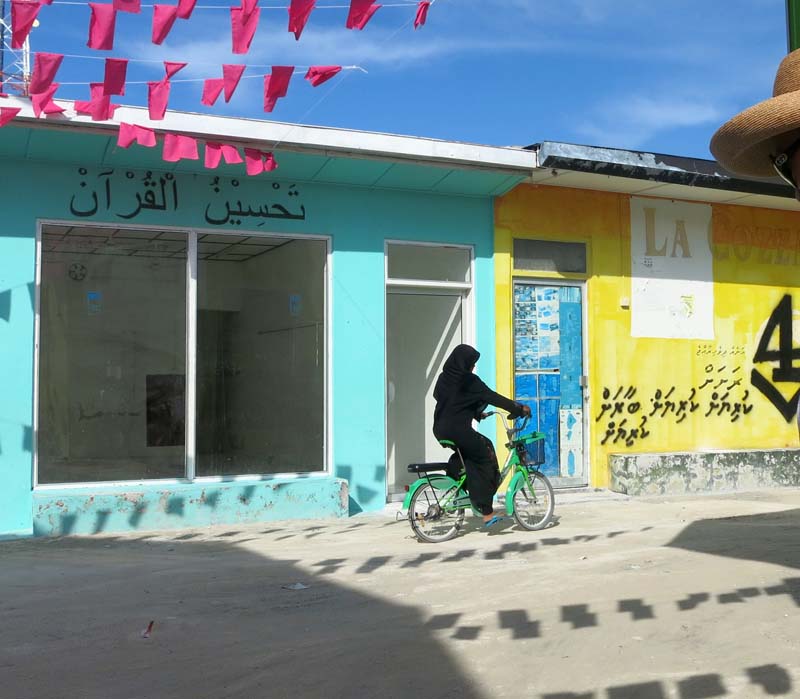 We stopped in this gift shop in Maafushi and picked up some souvenirs.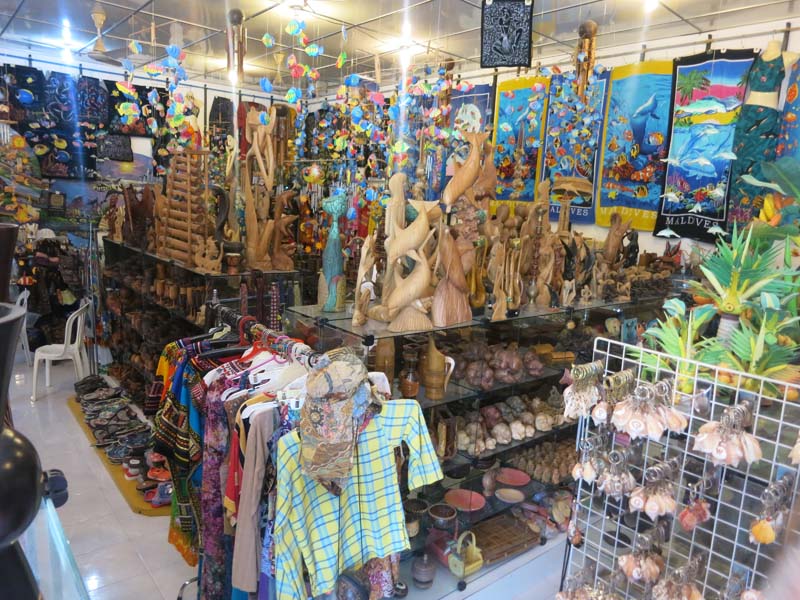 I bought a turtle carved from coconut.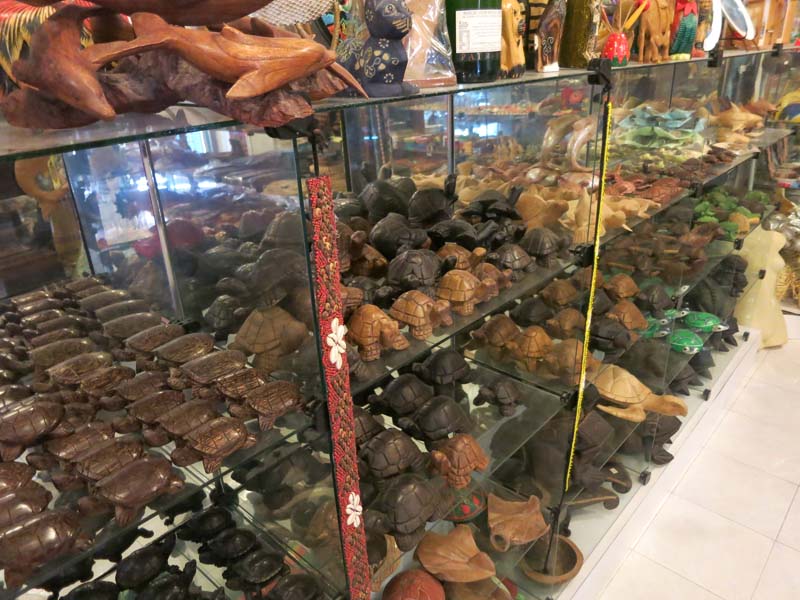 Will in the dense inventory of the gift shop in Maafushi in the Maldives. Notice the carvings on a shelf just to Will's right (left on the picture) - there was a recurring theme of a man embracing a woman that seemed a little "sexually racy" for a Muslim country.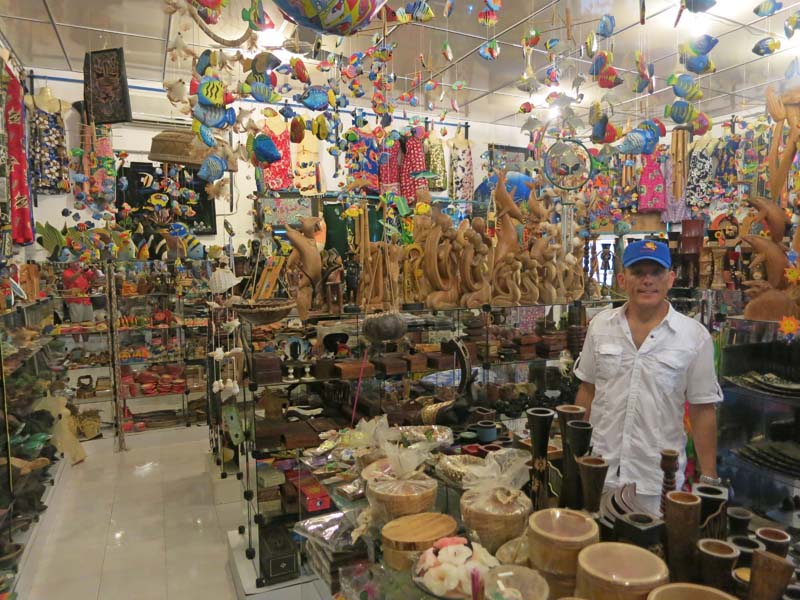 If you look closely in the picture on the black cloth below you can see the familiar "man embracing woman as a lover" that is also seen in the carvings above. I'm not sure why this is so common here?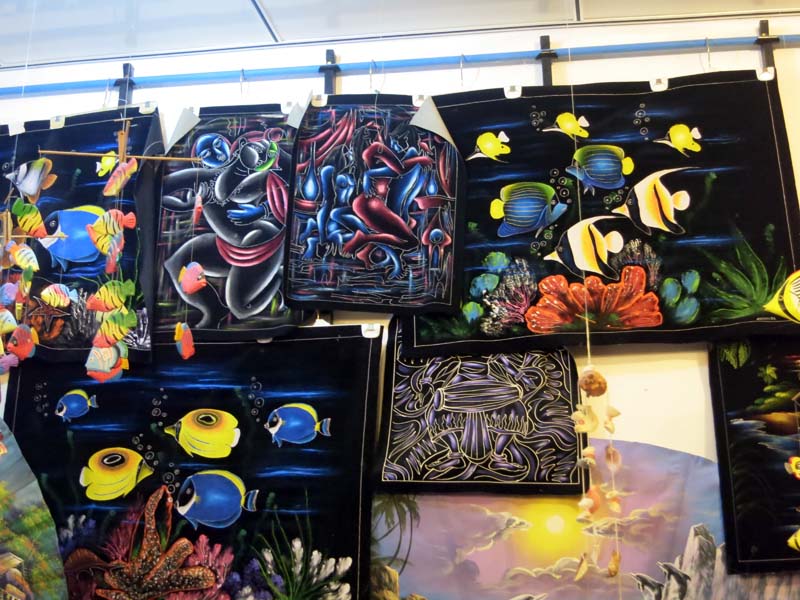 Just a couple years ago, for the first time "tourists" were allowed to mix with "locals" in the Maldives, and Maafushi opened a hotel (seen below). It is the "Kaani Beach Hotel". You can stay in an ocean view room (seen below) for about $150/night and it's $90/night for city views. This area is "ok" with the same gorgeous water and Maldives sunshine, but I wouldn't call it luxurious and the pictures on that website are a bit misleading for how beautiful and secluded it is. It is nestled at the edge of a fairly dense town. About 50 yards from the hotel is a beach with a wall so that "foreign woman" can wear bikinis on the beach and not be seen by the Muslim locals. This is an uneasy new area for the Maldives, one local told us that the newly elected president was more fundamental religiously and might tear down the wall and eject the tourists. The local man we talked with was in favor of tourists and in favor of the wall and in favor of liberalizing the laws in the Maldives, and he was worried about this more fundamental future.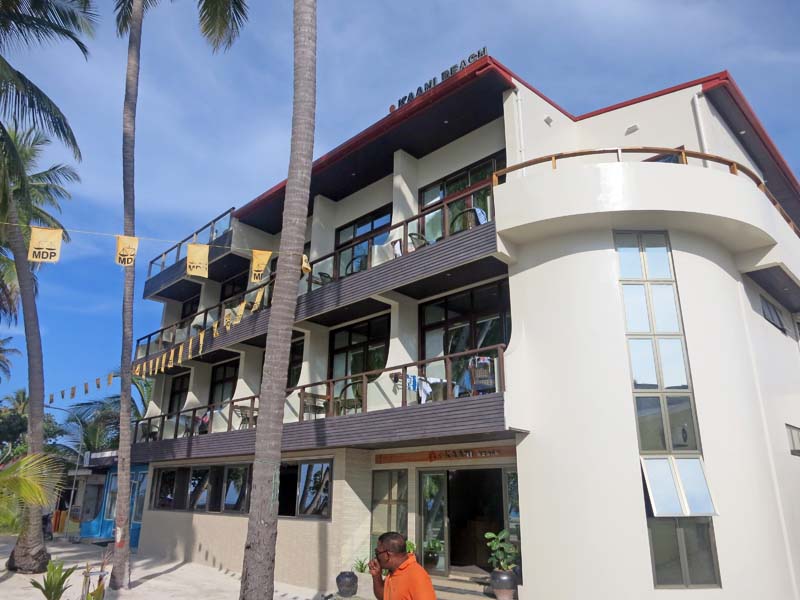 Here is a picture just beyond the "beach wall" where foreign tourist women can wear beach attire like bikinis and not offend the locals.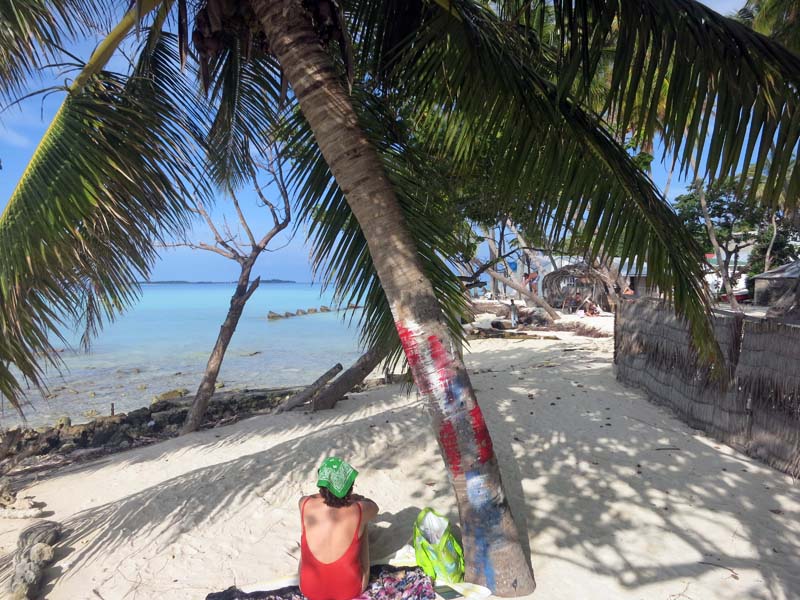 Two Muslim men on the ever present scooters.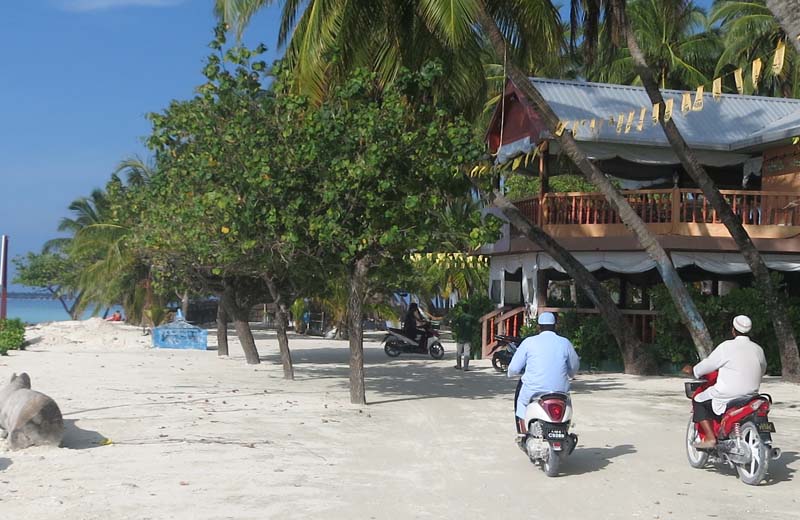 The front "promenade" of Maafushi where boats can stop (you can see some in the picture below) plus also scooters drive up and down quickly. The yellow banners are for a political rally in the last couple days.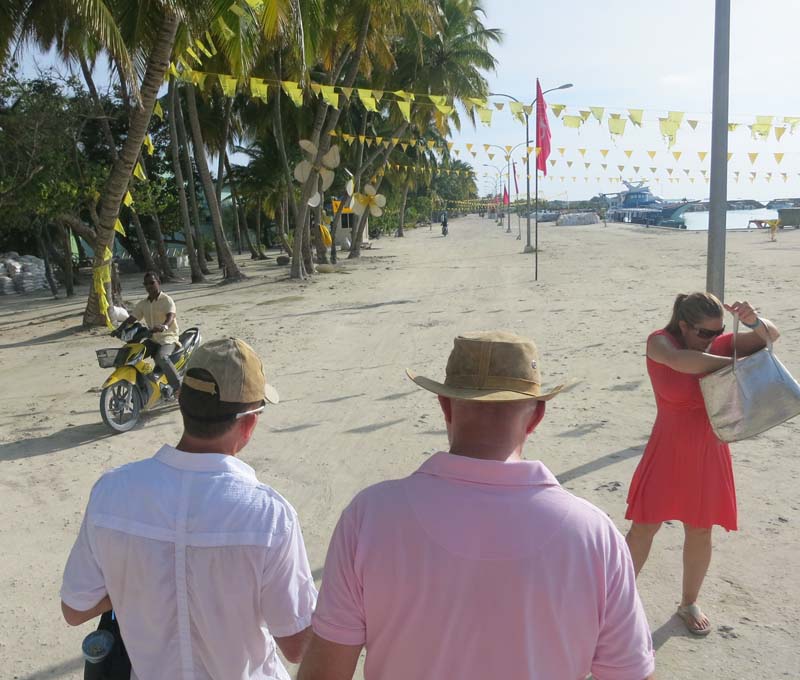 The MDP party (Maldivian Democratic Party) in the Maldives hung these banners. We heard the loud speakers and the songs of the political rally from our "tourist Cocoa island" a mile away.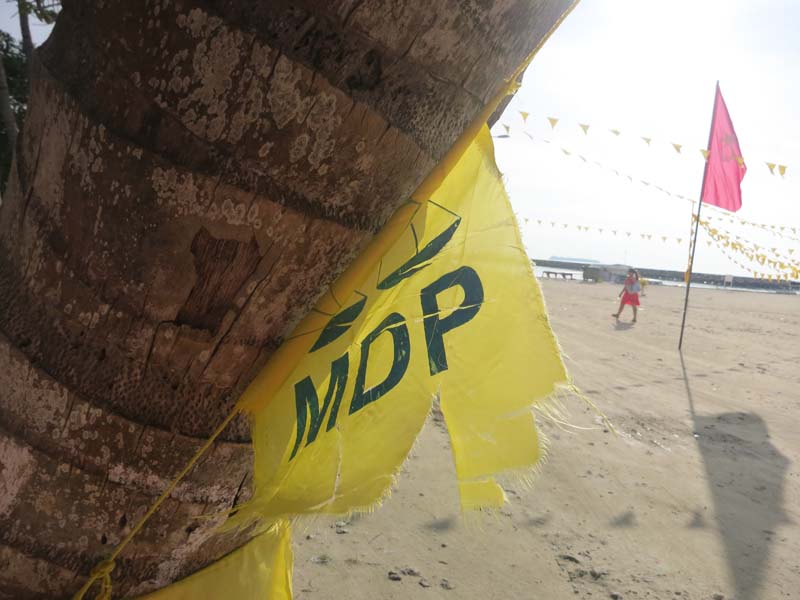 The banners hung for the political rally and you can see loud speakers on the blue pole on the left.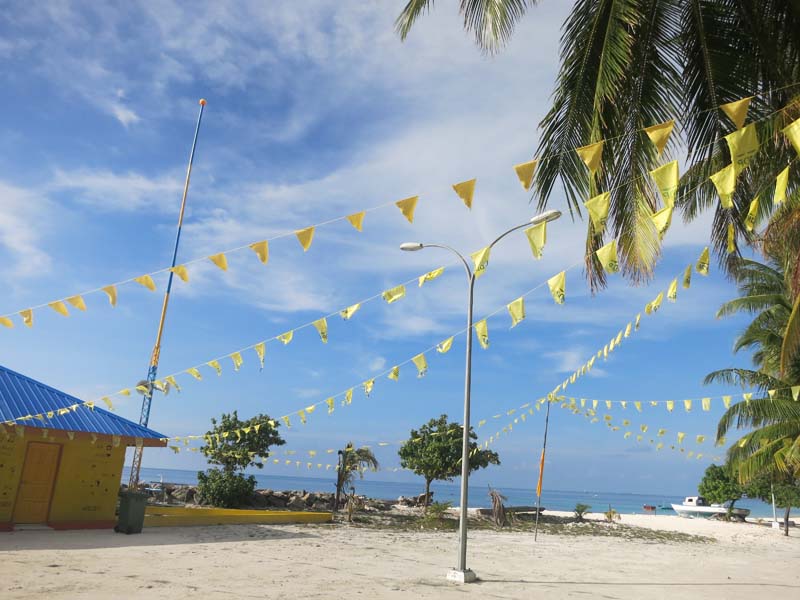 A quick 2 minute boat ride home from Maafushi to Cocoa Island.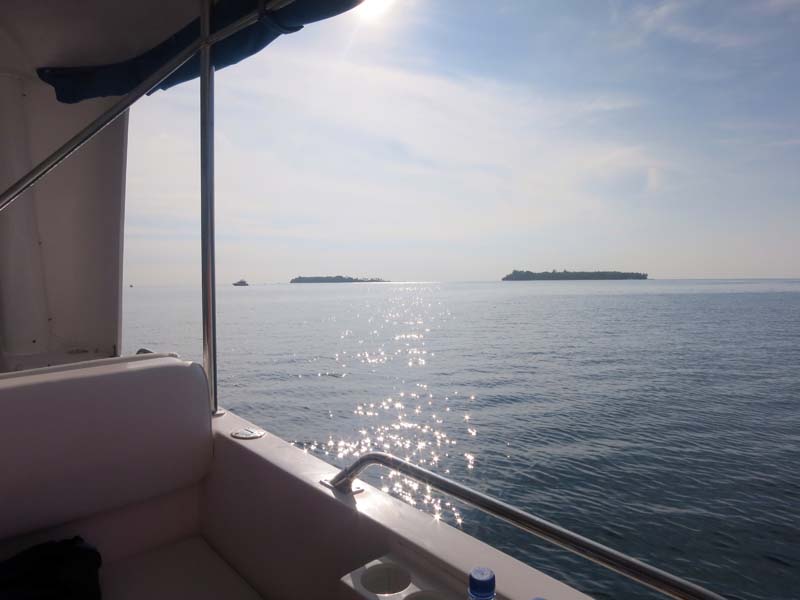 Back on the Cocoa Island resort, here is a panorama of the front two working docks. The "locals" (resort workers) seem to all use the left dock ($2.50 ticket to the capital Malé), and the right dock is for tourists ($250 ticket to Malé on private speedboat). I keep wondering if we could have pushed hard to go on the local's boat for 1/100th the cost?
Patrick the one legged heron.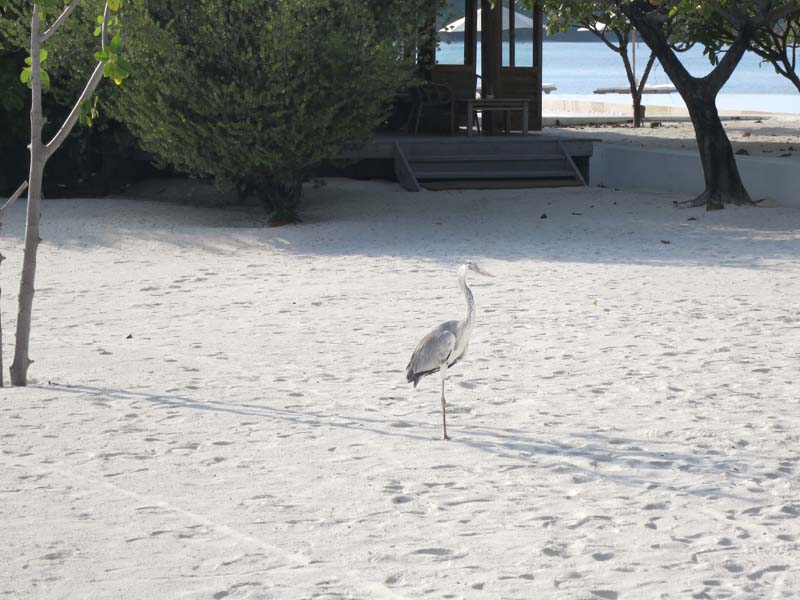 A closeup of Patrick, the one legged heron. They would feed Patrick fish scraps from the kitchen, and he spent a lot of time standing in about this exact spot.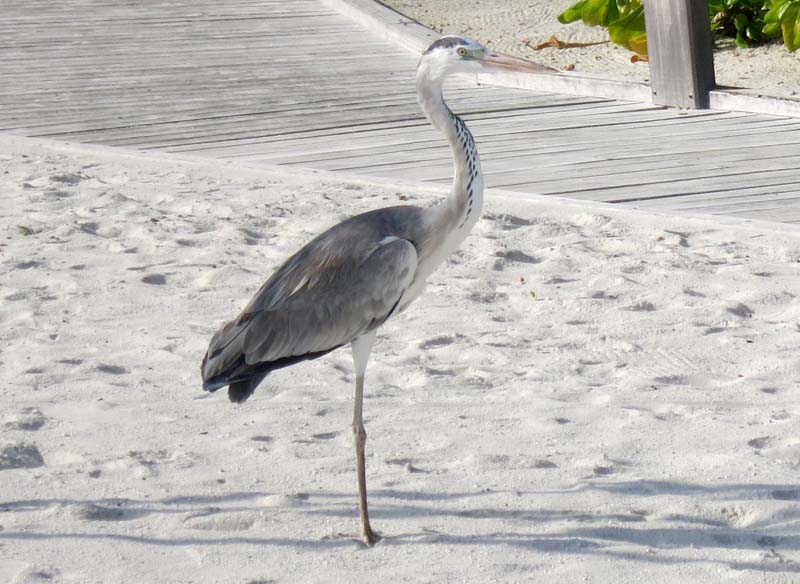 We would often see the baby shark(s) swim really fast around in the lagoon but this is the only picture I got of the shark. It's hard to get a picture because they move so fast.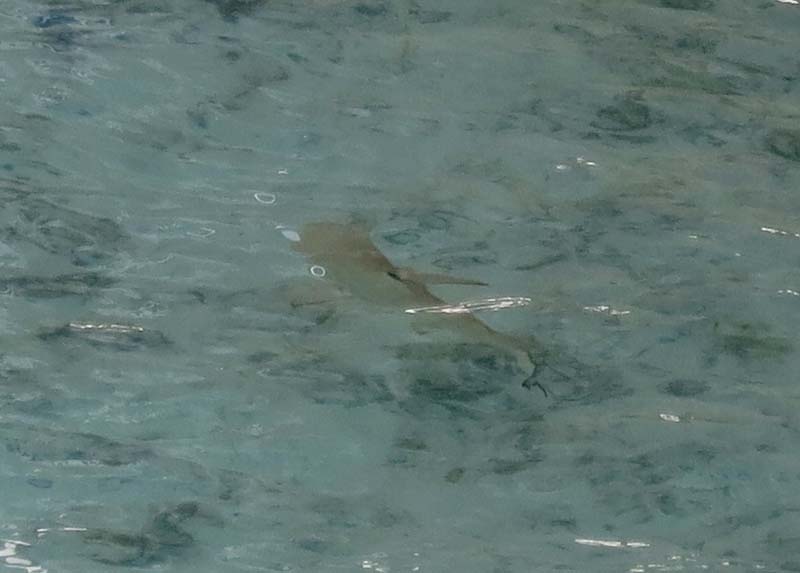 Every single day you might see women in full white wedding dresses around sunset with professional photographers and possibly a hair dresser walking around taking photos. They were always Asian, maybe Chinese or Japanese? They would come in for just one day, *NOT* get married here at Cocoa Island, but take photos at sunset and spend just one night and disappear the next day.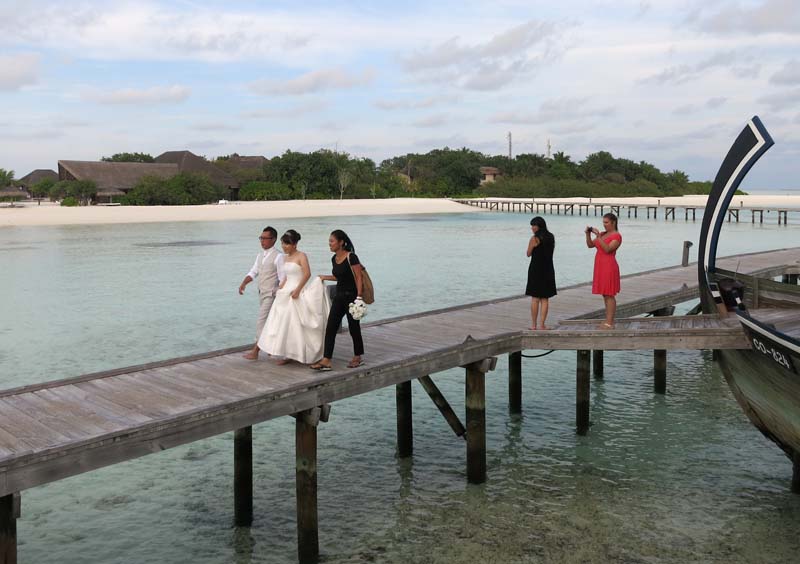 We asked the Cocoa Island resort to walk us through one of the "Villas" which are the largest end units on the Cocoa Island Resort. Below is a picture of the Sunrise Villa (largest end unit) at the Cocoa Island resort that we toured.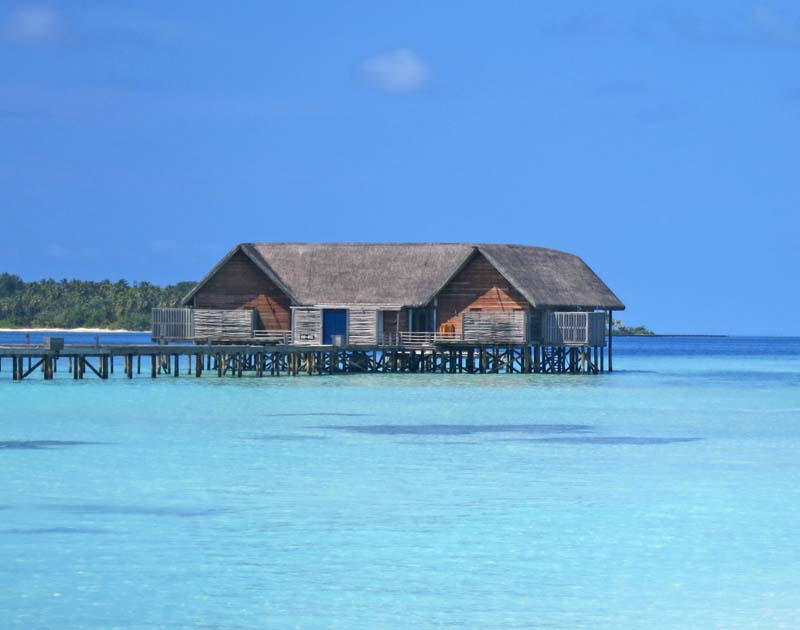 Each Villa inside has two large private bedrooms EACH private bedroom has a private outdoor shower like this one seen below.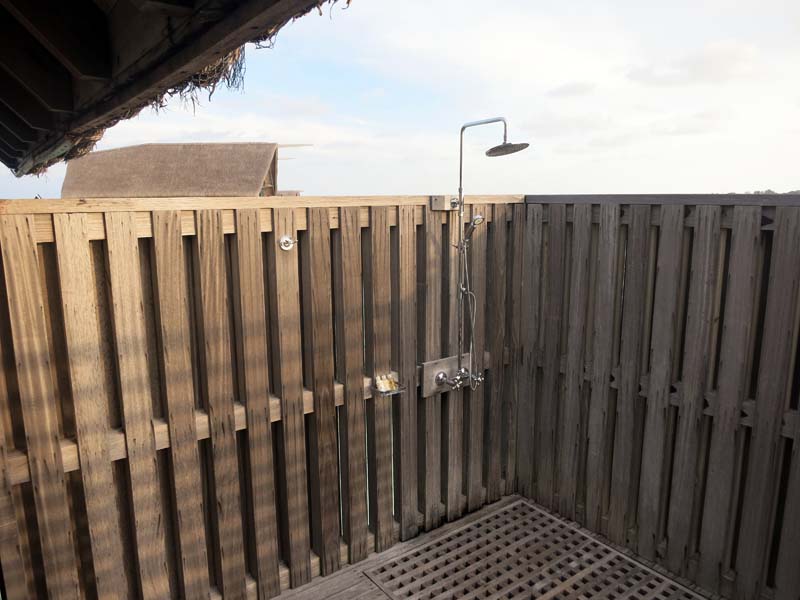 The Villa has it's own completely private outdoor large deck area, seen below.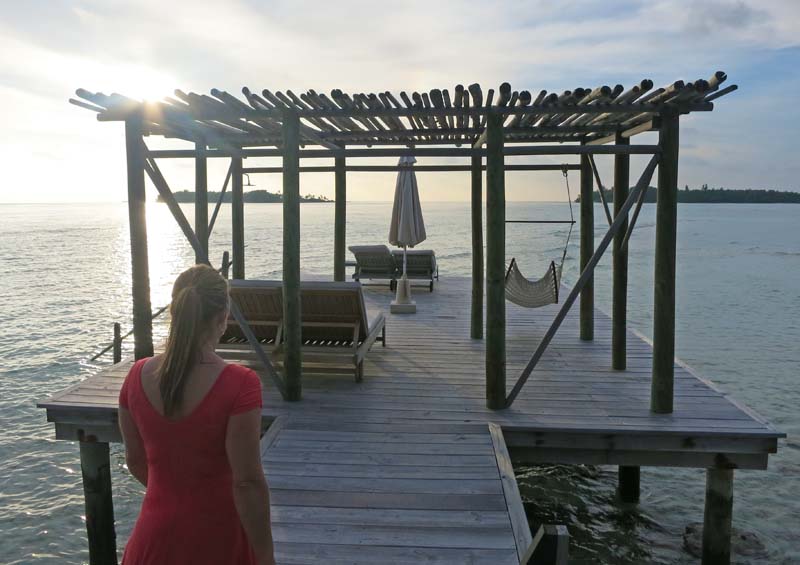 I'm standing on the private deck area of the Sunrise Villa and the whole building you see is included in the Villa rental. It rents for about $2,600 a night I believe, which is only slightly more than twice as expensive as our rooms. This might make a reasonable choice for two couples - the two bedrooms are the two completely private areas on completely opposite sides of the picture below BOTH with their own private staircases into the water.

In the picture below, Katherine points out there is yet another outdoor shower out here on the Villa's private deck.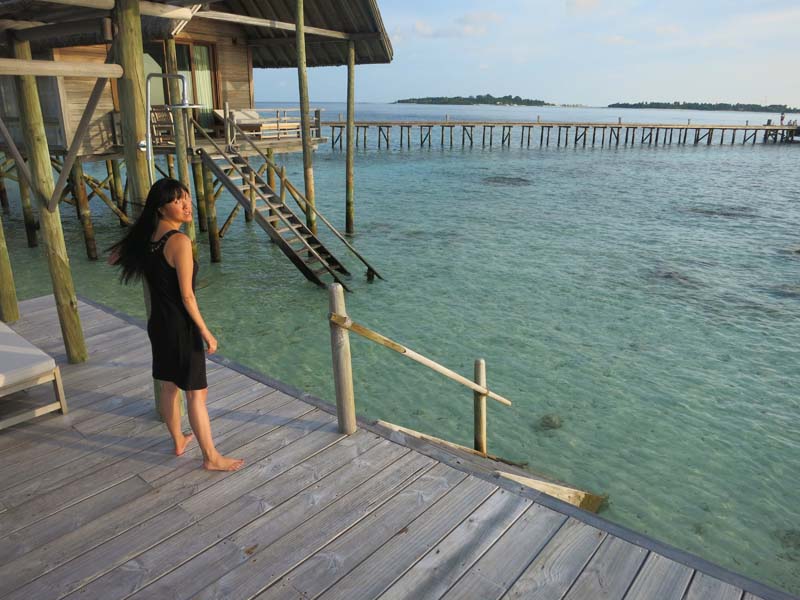 This is the "entrance" to the Villa which keeps the privacy very high and keeps other people from wandering onto your private docks when you rent the Villa.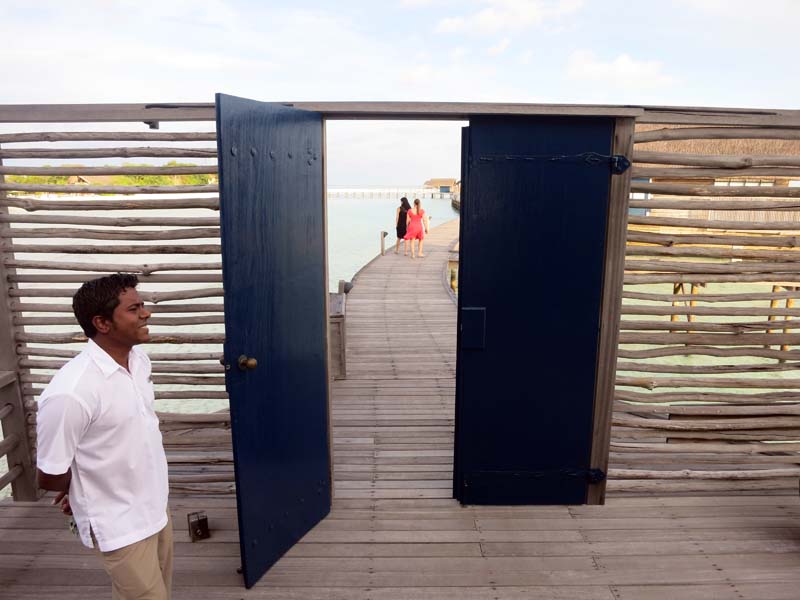 Some tropical fish seen as we walk back to the main resort.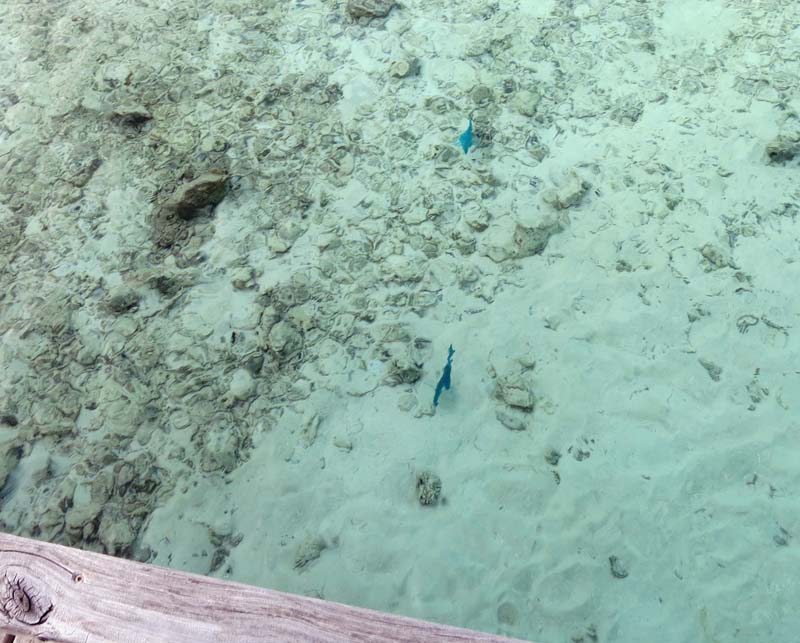 Inside our room (825) I found there is a disposable underwater FILM camera in the mini bar. I also wanted to show what the rooms came stocked with.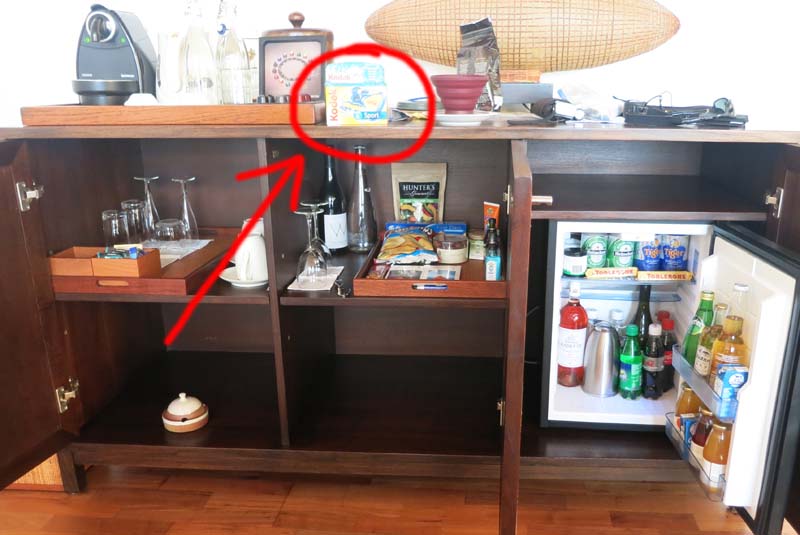 That night there was a "fish feeding" at the Cocoa Island resort. We walk out on this particular dock that goes all the way to the edge of the reef and toss in food for the fish.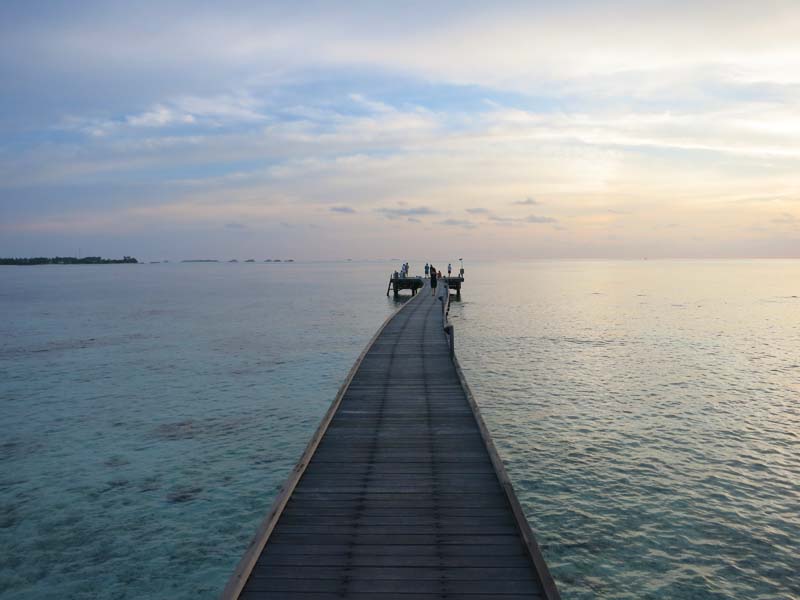 From this particular dock a look back at our rooms at the Cocoa Island Resort in the Maldives.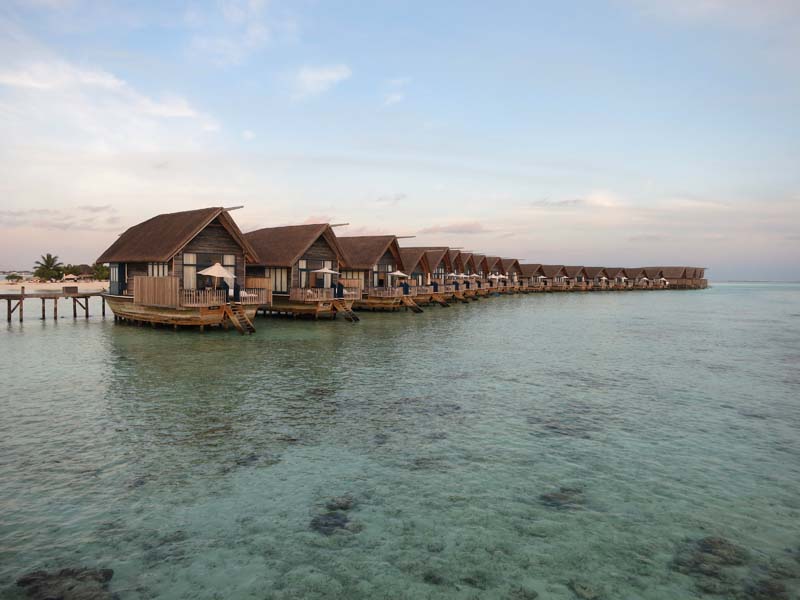 Here are the tourists and resort workers feeding the tropical fish.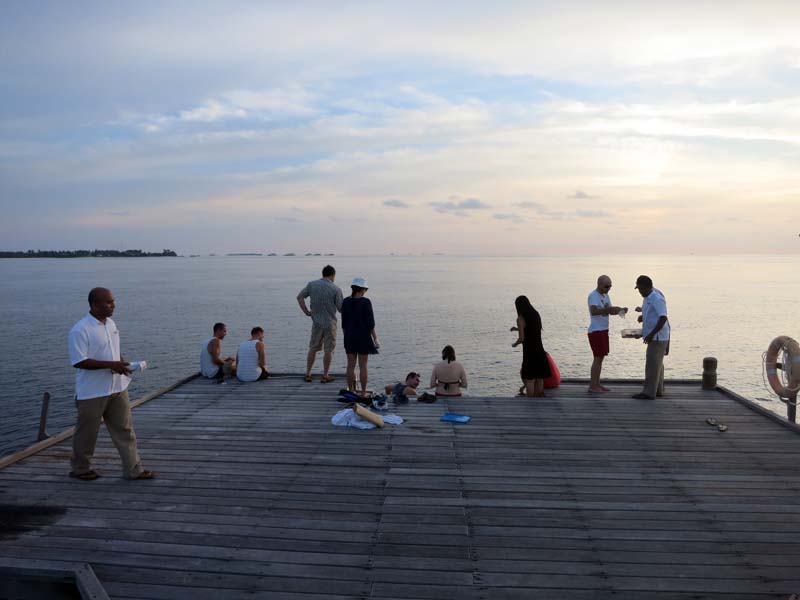 Looking down at the fish that were eating. Notice the piles of chopped sushi we were feeding the fish. The locals told us it was bad to feed the fish bread, so this is all "chopped raw fish" we fed the fish.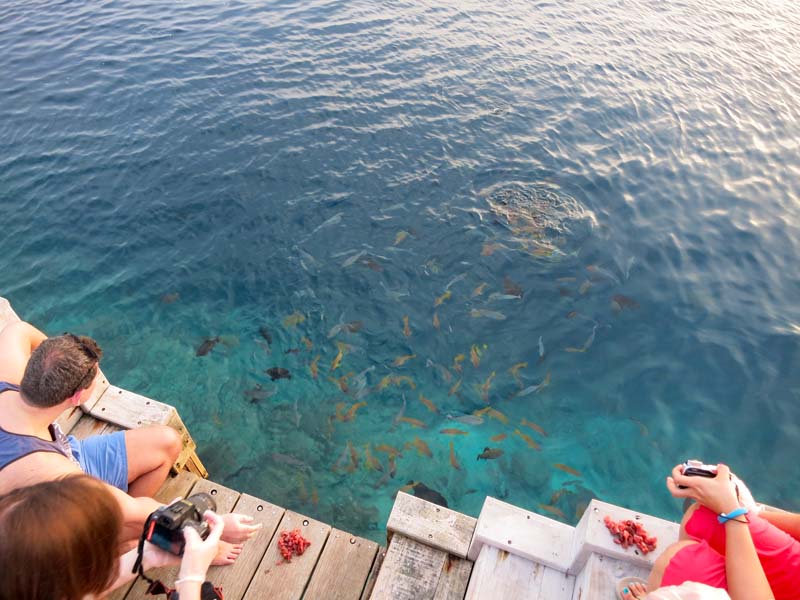 Katherine (in black) and Lia (in red) wearing plastic gloves and feeding the fish.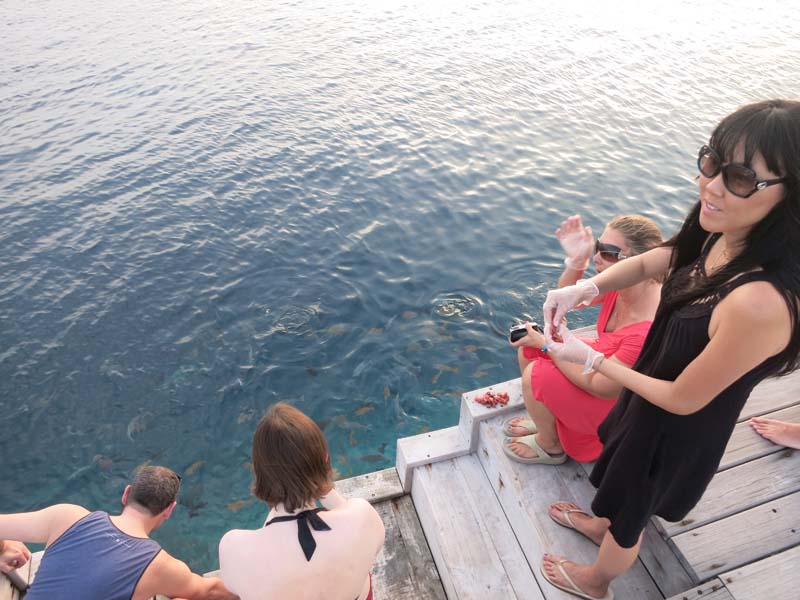 After feeding the fish, we ordered some champagne for our room and spent a couple hours with Katherine, Lia and I as the sun set.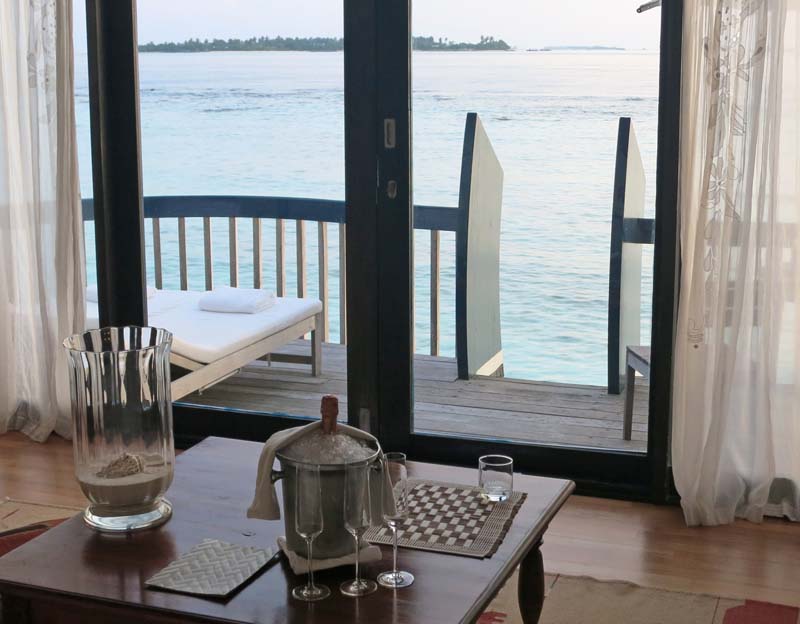 Beautiful water and our row of Dhoni Boat rooms at the Cocoa Island Resort in the Maldives.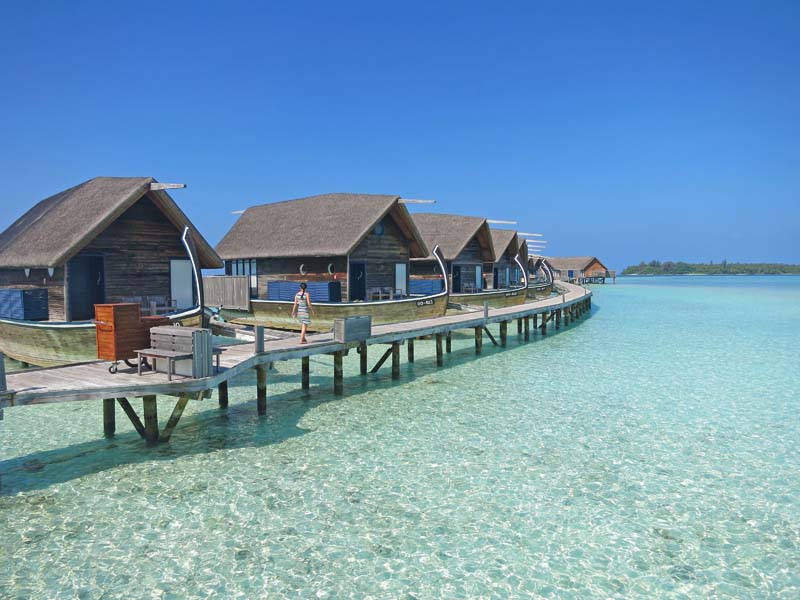 Yet another picture from our room of the main resort and the lagoon.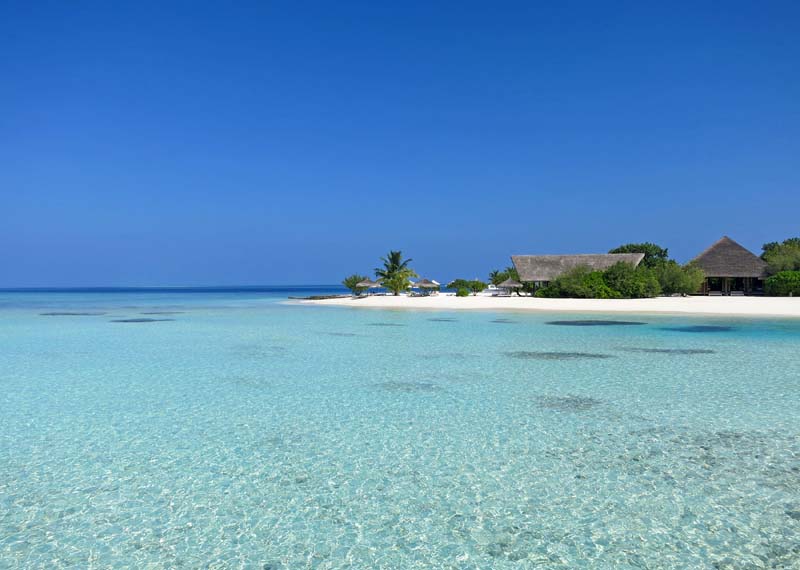 On this day, we asked Illi to come out with his power boat and some toys and we could go play with the Wave Runner, the power boat, some other things.
Here we are heading over with Illi (Ilyaas Dawood) in his speedboat. We went to the tiny uninhabited sand bar to setup.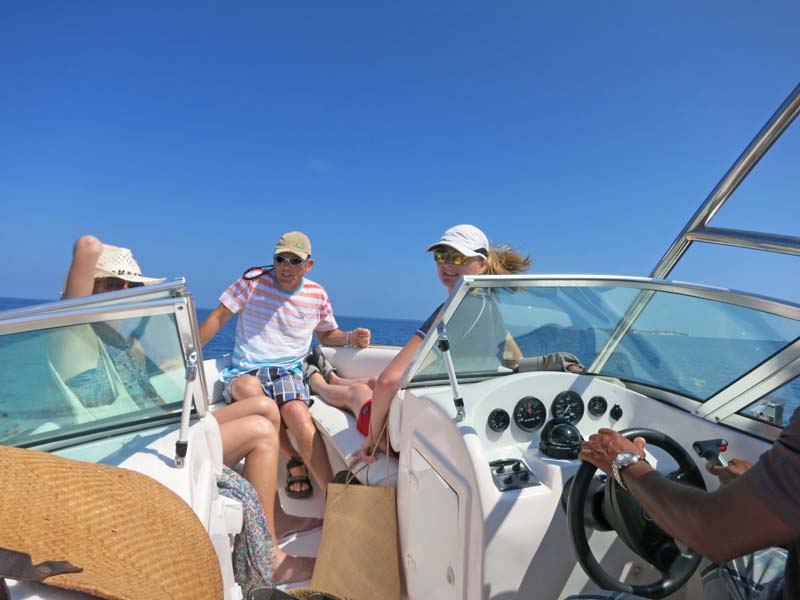 Ilyaas Dawood (nick name "illi") is driving his speedboat, Katherine sits behind him. There were 9 of us all on this boat together and it was still comfortable. Illi had got up early with a helper and prepared the Wave Runner and a shade structure for us.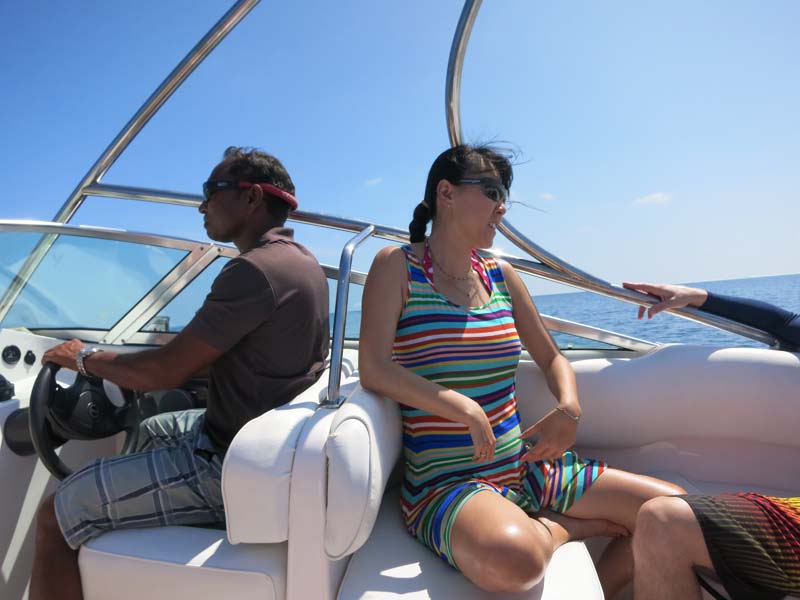 From left to right: Bob, Alastair, Lia. Behind them is Cocoa Island as we leave it behind. It's about a 10 minute fast boat ride to the "sand bar".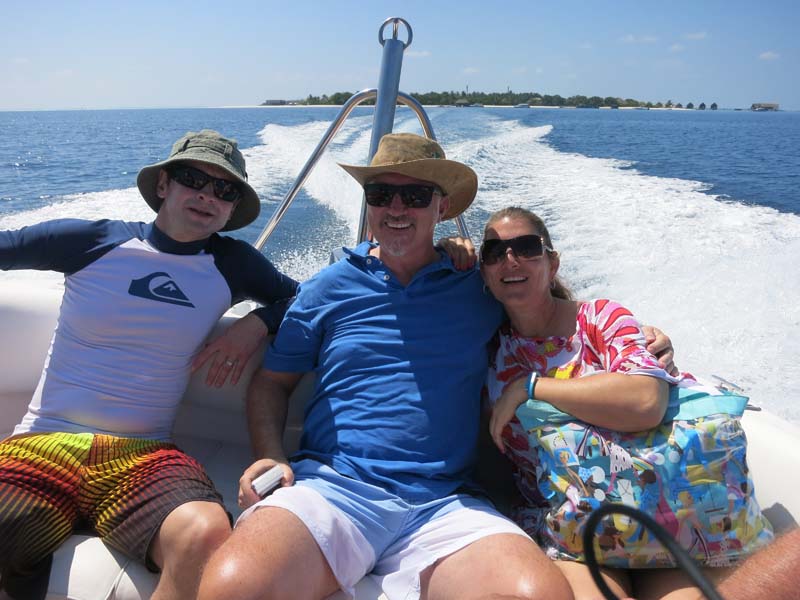 Here we come up on the "sand bar".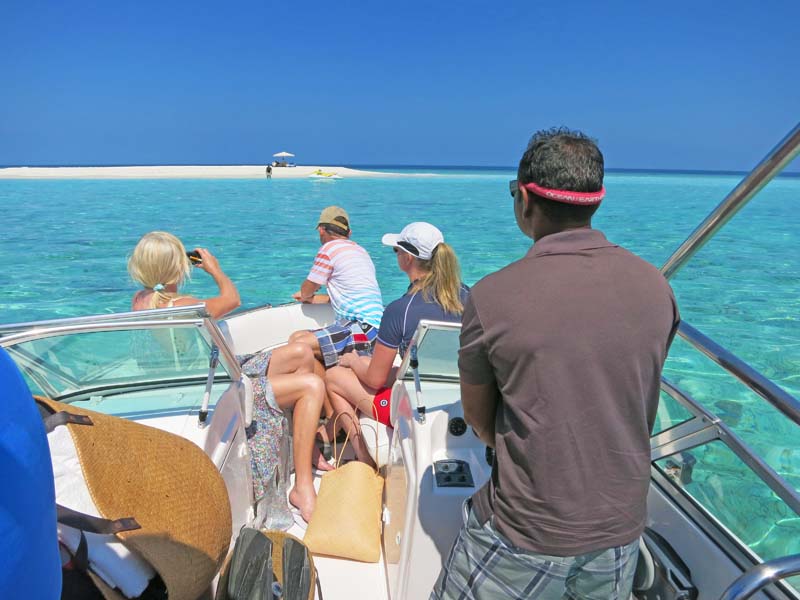 That's illi walking up the beach. He owns both the speed boat and the Wave Runner in the picture below in the Maldives.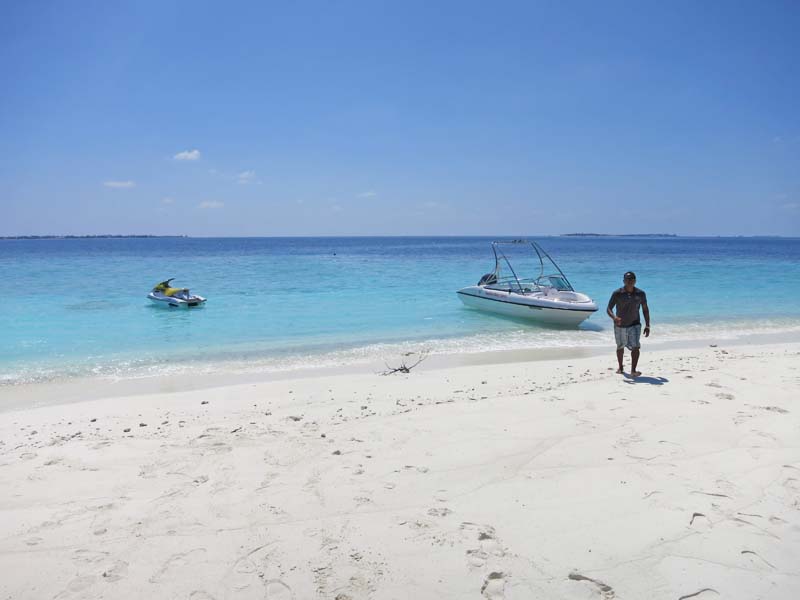 Illi has come ahead and with his friend setup this shade structure for us, here we are getting situated.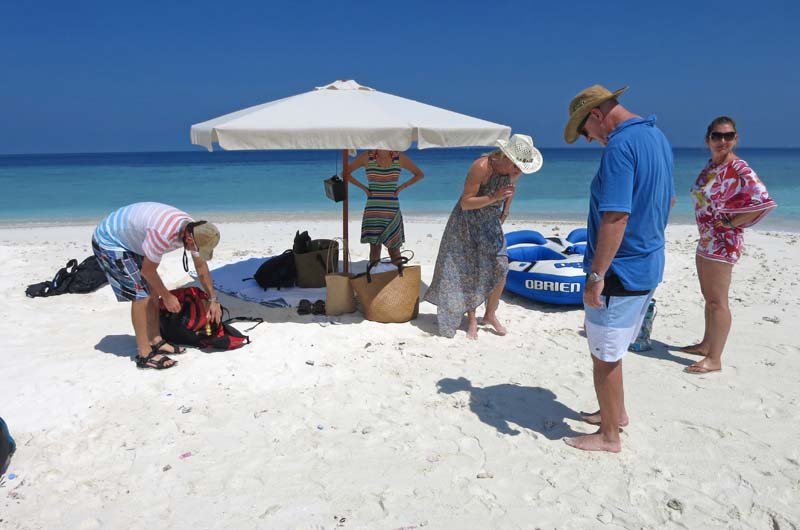 The heat is really crushing unless you are in the water. Below is a picture of how Katherine spent the next few hours.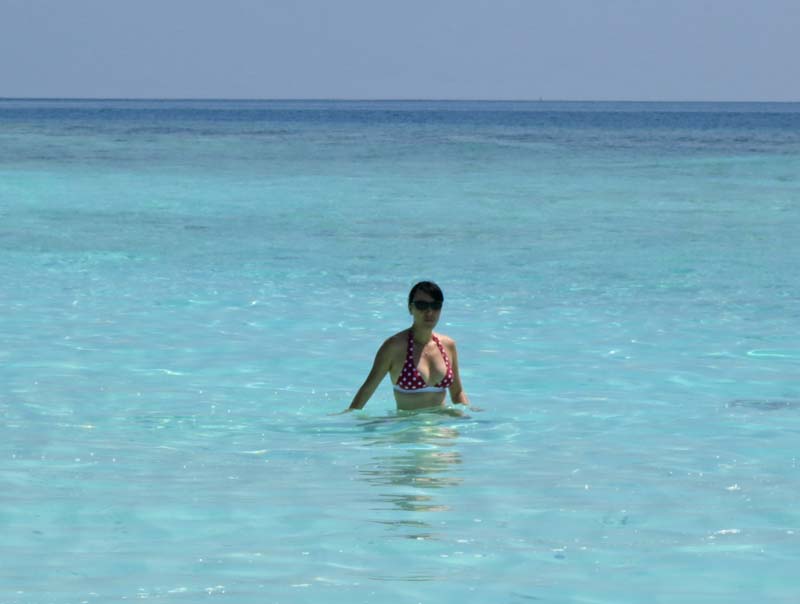 I'm standing out in the water looking back at our little sand bar. That's Will on the left and Susan on the right.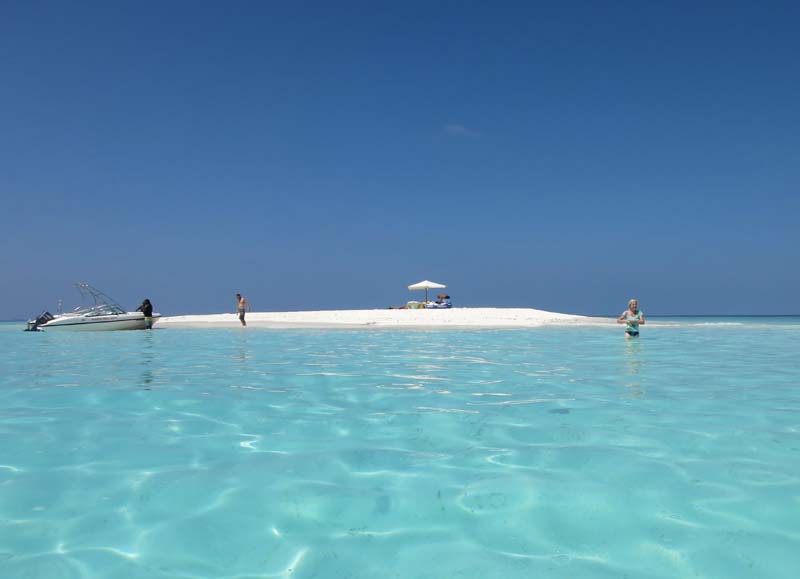 Katherine wandering around to stay cool.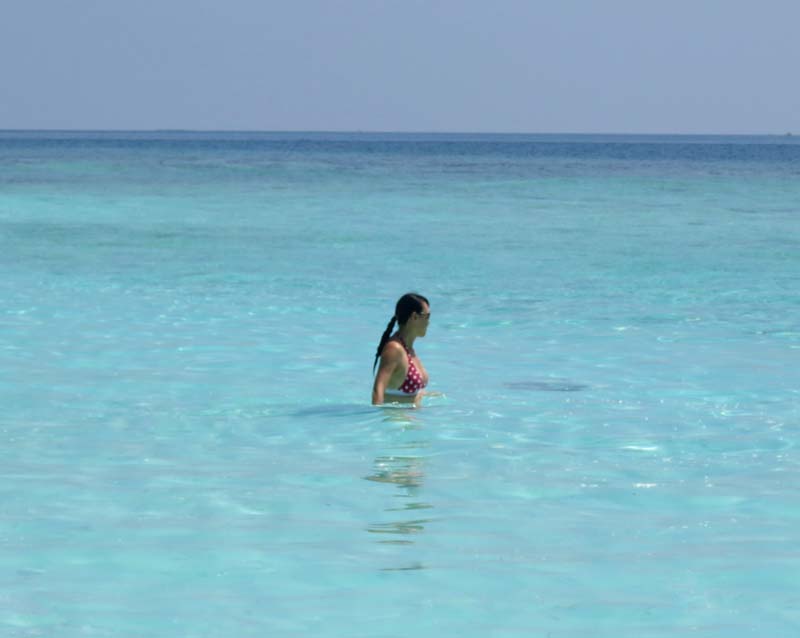 Speedboat and Jet Ski in the Maldives - Illi brings them to you and you can play all you want!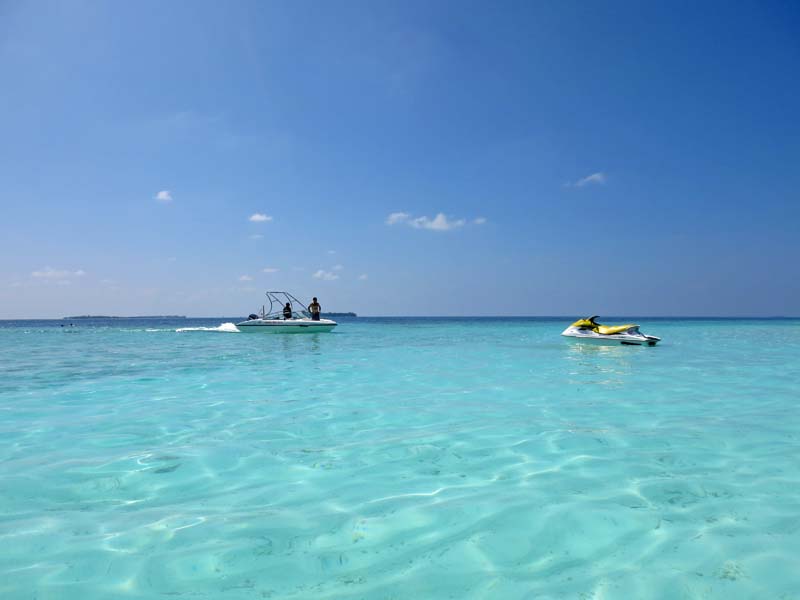 Susan showing off her sunburn from yesterday.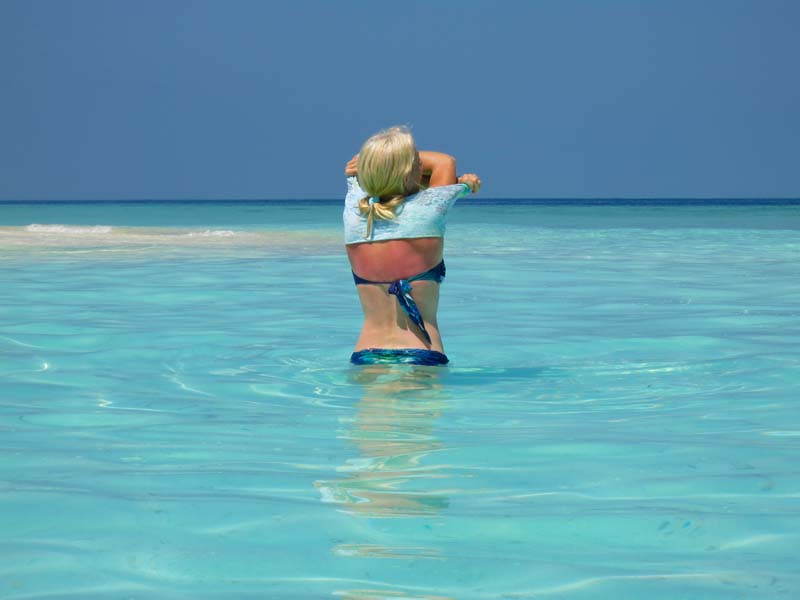 Lia driving the Wave Runner, Will on the back. Katherine looks on.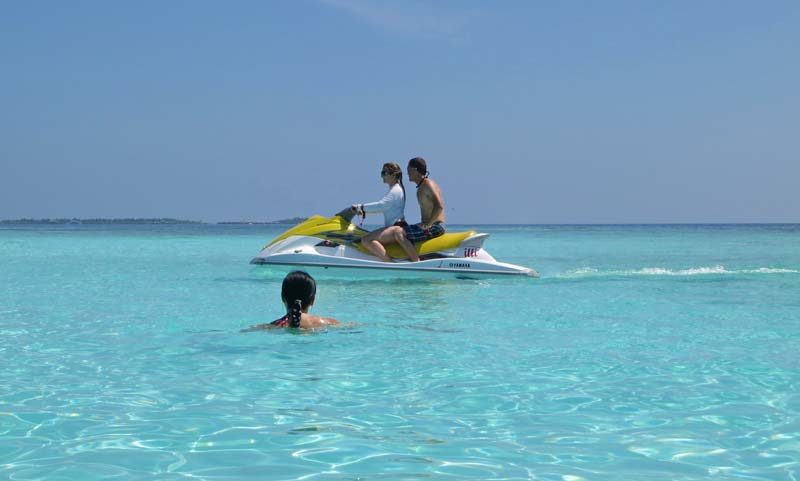 Alastair cooling off in the water in the Maldives.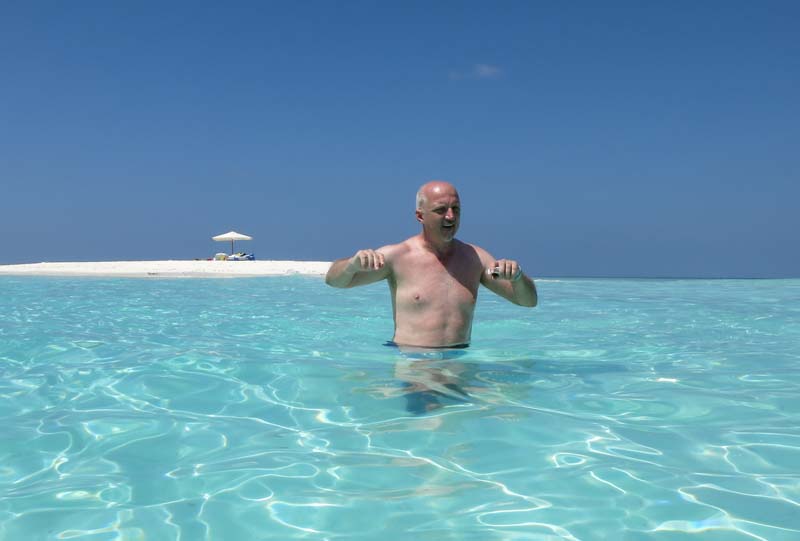 Alastair Irving and wife Susan in the Maldives.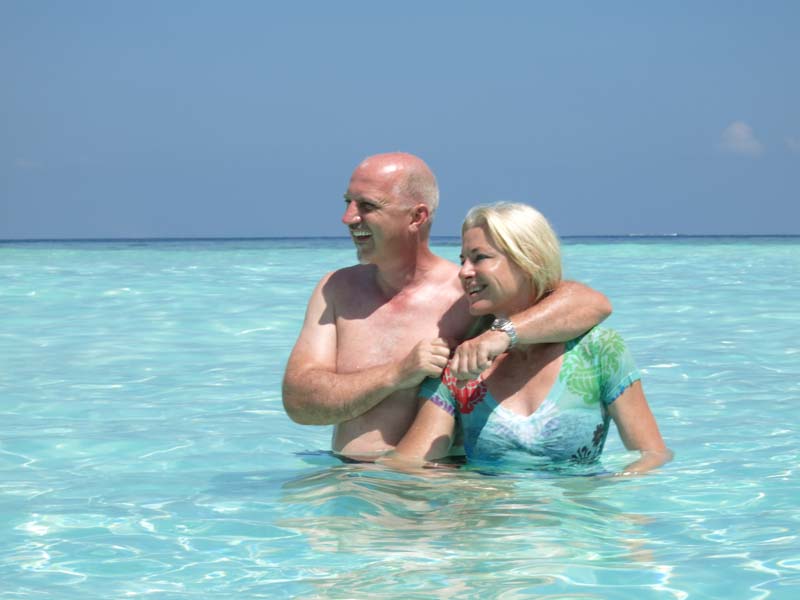 Illi helps Bob into the wake board.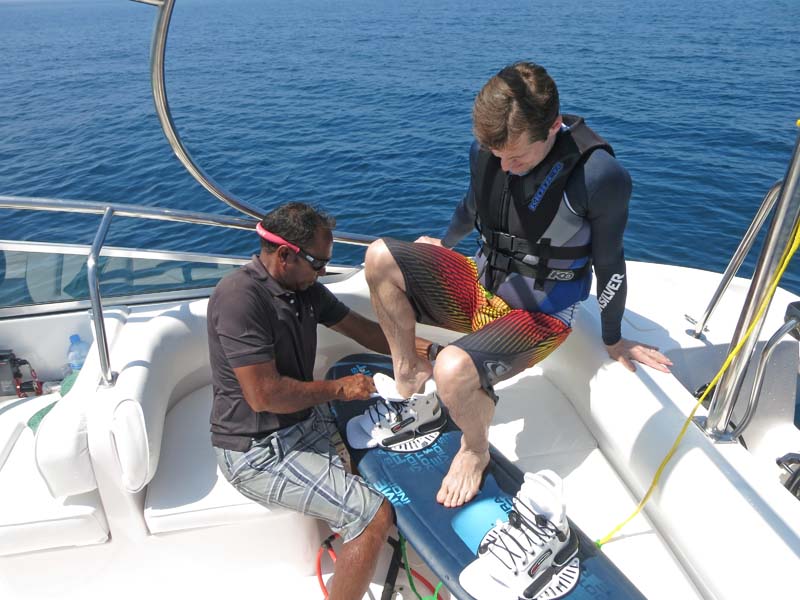 Lia driving Will around on the Jet Ski (Wave Runner) in the Maldives.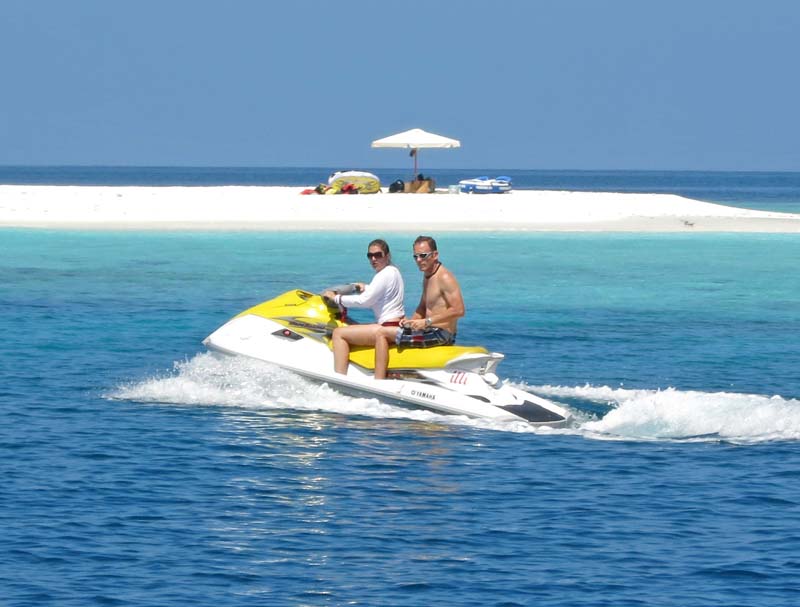 Katherine in a red polka dot bikini in the Maldives.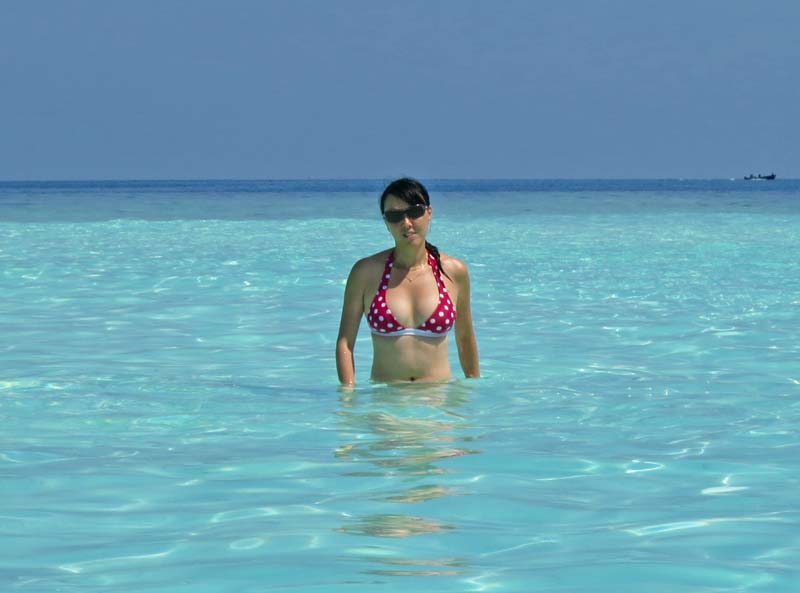 Bob getting towed on the wakeboard behind Illi's speedboat.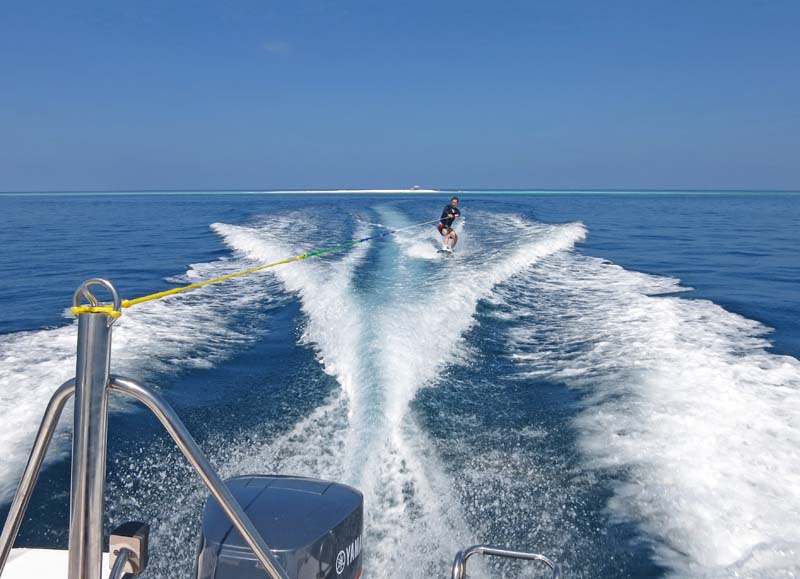 A picture of Illi's speedboat - "Maldives Water Sports". This boat costs $600/day to rent with Illi as the captain.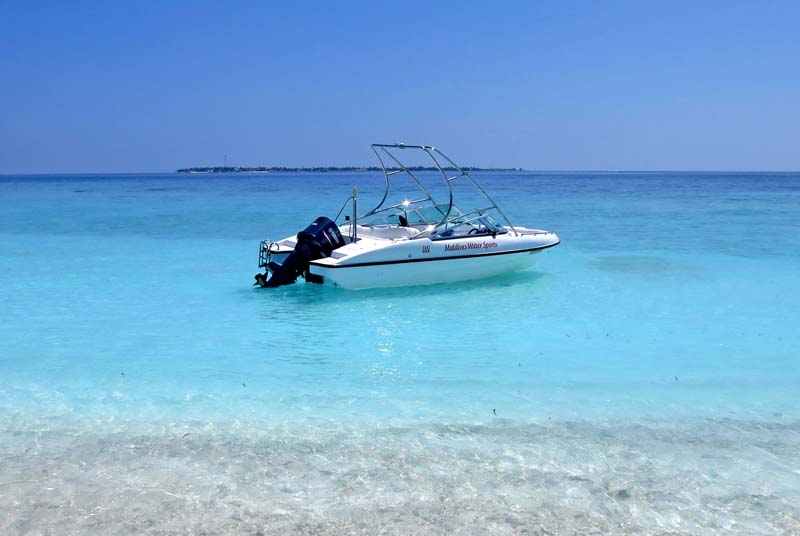 A picture of Will trying to do "tow in kite boarding" which didn't work out that well. :-) The "kite" is on the far left, Will is in the center on a raft, and Illi is driving the speedboat.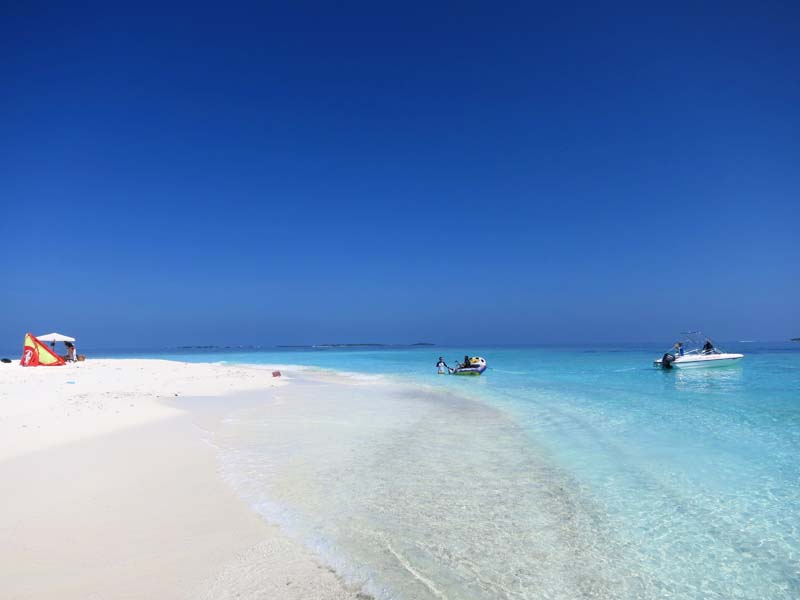 Toss in Illi's helper on the Wave Runner, Will on the raft, the kite in the water, and Alastair and Illi on the speedboat - we never got this working. :-)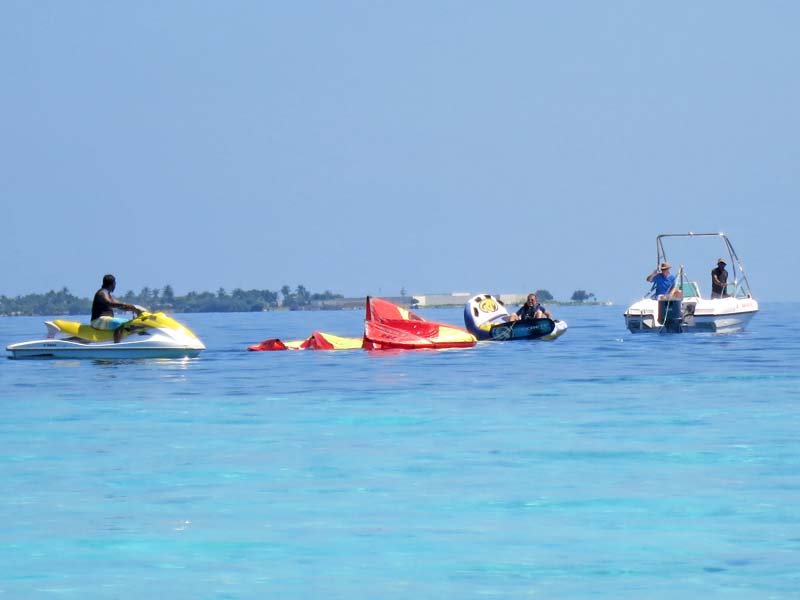 Bob dragging Will's kite in the water, Illi's helper driving the Wave runner.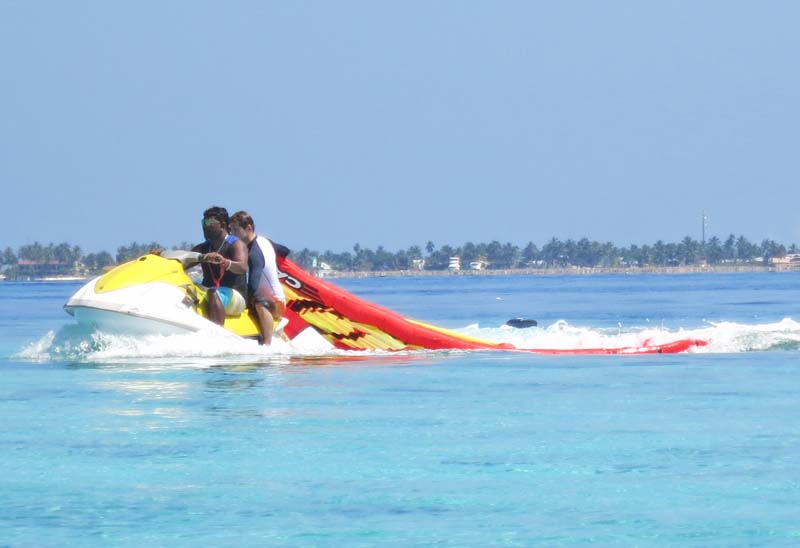 A sea plane flies overhead in the Maldives.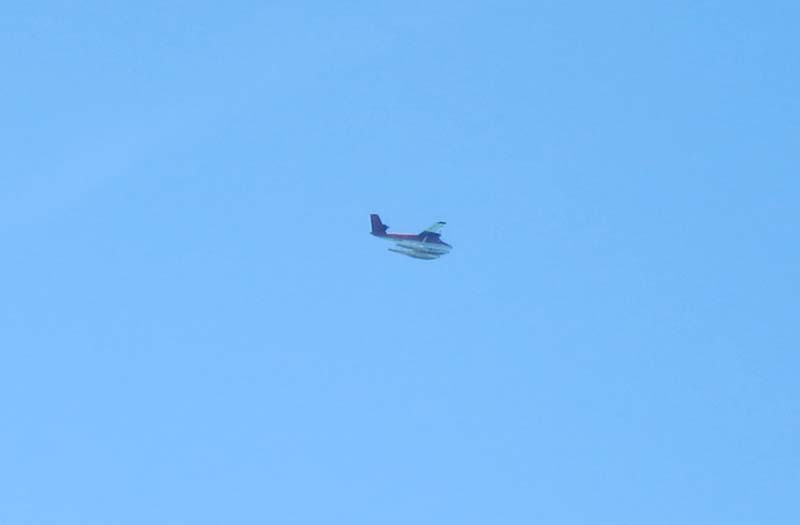 Bob dragging Will's kite ashore after the failed attempt at "tow in kite surfing".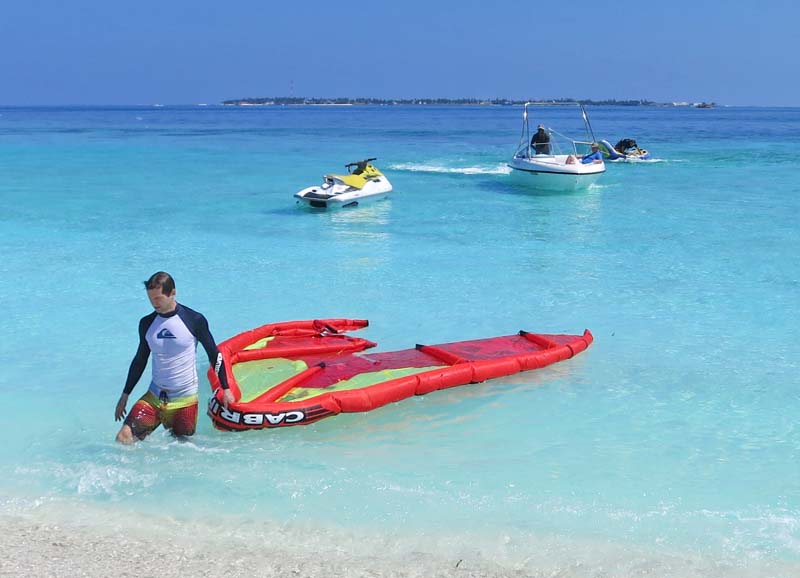 Back on the island, this evening the wedding couple were dressed differently. The bride is in a bright red dress, the groom in a white tuxedo. Notice the professional photographer standing in the water on the right of the picture.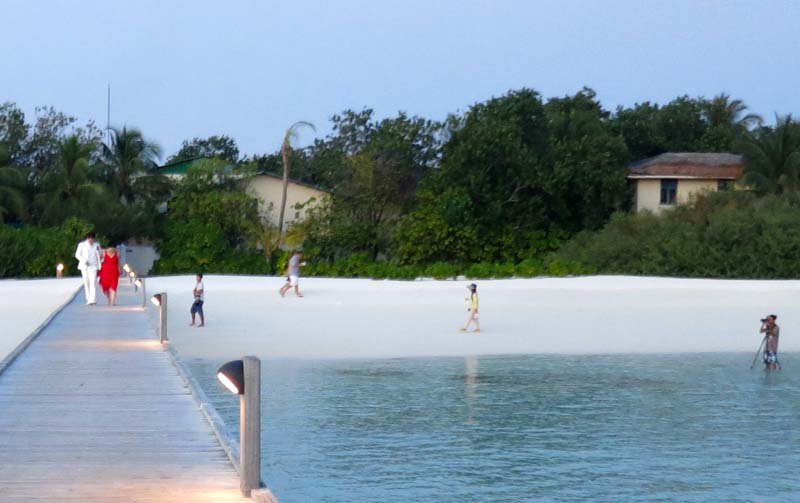 The red wedding dress on the bride, and a white tuxedo on the groom.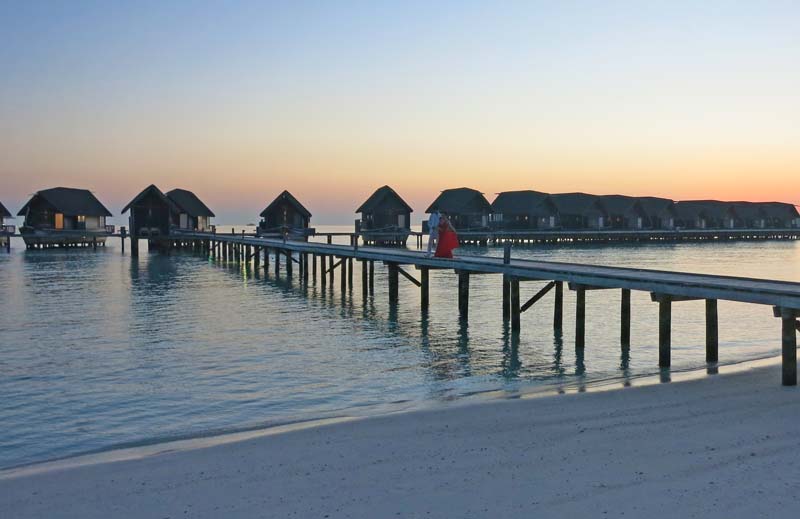 Will and Lia asked me to be photographer as they walked out on the sand spit that appears at low tide at Cocoa Island.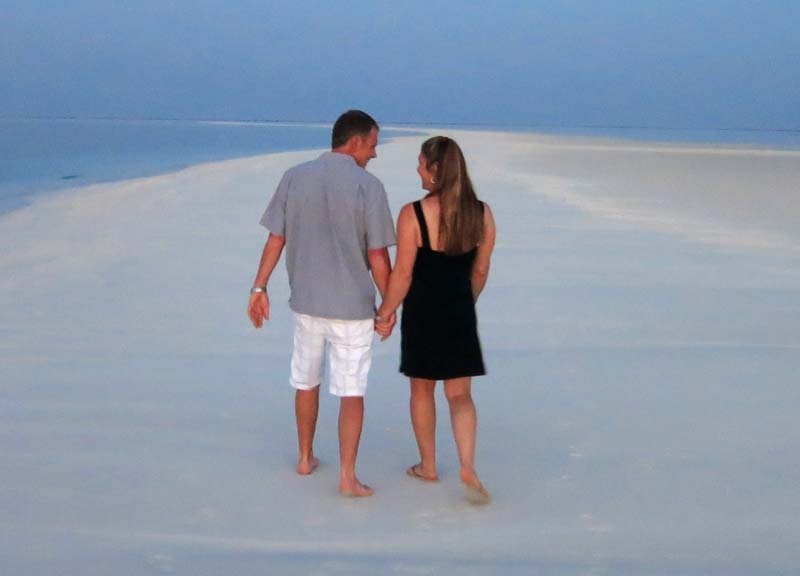 Will MacDonald and Lia MacDonald.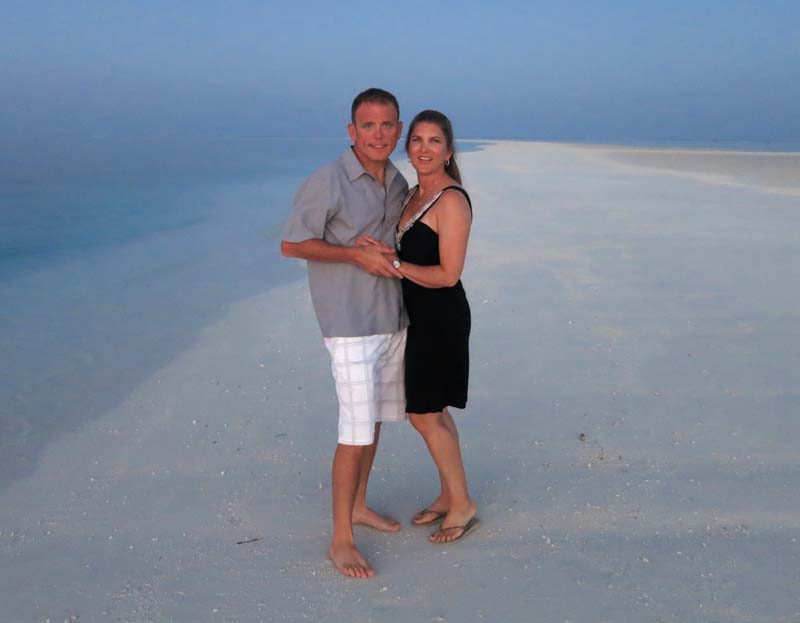 Lia clowning around with Will.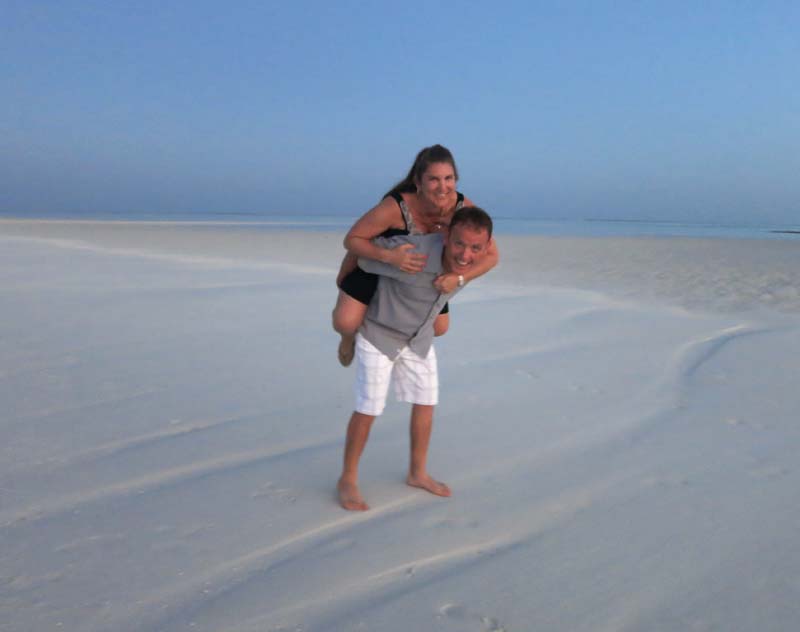 Lia and Will at sunset in the Maldives.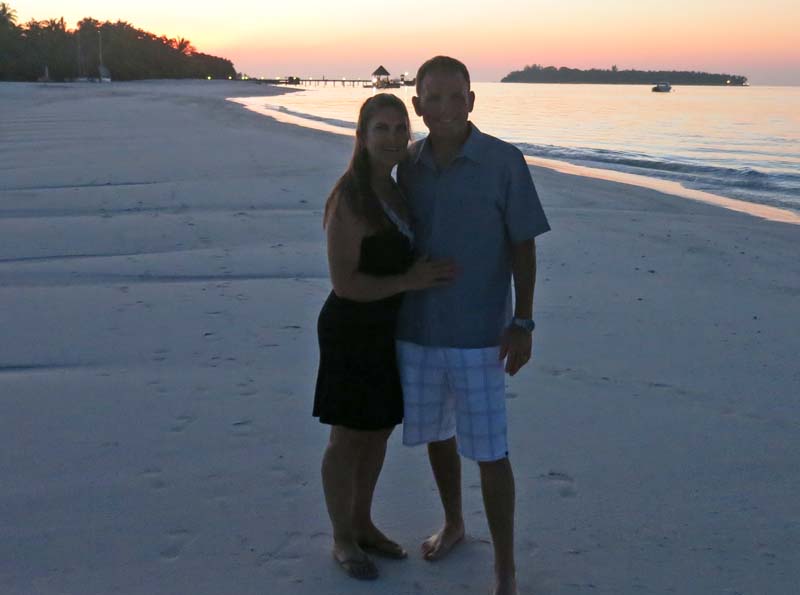 Lia took this picture of me (Brian) in bright orange shirt talking with Will. I'm a giant next to Will.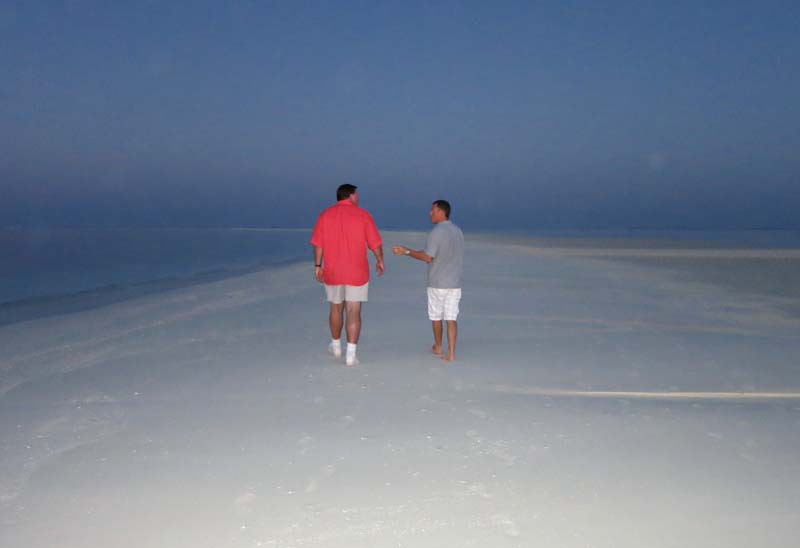 Sunset picture taken in low light of Cocoa Island Resort in the Maldives.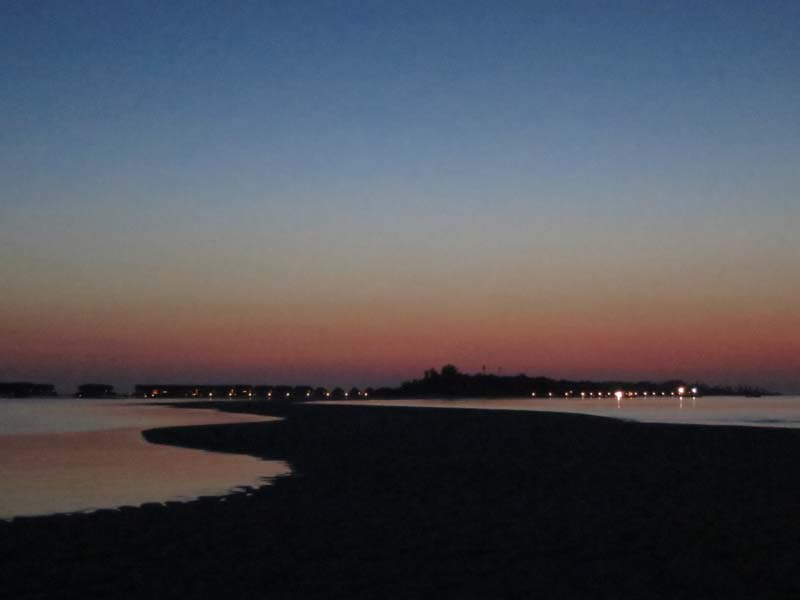 Lia and Brian, Will took this picture standing in the water off the end of the sand spit that appears near Cocoa Island resort in the Maldives.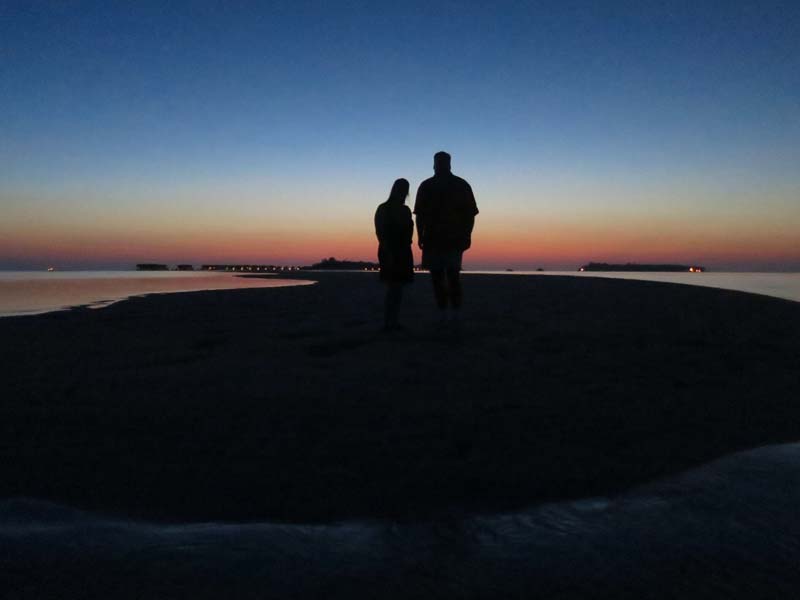 Dinner out on the beach.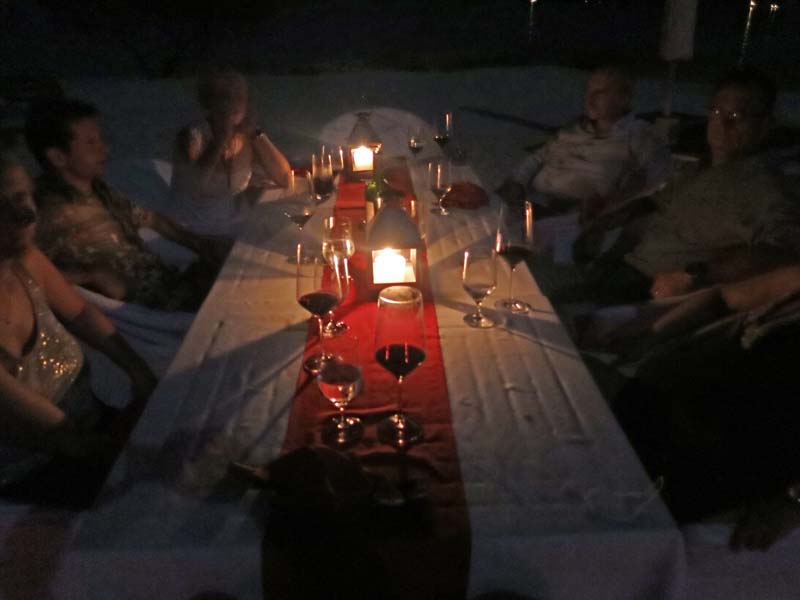 Dinner on the beach at Cocoa Island Resort.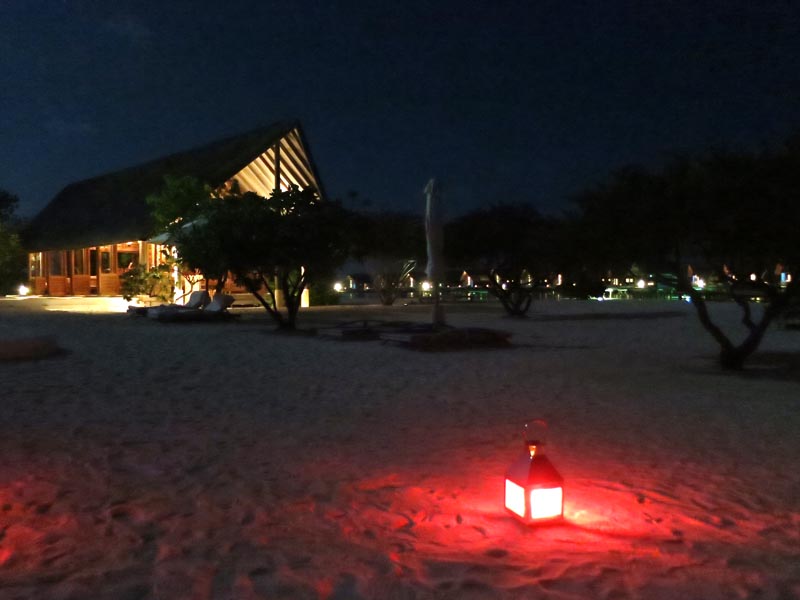 I smoked my first Cuban cigar of my whole life this night in the Maldives. This is a Cohiba Cuban Cigar, they are legal here. I *believe* that as a USA citizen it is illegal for me to purchase this is the USA, but I believe it is legal for me to purchase and smoke this cigar here in the Maldives, but if you know differently, PLEASE EMAIL ME because I am curious.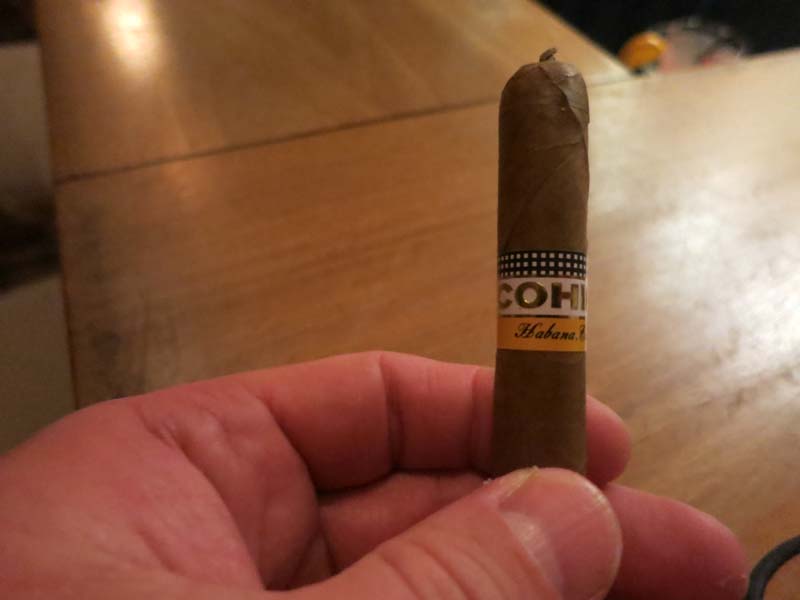 The Cohiba Cuban Cigar. I'm not sure exactly which "model" it is, maybe a Exquisitos or a Siglo III? If anybody can identify it please contact me!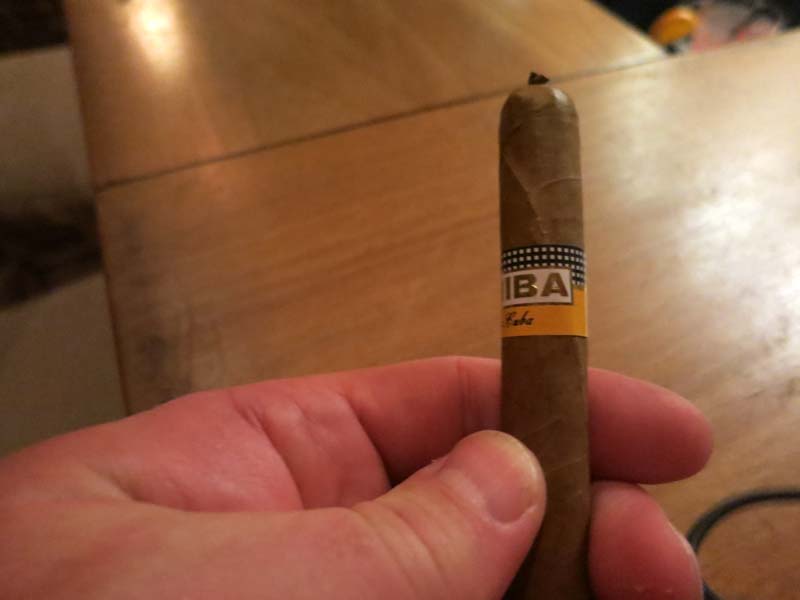 Breakfast in Lia's room with the ladies. The other guys were out scuba diving, I made the right choice by staying in.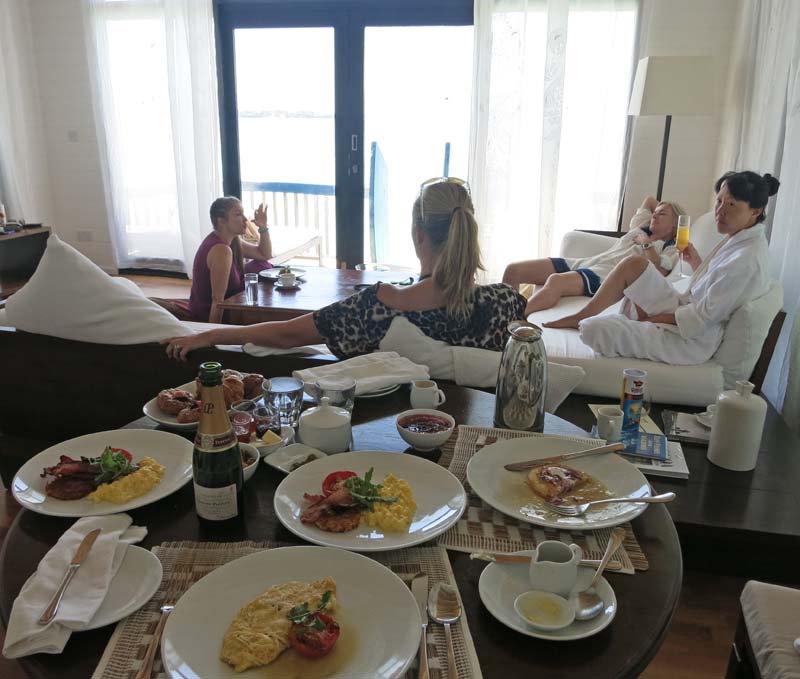 In the really hot humid Maldives, I changed my shirt sometimes three times a day. So I had laundry done to provide me with sweat free shirts. The prices below were actually quite reasonable, and the laundry came back quickly (in less than a day even though I didn't pay any extra).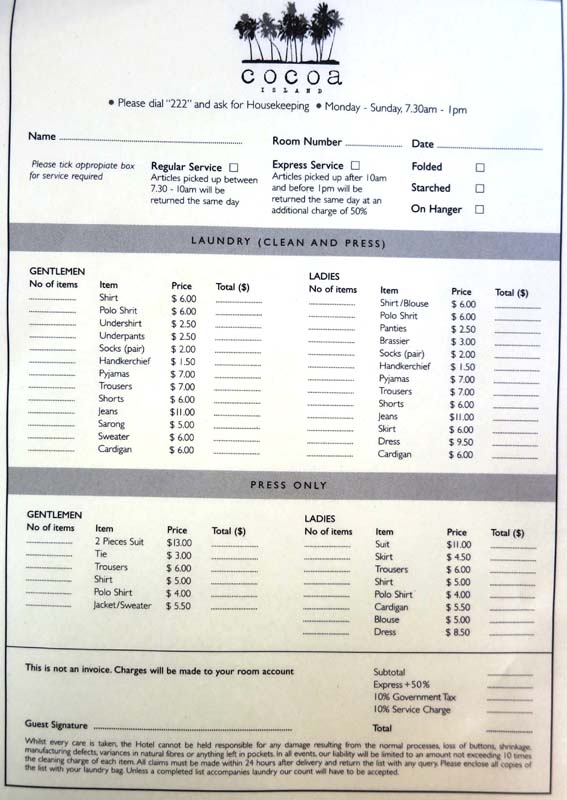 The lease agreement for the rental Wave Runner from Maldives Water Sports. This was delivered to our island and left for us the whole week.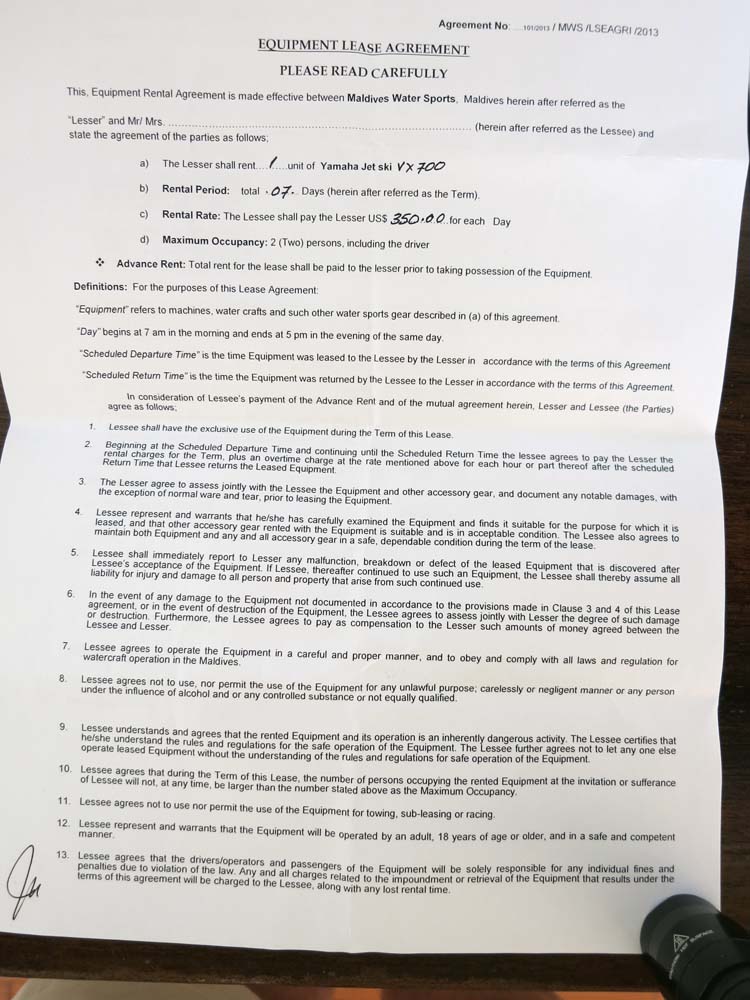 The second page has an interesting clause about if you want the owners to remain around the island the whole time with you - then you provide their meals.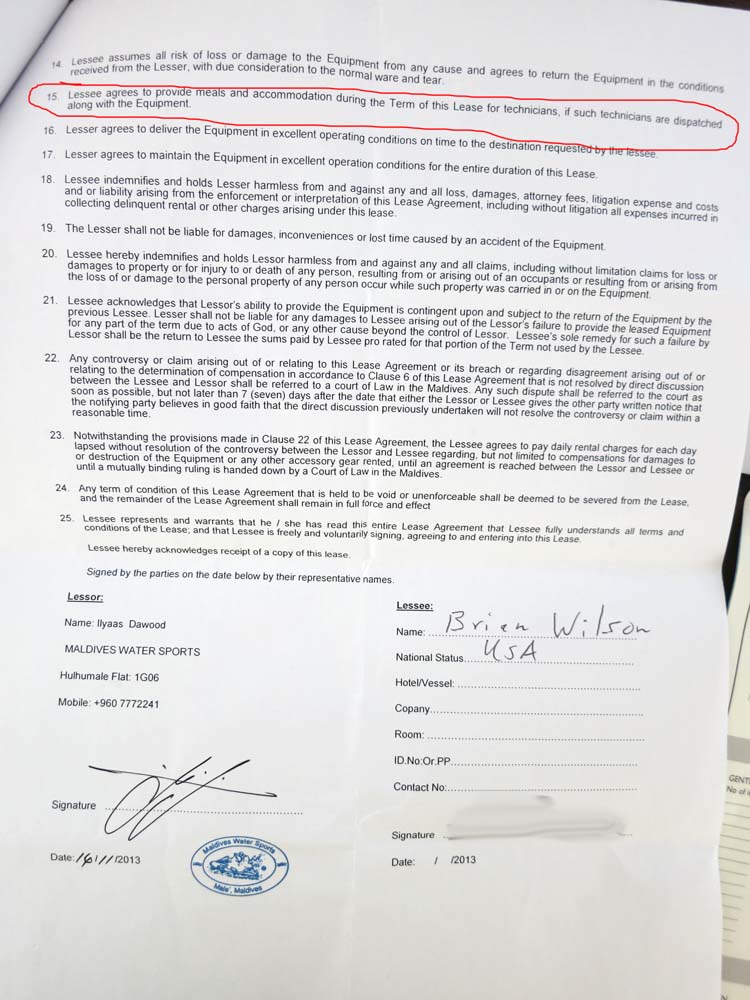 I found the tap water that came out of the tap to taste SLIGHTLY like salt, not sure what that was about, but the bottled water was excellent and free.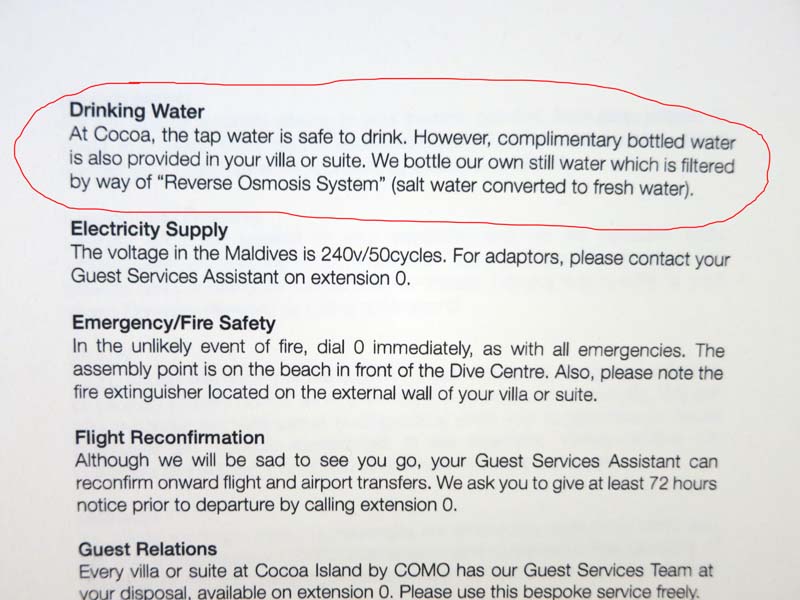 A recommendation that tourist women cover their bodies while visiting other island, also that alcohol is NOT available on "locals islands" in the Maldives.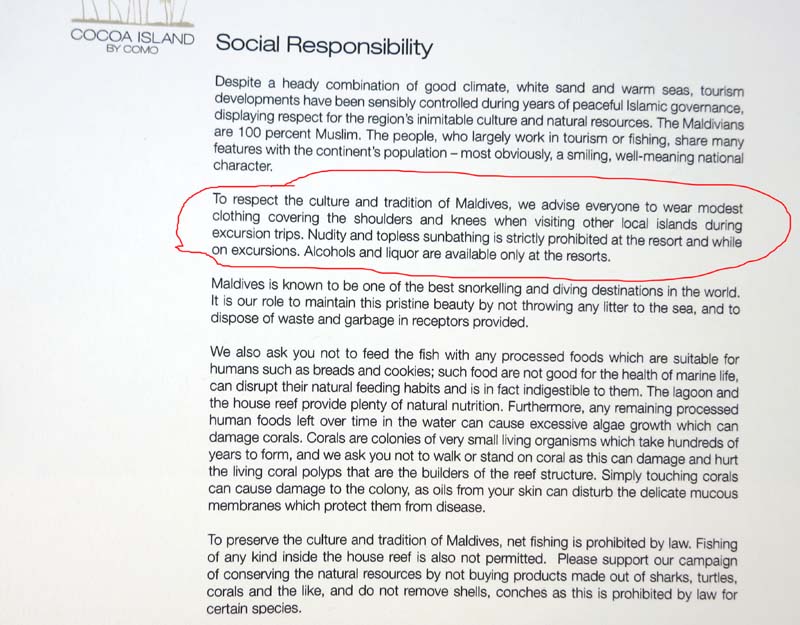 COMO Hotels and Resorts have other properties in London and Bankok.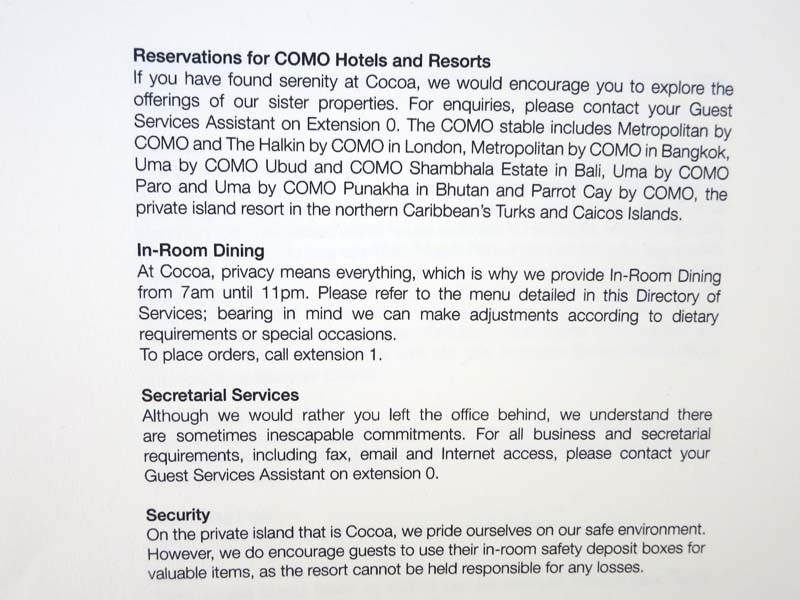 An in-room dining menu from Cocoa Island to give you some idea of prices. A light dinner salad for $22 and a sandwich for $26. All the food was truly excellent - fresh, correctly prepared, delicious. Just really, really expensive. :-)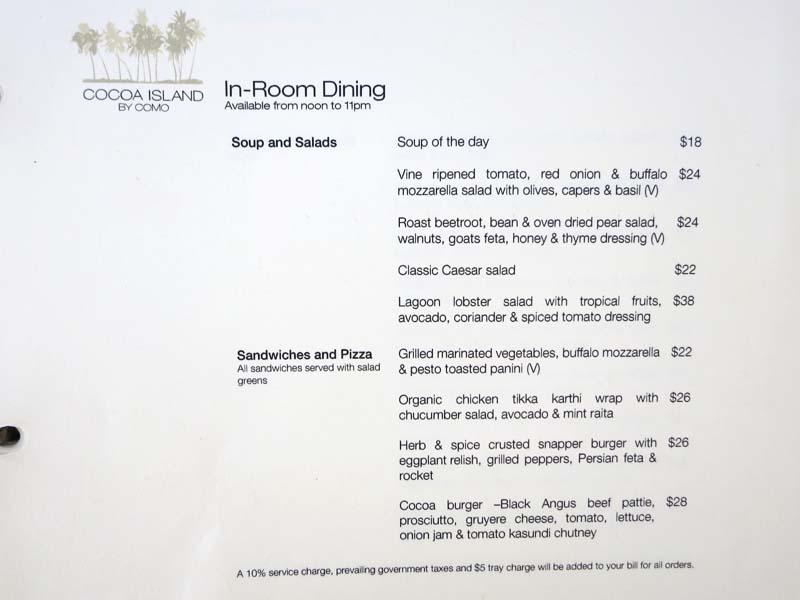 More menu: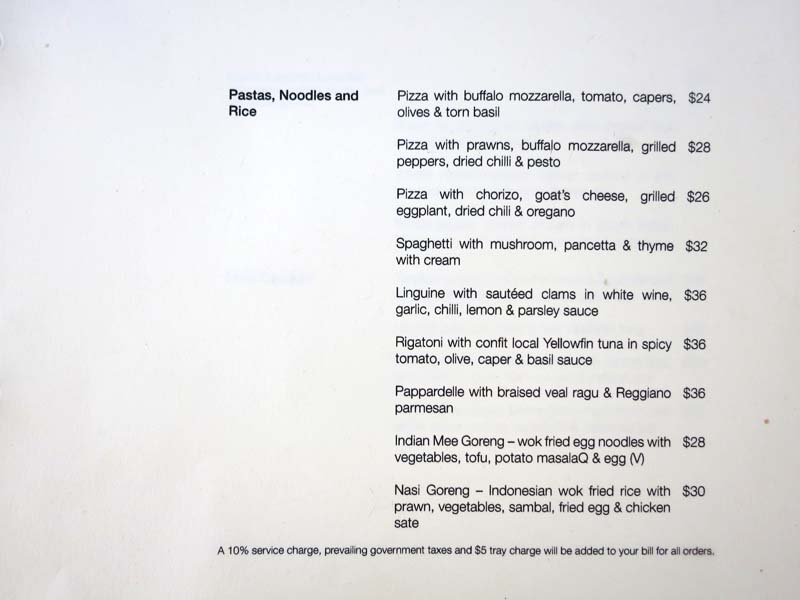 You can get a Lobster in your room at a few moment's notice for $95.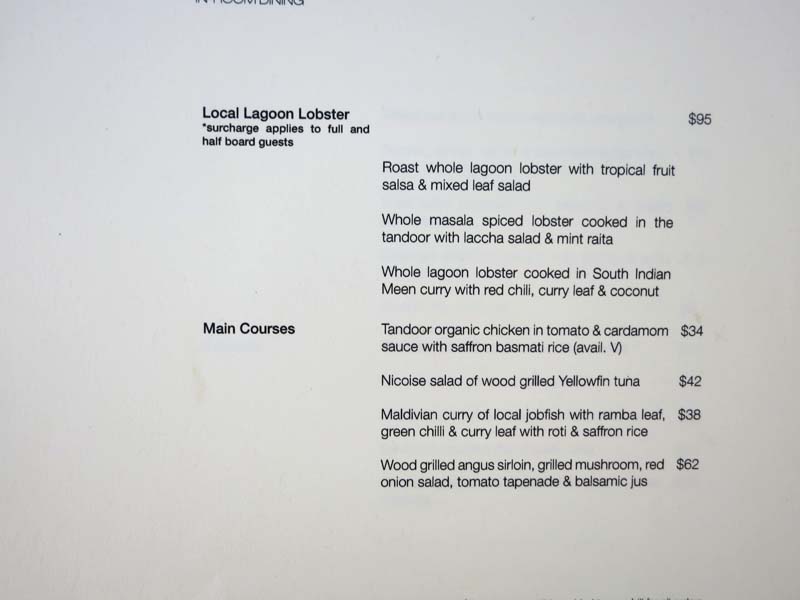 We didn't take advantage of the "in-room cocktails" where they could have delivered Mai Tai to our room for a few dollars.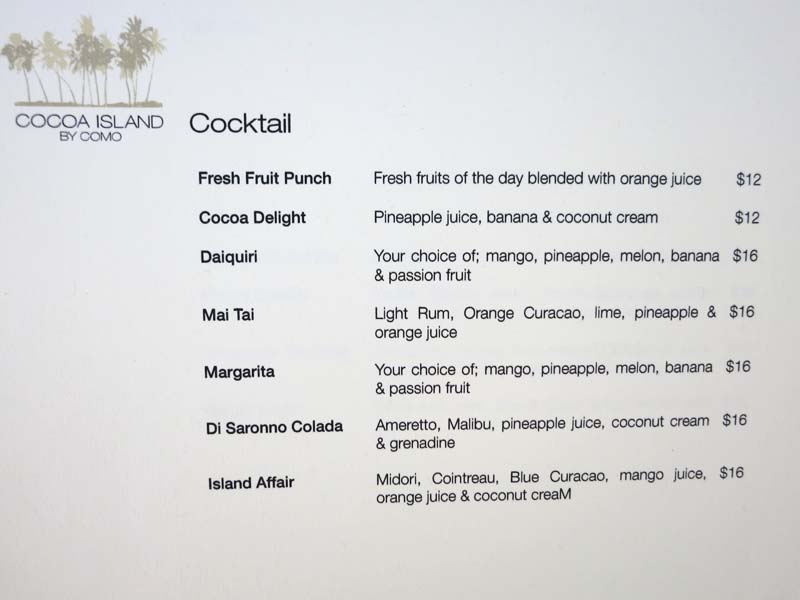 Here is a document of the Cocoa Island "Excursions" page which expressly says "we can also tailor-make trips to your request". In our experience the Cocoa Island staff was shocked when we wanted some boat trip "not listed", it really is best if you stick to the list they offer.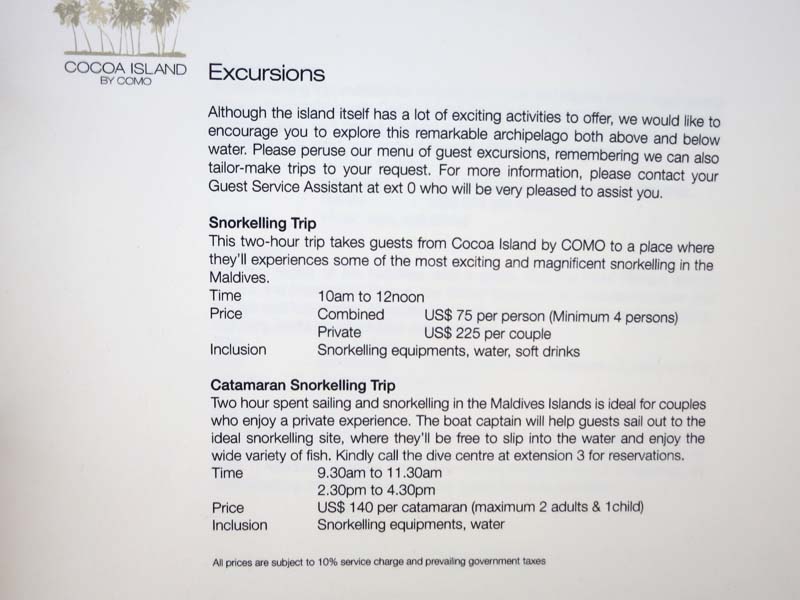 In this next page, I circle in red the clause about "if you like to visit another resort island, we need to seek advanced permission." We were DENIED permission to visit Anatara Dhigu in the Maldives, which is a resort about 5 miles away from our resort that looked nice. Contrast this to our experience a year earlier in the British Virgin Islands (BVI) where by law you can land on any beach and the locals ALWAYS welcome you with a friendly smile and glad to have you visit and offer you a rum punch. The Maldives is *NOT* a friendly happy open place, it is beautiful, but you don't have any right to wander around!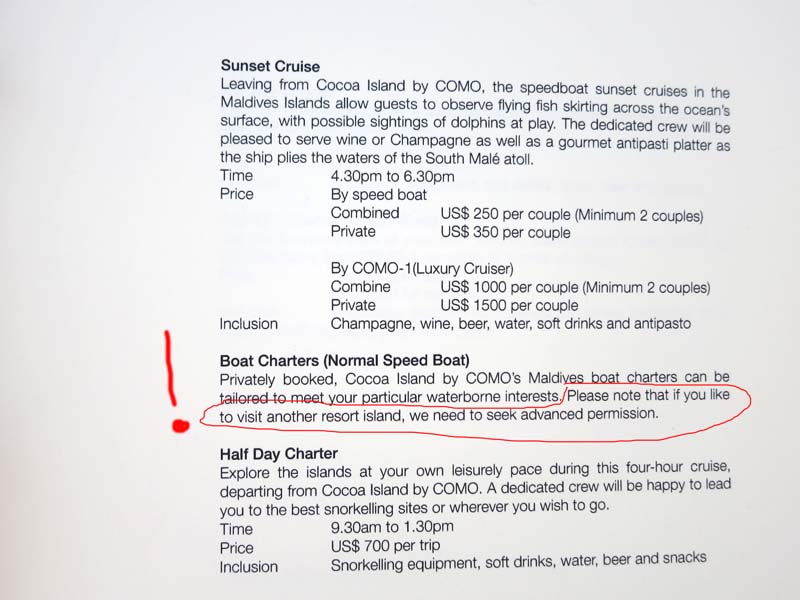 There was a book called "Cocoa: Meine Trauminsel" by Eric Klemm (Published by Birkenau, Bitsch Verlag, 1990 ISBN 10: 3-925014-09-8 / ISBN 13: 9783925014093) in every room at Cocoa Island. This tells the history behind "Cocoa Island" which is that a German Playboy Photographer named "Eric Klemm" in the mid 1970s found out the unoccupied island was there and managed to leased it around 1980 when it only had 6 sad palm trees and wanted to live on it alone. But this wasn't allowed, foreigners are only allowed to have hotels, so he opened a VERY SMALL resort and terraformed the island and lived on it for 10 or 15 years running a small hotel before selling the lease to Christina Ong (who is part of COMO group who currently owns it). This is a good article by "The Guardian". The picture below is of the copyright credits of the book so I could track down this info later.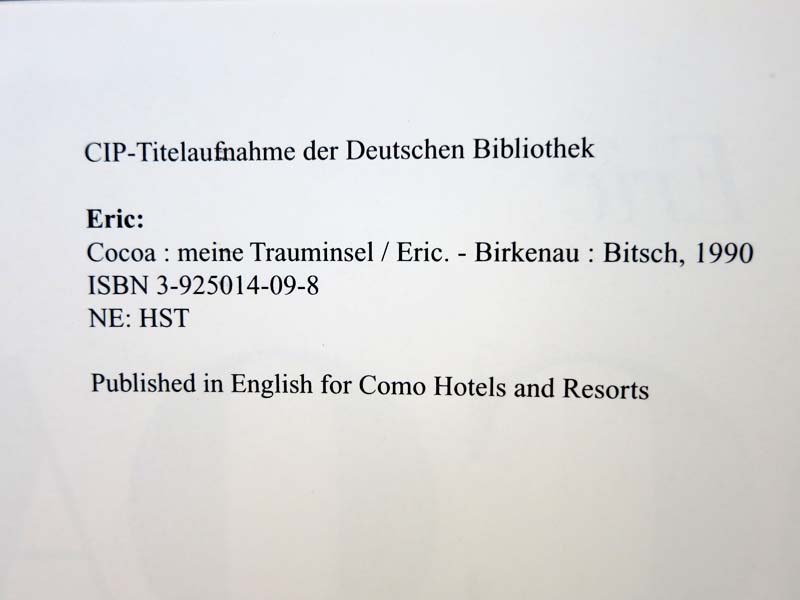 More copyright info about the Eric Klemm's book.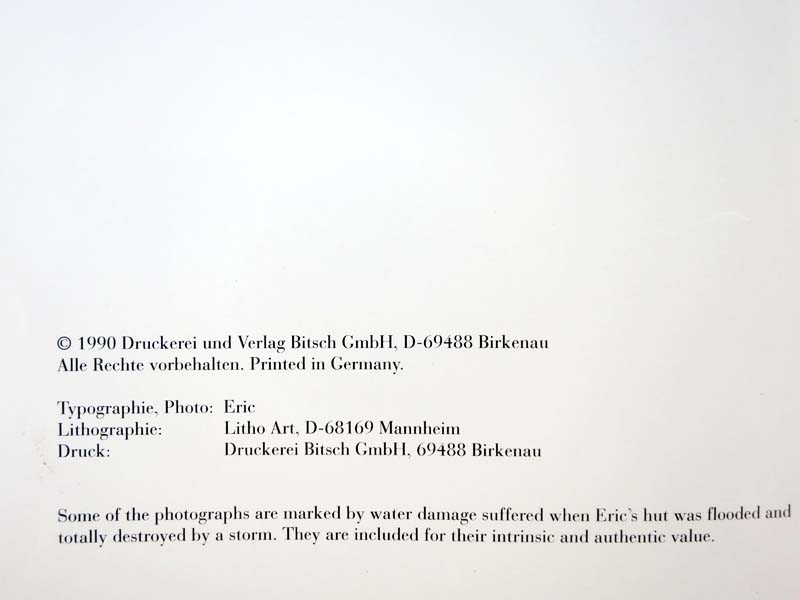 Eric Klemm thanks "Leni Riefenstahl" in his book credits who is most famous for making the 1935 Nazi propaganda film "Triumph of the Will". Leni is a famous photographer who became scuba certified at age 72 and pursued a career as an underwater photographer and lived to be 101 years old! Eric specifically calls out her book called "Wonder under Water".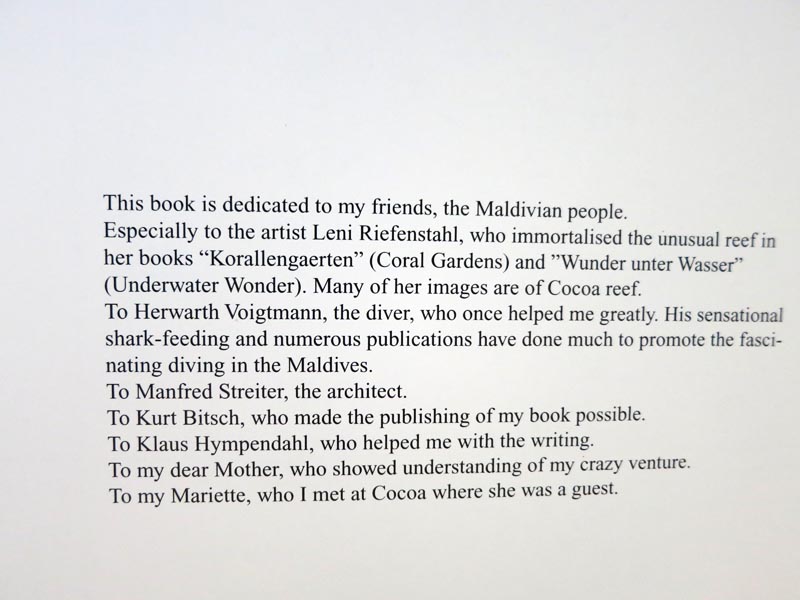 A pretty picture of the lagoon at Cocoa Island.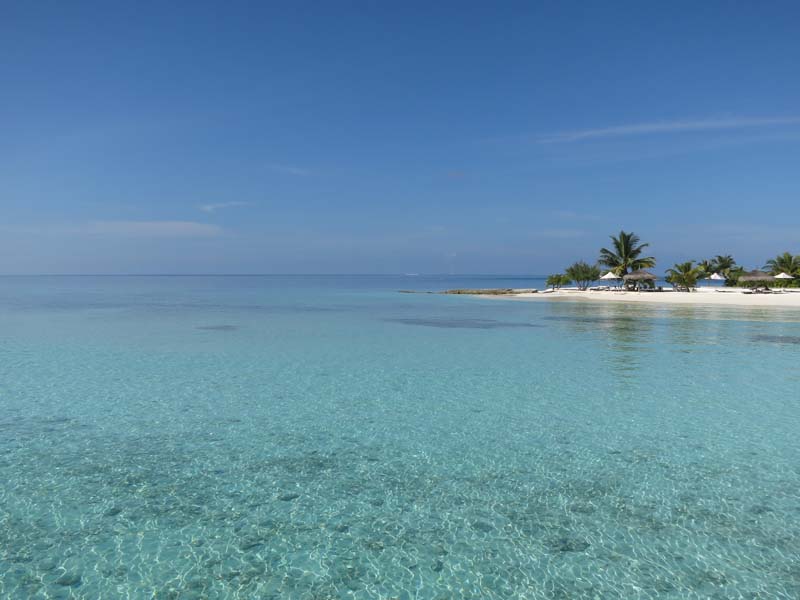 The lagoon at Cocoa Island is extremely pretty.

Our group hanging out under palm trees at Cocoa Island resort.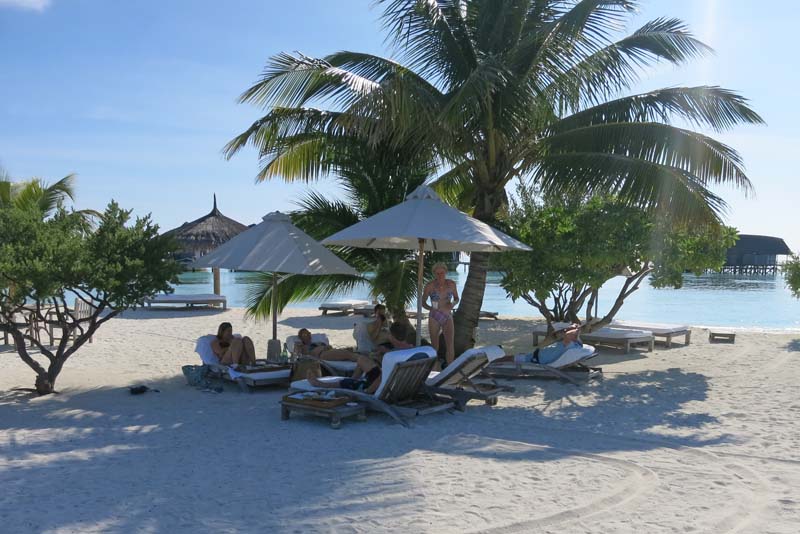 A picture of Patrick the one legged Heron at Cocoa Island Resort in the Maldives.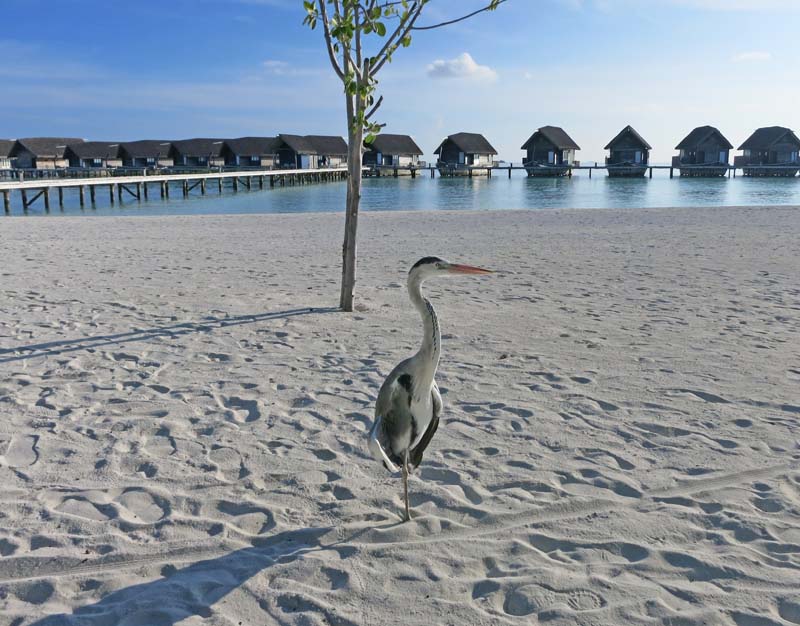 Another close up of Patrick the one legged heron.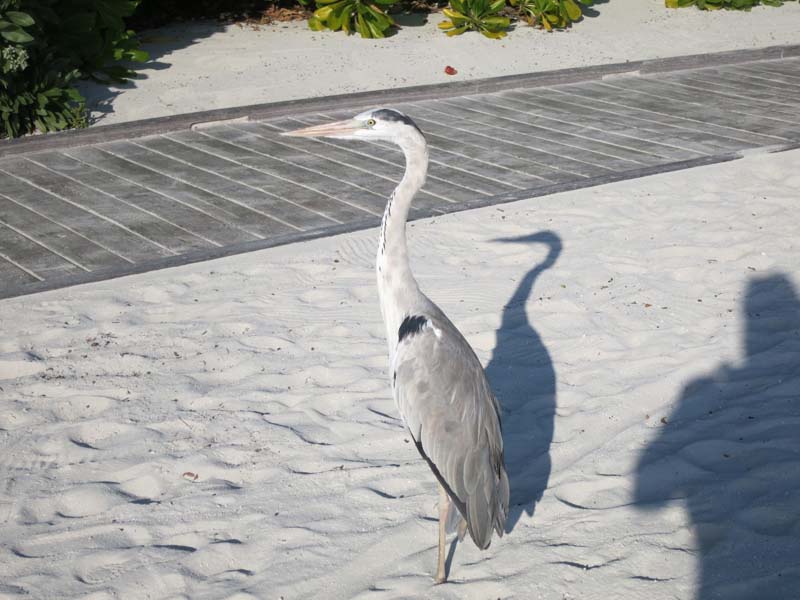 Patrick the one legged heron hangs out in this same spot a lot at Cocoa Island. The locals who work in the restaurant feed Patrick scraps of fish.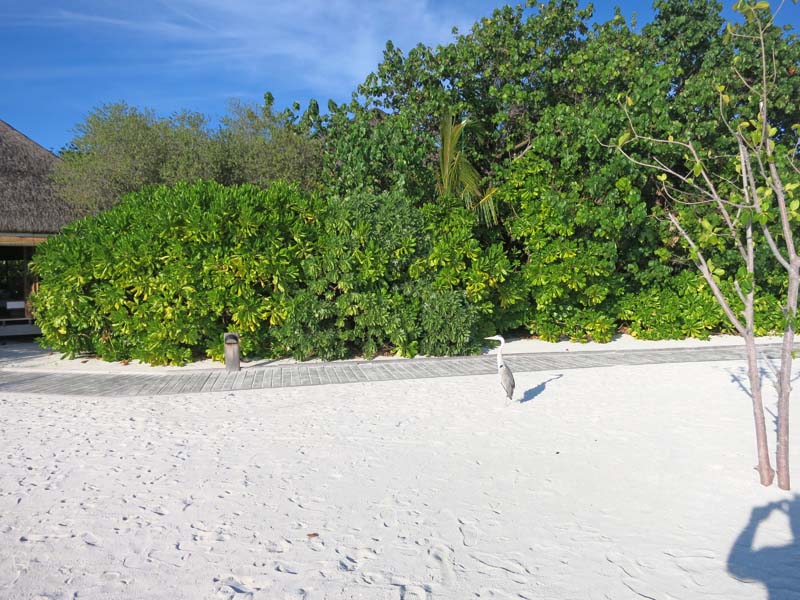 Cocoa Island puts free flip flops in your room. On the bottom of the flip flops are a pattern that basically leaves the words "Cocoa Island" printed ALL OVER THE BEACHES all over the island. I think that's brilliant and slightly funny. Below is a typical stretch of sand.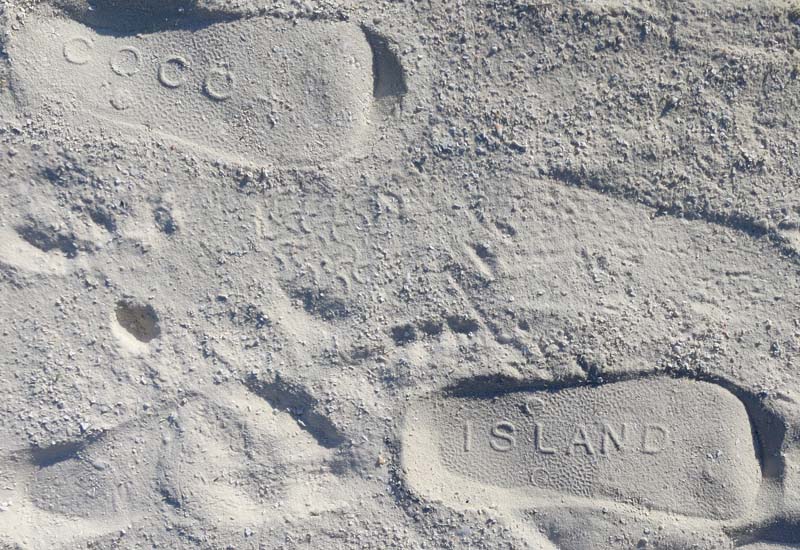 Katherine (showing some thigh) wearing a white dress walking out to take group pictures together.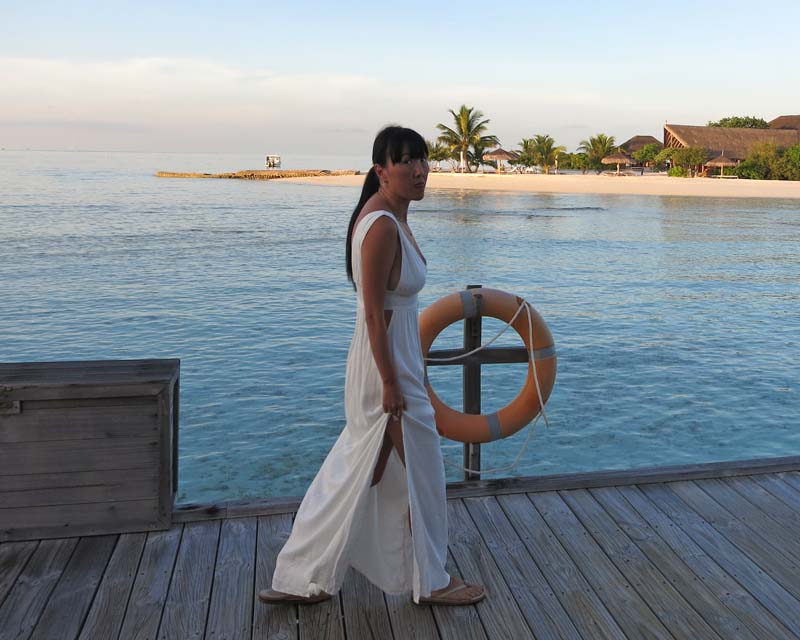 Will drinking coffee on his dhoni boat room before walking out to take pictures.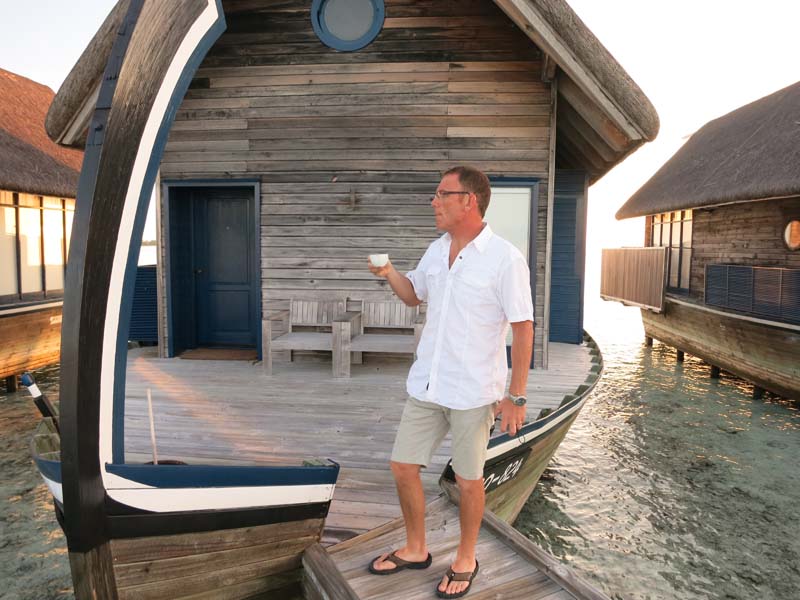 Sunset over the dhoni boat rooms in the Maldives - Cocoa Island resort.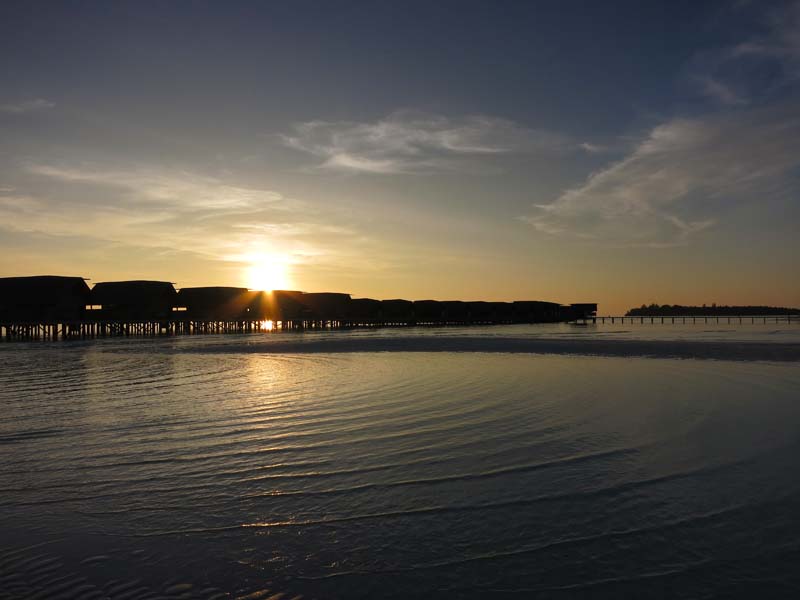 Katherine bending over to pick up a sea shell on Cocoa Island Resort in the Maldives.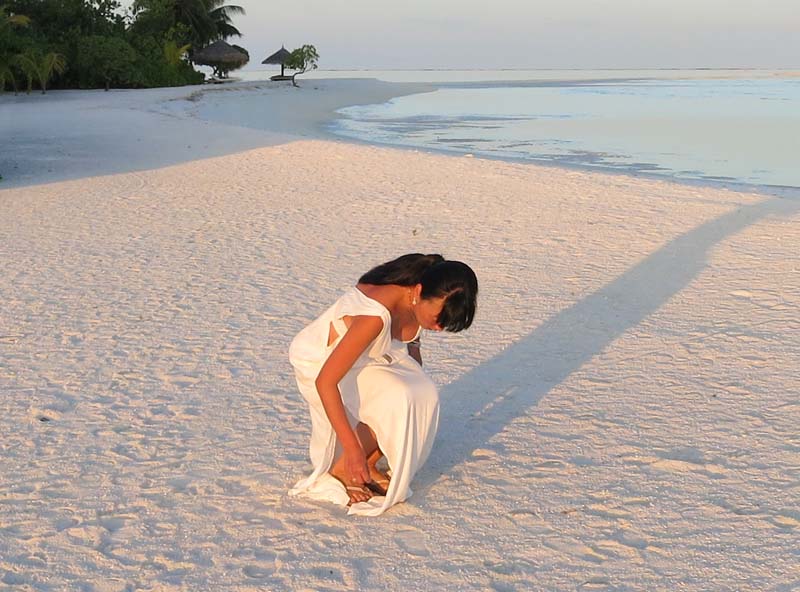 When Katherine and I arrived, here is what we found. Some of our group had organized champagne on the beach, and the three husbands were photographing their wives. I think this "meta" picture is cute. From left to right: Nicky Greenshields (white top, black shorts), Lia MacDonald, Susan Irvine (long white dress), Will MacDonald (white shirt), Alastair Irvine, Bob Greenshields (light blue shirt).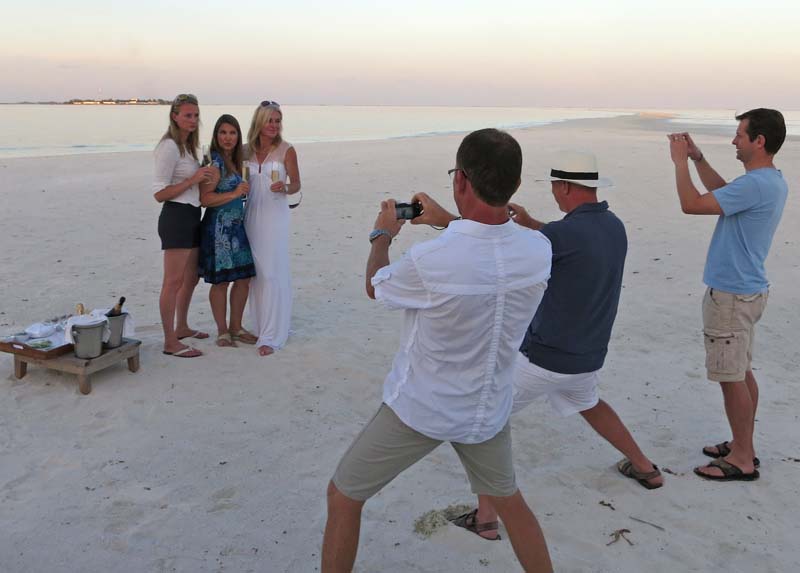 Four beautiful ladies: Katherine, Nicky, Lia, Susan.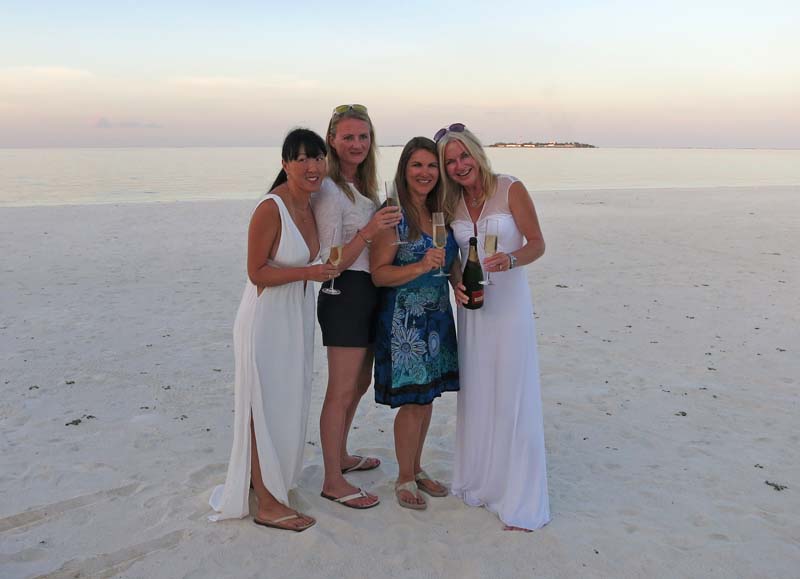 Random pictures and close ups of the four ladies.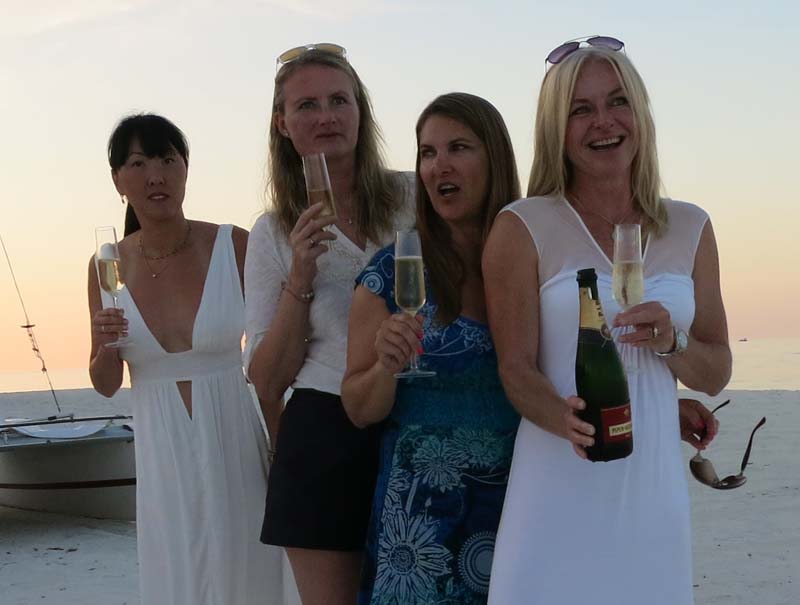 I like this picture below because Katherine and I (Brian) have our eyes closed and everybody else looks fabulous. :-) The camera is on a timer and takes a few pictures while we try posing.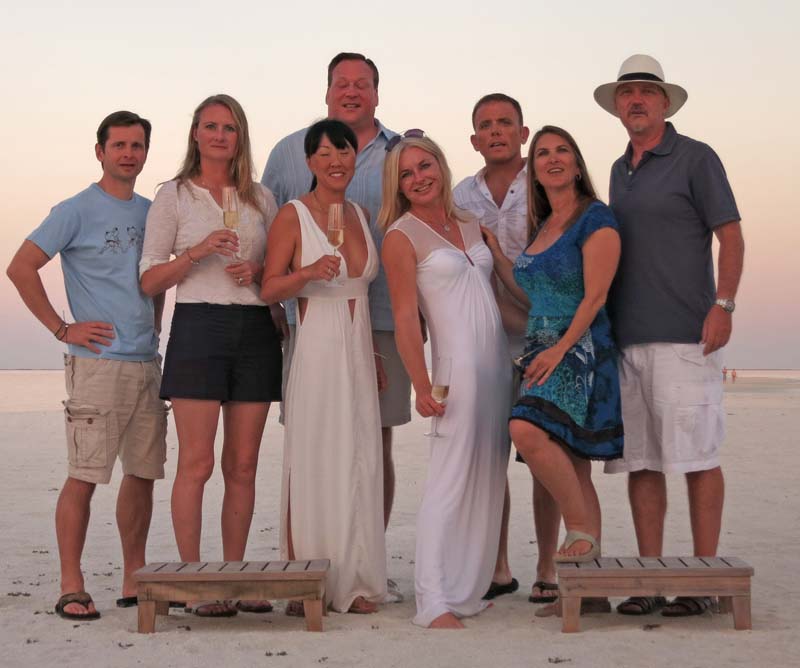 Probably our best picture together, from left to right: Bob Greenshields (in back left), Nicky Greenshields (white top front), Katherine Chung (white long dress), Brian Wilson (me - light blue shirt biggest guy in back), Lia MacDonald (blue dress in front), Will MacDonald (white shirt in back), Alastair Irvine (hat in front), and finally Susan Irvine on far right with sunglasses on head.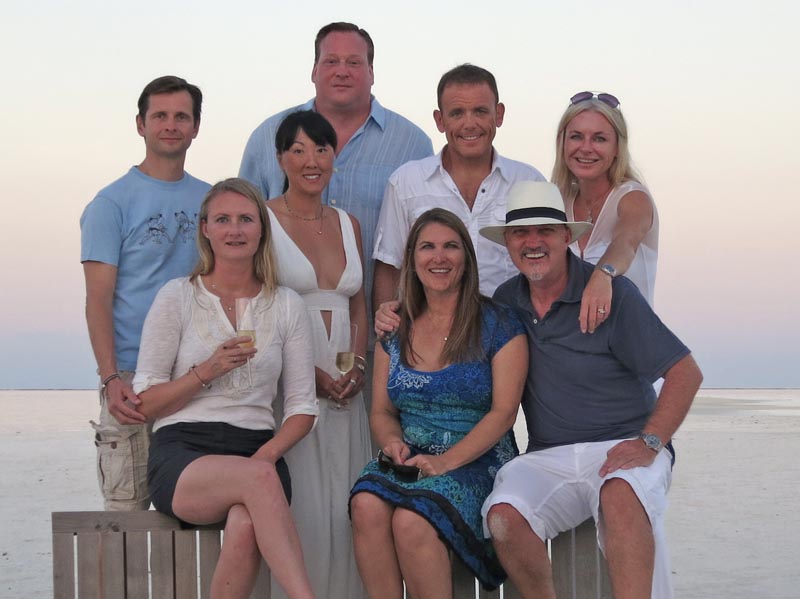 A random picture I like where Will is opening some champagne and the ladies are standing around talking.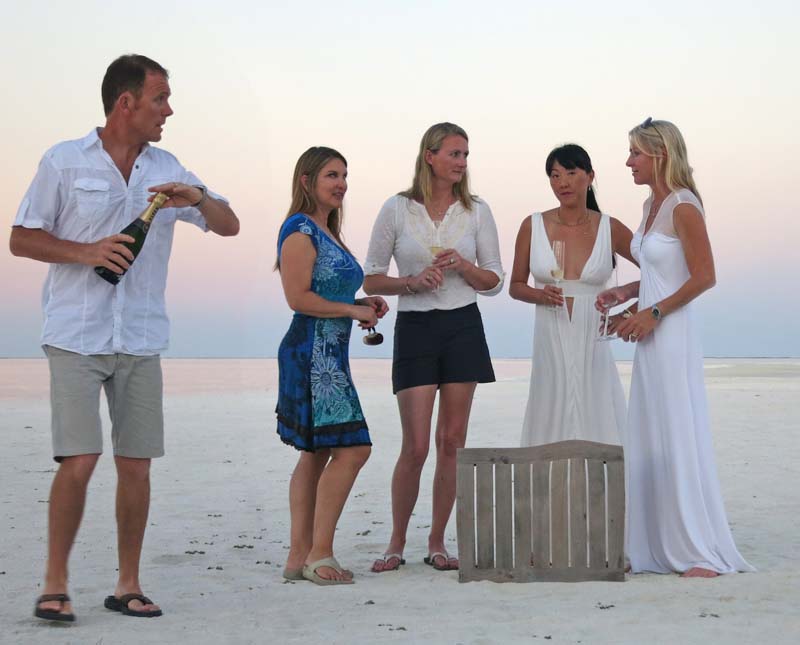 A picture where we act silly for the camera.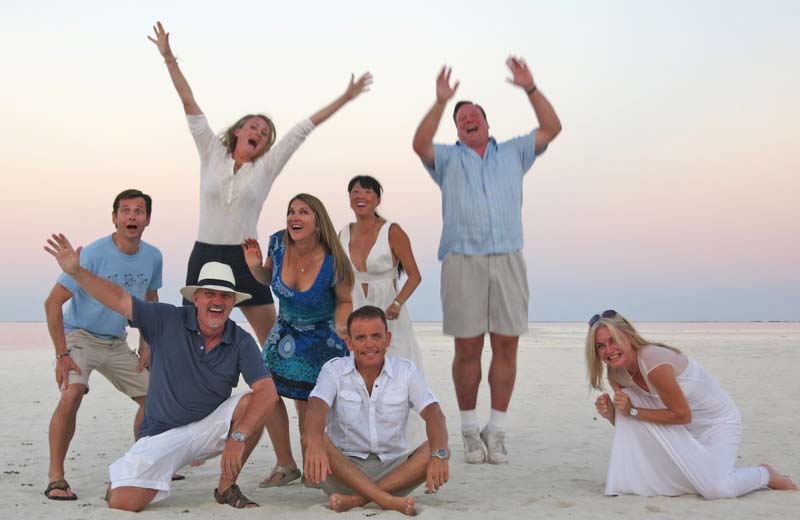 A picture of Katherine Chung and Brian Wilson at Cocoa Island Resort in the Maldives.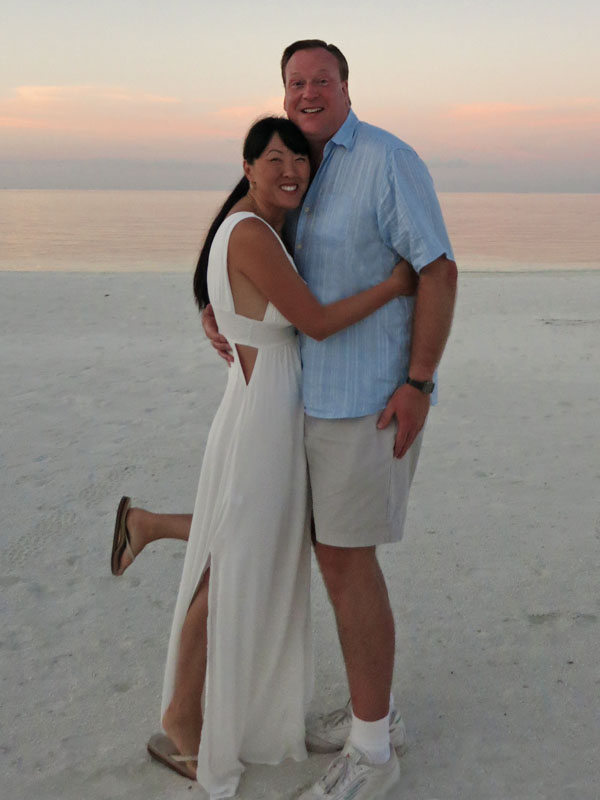 Katherine and Brian.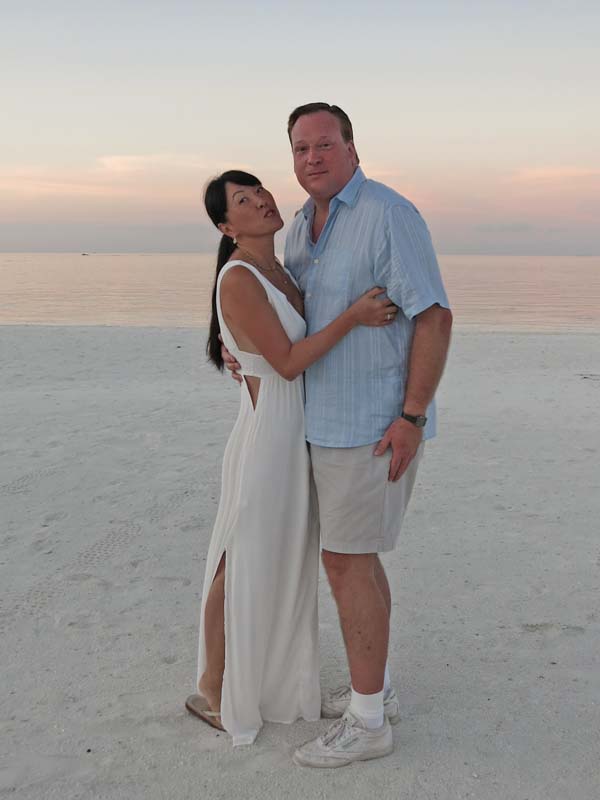 Brian kisses Katherine on the beach at Cocoa Island Resort in the Maldives.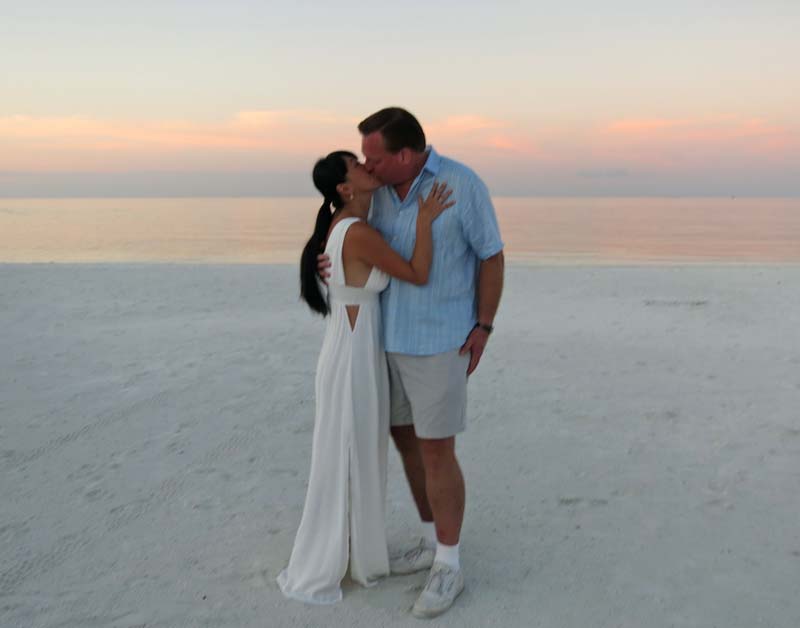 William MacDonald and wife Lia MacDonald.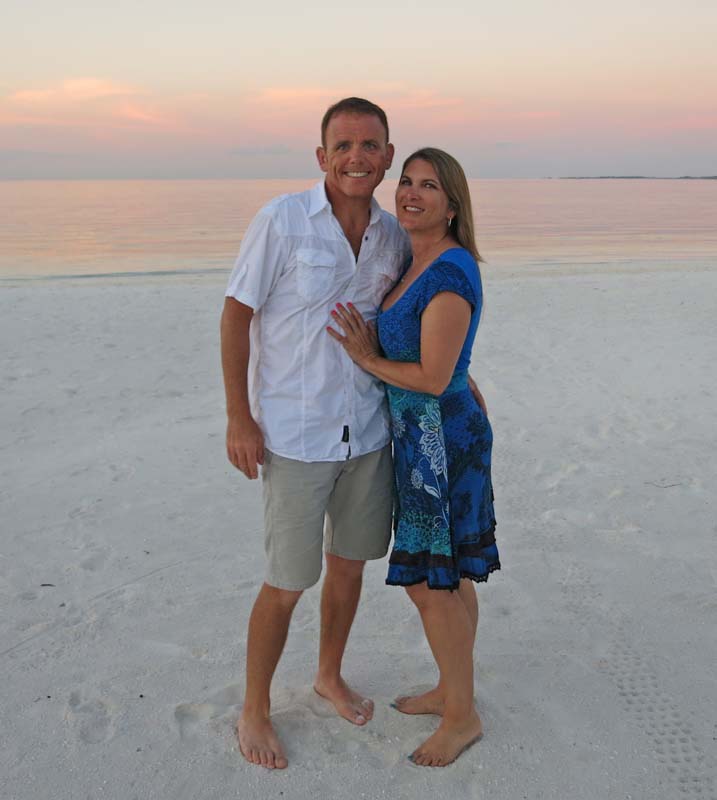 Bob and Nicky Greenshields.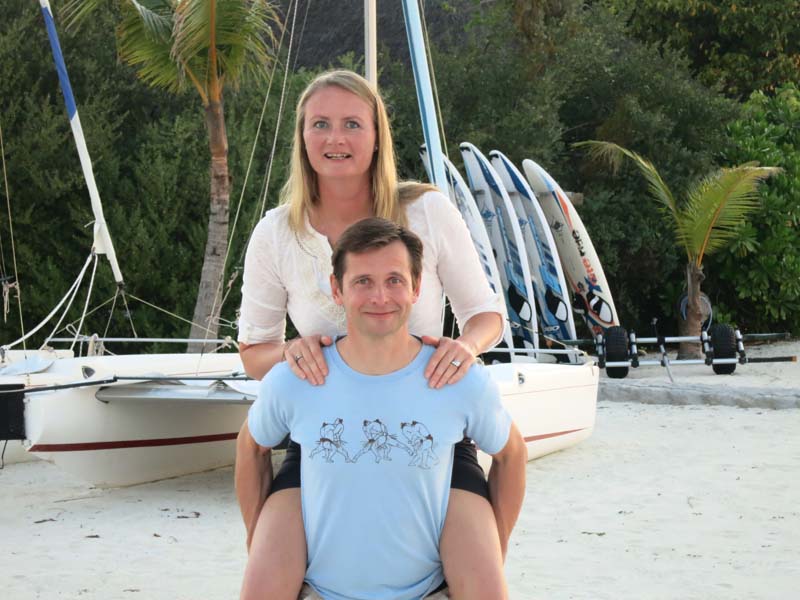 Will walking in the water looking very handsome and thoughtful (he was staging this for me, but it's a great effect).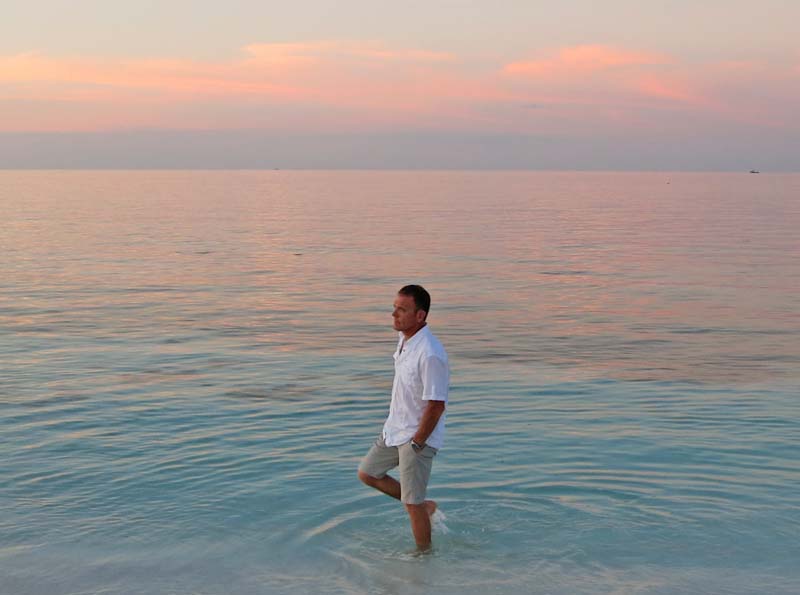 I think this is a great picture of Will.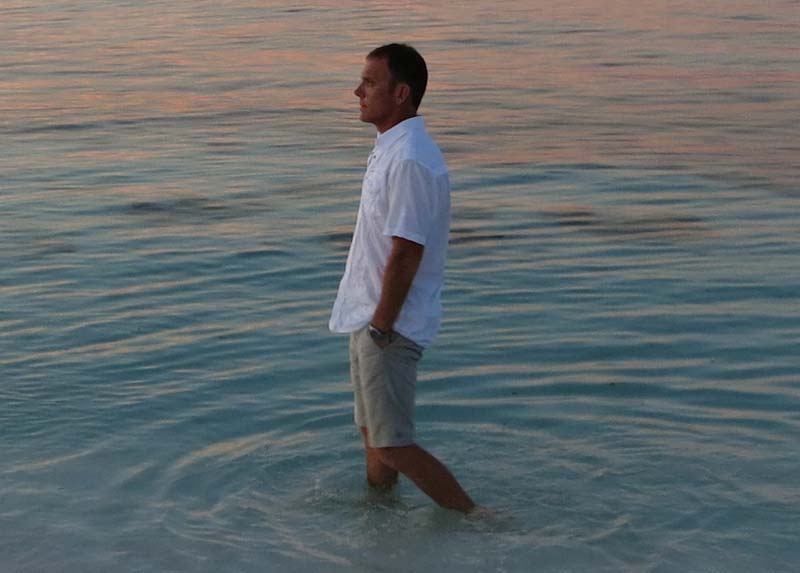 A picture of Will with the main docks in the background at sunset in Cocoa Island Resort, Maldives.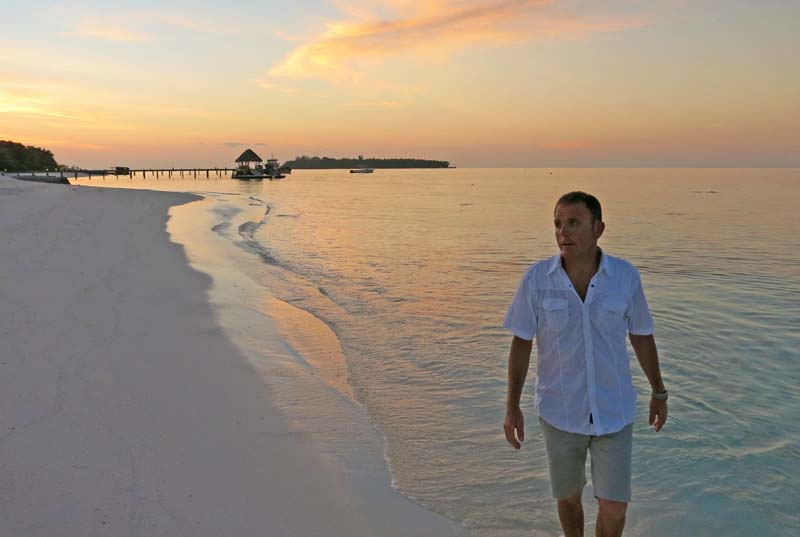 Alastair taking a picture of his wife Susan.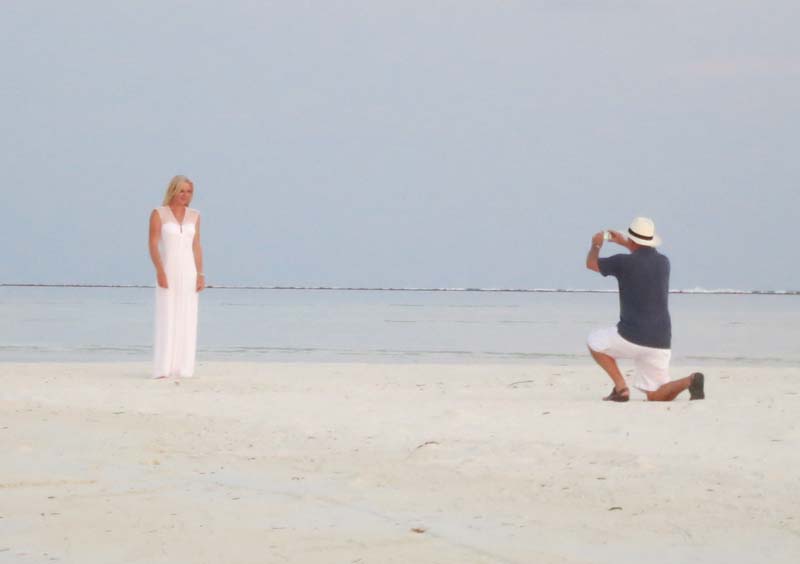 And turned the other way, Susan takes a picture of Alastair.
Lia and Will and the champagne.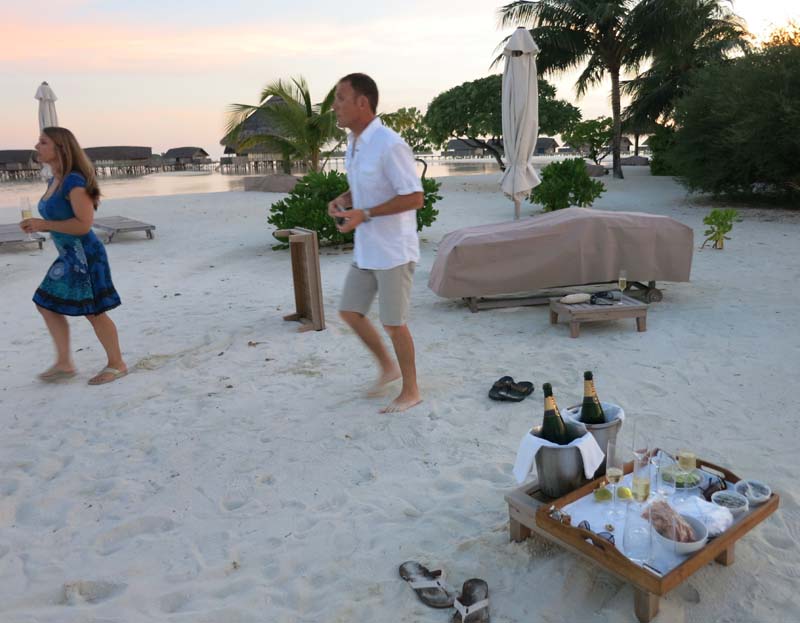 Two beautiful ladies pouring champagne on the beach.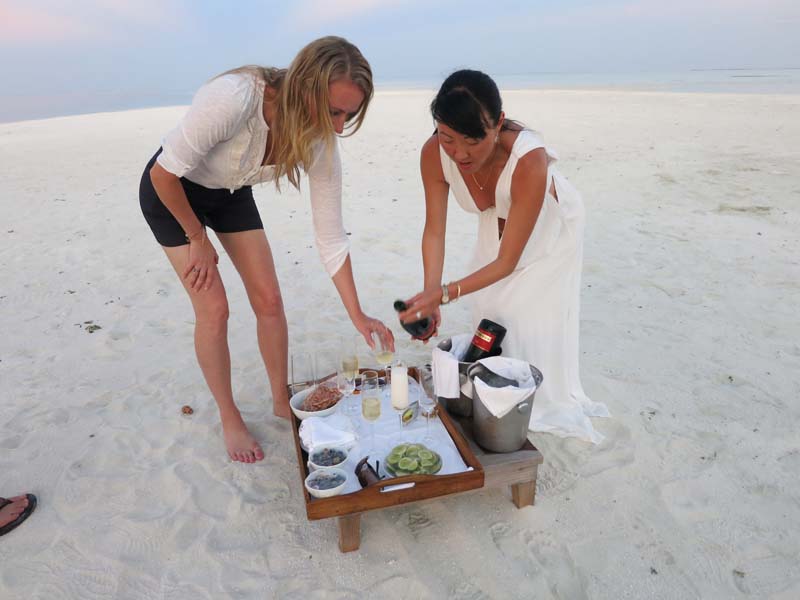 A beautiful Katherine walking on the beach with champagne at sunset at the Cocoa Island Resort in the Maldives.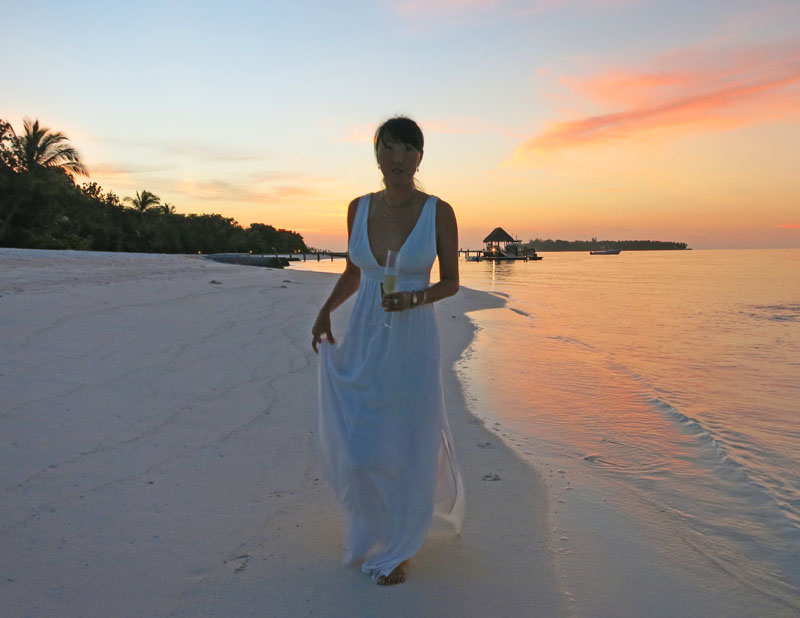 Katherine laughing and pulling up her dress so it doesn't get wet as the warm ocean water washes up around her feet.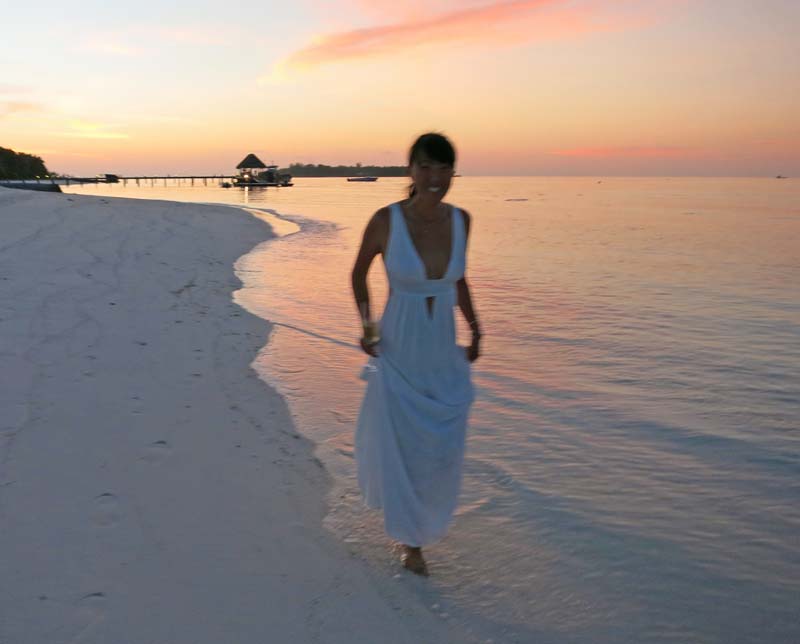 Katherine walking on the beach at sunset.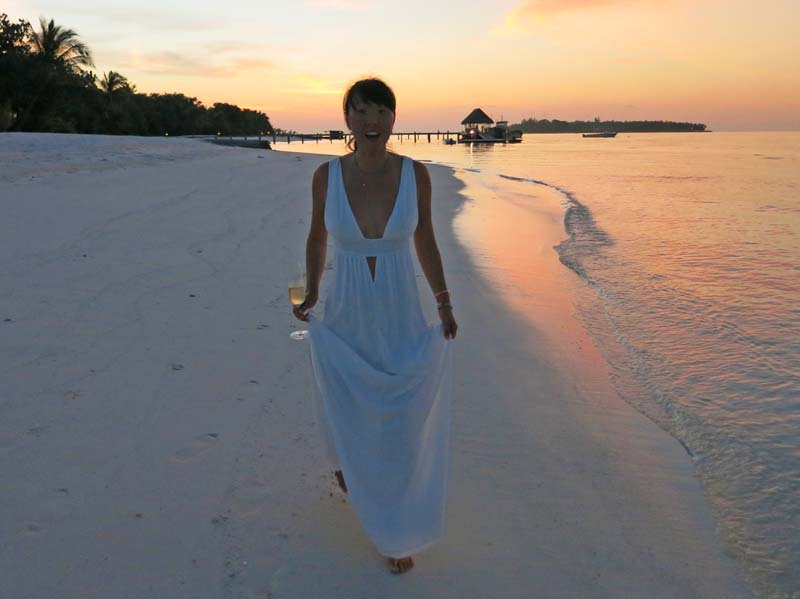 As things wind down, our group finishing the champagne.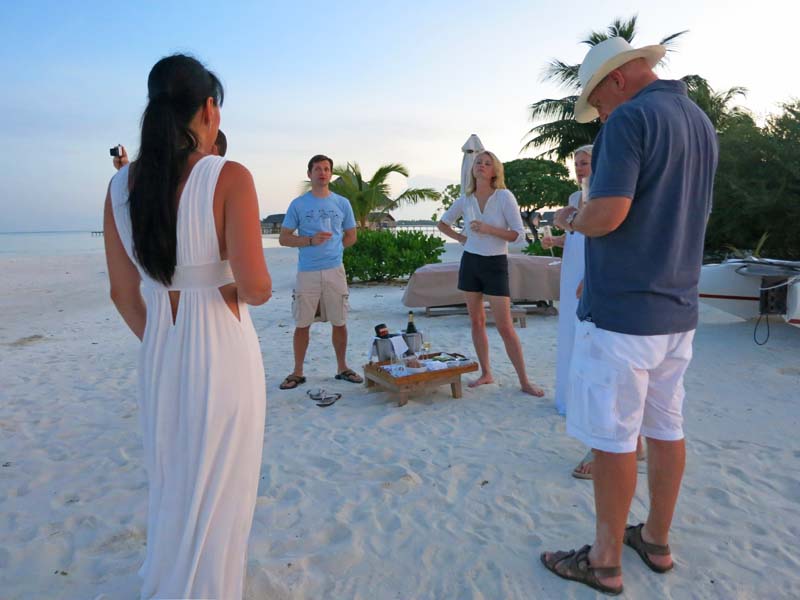 Sunset over the main docks at the Cocoa Island resort in the Maldives.
As things wind down at the end of the day, our group finishing the champagne.
Dinner on the beach, Cocoa Island Resort in the Maldives. Our "rooms" are the lit little houses across the water from this spot.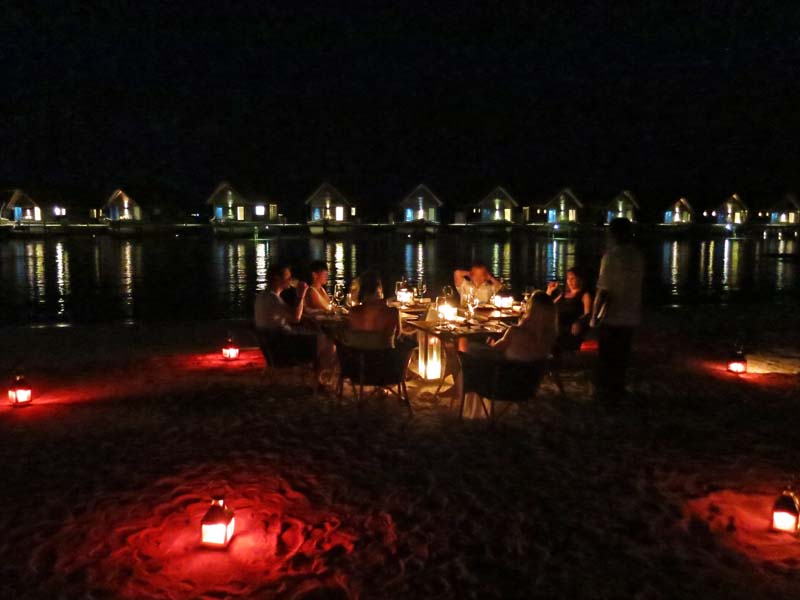 Up the next morning, yet another picture of the light blue lagoon and the dhoni boat rooms at Cocoa Island Resort in the Maldives.

Our room was dhoni loft suite 825.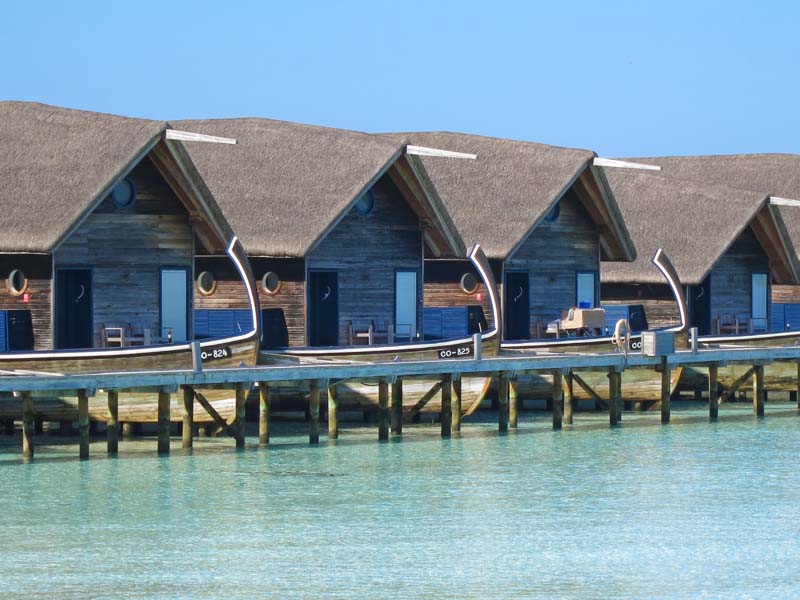 I did a bit of snorkeling at Cocoa Island, below is my snorkel and mask before I walked into the reef at exactly at this spot.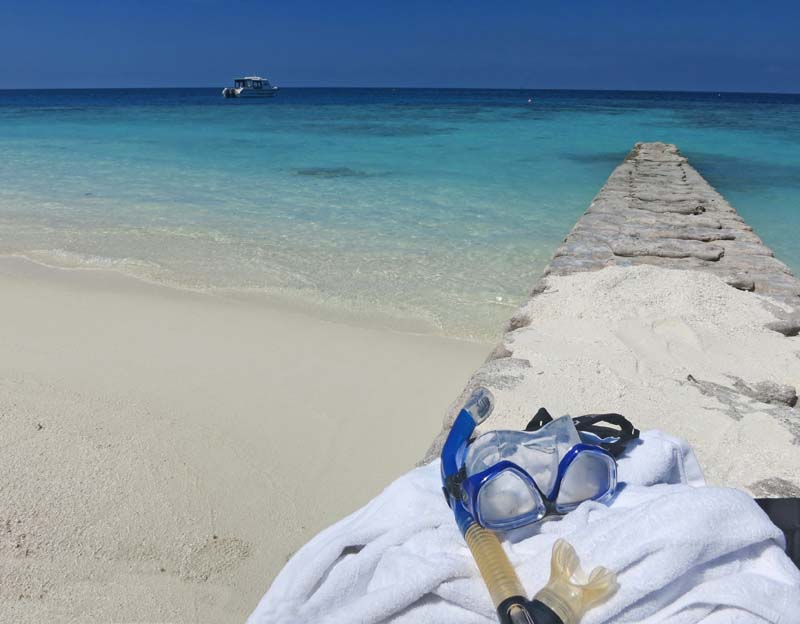 I used the inexpensive $19 WP 410 Dicapac Waterproof camera cover to cover my Canon S110 while taking some underwater pictures. The results are pretty good as long as the water is clear and the fish aren't far away.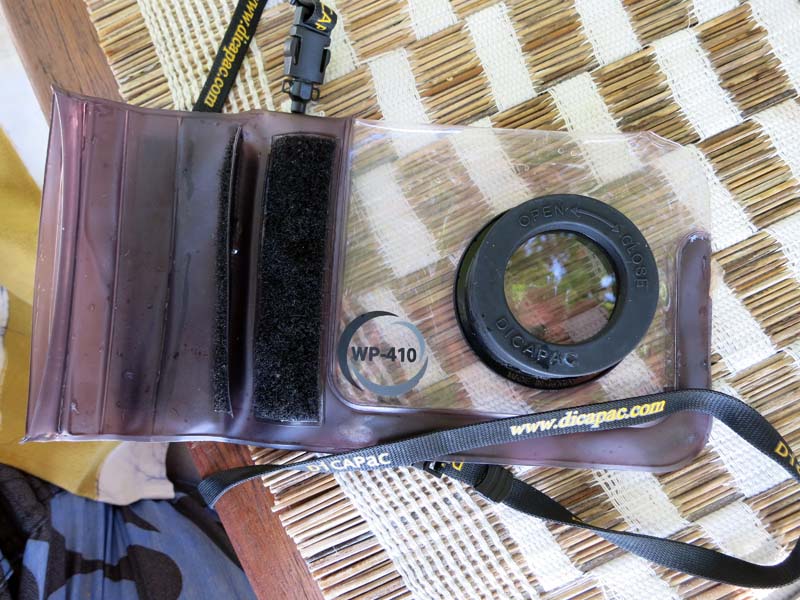 A picture underwater just off the shore at Cocoa Island Resort in the Maldives.
A picture of a Blue Surgeonfish (Acanthurus Leucosternon) in the coral reefs just a few feet from shore at Cocoa Island in the Maldives. Click any picture for a higher quality original.
Pretty blue surgeonfish I saw while snorkeling in the Maldives.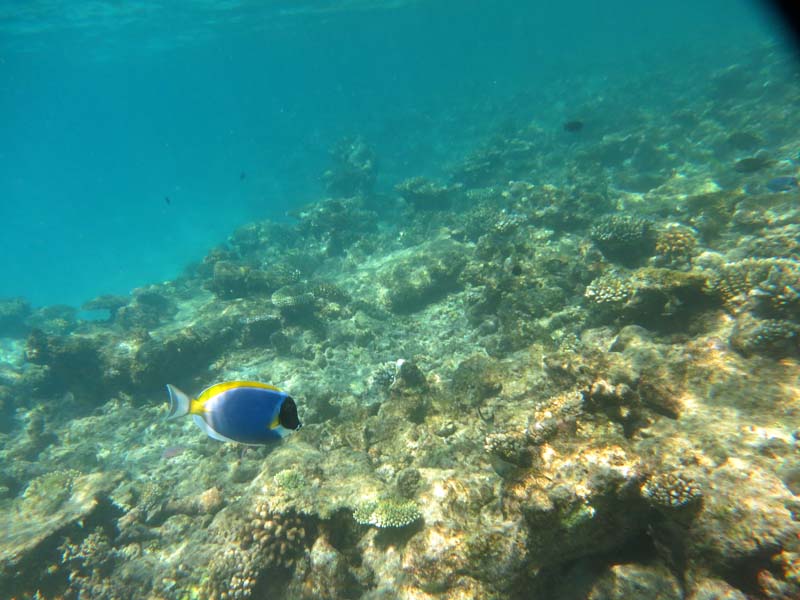 Maybe this is a blue lined surgeonfish (Acanthurus Lineatus) and maybe an Empress Angelfish (Pygoplites diacanthus)? I took this picture just a few feet from shore at Cocoa Island in the Maldives.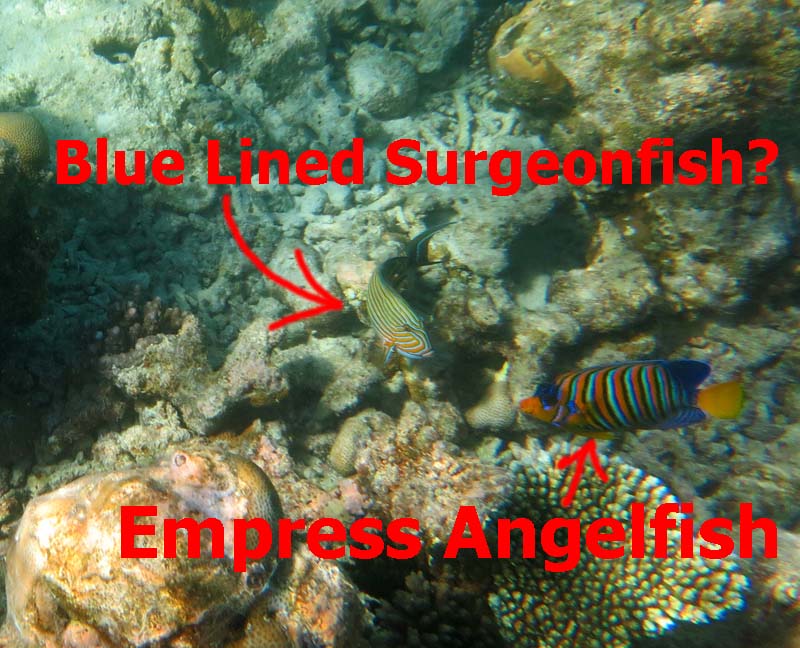 When I was snorkeling, this turtle swam by. I took the picture on a disposable Kodak underwater **FILM** camera (you could buy these in your mini bar in the hotel room!).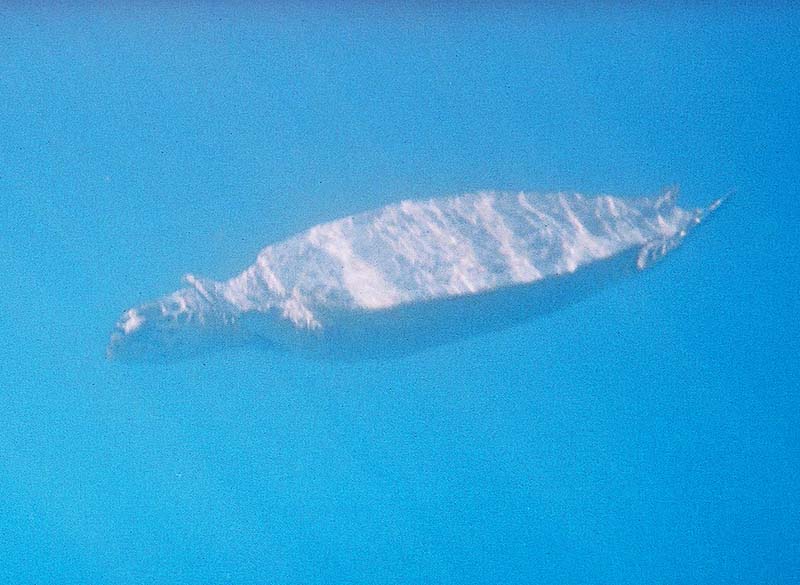 The turtle swam up to the surface, put his little bald ugly head out of the water, took a breath, and submerged and dove and swam away.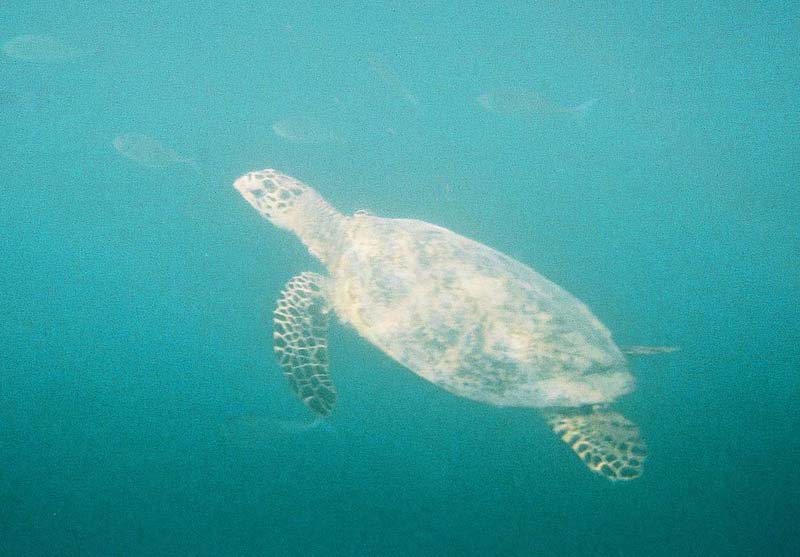 Below is a picture I took of a "Unicorn Fish". They make me laugh because they have this strangely human "dorky" look on their faces. I took the picture in 3 feet of water near Cocoa Island Resort.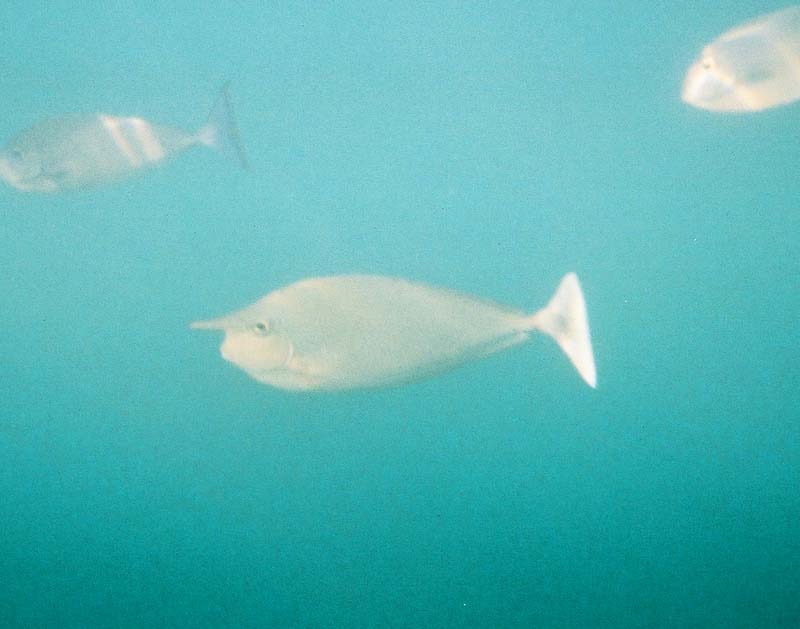 This looks like another "Lined Surgeonfish Acanthurus Lineatus" to me. In other words: "pretty fish covered in interesting pattern".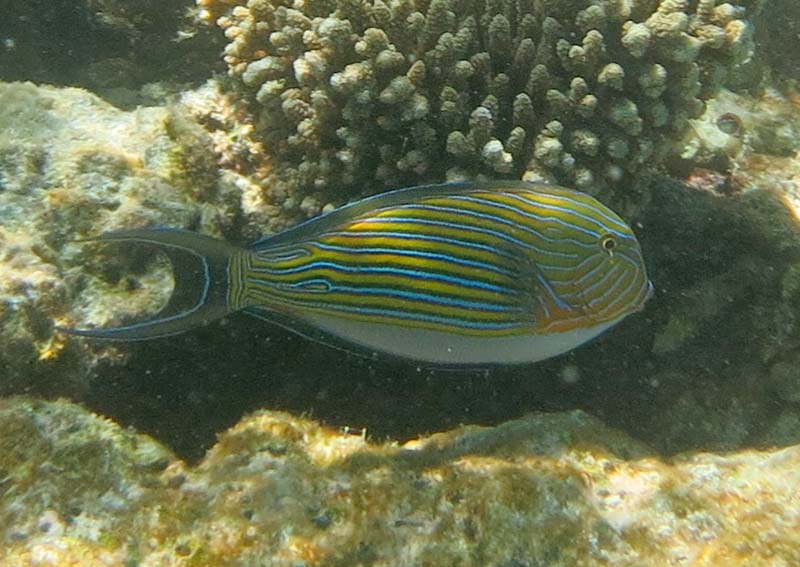 The reef extends out from the island, then drops off to oblivion about 20 yards offshore, here we are at the precipice. And there are some pretty fishies.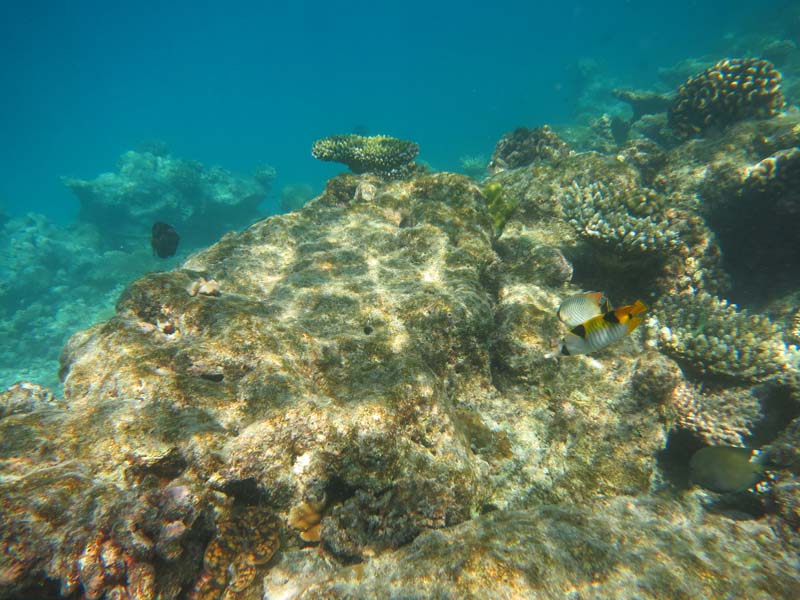 Crazy colorful fish on the reef.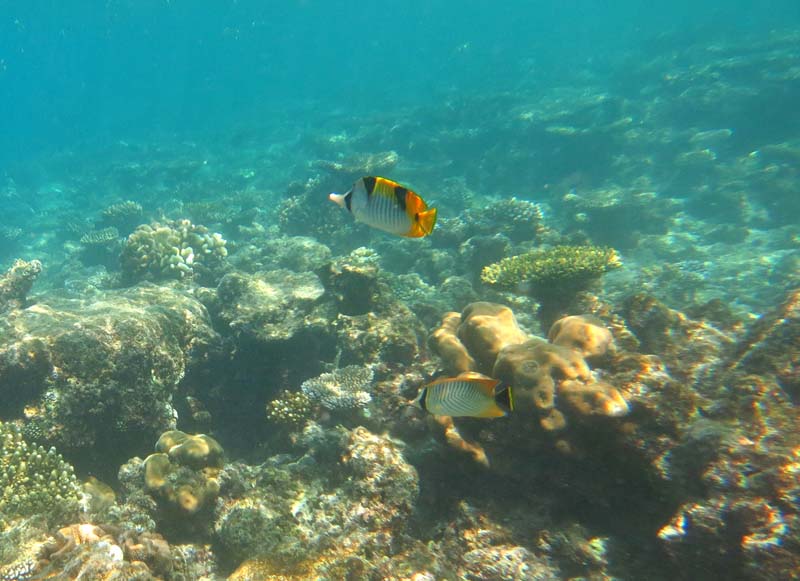 Colorful and friendly fish I saw while snorkeling in the Maldives.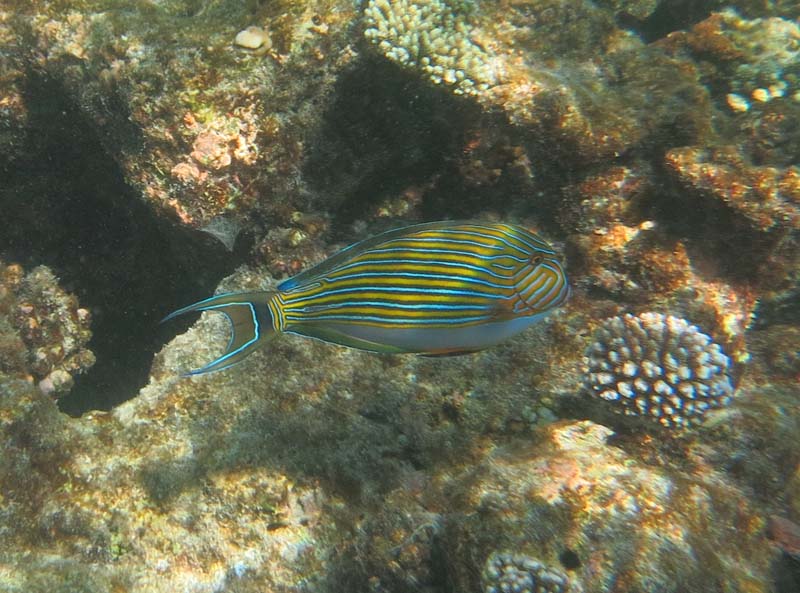 Striped colorful fish I hung out with for a couple hours.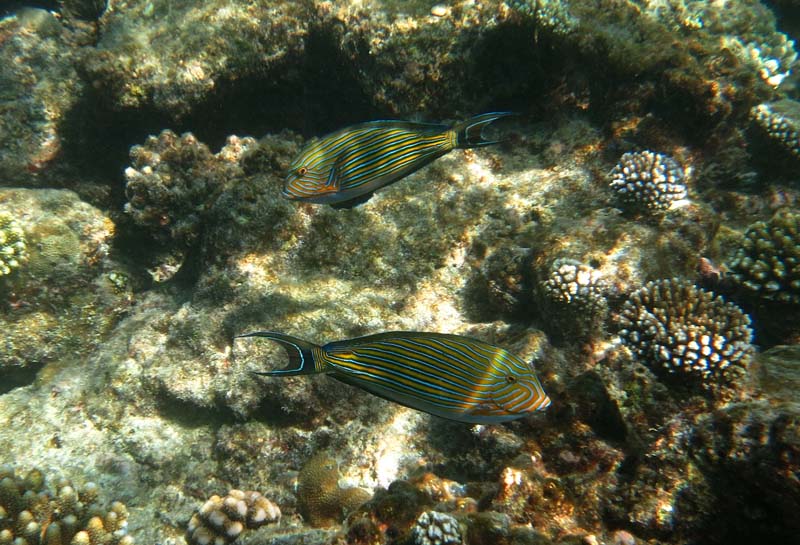 Hundreds of bright blue little fish.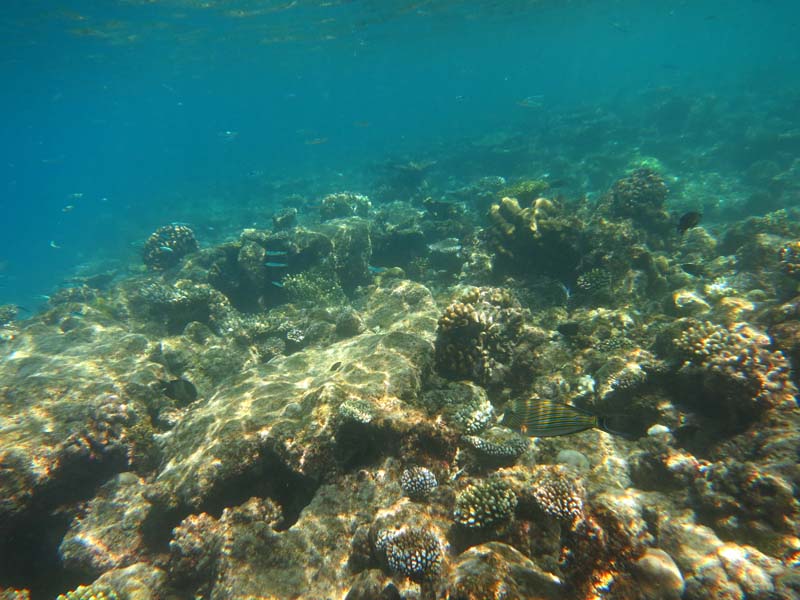 Swarms of hundreds of bright blue little fish.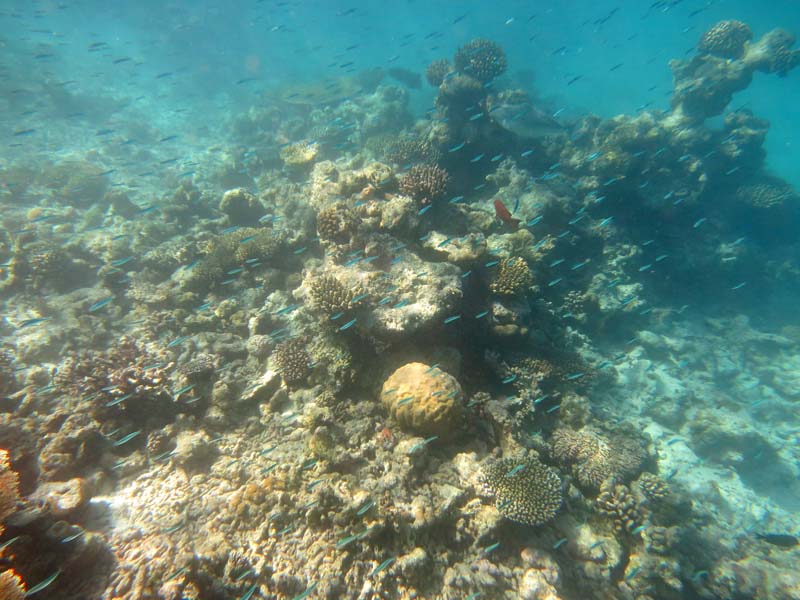 Many interesting fish and the coral is also quite interesting.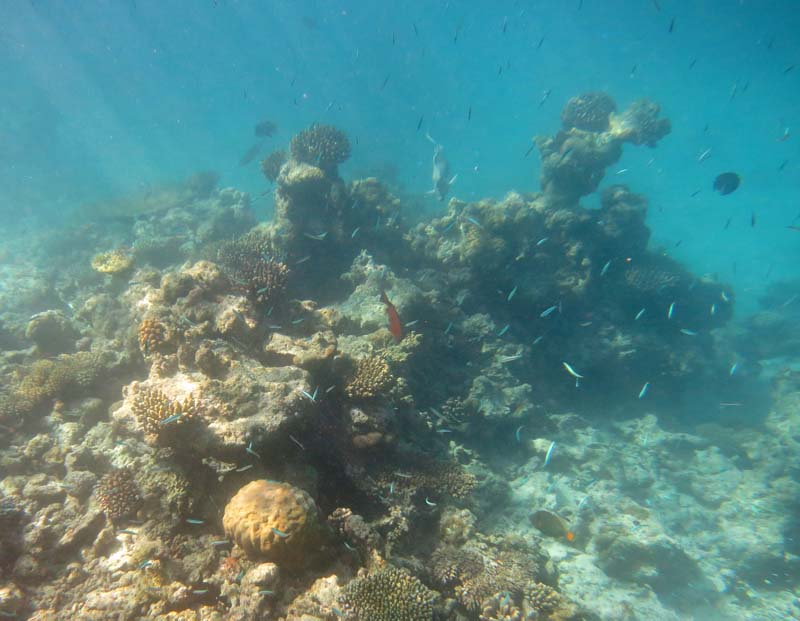 Crazy coral in the Maldives.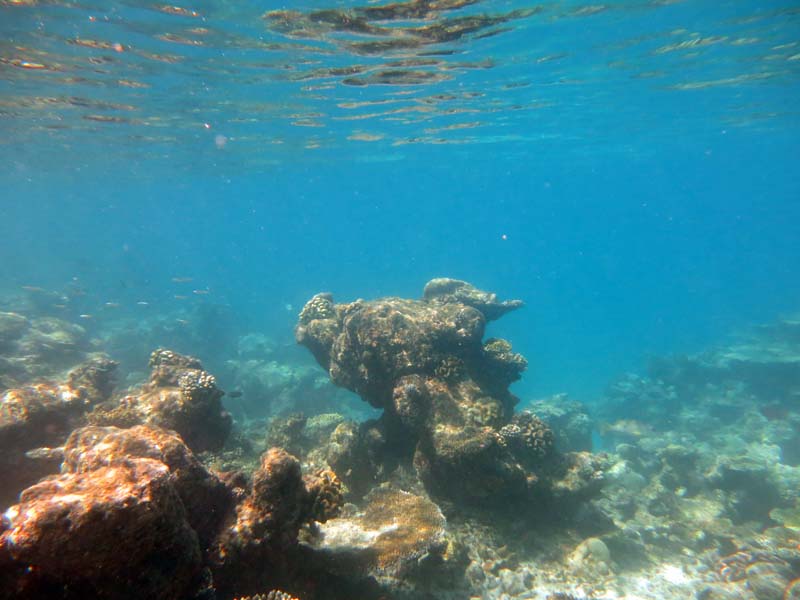 Intimidating fish with big nasty teeth. These might be Parrotfish.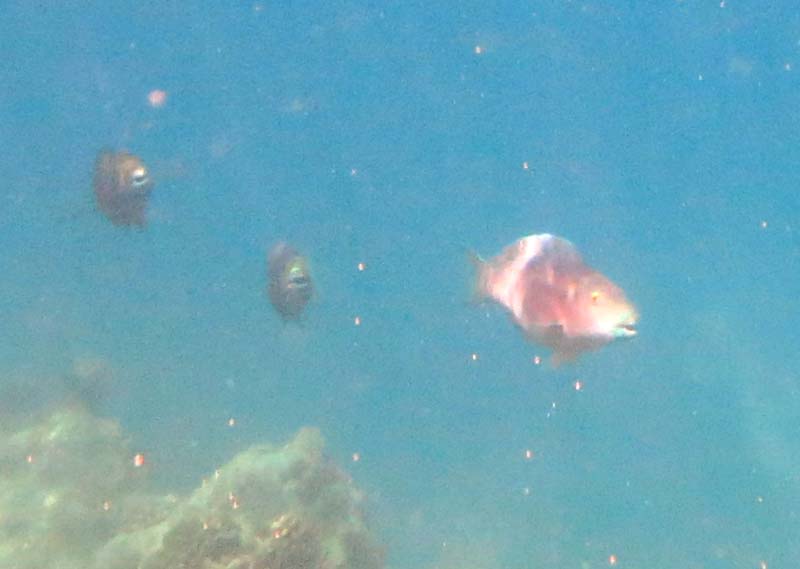 Fish in the Maldives.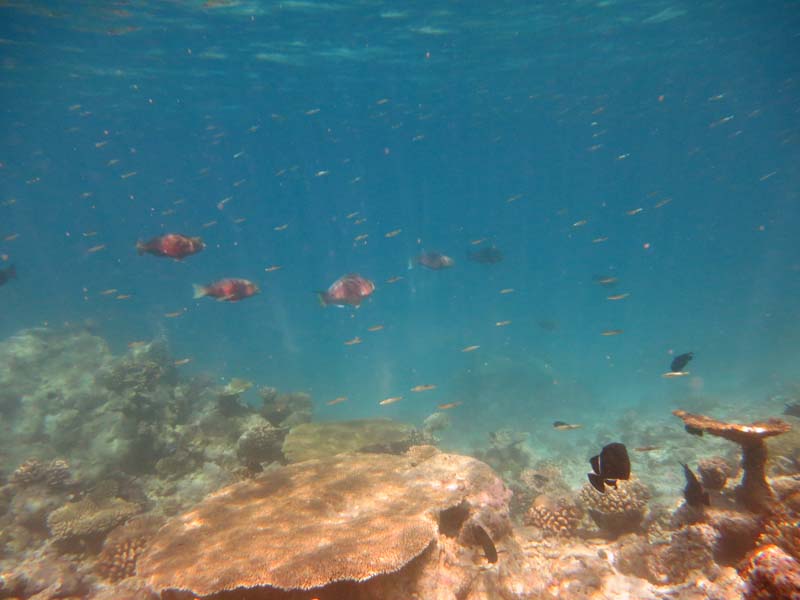 Fish hanging out with me underwater in the Maldives.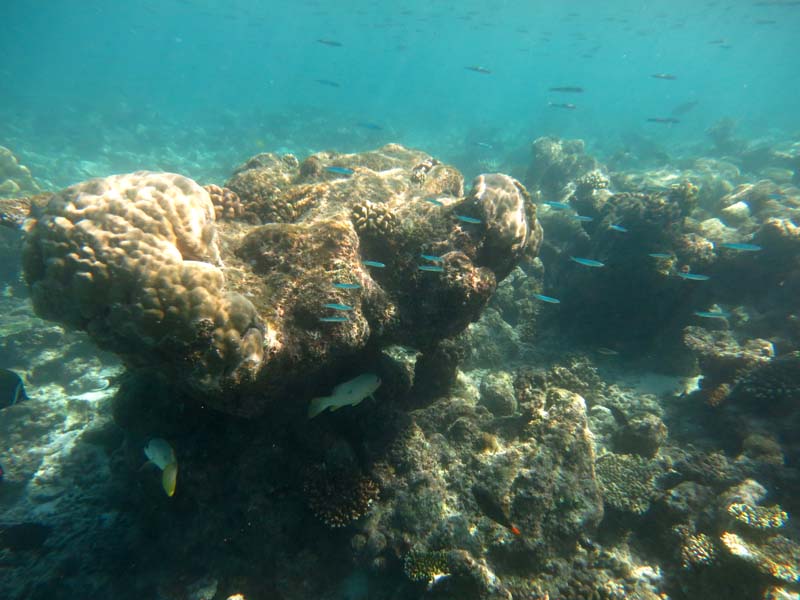 Bright colored fish, interesting coral near Cocoa Island.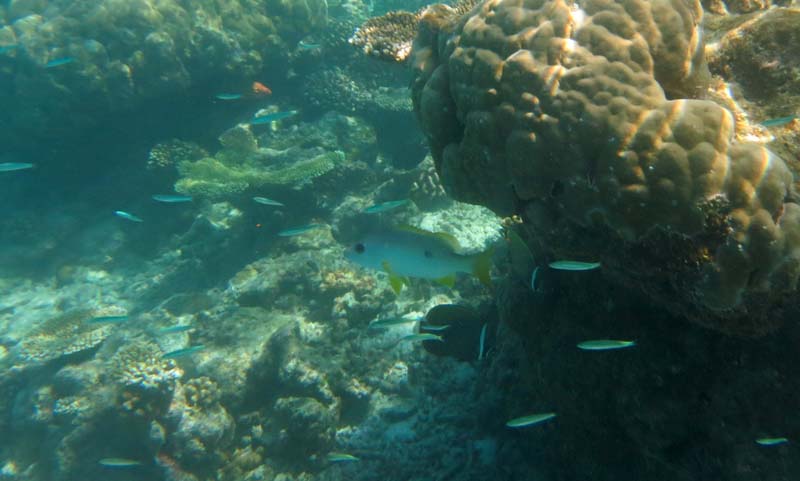 These might be Clarks Anemone fish (also known as "Yellowtail Clownfish" or Amphiprion Clarkii that I saw while snorkeling.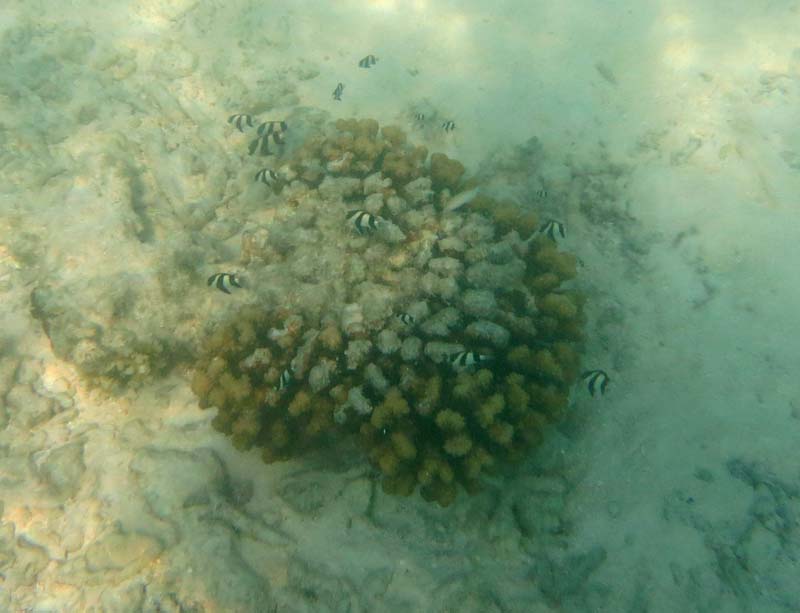 A big bright blue fish I could not identify. Could be a man eater. (KIDDING!)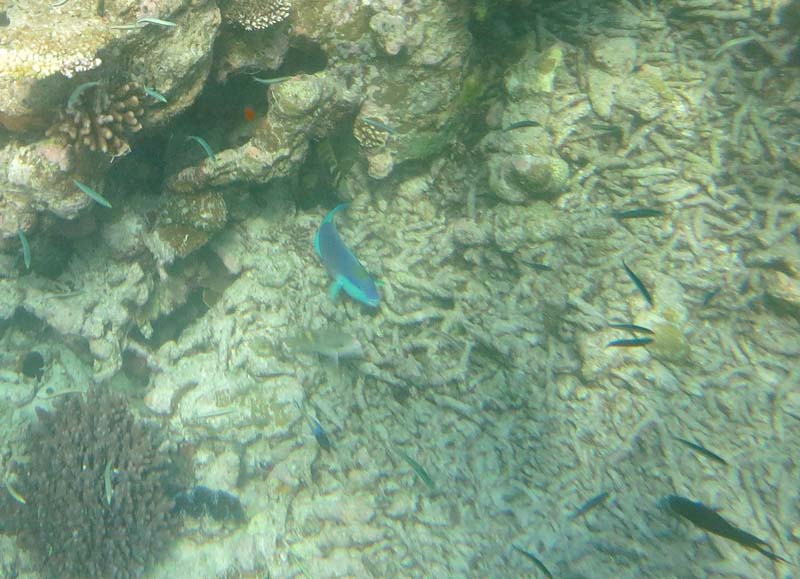 My waterproof camera housing.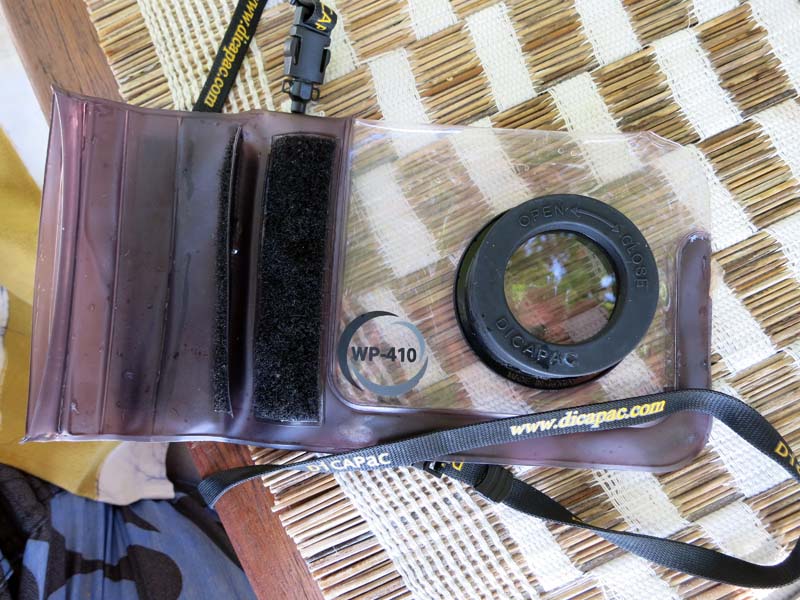 I took a break from a day of snorkeling to have lunch, found our group out finishing lunch by the pool.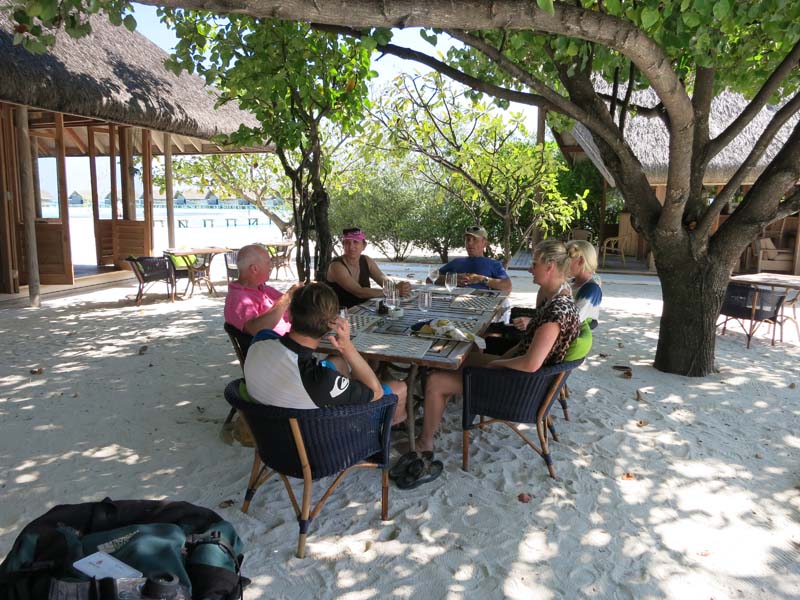 The unicorn fish have this big goofy expression that looks like a sad old slightly dim man. I'm not sure why, but they amuse me.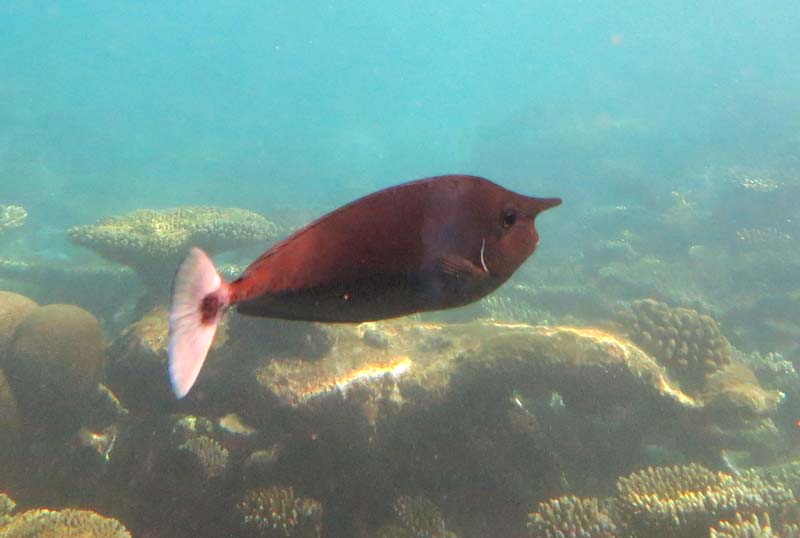 A good side shot of the Unicorn Fish.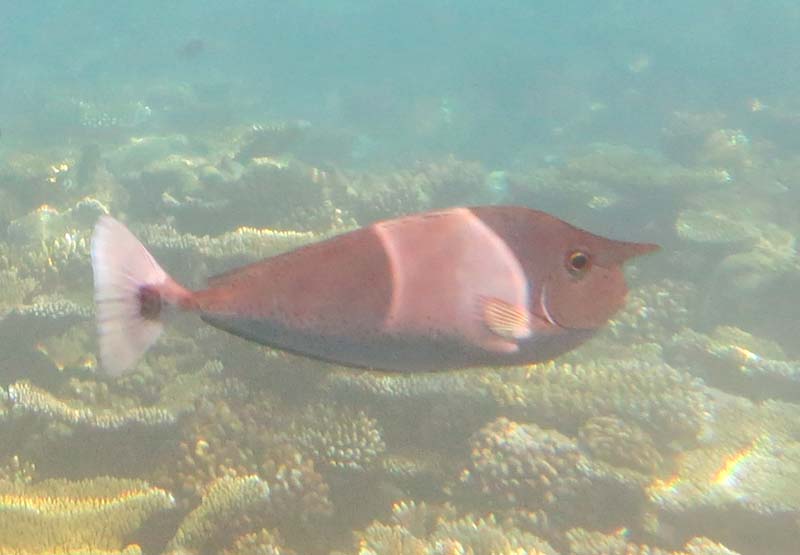 Pretty vertically striped mystery fish in the Maldives.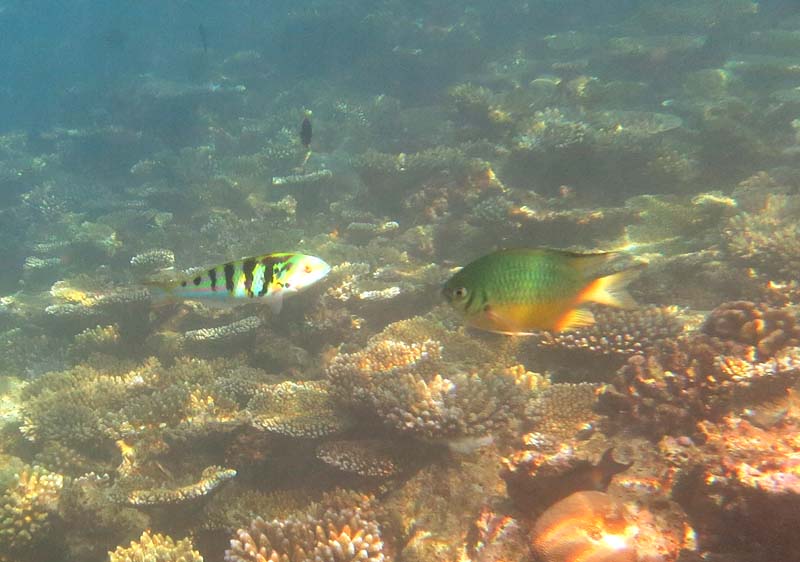 Lots of brightly colored little fish, kind of red and yellow in color.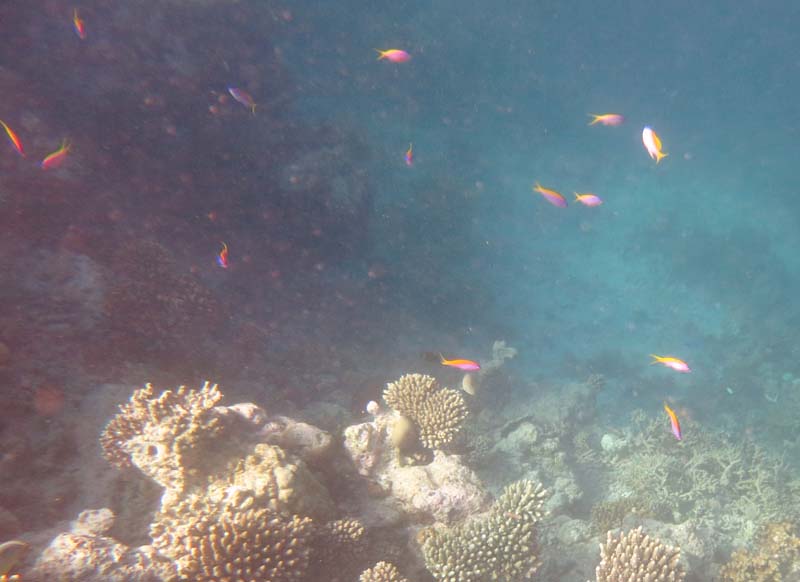 This is near the big drop off, you can see the deep blue water go very deep on the left of the picture.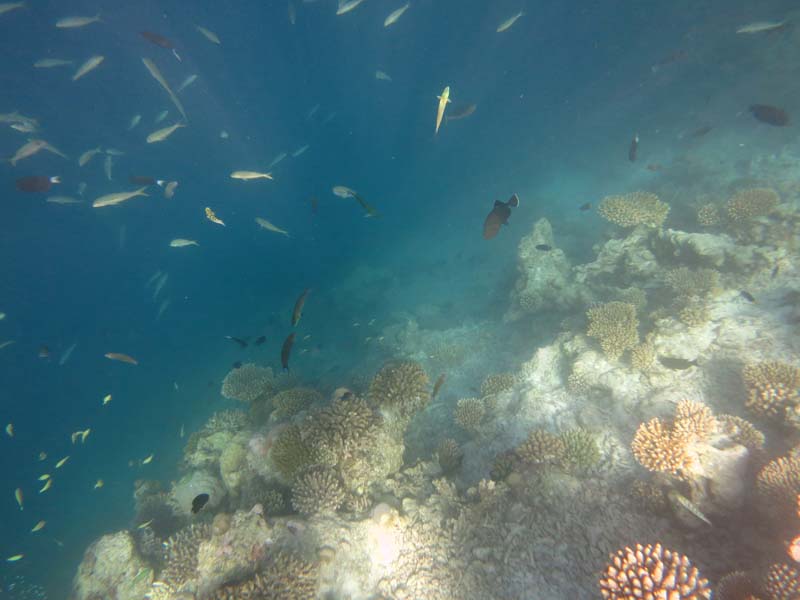 Hordes of hundreds of crazy fish seen while snorkeling in the Maldives.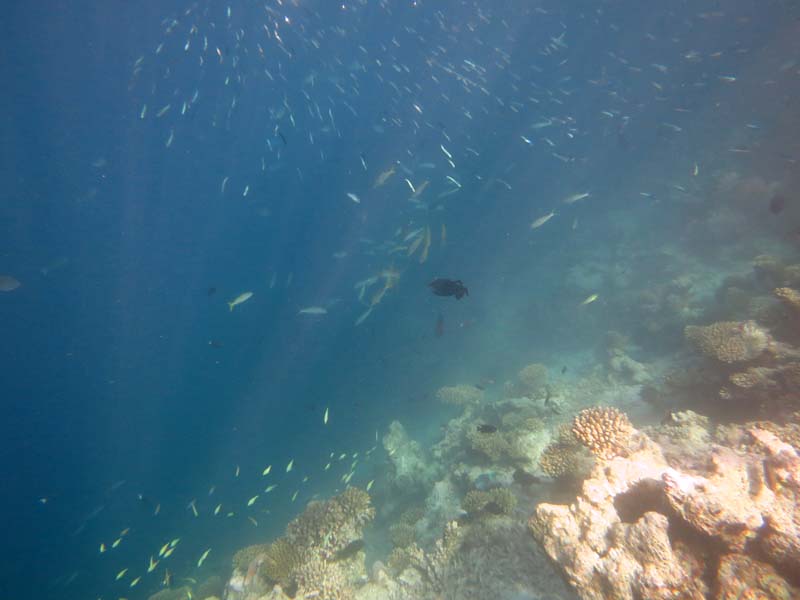 Colorful fish of various kinds hanging out in the coral near Cocoa Island resort.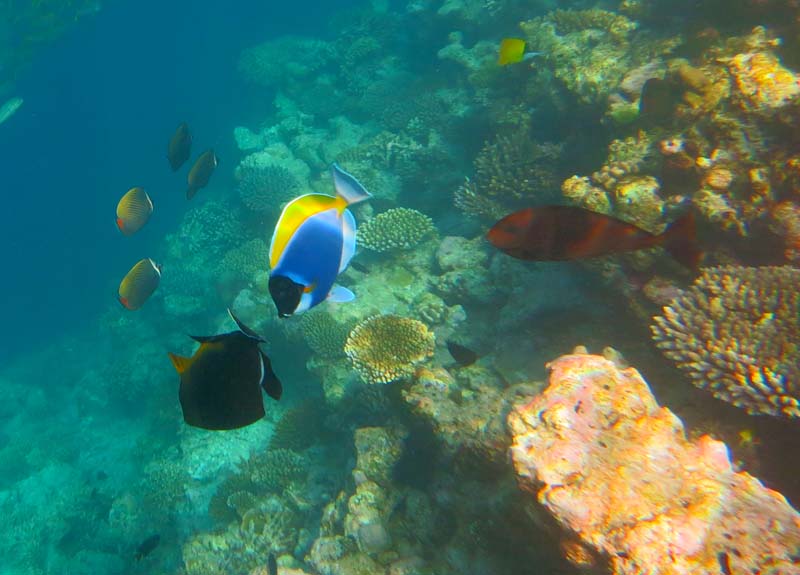 Big mean teeth on this fish in the Maldives, I wanted a closer picture but I'm afraid. :-) Do you know what this is? Might be a big old trigger fish that bites like a dog.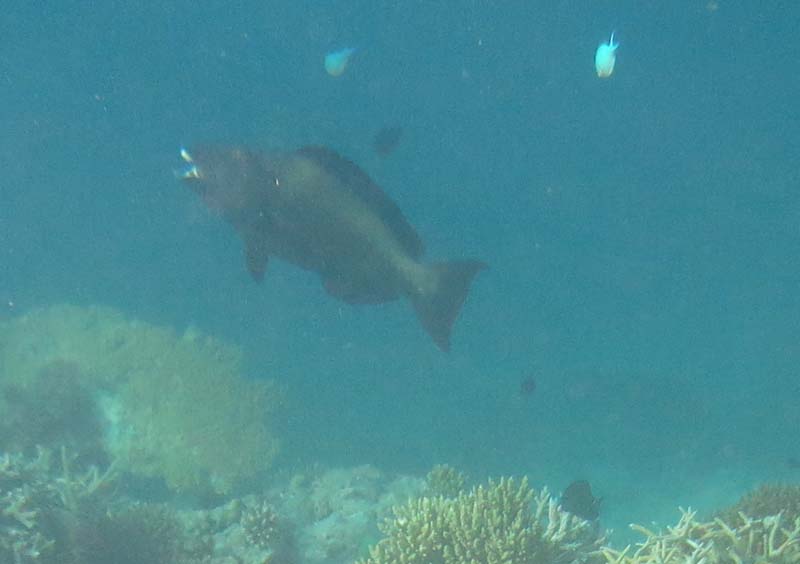 Tiny blue vertically striped friendly fish.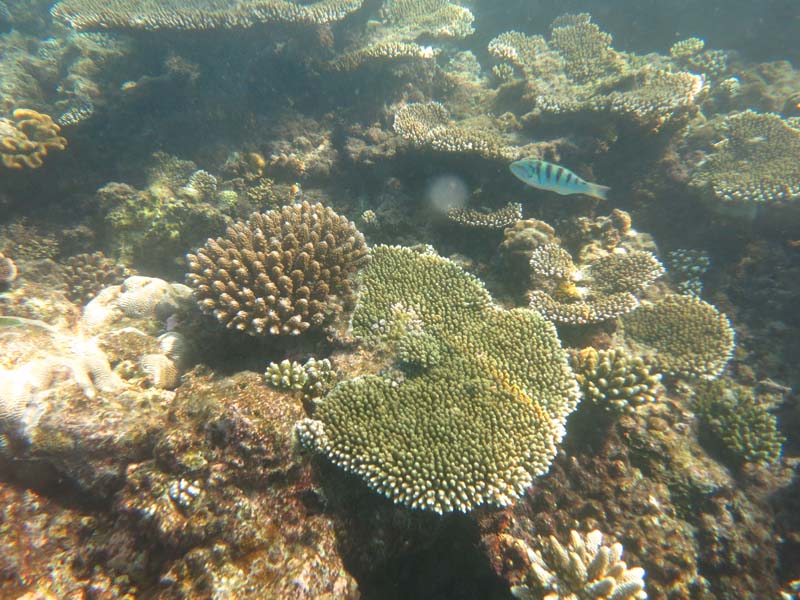 Bright colored blue orange black fish. Very pretty, I wish I knew what they were called.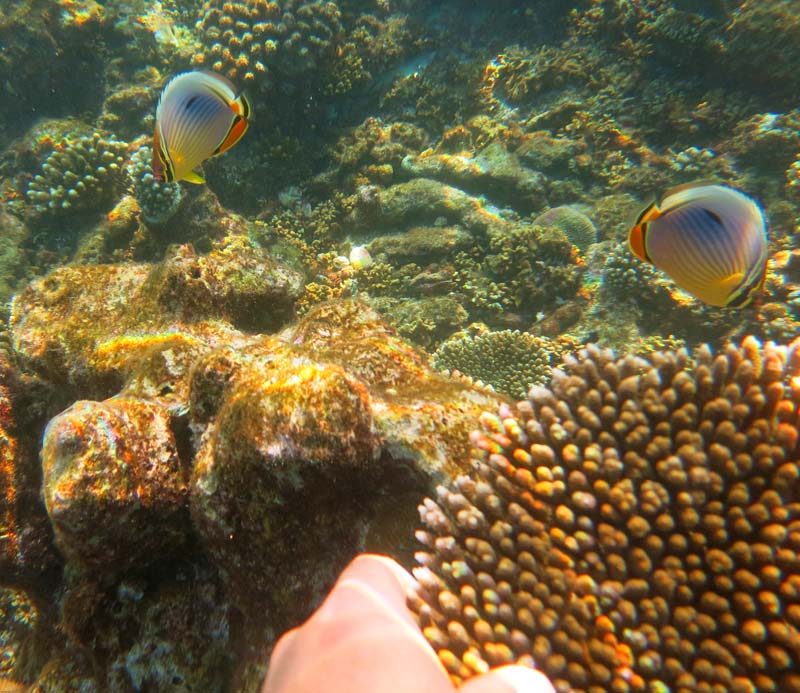 A beautiful spot of seat under shade on Cocoa Island Resort - these were positioned at various places around the island.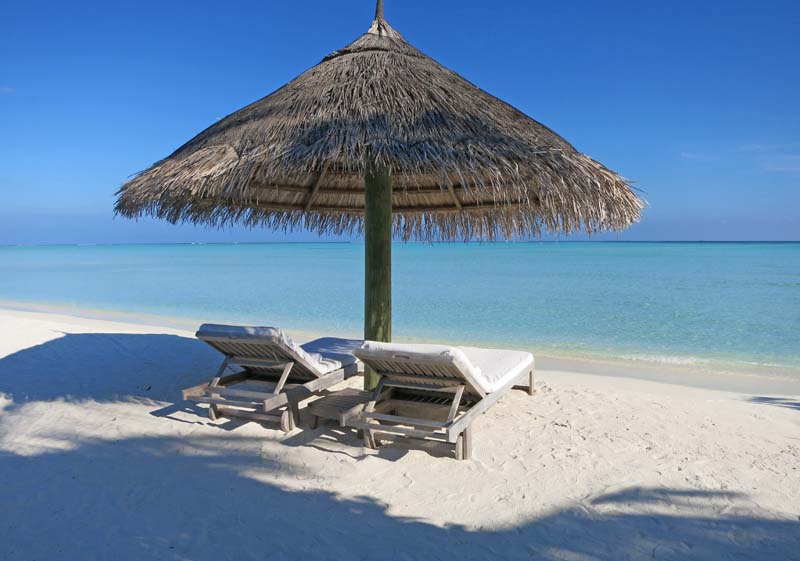 This area at Cocoa Island has DVDs and books you can borrow during your stay.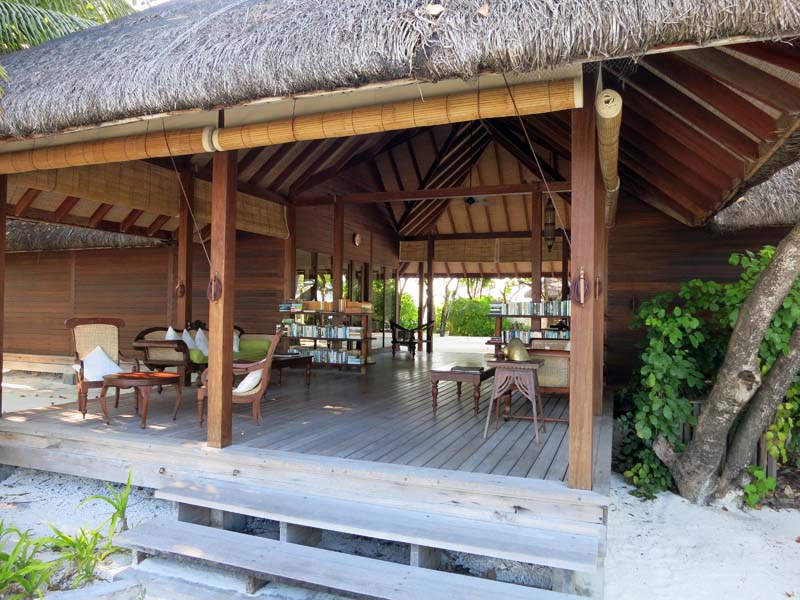 The picture below is the hydro therapy pool in Cocoa Island. This is basically another fresh water shallow pool with many different little "stations" with jets of water, like a huge Jacuzzi tub where you could turn on each "station" individually. It was goofy and kind of fun to play around in for an hour.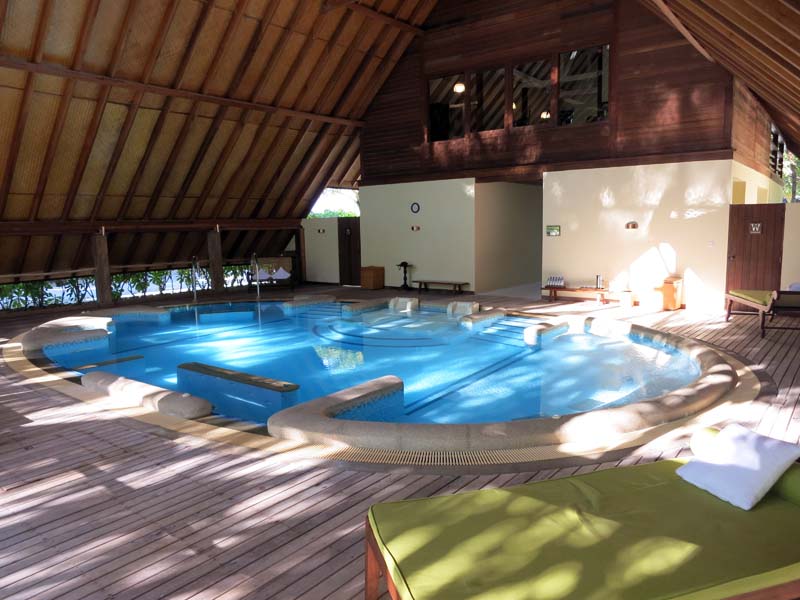 At the front of our dhoni loft there was a ladle and container with some fresh water - we figured out it was for washing sand off your feet before you walked inside.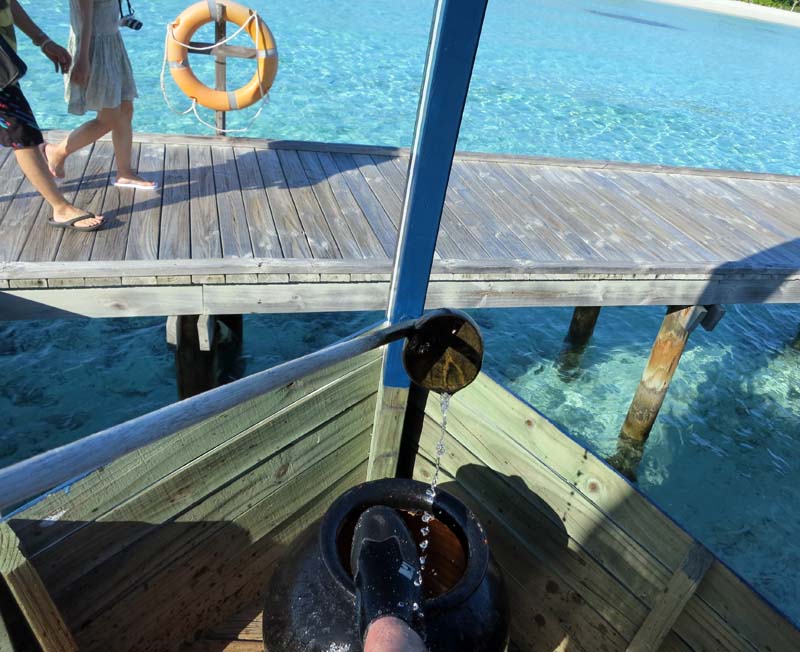 The ladle and foot washing station.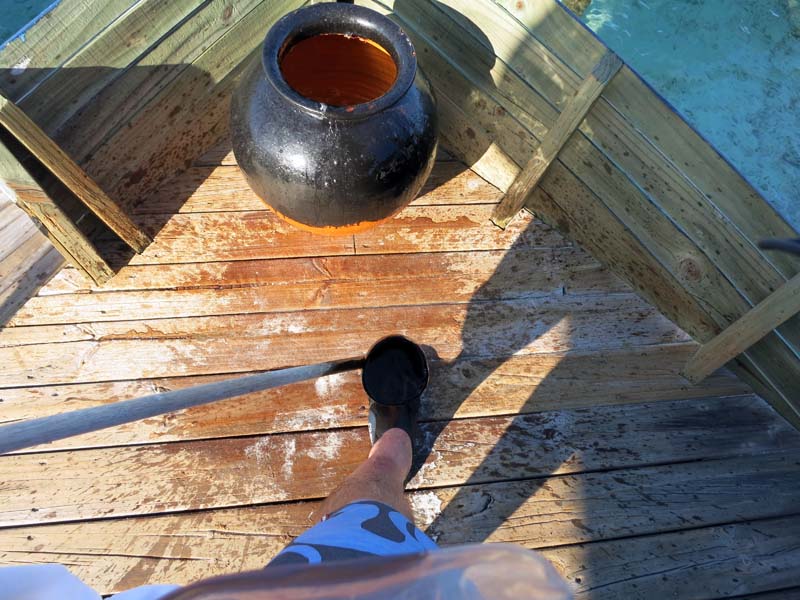 On the last evening we stayed on Cocoa Island, we went out for a dolphin watching sunset cruise, here is Katherine climbing up to the roof of the "dive boat".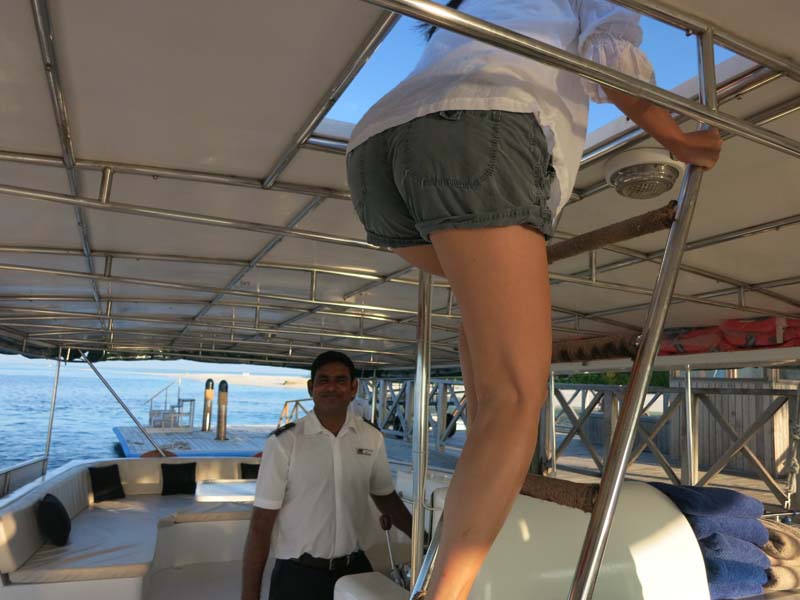 The roof of the "dive boat" is covered in pads and very comfortable to hang out on.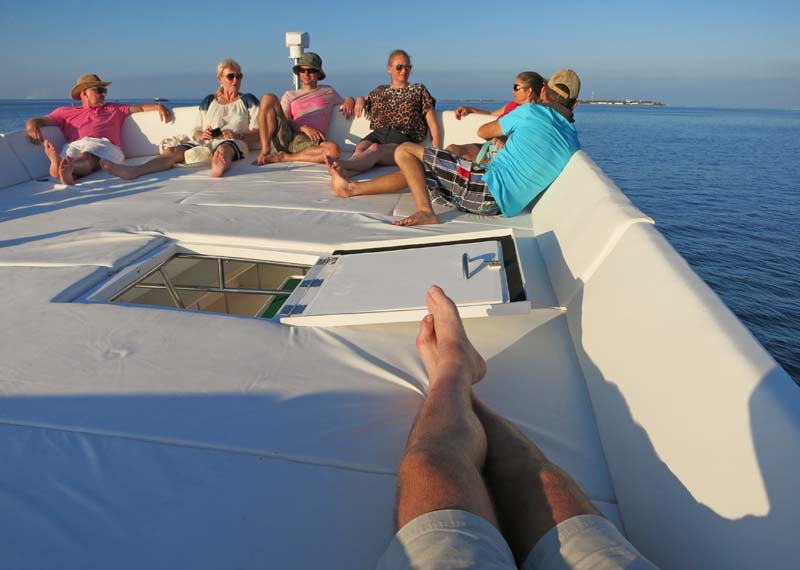 Katherine with her long black hair lounging on the top of the dive boat, about near sunset on a dolphin watching cruise in the Maldives.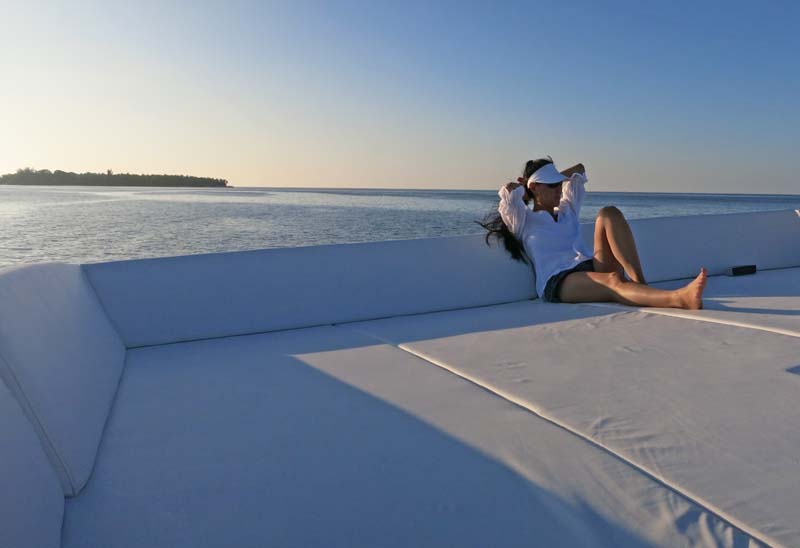 Champagne on the dolphin watching cruise. A toast to "the good life" which includes a trip to the Maldives once in your life. :-)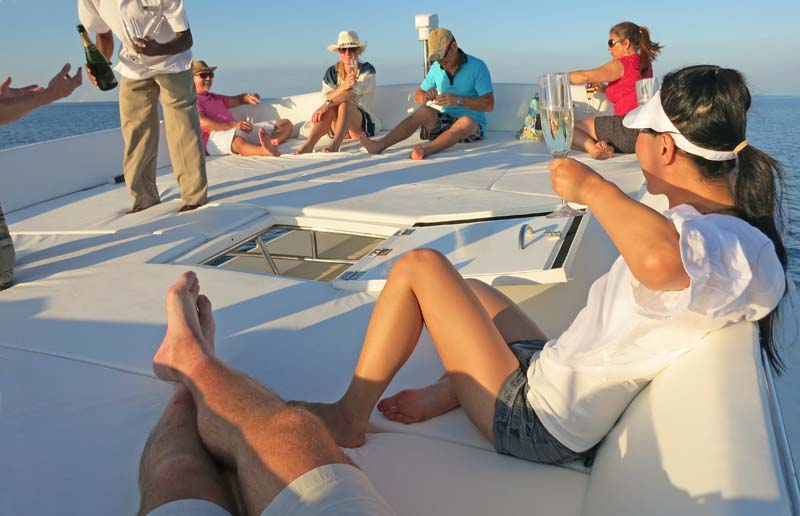 Lia at sunset watching dolphins.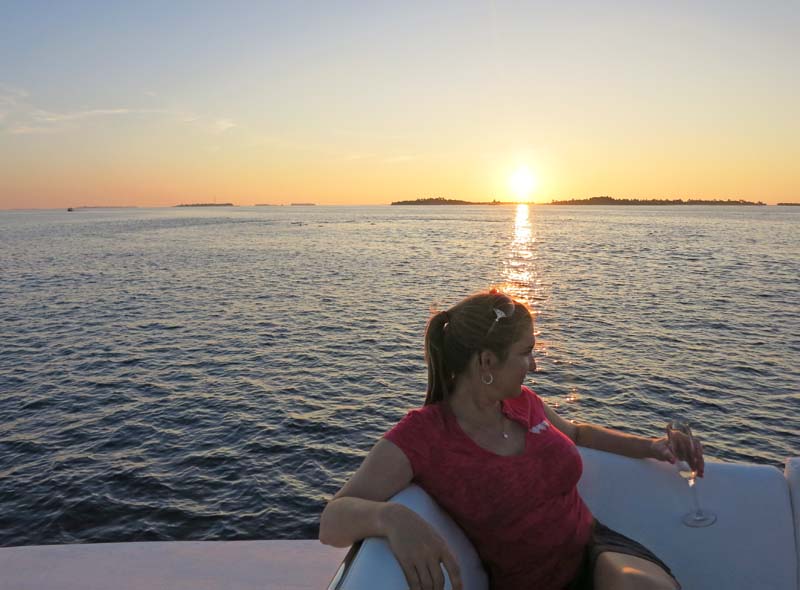 In the picture below you can see a pod of dolphins.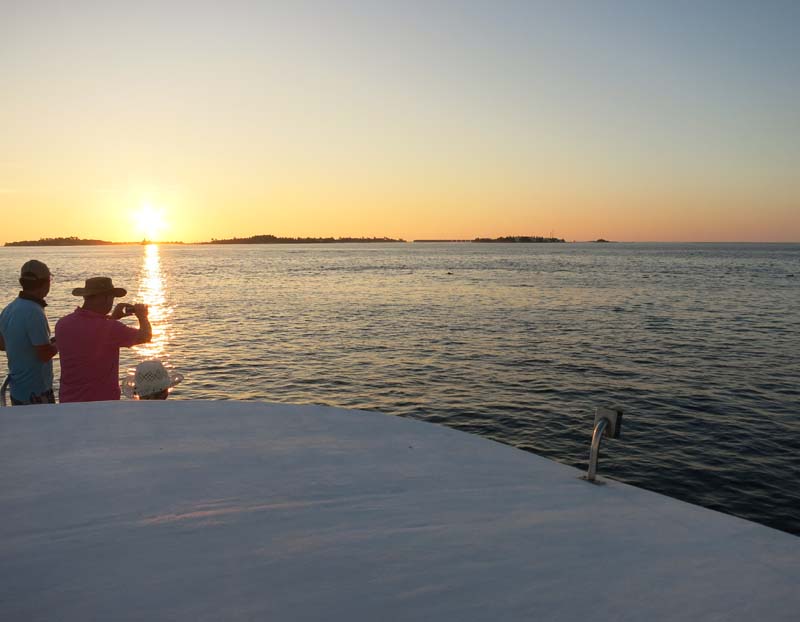 On the last day (last sunset) we were in the Maldives, we took a one hour boat ride to watch the dolphins play. Below is a 6 minute movie of dolphins jumping out of the water. Click here for a very high quality QuickTime Version (probably will not play on a Windows computer)!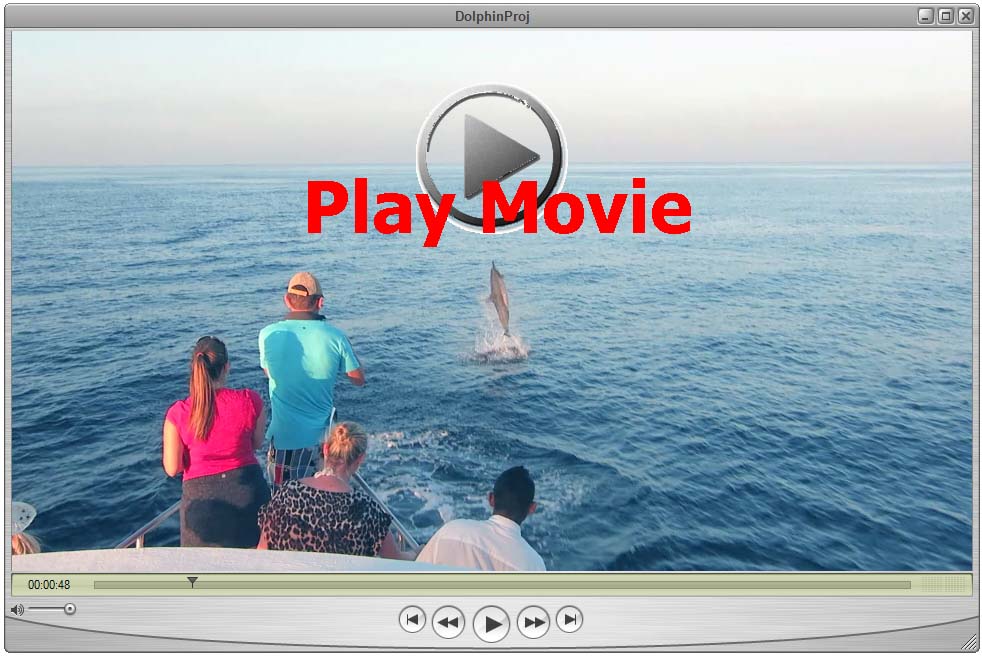 Below is a dolphin jumping out of the ocean in the Maldives at sunset.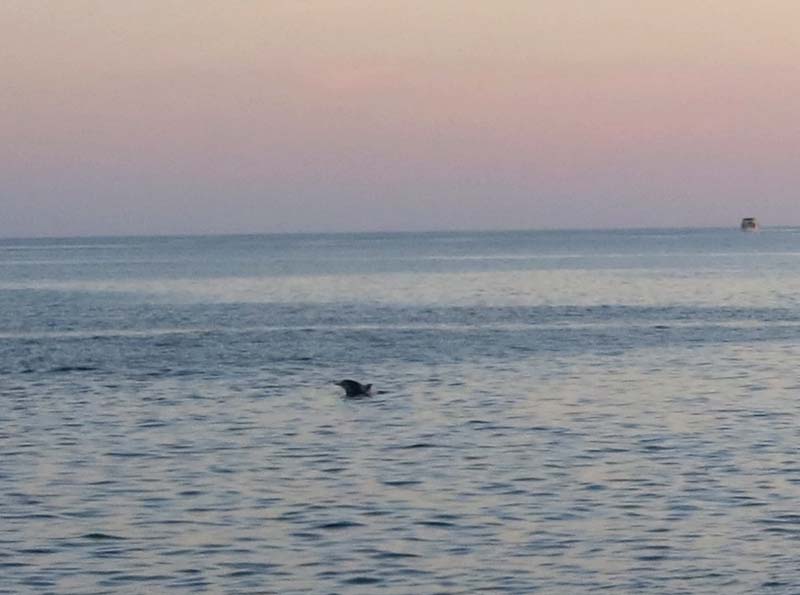 Katherine standing up watching dolphins in the Maldives.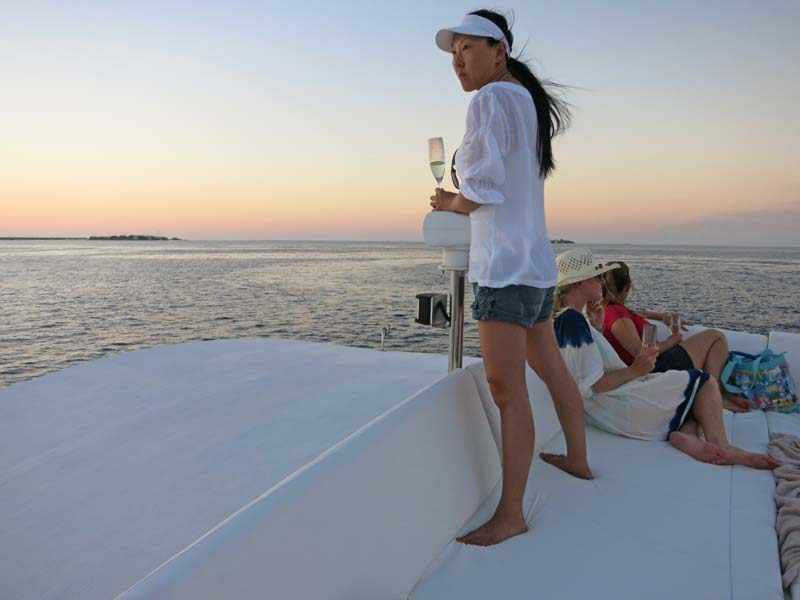 As the sun sets, we saw this bat flying over the ocean, it was probably a mile from shore in the Maldives.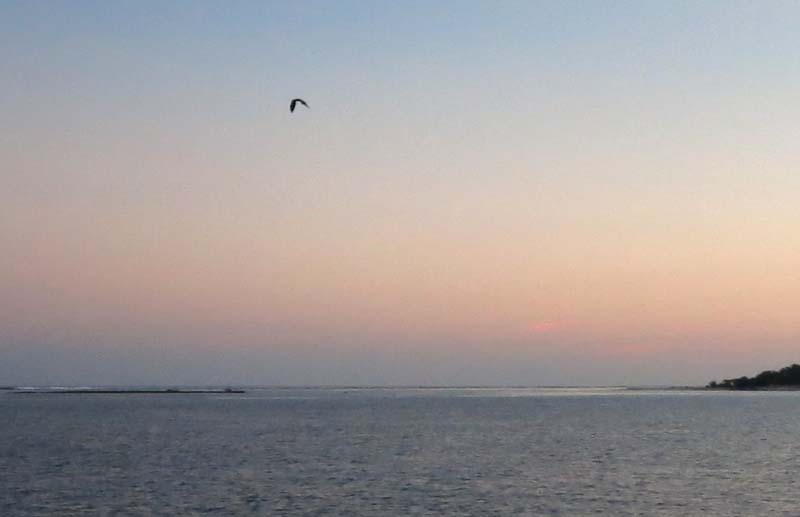 The menu on our final night.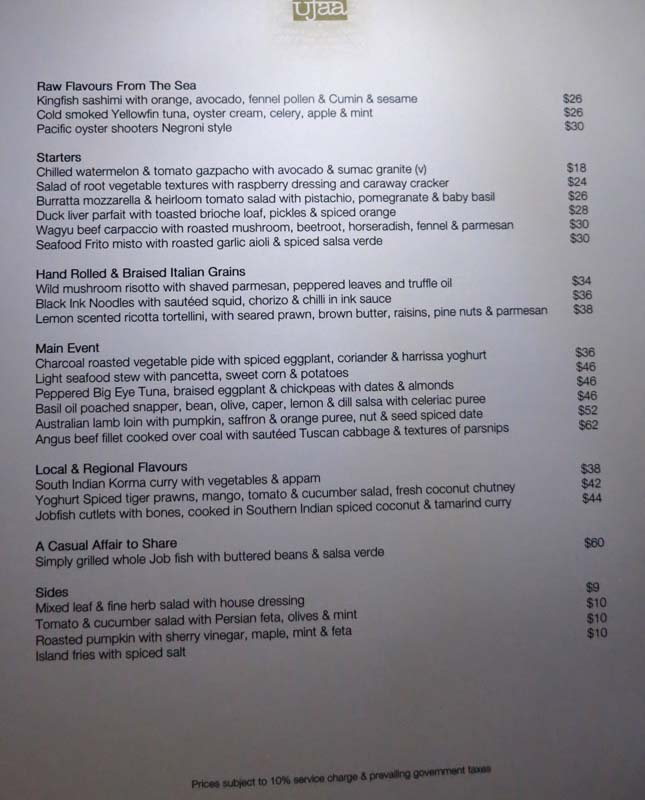 Final dinner on the beach at Cocoa Island Resort. The lights in the background are our dhoni loft rooms.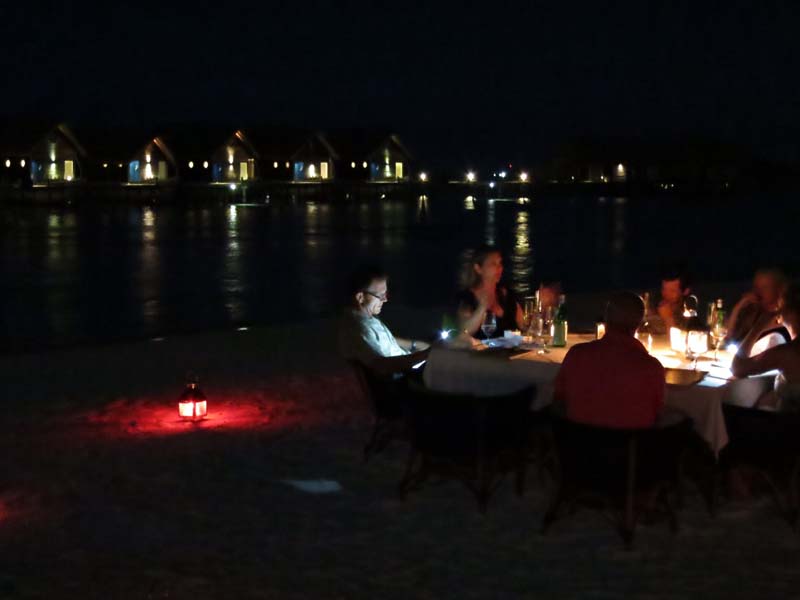 Recharging all our electronics for the trip home - iPads, laptops, shaving razor, GPS, etc.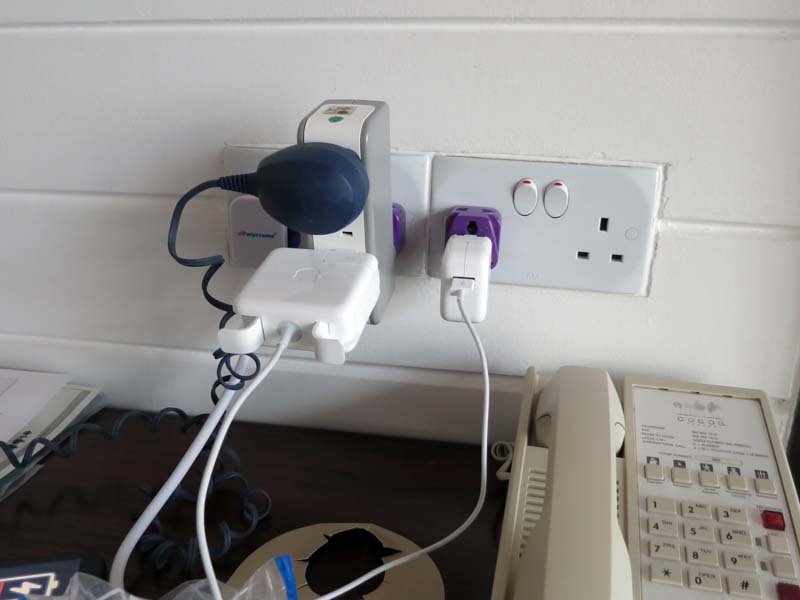 The final bill was about $13,400 for 7 days stay at Cocoa Island Resort in the Maldives. This includes all food and most day excursions, but did not include the rental of the Wave Runner from Illi and doesn't include our plane tickets. I like how there is a "bed tax" for $16 in the Maldives separate from "8% GST". Amusing factoid: the Maldives has zero income tax, no sales tax, and no property tax and no capital-gains tax! The Maldives tax code is "considered be the simplest tax code in the world"! But at least they separated out the tax on beds.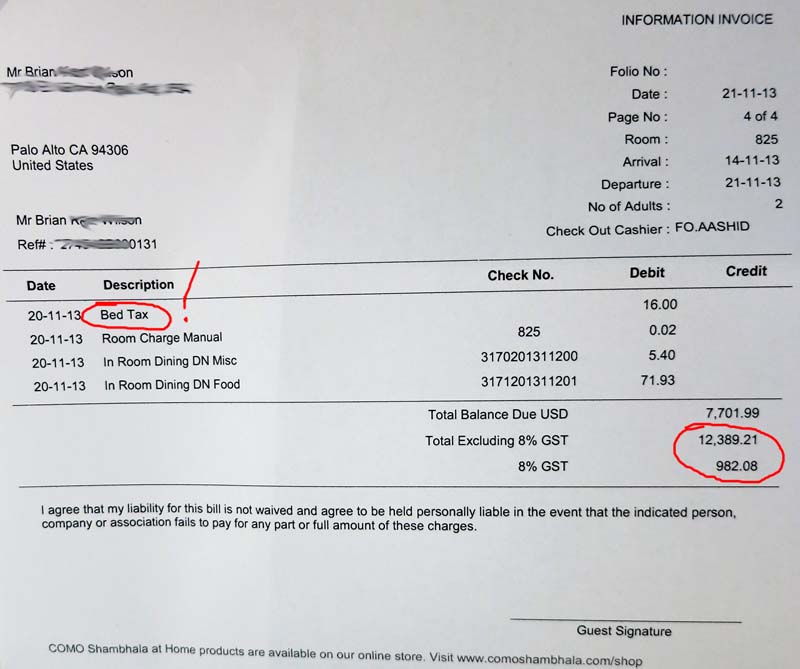 As Katherine and I start to leave, we see Lia floating behind our room.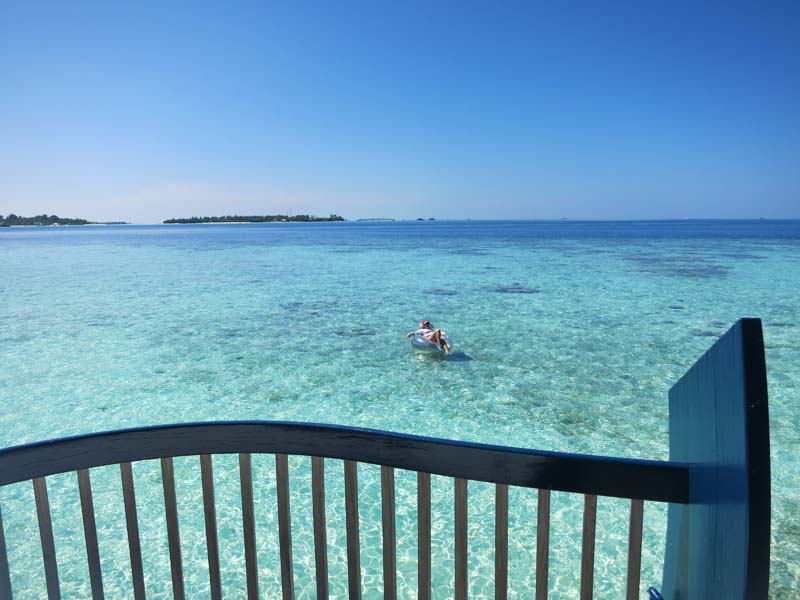 A dhoni boat steams by.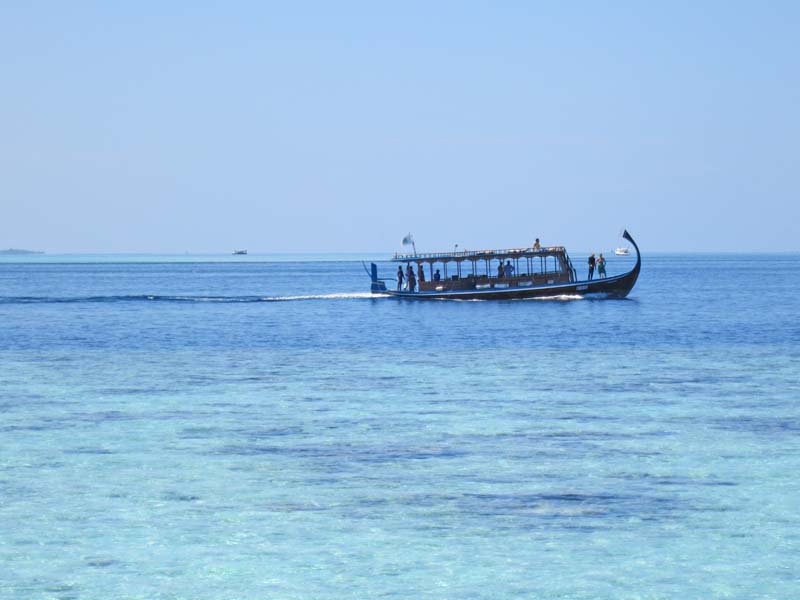 The porters come to collect our luggage. We begin our trek back to our half of the world.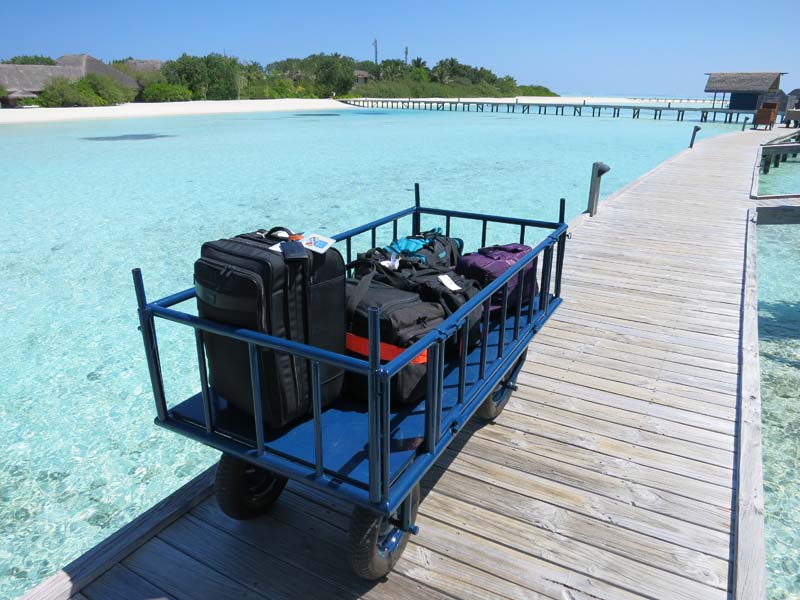 We notice as we leave thatWill and Lia left a mark on Cocoa Island in the sand, Katherine draws one for us.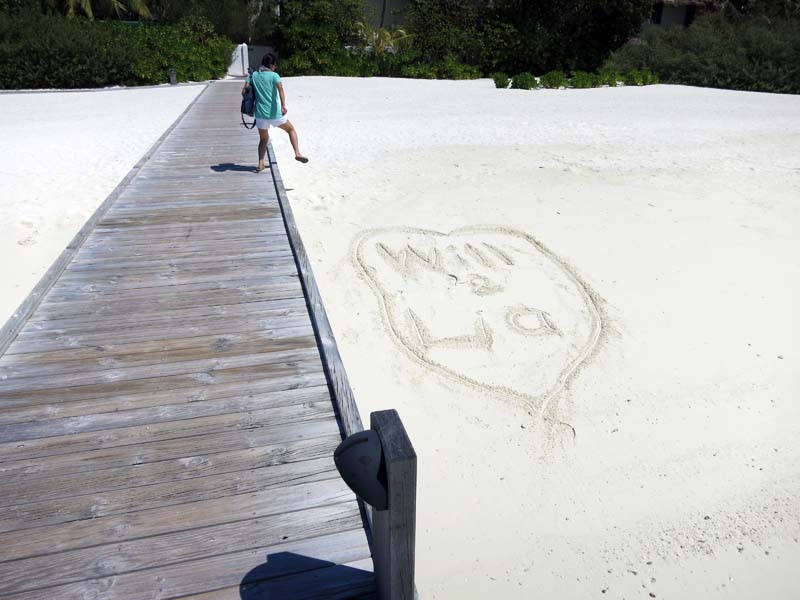 Bye bye Cocoa Island Resort - I would come back sometime, it was a very nice stay.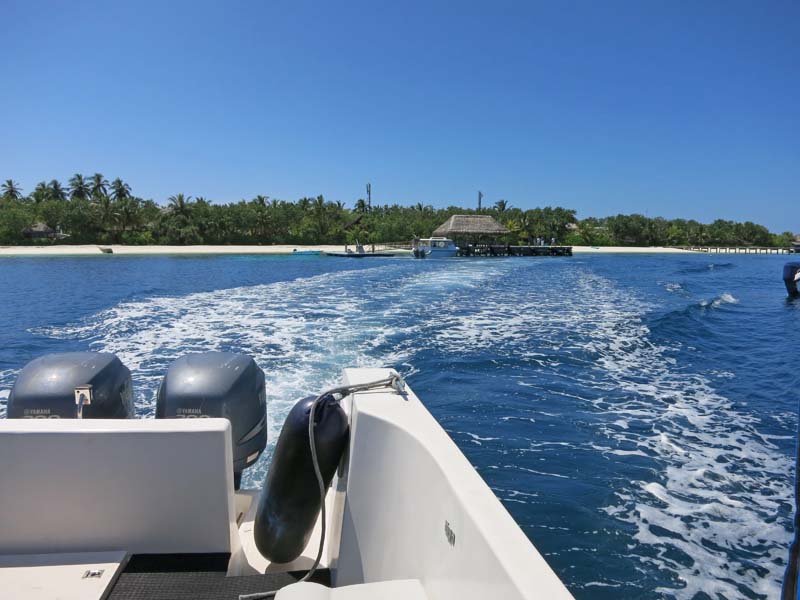 A final look at Cocoa Island, maybe the last time in my life I'll ever see it.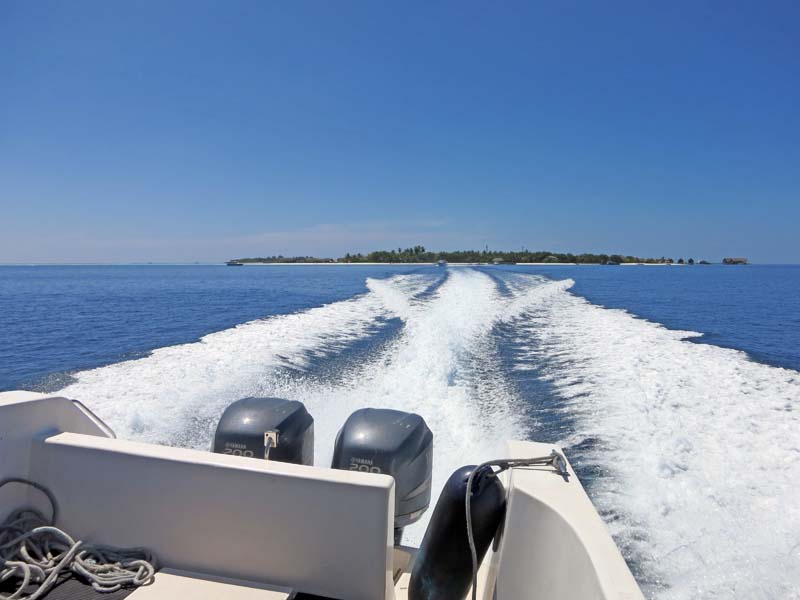 As we head to the Malé Airport, we pass many other islands with resorts and this guy was waterskiing in the Maldives.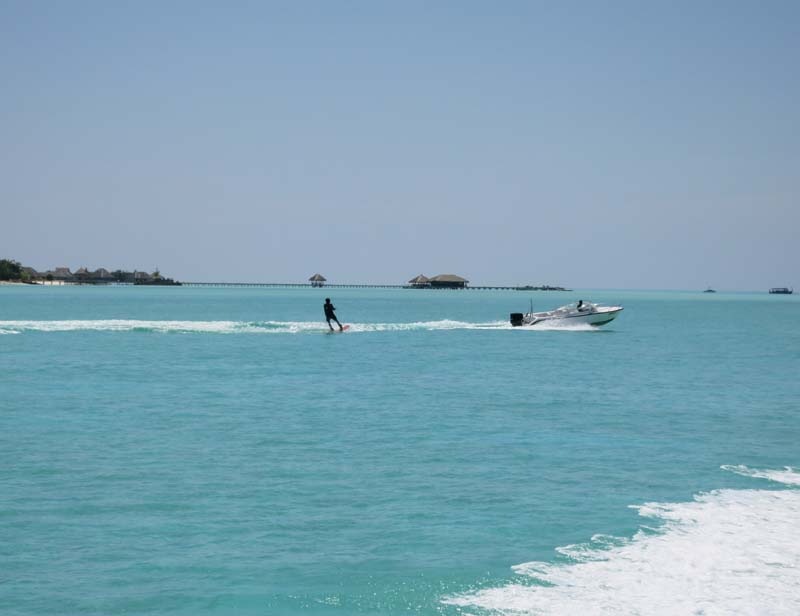 I think this is the same guy waterskiing in the Maldives.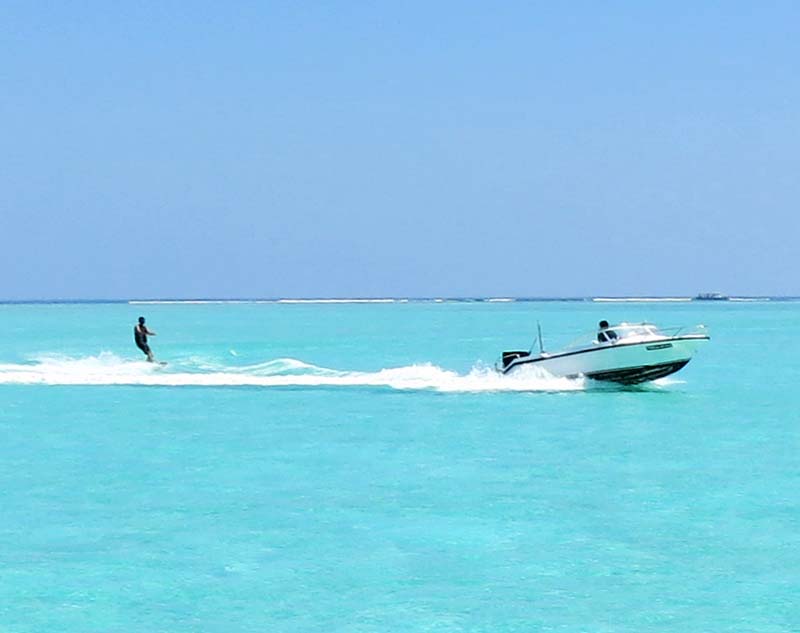 As we keep heading for the Maldives airport, here is somebody parasailing in the Maldives.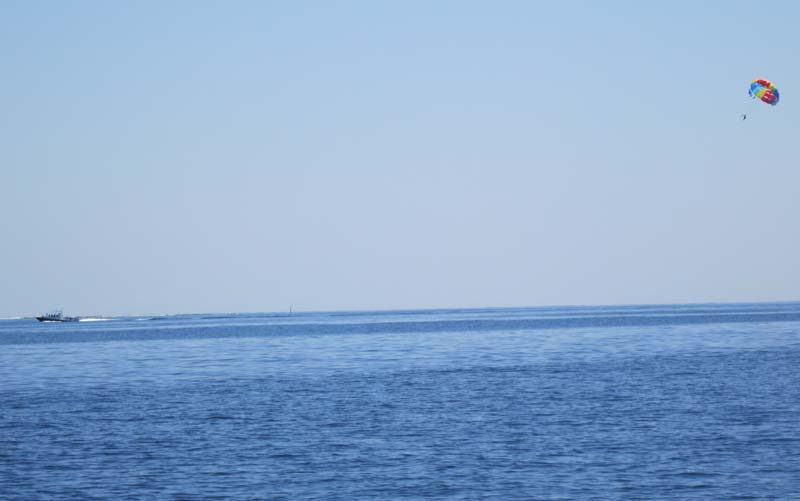 This dhoni boat full of locals had a bunch of strange white laundry looking stuff on it, I have no idea what is going on here.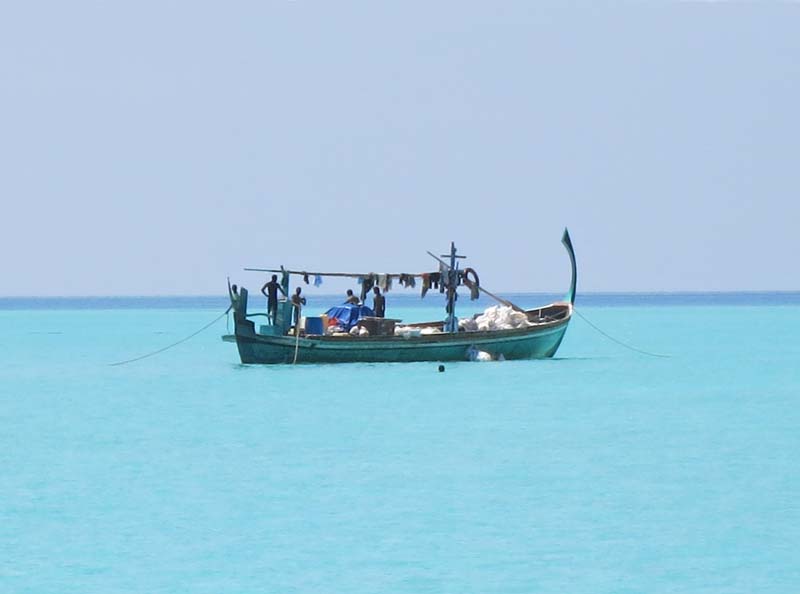 You can see the city of Malé in the distance. We are navigating a VERY shallow area, there is a "channel" marked with the vertical white post on the far right of the picture.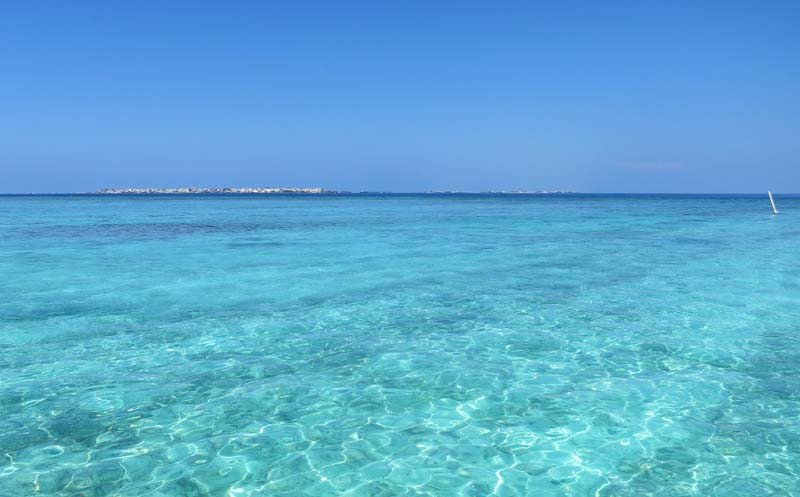 As we approached the Malé Airport, this big Boeing 767 from Mega Airlines passes overhead. It is marked as 8Q-MEG on the side.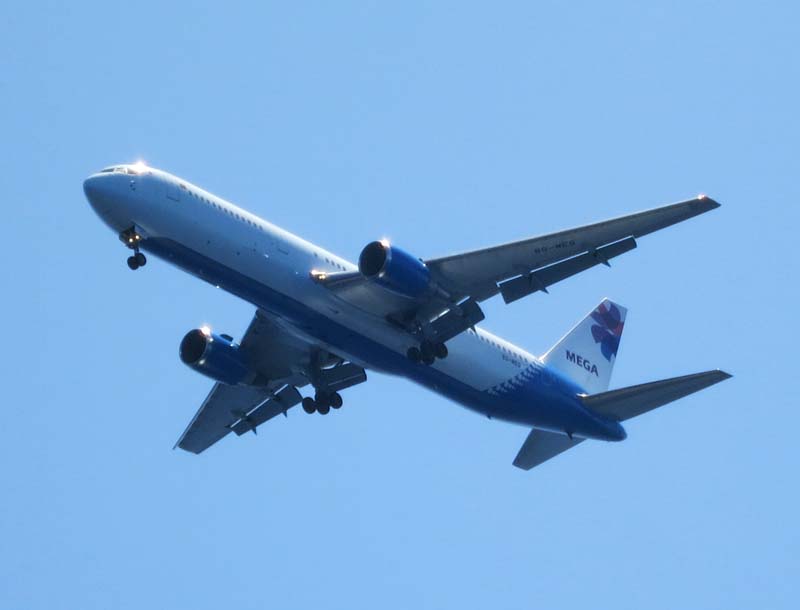 Coming up to the dock at the side of the Maldives Airport.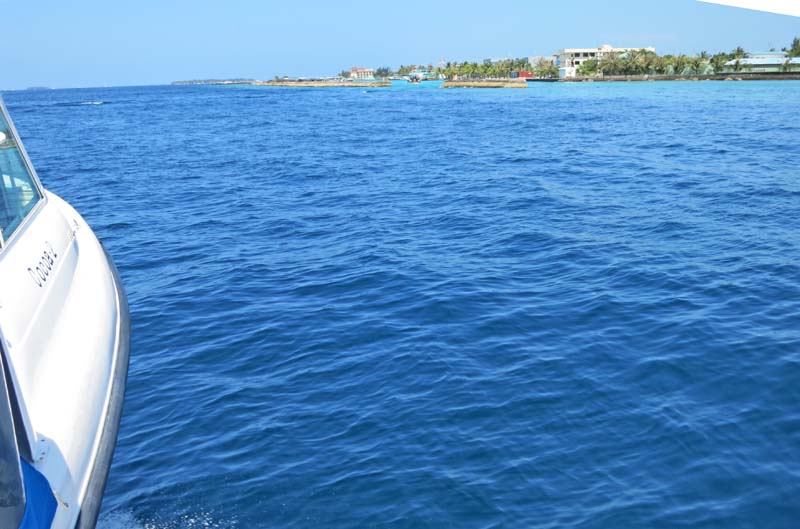 Our boat docked at the airport with the city of Malé in the background, we are here in the Maldives.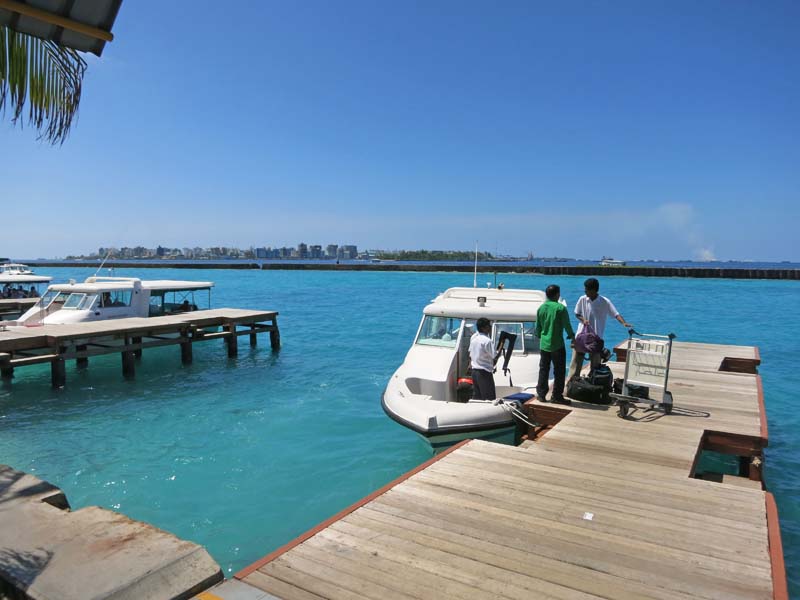 The international terminal at the Malé Airport, Maldives.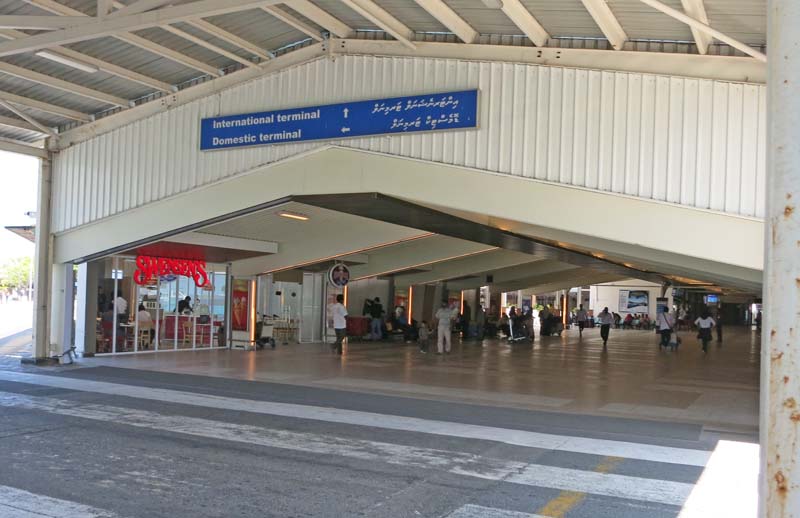 Women in traditional black dress with head covered in the Maldives airport.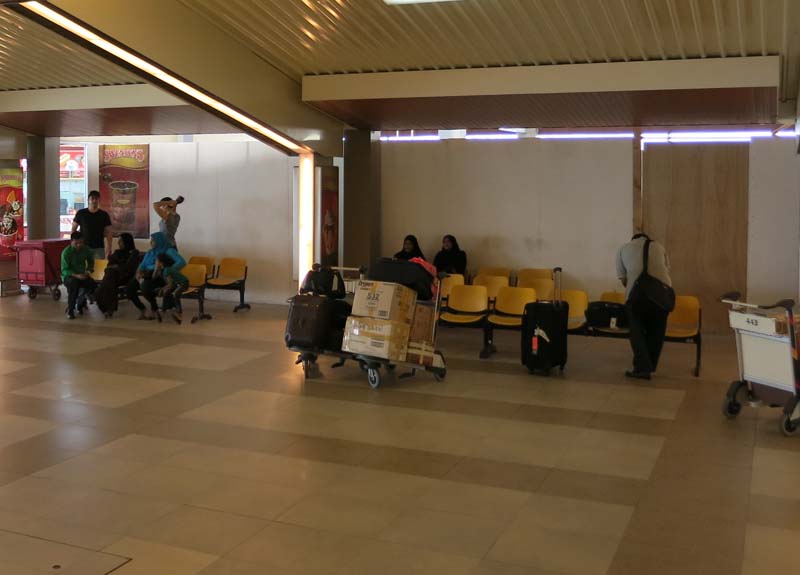 Our flight is on Singapore Airlines.
A big looking plane from Hainan Airlines which is a Chinese Airline.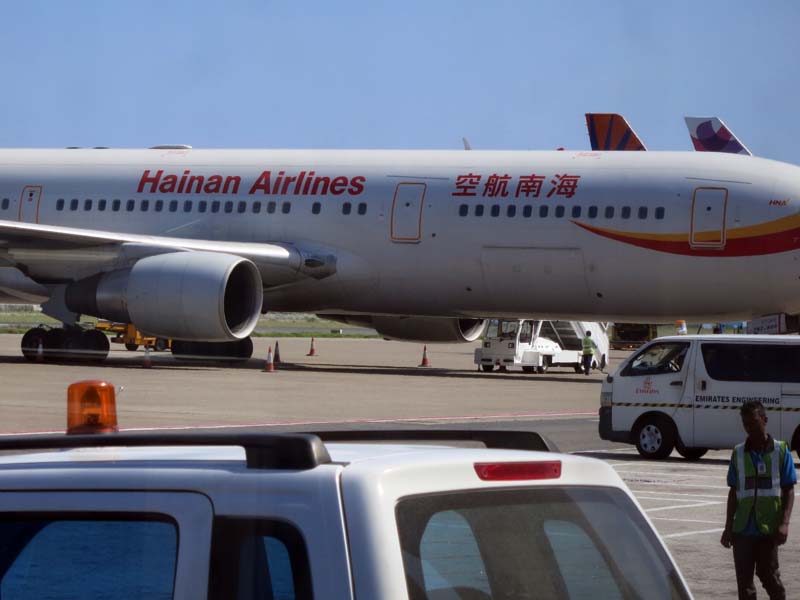 The women working in the Maldives Airport cover their heads.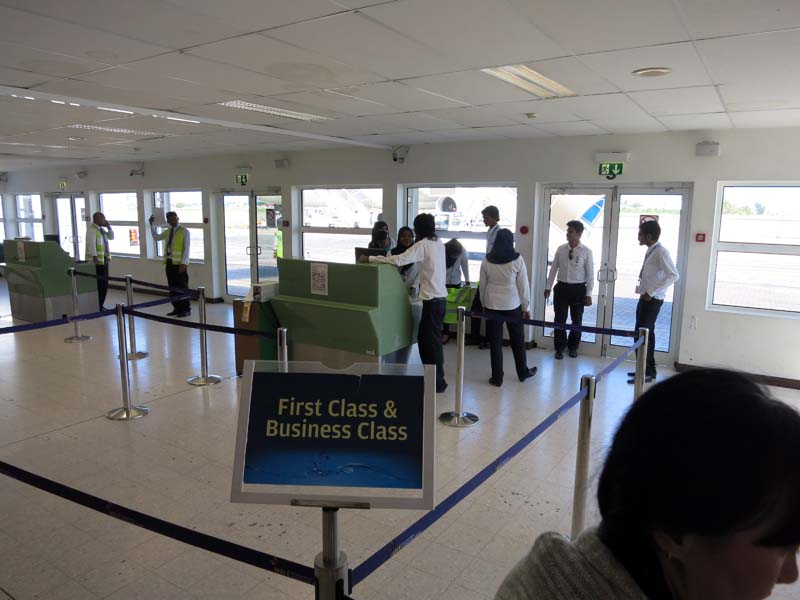 Singapore Airlines stewardesses offer paper newspapers in an iPad and Kindle world.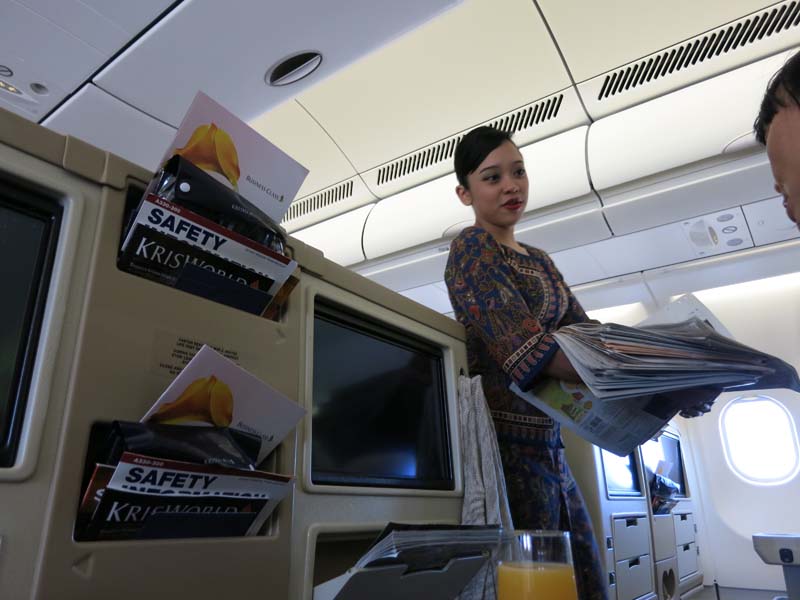 A final look at the Maldives capital of Malé out the airplane window as we take off.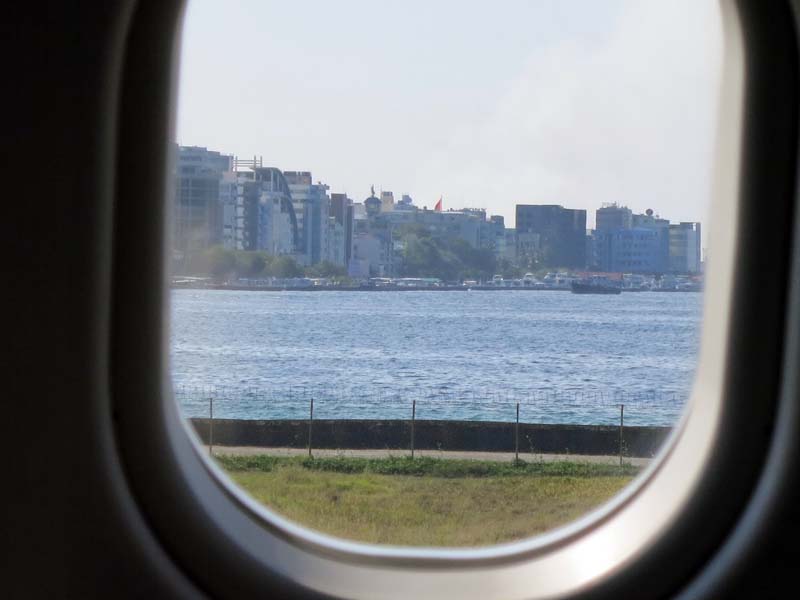 Bye bye Maldives!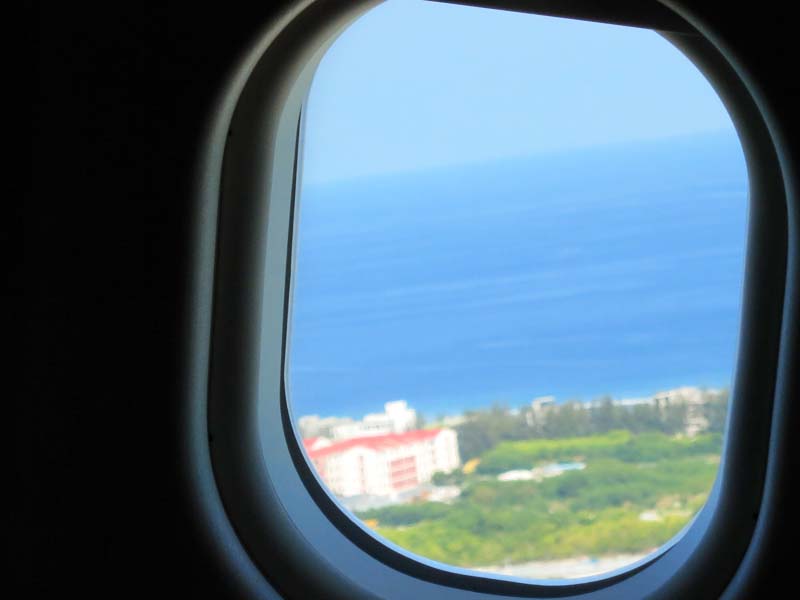 We land in Singapore a few hours later and take this train to another terminal. Some passengers walking around the airport wear surgical masks - culturally this is probably Japanese people being polite and not spreading germs while they are sick. It's kind of interesting to see, like you can see that at any one time 1 out of 40 people is sick.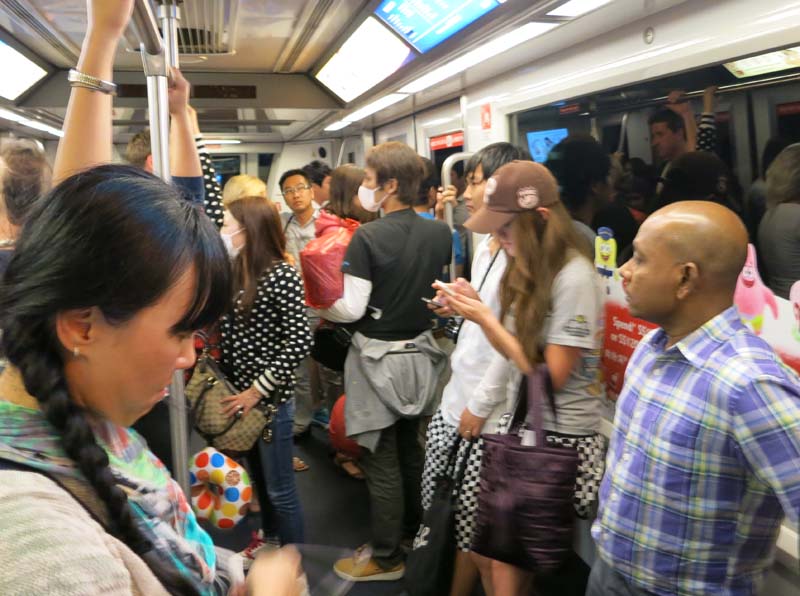 Welcome to Singapore airport!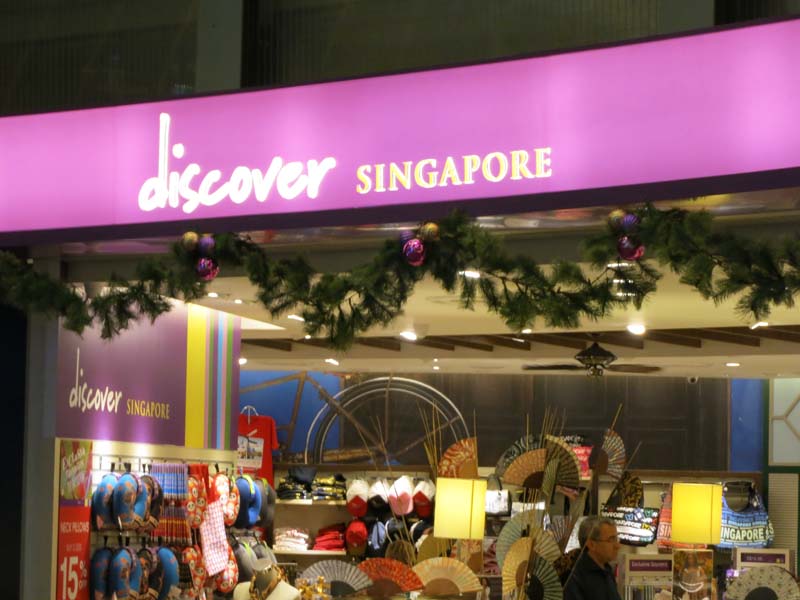 Our next hop is a 9 hour flight on Singapore Air to Incheon Airport in Korea. Singapore Airlines has beautiful stewardesses in these elegant dresses. Here is one now.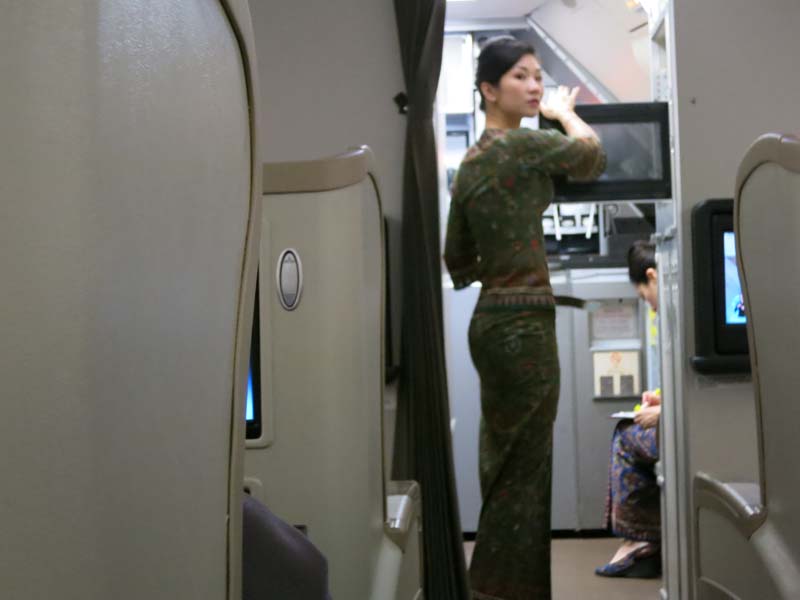 The sunrise during the flight is extremely colorful, I wasn't really able to capture it but this is my best attempt.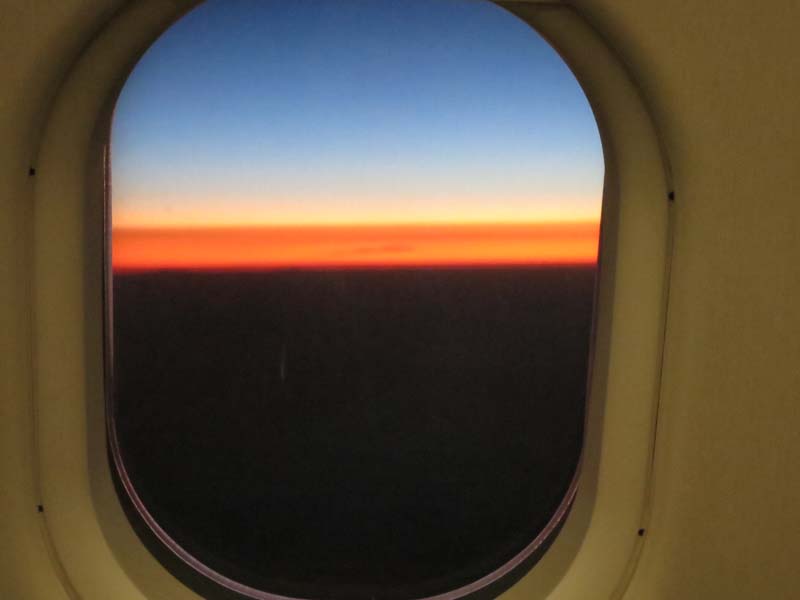 A good map showing we are flying from Singapore to Seoul, Korea. We are one hour from Seoul travelling at 539 miles per hour travelling at an altitude of 39,004 feet.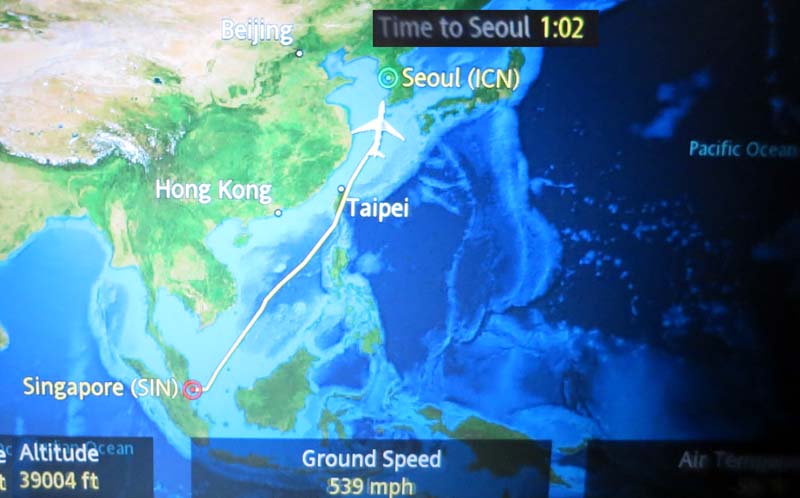 Another perspective (these are all the screen in front of my face).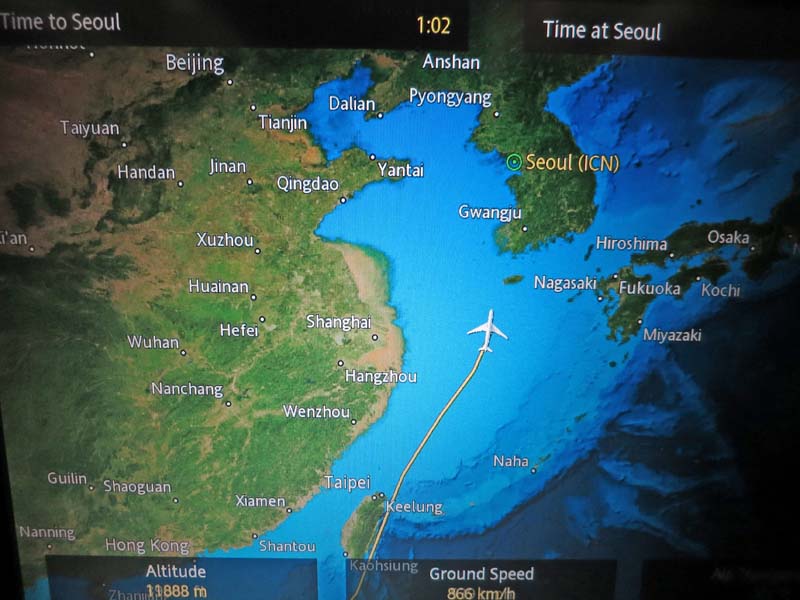 We have a big 7 hour layover in Incheon Airport, so we rent a room in a "Transit Motel" in Incheon Airport Korea and I get some sleep while Katherine goes out and shops.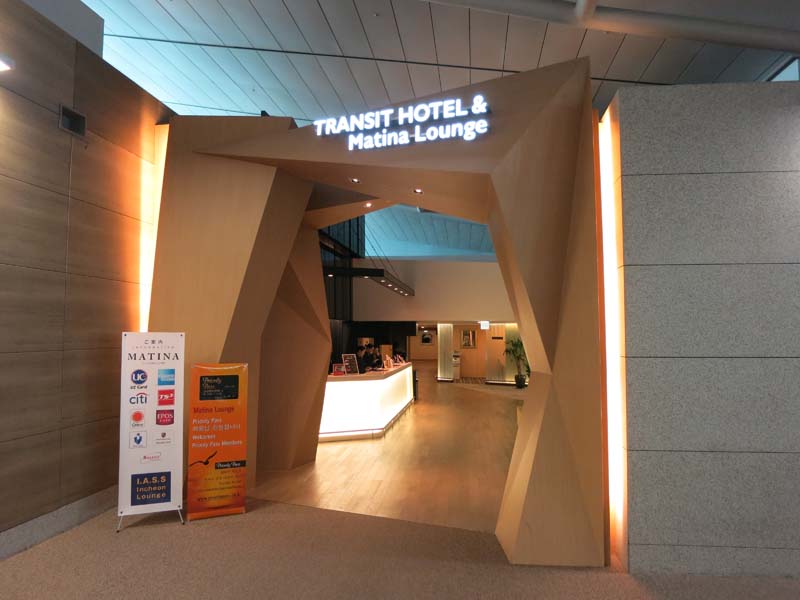 Our room in the Transit Motel in Incheon Airport Korea. Very simple and small, but has a shower, toilet, and a reasonable bed. That huge window is covered, but if it is open it looks out over shopping malls INSIDE the terminal.
People sleeping JUST OUTSIDE the Transit Hotel, I guess they wanted to save $50 when travelling.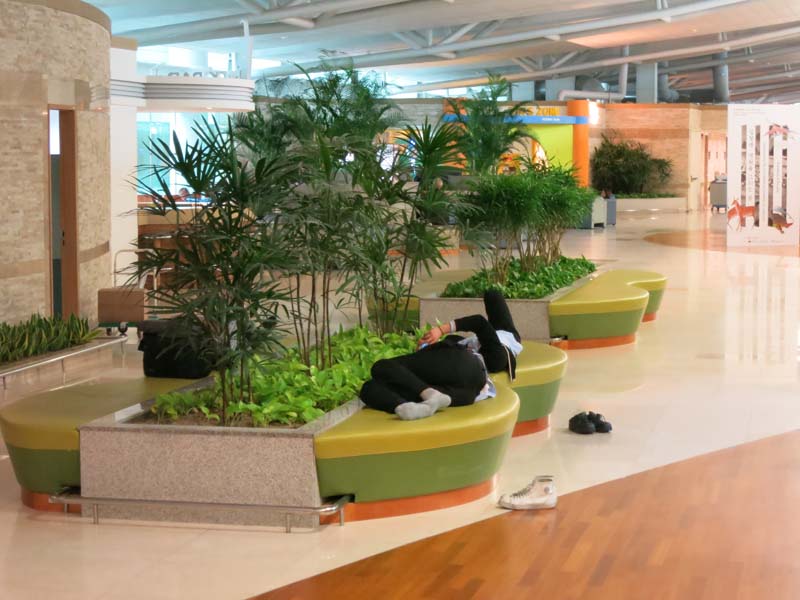 Korean writing listing the flights departing the Korean Airport.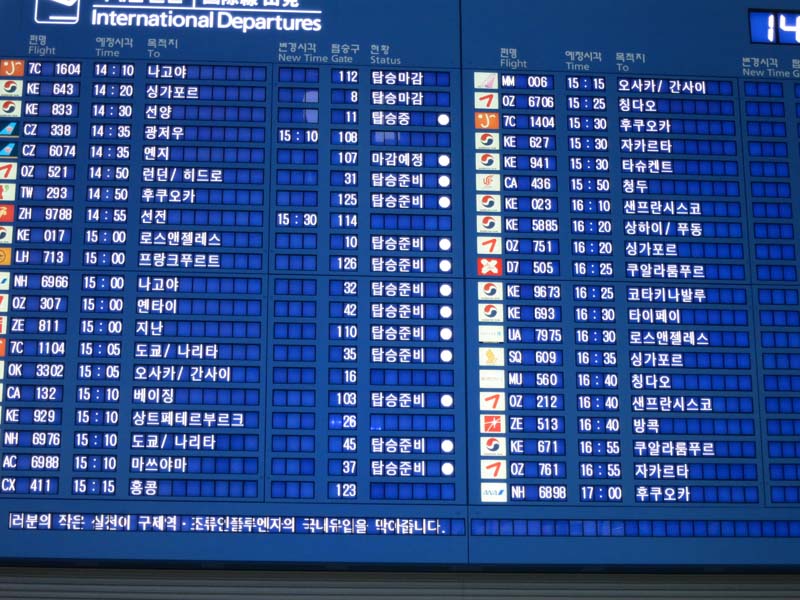 Katherine likes Jajangmyon (noodles with black onion sauce), so she went and got it in the Incheon Airport. Here is the food menu at the food court: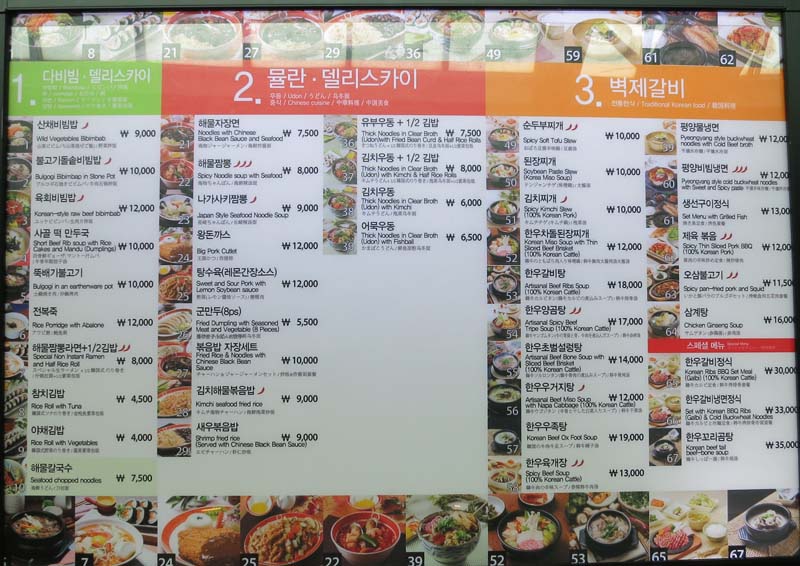 Katherine with her Jajangmyeon (I pronounce it "Jow Jow Mein") in Incheon Airport, outside Seoul Korea.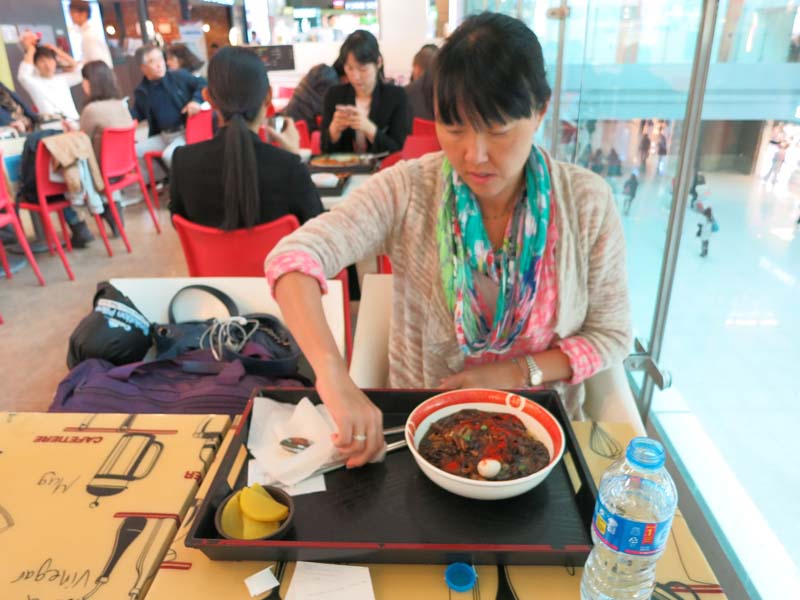 These four Korean women are not talking with each other, all four of them are using their cell phones at the table.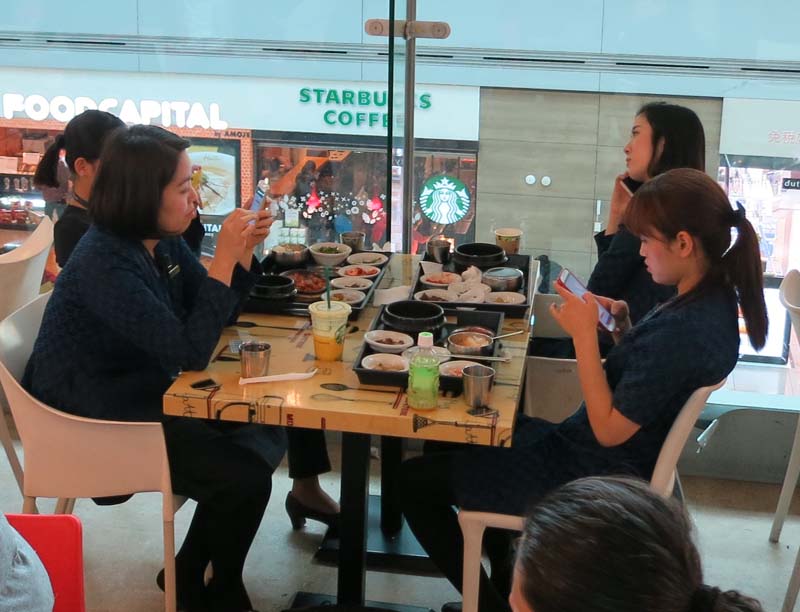 Four Korean women, four cell phones, nobody is talking with anybody.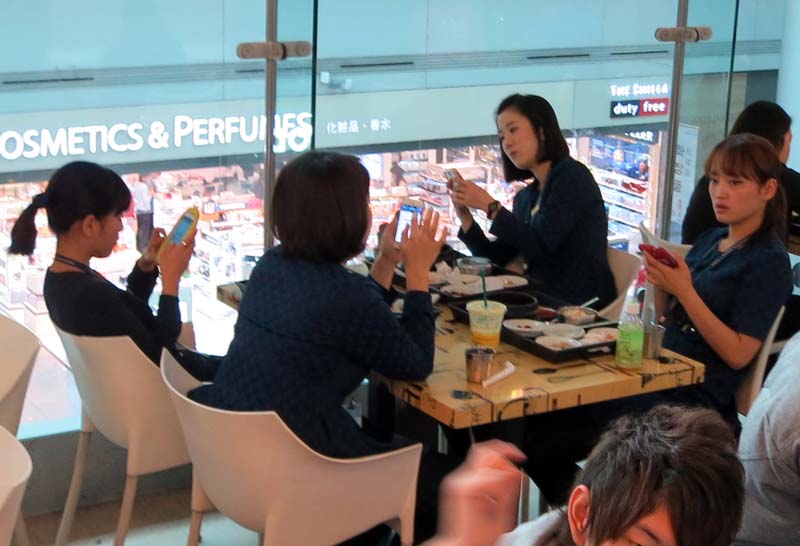 Our final flight leg - Korea to San Francisco, we board the business class (all free on frequent flier points).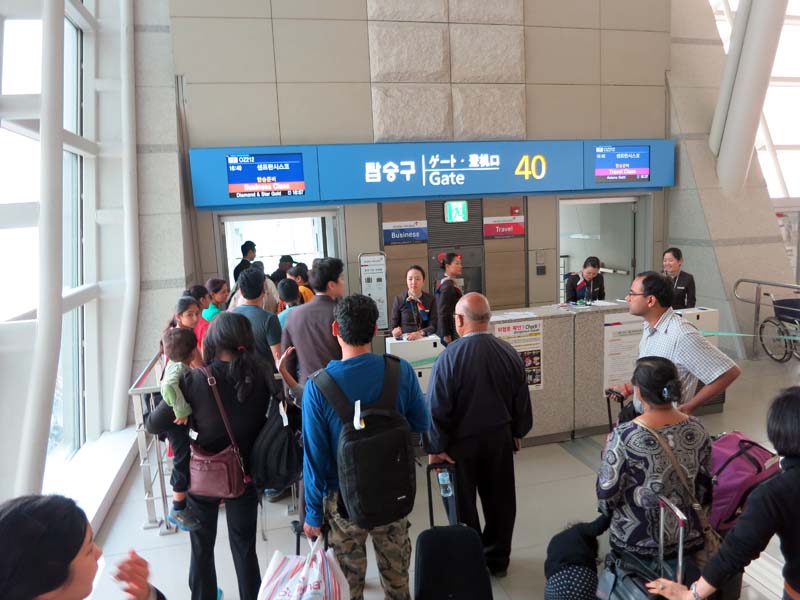 Katherine's business class window seat on Asiana Airlines.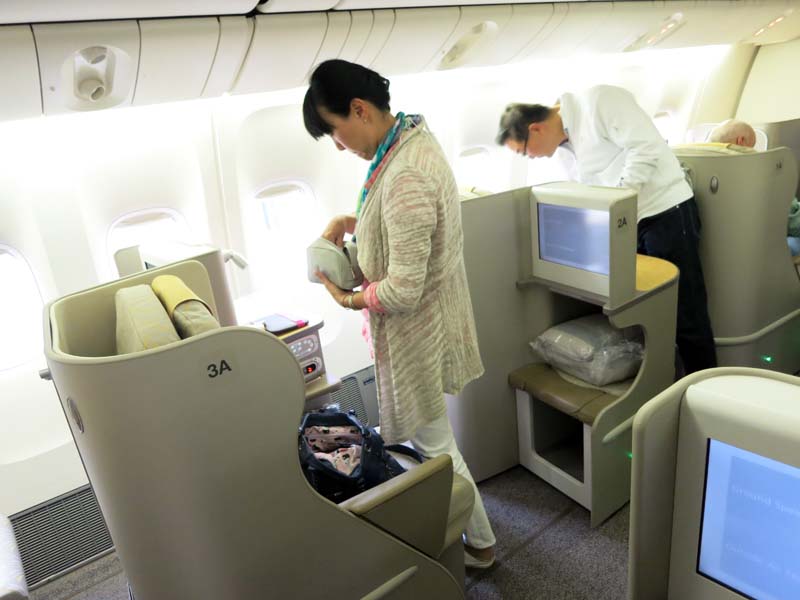 And after a long 30 hours, here we are in the USA in San Francisco Airport (SFO) going through immigration and customs.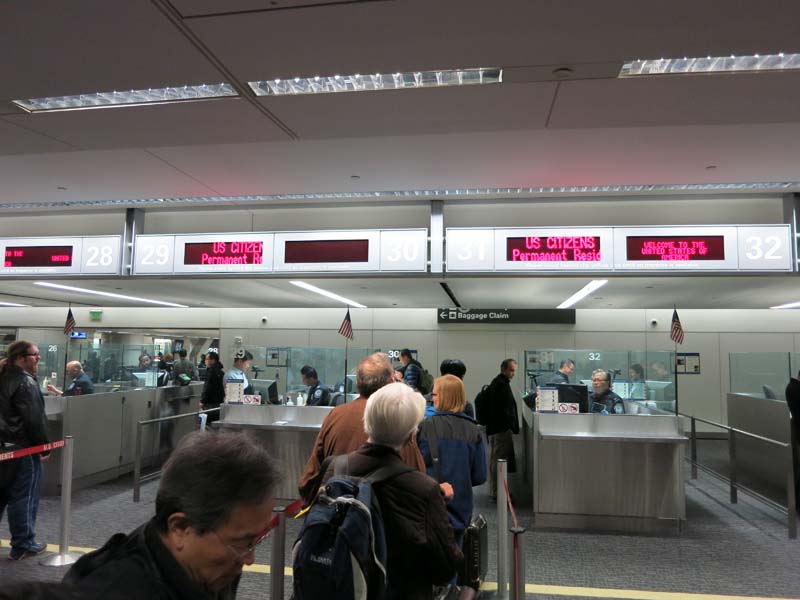 And finally, back to the free world. A tired Katherine pushes the cart down the hallway with our luggage. We are home.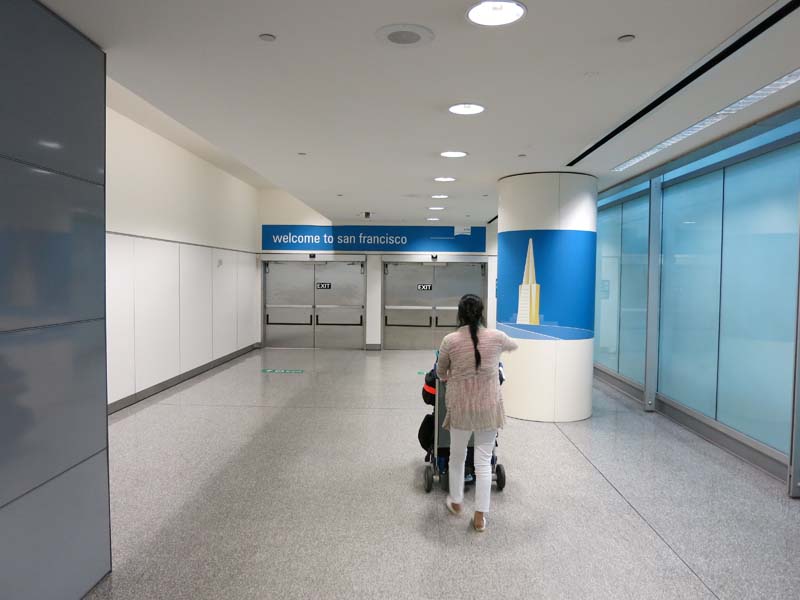 Cell Phone Post Mortem
I bought 120 MBytes of international roaming data from AT&T for $30 for my phone and iPad. It turns out that according to AT&T, the Maldives is not "international". :-) So in spite of me buying this option, AT&T charged me $1,685.97 for using 86.46 MBytes of data (a rate of $19.50 / MByte). See below for my phone bill: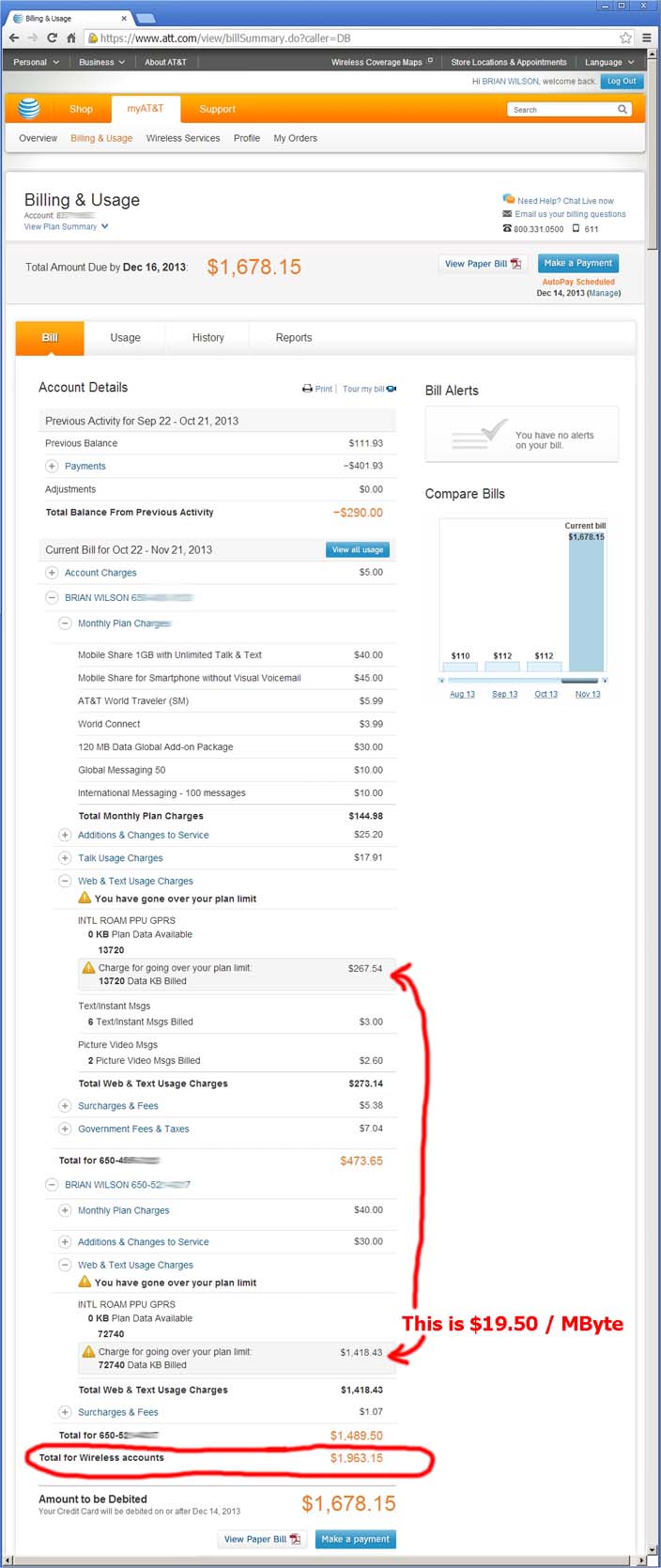 Below it shows I had purchased the $30 option for 120 MBytes of international data. AT&T took my $30, but didn't give me anything for it, instead they billed me AN ADDITIONAL $1,685.97 for my international data: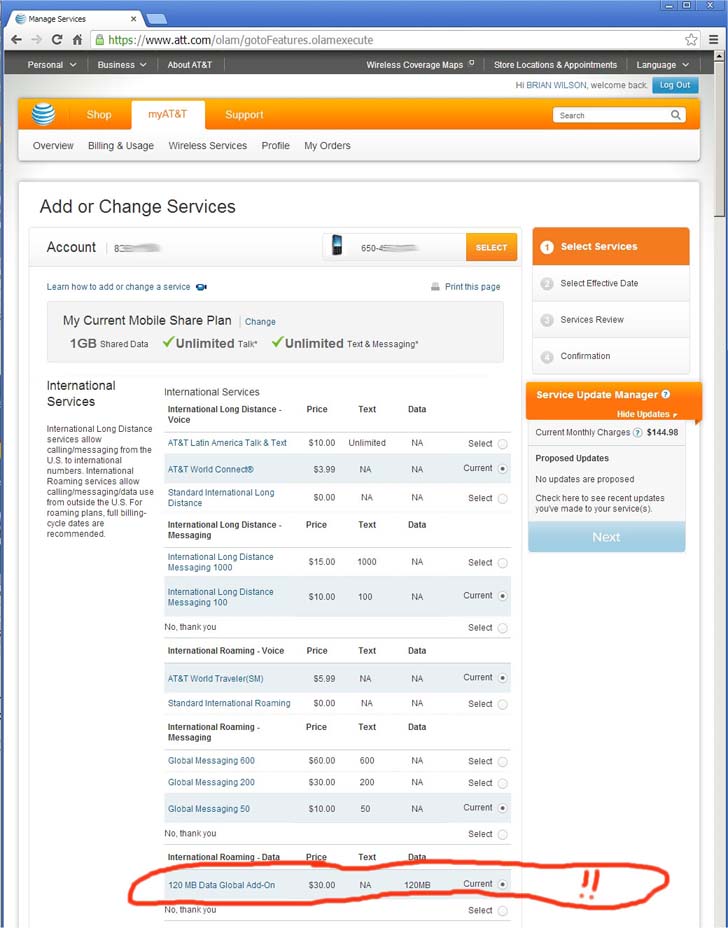 All done with pictures! Stop reading! Below here is just lists for next time, some notes, stuff like that.
Here are some links to some Maldives Maps:
Our Schedule:
Tues, Nov 5 - rest / laundry / refill all prescriptions / payoff Visa
Wed, Nov 6 - rest
Thu, Nov 7 - Haircut, Pickup Final Cash for trip
- Cut Nails/Toenails, Manscape hair, Replace Kitty Litter, Email JetSki Delivery to remind him delivery is 1 week away
- tell Visa I'm travelling (and where), tell Phone Company I'm travelling internationally,
- photocopy wallet contents (copy left at home)
- Hand house-sitter keys to beach house (top, bottom, and electric car)
Fri, Nov 8 - Full Pack
Sat, Nov 9 - rest

Sun, Nov 10, 2013 - Depart SFO 11:59am towards Singapore (SIN) - 26 hours travel time
Mon, Nov 11 - 6 hour layover in Seoul (ICN)
Tue, Nov 12 - Arrive Singapore (SIN) 6am - sleep 8 hours -
Wed, Nov 13 -
Thu, Nov 14 - Depart SIN at 10am for Male MV (MLE) - 4 hour flight - arrive 11:40am - speedboat
(Will & Lia arrive at airport two hours before us at 9:40am.)
Fri, Nov 15 -
Sat, Nov 16 -
Sun, Nov 17 -
Mon, Nov 18 - Tented dining - flickering lanterns creating a soft light under the canvas
Tue, Nov 19 -
Wed, Nov 20 -
Thu, Nov 21 - Depart Male MV (MLE Airport) 2:20pm (Will & Lia depart at 4:15pm)
Fri, Nov 22, 2013 - Arrive SFO 10am - end of 33 hours travel time
Singapore Food to Try:
Chicken Rice - Yishun 925 Hainanese Chicken Rice: Blk 925 Yishun Central 1 #01-249
Chili Crab - Roland Restaurant: Block 89 Marine Parade Central #06-750. Tel +65 6440 8205
Laksa- Famous 49 Katong Laksa: 49 East Coast Rd(Hock Tong Hin Eating House)
Kaya Toast- Chin Mee Chin Coffee Shop: 204 East Coast Road
Bak Chor Mee
Other Ideas or Places to Visit:
Singapore - Sky on 57 Restaurant - in Marina Bay Sands Hotel in Singapore
Singapore - Duck and Hippo Tour - City Sightseeing Singapore (1 Day) with Flyer
Singapore - 30 minutes (on Flyer) and 1 Day (unlimited rides on City Sightseeing)
Singapore - Swissôtel The Stamford - New Asia Bar - make reservation for 71st level, floor slant 20 degrees
Breakfast and Snacks
Included in our hotel room rate is a daily buffet breakfast and our rooms are replenished daily with coffee, bottled water and fresh fruit.

Lunches and Dinners
We purchased a "Half Board Supplement" that includes one 3-course lunch OR dinner per day.

Things To Do / See At The Resort
There is a monthly calendar we can pick up upon arrival that will tell us about any daily planned activities (e.g. yoga, fish feeding, special dinners, etc.)
House reef / shallow lagoon
Hydrotherapy pool
Gym

Additional Add-Ons
1-Hour Massage $166
COMO Shambala, Indonesian, Thai

Private Snorkel Trip $241 (Price is based on 2 adults)
This two-hour trip takes guests from Cocoa Island to a place where they'll experiences some of the most exciting and magnificent snorkelling in the Maldives.

Private Sunset Fishing $241 (Price is based on 2 adults)
A Dhoni fishing trip, suitable for children from four and above, encourages guests to try bottom fishing with Cocoa Island's friendly, helpful crew. Should you get a bite, we'll have it cooked for you at your next lunch back at the resort. We ask you to keep only enough of your catches for your meal.

Private Sunset Cruise $374 (Price is based on 2 adults)
Leaving from Cocoa Island, speedboat sunset cruises in the Maldives Islands allow guests to observe flying fish skirting across the ocean's surface, with possible sightings of dolphins at play. The dedicated crew will be pleased to serve wine or Champagne as well as a gourmet antipasti platter as the ship plies the waters of the South Malé atoll.

"Souvenir" shopping can be found on the main island of Male
For local souvenirs, Chaandanee Magu is the place to head for. Here you will find thudu kuna, the traditional woven mats, as well as perfectly crafted miniature
Here is a One Page Summary of our flights and contact info for the hotels.
Lists of Things to Bring on a Trip to the Maldives
This is not for you! Stop reading! I'm old, I forget things, this helps me remember for next time.
Pre-trip Section:
14 days in advance - Check Passport, get local cash ($300 US in "Singaporean Dollars", stack of $1 USD for tips, Maldivian Rufiyaa)
3 days in advance - Haircut (short for easy maintenance), fill prescriptions, load GPS with maps
2 days in advance - Pack
"On Plane" Section:
Passport (!!)
Nasal Spray
iPad & Charger
Prescription Drugs (Coumadin), Imodium, Band-Aids, moisturizer for body
Cash ($300 US in "Singaporean Dollars")
Cash ($300 US in "Maldivian Rufiyaa" - probably won't need it but doesn't hurt anything)
Cash ($100 in $1 and $5s - $1USD/bag for Maldives bag handlers, a few USD per day for hotel butlers, etc)
Sunglasses
Camera
"On Boat" Equipment Section:
Mask & Snorkel
Swimsuit
Sandals (I went with "??" brand)
Beach towel? - did not need, always borrowed from hotels
Chamois Shirt(s) - never worn once
Sunblock
sunglasses
little rubber water toy (water donut) and rope to tie so it doesn't float away
Longer "parachute cord" to tie up Wave Runners, etc. They never seem to include a long enough rope.
Baking soda for bug bites (might research prescription benzococaine solutions for same)
"Random" Equipment Section:
duct tape around pen
bright orange duct tape and a black sharpie if mailing a bag home
black electrical tape to fit GPS to Jetski
Electronics Section:
Foreign Plug Adapters
Camera (and charger)
Cell Phone (and charger)
GPS - global Satellite messenger GPS, rental car Nuvi, handheld Rino for backcountry (and chargers)
GPS mounts for JetSki
iPod Nano (Apple charger)
speakers for condo - jambox
iPad or laptop?

MiFi on Verizon internet connection device to allow iPad to get online
Street Clothing:
shorts - 1 pair for every day (or possibly plan on using hotel laundry service)
light short sleeve dress shirts - 1 for every day
light cotton slacks - 1 pair for every 4 days
belt (?)
polo t-shirts
white socks
underwear
shoes (tennis shoes, dress shoes?)
jacket?
Bedtime/Toiletries:
dopp kit (toothbrush, toothpaste, comb, eye drops, etc)
razor
blow dryer (?)
caffeine pills (for coffee emergencies)
pajama shorts
pajama white t-shirts
ear plugs (individually wrapped, bring extras, condo mates might snore!)
white trash bags - for laundry
small clear sandwich bags - for cell phone, etc
travel alarm clock
moisturizer for body
Misc:
book for plane?
small umbrella
backpack

glasses & case for glasses?

Katherine liked the travel coffee solution of "travel collapsible Molita"