2014 Chartered Airplane - GaryAir's Piper Matrix PA-46R-350T

(11/28/2014)
On Friday, 11/28/2014 we flew from Half Moon Bay airport (HAF) to Santa Barbara Airport (SBA) on a direct non-stop flight on GaryAir. The three passengers were Howard Wilson, Katherine Chung, and Brian Wilson (me) and we were attending my brother's 50th birthday party in Santa Barbara. This was an experiment for us, we had never chartered an airplane before. Short summary: it was GREAT! Click on any picture below for the highest quality huge original.
Quick Information and Stats about Our Exact Trip:
- The flight took 75 minutes (take off to landing)
- HAF to SBA is 261 miles.
- The plane is a Piper Matrix PA-46R-350T, click here for the pilots_manual_to_the plane.
- The trip cost $2,696 for all three of us (round trip everything included).
- The fuel cost for the round trip was about $480 (included in the above $2,696). That's 64 gallons of 100LL aviation gasoline at $7.50/gallon.
- Our pilot was Dave Guerrieri. He filled me with confidence. Dave flew F-14 fighter jets for the Navy and he's also a software engineer, and was super nice.
Chartered Flight Decoder Ring (aka "How do I Charter a Plane?"):
- Propeller planes are massively, MASSIVELY cheaper than "jets".
- Propeller planes cruise at 250 mph, while a jet will cruise at 500-685 mph.
- A propeller plane costs about $1,000/hour when it is flying through the air, and $40/hour to "wait for you"
Example: fly 1 hour, stay 24 hours, return 1 hour - $2,000 "flying time" and 24x$40=$960 in "waiting for you" time
- A jet plane costs about $3,000 - $10,000/hour when it is flying through the air, and $100/hour to "wait for you".
- You have to pay to have the plane flown to your initial take off point - so planes that are based closer to you are cheaper.
- The best part of chartering is flying into smaller airports so you are much closer to your final destination.
- There are no respectable websites you can trust to book the plane, it's a world of pain and suffering, you MUST contact the charter plane operations directly.
- Here are some of the hard to use (NOT respectable) websites: JetSmarter, PrivateFly, JetSuite. Again: they are going to be confusing to use, and add cost but no value. If anybody knows of a clear, easy to use, non-robbery website email me!!
- It is extremely difficult to get a list of the charter planes in your area.
- There are many sleazy websites trying to steal your Google searches so you "book through them" instead of booking directly. It only adds cost. It also adds confusion.
- You will always fly in and out of the "Private Terminal" which is operated by a "FBO" (Fixed Base Operator).
- The FBO act as "concierge" - you can call them with questions, they can arrange rental cars to be waiting for you, etc. Their services are all free to you, USE THEM!
- Below is a chart of *JET* prices (not propeller planes):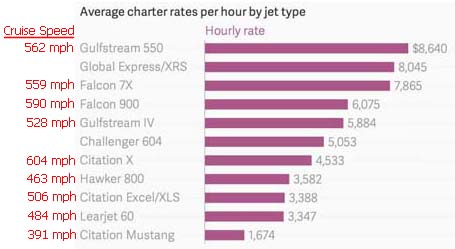 On to pictures and details: Below is a picture of the airplane we flew in. It is a Piper Matrix PA-46R-350T. The "R" means "Retractable Landing Gear" and the "T" means "Turbo Charged". This is not a pressurized airplane, so (without special oxygen masks) you can only go to a an altitude of about 11,500 feet comfortably and safely (about the height of the top of a ski resort). "Commercial" airlines often cruise at 30,000 feet or higher because they have pressurized cabins.
a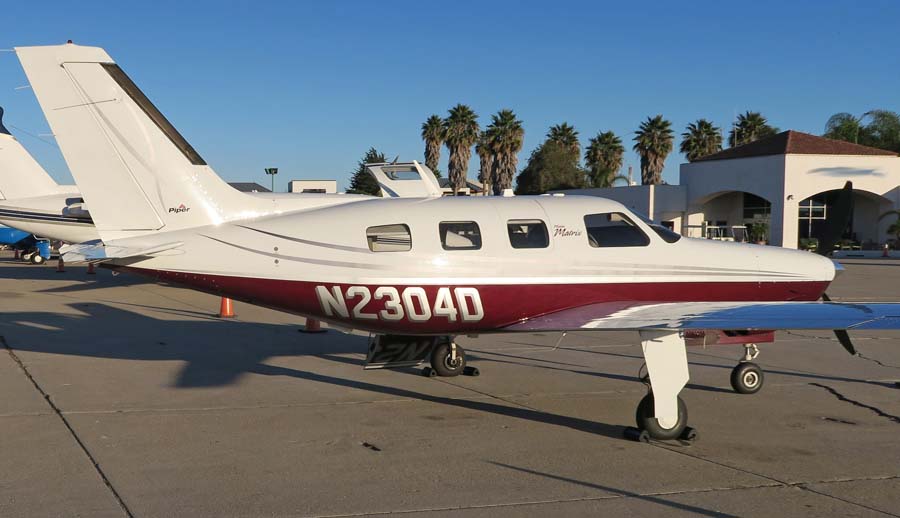 Here are the three of us standing in the doorway (you can see the open hatch behind us). From left to right: Howard Wilson, Katherine Chung, and me (Brian Wilson). I'm a big guy (6'3") and this was an experiment with a "chartered flight" and particularly of this size of aircraft. The aircraft seats 4 passengers plus the pilot (and space for a co-pilot).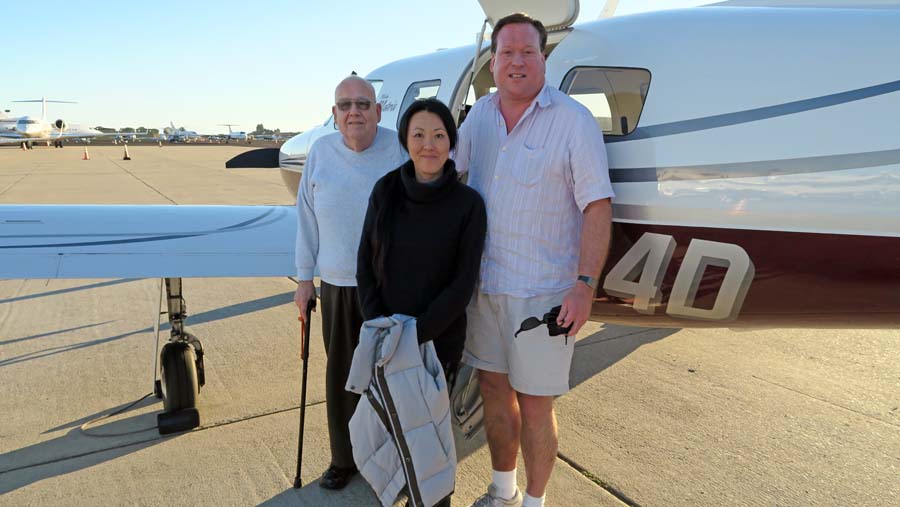 Another picture of the Piper Malibu Matrix with the main door open.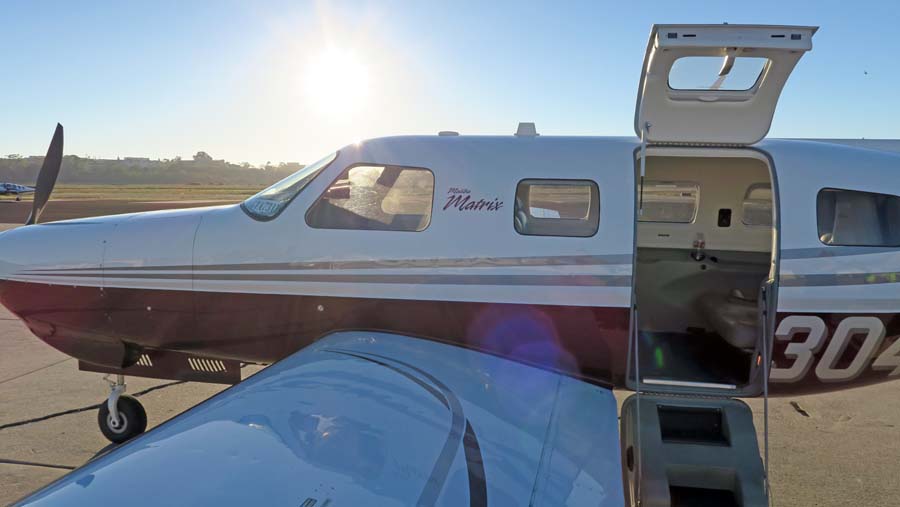 Here we are inside the Piper Matrix. There is plenty of headroom for me to sit comfortably (I'm 6'3" tall). The seats are a bit short (from your butt to the floor) but they are actually quite comfortable (a **LOT** more comfortable than flying "coach" in commercial airlines). I think it is very spacious with just two passengers, and it "works" for the three of us although as you see in the picture below Howard and I are facing each other and to stretch out our legs we kind of overlap (which is fine, it was comfortable). It's hard to see, but behind Howard and Katherine is a large space for luggage that we didn't use at all.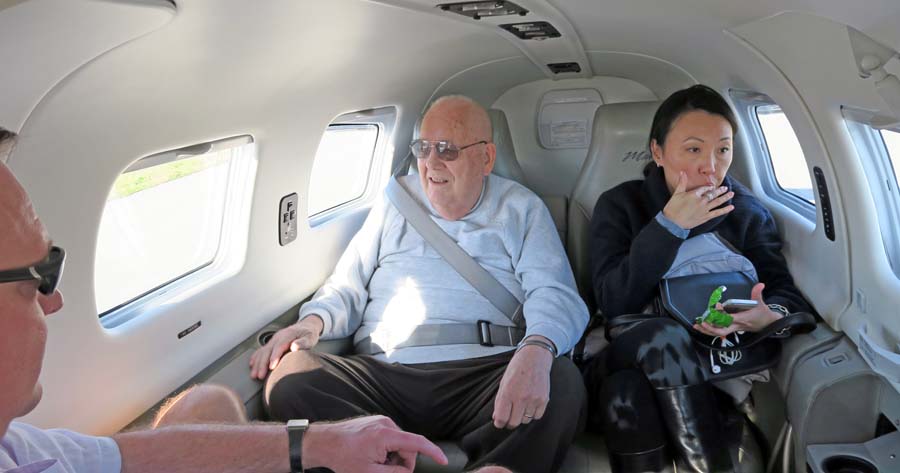 On our flight, the pilot brought snacks and chilled water and drinks which occupied the 4th passenger seat. I stowed my backpack (our only luggage) under the 4th seat.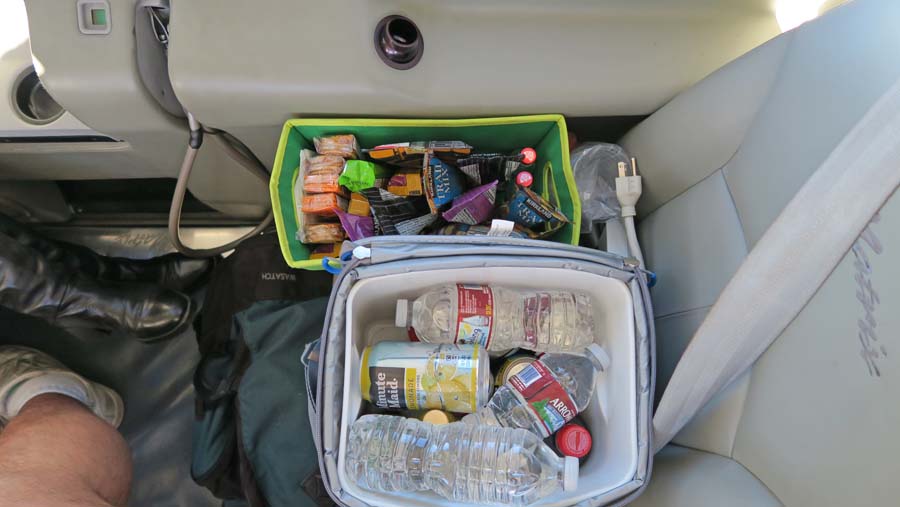 Here is a "selfie" of me (Brian) and so you can see the Dave the pilot (we're still on the ground at this point). My chair can recline backwards, there is a big gap before the co-pilot chair.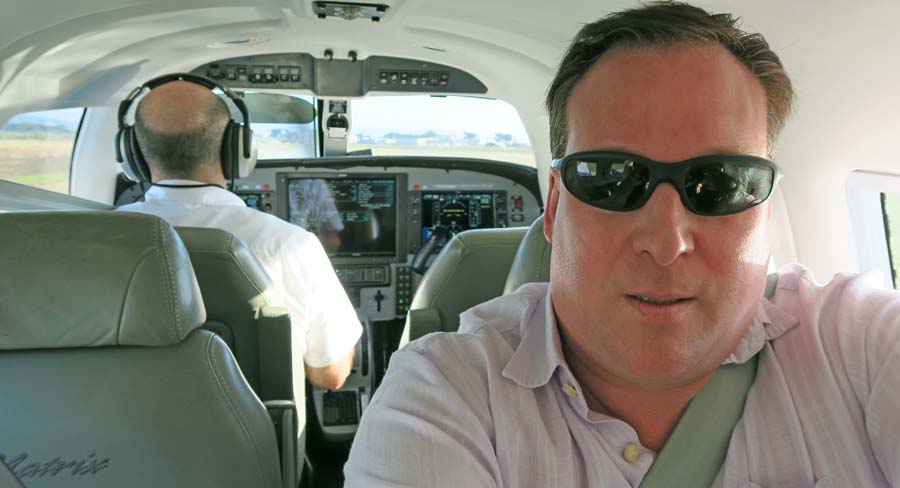 Here is a picture of the cockpit of our Piper Matrix PA-46R-350T we are flying in (you can see Dave's right arm in the picture). This plane has a Garmin 1000 Avionics System in it, and it looks pretty awesome. The center screen is showing a map with all the other aircraft in the sky shown clearly, with their altitude displayed and little "up" or "down" arrows that indicate if they are climbing or descending. In front of the pilot (and co-pilot) is a display that could be massively useful in bad visibility or at night which paints a picture of the ground below and gives your current altitude and whether you are turning or not. Click on the picture below to get a zoomed in version.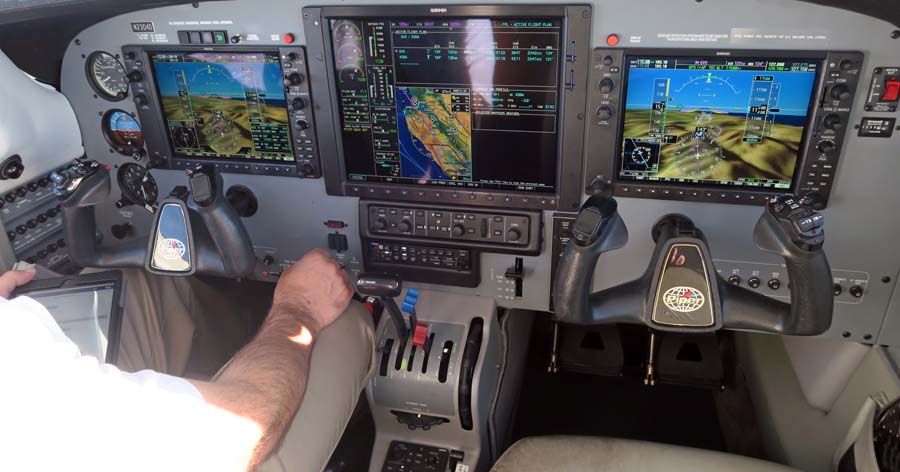 Below is a movie of the takeoffs and landings of the day. Click here for the huge original movie, probably cannot be played on Windows!!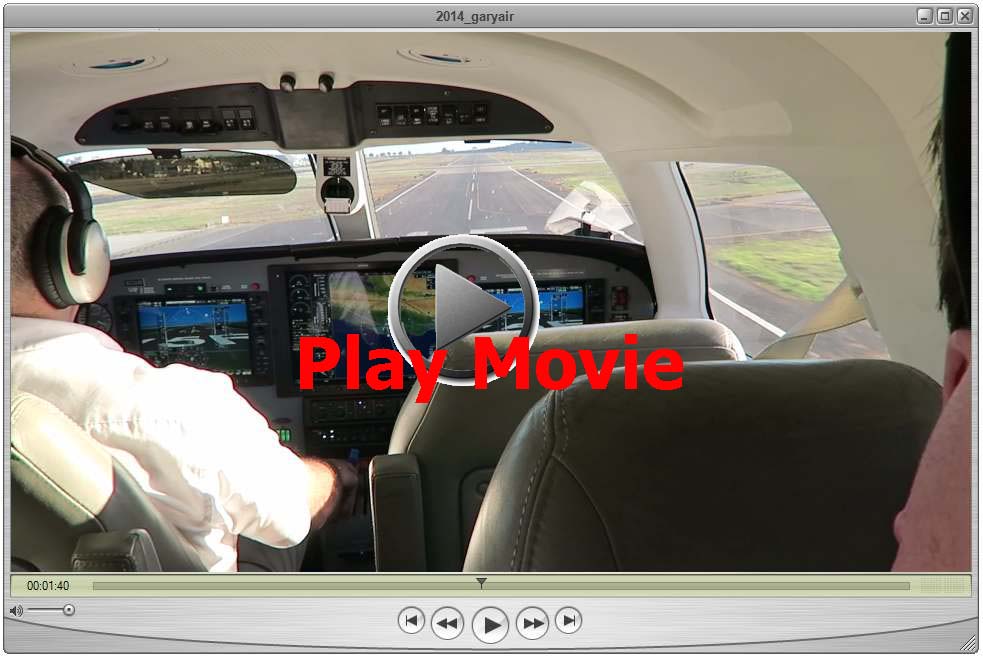 And away we go! This is a picture out the window as we taxi at Half Moon Bay Airport (HAF).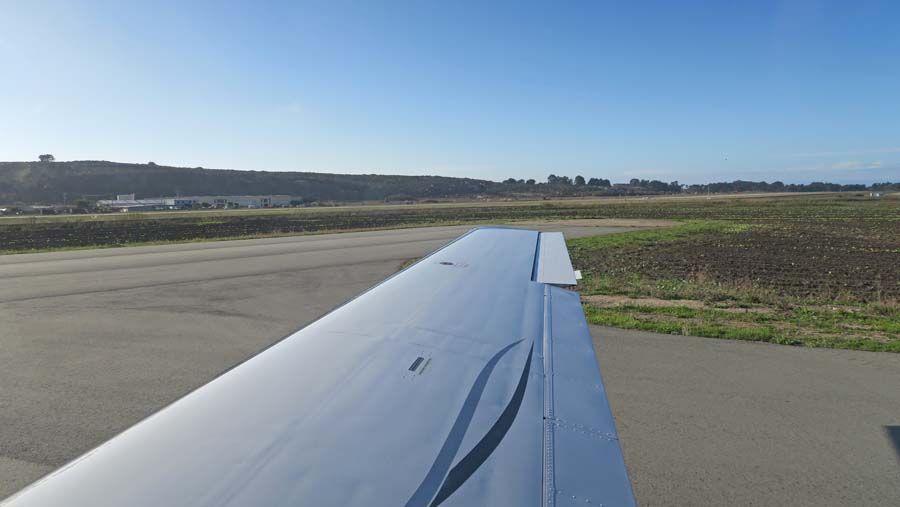 A picture of the plane behind us waiting to take off right after we do.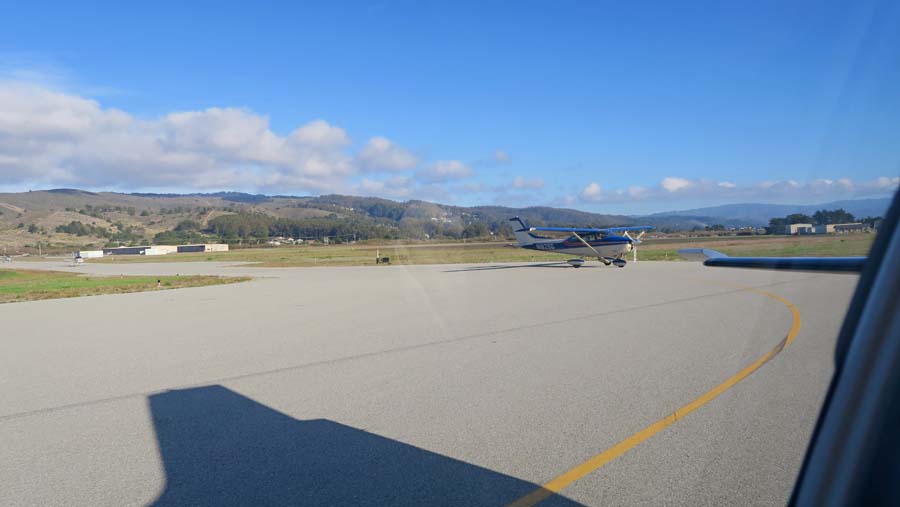 We took off heading north, and then turned and headed south to Santa Barbara. Below is the Half Moon Bay airport we just took off from.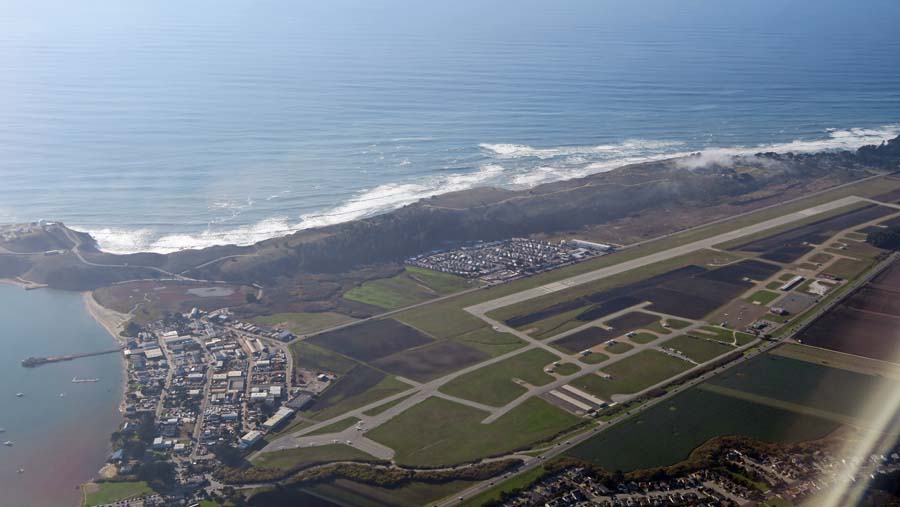 It's a beautiful clear day, no turbulence at all, smooth as silk flying. Below is a picture of San Jose in the distance (off the left side of the airplane) and the south far end of San Francisco Bay.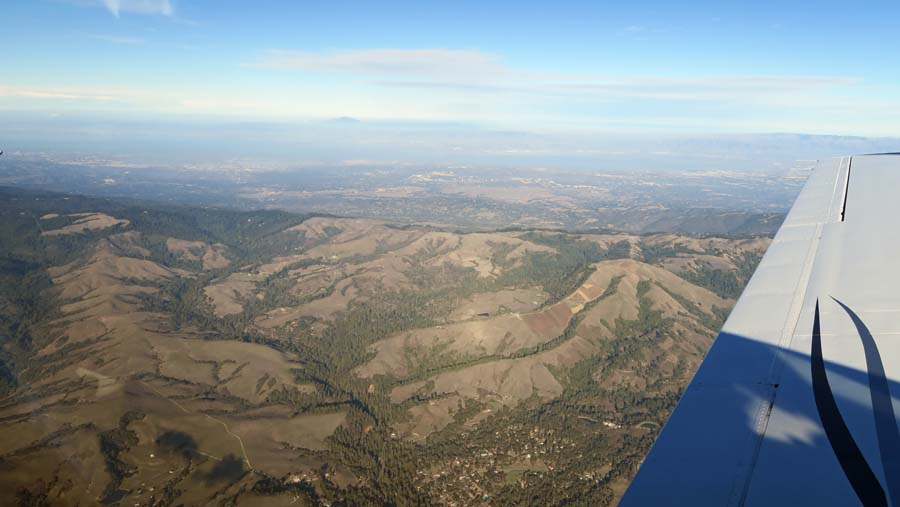 Off to the right of the airplane is the ocean the whole way down to Santa Barbara.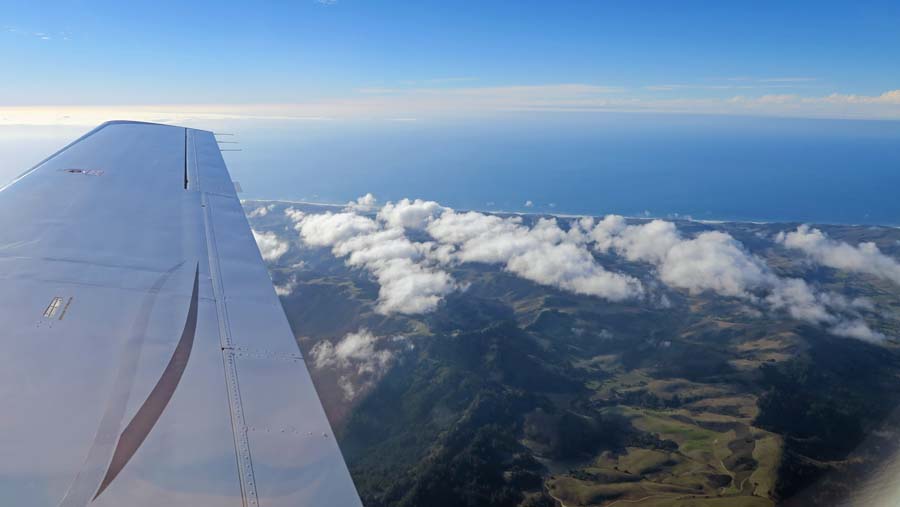 The point of land on the far left of this picture is Monterey.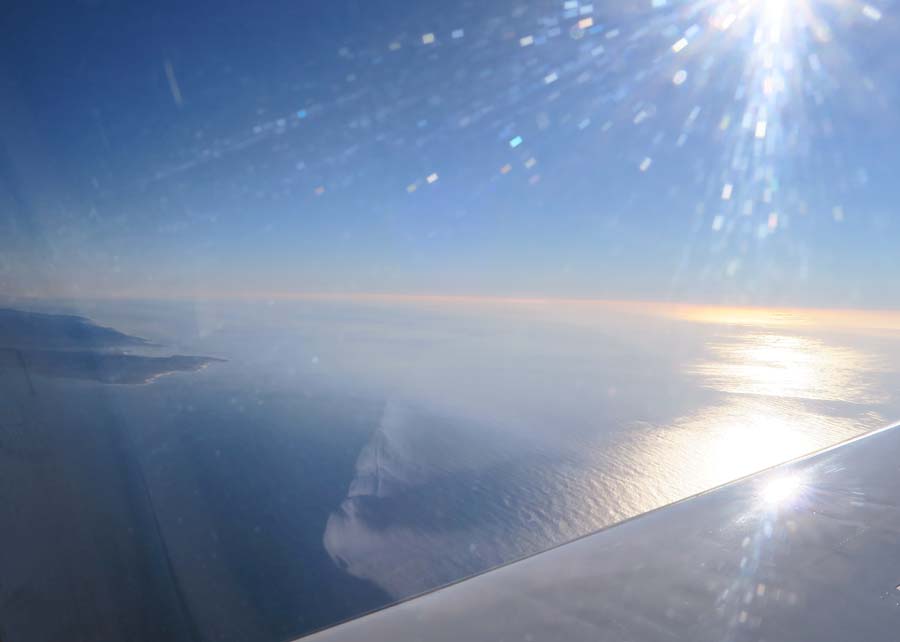 This was a note to myself to mention the airspeed was about 156 knots (180 mph), and we cruised down at about 11,500 feet. On the trip home we stayed lower at 7,500 feet to stay beneath the "freezing altitude" where ice builds up on the wings. This plane does have de-icing equipment, but it's probably safer not to worry about it.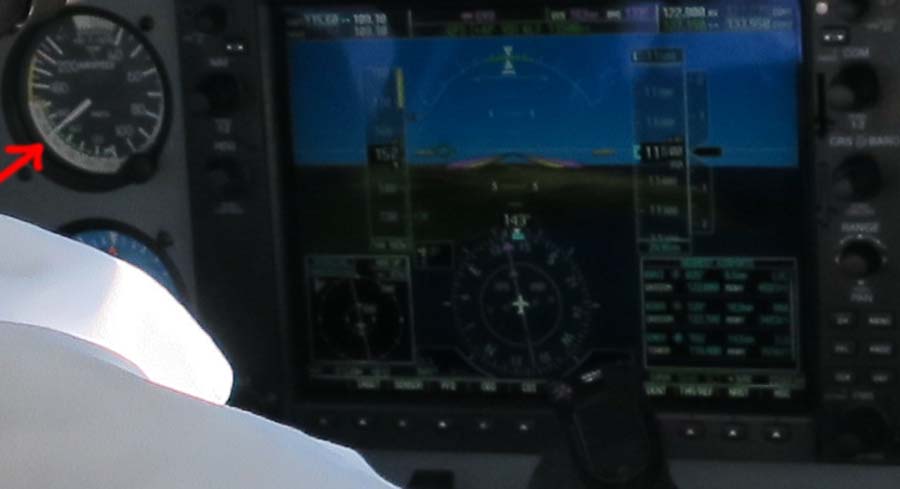 We pass over Monterey (seen below). Notice there is an airport there.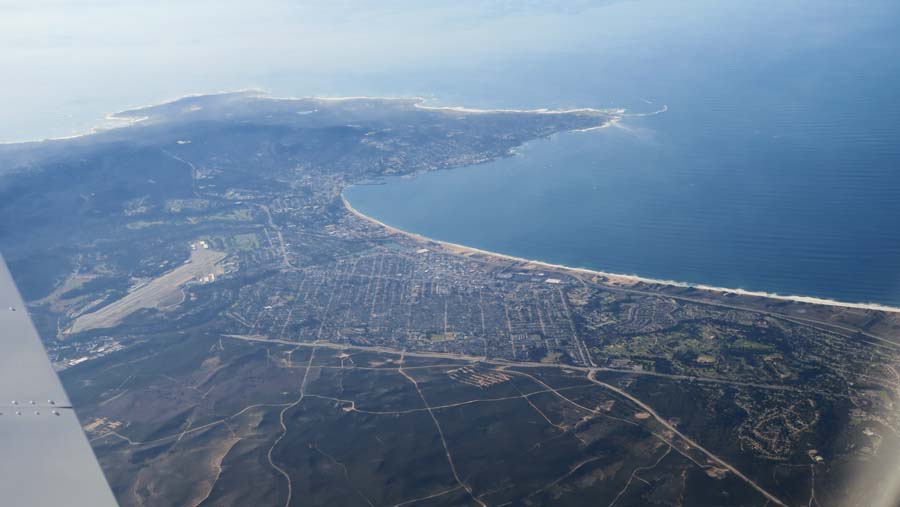 A little further on we pass over Morro Bay. You can tell from that massive sphere of stone in the entrance to the bay, it is called "Morro Rock". I once refueled my boat here. Click here for a picture of my boat at the refueling dock with Morro Rock in the background.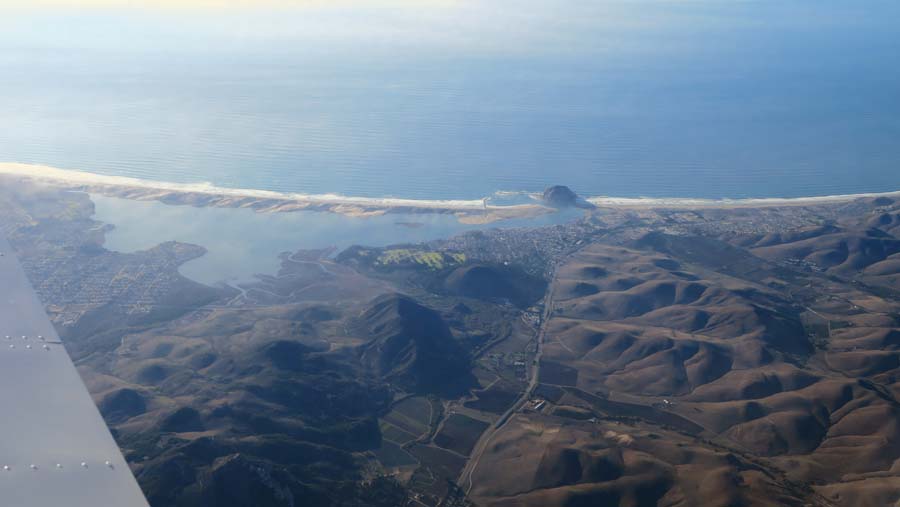 A zoomed in picture of Morro Rock and Morro Bay from the window of our airplane.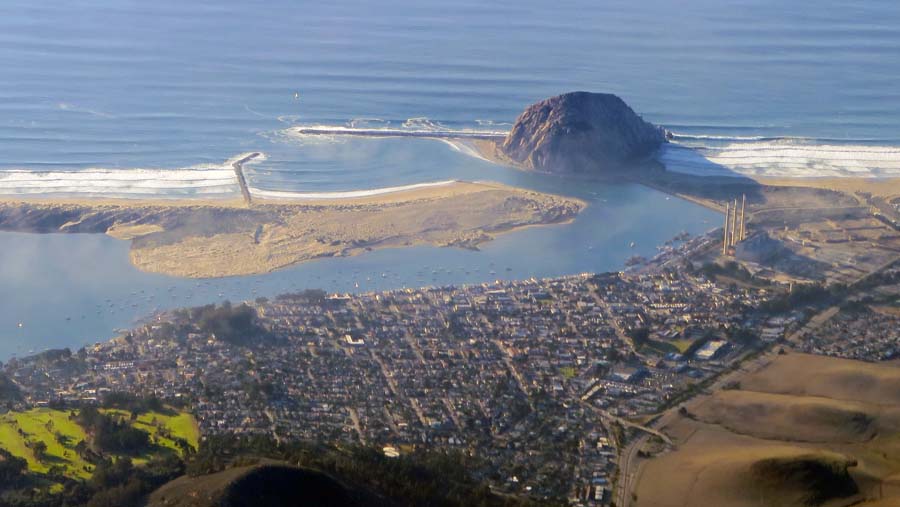 The picture below is showing Avila Beach and San Luis Obispo Bay.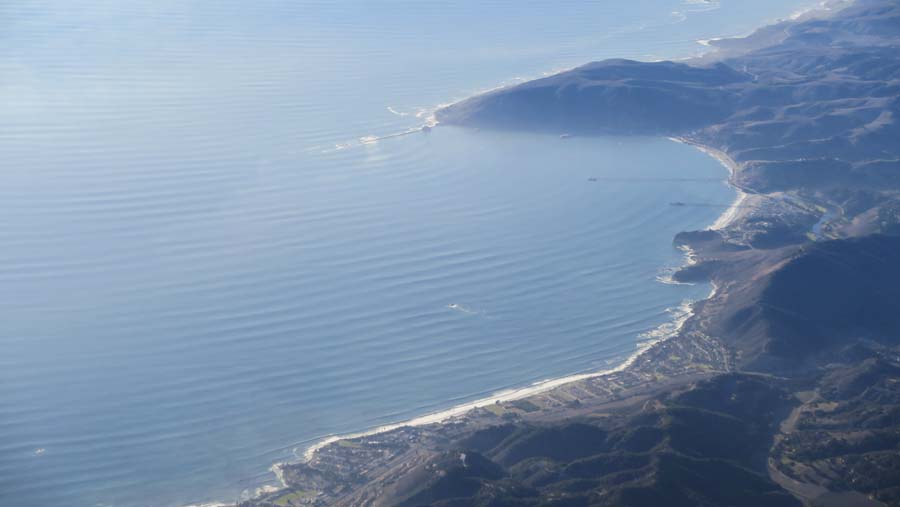 A picture of what the pilot sees.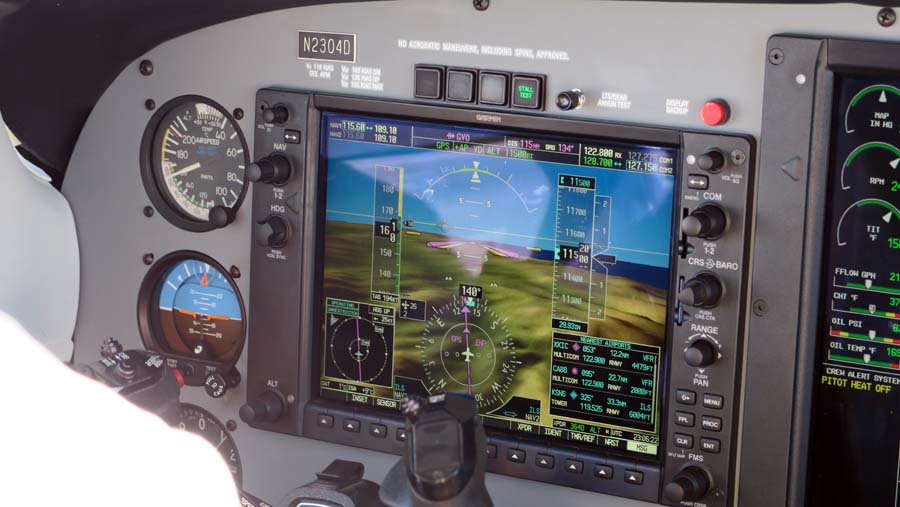 There is an oxygen system on this plane, in fact the pilot must use oxygen himself at any altitude higher than 10,000 feet (and he did this on our trip). We can also get oxygen and I think the pilot mentioned it is like an additional $50 charge.
There is an emergency exit next to my seat.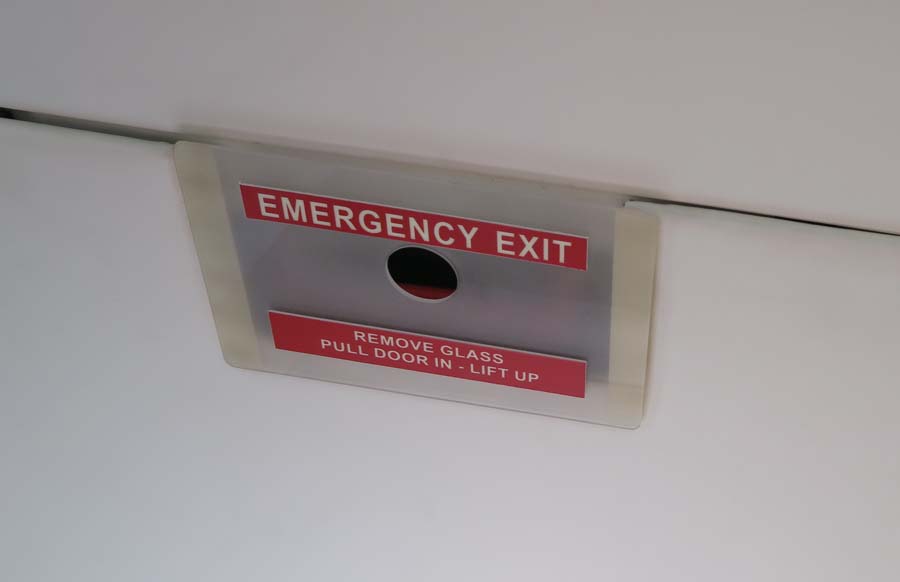 The closed main door to the airplane has two cup holders in it.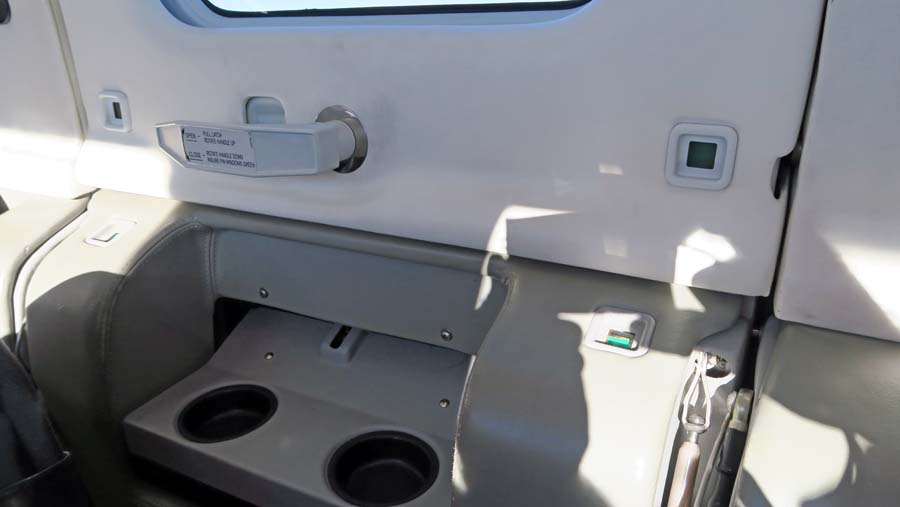 As we come in for landing in Santa Barbara, we see oil drilling platforms off the coast of Santa Barbara.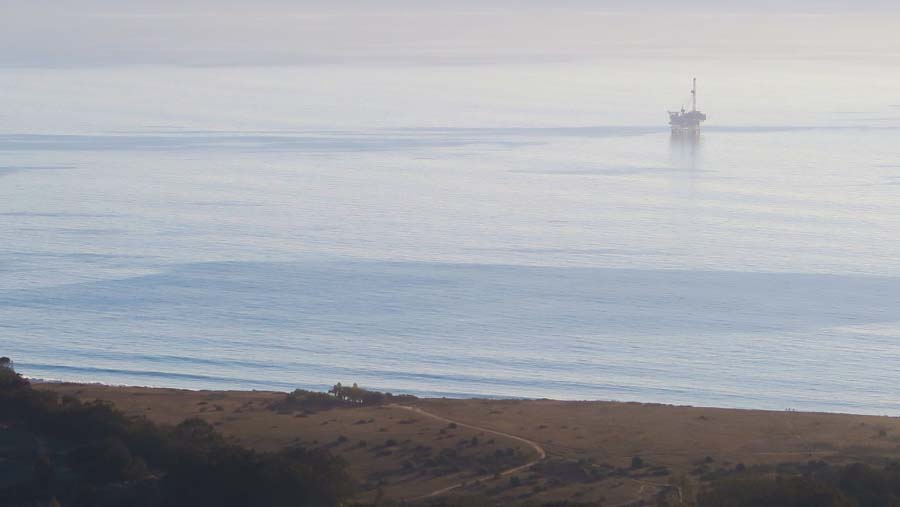 Here is Santa Barbara airport as we come in, turn right, and land.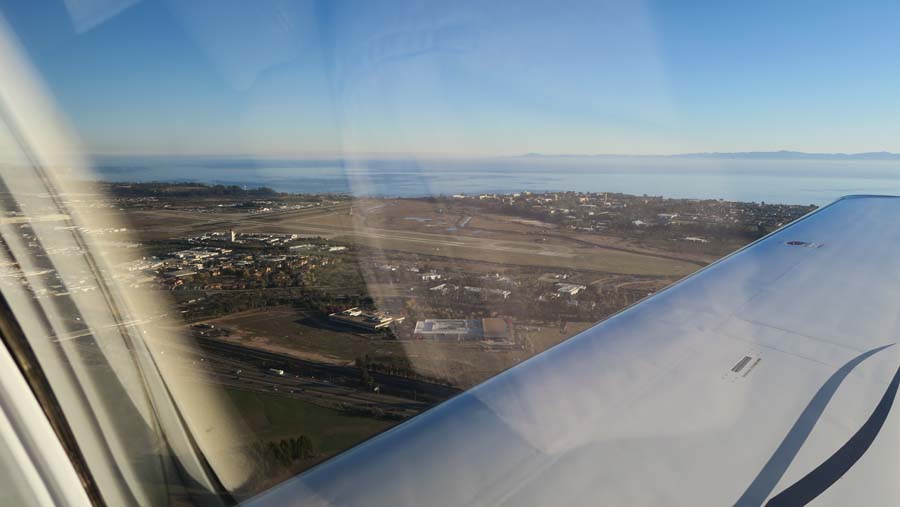 And here we are on the ground taxiing in Santa Barbara Airport.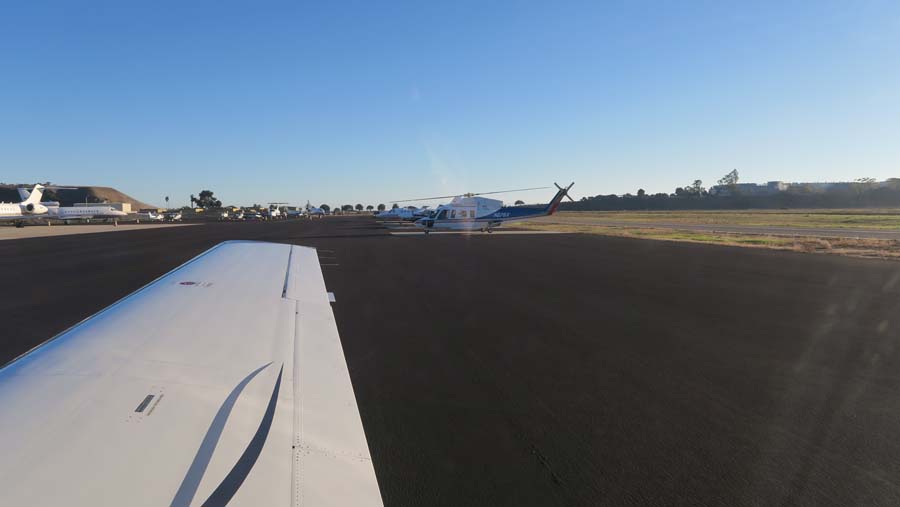 We are at the "Atlantic Fixed Base Operator" (FBO) private terminal in Santa Barbara. After we land, the pilot needs to wait a couple minutes for the engine to cool down, and while we waited he called on his radio for our Hertz rental car to be delivered out to our airplane ON THE TARMAC. Below you can see Howard and Katherine climbing into our black rental car, and the Piper Matrix in the middle, and on the far right is the Atlantic private terminal. We drove around the airplane and out onto the highway. That's just AWESOME service! Dropping off the Hertz rental car we drove right out here next to the plane, handed the keys to the FBO guys (seen in yellow shirts below) and climbed aboard our airplane and flew away. Oh, for the record the ridiculous Dodge Challenger there wasn't the car I requested, I wanted a 4-door sedan to make it easy to climb in and out of, and Hertz drops off a two door American muscle car.
We attend the 50th birthday party for my brother for the next few hours. It is only 6 miles away from the airport. Then we drive back to the plane depart at about 9pm and fly back home in the dark! Below is a night picture of the Santa Barbara coastal area, it's covered in a little low fog here and there, but it is a clear and pretty night. (I'm not great at night photography.)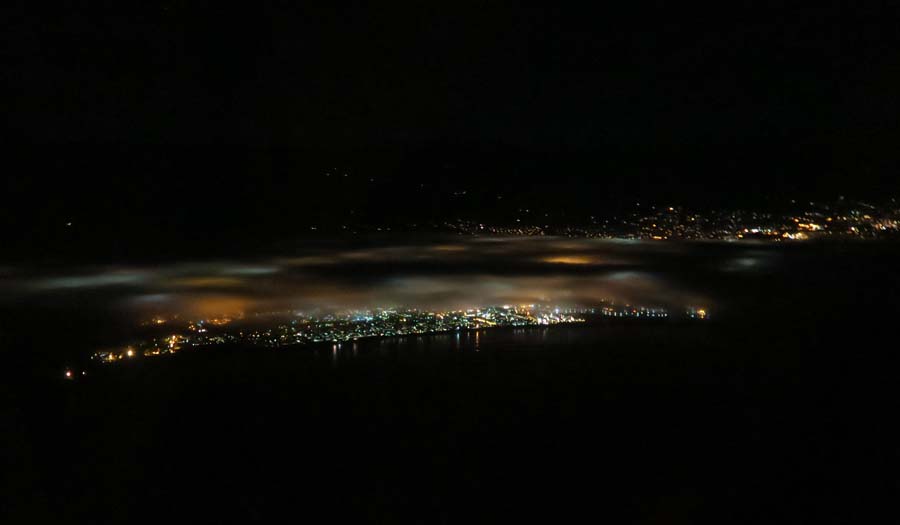 In the picture below it is night time and our pilot is banking the plane in a turn, notice the "horizon" on the Garmin 1000 display in the picture below. Those electronics fill me with confidence for flying in this airplane at night (and possibly in the fog), they are really clear, understandable displays.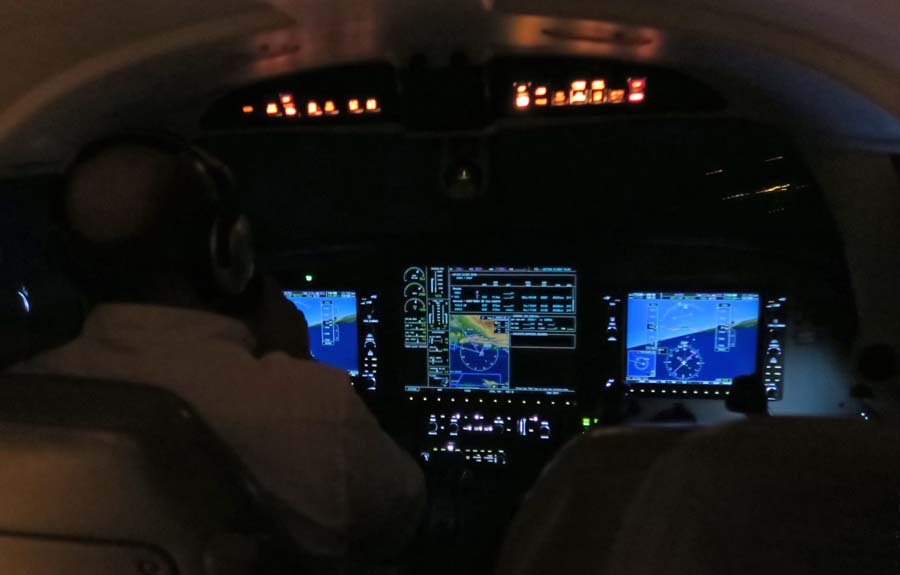 You can't really tell, but the brightest spots in the picture below are offshore oil drilling platforms.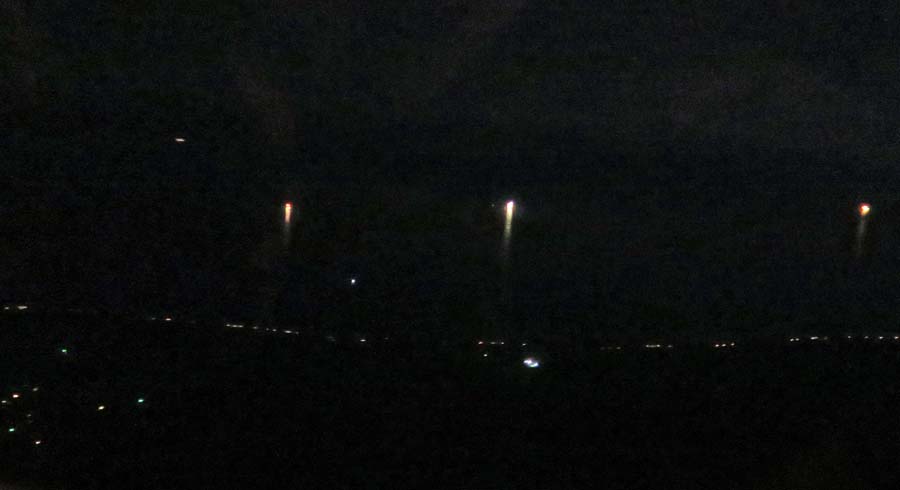 I'm bad at capturing it, but a picture of the city lights below taken through the window of our airplane.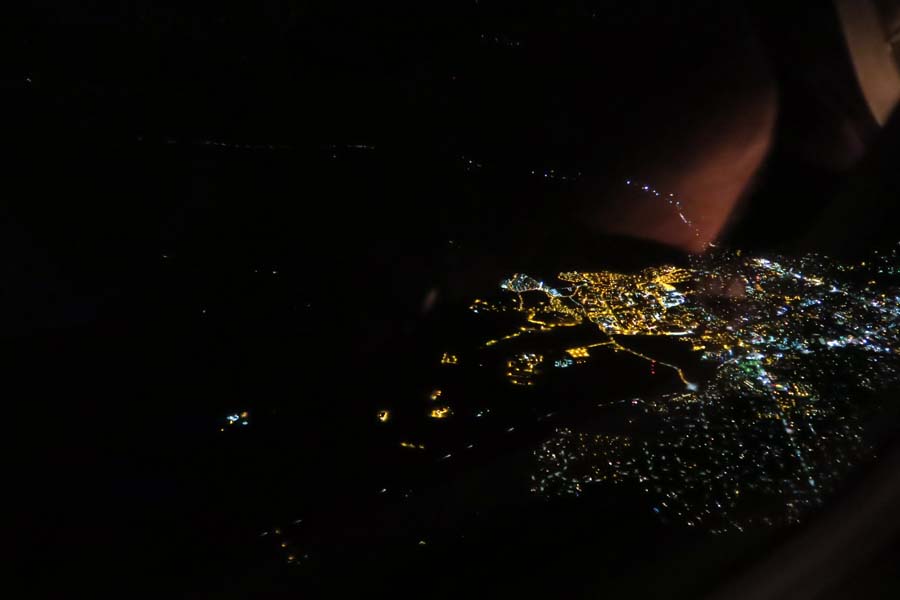 Katherine uses her iPhone to take a picture of the pretty city lights.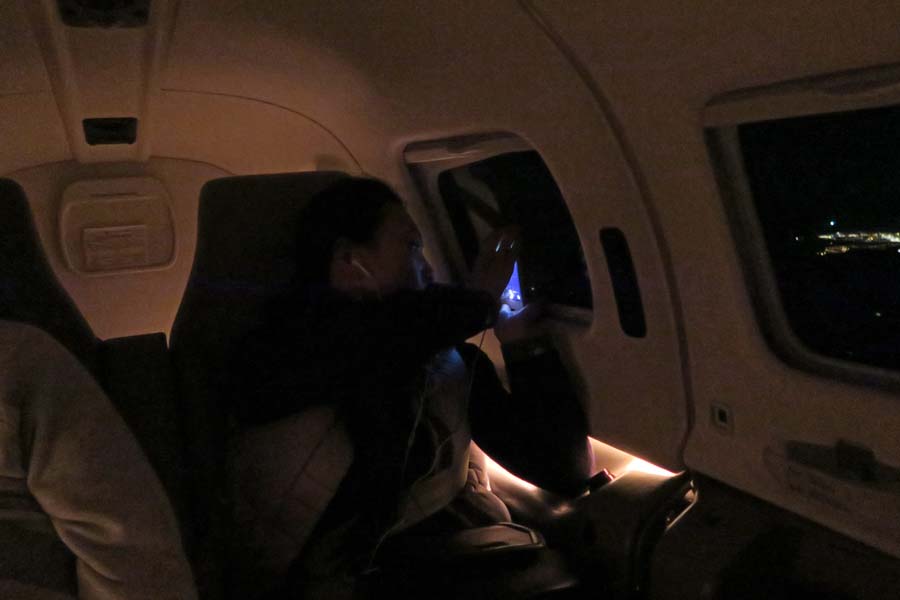 Another attempt at a night picture, the airplane wing is the right half of this picture.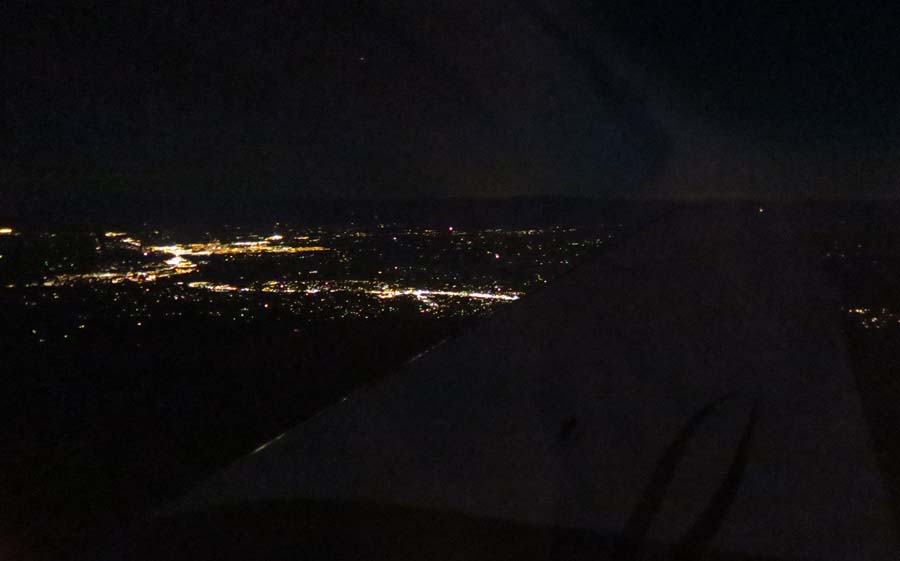 More of the same night flight pictures.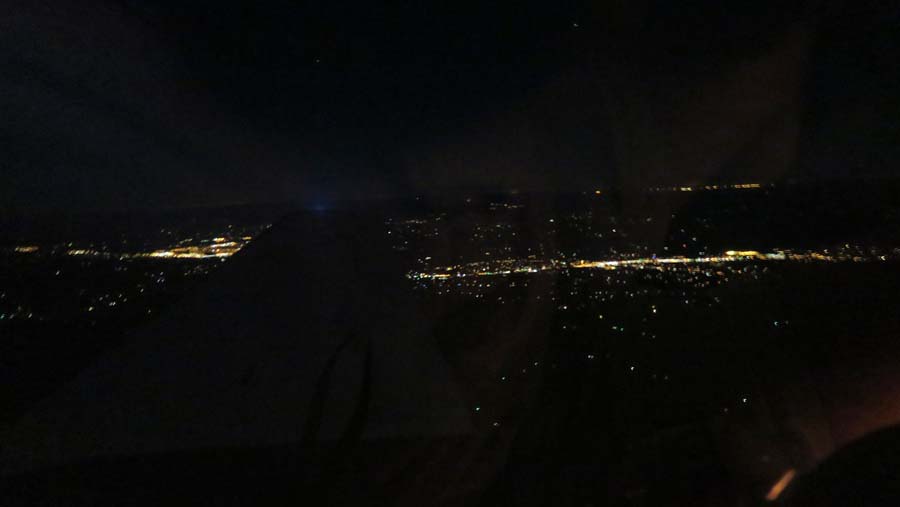 Final night flight picture.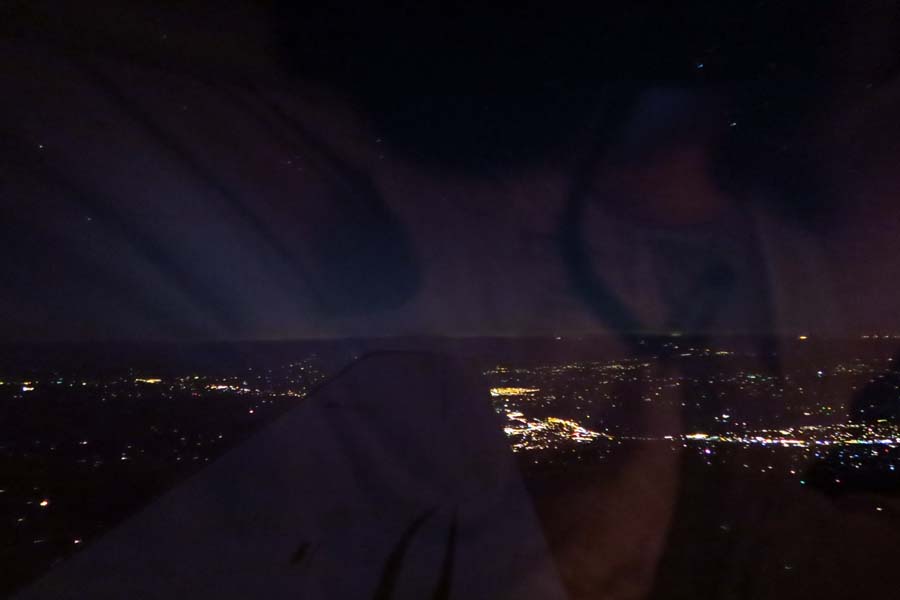 We arrive home landing at 10pm into Half Moon Bay airport, which is completely deserted except for us. My car was the only one in the parking lot. Dave the pilot helps us out, then hops in his plane and takes off for his "home airport" which is 15 miles away.
That's it!