2014 Palos Verdes (Los Angeles) Weekend

(12/06/2014)
Some pictures from a weekend trip to visit Katherine's parents Ki (기) and Yong (용) and her brother Will in Palos Verdes (suburb of Los Angeles). Click on any picture below for a higher quality original.
This is boring, keeping the link for later, it is a movie of Katherine "Opting Out" of the background scatter machine in SFO (San Francisco Airport). Katherine says that the TSA agent who was patting her down complained to some of her coworkers that she "found it uncomfortable" that I was taking photos of the opt out pat down. Huh. Isn't it weird how the TSA agent found the noninvasive process of being filmed uncomfortable, meanwhile Katherine had her body parts "scanned" by a complete stranger and didn't complain..?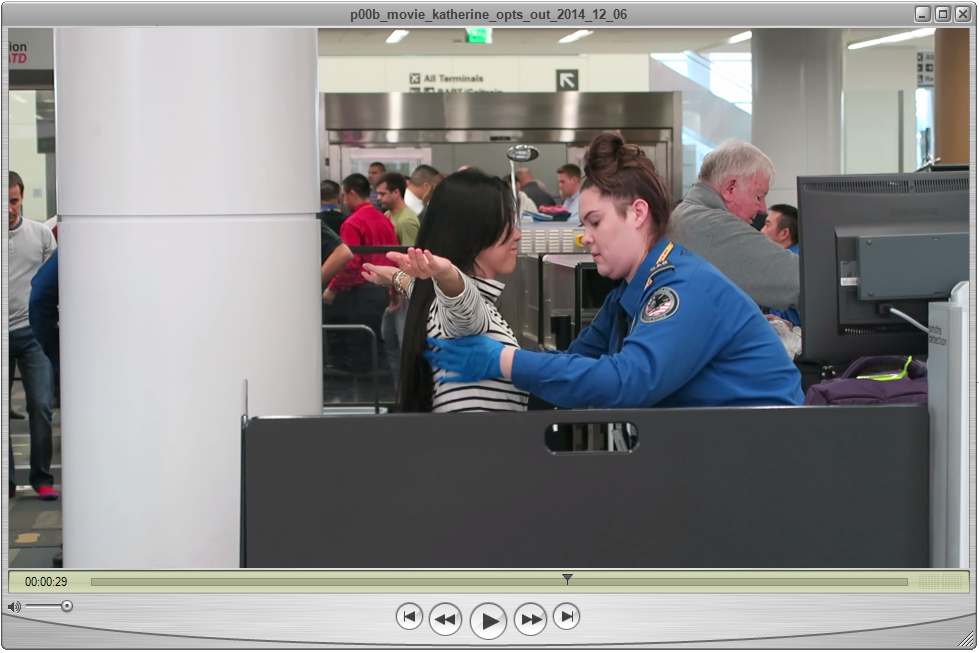 We flew Virgin America, the lighting is reminiscent of a night club inside.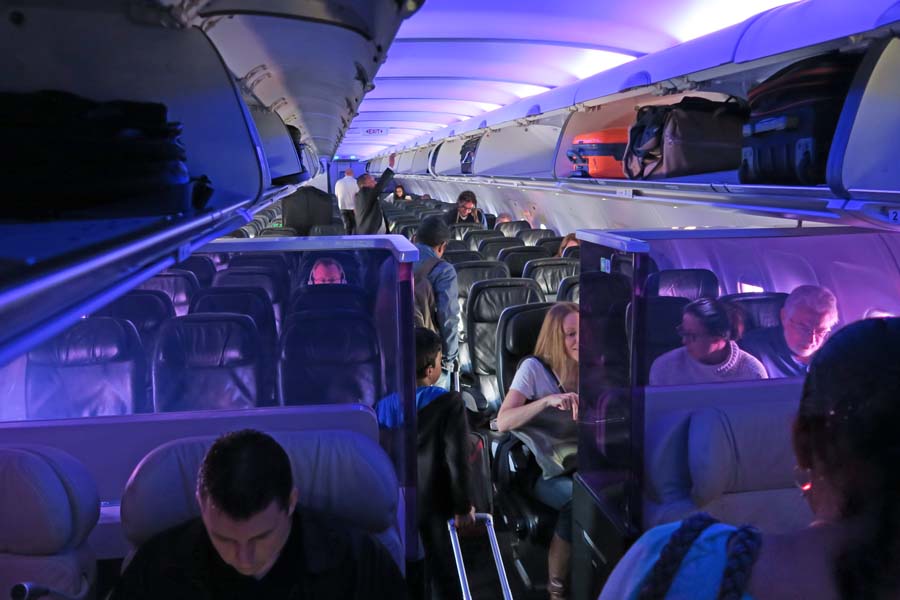 My camera is a Canon G7X and it has a "selfie feature". Below is a selfie while Katherine photo bombs. :-)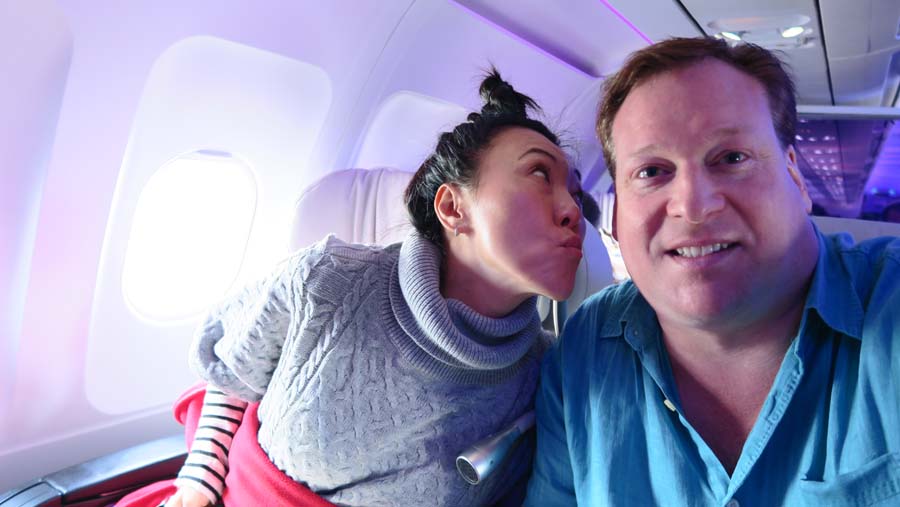 A picture out the airplane window as we fly from San Francisco to Los Angeles.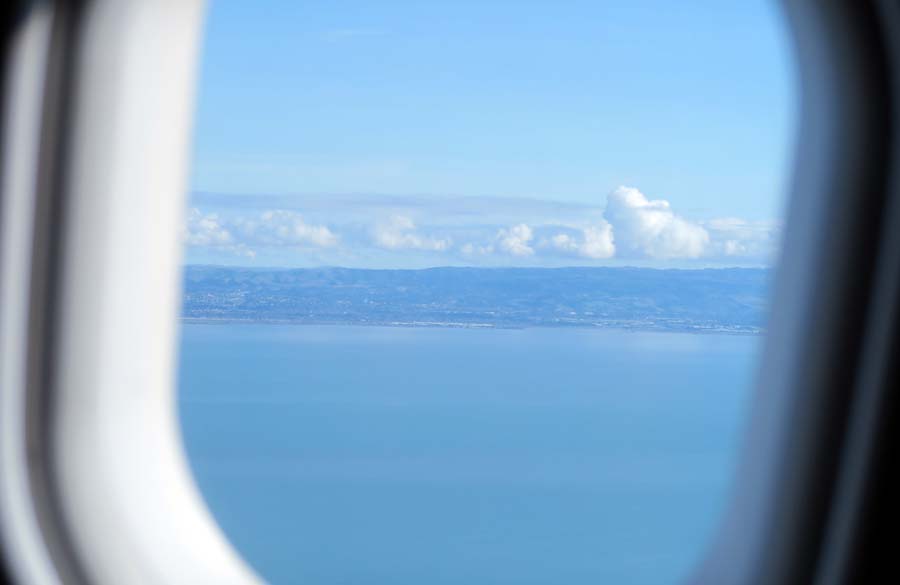 As we are landing in Los Angeles (LAX Airport) I like this picture of the "sea of buildings sprawl" which is Los Angeles.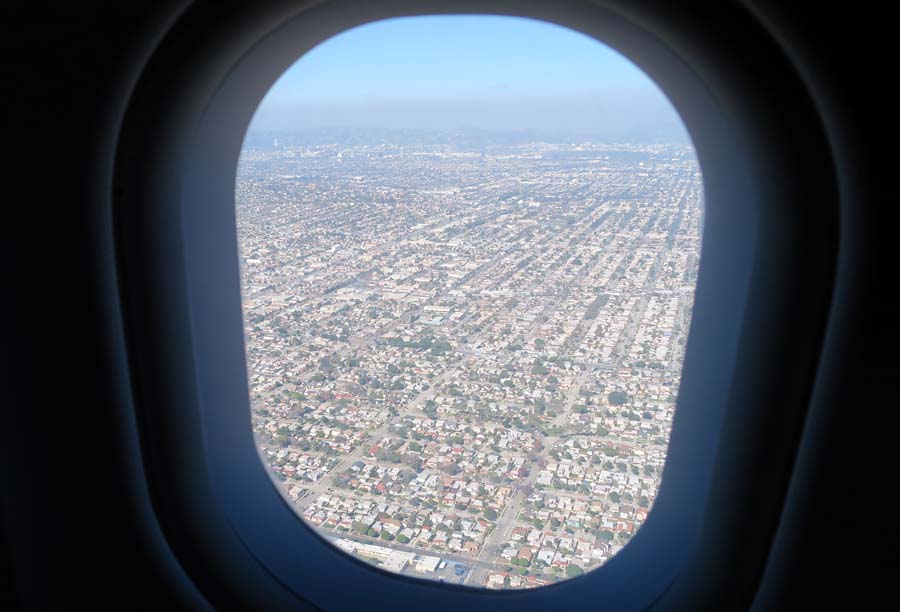 Our rental car from Hertz had 44,000 miles it on had a ton of dings and dents.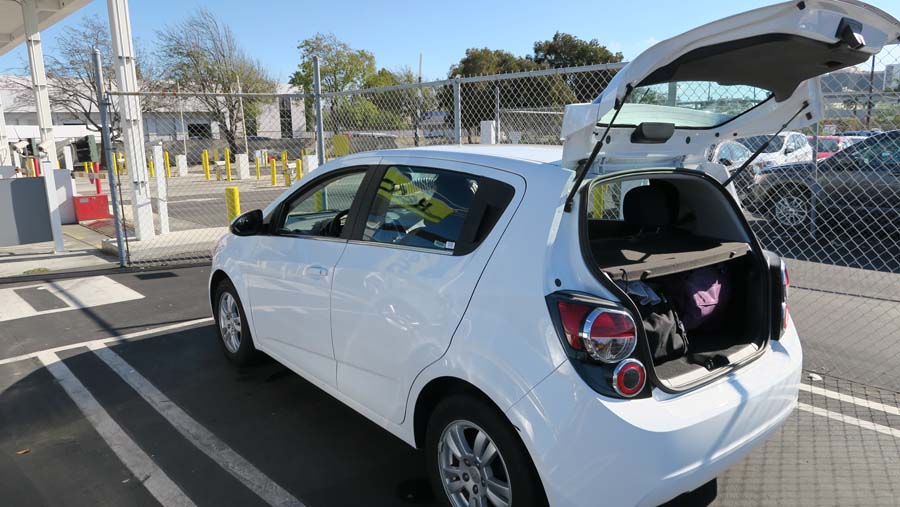 The mall near Katherine's parent's house in Palos Verdes has an ice skating rink, I thought it was cute how there were little plastic orange seals to push around.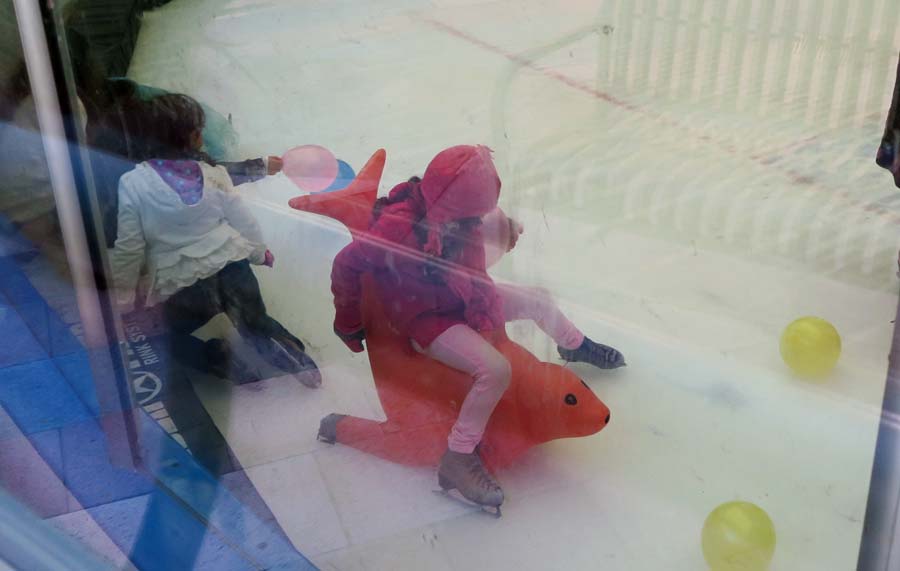 That night, for Ki's birthday we went to Pacific Fish in Redondo Beach. Below is the front of the restaurant. It is on the pier in Redondo Beach, very pretty.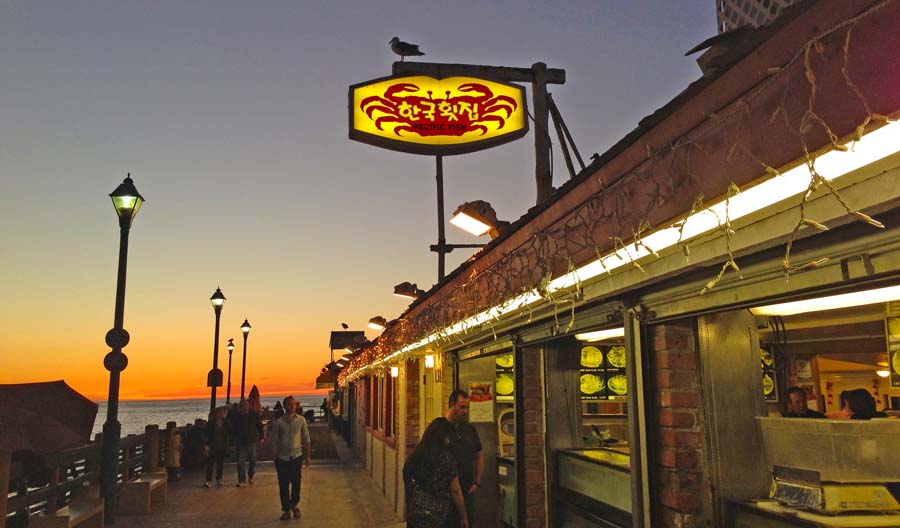 A picture from the pier of the beach to the south.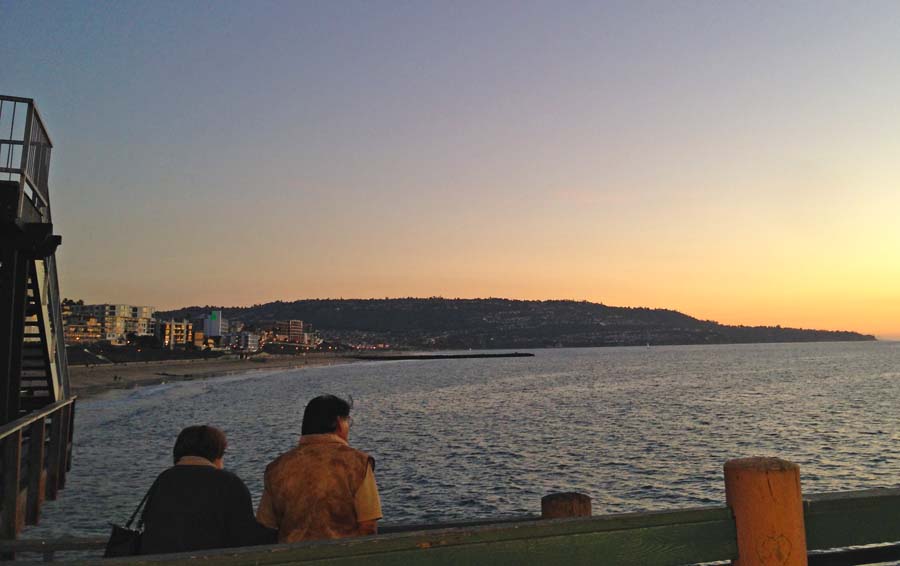 We had two lobsters, some sushi, and fish soup. It was quite good. The restaurant is operated by a Korean family, and I was the only Caucasian in the entire place. :-) Below from left to right is Katherine's father Yong (용) on the far left, Katherine in striped shirt, Katherine's brother Will, and on the far right is the birthday girl Ki (기) who is Katherine's mother.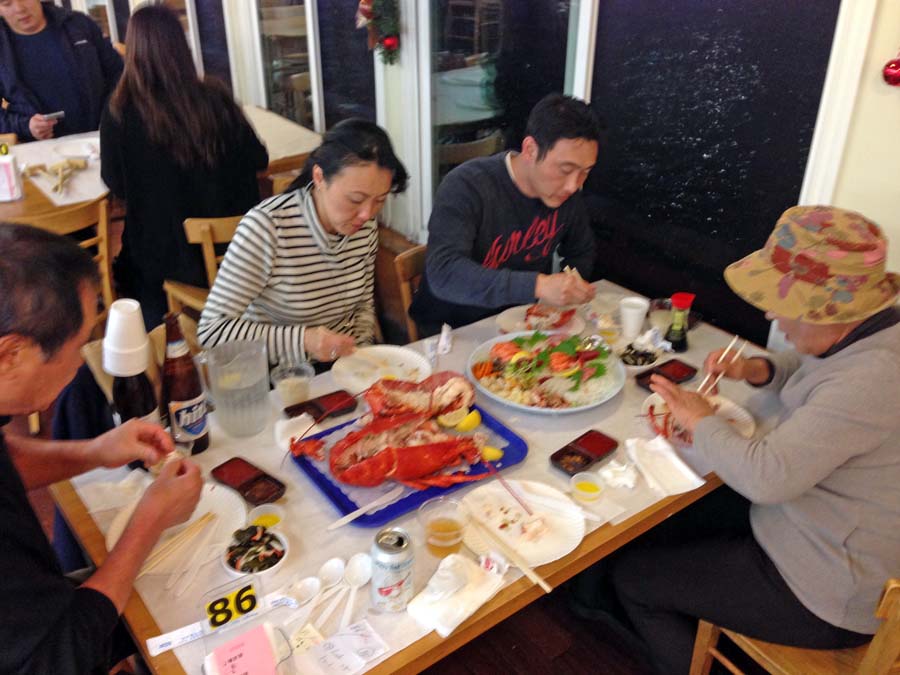 I'm sitting next to Ki (기) and she is helping me with fish soup. The soup was quite good, a bit spicy, and had fish bones in it. The Anglicized word for the soup is: saeng sun maewoon tang. The exact name of this dish is: 대구 매운탕 (Dae Gu Mae Wun Tang) Spicy Cod Fish soup with vegetables and tofu.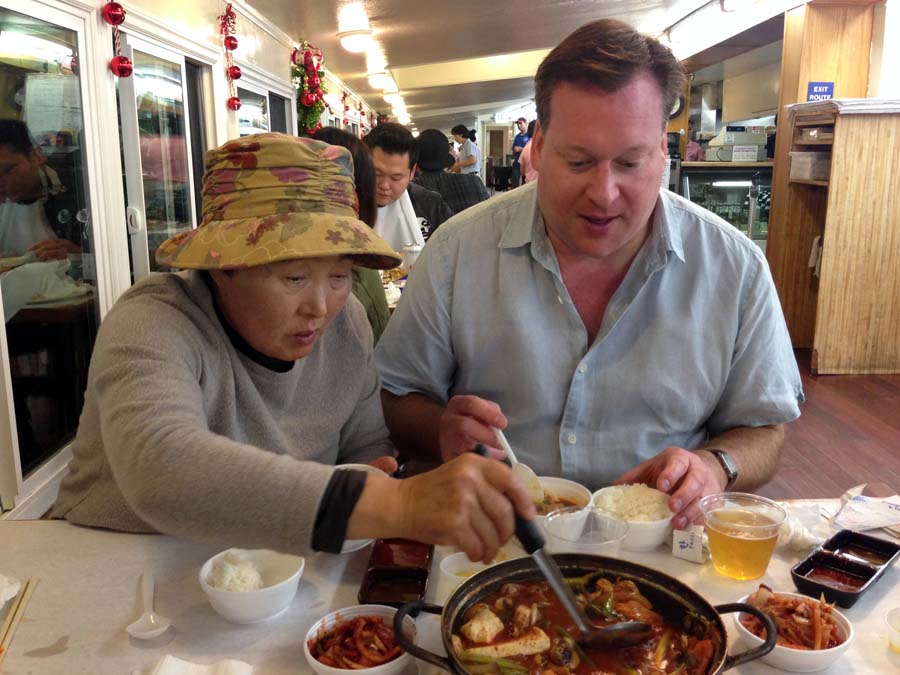 Katherine's father Yong (용) eating fish soup.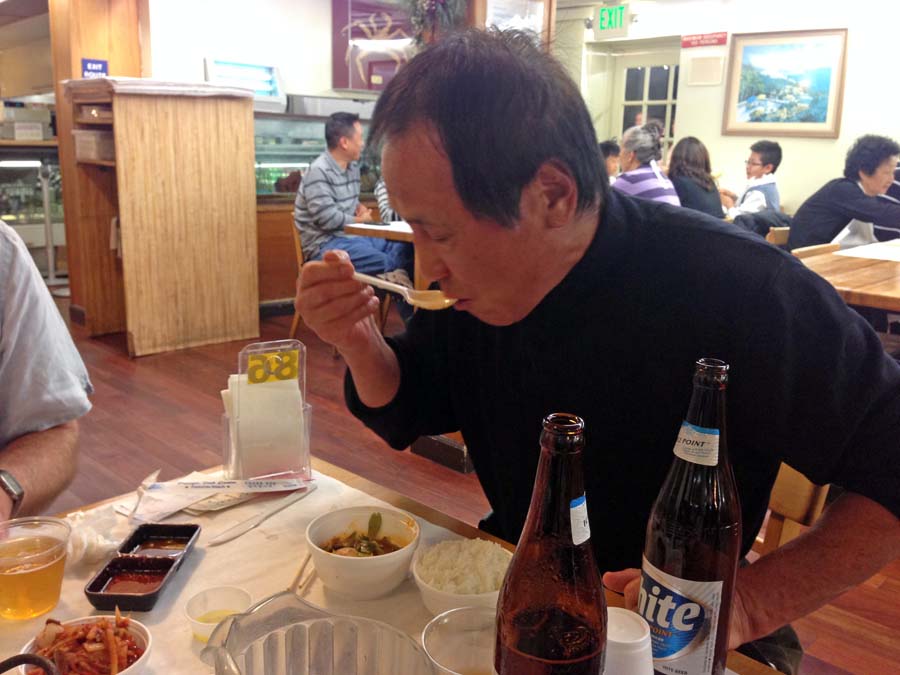 The next morning, in the Chung family house.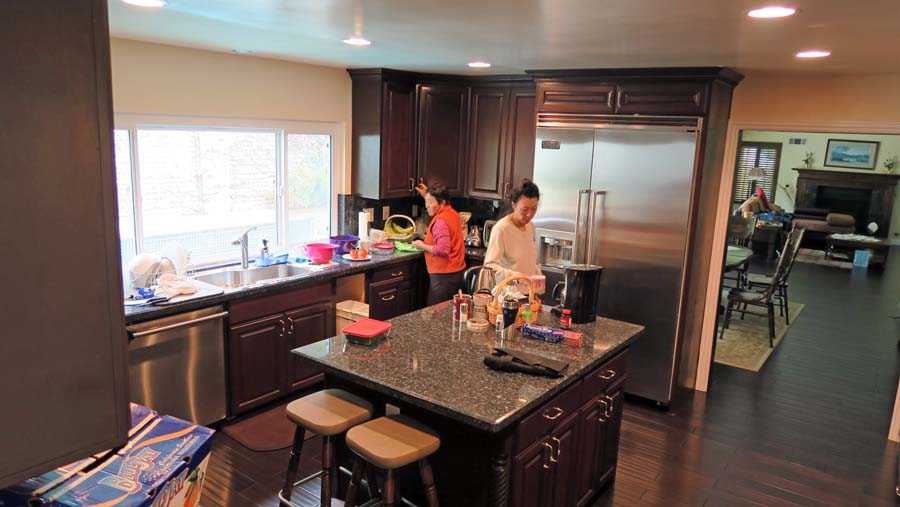 The house has transformed since the last time I visited, it now has hard wood floors and no carpet.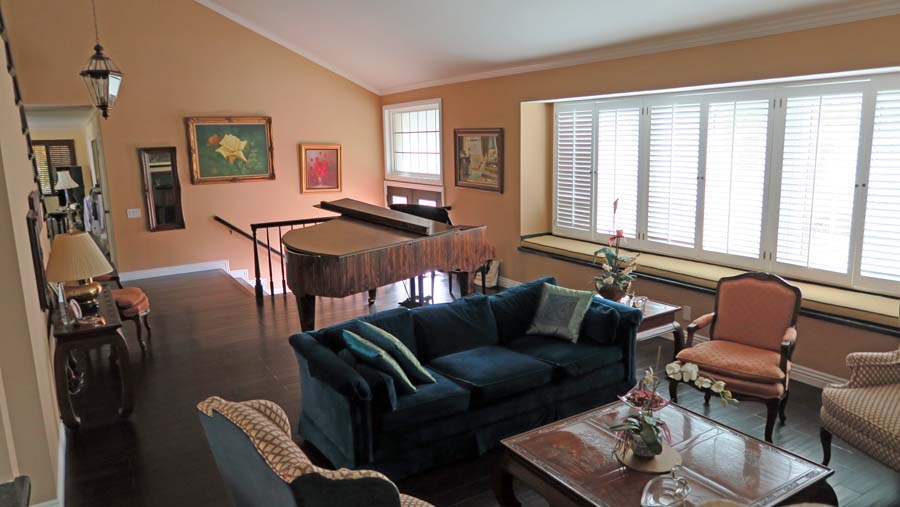 Their swimming pool looks a bit lonely.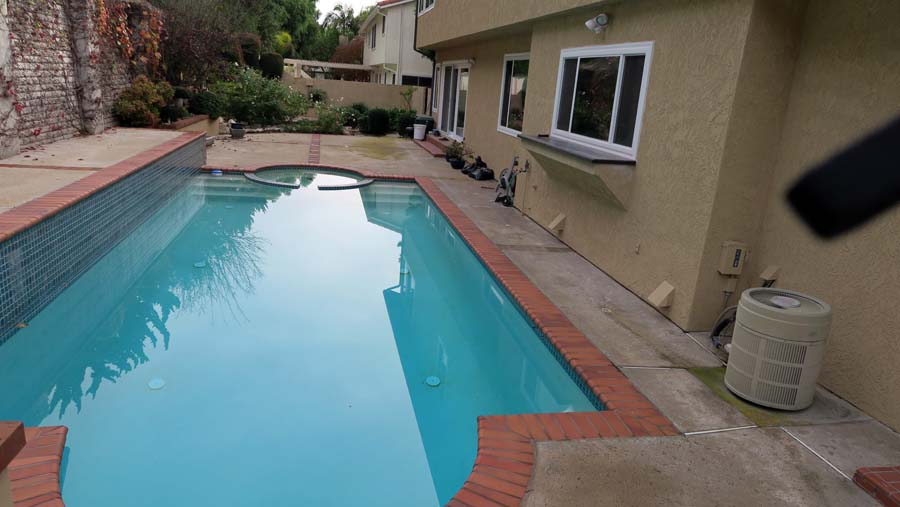 The Chung family (being Korean) has a dedicated Kimchi refrigerator. The brand is a "Dimchae Kimchi Refrigerator".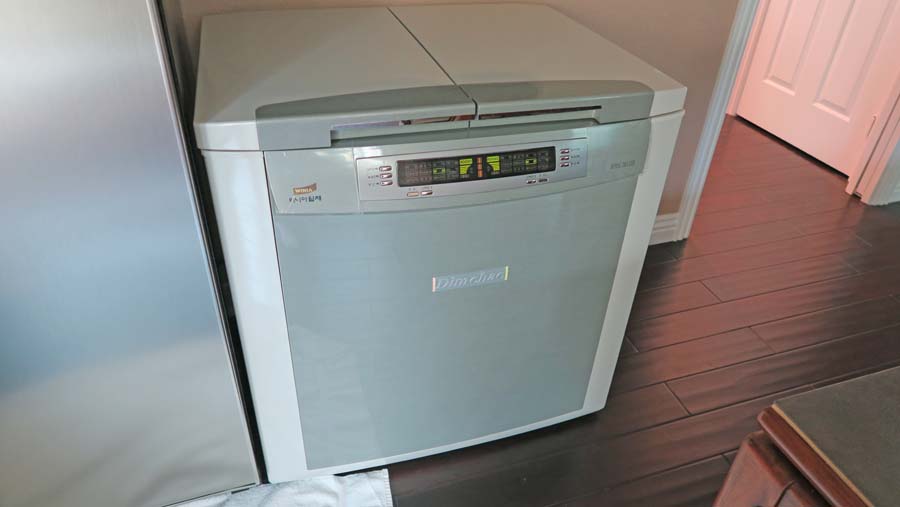 Opened up (I'm snooping) it has delicious kimchi (김치) inside. The reason it is in a separate refrigerator is because kimchi is stinky and you store it up to 6 months, so you don't want it making other food smell like kimchi.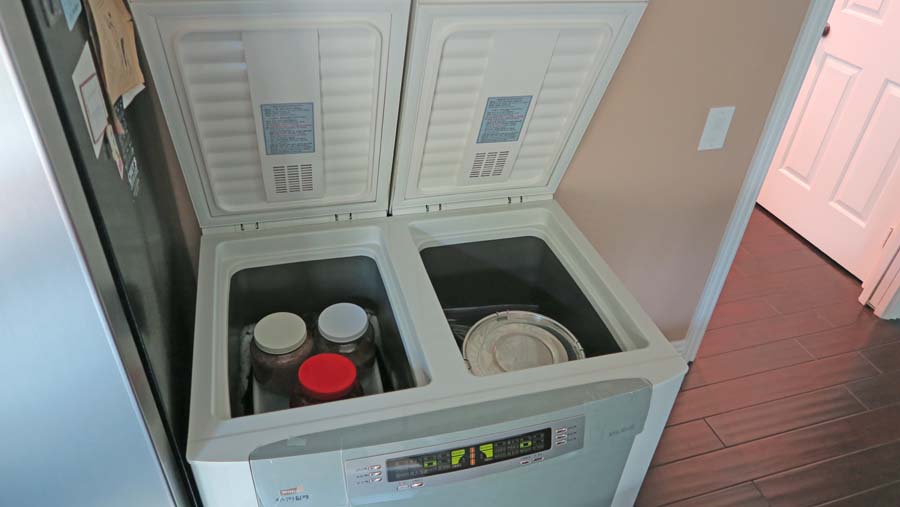 A close up of the current batch of Kimchi.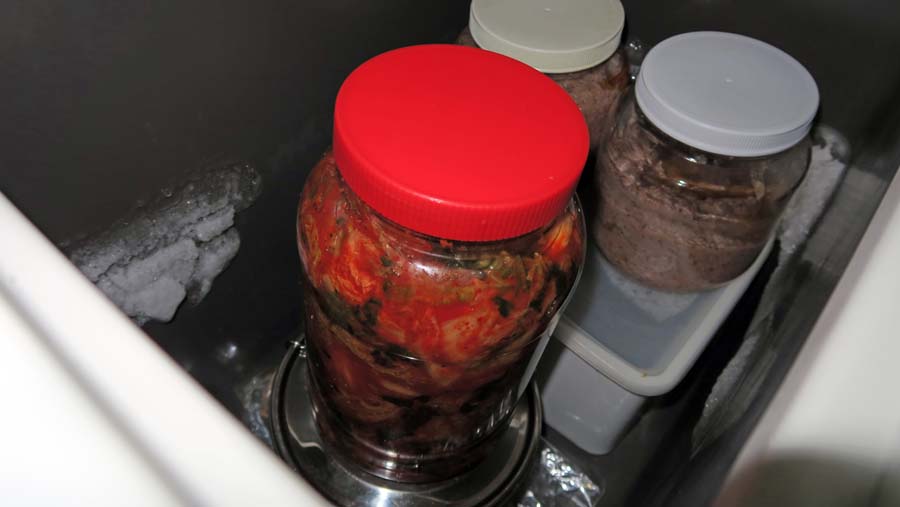 A picture of the front of the Chung house. In Los Angeles, it is important to own a good car since you're likely going to spend endless hours on the freeway. All of the houses in this neighborhood have 3-car garages attached to the house.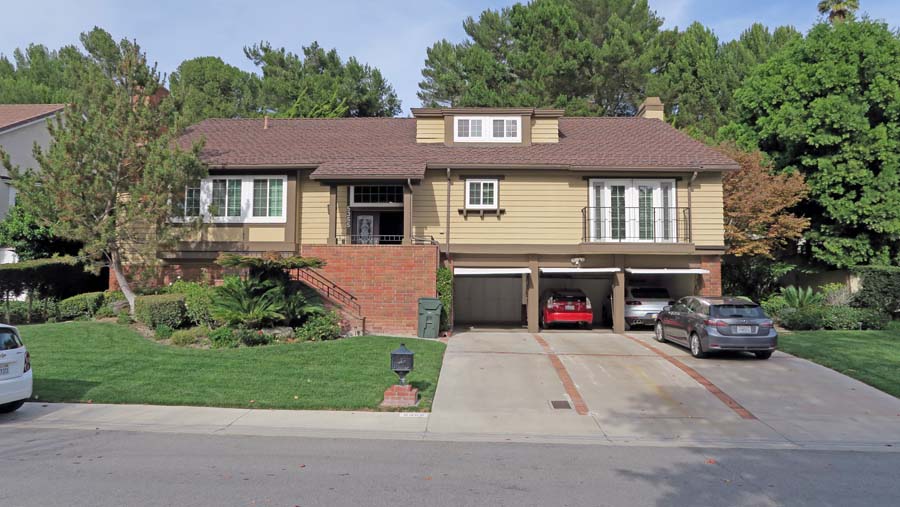 As we leave, Katherine and her mother walk out to the car.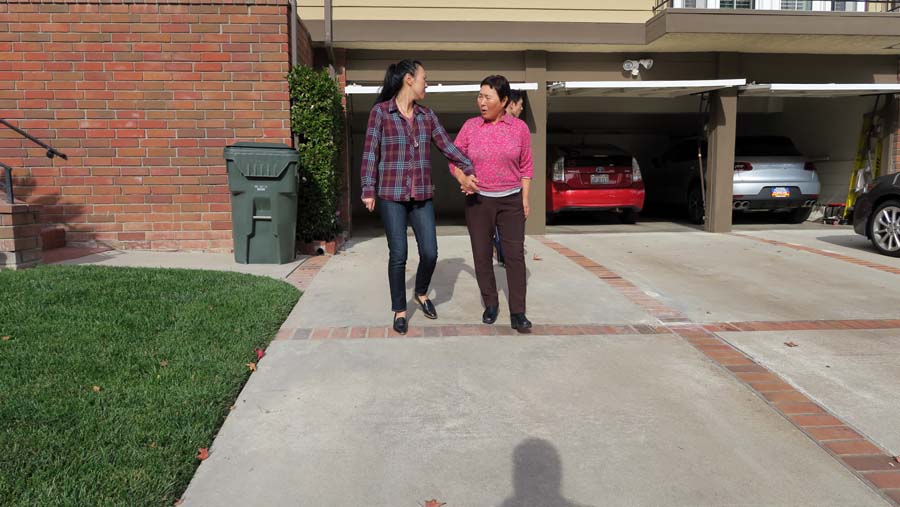 Back in LAX, another movie of Katherine "opting out" of the backscatter radiation machines.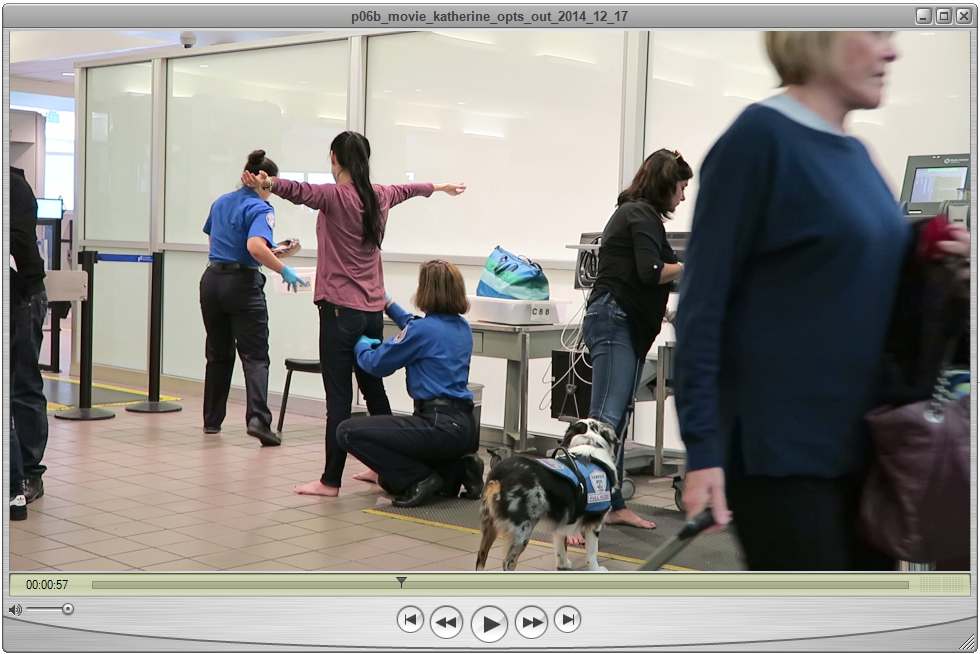 And back in Virgin's discothèque, the panel in front of me is reflective so I took this selfie. :-)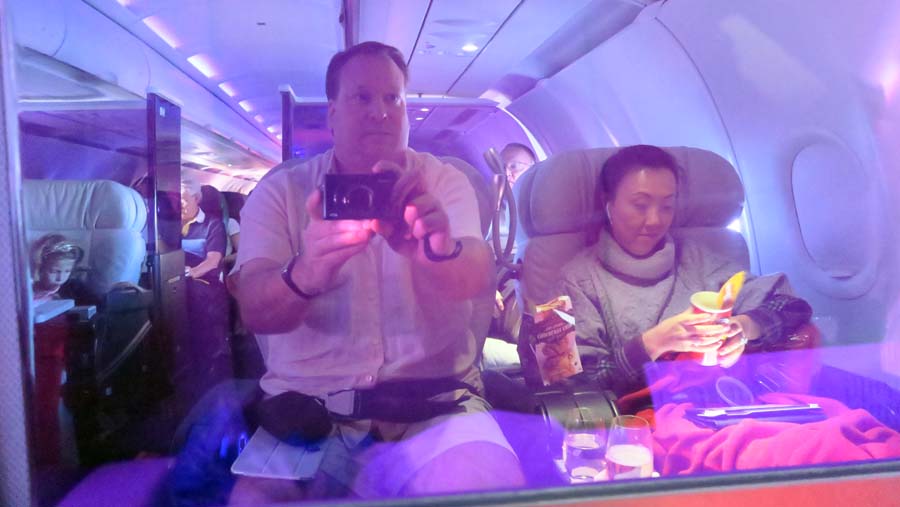 All done!
Return to Ski-Epic home pagee.