2016 Corvallis Virginia Wilson Move 2

(10/22/2016)
On 10/22/2016 Brian, Katherine and Cheryl helped move Virginia Wilson's (83 years old at the time) from the "Conifer House" to "T's Heart Elder Care" which is an "Adult Foster Care Home". Katherine and I flew up to Corvallis, Oregon to help. This is the second move this year, thus the "2" in the title.
Previous Address: "Conifer House", Apartment 103A at 145 NE Conifer Blvd, Corvallis, OR, 97330
New Address: "T's Heart Elder Care", at 417 NW Merrie Drive, Corvallis, OR, 97330
Below Katherine and I (Brian) are on the "Air Train" in SFO Airport heading towards the terminal. We start out every trip pretty much the same. A few years ago I figured out there is "international parking" at San Francisco Airport that is inexpensive and always available and does not require a car shuttle to get there. The key is: not a single international traveler has a car to park there, so it is always empty. This time we're leaving after work on Friday so it is dark.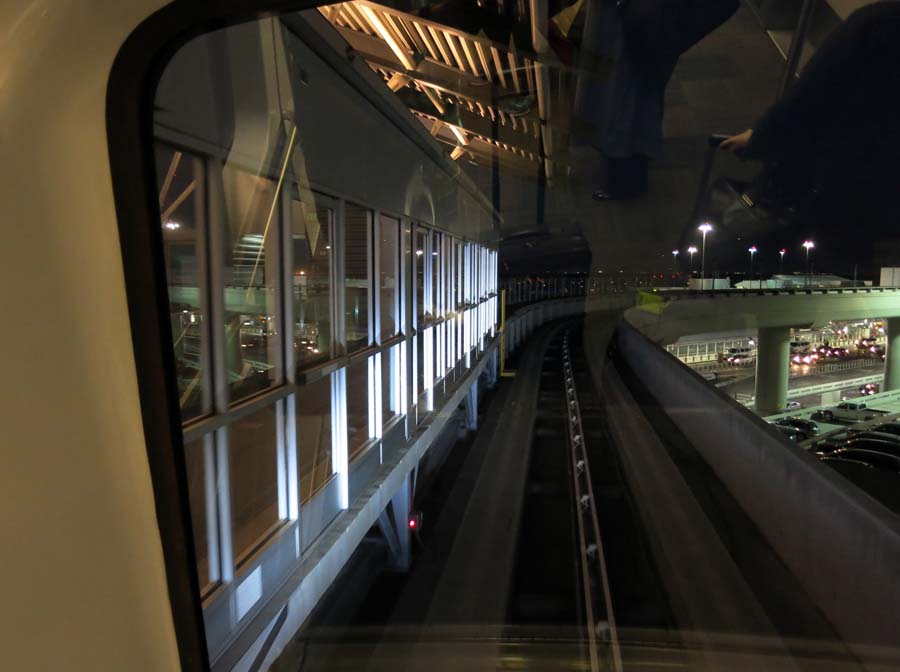 Click here for a movie of Katherine "Opting Out" of the backscatter machines. This is a "enhanced pat down" video.
We got a couple hours sleep then got up to move Virginia (my Mom). Cheryl took Mom out to distract her (she has Alzheimer's and get stressed out and agitated) while Katherine and I organize the move. We take pictures of her old room so we can setup the new room identically.

We used movers called "Last Minute Movers" and they didn't show up with a moving van like we assumed they would, so we did the move with my Hertz rental car and their white Nissan. How we did it is shown below, you invert the mattress and strap furniture to the roof of the cars. It took two trips. It was overcast (as Corvallis always is) but luckily it did not rain.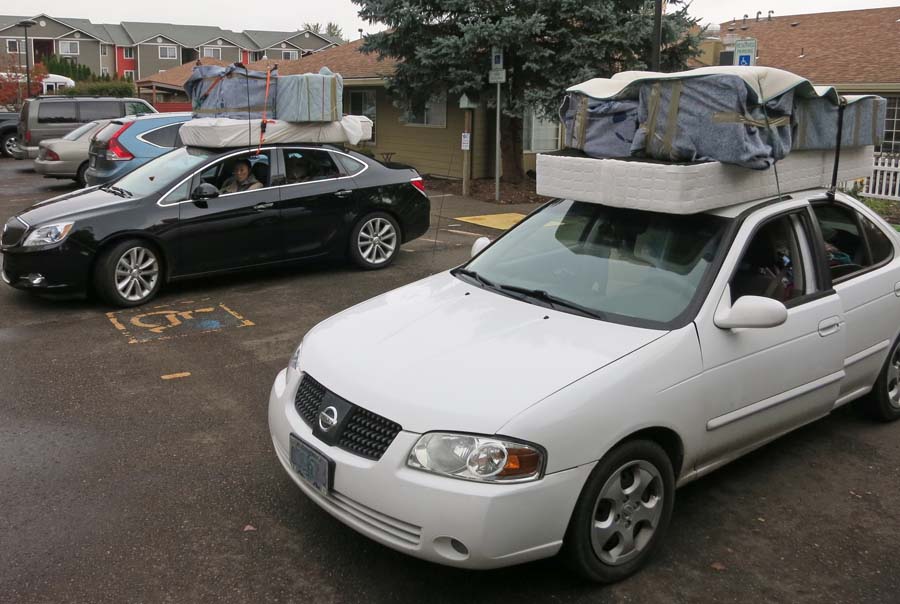 Below is a close up of Katherine ready to drive. The furniture on top are huge dressers with drawers.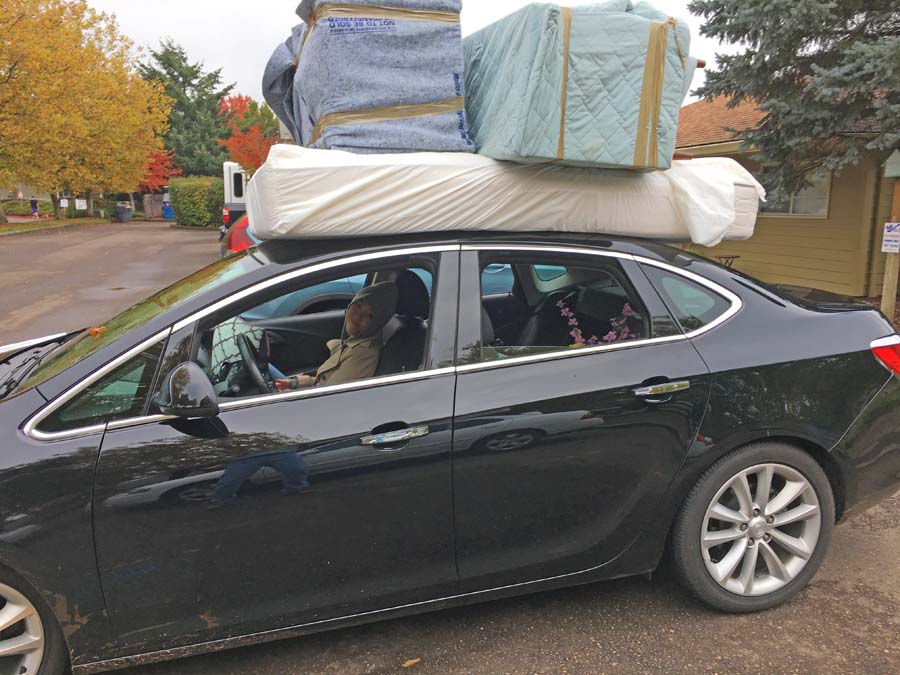 We are leaving Conifer House seen below.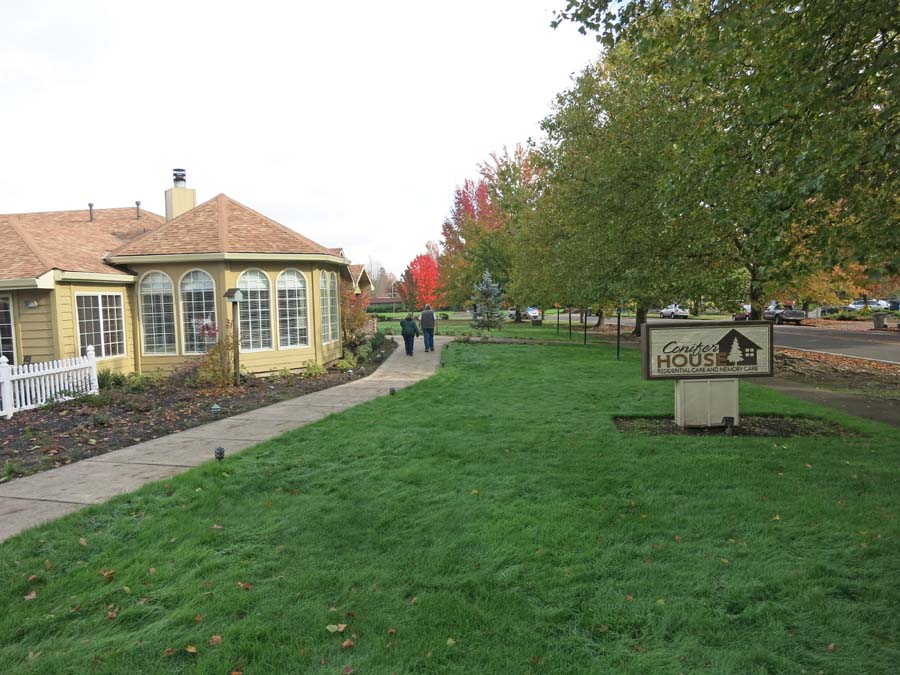 This is the Conifer House room Virginia was in now empty: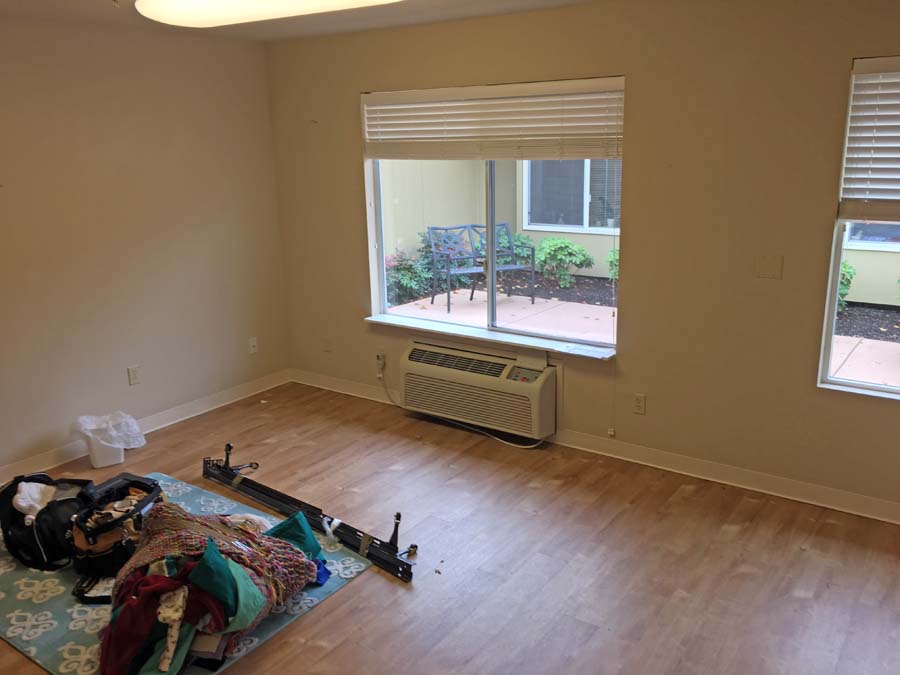 This is a picture of the outside of "T's Heart Elder Care" at 417 NW Merrie Drive, Corvallis, OR.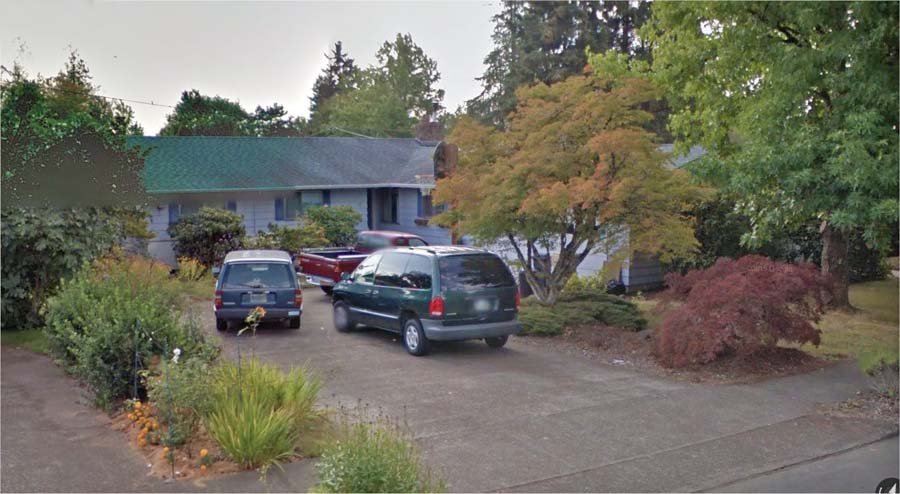 This picture was taken a few weeks later on 11/16/2016 when Ramey and Randy went to visit Virginia, but this is Virginia in the house pictured above with the therapy dog "Lady" that lives there with all the residents. That is Randy Wilson (Virginia's son) on the right: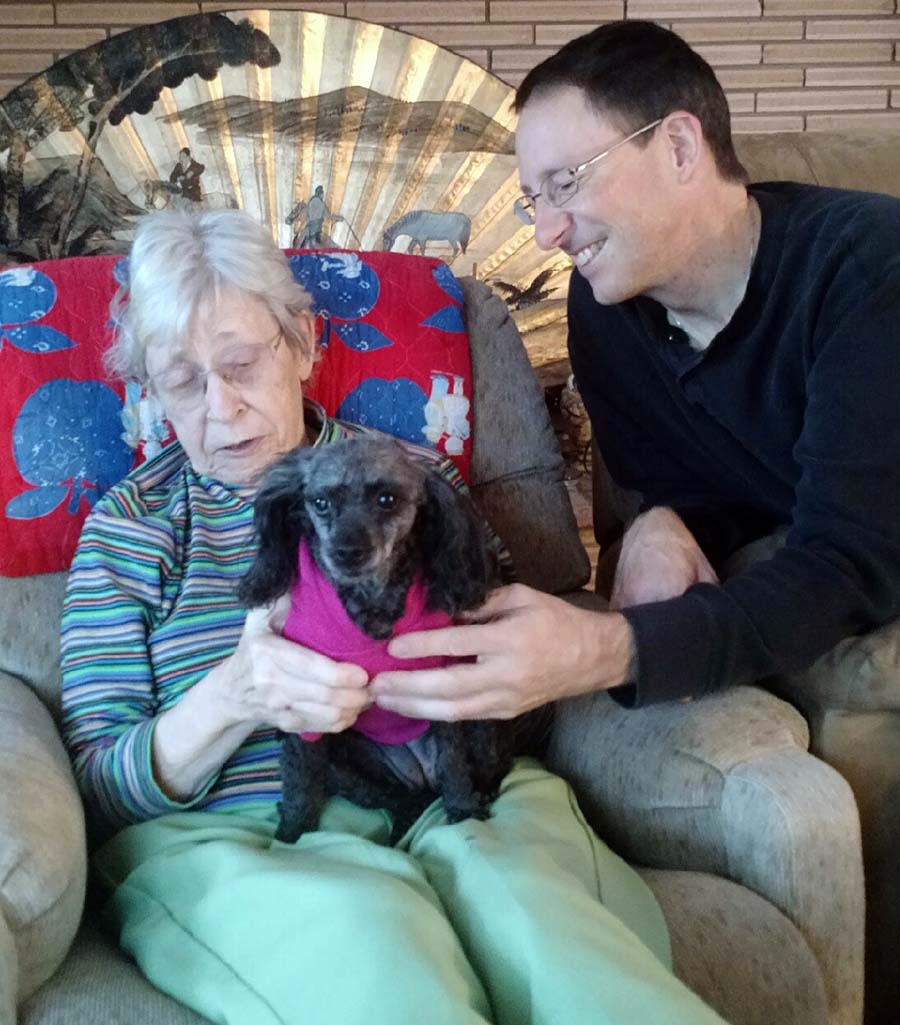 The move took a couple hours longer than we expected due to not having a moving truck or van, so we ended up just barely completing the move and Katherine and I had to head to Portland to catch our flight home. We hugged Mom (Virginia), said goodbye, and left Cheryl and Virginia getting acclimated to her new home. Below we arrive at Portland Airport.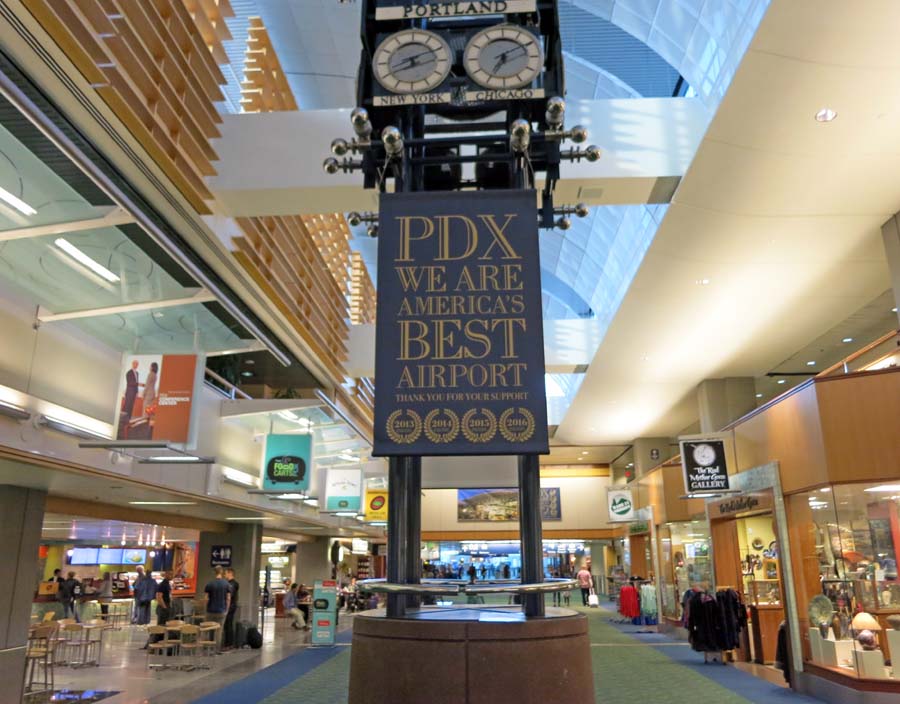 Click here for a movie of Katherine opting out of PDX Portland Airport full body scanners and getting a pat down. The security was also unhappy with me so they decided to mess with me (for filming Katherine) so the video cuts off. I really don't have great luck with Portland TSA, they are truly terrible at their jobs.
We got through security with just enough time to have a rushed bite to eat (we skipped lunch to achieve the move just in time) and so we wolfed down some food and jumped into our airplane going home. Click Here for a video of the airplane landing at SFO (for a later project, very boring!).
Waiting for Air Train at the end of an extremely long day, I noticed this sign below. My nerves were frayed, but it really bugs me that this picture uses a Compact Fluorescent (CFL) bulb as an icon for energy REDUCTION. CFLs are super, horribly wasteful compared with LEDs, and no modern person should be using CFLs anymore for anything. Besides being horribly inefficient, CFLs are filled with toxic vapor (mercury) so if they break you poison the environment (they are even hard to dispose of legally which leads people to throwing them in the trash which will poison the landfill). CFLs are old technology and very bad, please use LEDs.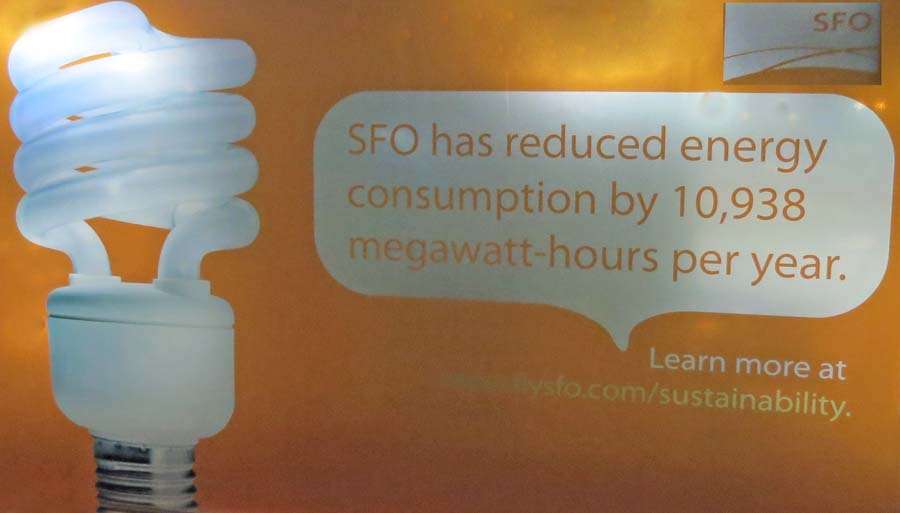 That's it!