2016 Hawaii (Kauai)

(4/1/2016 - 4/3/2016)
On 4/1/2014 Katherine and me (Brian) travelled to Hawaii for two nights. We met up with Will and Lia and stayed in their very nice VRBO near Princeville, Kauai, Hawaii. Here are some pictures, click on any of them to get a HUGE highest quality original. Also, click here for a map of interesting places in Kauai.
Below we arrive at SFO and park in our favorite "international parking" area that nobody else seems to know about. That's our all electric SmartCar parked between two gigantic SUVs parked in "compact" spots. Notice the wheels of the SUVs stretch into our spot? Nobody else could park between these behemoths, effectively reserving the spot for us! SmartCars park better than any other four wheel vehicle on earth.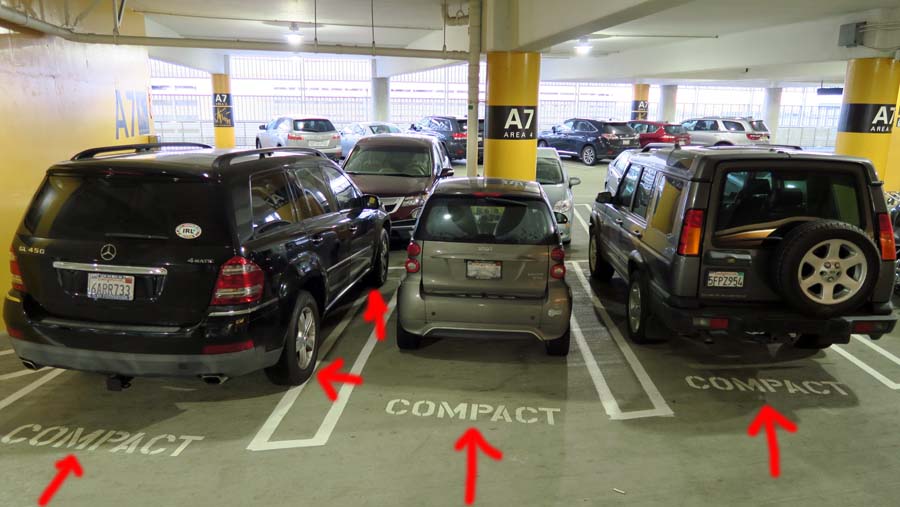 We are flying on Hawaiin airlines today, our first time. Below is one of their airplanes (don't know if it is our ride or not).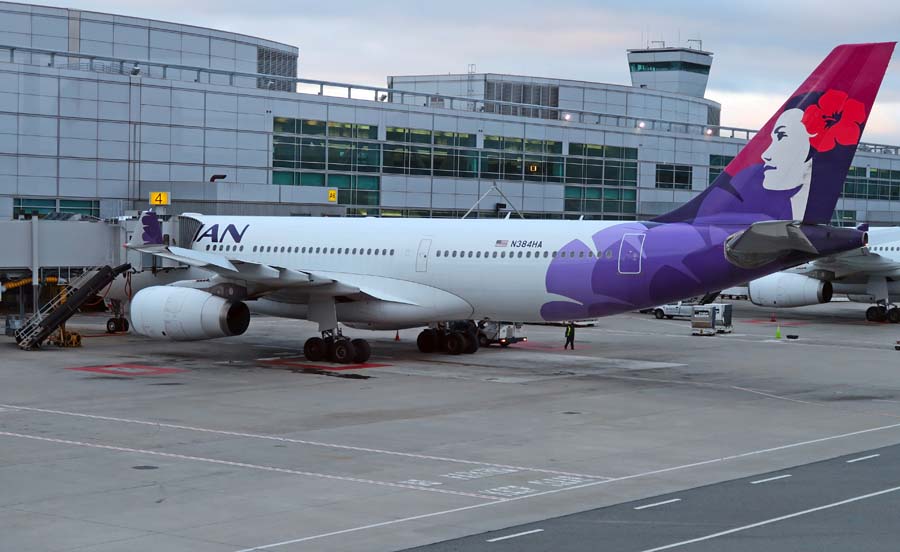 A few short hours later we arrive at "Whale Hale" ('Hale' means "House" in Hawaiin). The address is: 3781 Punahele Rd, Princeville, Kauai, Hawaii. You can rent this house as a Kauai VRBO by clicking here.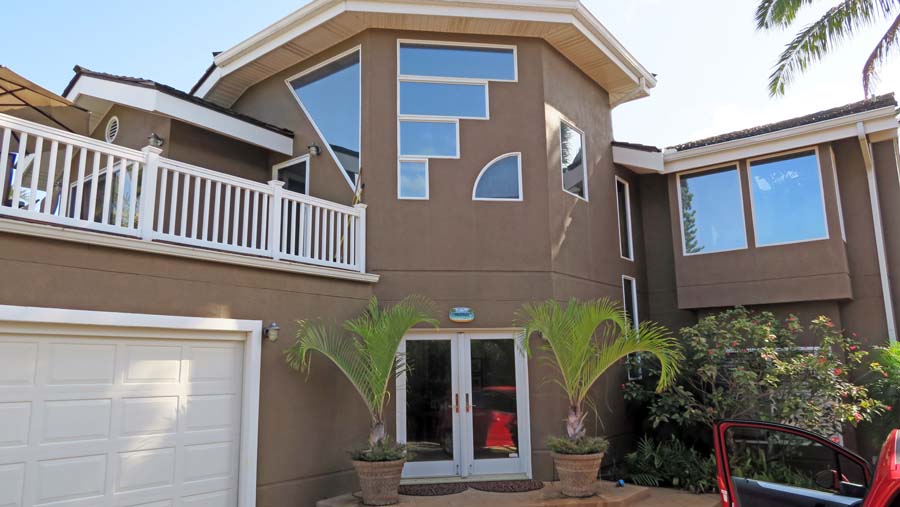 A close up of the plaque over the front door giving the name of the house: "Whale Hale (House)"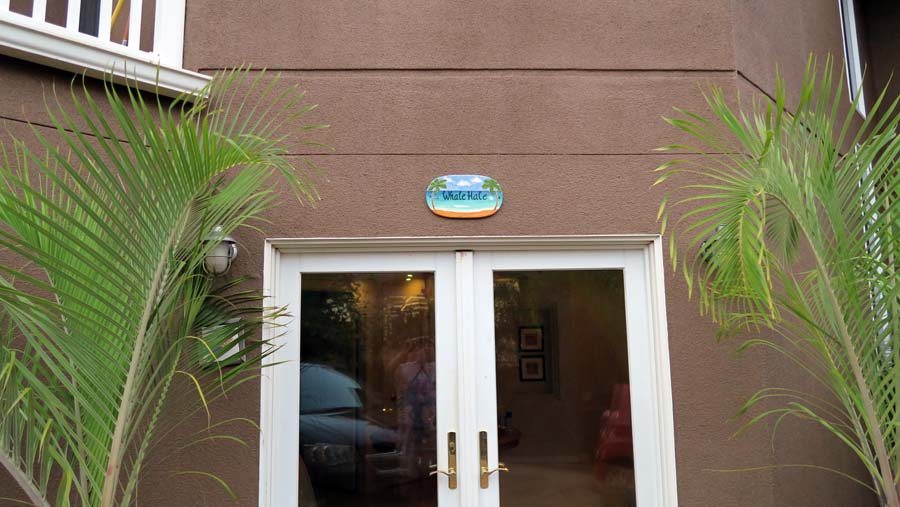 Here we are at dinner at about sunset having BBQ ahi tuna. From left to right: Katherine, Will MacDonald, Kendall MacDonald, the empty chair should be Mitch MacDonald, and Lia MacDonald looking at me in shock.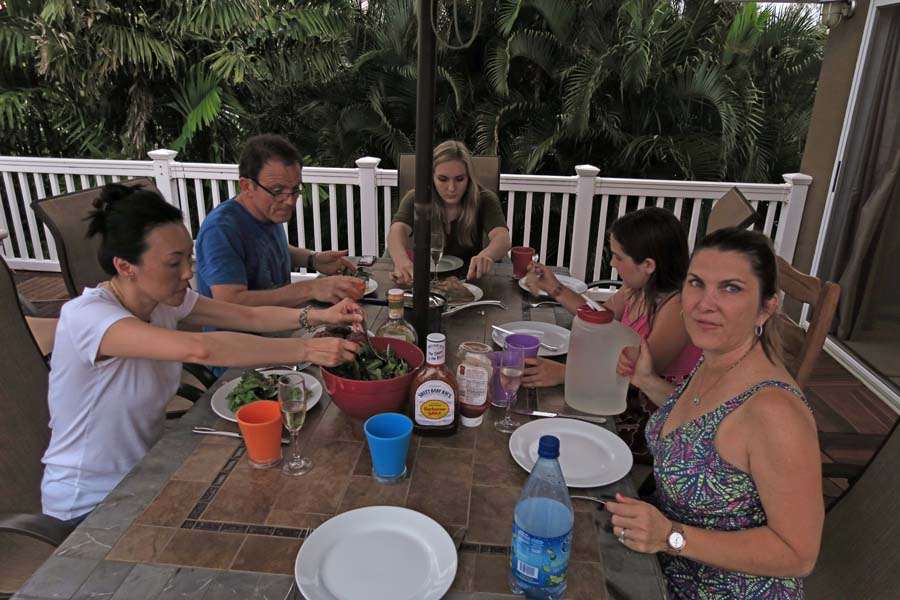 Click Here for a QuickTime movie of Fiona talking with a bird just after dinner.
The next morning we got up and went to the Limahuli Gardens in Kauai Hawaii. Below I'm riding shotgun and taking pictures out the front window as we drive there (towards Tunnels Beach in Kauai).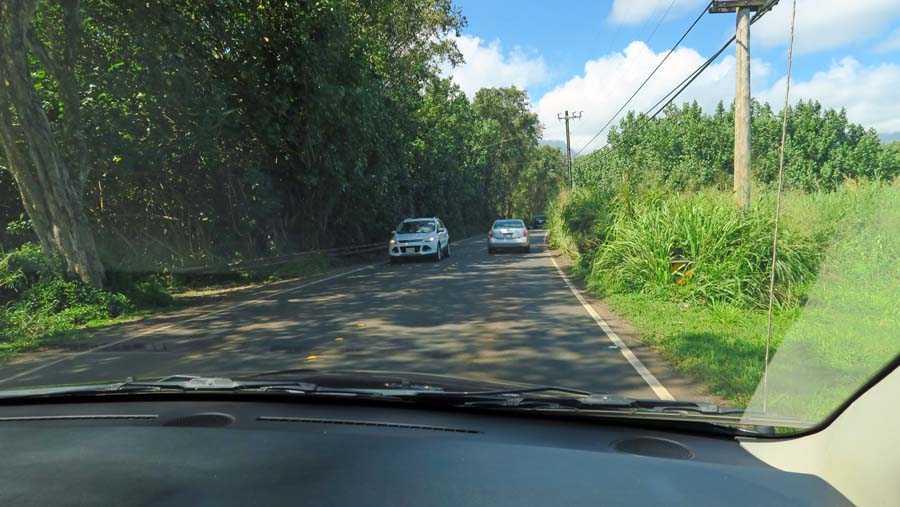 A picture out the passenger side road. If you click on the picture below, you can zoom in on the St Regis Hotel in Kauai Hawaii. We have stayed at the St Regis before, it is very nice and very convenient. But it is not really a relaxed Kauai type of trip, more like a 5 star hotel.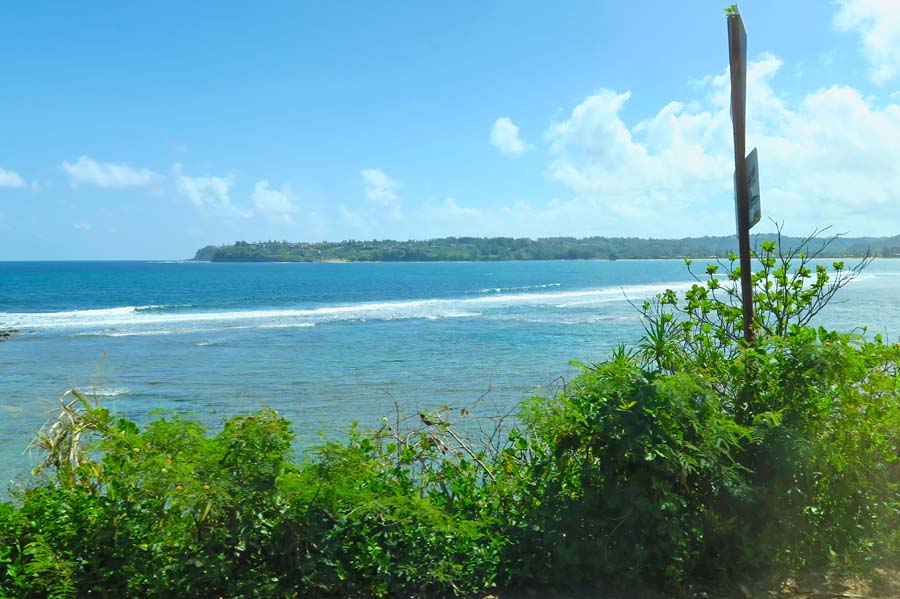 We arrive at the Limahuli Gardens in Kauai Hawaii seen below.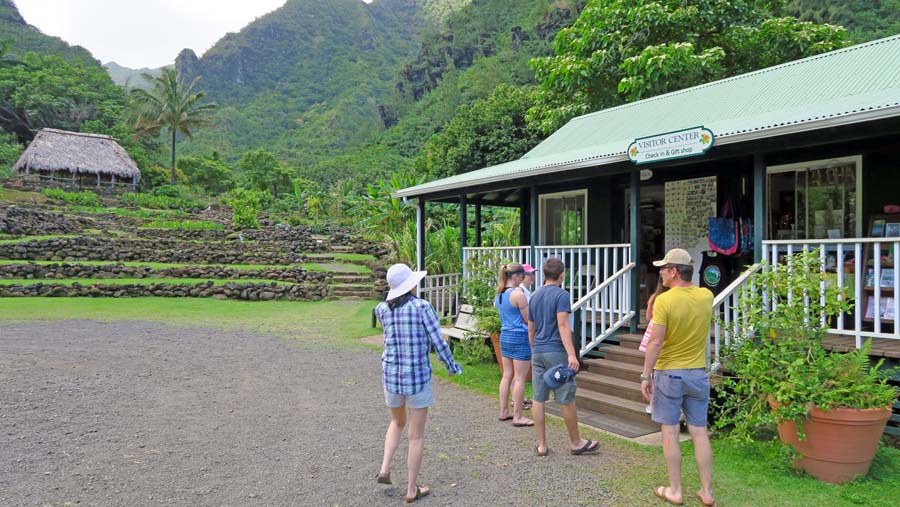 It takes about an hour to walk a path that leads 200 feet vertically up into the back of the valley and then comes back in a circle. Below is the start.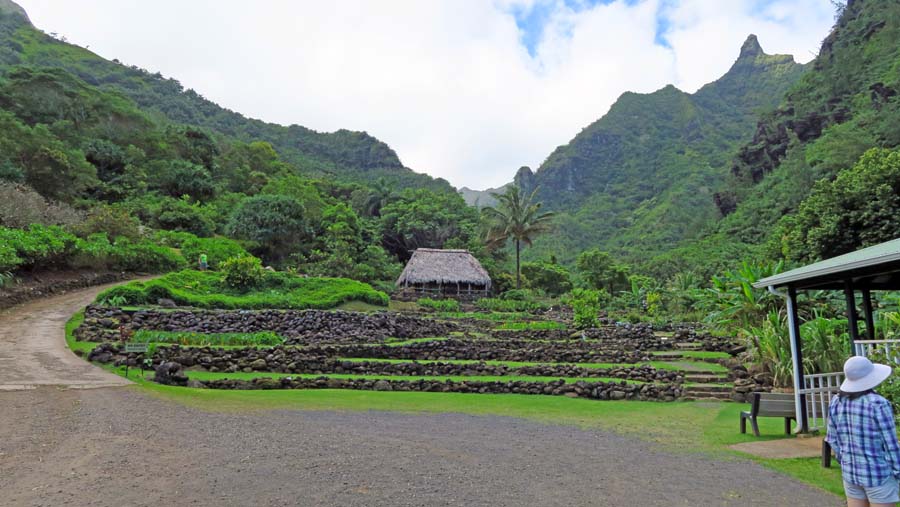 A plaque giving some information.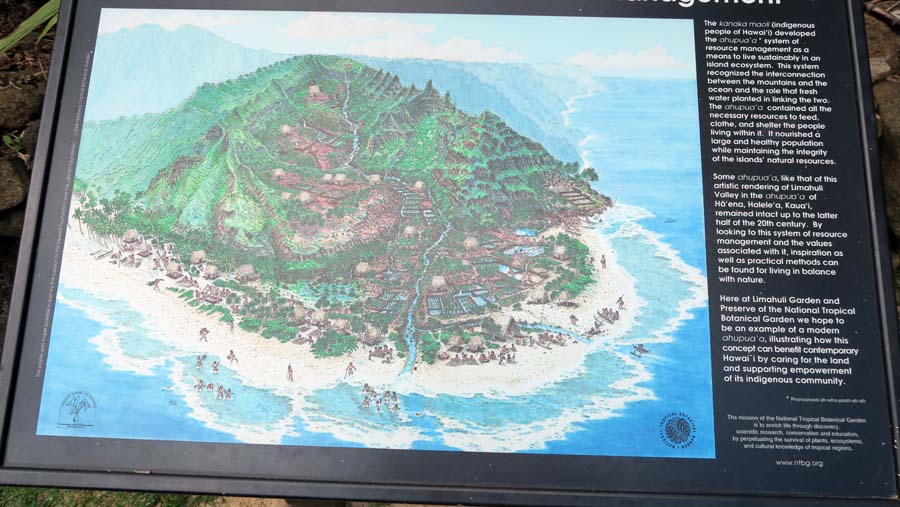 Here we are at the approximate high point half way through the relaxed walk. We see some wildlife and a bunch of interesting labeled plants and flowers.
A bird I cannot identify. Please email me at

if you know what this is.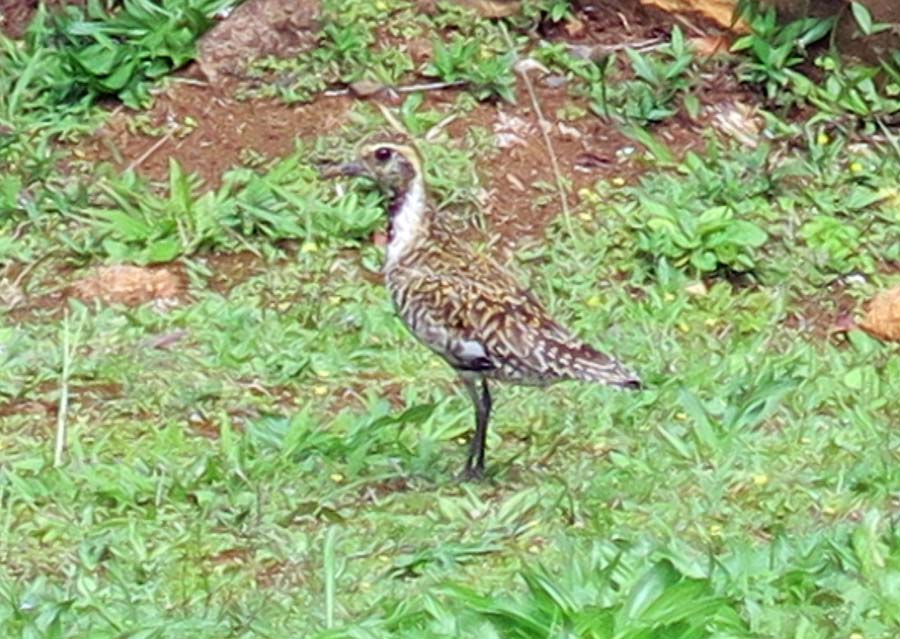 Another plaque with some info.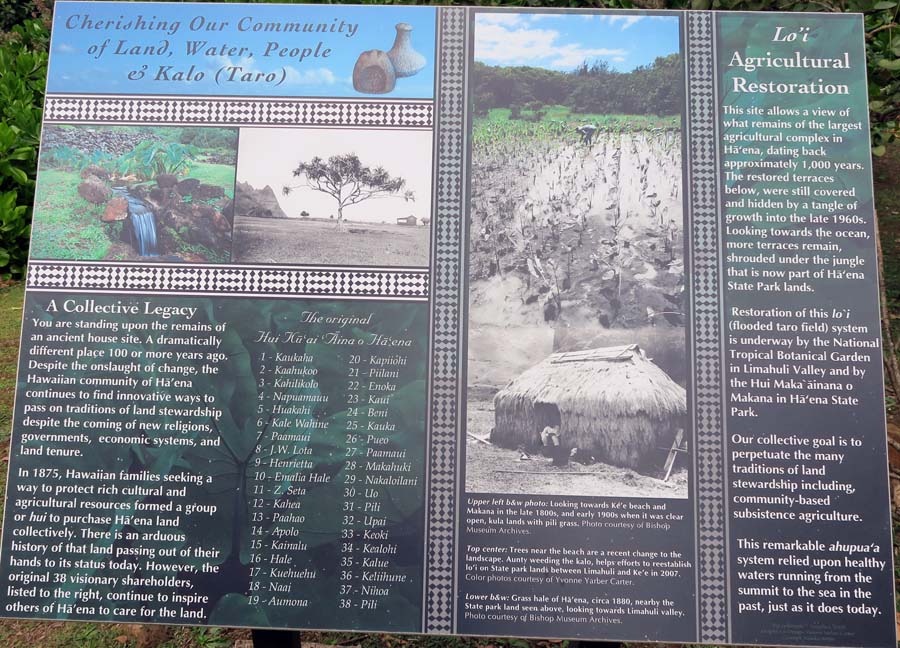 Katherine wanted me to take the next two pictures. We have no idea what plant this is, do you?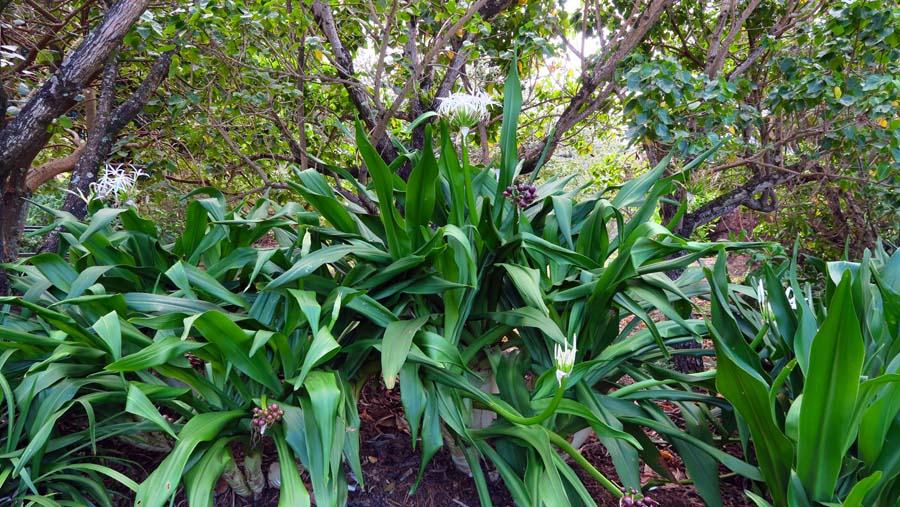 Close up of mystery plant with bloom and berries.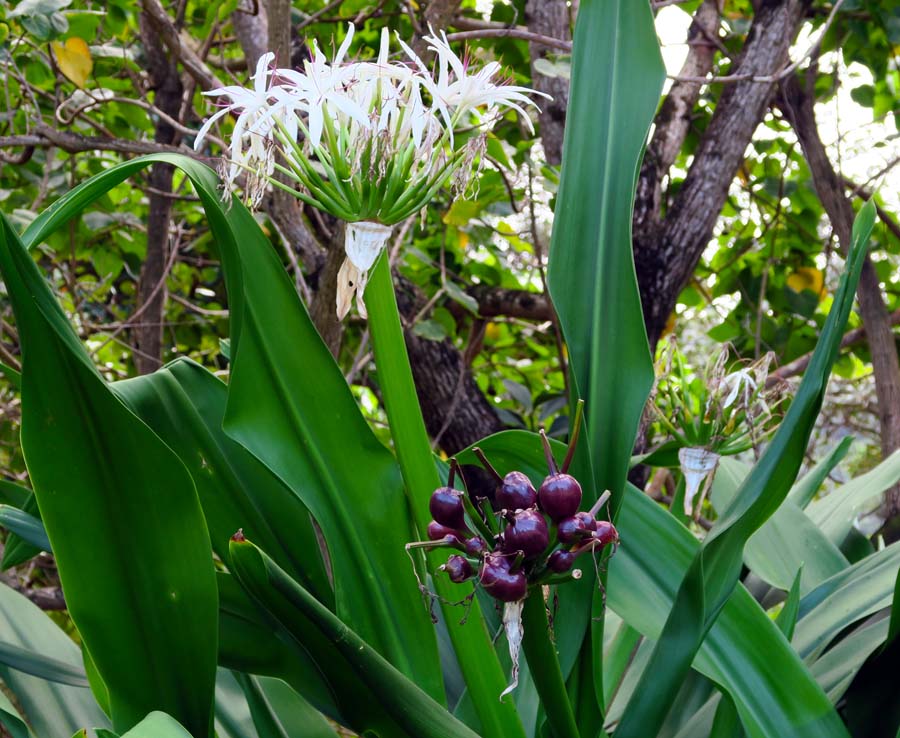 Pretty little birds. If you know what they are: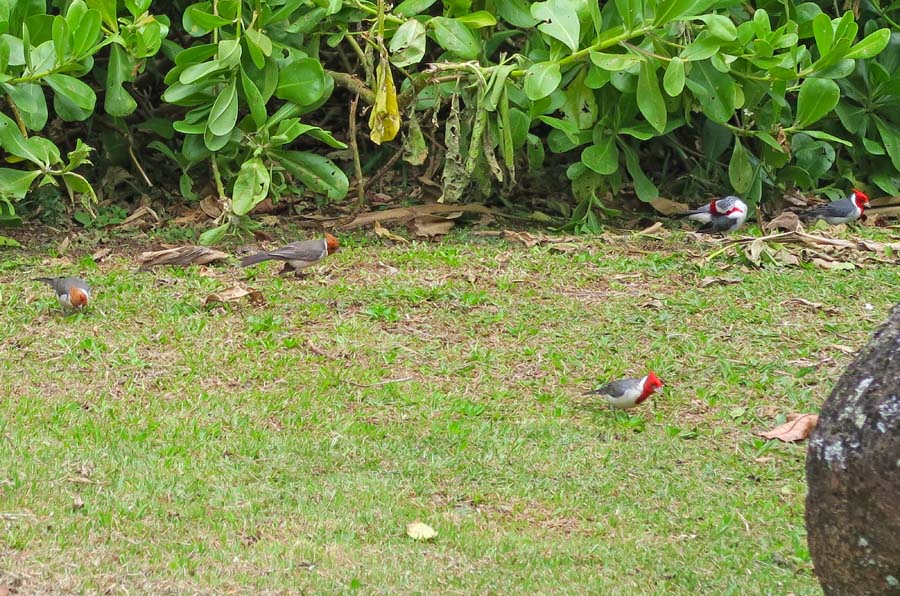 Coming to the end of the walk, this is looking down at the starting location from a different perspective.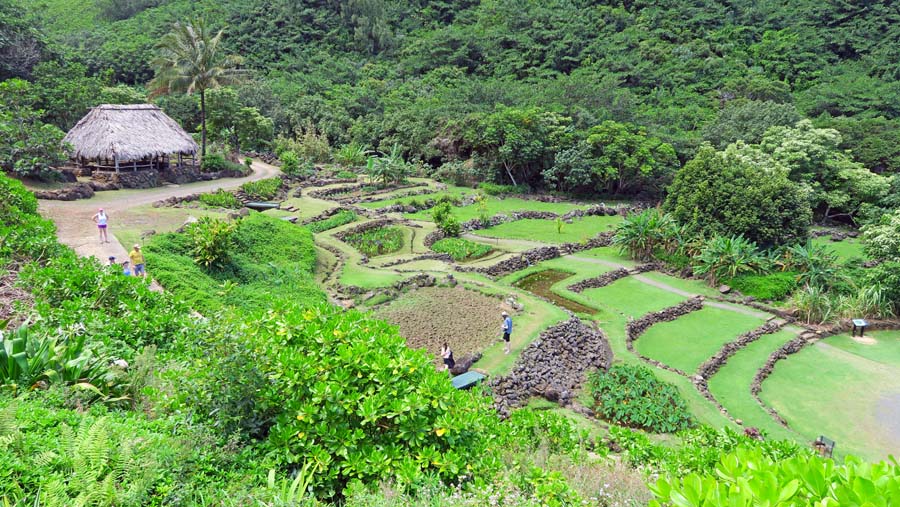 After our pleasant morning walk, we stopped at the "Mediterranean Gourmet" which we have eaten at on previous trips. It is a really beautiful location with great food and pleasant staff.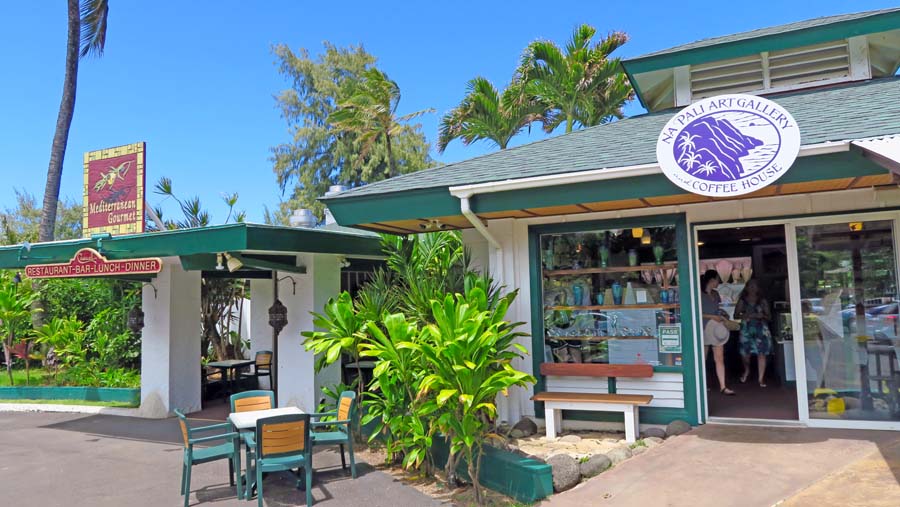 Our group at lunch.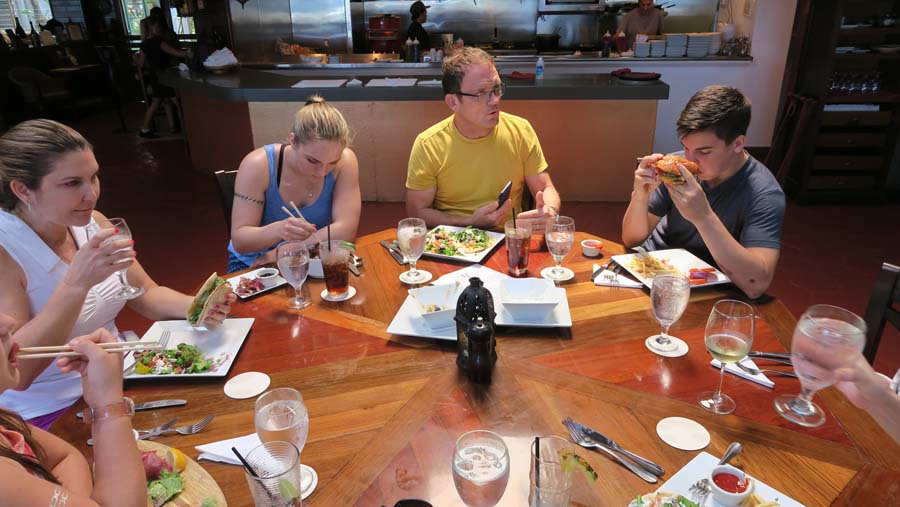 Just outside the Mediterranean Gourmet this is the stunning beach. This might be "Makua Beach" in Kauai Hawaii which is also known as "Tunnels"? Or....?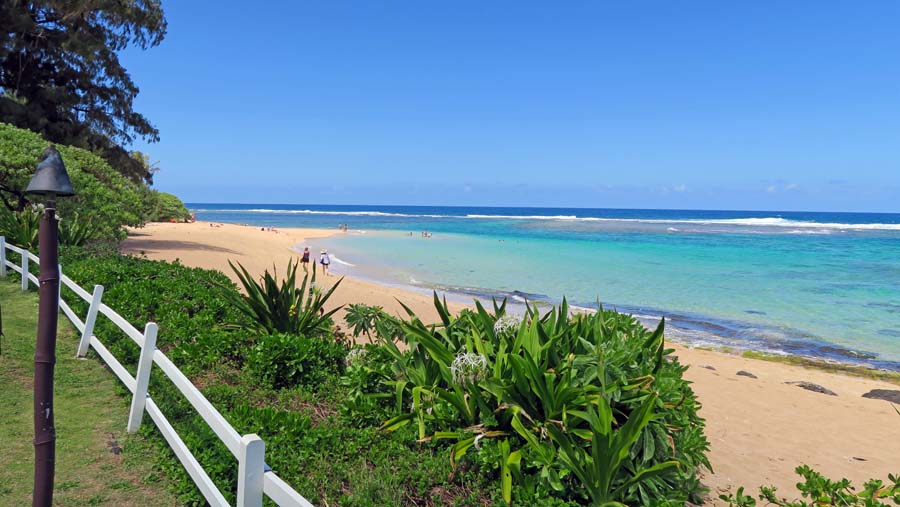 After lunch a few of us went to Anini Beach to hang out, and watch Will kite surf. Below Will is launching for the first time.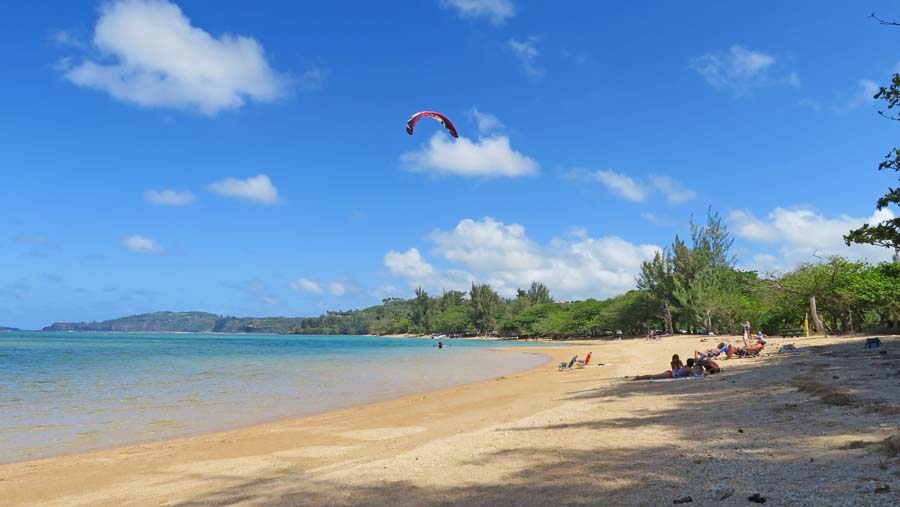 Below Will MacDonald is Kite Surfing on Anini Beach in Kauai. Click here for the very highest quality version (may not play on Windows).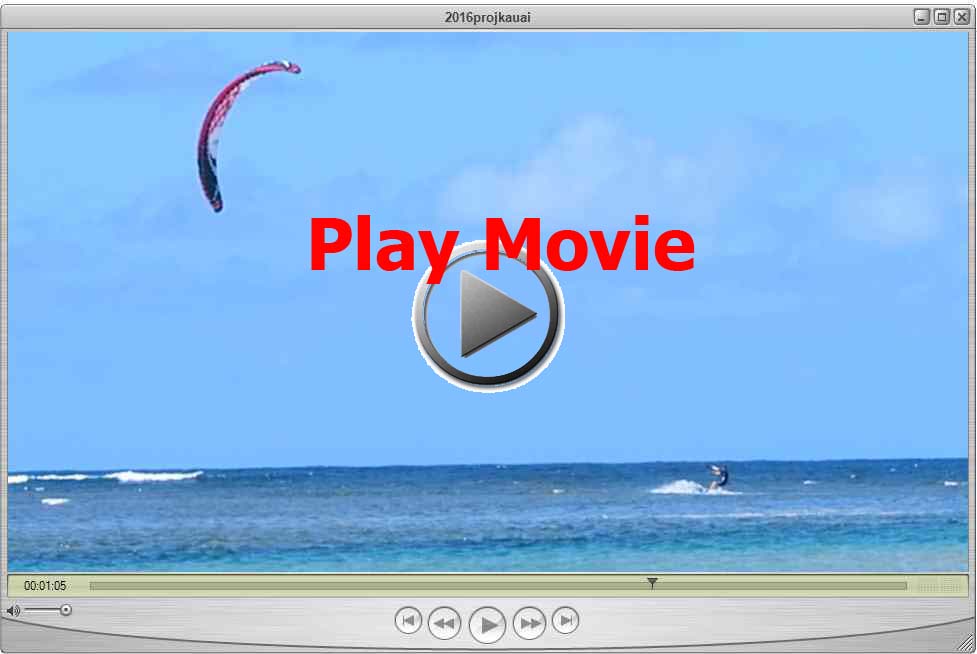 Immediately before dinner, Mitch took me on a 15 minute visit to the Queen's Bath in Kauai Hawaii. So far 29 people have died in the baths, so there are a lot of notices that this is a bad idea. You can see Mitch grinning because if somebody says it is a bad idea, it must be fun!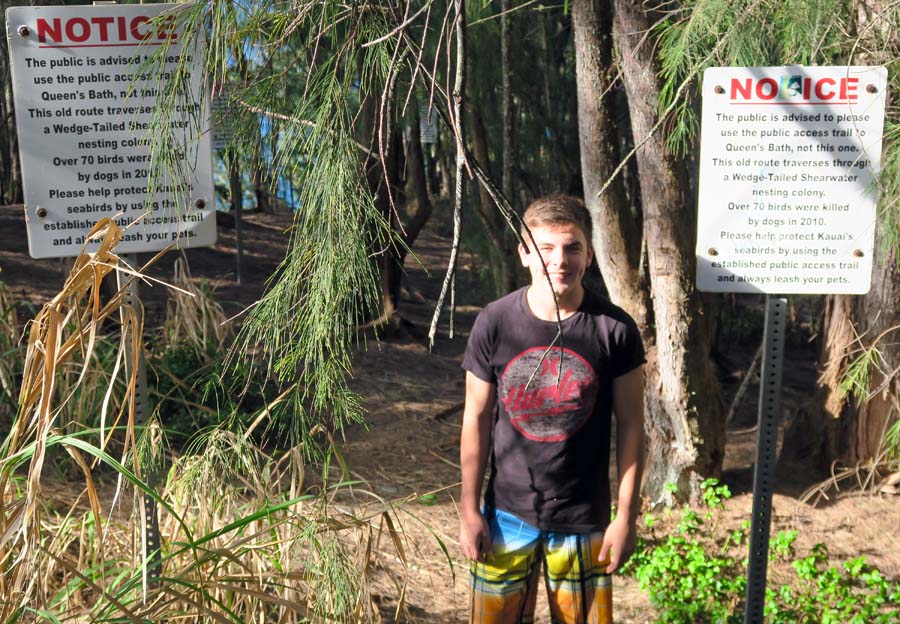 Right at the bottom of the path as you enter the Queen's Bath is the sign where they keep a talley of the people that die here, which is nice, right? It says: "Queen's bath drownings: <29 talleys> Unexpected large waves will knock you off rocks. Sweep you out to sea." They are explaining what it takes to get your talley mark on this sign, which is helpful, right?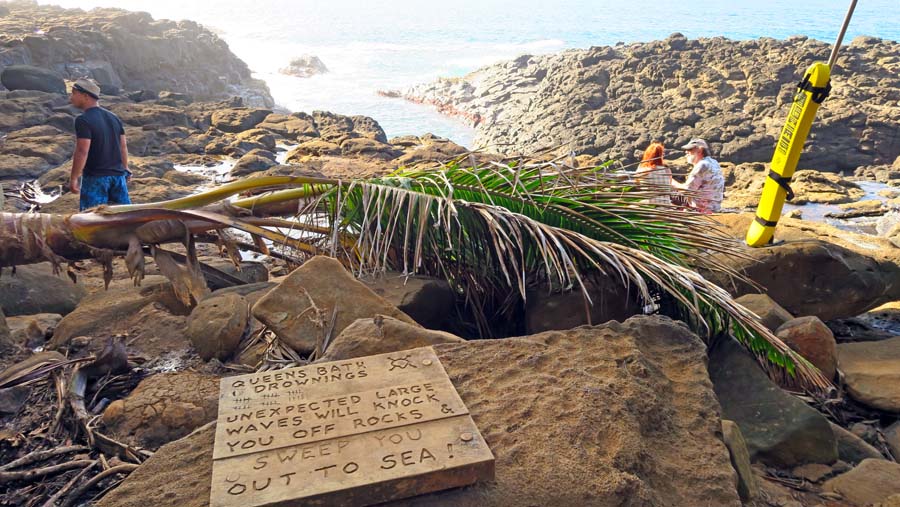 Some kids are playing in the "washing machine" part of the baths.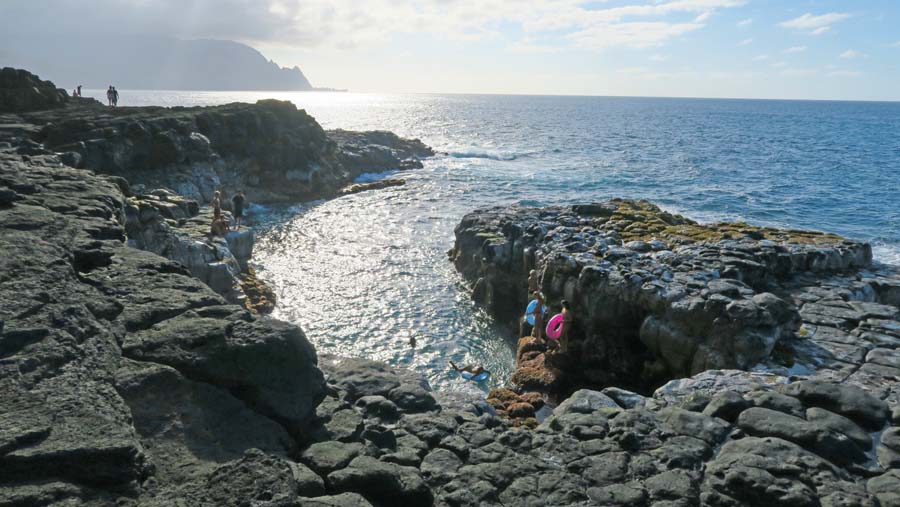 This is the same "washing machine" area taken from the opposite end (with the sun at my back). You have to watch the movie down below to see why it is called the "washing machine".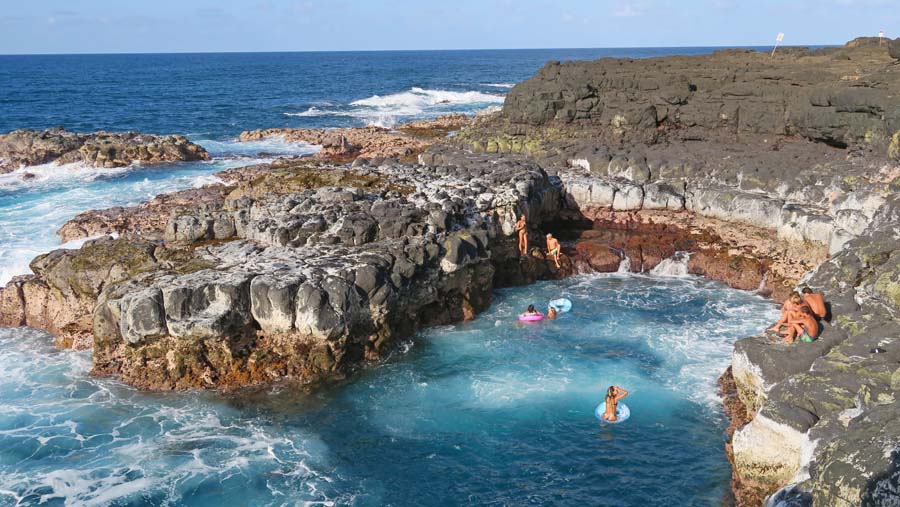 Below is a short 30 second video of the extremely dangerous area called "Queen's Bath, Kauai" that has killed 29 people. Click here for the highest quality "original" video that exists. It looks really super fun because it bangs you around up into the rocks. At the end of the movie you can see a girl who got slightly shaken up by getting banged up and is climbing out.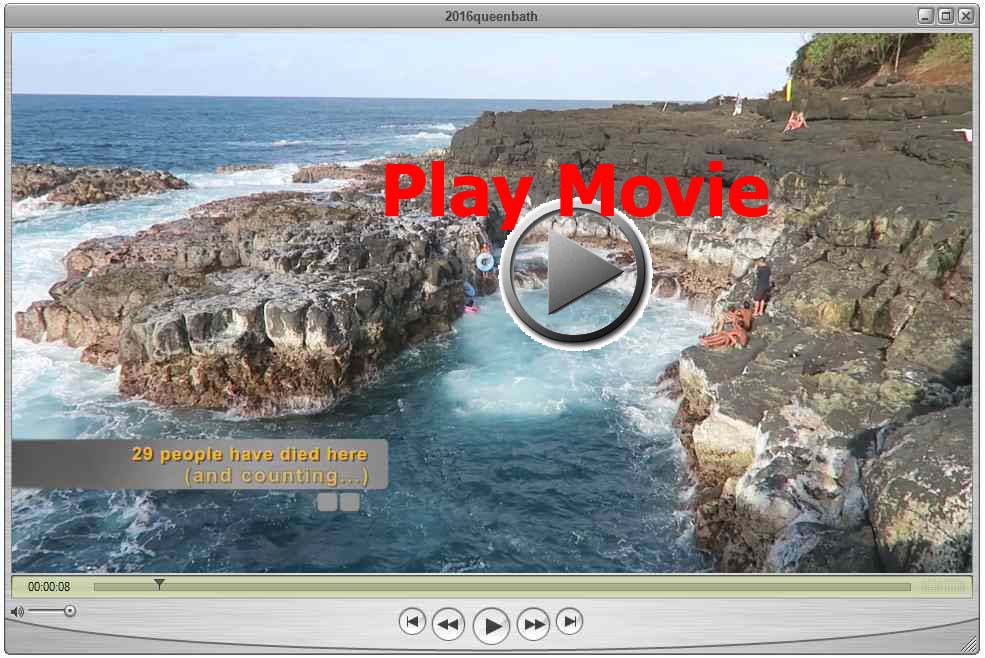 Laughing and playing in the Queen's Baths. It's very odd to me that they are so confident and just goofing around and not wearing better protection (I would suggest a helmet to start with, possibly a rash guard).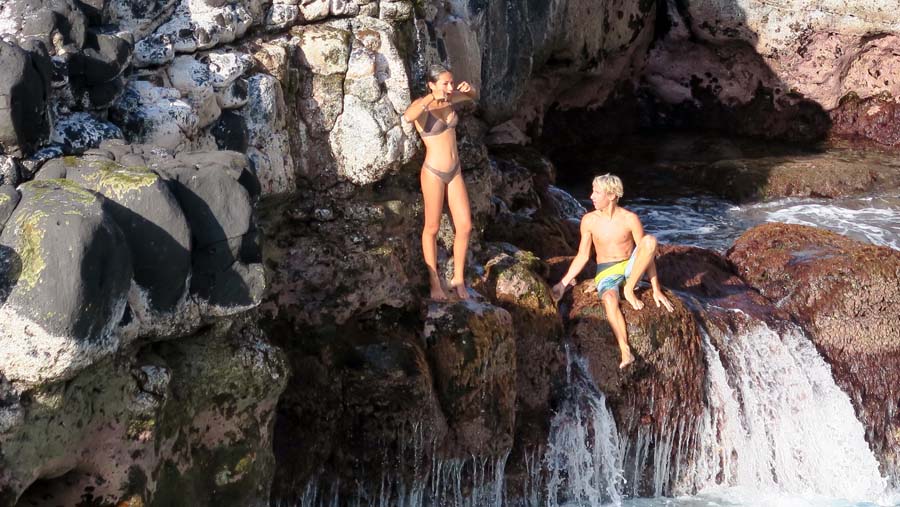 That night we went out to eat at "Postcards Cafe" in the town of Hanalei, island of Kauai, state of Hawaii.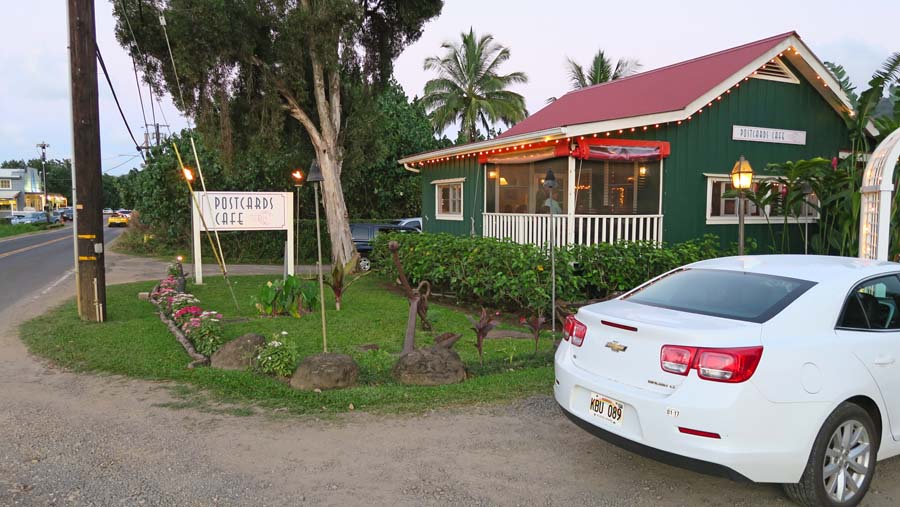 Our tasty dinner. I had the wasabi encrusted ahi tuna which was quite good.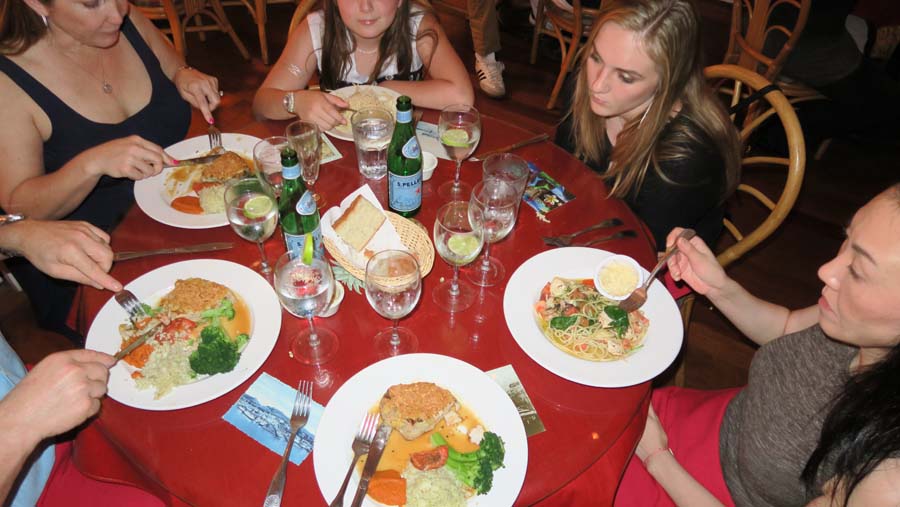 The next morning I got up to get a nice swim at 6:30am in at Hanalei Bay (by the Hanalei Pier in Kauai Hawaii). It is very pleasant and very quiet, almost nobody around on the beach in the morning. I really like swimming (and a little body surfing) at this spot.

As I was leaving after my swim, the people below launched an outrigger canoe and paddled away.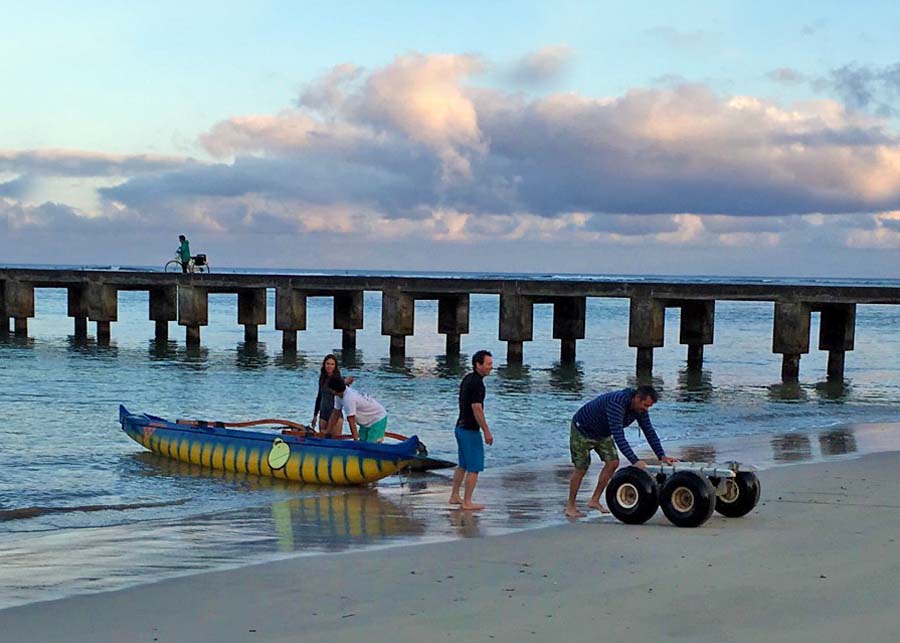 The next sequence of pictures is all about "Whale Hale" ('Hale' means "House" in Hawaiin). The address is: 3781 Punahele Rd, Princeville, Kauai, Hawaii. You can rent this house as a VRBO by clicking here. The first picture below is the front entrance to the house. You can see a deck over the garage to the left which is VERY pretty at sunset and looks over Hanalei Bay in Kauai.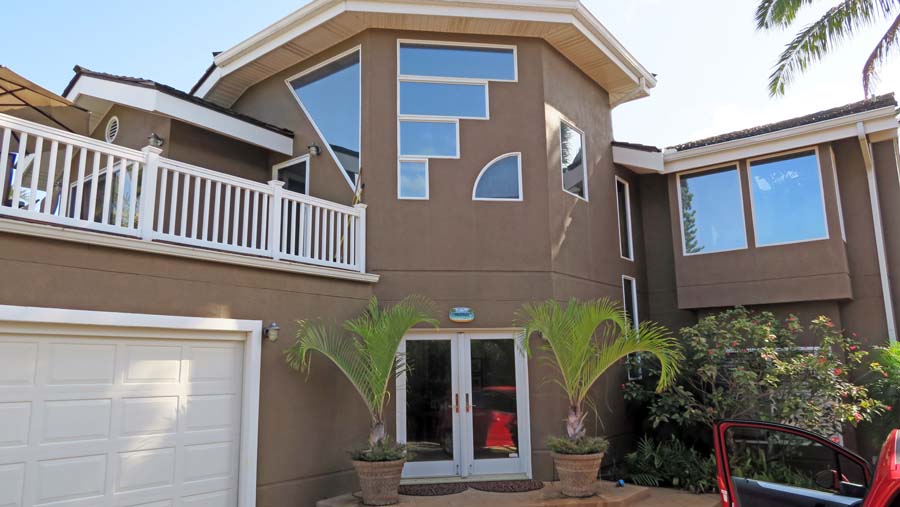 This next picture is taken inside the front entranceway looking back towards the front door. It is a beautiful, clean, modern house.
The first floor of the house is all bedrooms, the second floor (seen below) is a great big huge open room that contains the kitchen in one corner. Below you can see the kitchen. An interesting feature of the house is that it has two of everything: two stoves (seen below one is electric and one gas) and two dishwashers and two clothes washers and two clothes dryers.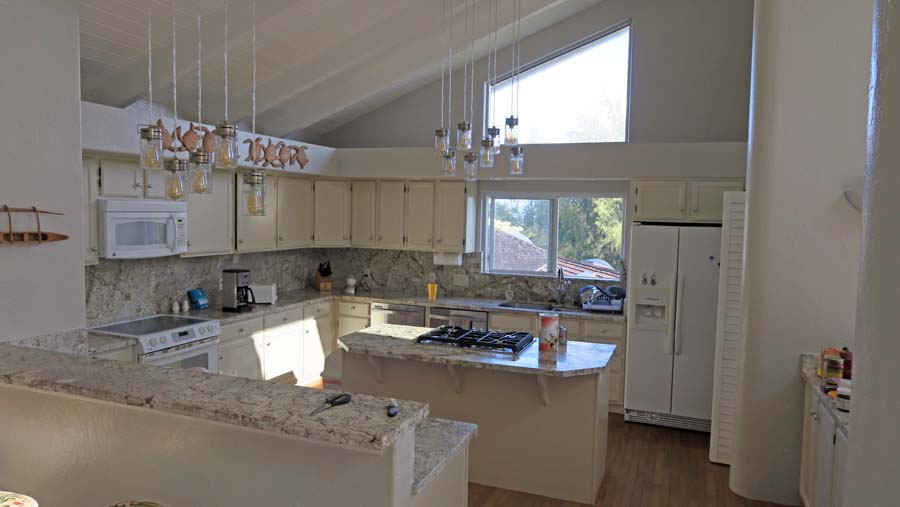 In the picture below, I'm standing back in the kitchen so you can see the whole "great room". The dining area is over the center short wall to the left, and a set of couches and huge TV is over where you can see a little girl playing (she is standing watching the TV).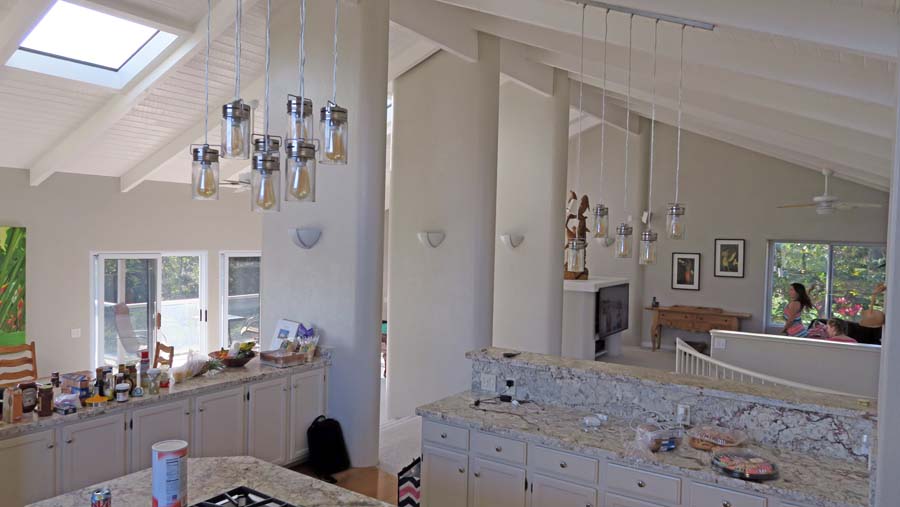 Here I am standing in exactly the opposite corner from the kitchen (so the kitchen is mostly obscured by center columns). The house has a pool table (seen below) and a dining area (also seen below in the distance). The clear window behind the dining area has views of the ocean below, it's pretty spectacular. Also notice the sky lights.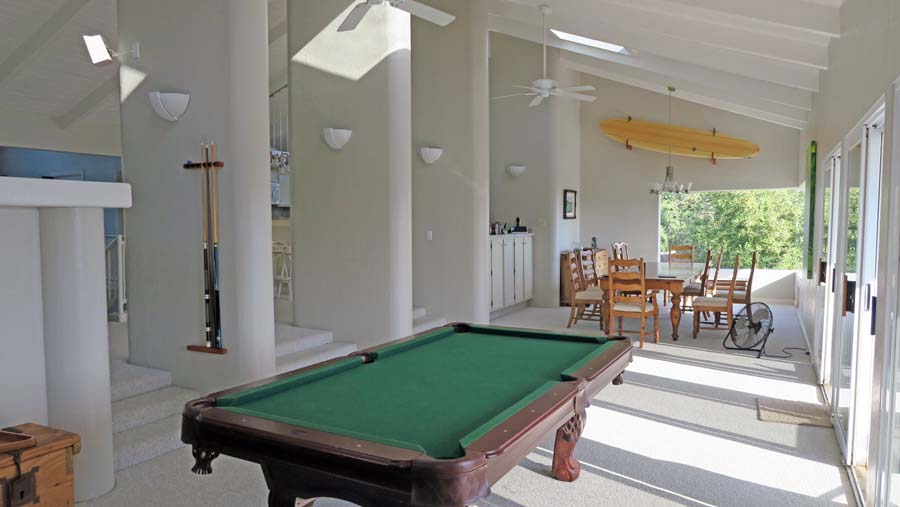 Finally standing in one of the other corners of the main room (with my back to the ocean) in the dining area.
The picture below is standing on the deck that is over the garage. This is a beautiful spot for sunset dinners and you can see Hanalei Bay in the distance in the center of the picture. It is an exotic hard wood deck made out of ?? which stands up to the ocean air. You can see Will on a ladder in this picture trimming the palm trees.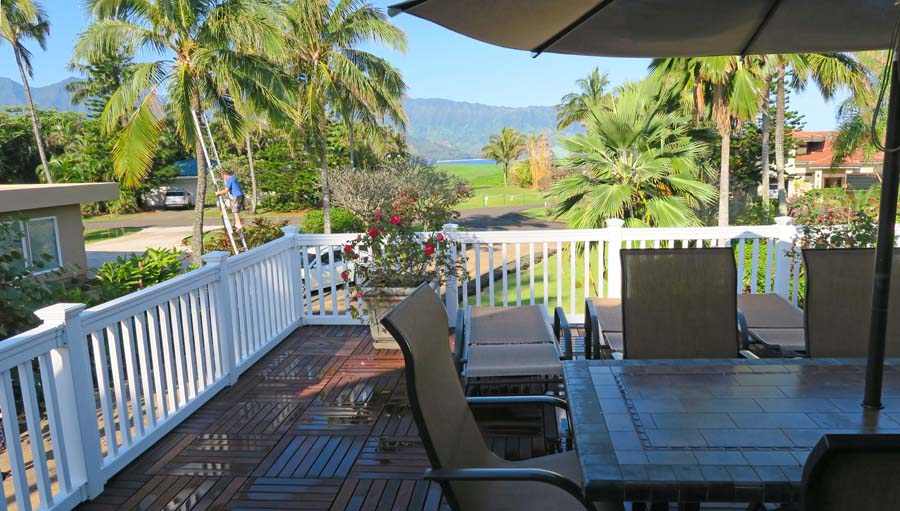 Standing closer to Hanalei Bay on the same deck.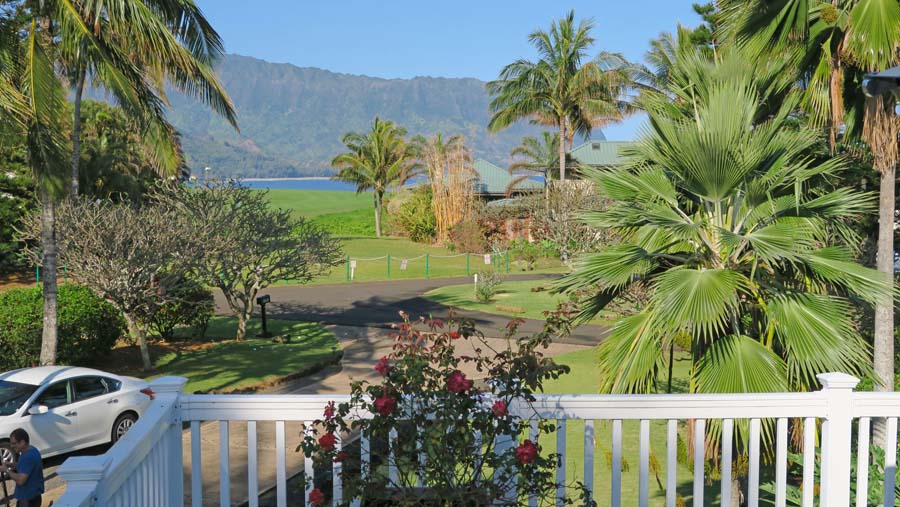 Standing against the railing on the second floor deck looking at Hanalei Bay in the morning. If you look closely, you can see a manicured circular lawn, that is actually part of the Princeville golf course.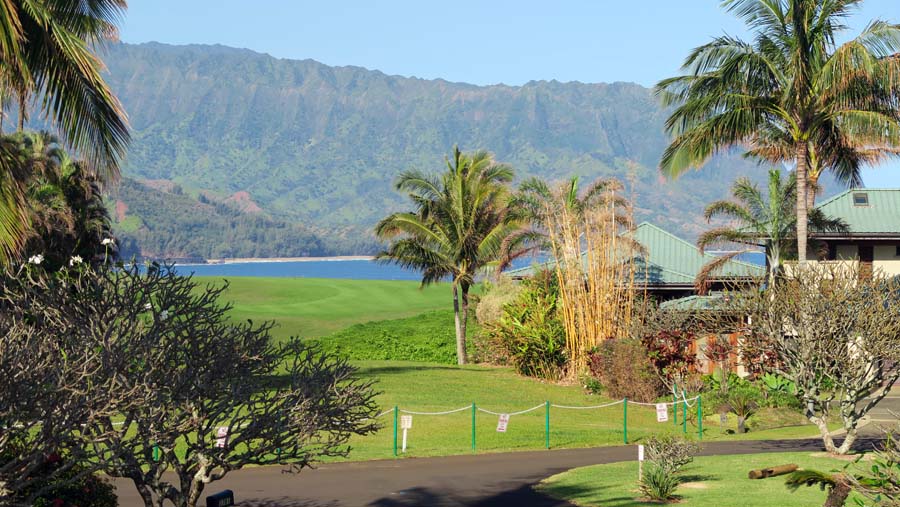 The house has huge decks on the front and back. The picture below shows the extremely private second floor "back deck" that overlooks the Queen's Bath in Kauai.
Below I'm standing on the same deck facing the same direction but looking slightly down to see the huge hot tub below.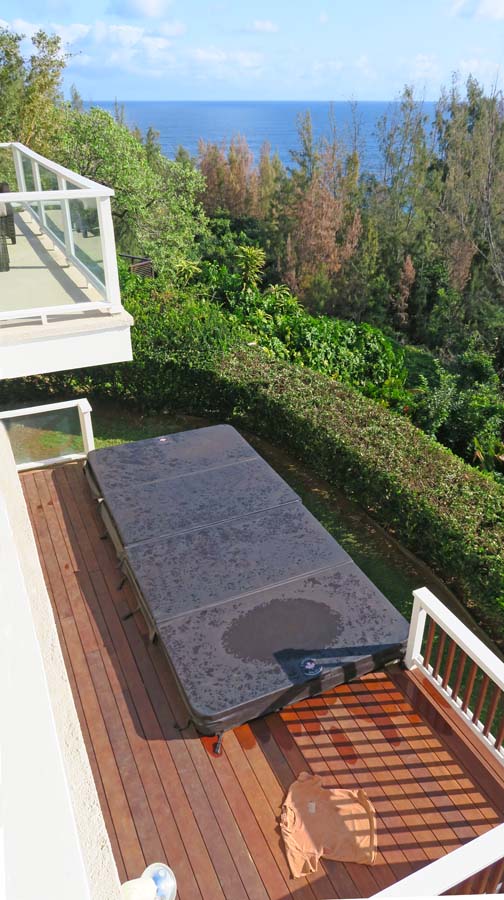 The house has four bedrooms and three of them have private bathrooms and are big enough to call "master bedrooms". The picture below is the room we stayed in with the bathroom off to the right (you can see the tub).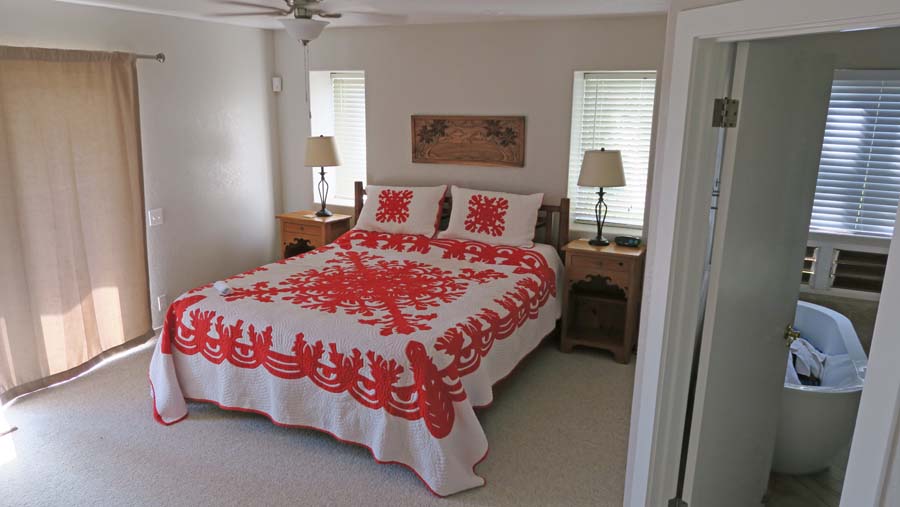 Facing the other way in the room we stayed in, Katherine is pulling the curtains shut to keep the sun out in the hottest part of the day.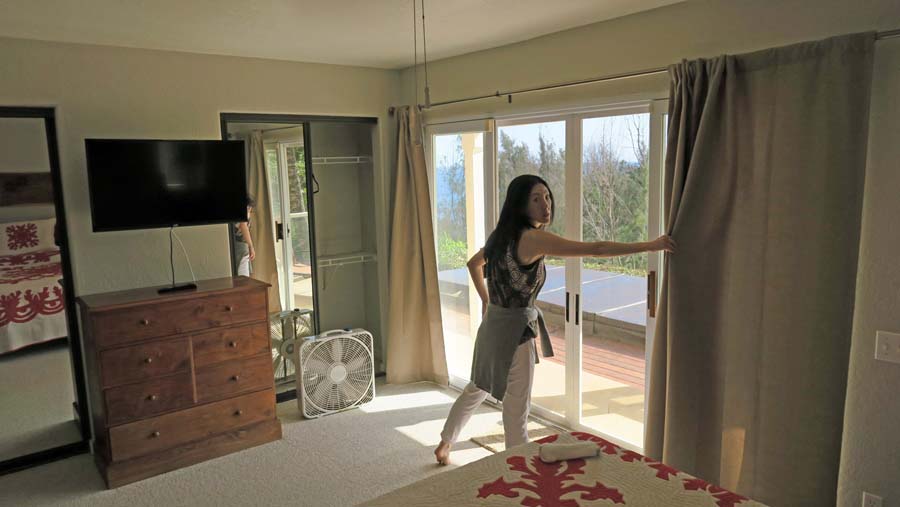 And stepping outside our bedroom you can see the hot tub and the ocean a little past it.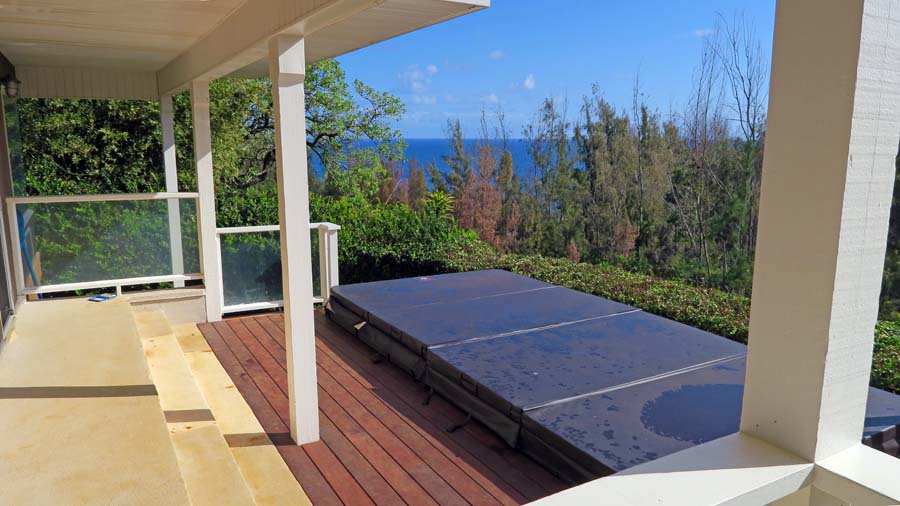 Katherine and I had to fly home, and as we pulled out of the driveway we had to stop to allow this chicken to cross the road (with her little baby chicks).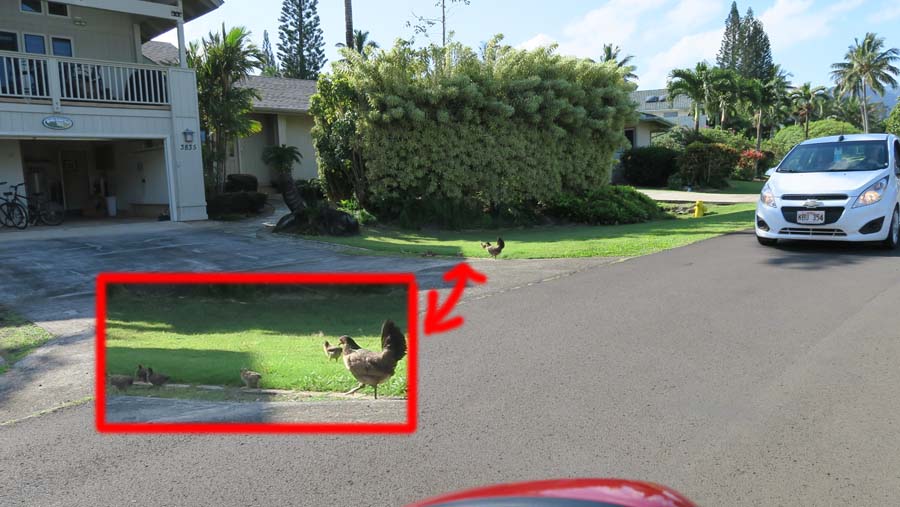 Here at the Lihue (Kauai) Airport waiting for our flight home. A couple last silly fruity drinks to say goodbye to Hawaii!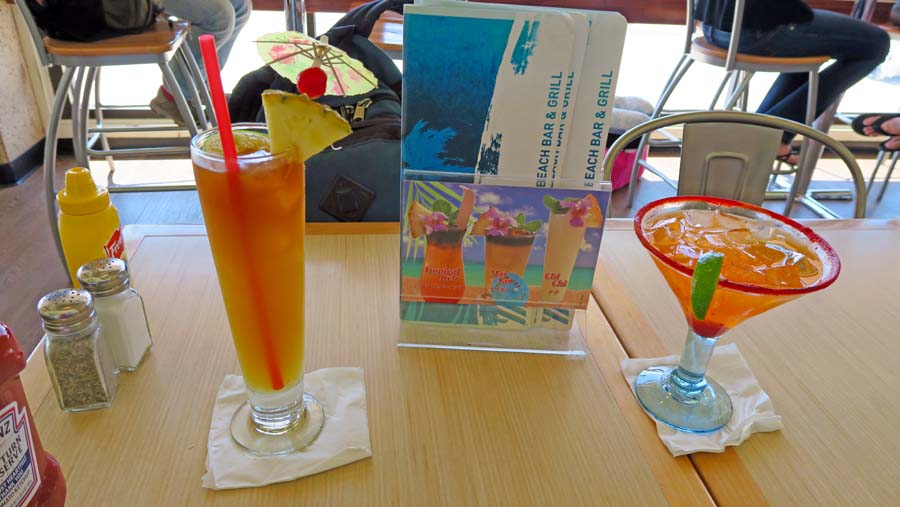 Our ride home is the Airbus A330-200 seen below.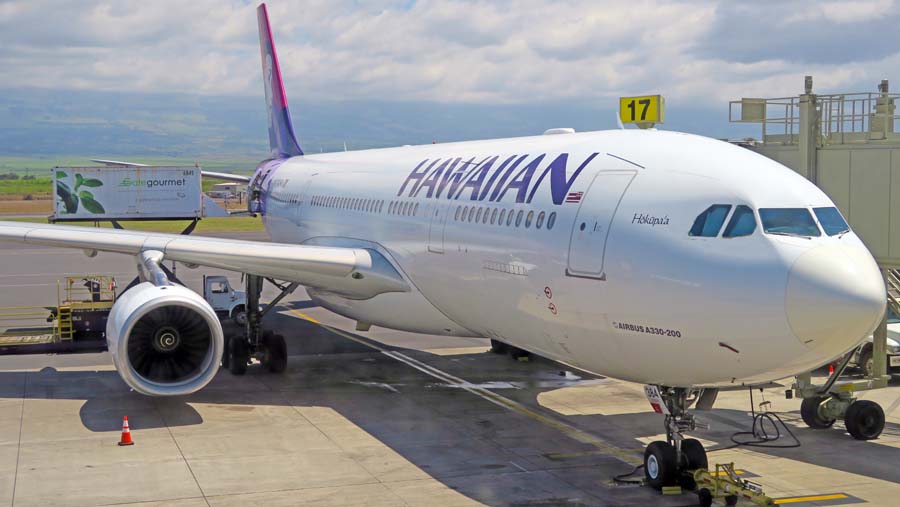 Katherine noticed her purple bag outside the window and wanted me to take a picture. I'm not sure why. :-)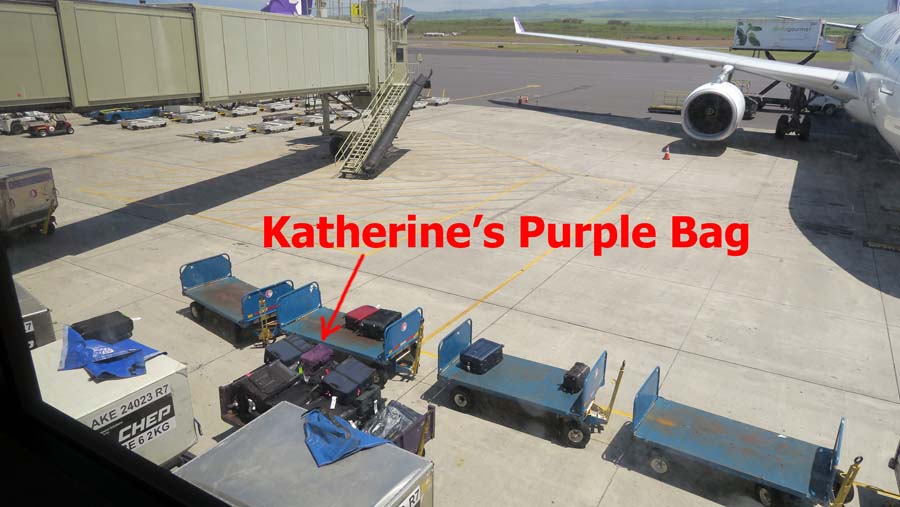 Onboard the flight you can see Katherine on the far right. There were two families up in first class all with screaming children right behind us. (sigh)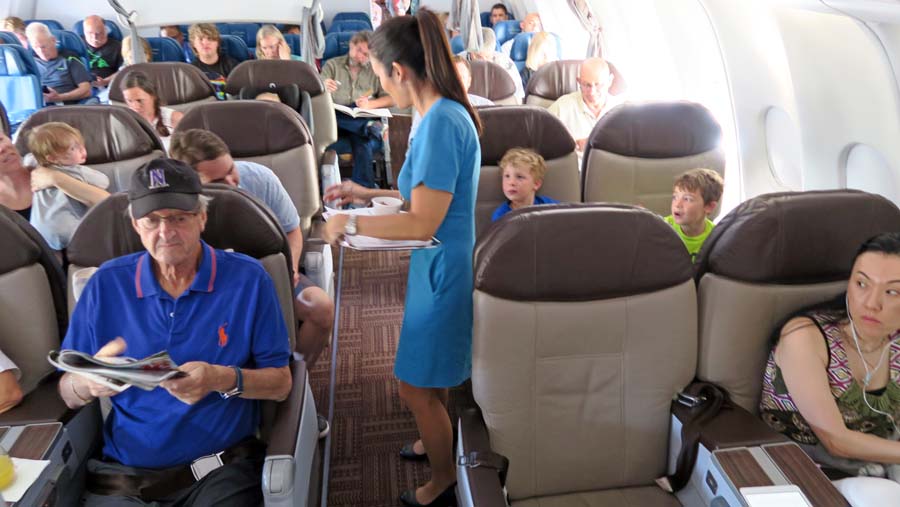 The couple next to us had an extremely well behaved service dog that was very gentle and slept most of the flight. Below the dog is asleep in it's owner's arms.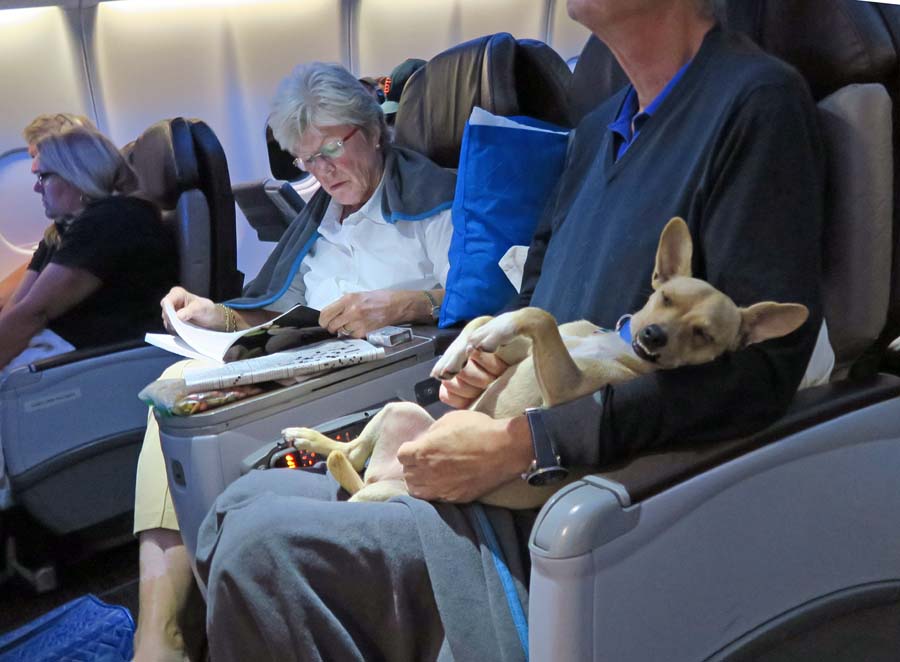 Lists of Things to Bring on a Short Trip to Warm Places (carry on baggage only)
This is not for you! Stop reading! I'm old, I forget things, this helps me remember for next time.
Pre-trip Section:
14 days in advance - Check Passport, get enough wallet cash for trip, fill prescriptions (Ambien for strange beds)
7 days in advance - if necessary mail big heavy bag ahead so you don't have to check baggage.
3 days in advance - Haircut (short for easy maintenance), fill prescriptions, load GPS with maps
2 days in advance - Pack, also charge camera batteries, GPS batteries, and breathing batteries
final pack, consume periodic prescription drugs,
"On Plane" Section:
Passport (!!)
Nasal Spray
iPad & Charger
Prescription Drugs (Coumadin), Imodium, Band-Aids, moisturizer for body
Cash ($300 US maybe?)
if overnight flight need breathing mouth guard (and battery pack)
Sunglasses
Camera - consider GoPro, Canon 110, SuperZoom (to film kite surfing), waterproof underwater camera, other?
"In Rental Car" Section:
iPhone car mount
Garmin Nuvi GPS with car suction cup mount
InReach Satellite GPS with 2-way pager
Car USB cigarette lighter adapter (charge things in car)
Car A/C converter to charge things in car (big road trips)
After arriving stop at store for: bottled water, bug repellent, spray sunblock, shampoo, mouth wash
"On Boat" Equipment Section:
Mask & Snorkel
Swimsuit
Sandals (Flip Flops)
Aquatic Shoes (booties) to walk in water on rough surfaces like coral reefs
Beach towel? - did not need, always borrowed from hotels
Chamois Shirt(s) - never worn once
Sunblock (might pick up once at destination)
Bug Spray (might pick up once at destination)
sunglasses
"sports watch" (cheap water resistant watch)
little rubber water toy (water donut) and rope to tie so it doesn't float away
Longer "parachute cord" to tie up Wave Runners, etc. They never seem to include a long enough rope.
Baking soda for bug bites (might research prescription benzococaine solutions for same)
"Random" Equipment Section:
duct tape around pen
bright orange duct tape and a black sharpie if mailing a bag home
black electrical tape to fit GPS to Jetski
swiss army knife (not possible in carry on luggage)
Electronics Section:
Foreign Plug Adapters
Camera (and charger)
Cell Phone (and charger)
GPS - global Satellite messenger GPS, rental car Nuvi, handheld Rino for backcountry (and chargers)
GPS mounts for JetSki
iPod Nano (Apple charger)
speakers for condo - jambox
iPad or laptop?
Car USB cigarette lighter adapter (charge things in car)
Car A/C converter to charge things in car (big trips)
Street Clothing:
shorts - 1 pair for every day (or possibly plan on using hotel laundry service)
light short sleeve dress shirts - 1 for every day
light cotton slacks - 1 pair for every 4 days
belt (?)
polo t-shirts (like with Backblaze logo)
white socks
underwear
shoes ((hiking boots, tennis shoes, dress shoes?)
jacket?
Bedtime/Toiletries:
dopp kit (toothbrush, toothpaste, comb, eye drops, etc)
razor - now have travel razor
blow dryer (?)
caffeine pills (for coffee emergencies)
Ambien
pajama shorts
pajama white t-shirts
ear plugs (individually wrapped, bring extras, condo mates might snore!)
breathing mouth guard
white trash bags - for laundry
small clear sandwich bags - for cell phone, etc
travel alarm clock
moisturizer for body
Misc:
book for plane? Download into kindle?
small umbrella
"sports watch" (cheap water resistant watch)
backpack - use for carry on "personal item" and goes to the beach

glasses & case for glasses?

Katherine liked the travel coffee solution of "travel collapsible Molita"
That's it!