2017 Backblaze Office Ten Year Anniversary Party

(4/21/17)
On Friday, 4/21/2017 Backblaze held an office party at it's world-wide headquarters in San Mateo. This is celebrating the 10th anniversary of the incorporation date (4/20/2007) of Backblaze. Below are some pictures from the office party.

Below is a timelapse movie from 5:30pm - 10pm outside in the BBQ area of the party. Click here for the very highest quality original.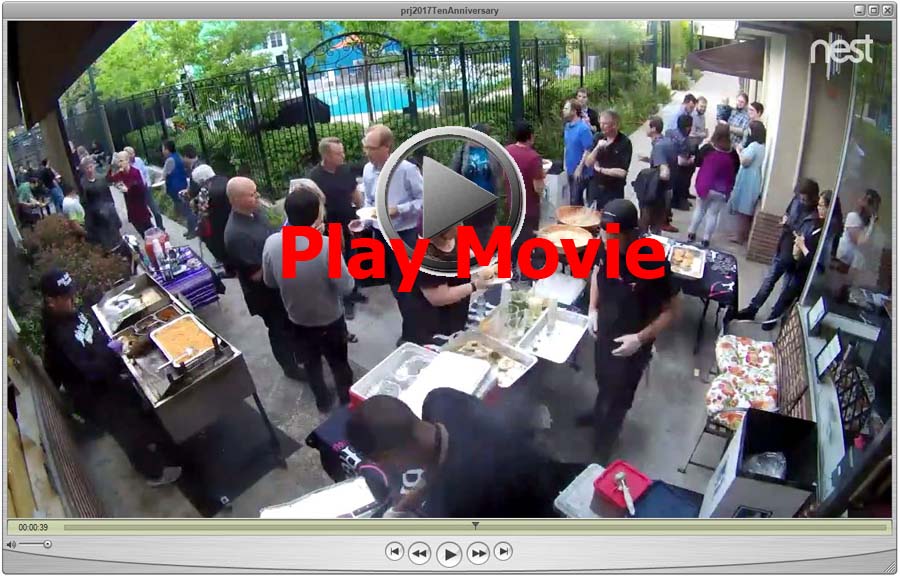 Below is a list of caterers and food suppliers, thanks!!
Big Chef Tomís Bely Burgers
http://www.bctbellyburgers.com/

Dia De Los Tacos
https://www.diadelostacoscatering.com/

Cakes By Jina (made our 3-tier Backblaze cake)
http://www.cakesbyjina.com/

Candicake (made the cupcakes and macarons)
http://www.candicake.com/

The Greedy Ant (charcuterie & cheese)
http://www.thegreedyantgourmet.com/

Umami ToGo (asian fusion food)
http://www.umami-togo.com/

143 Photo Booth
https://143photobooths.smugmug.com/

Justin Entertainment
http://justintertainment.net/

Bartenders Unlimited
http://www.buevents.com/
Before the guests arrive, the food is all setup: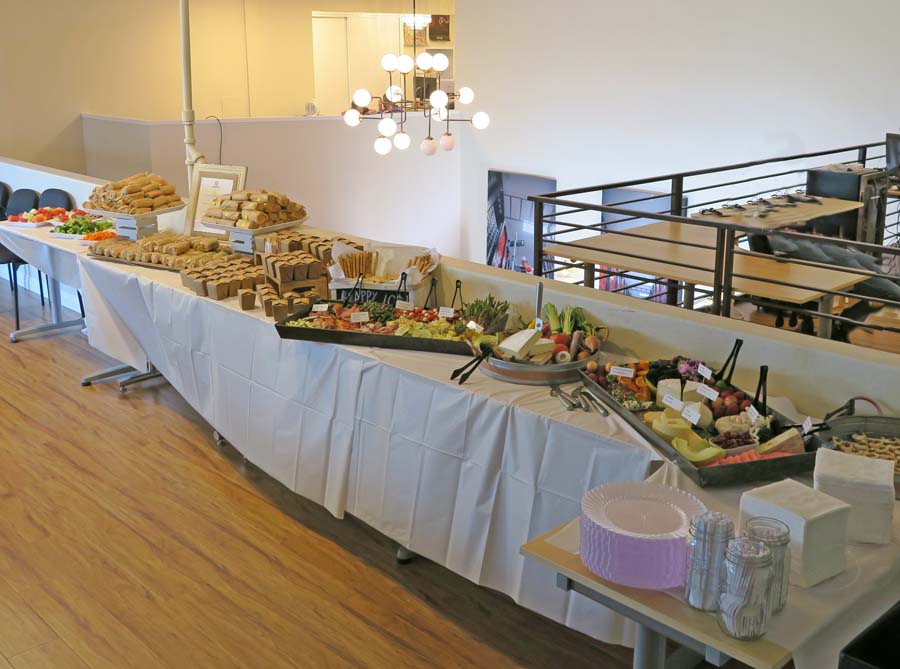 The "bar" is the black cloth covered area on the left, and the food is on the right.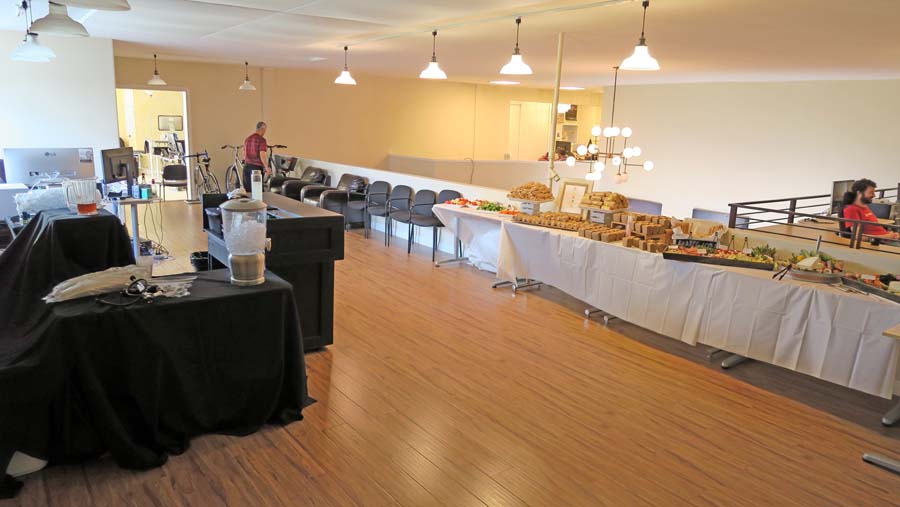 And since this is an anniversary party (or the tenth birthday party for Backblaze) we got a cake. Lots of cake: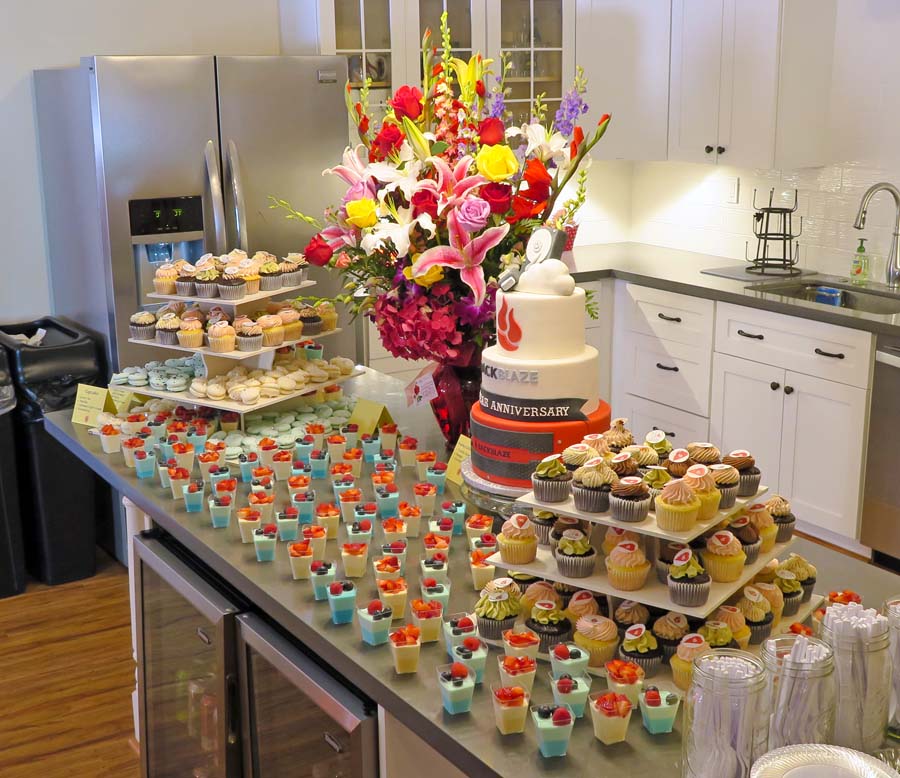 A photo booth was setup for people to take their own picture in front of the "B" "2" sculpture.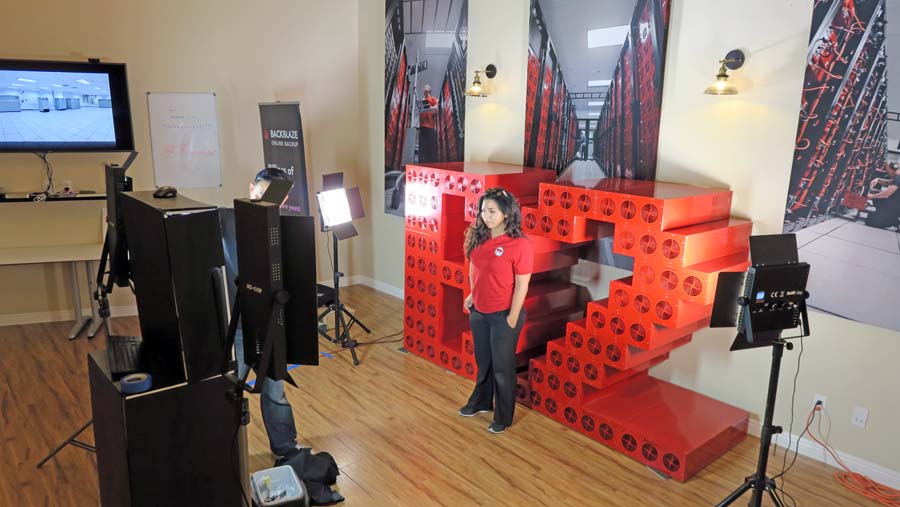 Mostly employees and a few spouses started showing up.
More spouses.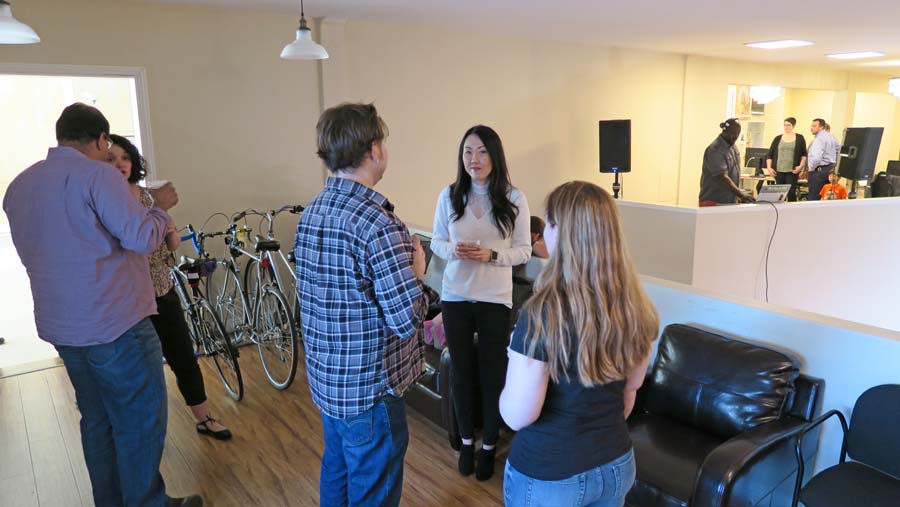 From left to right: Brian Guzman, Madison Guzman, and Brian Beach.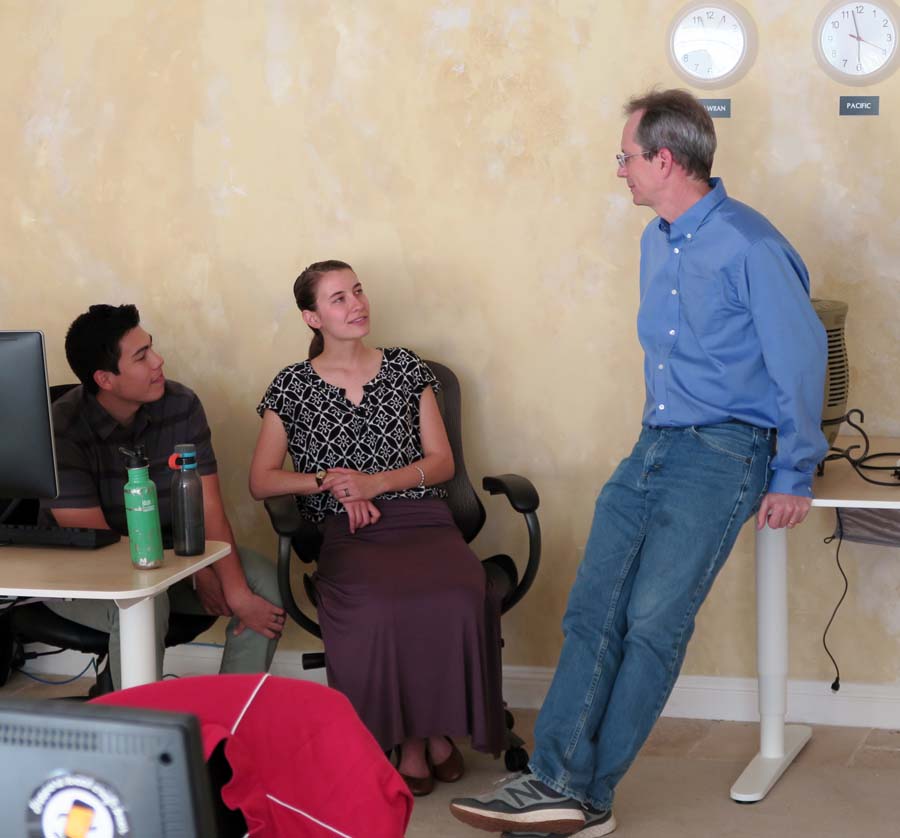 We had a DJ and some music playing the entire party.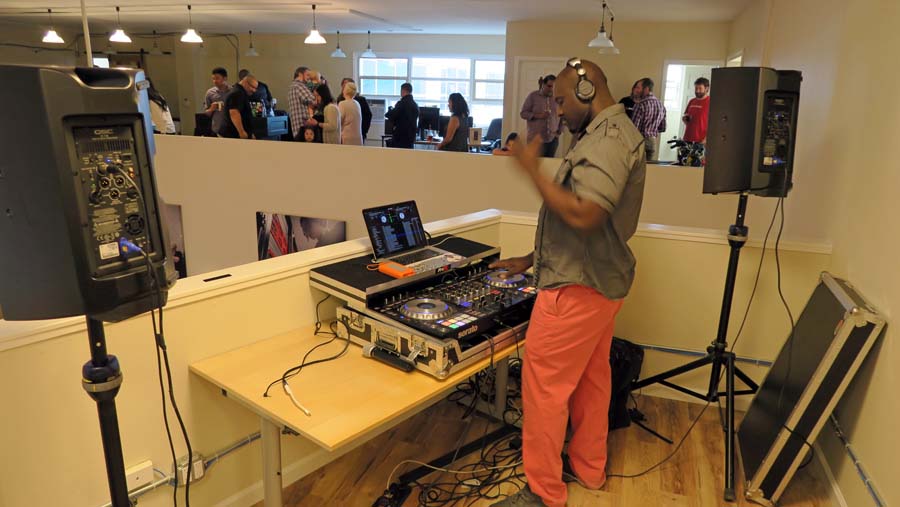 Employees and spouses hanging out. YBrian is in baseball cap, the guy behind him is from Sungard.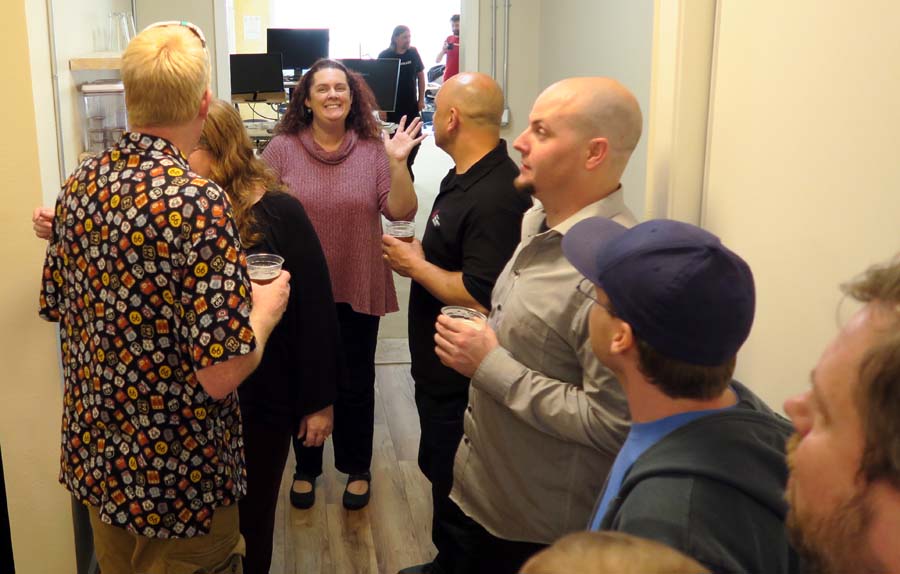 Christopher Grace, Doug Fults (behind), Ahin Thomas getting some drinks at the bar.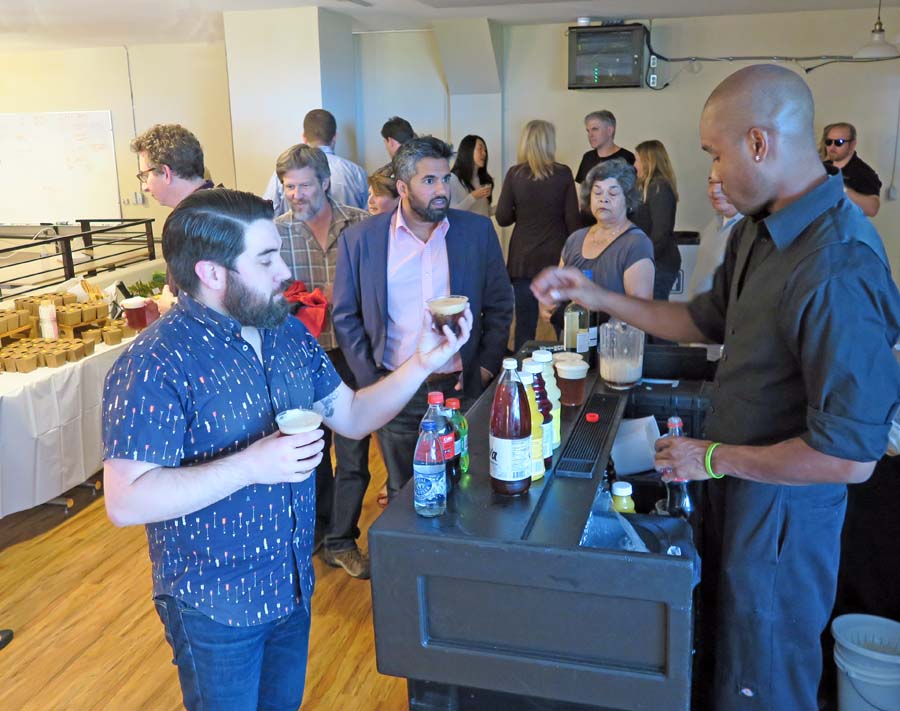 Two party goers from Synnex: Tony Devlin and Michelle Manaplaz.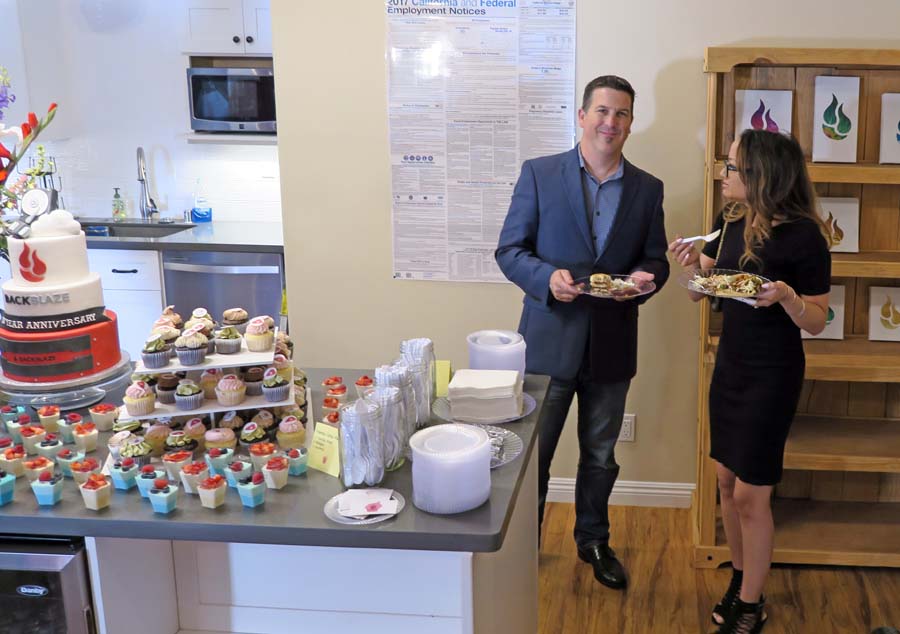 Marty, LeAnn, and Mathew.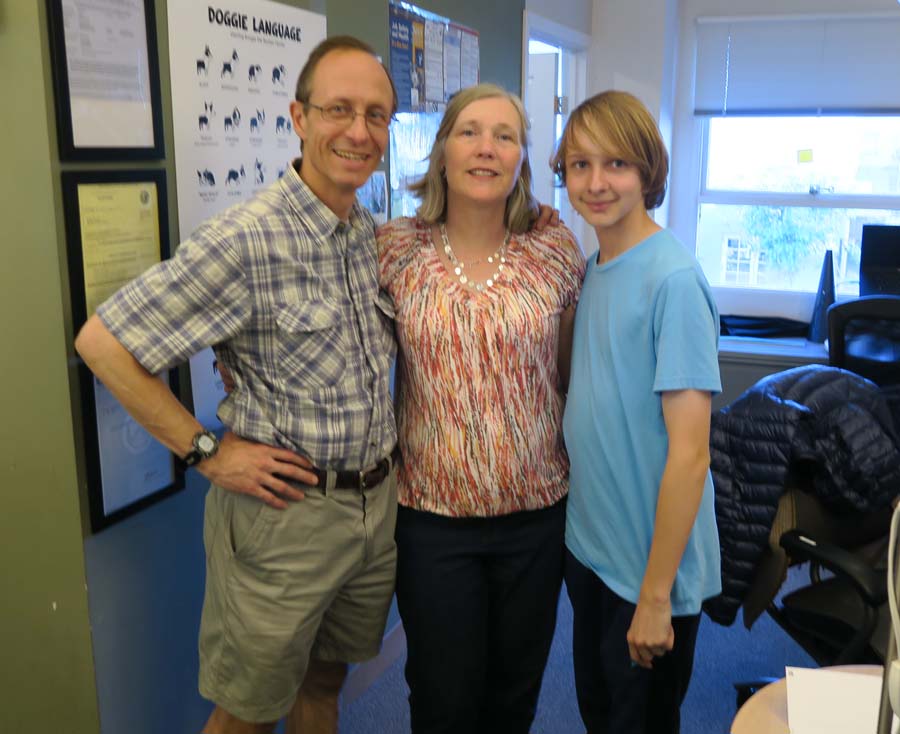 Natalie Cook and her new daughter Sonoma.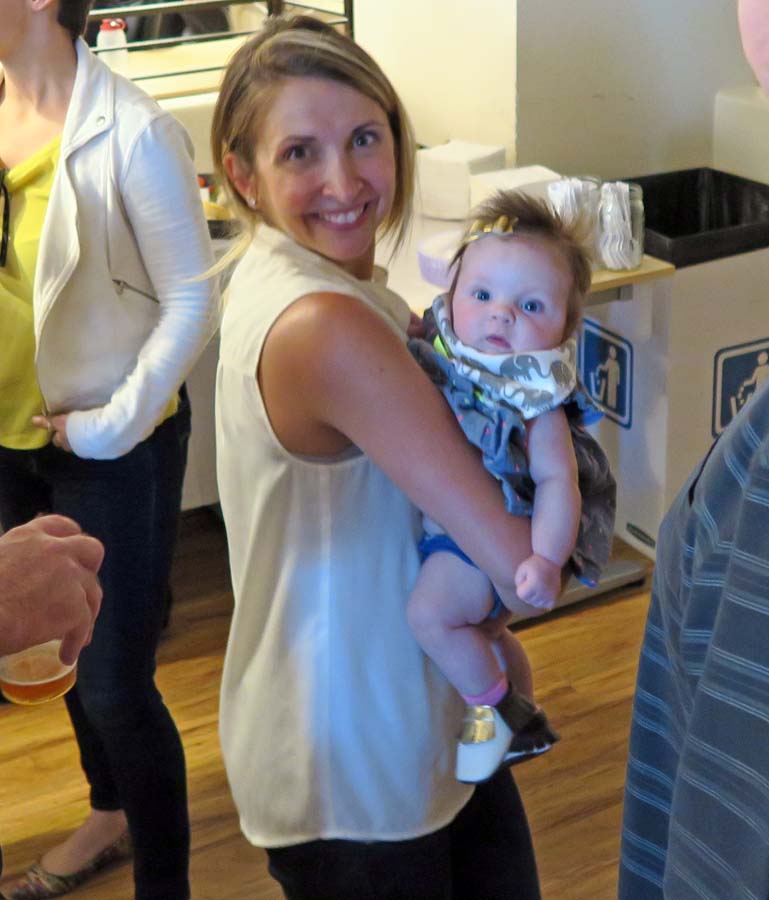 Sona Patel, Shelby Welsch, Brittney Wassermann, and Natalie Cook (holding Sonoma).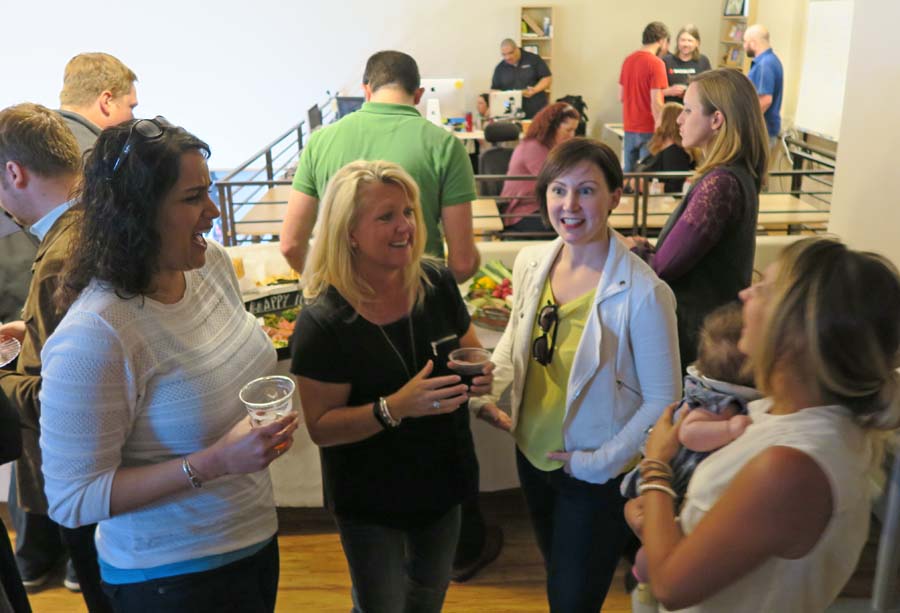 From left to right: Sona Patel, Shelby MacKay Welsch (blond in front), Nilay Patel (in back), and on the far right in checkered collar is Mike Wegbreit.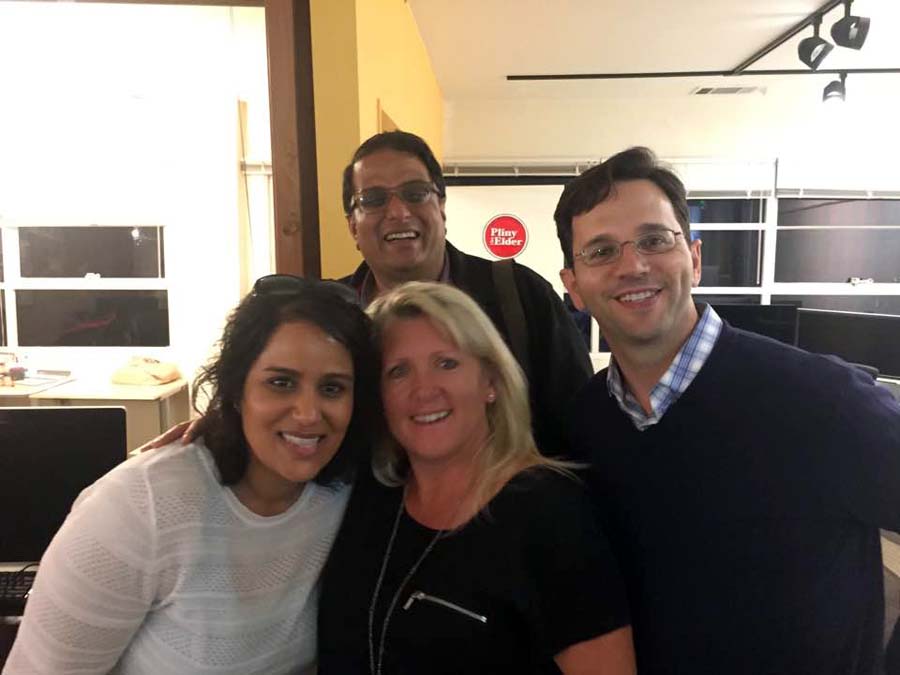 From left to right: Dina Field (in polka dots), Susan Uzunoglu (in white facing camera).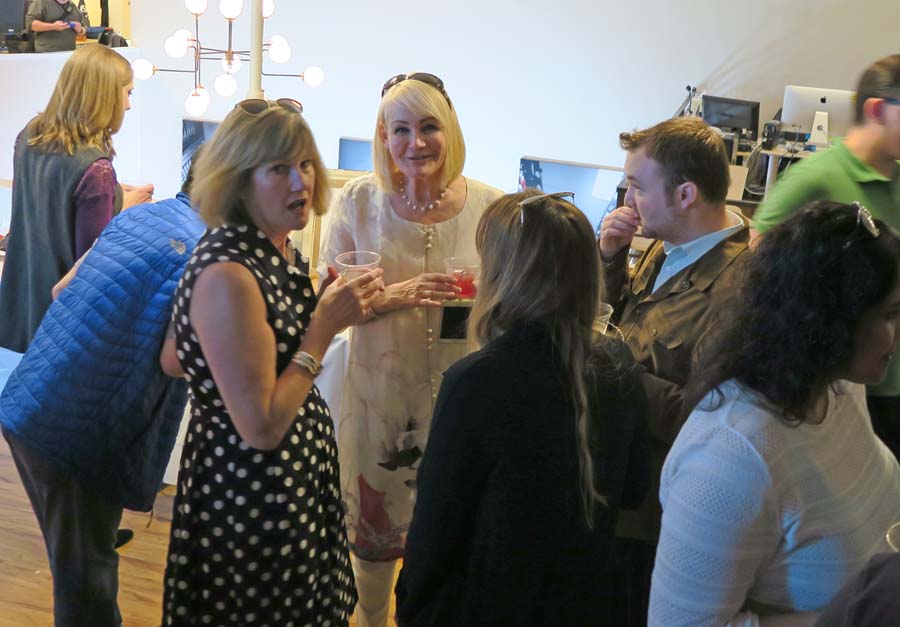 Scott Eikenberry talking with Jeannine Gauthier. Behind Jeannine's left shoulder is Eric Stauffer.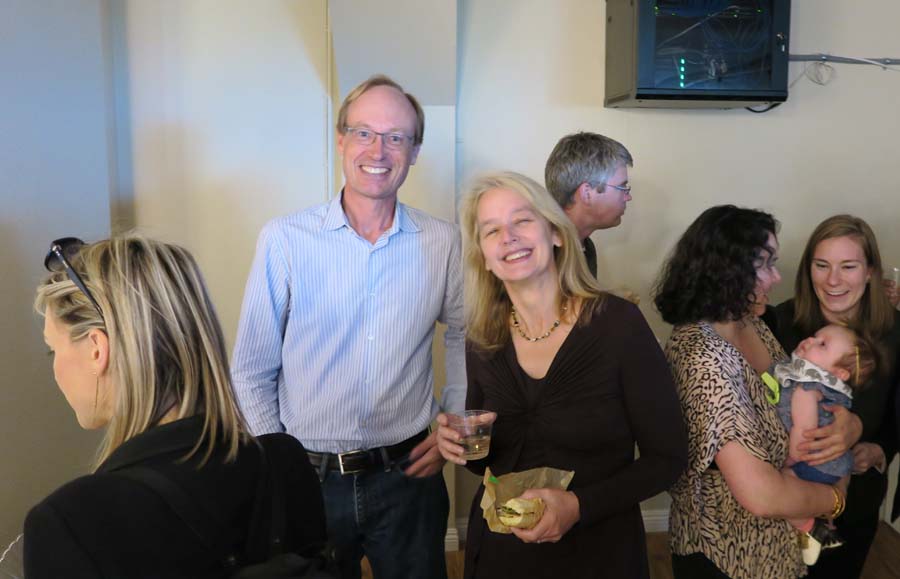 Lora Fults, Doug Fults, and Mike Chow.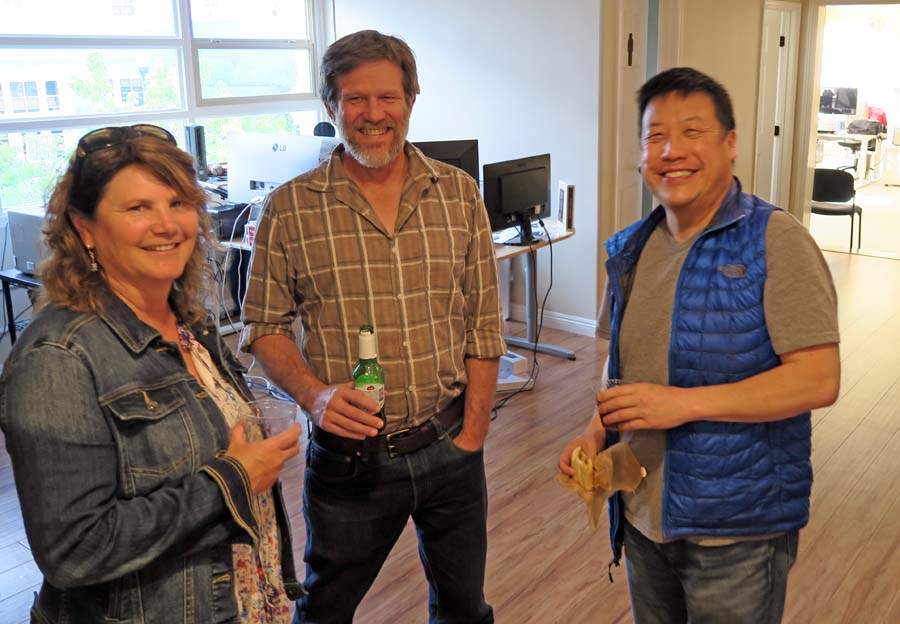 Outside our front door, we setup Chef Tom making his famous Belly Burgers. Elsie Jones is getting some food, and Casey Jones is up in the foreground of the picture.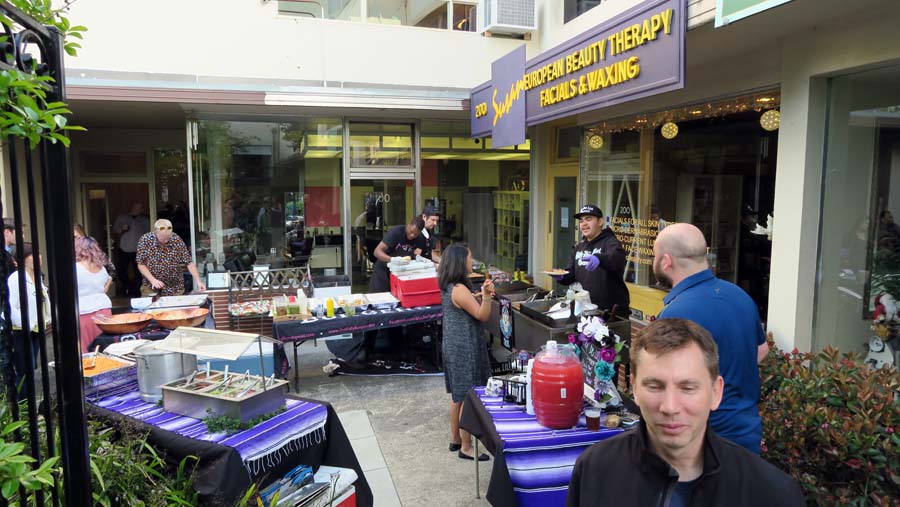 Derman Uzunoglu is talking with Dina Field.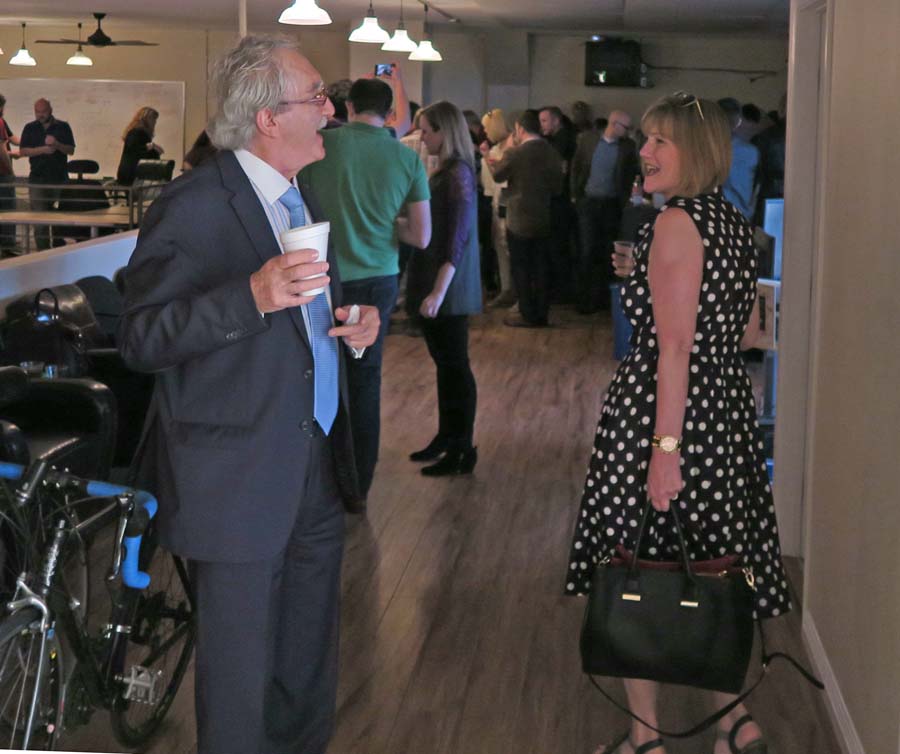 A crowd of party goers.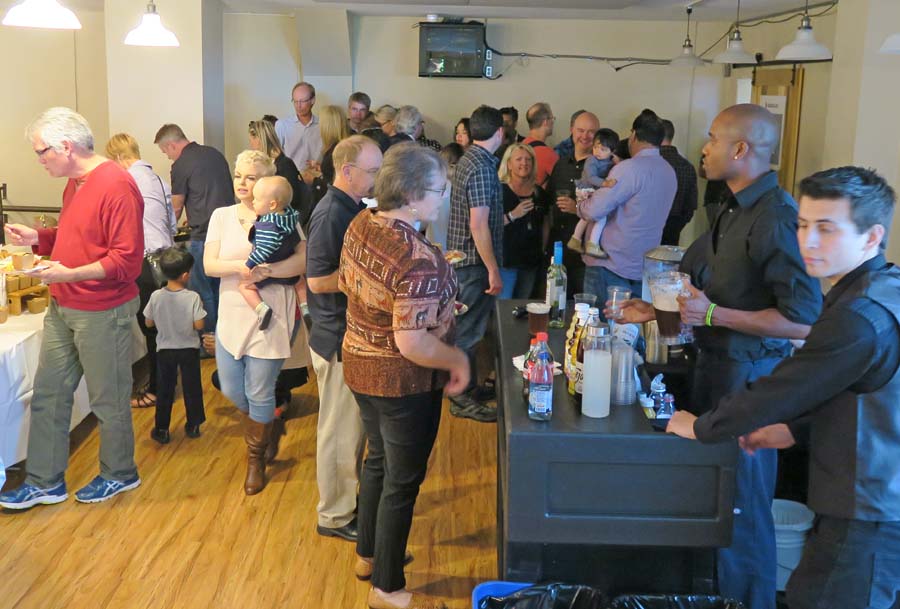 Suresh Aiyer shows up!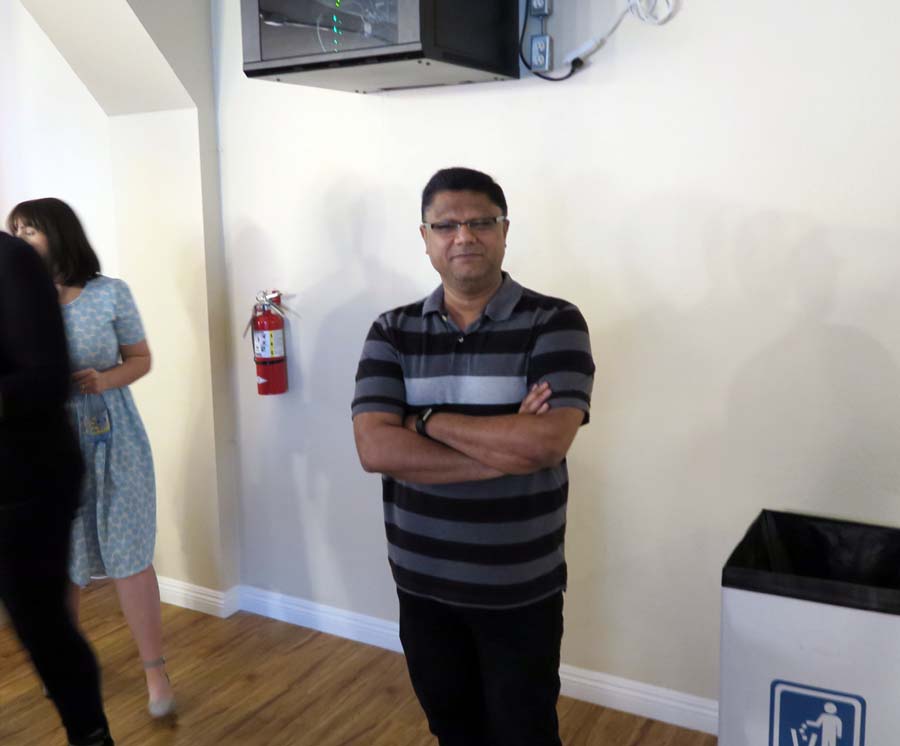 Vlad Bolshakov, Chris Kelly, and Casey Jones. The four of us (including Brian Wilson - me) worked together at a 30 person startup in 1999 called "Kendara" that was acquired by Excite@Home for $120 million.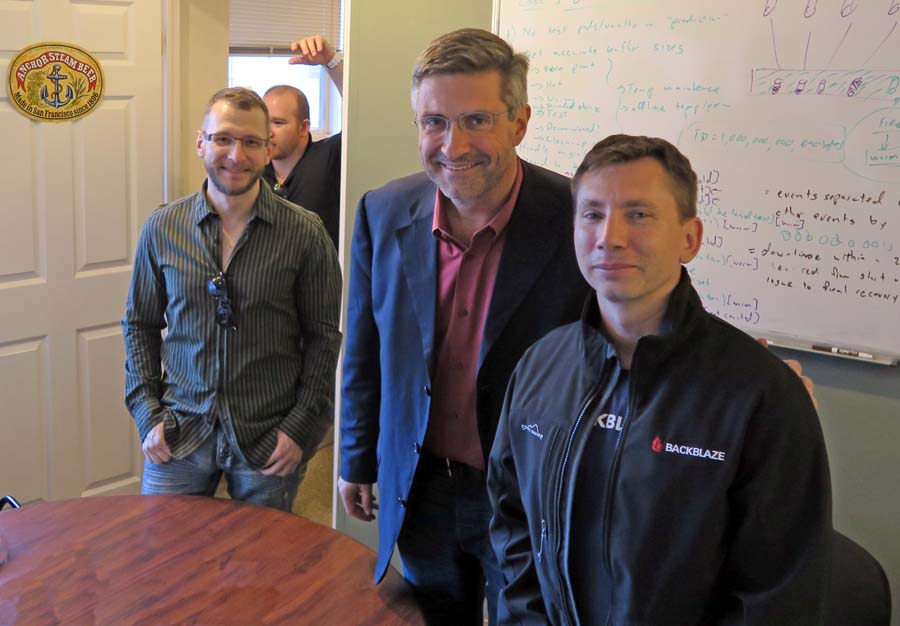 Left to right: Jennifer Pence, Adam Feder (facing away from camera), Julian Bain, and Candace Bain on the far right caught mid-blink. :-)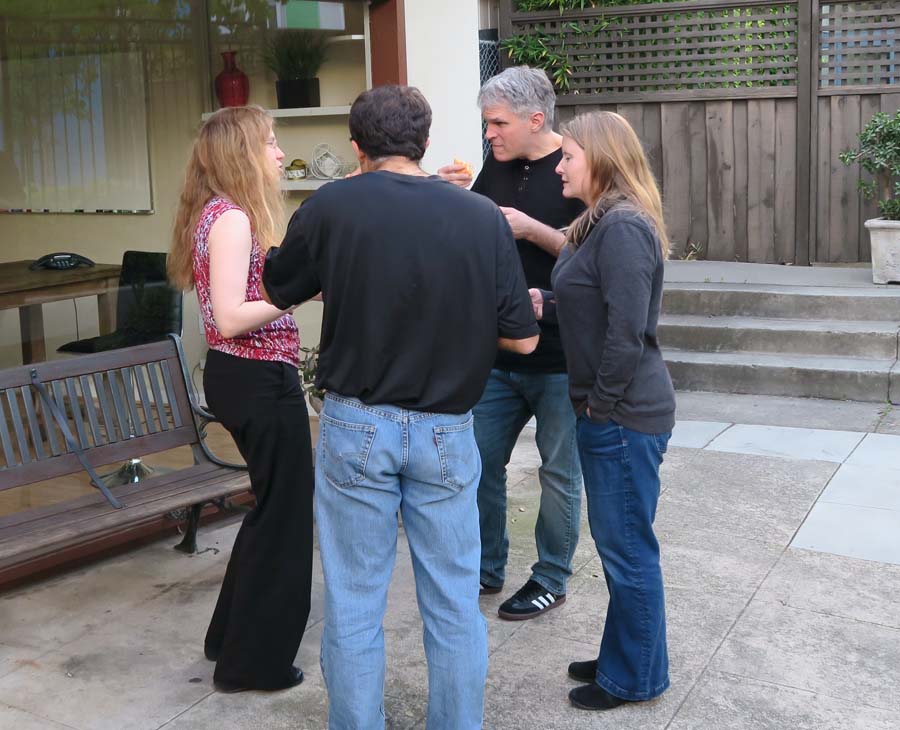 Bryan Williams (YBrian), Damon Uyeda, Aaron McCormack.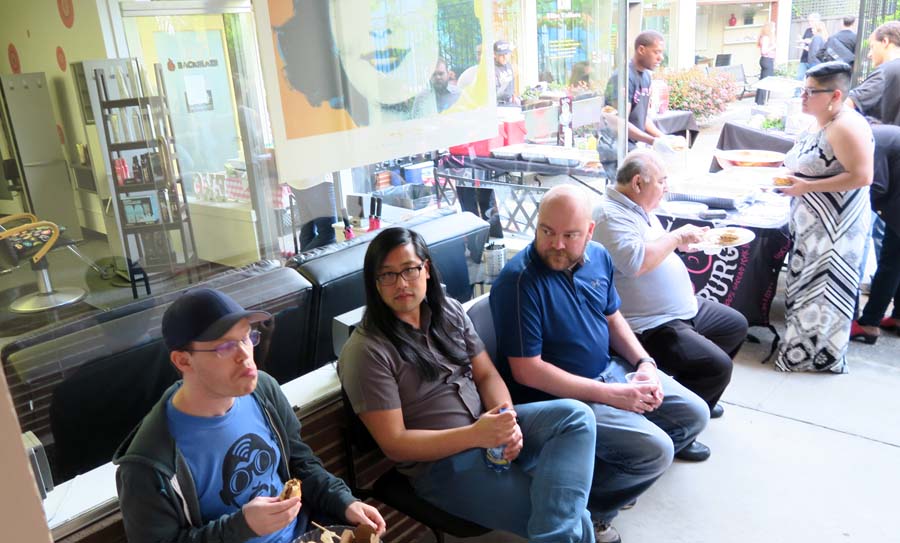 Party goers milling about outside.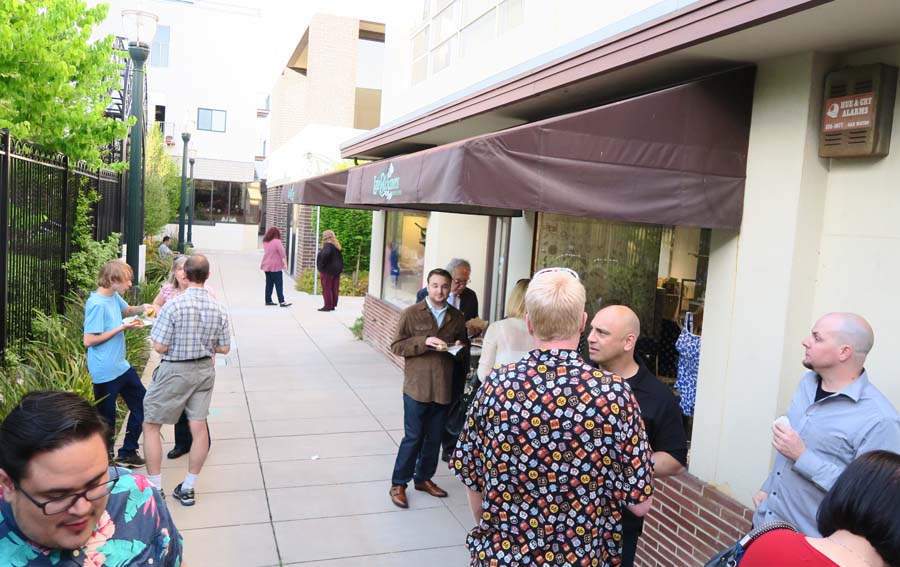 Getting some food, milling about outside.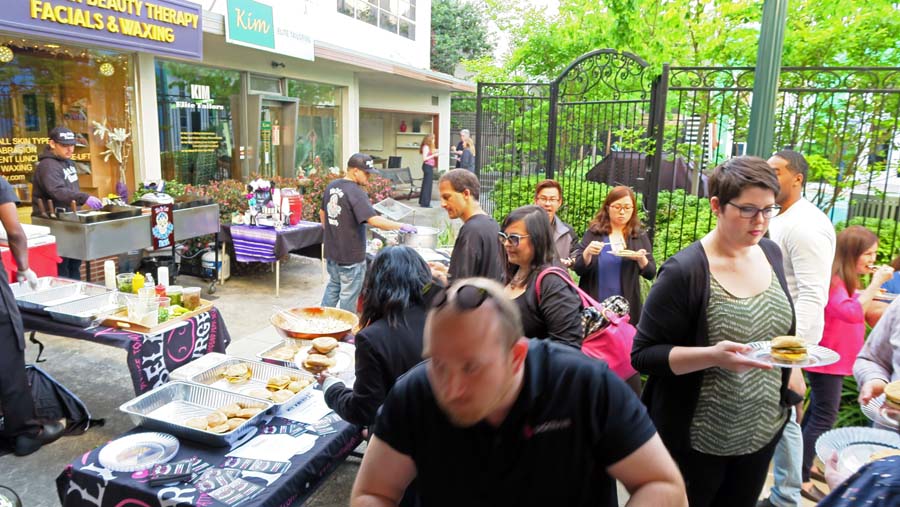 In white shirt on the left is Eric Hawkes (talking with LeAnn) and on the right is Will Chung and his sister Katherine Chung.
From left to right below are: Laurie Brown, Lynn Kennerly, and Julice Chea with Katherine Chung on the far far right. Julice Chea (Instagram Julice Chea and Facebook Julice Chea) operates owns and operates Parasol Beauty Atelier which is a beauty clinic located in downtown Palo Alto, California. Among other things they tattoo permanent makeup and eyebrows. Hint: Katherine in the picture below has new eyebrows.
Usha Reddy and Casey Christensen.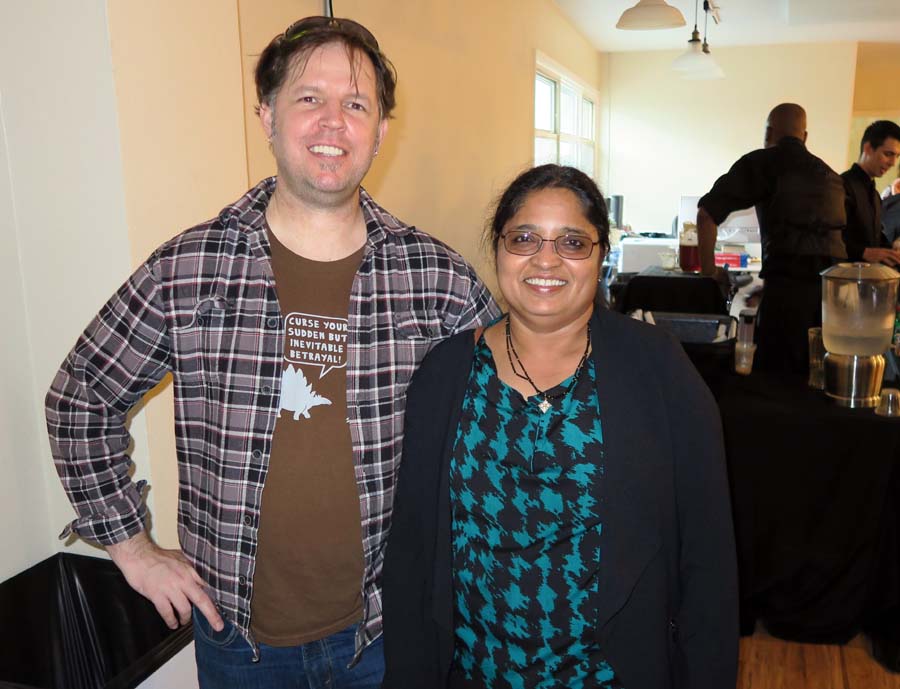 Ari Echt-Wilson, Eli Echt-Wilson, and Mike Brenner. Ari and Eli are Backblaze share holders. They are both the current youngest share holders at Backblaze, plus they have held shares longer than any other share holders at Backblaze other than Brian Wilson (me). They started strategically investing in their stock portfolios at a very young age (when Eli was 10 and Ari was 11).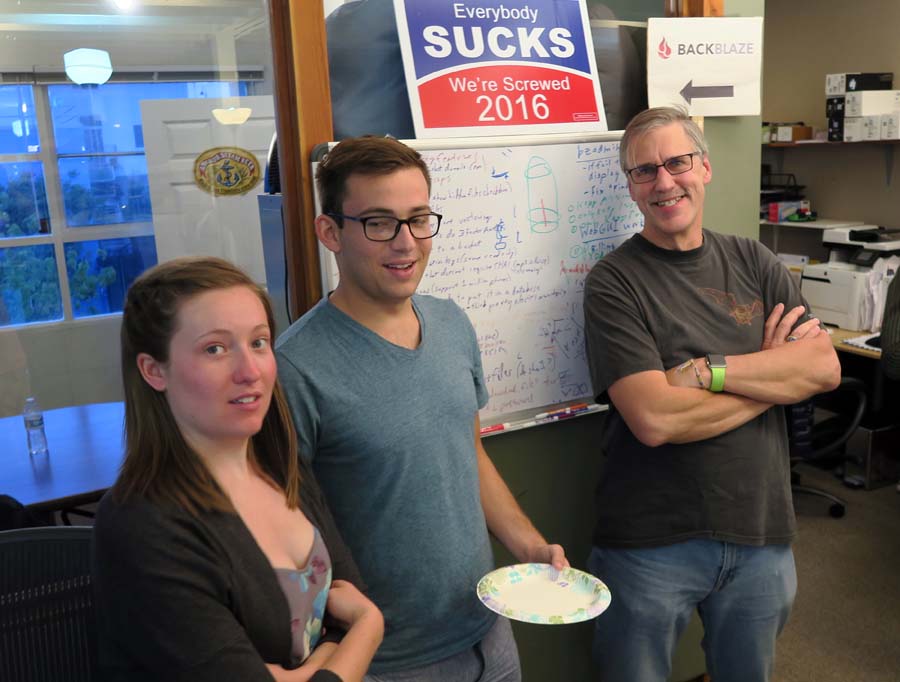 From left to right: Lauren Torres, Madison Guzman, Jennifer Pence, Adam Feder, Brian Guzman, Derek Torres on the far right.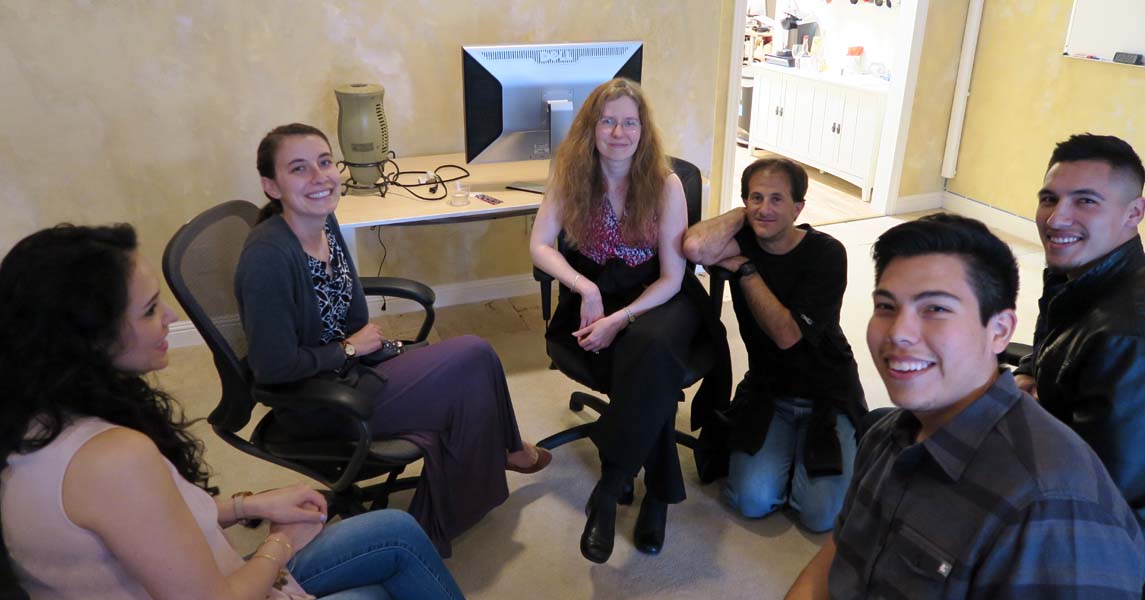 Nathalie Roland and Damon Uyeda.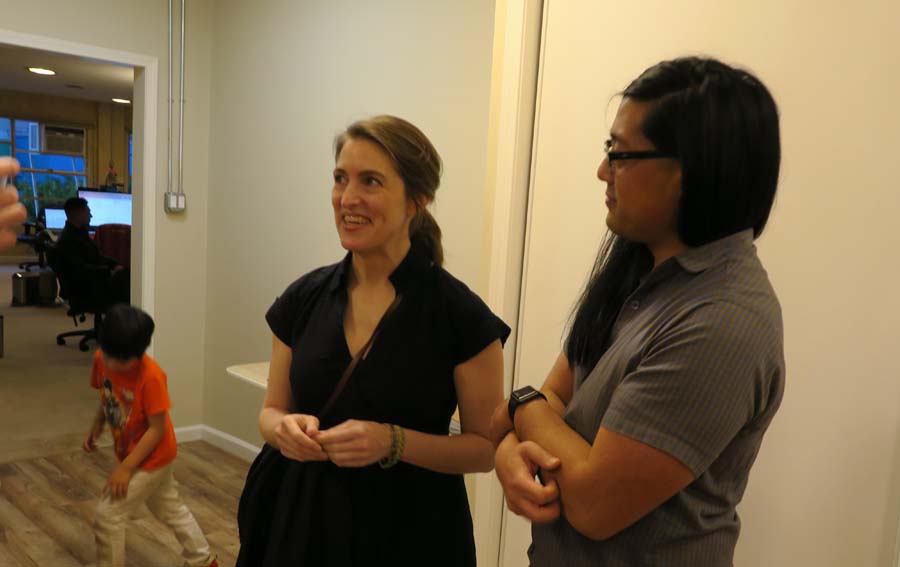 A few words were said by myself and Gleb to the crowd.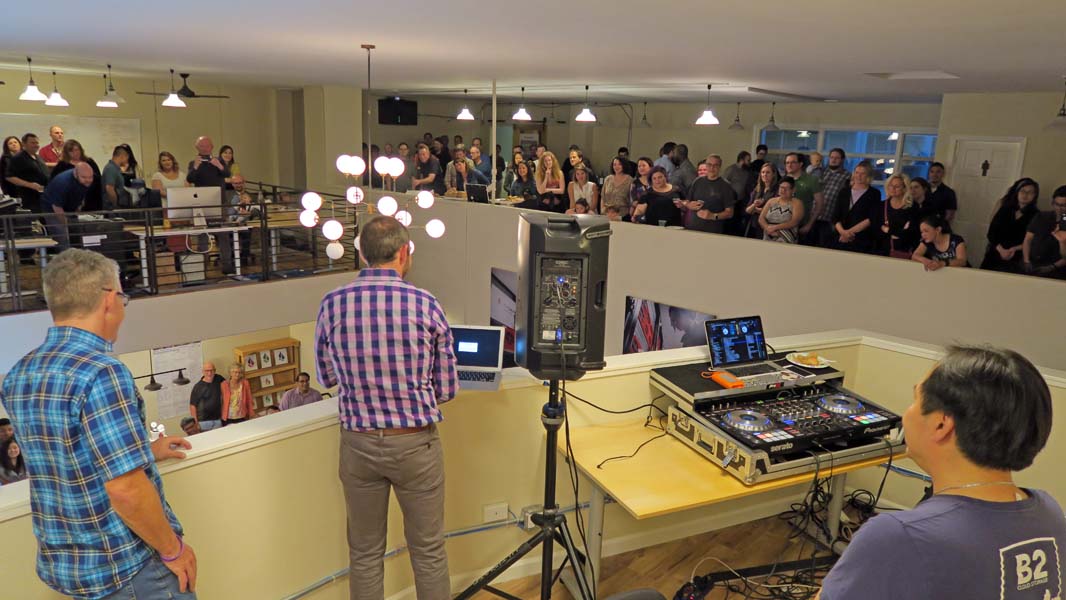 The crowd watching includes (from left to right): CJ Lofstedt, Steve, Anthony Alexander, Elizabeth (in front of Anthony), Suresh Aiyer, Natasha Rabinov (in black in back), Usha Reddy, and Nate Leon.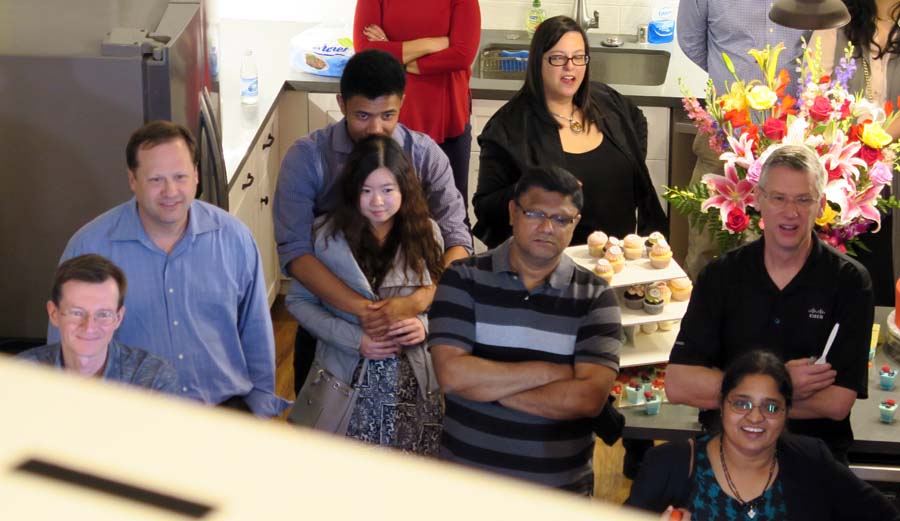 The Backblaze IT balcony watching Gleb talk.
Nathan Wieneke (former Backblaze employee) next to Anthony Alexander behind Elizabeth Mok.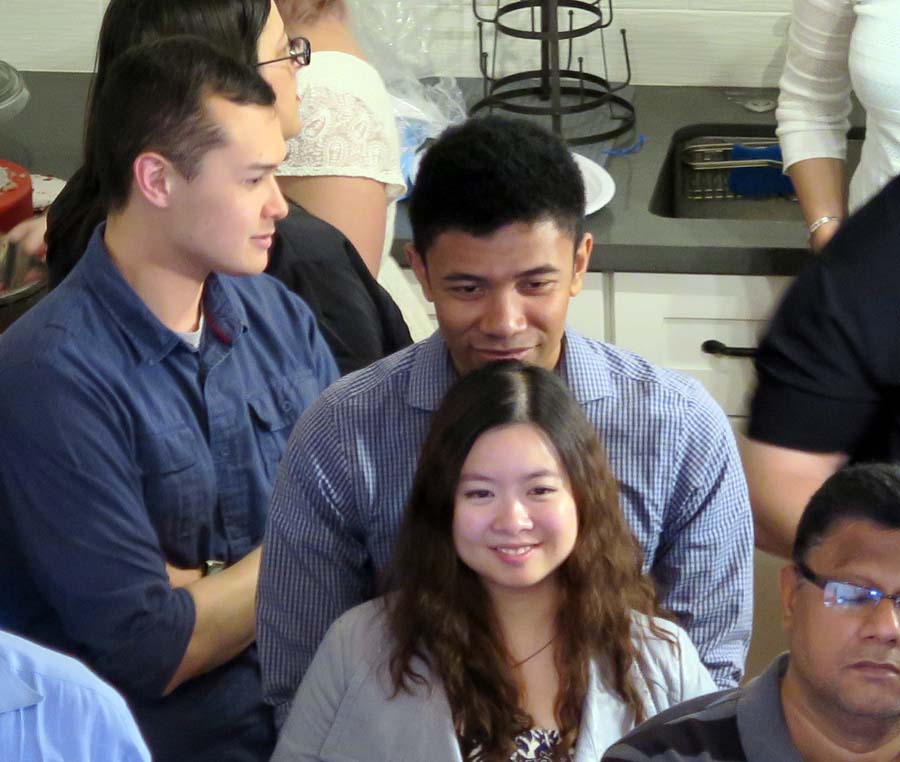 The big balcony is full of people watching Gleb talk (and watching the slide show).
More people on the big balcony.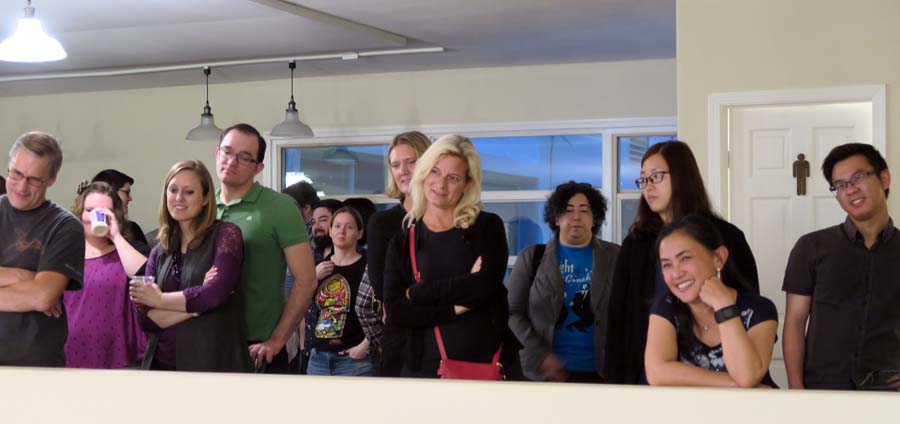 The person pointed to be "A" below is Bob Adler who has worked with us across several different companies. The person pointed to by "B" is Stuart Cheshire (friends and family very early Backblaze investor), and "C" points to Maggie Glanowska.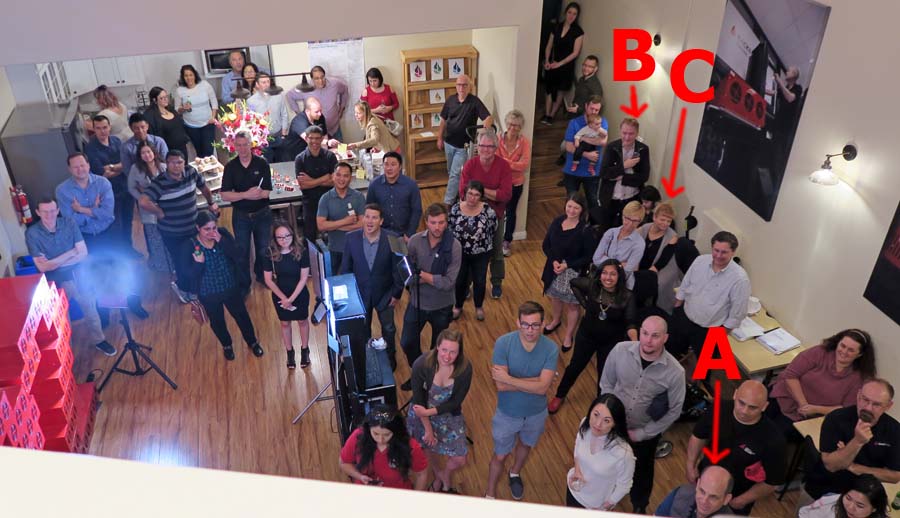 From left to right: Howard Chartock (early friends and family investor in Backblaze), James Fleishman (early investor and now a Backblaze employee), Billy Ng (King Billy - one of the founders of Backblaze) and Adam Feder.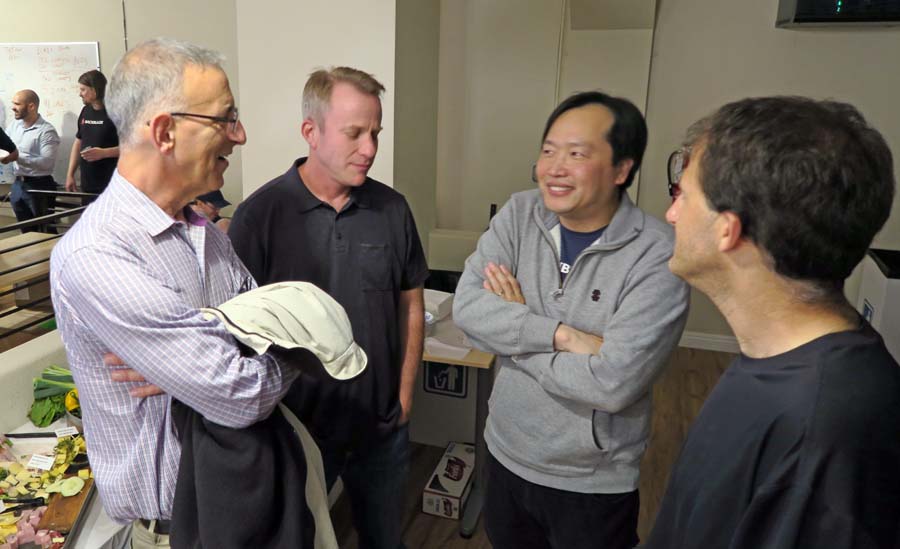 David Clancy on the left (the son I never wanted - that's a very old joke since David is a close friend and I taught him to drive a car), Mike Brenner, and Stuart Cheshire. All four of us worked for Apple Computer in the engineering groups, and Mike and Stuart are still working at Apple.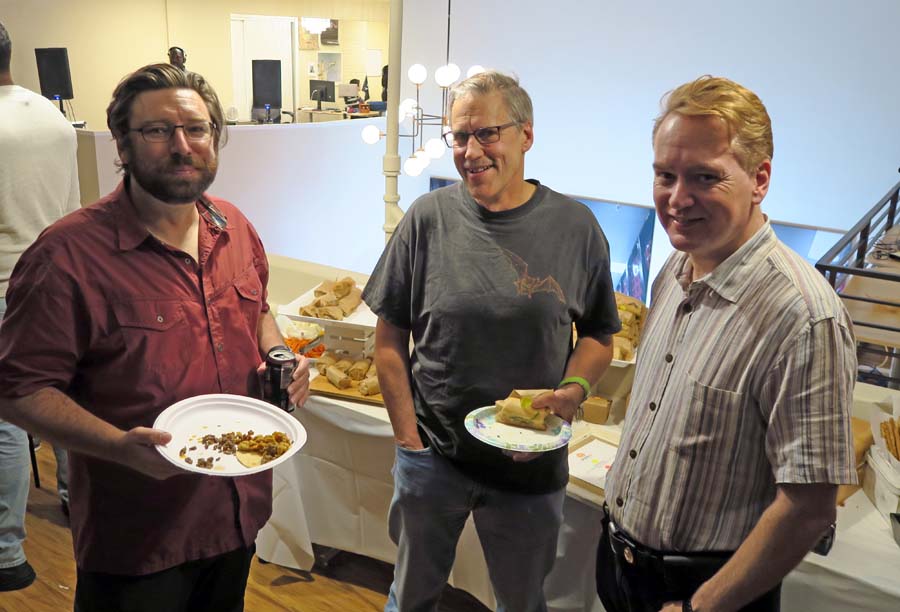 Kim Jacobson.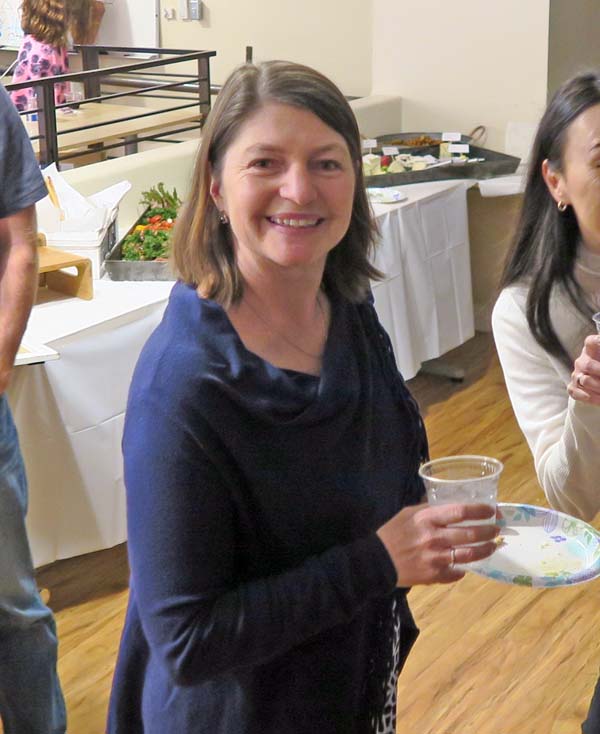 The "Quiet Sun Room" (normally occupied by programmers) somehow became the party day care, probably because it has the softest carpet of any room at Backblaze. These are employees and their children and spouses.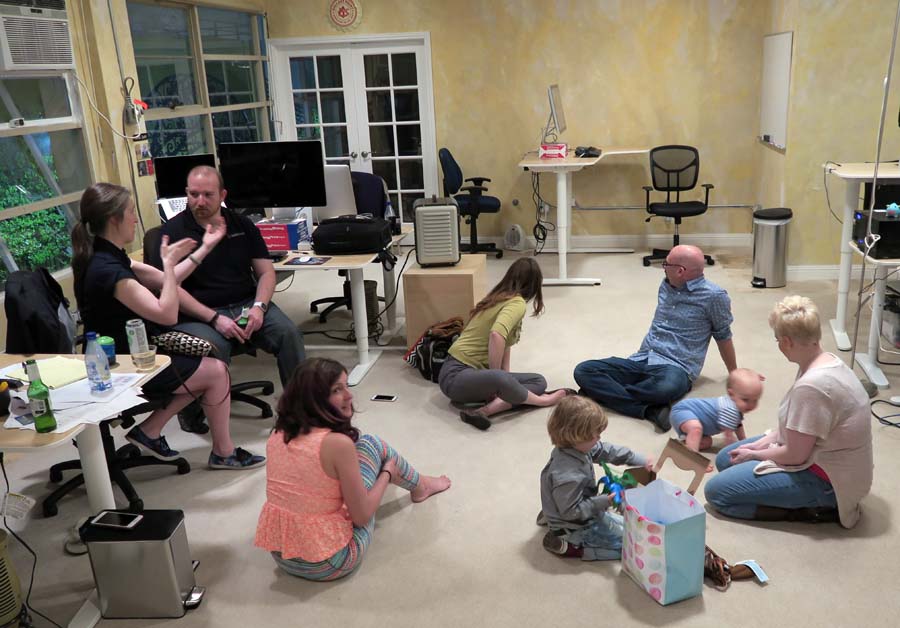 Stuart and Maya.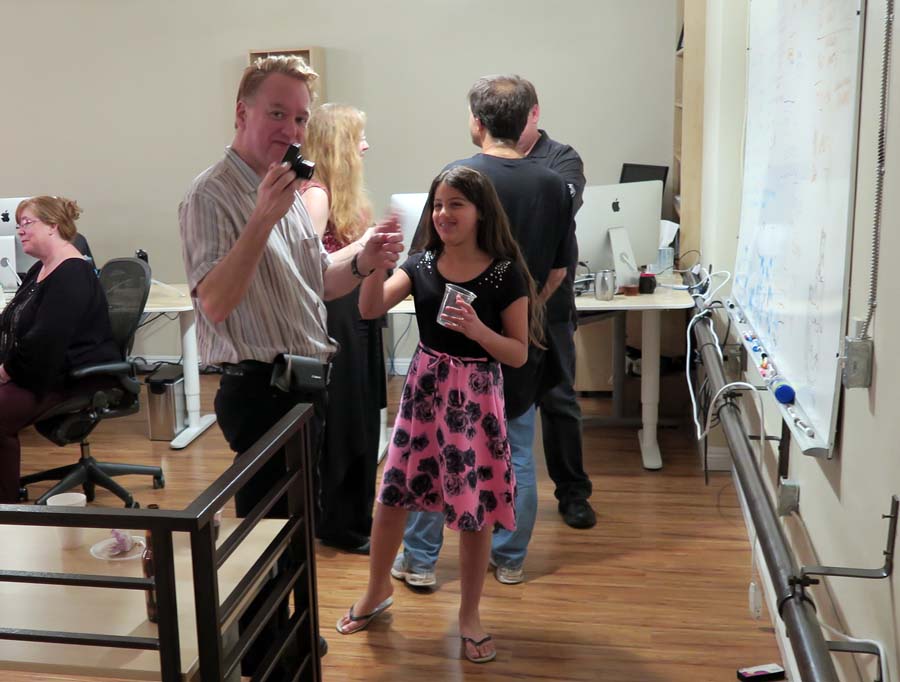 As the party winds down, only a few people left. From left to right: Ryan Kilby, Larry Wilke, Natasha Rabinov, Steve Welsch, Shelby MacKay Welsch.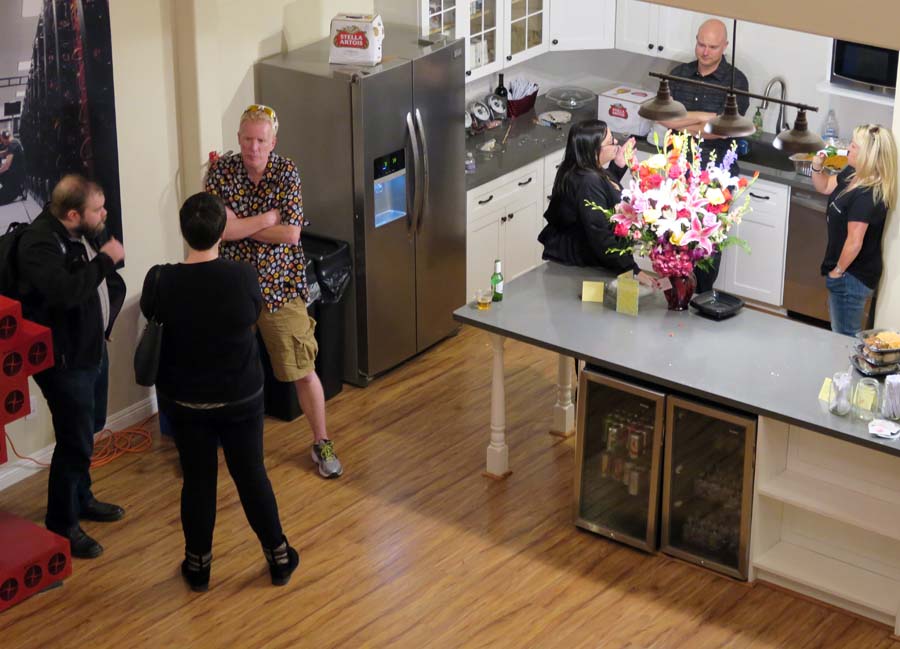 Back in the other room I find Amanda Le (white top facing away) is getting tired and wants to go home, Yev Pusin, Annalisa Penhollow (purple top), Gleb Budman, and Tony Sales (vest facing away).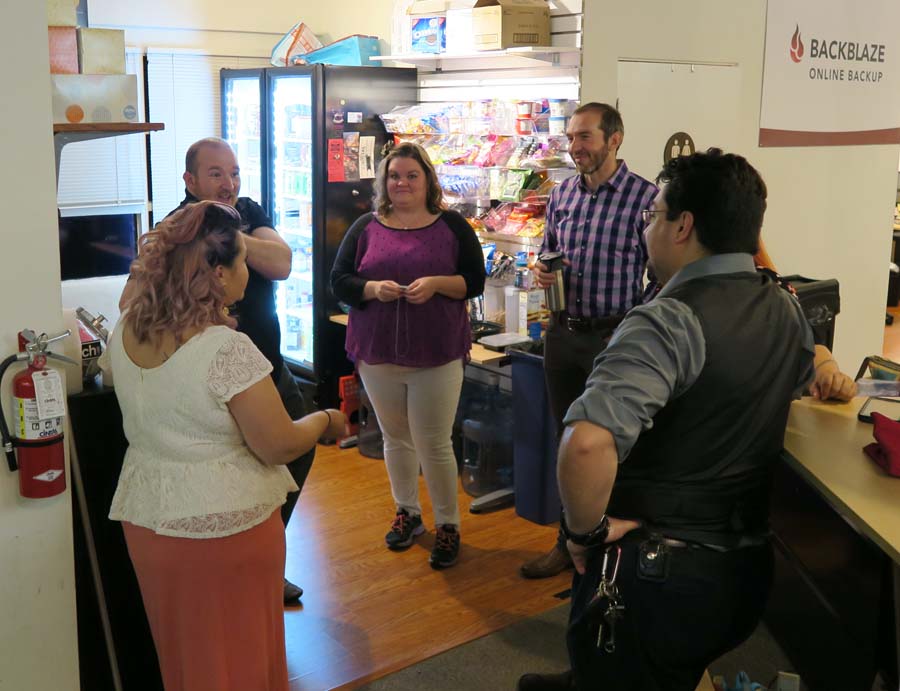 A few last stragglers. From left to right Phil Nino-Arellano, Sarah Kim, Jessica Lin.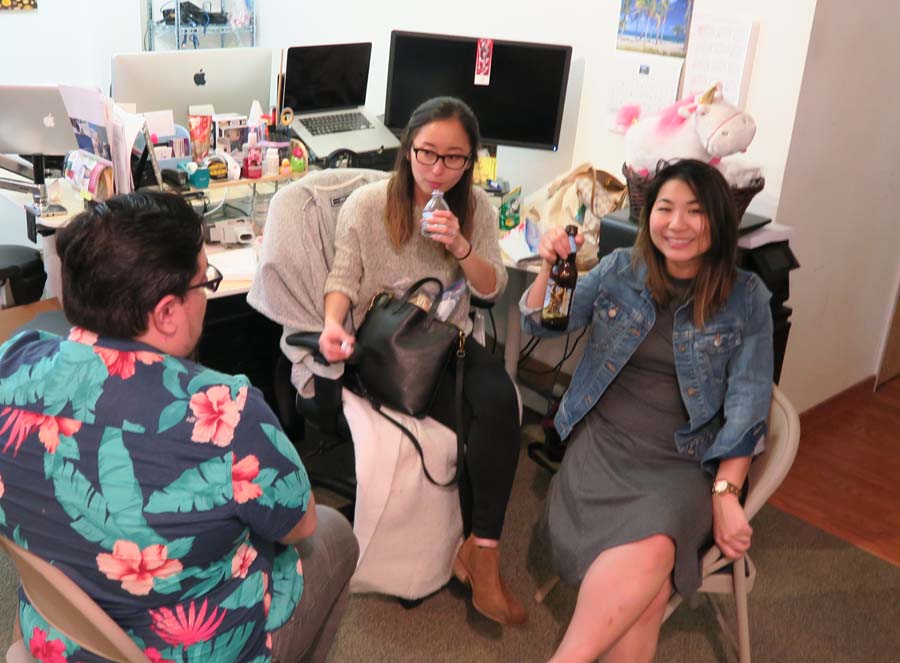 And holding down the fort last is Aaron and Sean Harris.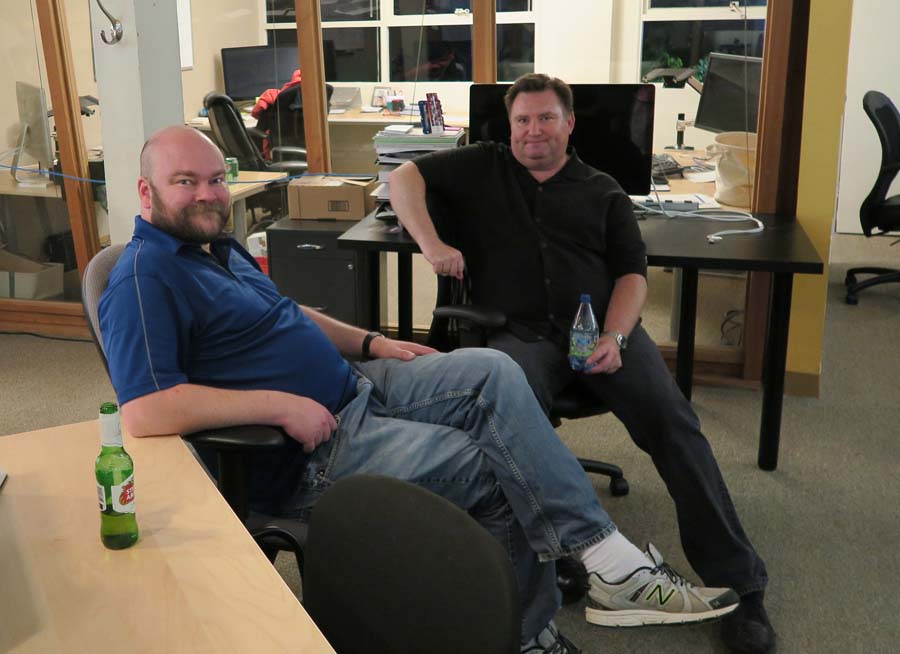 And that's all!