2018 Walter E. Wilson Memorial Gathering

(2/3/2018)

Walter Ervin Wilson (April 1, 1934 - January 7, 2018)
On Saturday, February 3rd (and 4th), 2018 a few of Walter Wilson's closest relatives gathered at his home in Richland, Washington to celebrate Walter's life. Walter was my uncle, so I will sometimes refer to him as "Uncle Walter" in this web page.
Walter Ervin Wilson's obituary:
WALTER E. WILSON Einan's at Sunset Walter E. Wilson, age 83, passed away from Alzheimer's disease on January 7, 2018. Walter lived in Richland where he came to work for Battelle as a research physicist in 1965. Walter was born and raised with his two brothers on their parents' farm in Salem, Oregon. He graduated from Willamette University and went on to earn his doctorate in Physics from the University of Wisconsin. He enjoyed a year abroad in Basel, Switzerland as a post-doctoral fellow. Throughout his career, Walter continued to collaborate with and visit colleagues in Europe. He married Connie in 1967 and together they raised four children. Family was always most important to him. He was an avid photographer and loved the outdoors, especially fishing on the Oregon Coast. Many of his hobbies centered around computers, and he taught computing at WSU-Tri-Cities. He was well-known for his New Year's Day chili and for making friends feel like part of the family. Walter is survived by his brother, Howard, of Corvallis, OR, his wife, Connie, and children, Bruce (Lisa), Doug (Mariliz), Greg (Lori), and Dee Ann (Gary) and ten grandkids: Jenna, Jackson, Camille, Angelina, Casey, Bradley, Paige, Bryce, Mari and Andie. He is preceded in death by his parents, Ralph and Erma Wilson, and his brother, Ralph Wilson, Jr. The family will be holding a private memorial service. In lieu of flowers, please consider the Washington State University Tri-Cities Battelle Scholars Endowment Fund. -- Published in Tri-City Herald on Jan. 14, 2018
Family Tree Decoder Ring: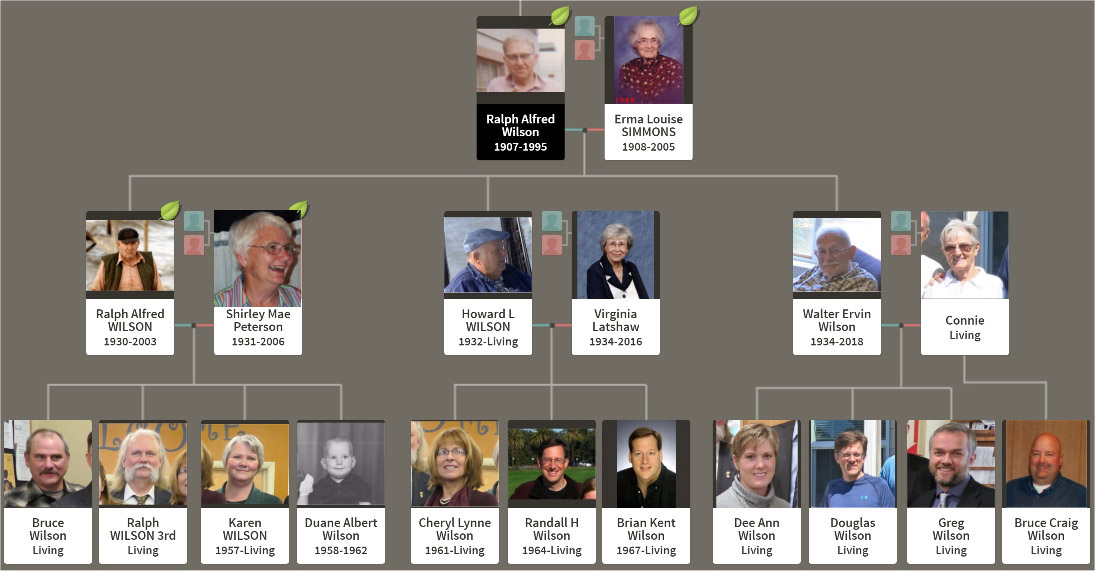 Pictures from the trip:
Click here for a movie of Katherine getting a TSA patdown in SFO (San Francisco Airport) because she "opted out".
In the picture below, Katherine and I are on one of the very last "Virgin America" flights that will ever fly. We are in business class. This is very sad, because they are one of the best domestic airlines that has ever existed. They were bought out by Alaska which is a gigantic step downward in experience.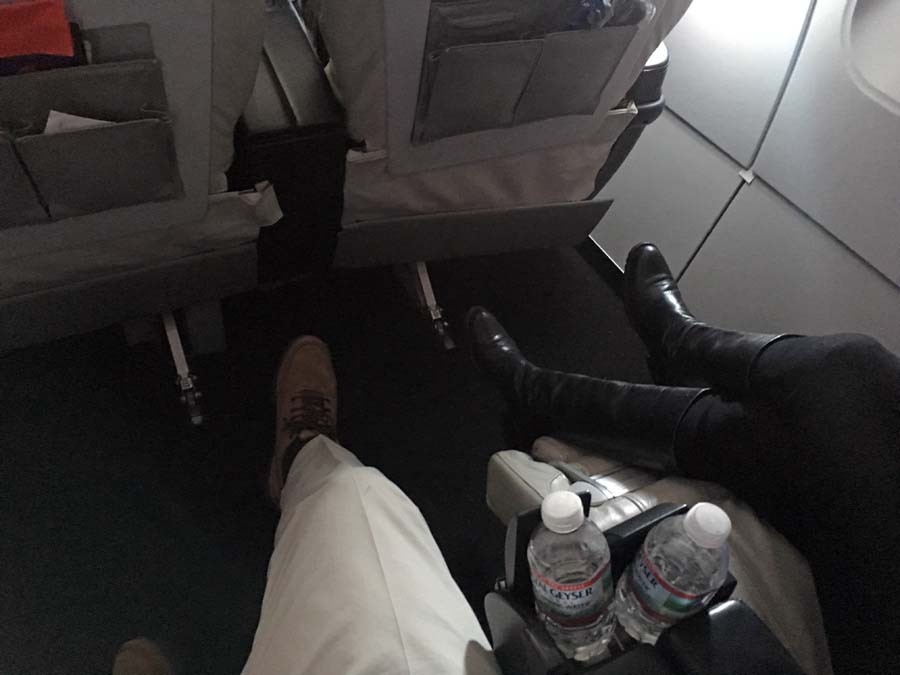 Katherine and I flew into Portland, Oregon on Friday night and had dinner with friends in Portland and spent the night. Below we are on the rooftop bar at "The Nines" called "The Departure". Below Katherine is at the railing.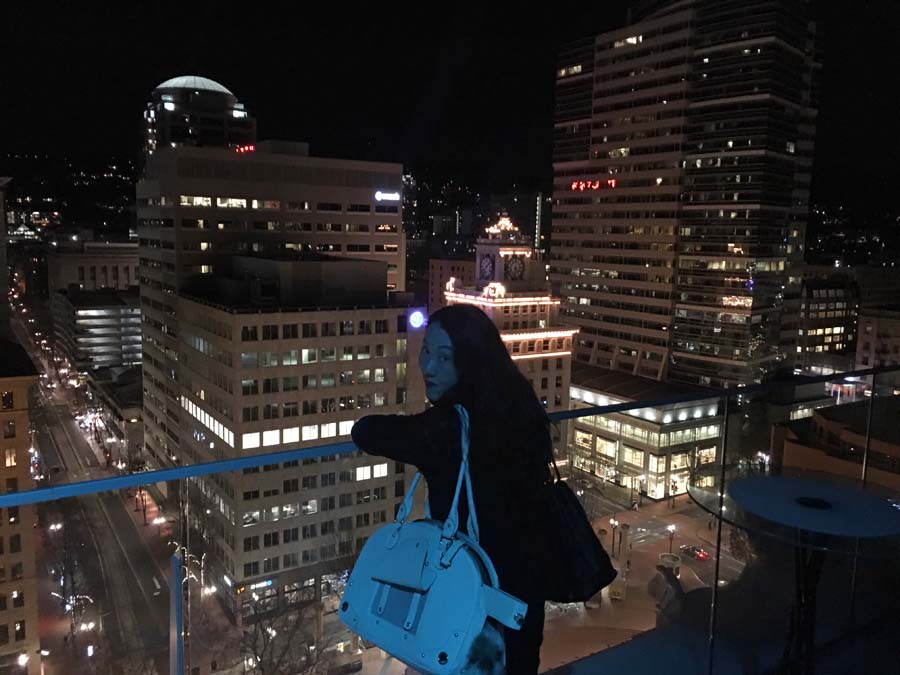 Katherine and Tuesday (Heather's dog).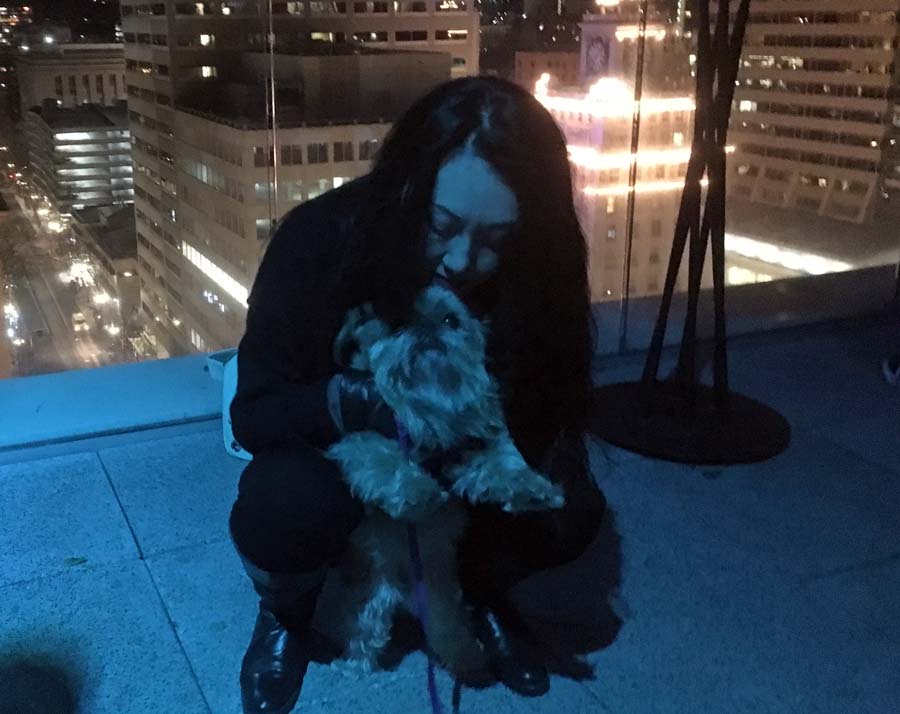 A panorama with Katherine.

From left to right: Heather Wagner, Angela, Brian Wilson (me), and Katherine Chung.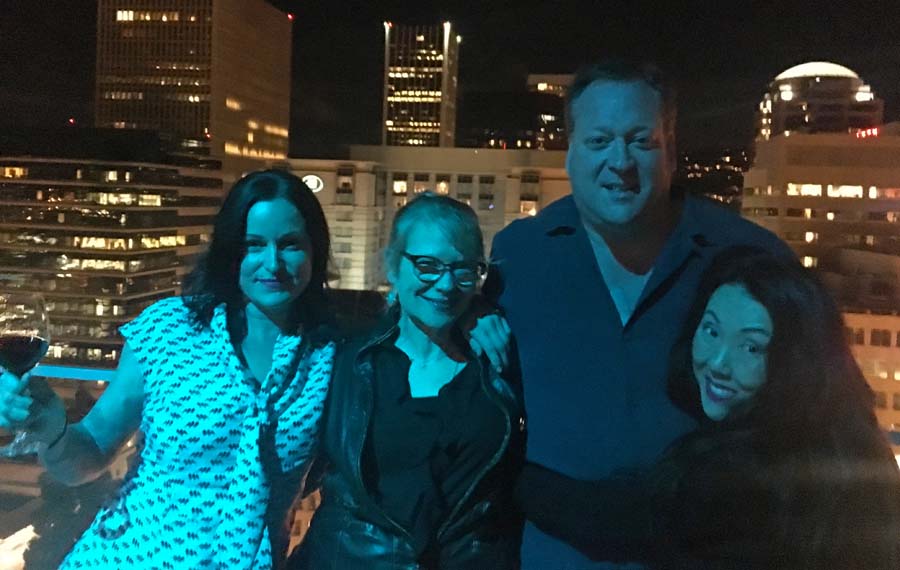 The next morning Katherine and I drove past Hood River on our way to Richland, Washington.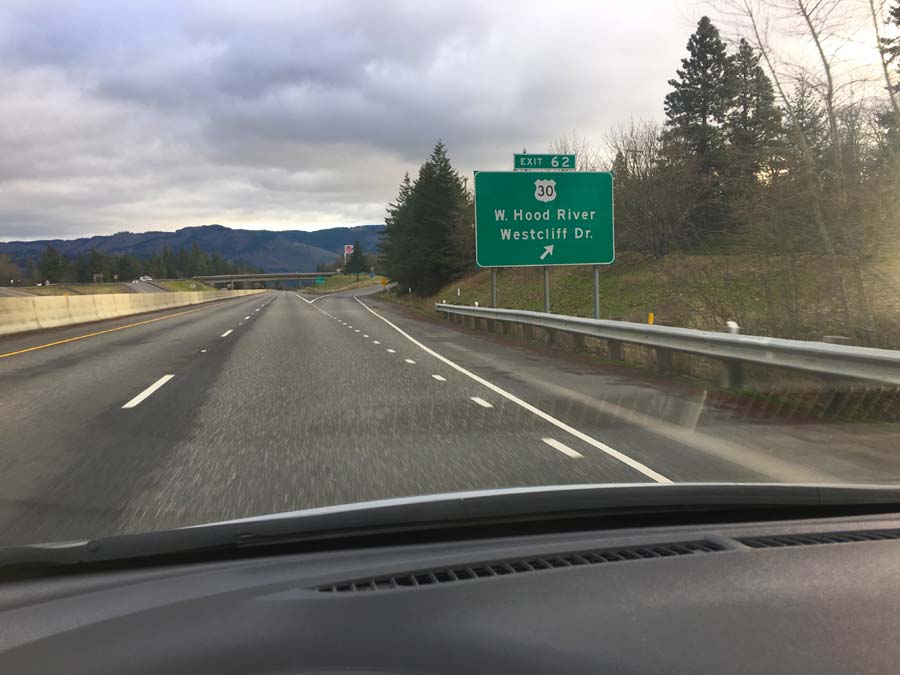 We quickly checked into our room at "The Hampton Inn" in Richland Washington. (It is by the river.)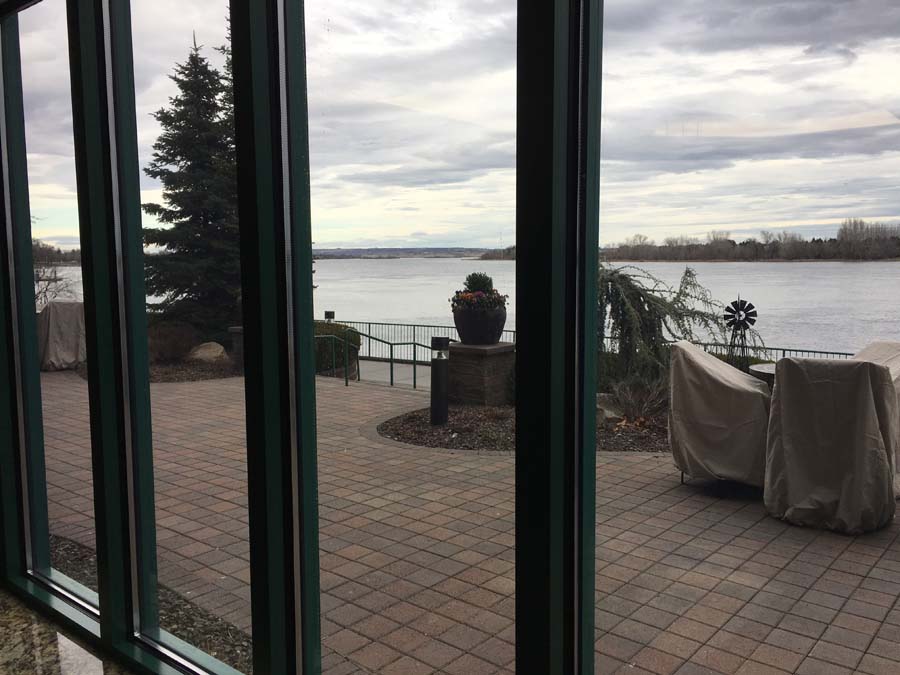 Then on to see family at 221 Enterprise Dr, Richland, Washington.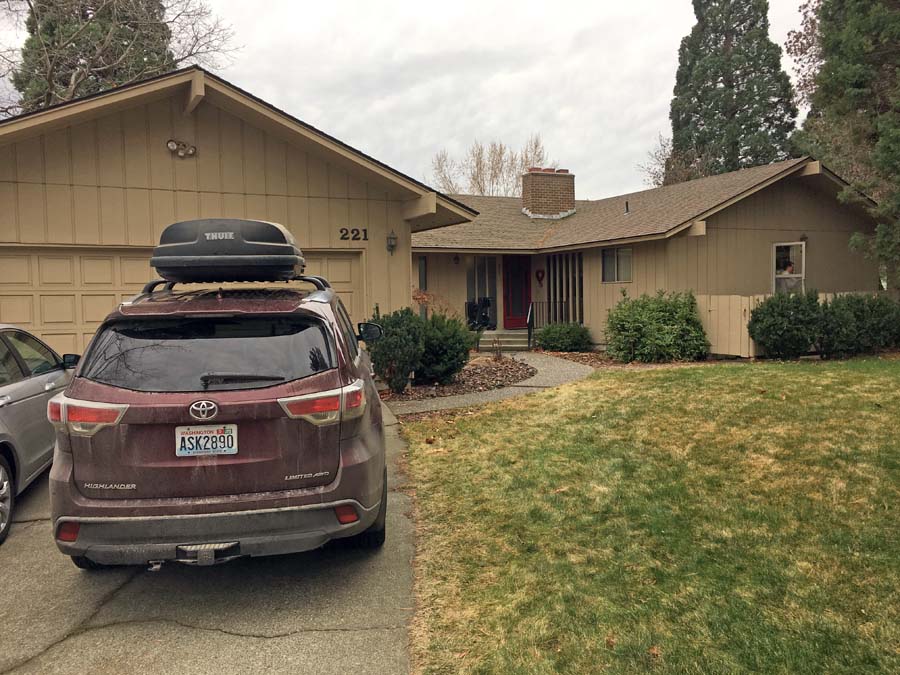 Uncle Walter's FireWire hard drives.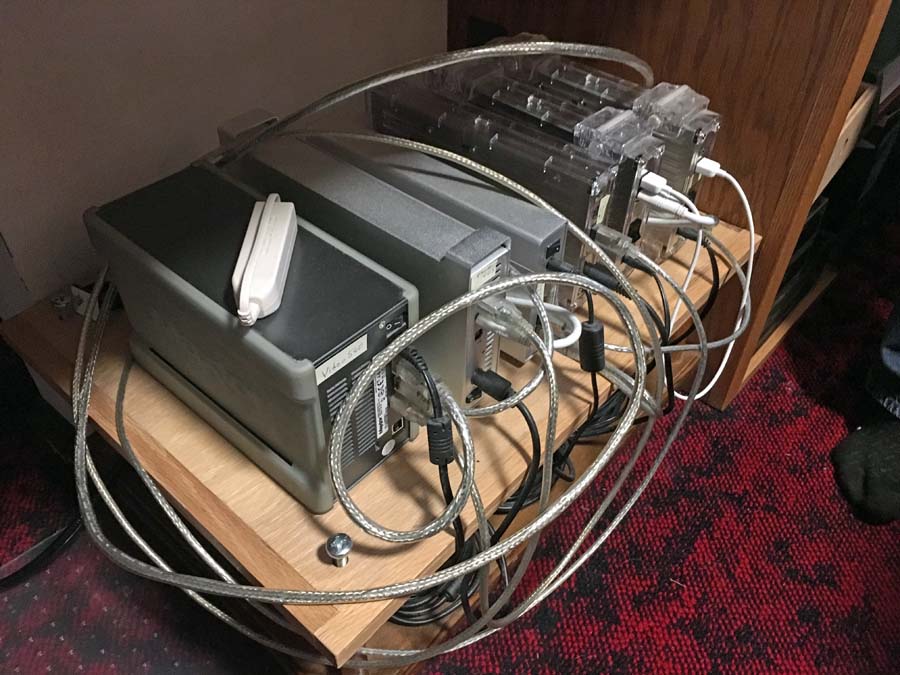 The first day we were there is Saturday.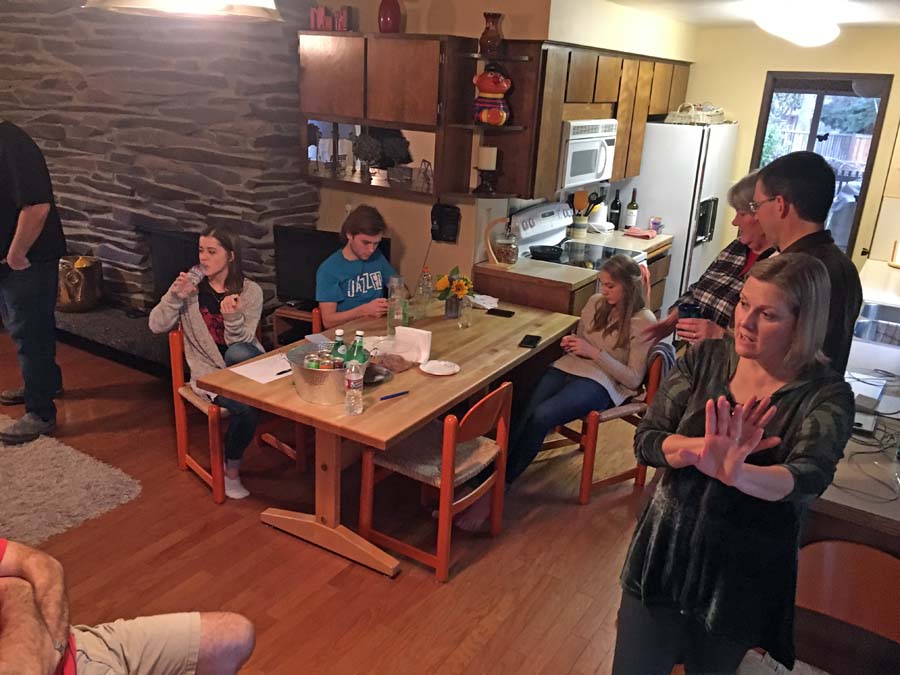 Cheryl Hoffmann and Mark Hoffmann.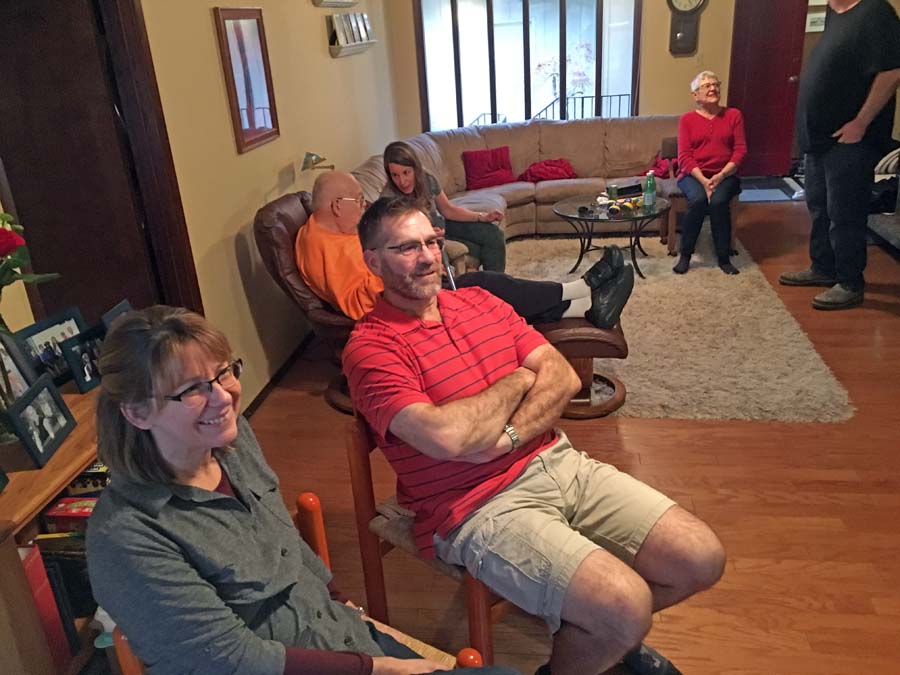 Gathering at brunch the next day.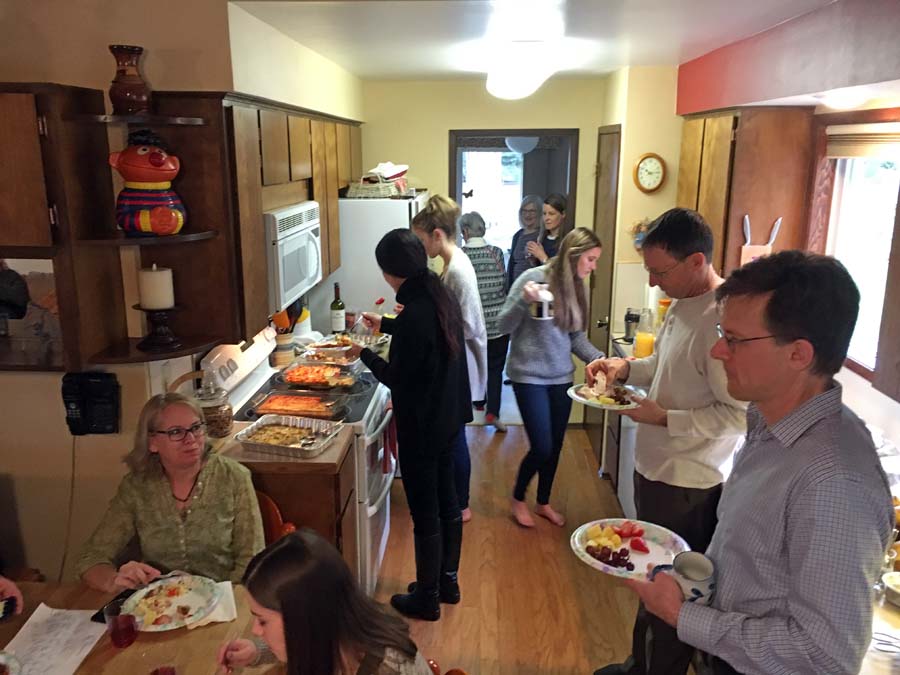 From left to right Howard Wilson (Walter's surviving brother), Karen Linder, Karen Roberts (Connie's niece), and Casey Wilson eating brunch.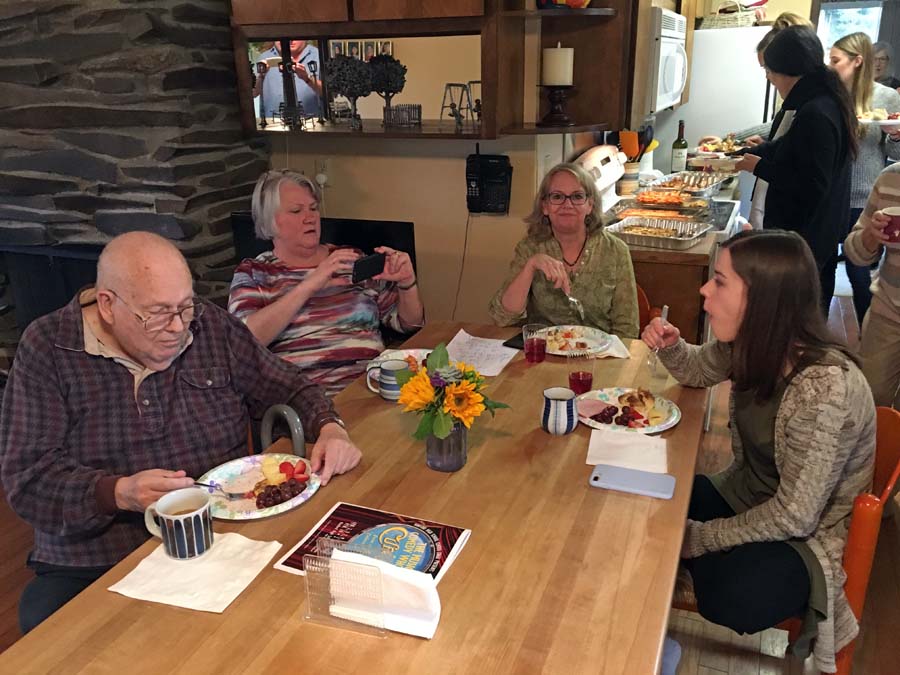 From left to right: Howard Wilson, Bruce Wilson, Doug Wilson, Casey Wilson, Paige Wilson, AAA, Lori Wilson.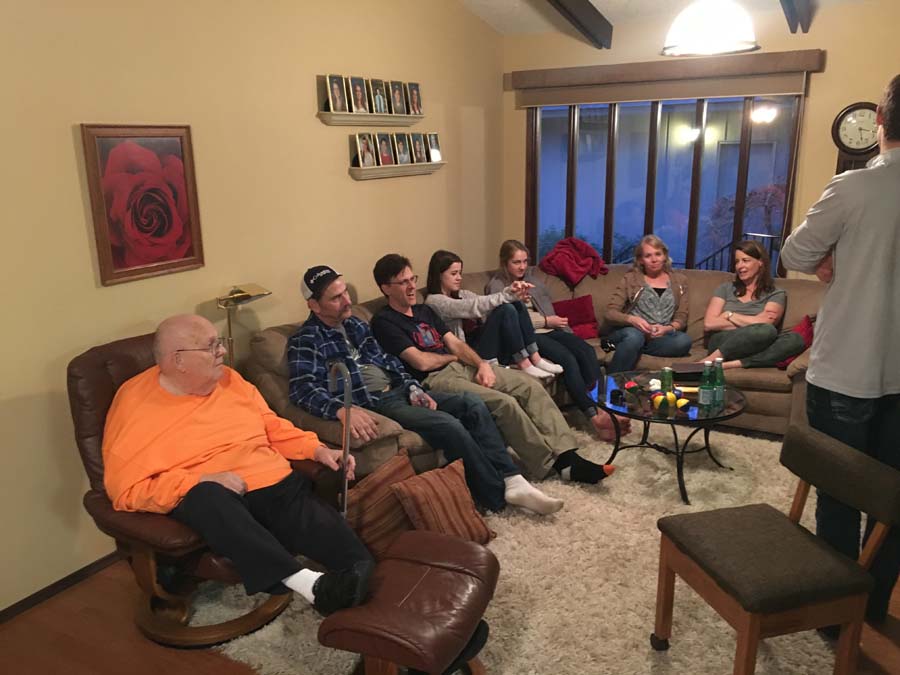 From left to right: Janet Laut (Connie's sister), Chip (Ralph 3rd) Wilson, Karen Wilson, Katherine Chung, Kevin Laut (Connie's nephew) in baseball cap.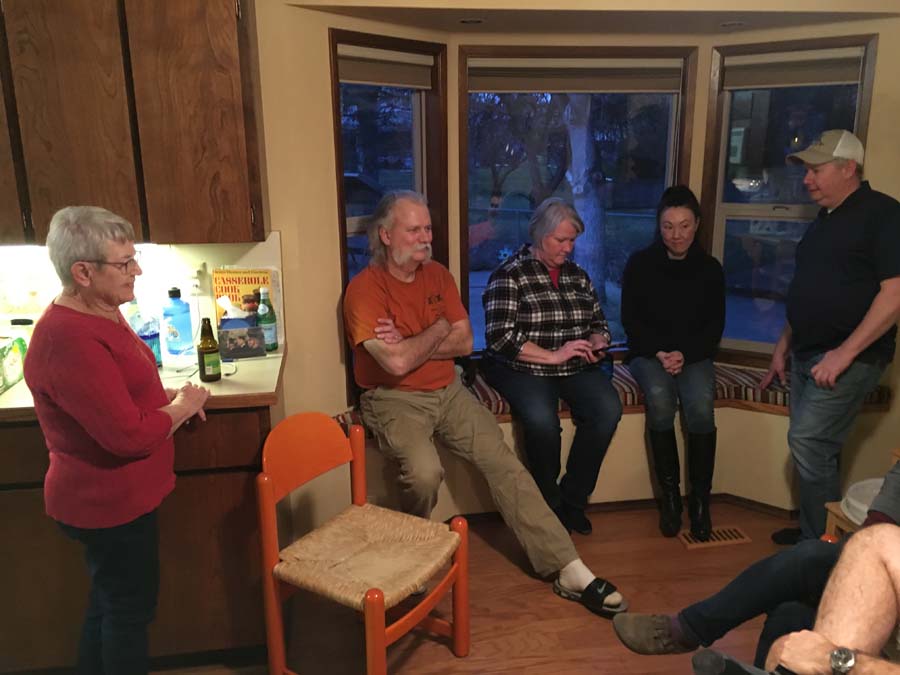 Gathering to celebrate Uncle Walter's life.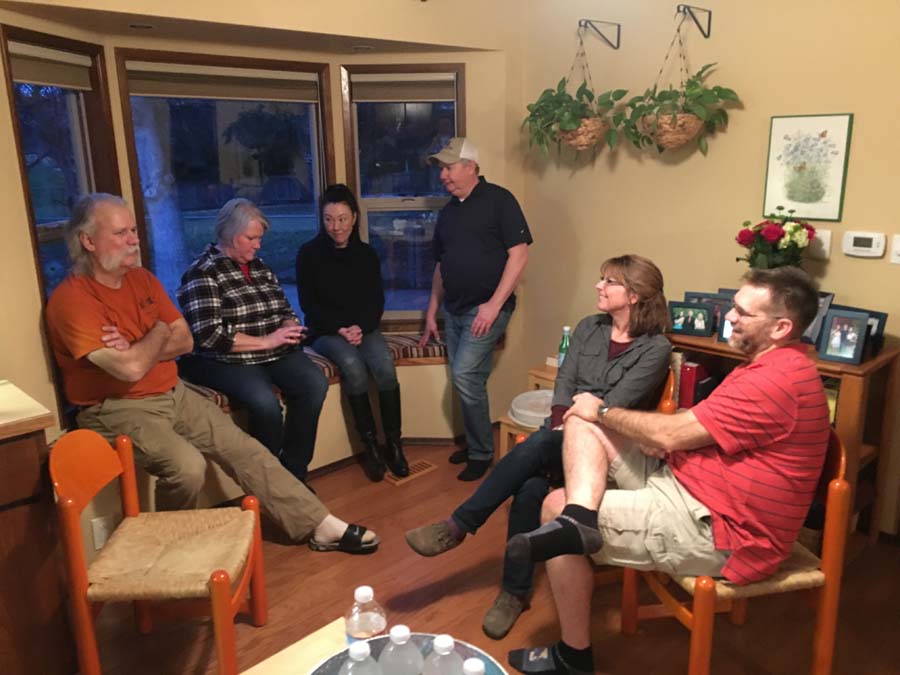 Chip, Gare Rosenwald, Dee Ann Wilson.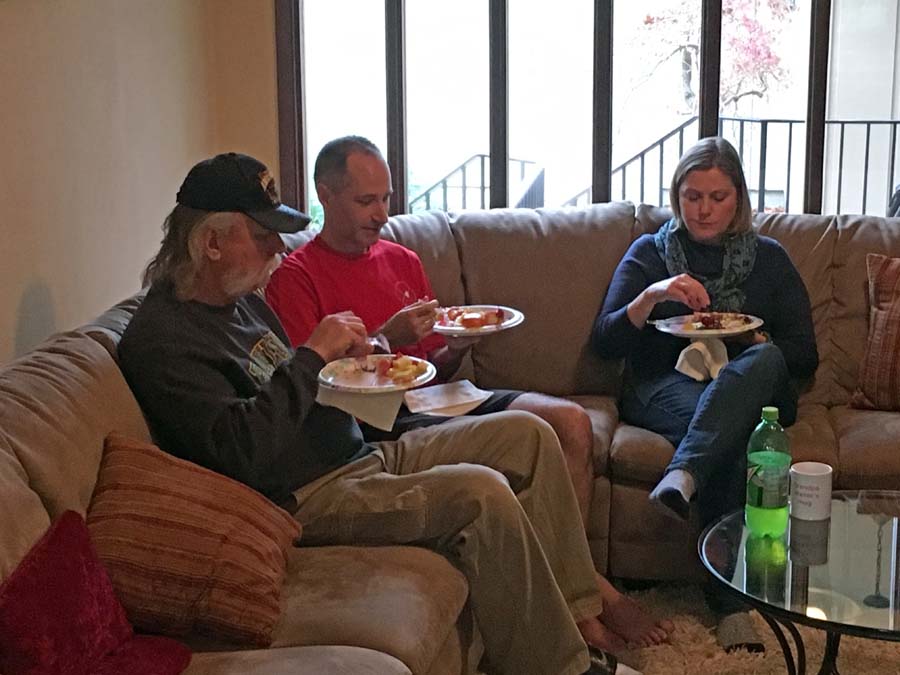 The next generation of cousins. Clockwise around the table: Mari (lower left, right hand outstretched, Angelina (far far left), Barbara Prada Rojas (exchange student from Germany visiting Doug's family), Camille, Andie, Paige (far right).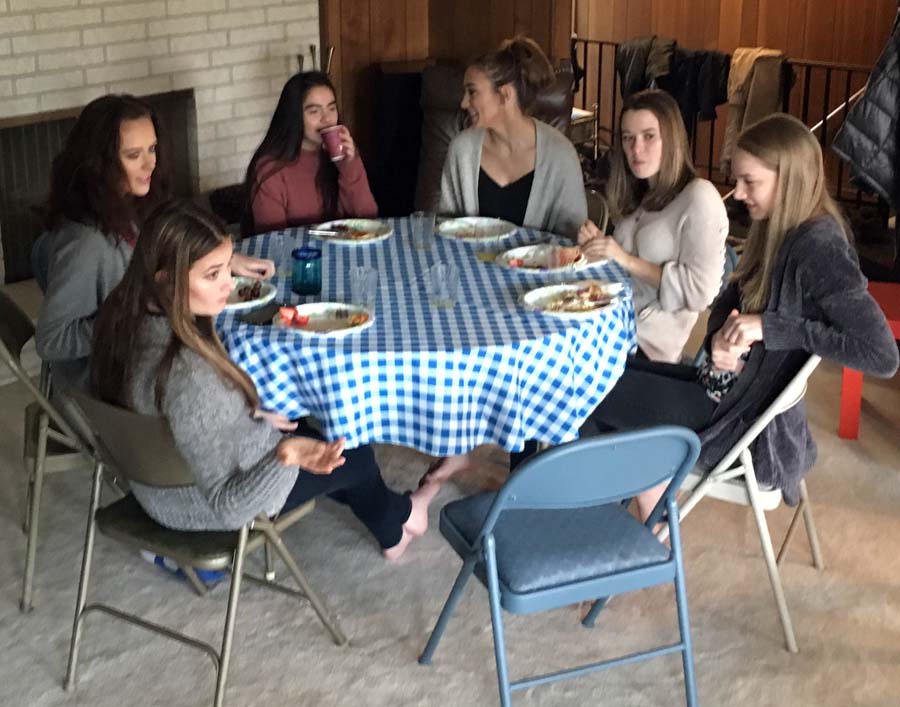 Below is a panorama of the slide show we all watched together of slides featuring Walter. This is the house Walter lived in with his wife Connie and raised his children in.

Random picture of the slide show audience.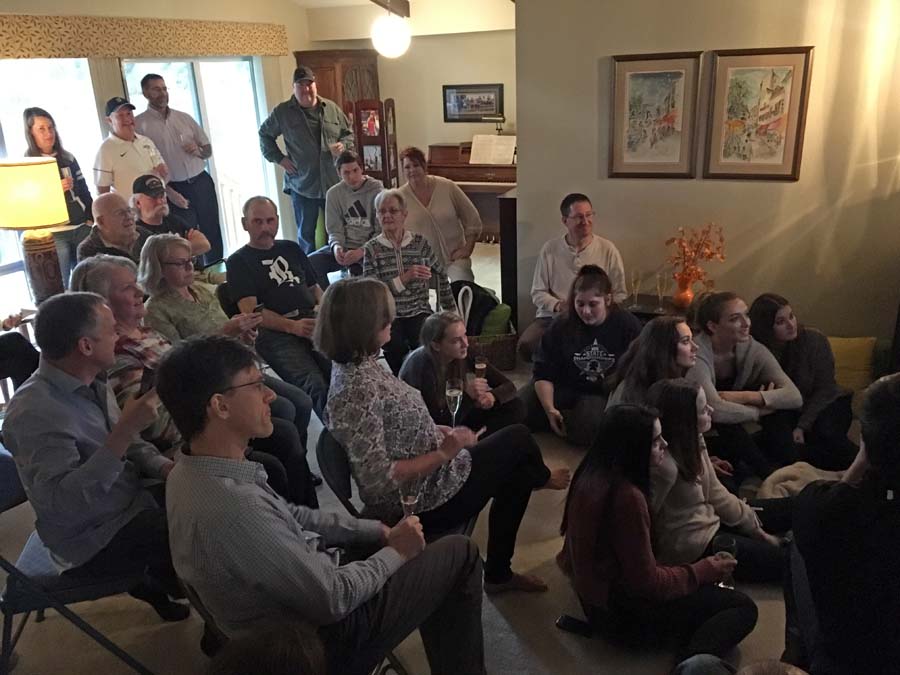 Since all "the cousins" are in one place, we took a picture. All the people in the photo below share the same Grandfather and Grandmother. From left to right: Bruce Allen Wilson, Chip (Ralph 3rd) Wilson, Karen Wilson, Randy Wilson, Cheryl Wilson (in front), Brian Wilson (blue shirt in back), Greg Wilson (in front), Doug Wilson (in back), Bruce Craig Wilson, Dee Ann Wilson (front in scarf far right).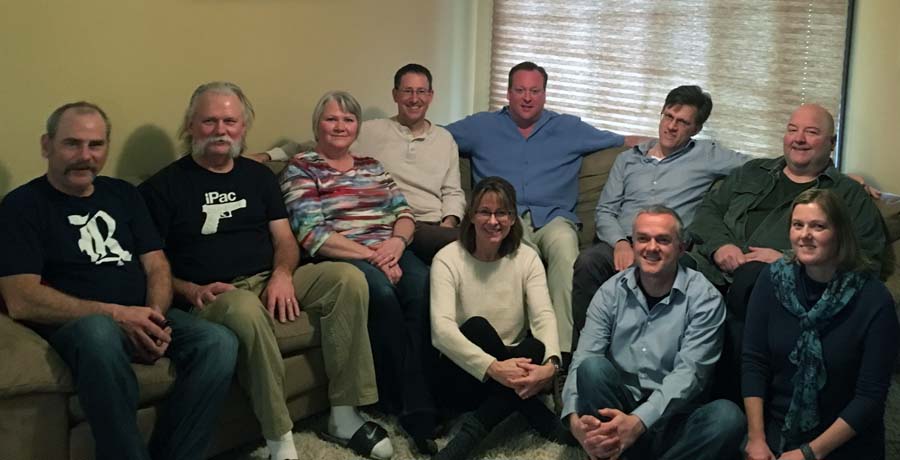 Same group, but with the two surviving parents of the entire group: Howard Wilson (far left) and Connie Wilson (front).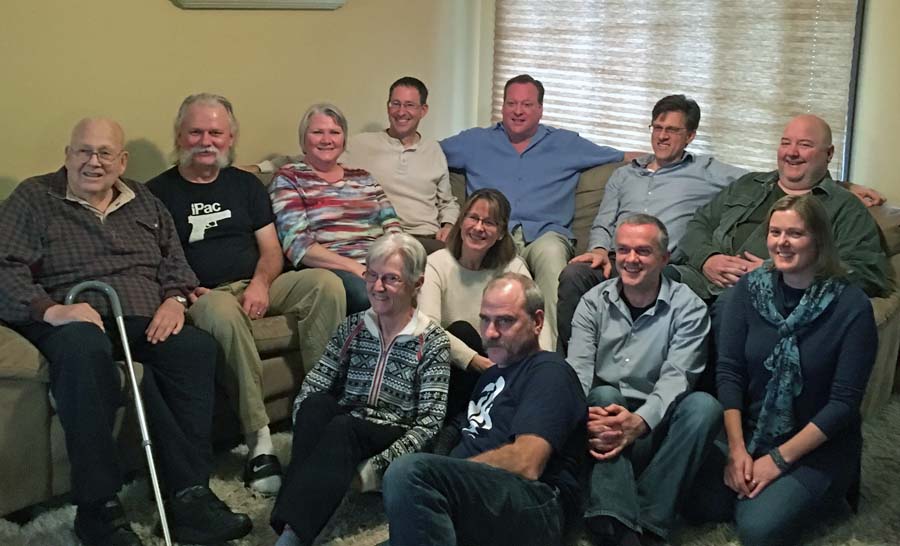 Another picture of the same group: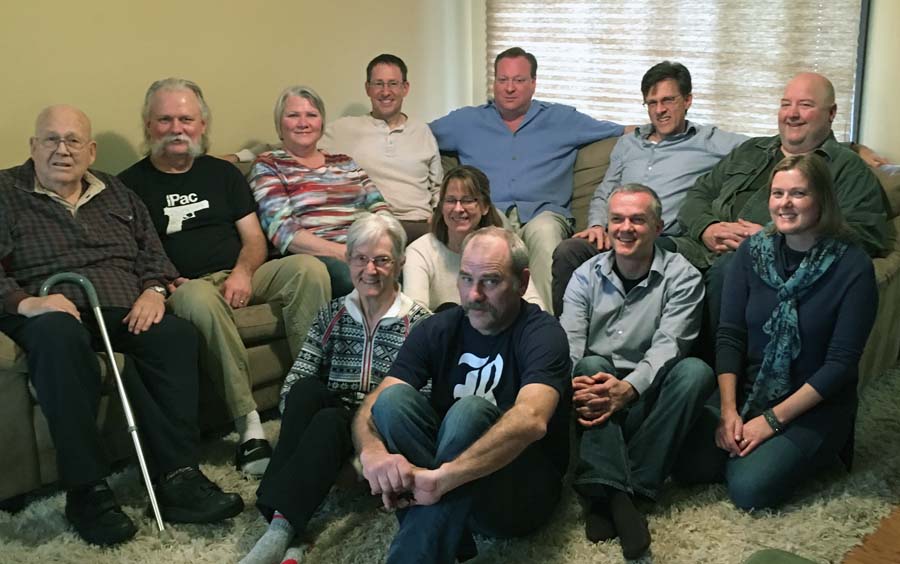 Time for Katherine, Brian (me), and Randy (my brother) to say goodbye and take the last flight out of Pasco Washington to San Francisco California. Bye bye "221"!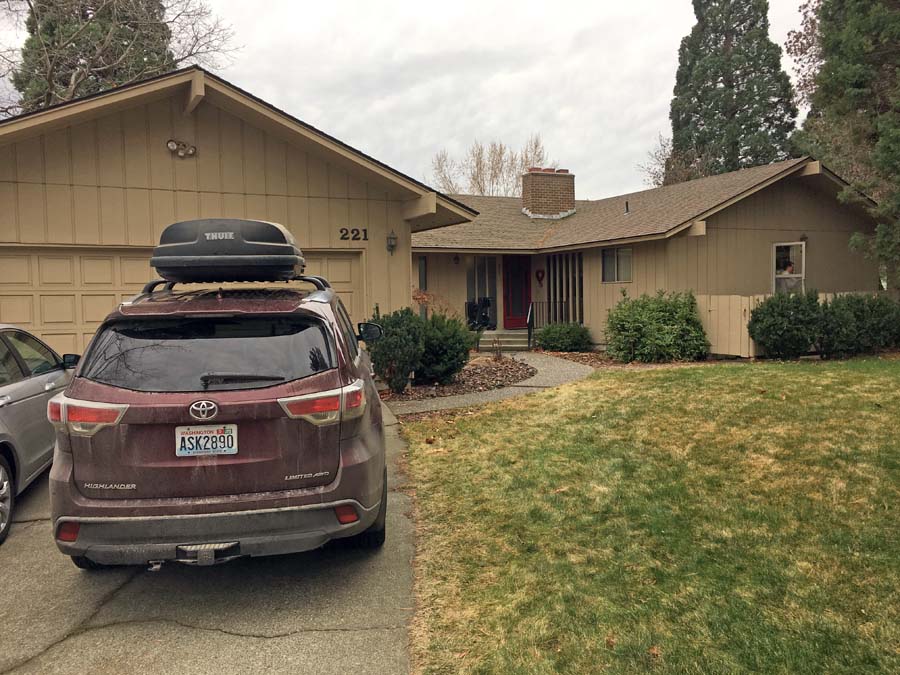 The airplane we took was a direct non-stop flight, but a really cramped Bombardier CRJ200 Canadair Regional Jet. I'm tall (6'3") and I'm in the most legroom seat in the entire airplane which gives me a few inches from my knees to the bulk head. What a terrible airplane, terrible airline, and horrible configuration.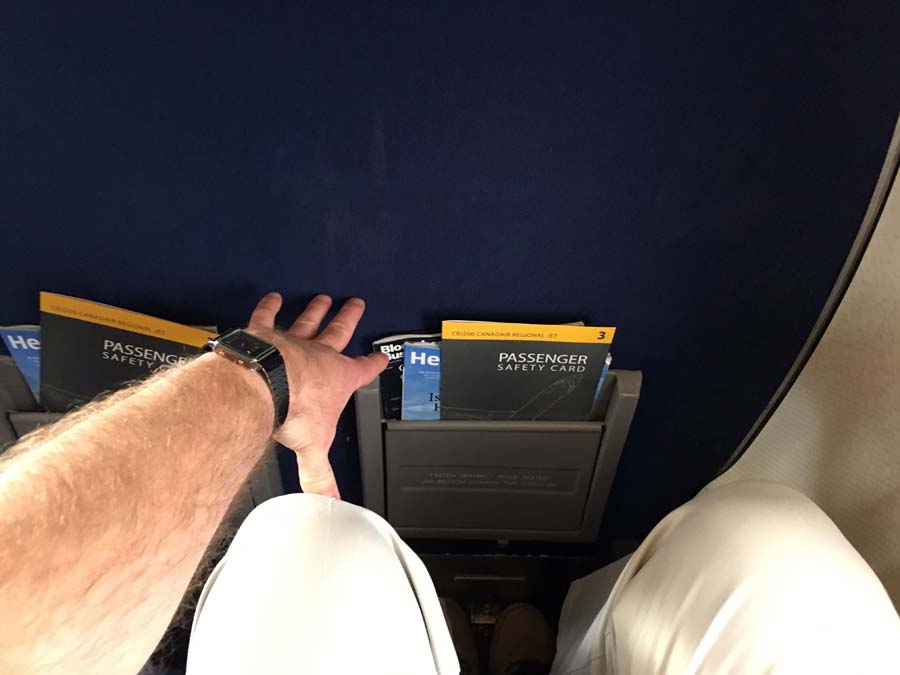 One of my two legs can stretch out when the airplane staff is not working. In this position I ENTIRELY block off the galley from use.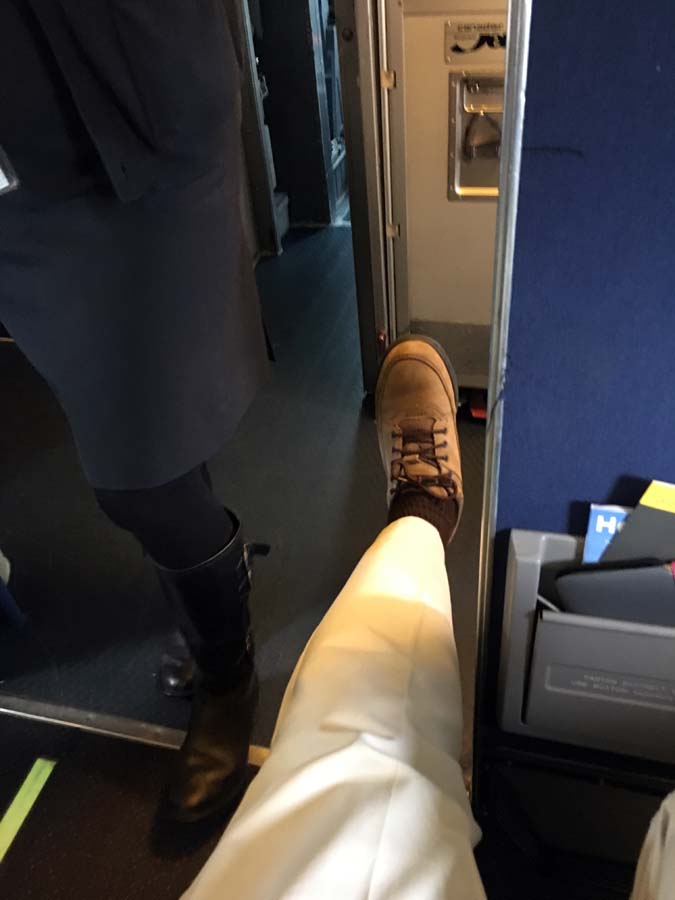 My brother had the "exit row". He estimated that means 2 extra inches of legroom.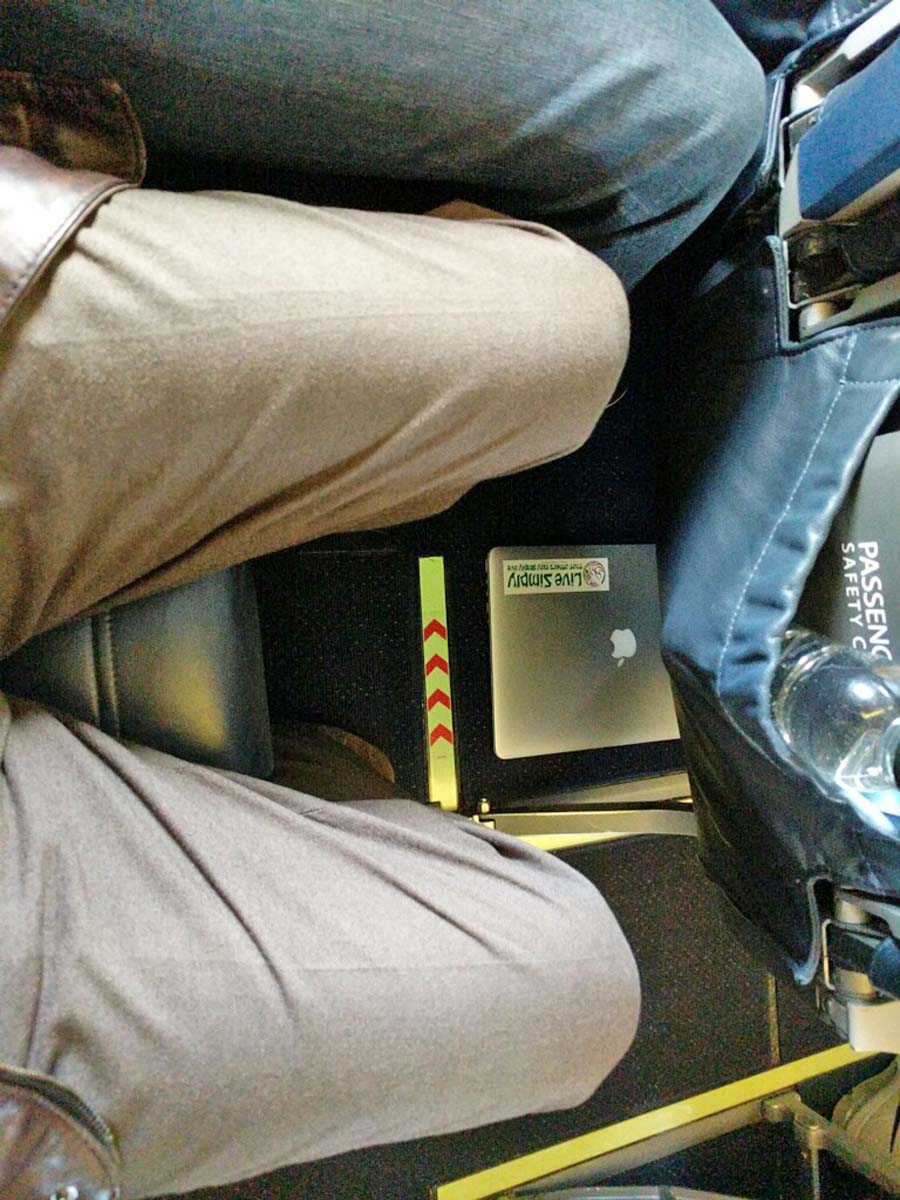 Finally free of this terrible, cramped ride, below is the Bombardier CRJ200 on the SFO (San Francisco Airport) runway finally letting us escape.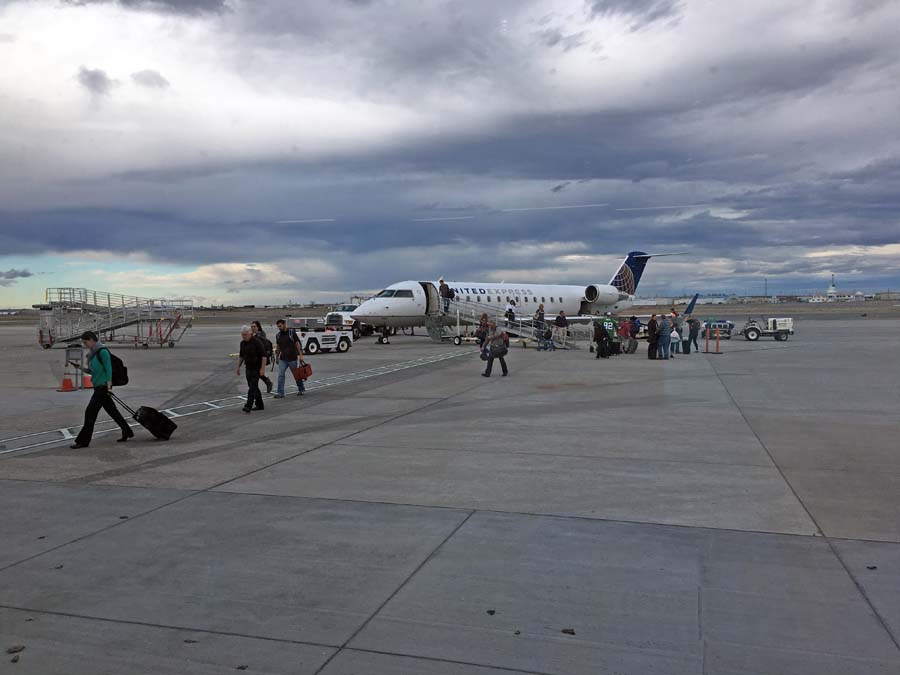 And we all went home! That's it!