2020 Elizabeth Thomas Marries Nathanael Hoffmann in Seattle

(1/18/2020)
On Saturday, 1/18/2020, Nathanael Hoffmann married Elizabeth Thomas in Seattle, Washington at the "Hall at Fauntleroy". Katherine Chung and me (Brian Wilson) attended (Nathanael is my nephew). Here are some pictures and a 1 minute video. Click on any picture for the highest quality original that exists.
They have a website on "TheKnot" with some information: https://www.theknot.com/us/elizabeth-thomas-and-nathanael-hoffmann-jan-2020
If you want to watch the WHOLE thing on video, here is a link (not filmed by me, this was the professionals): https://www.youtube.com/watch?v=GuC8XRJNuxU
Starting with the highlights, below is a wide panorama of the ceremony:

And below here is a 1 minute very short video showing a few moments from the wedding. Click here for the very highest quality version that exists.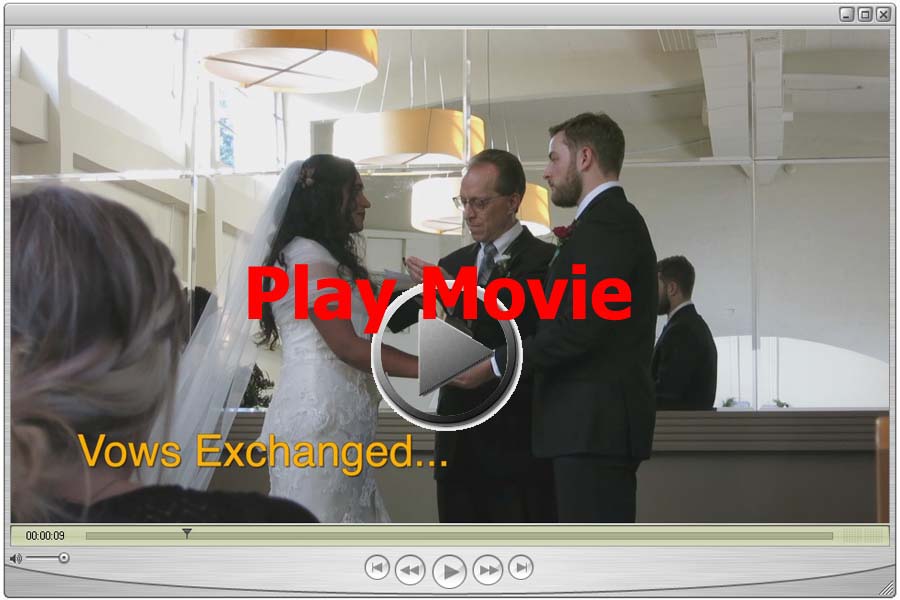 Now back to our trip in time order! Katherine and I start most trips at San Francisco Airport (SFO), and here we are on the AirTrain: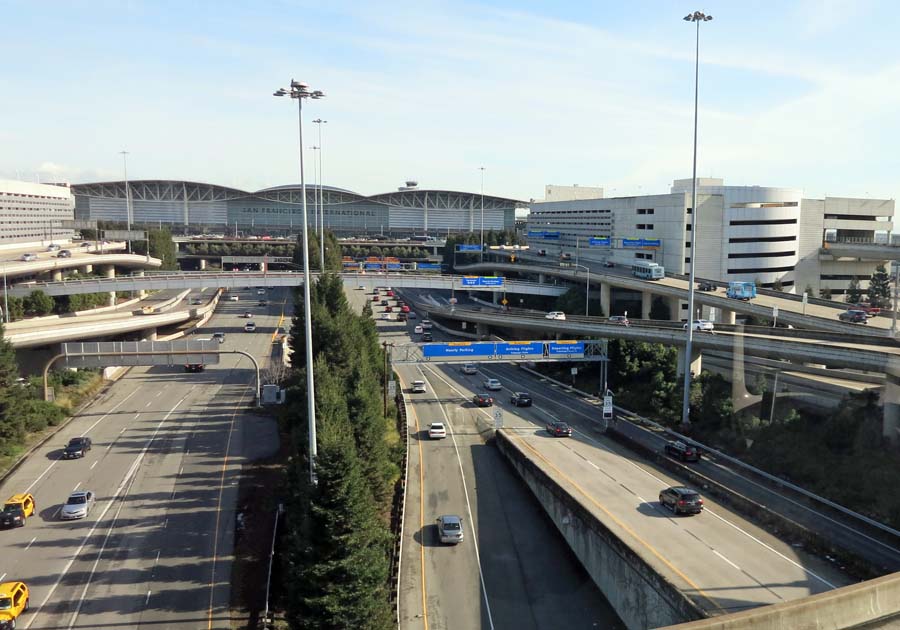 I thought it was interesting that this "People Mover" was broken, so I took a photo: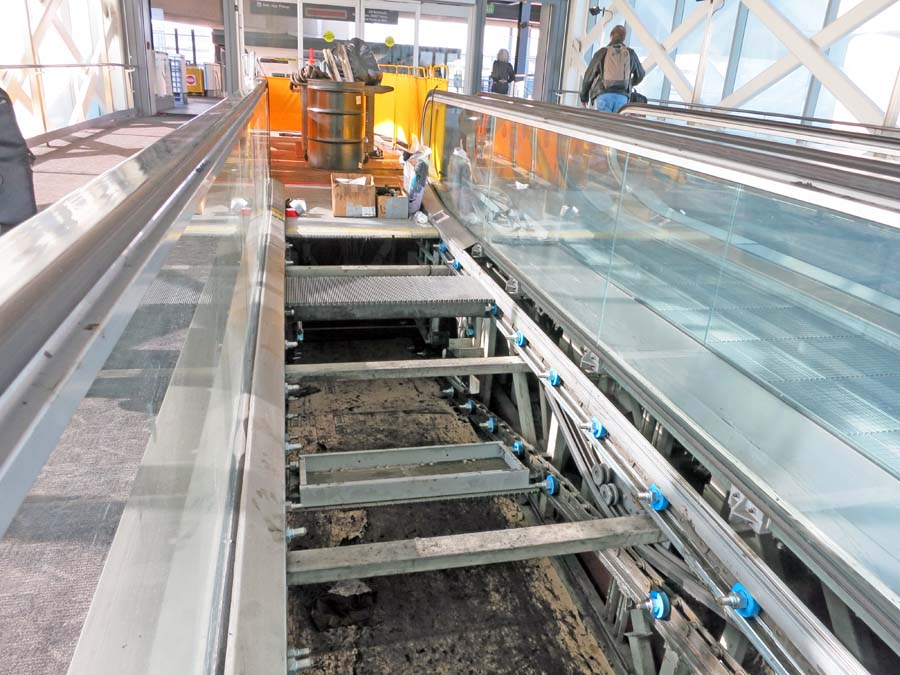 In the picture below, Katherine is looking into the broken people mover at SFO airport.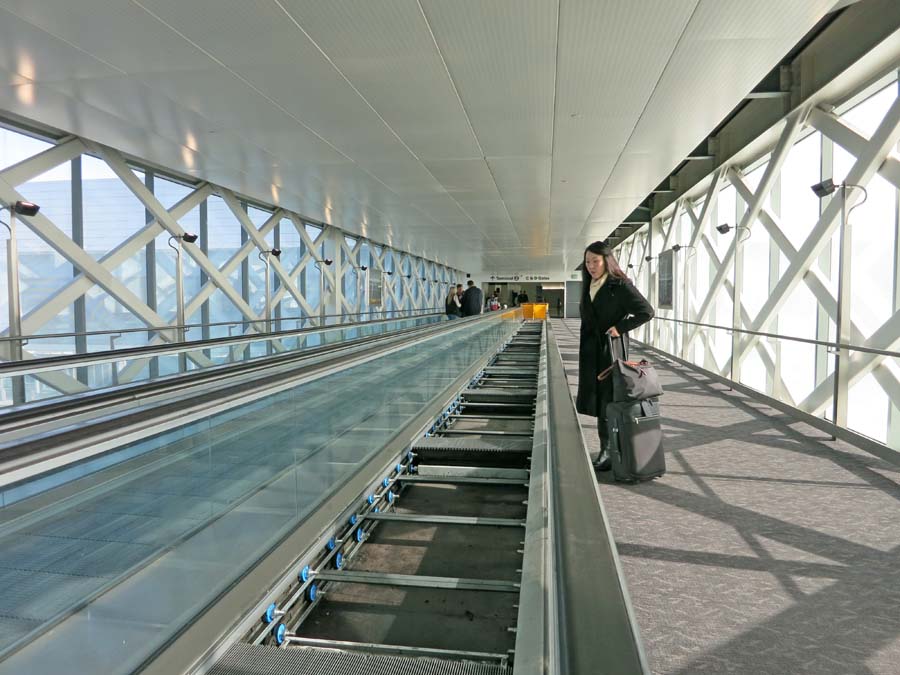 We flew to Seattle Airport (SEA) and then the next day (Saturday, 1/18/2020) we attended Nathanael's wedding!
The wedding was at "The Hall at Fauntleroy", below is a picture of a sign so I could remember that: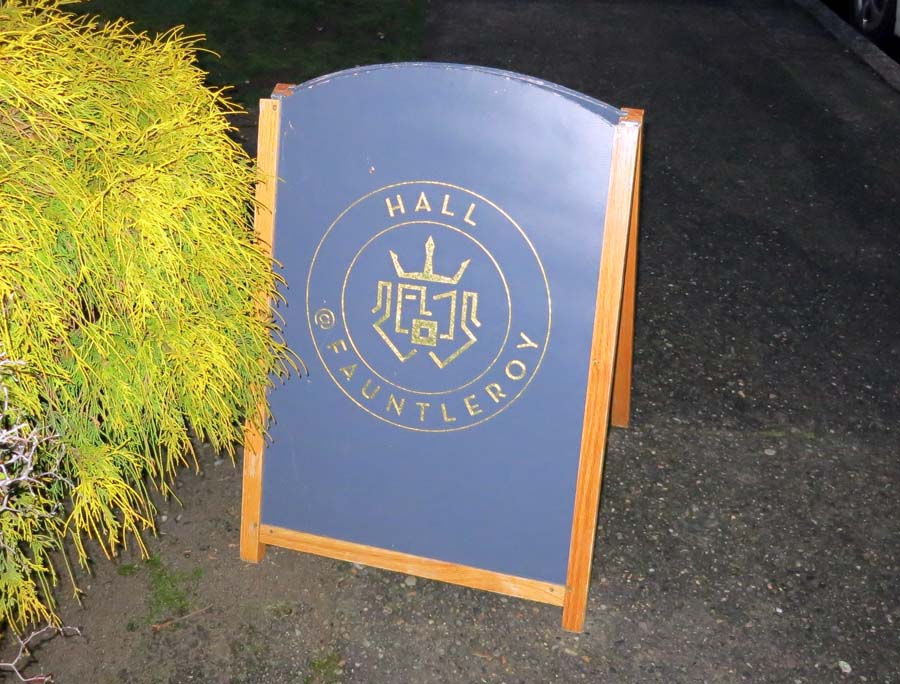 A picture of Nathanael getting married to Elizabeth: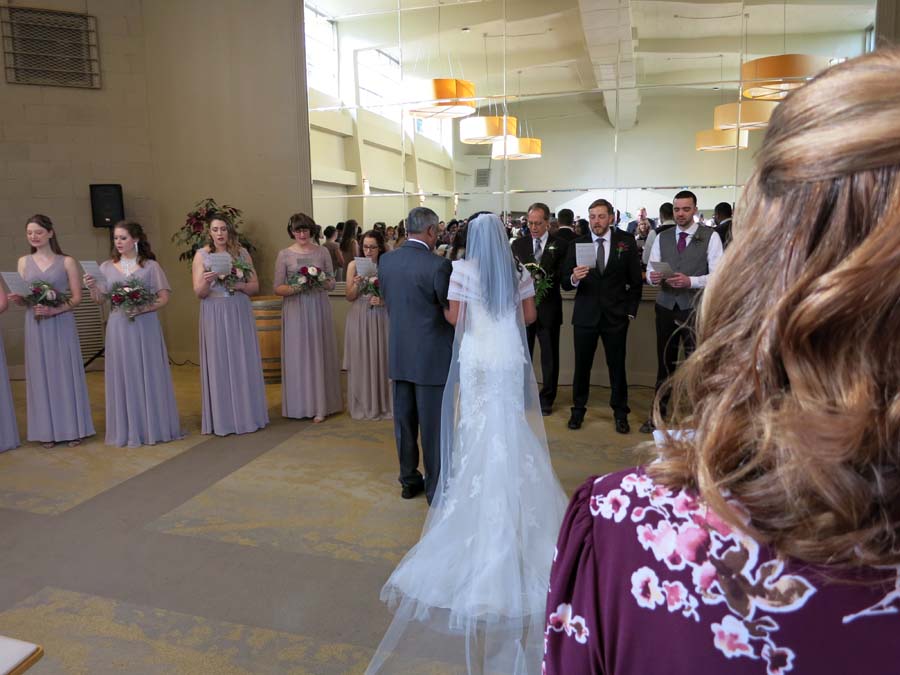 This is the panorama from the top of this web page, here in time order of when it was taken.

Elizabeth saying her vows to Nathanael in the picture below: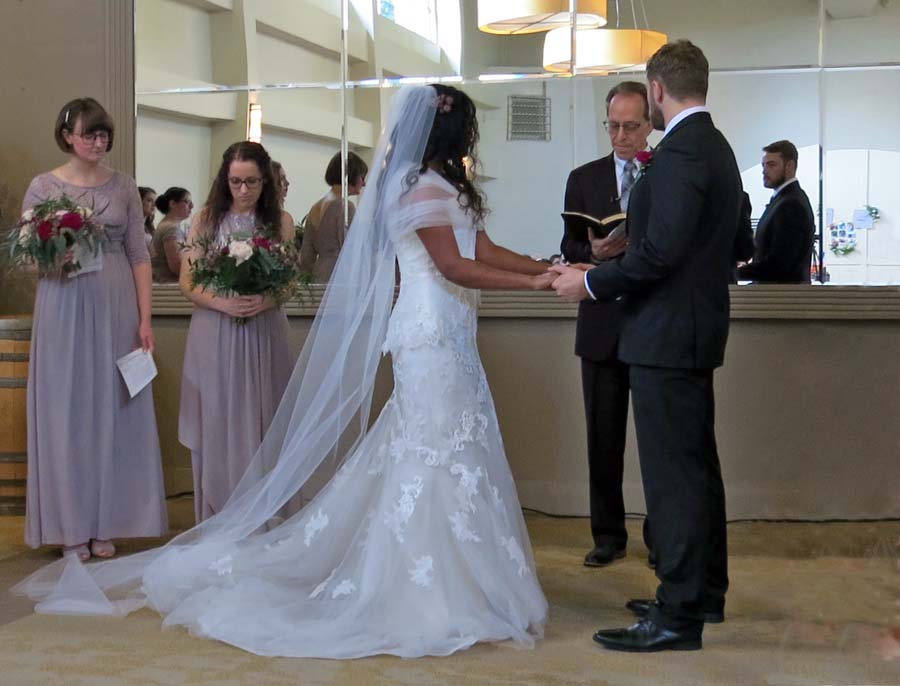 And they are married! I really love the picture below as they walk away from the altar (now married as of 8 seconds ago). I regret that Nathanael is a little fuzzy because I was moving fast and only had one shot at this as they walked up the aisle past me, but I still like the photo because they both look so happy. Nathanael is reaching out and touching his mother's hand.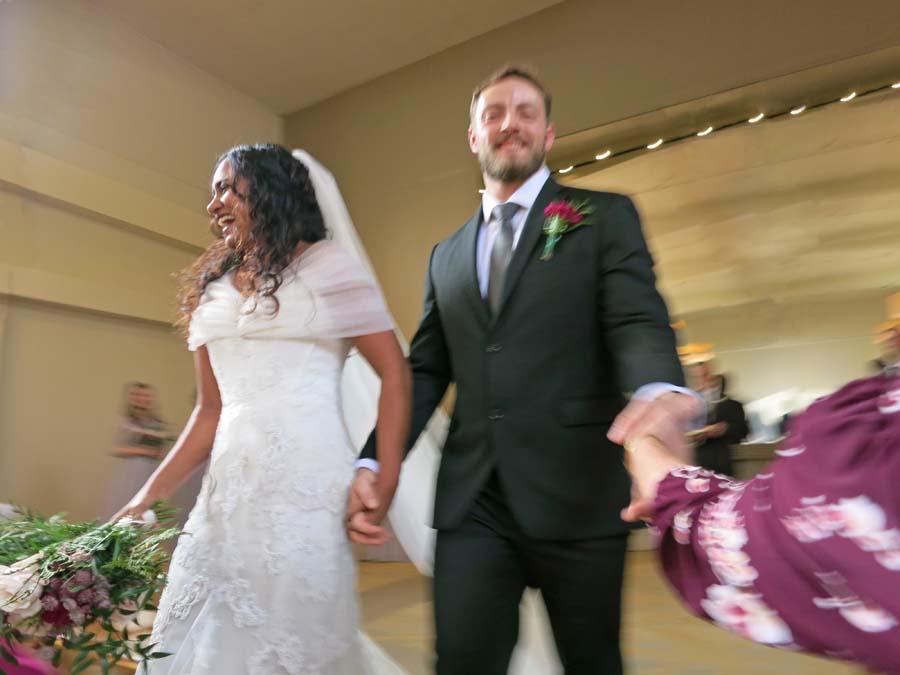 Immediately after the wedding, some photos were taken. Here the married couple is with Elizabeth's family.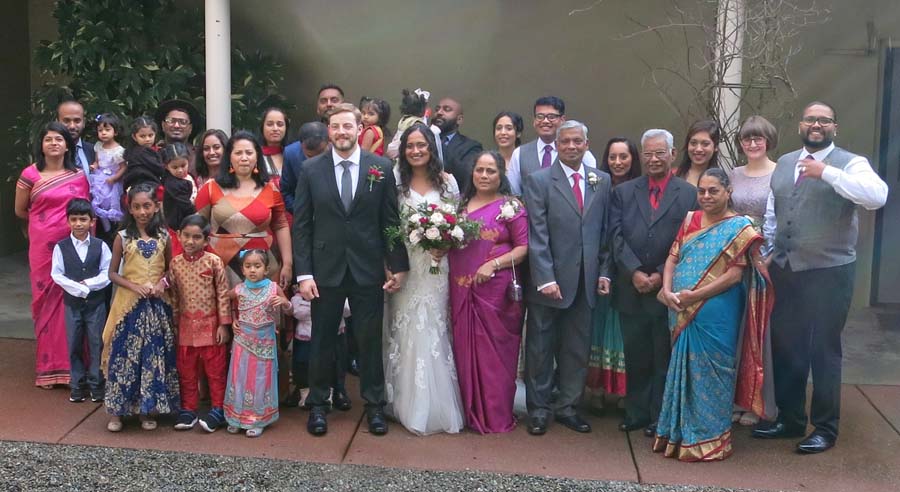 Here the married couple stands with Nathanael's family. From left to right: Mark Hoffmann (Nathanael's father), Cheryl Hoffmann (my sister and Nathanael's mother), Nathanael Hoffmann, Elizabeth Thomas/Hoffmann, Catherine (Catie) Grace Hoffmann (Nathanael's sister), and Zack McCarley (Catie's boyfriend).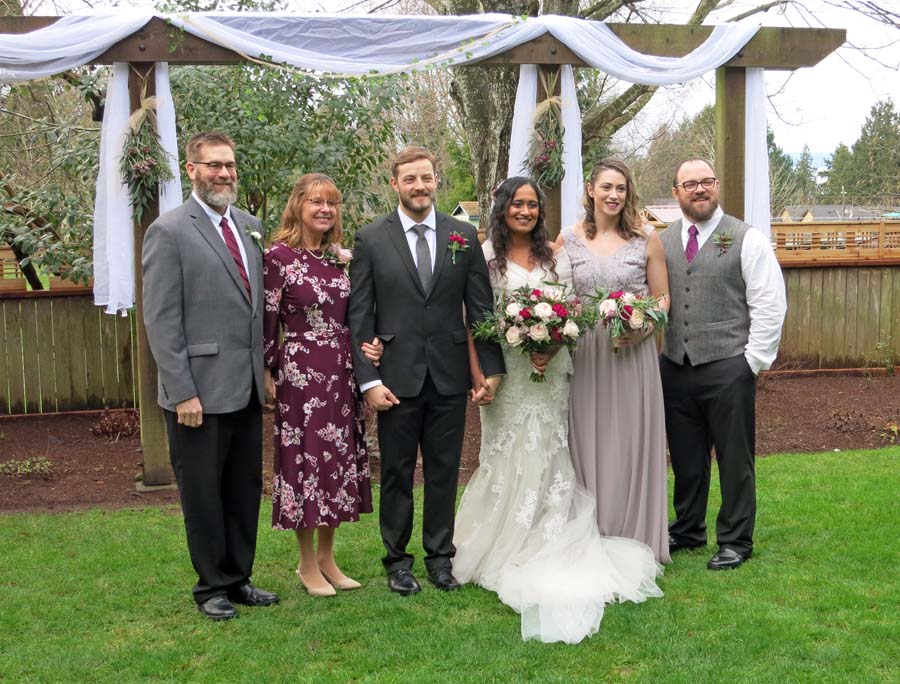 In the picture below is the Howard Wilson family (children: Cheryl, Randy, Brian) and their families - now with Elizabeth. :-)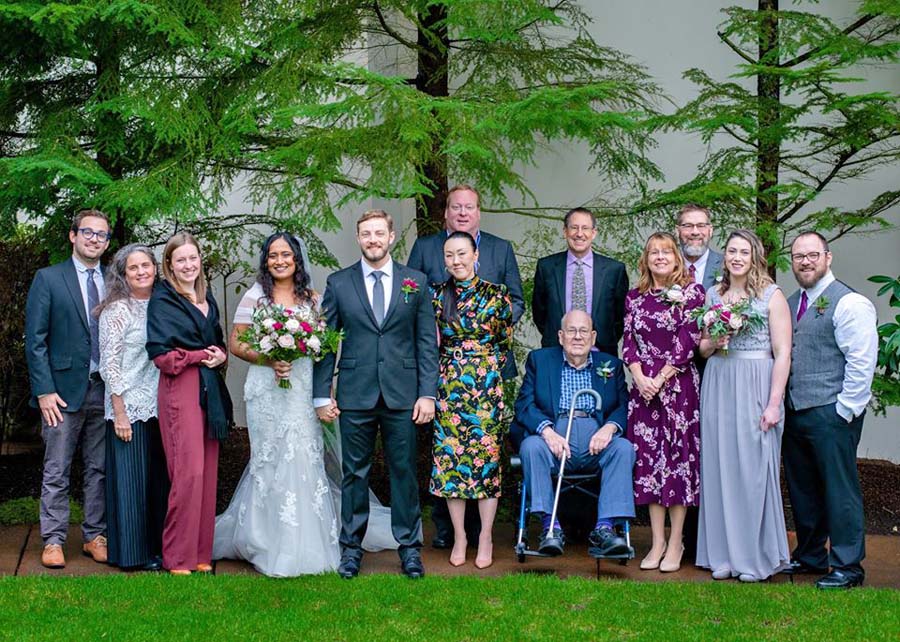 Then we had dinner, this is the bridal table below:
Another picture of the main married couple table.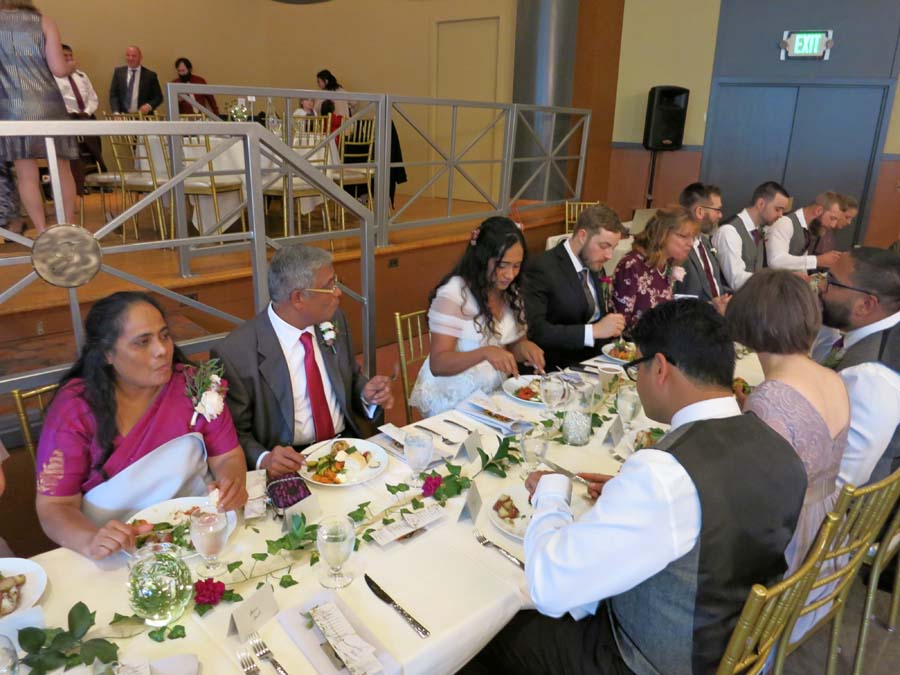 Below is a wide panorama of everybody eating dinner. Use the horizontal scrollbar to pan left and right.

The table below is where Katherine and I sat. Around the table, starting from the far far left is Randy Wilson (in glasses), Ramey Echt (white shirt), Ari Echt-Wilson, Eli Echt-Wilson, Howard Wilson (grandfather of the groom, my father), my empty chair (Brian Wilson), Katherine Chung (black dress with colorful flowers), Michael Norris (facing away from the camera and grandfather of the groom), and Janet (Jan) Norris (grandmother of the groom).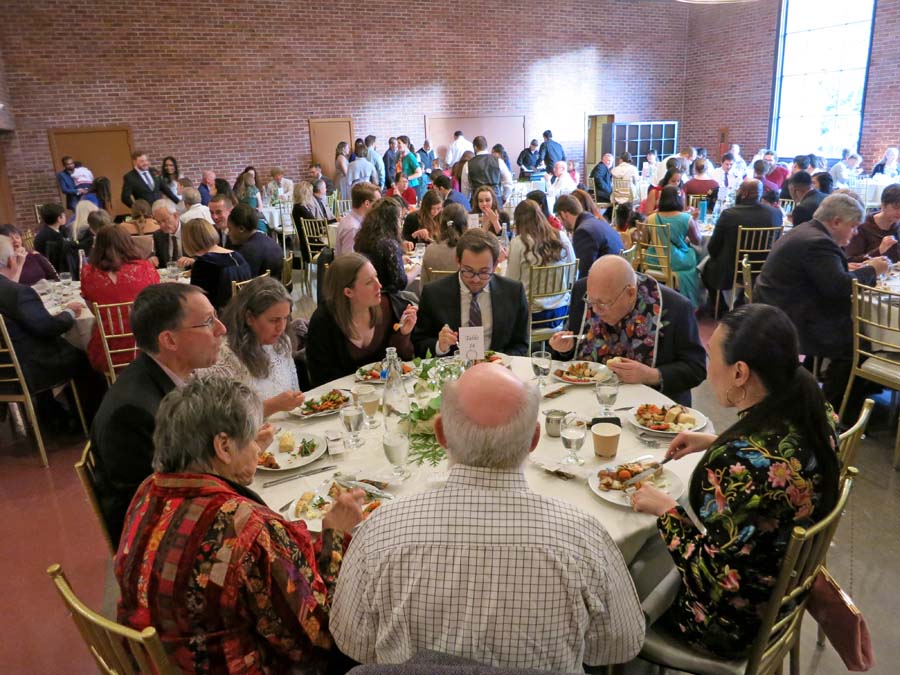 The married couple cut the wedding cake together: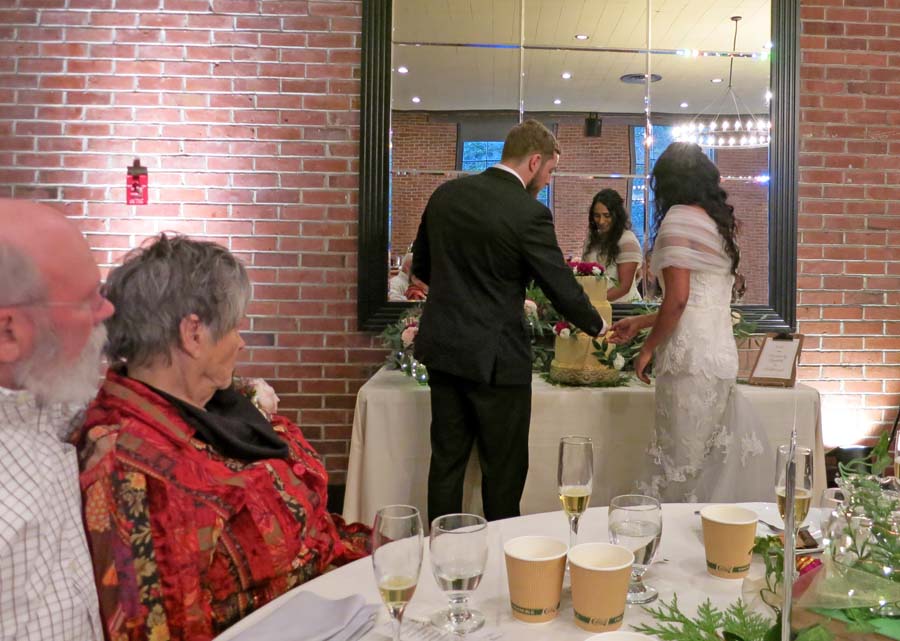 Nathanael feeds his bride cake.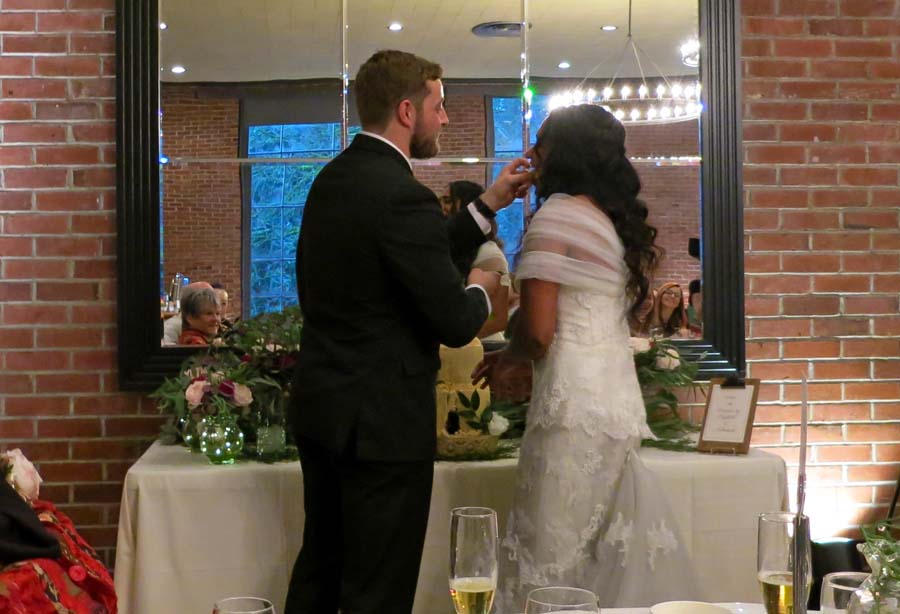 After dinner, in the picture below Nathanael and Elizabeth are having their first dance as a married couple.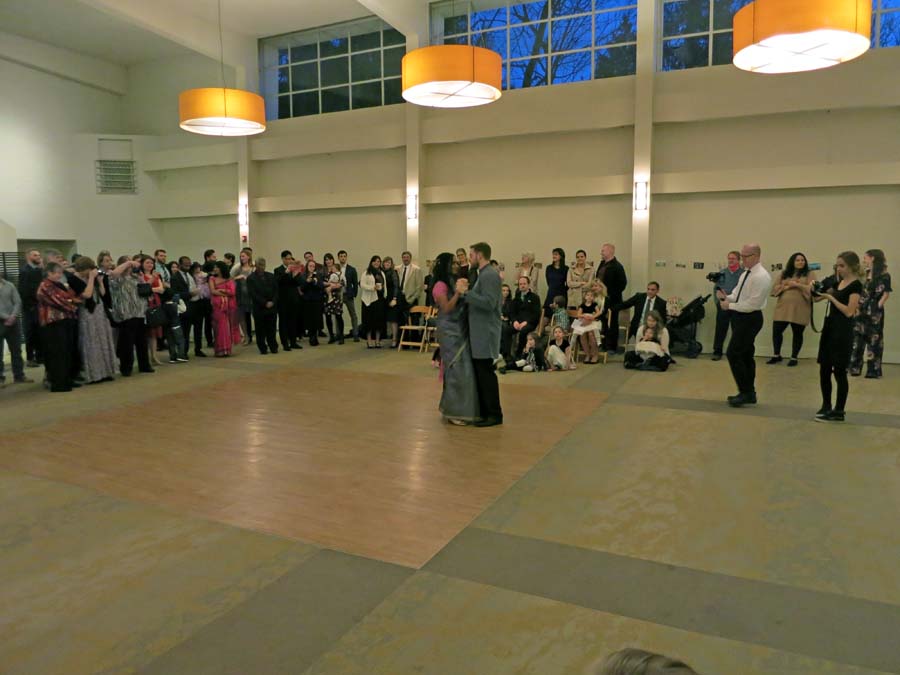 And these kids were super adorable dancing on the dance floor.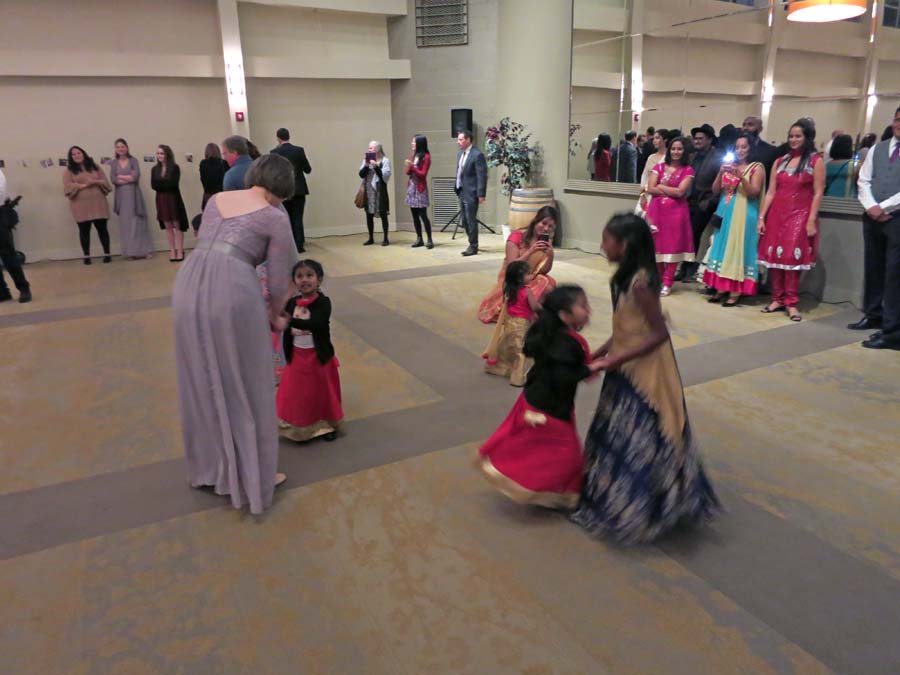 The next morning, Katherine and me (Brian) drove Howard Wilson (my father) from Seattle back to his home in Corvallis Oregon, then said goodbye and drove back up to Portland for a quick flight back to the San Francisco area where we live.
On the way home, Katherine got a TSA patdown at PDX (Portland Airport), click here to see the highest quality version of this. This pregnant woman also got a patdown at PDX airport.
For posterity, here is the printed program for the wedding. Remember to click on any of these for a higher quality version if you need it. First the cover page below: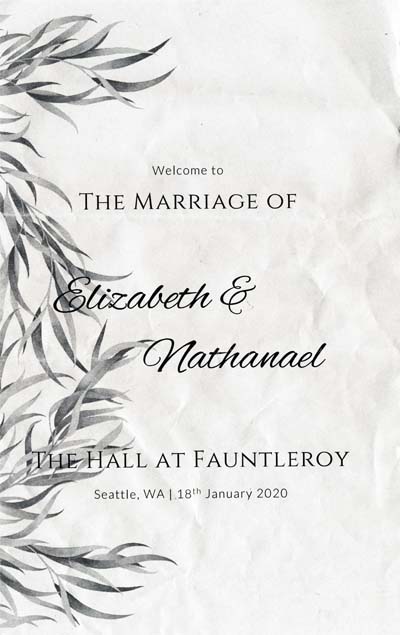 When opened, it was these two pages with an "insert" of 2 hymns. Below are the two pages (not the insert):
The insert was the following two hymns on reverse sides of one piece of paper:
And finally here was the back cover: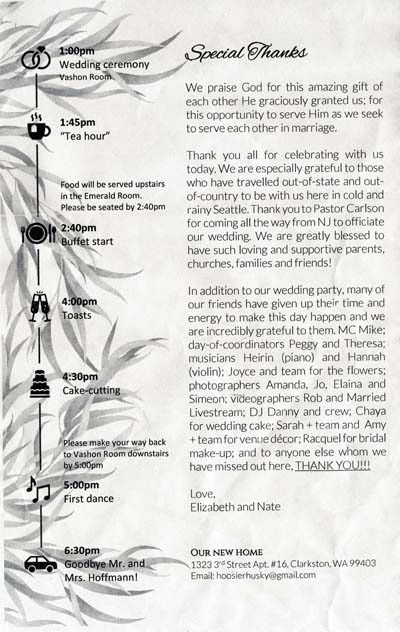 All done!
Return to Ski-Epic home pagee.