2021 Adventure to Corpus Christi and Port Aransas Texas

(9/20/2021 - 9/21/2021)



On the 9/20/2021 Katherine and I drove down to the Gulf of Mexico and the little coastal/beach area called Port Aransas. Click on any picture below for the highest resolution photo that exists.
Katherine and I first drove from Austin Texas to Corpus Christi Texas.
When we arrived into Corpus Christi Texas, we checked into our room on the 18th floor of the Omni Hotel Corpus Christi. Picture below of our room.

The balcony looking out.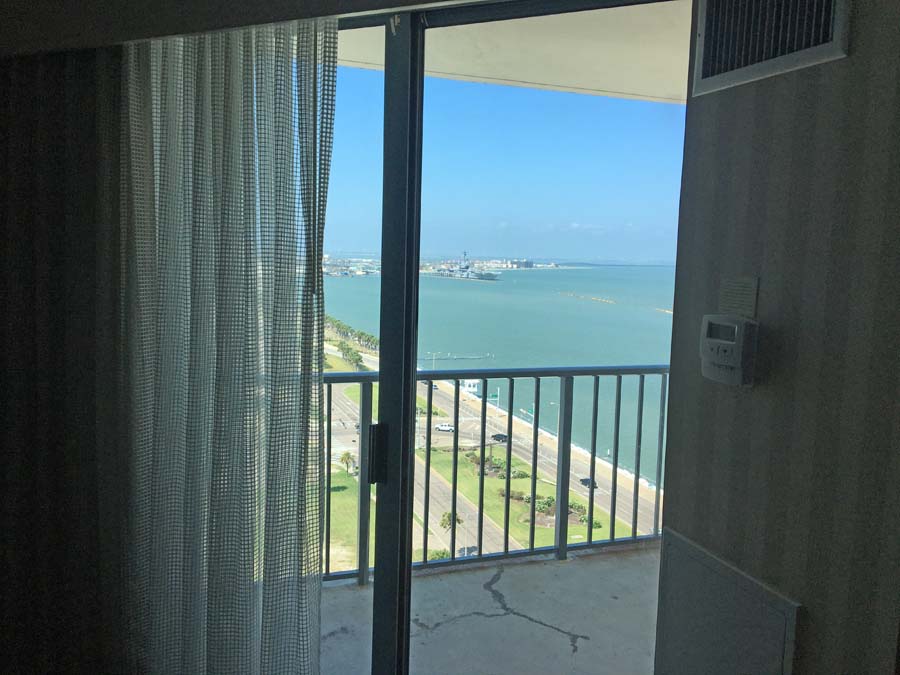 If you look center right there is the USS Lexington Aircraft Carrier Museum.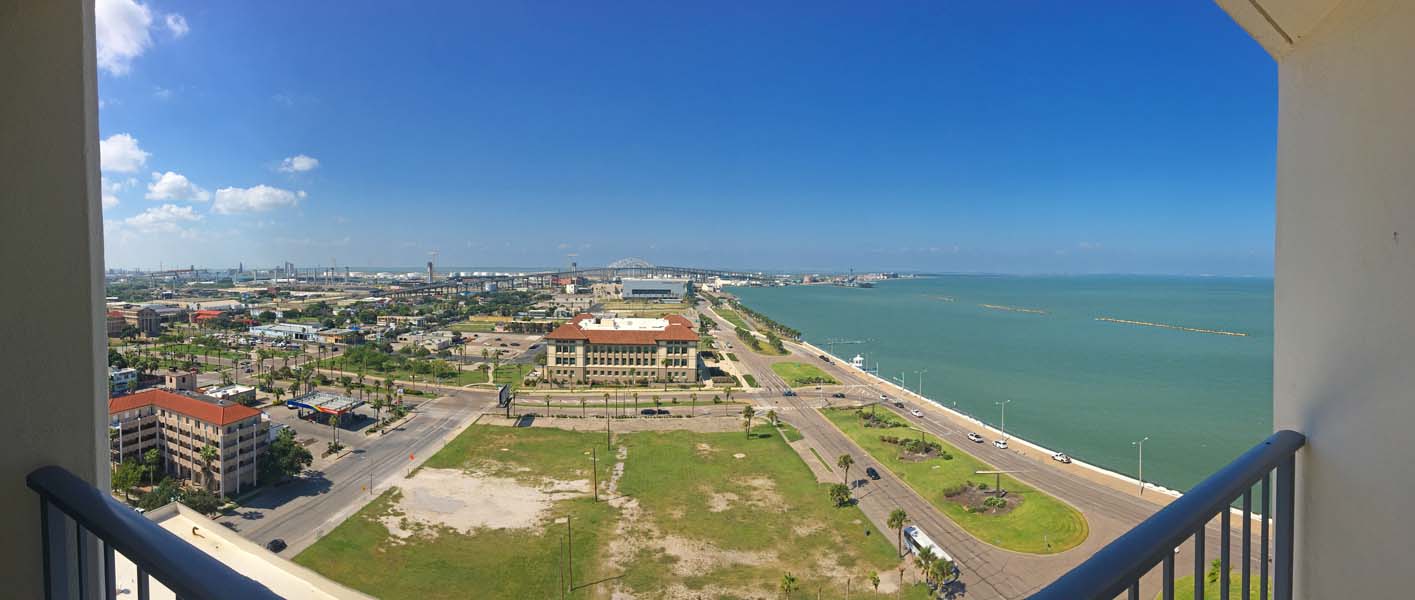 Dead center in the distance is the USS Lexington.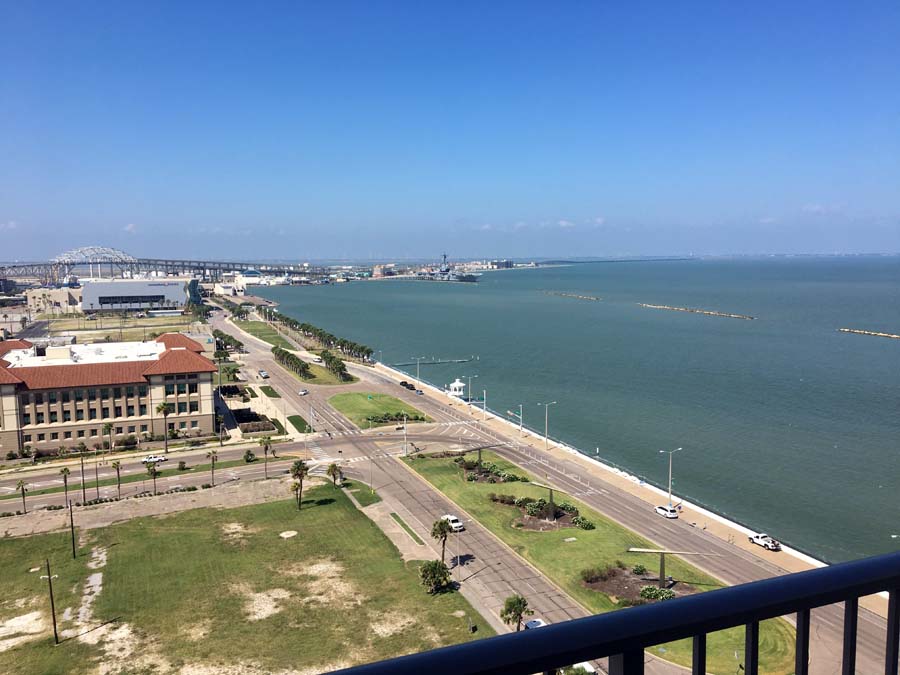 A closer view of the USS Lexington Museum.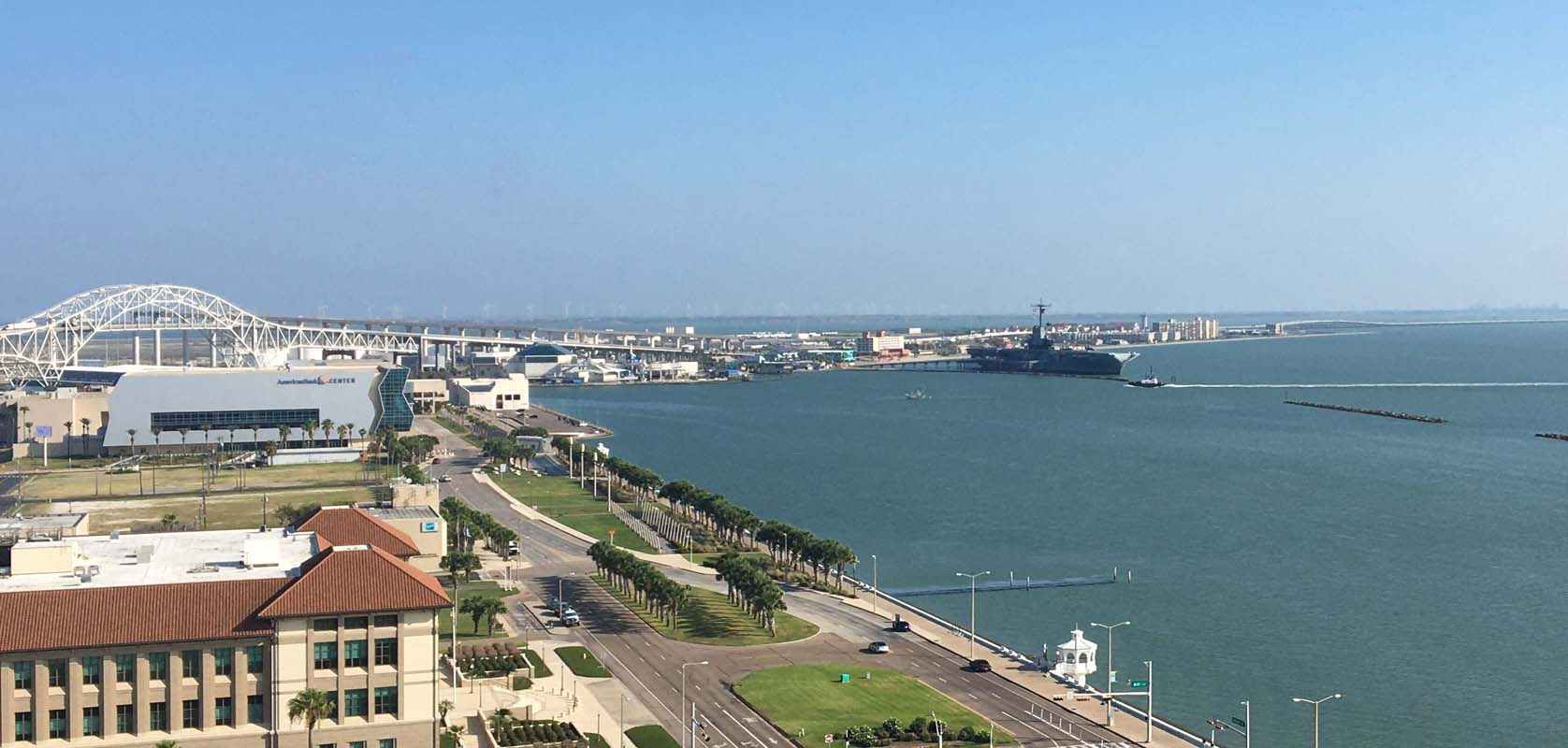 The Omni Hotel Corpus Christi is dog friendly. There is a $135 cleaning fee for having the dogs here, but they were really accommodating. Below Ava the Papillon Dog has her face stuffed in the food. Chou Chou (an older Papillon dog) is facing away resting.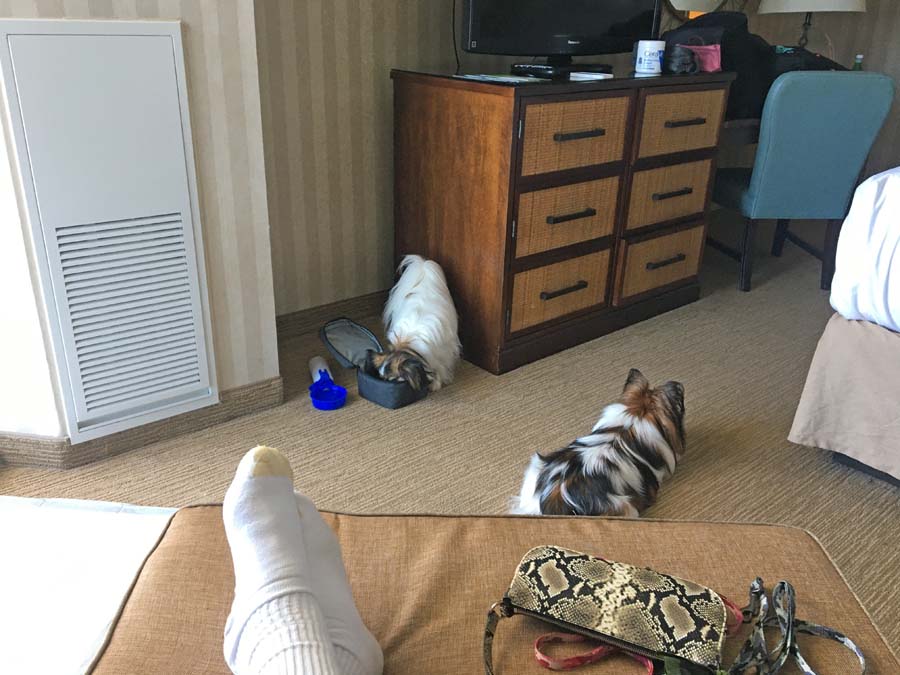 Below is a 20 second movie of Ava and Chou Chou eating kibble in the Omni Hotel in Corpus Christi. Click here for the highest quality original.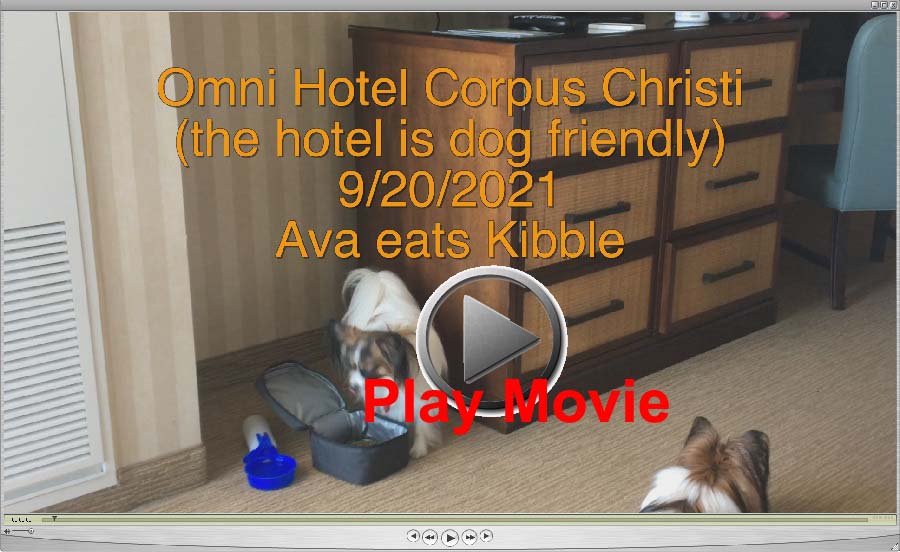 We went down to the pool area to have a bite to eat with the dogs.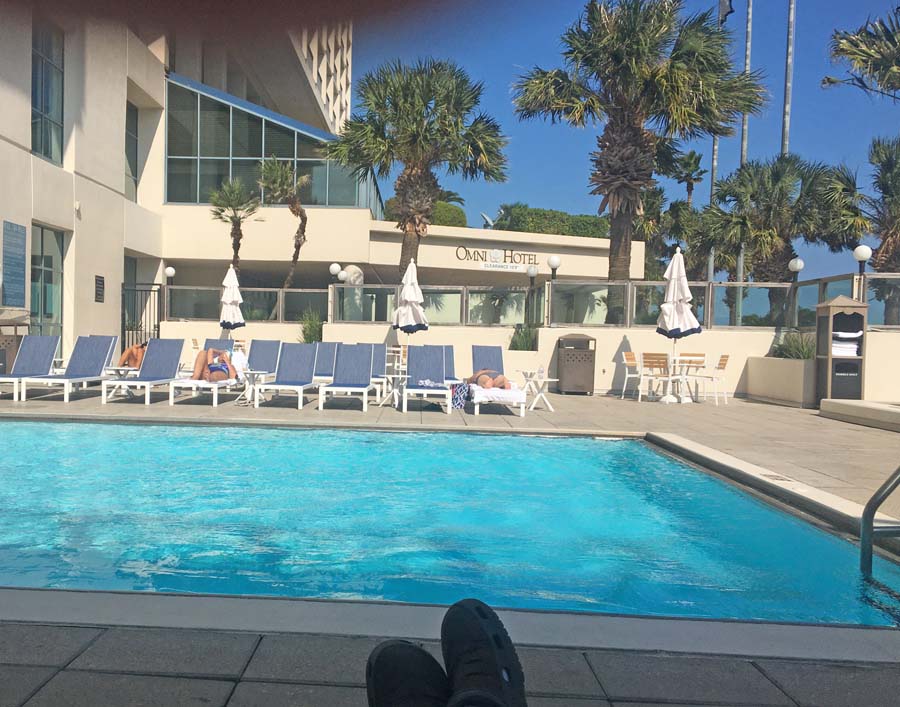 Pool area at the Omni Hotel Corpus Christi.

This picture below is a rough composite showing the tall buildings around us.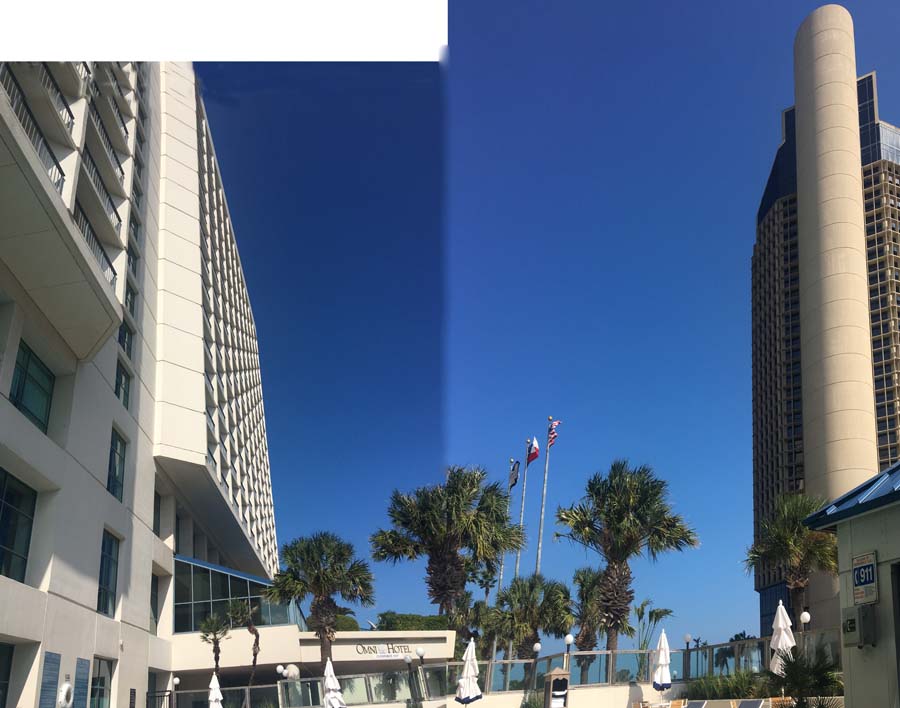 The two Papillon dogs are sitting under my deck chair.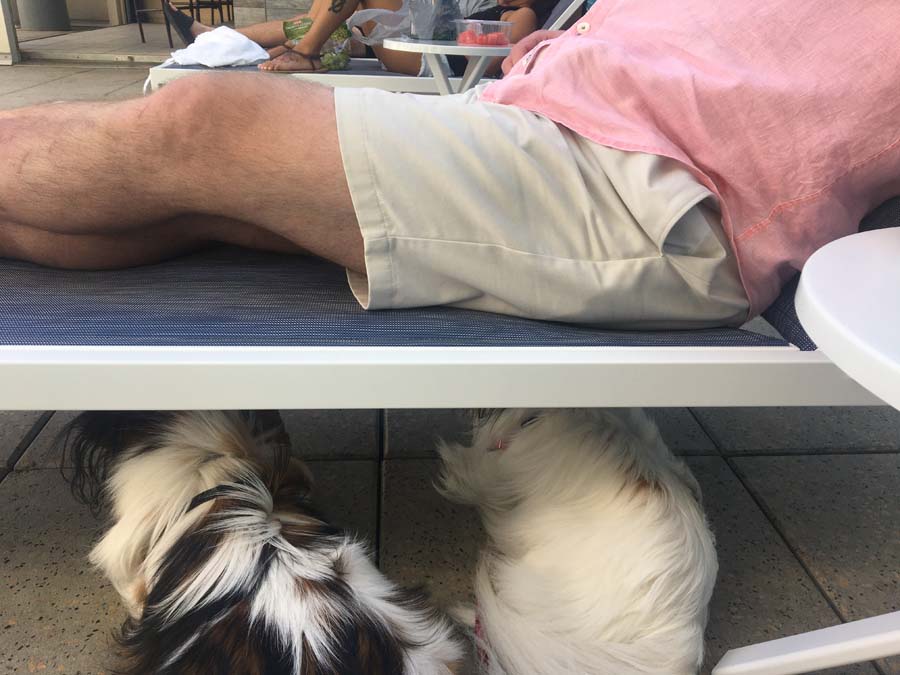 Tall buildings by the pool.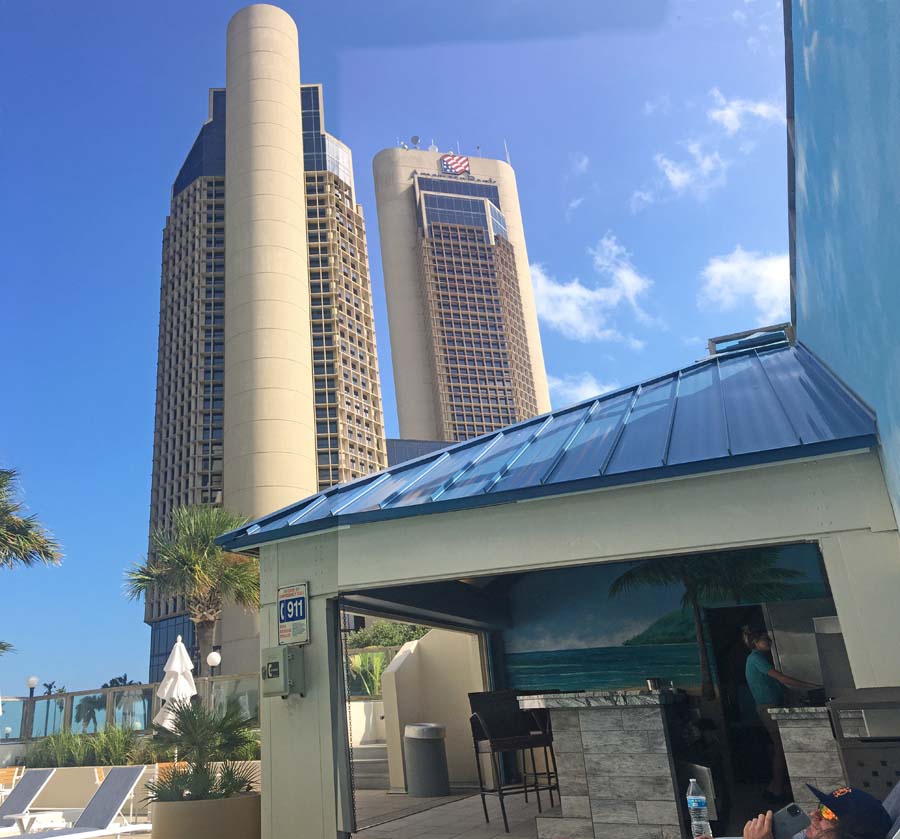 Bartender (her name is Tara) of the pool area.
After our snack we drove on to Port Aransas Texas! Here we are crossing the bridge from the mainland of Corpus Christi over to Padre Island Texas. Padre Island is the world's longest island barrier, and the second largest island in the United States (it is second to Long Island).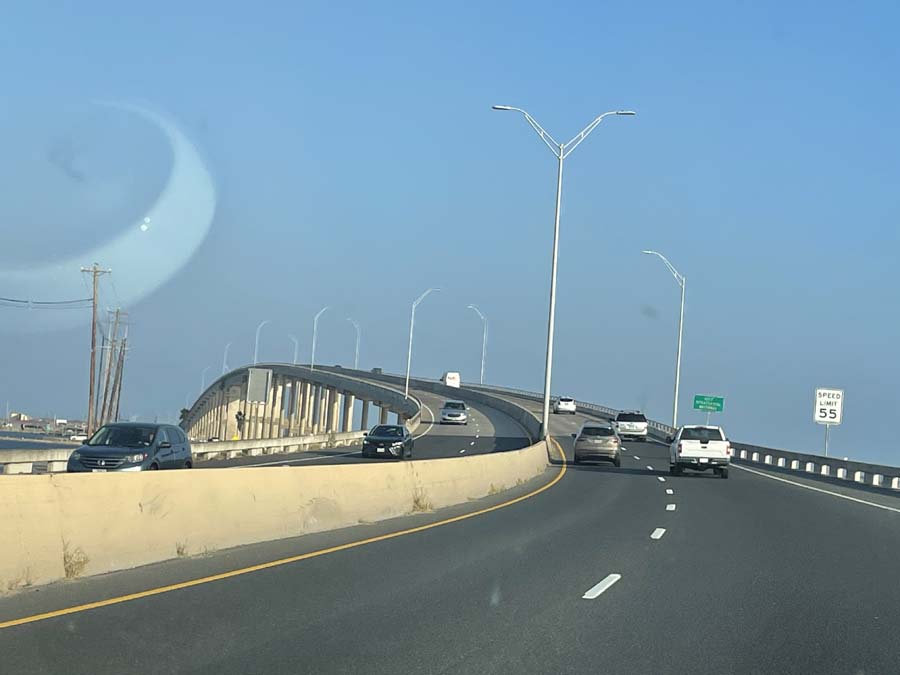 A screenshot of a map of the area. The Port Aransas Ferry operates 24 hours a day, and is FREE!! Down to the south of this map you see Boca Chica and the SpaceX launch facility.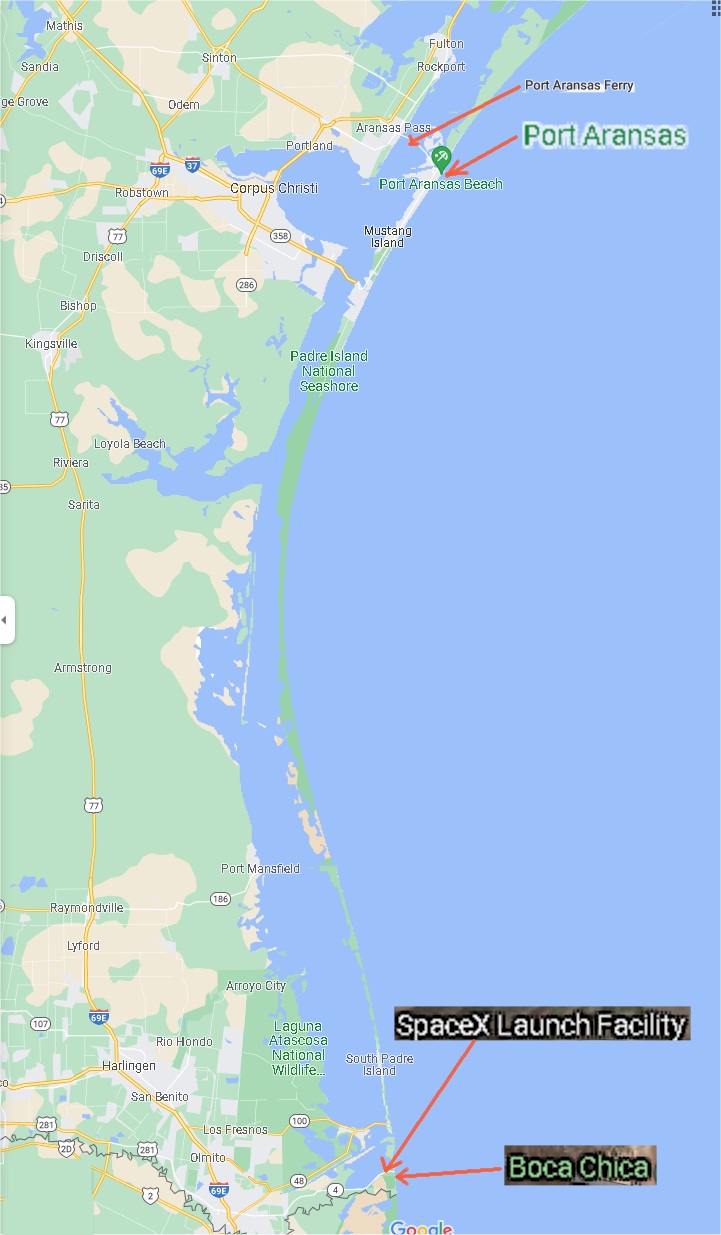 We drive north up to Port Aransas Texas along the island. The buildings are painted bright green and blue and have a Caribbean feel to them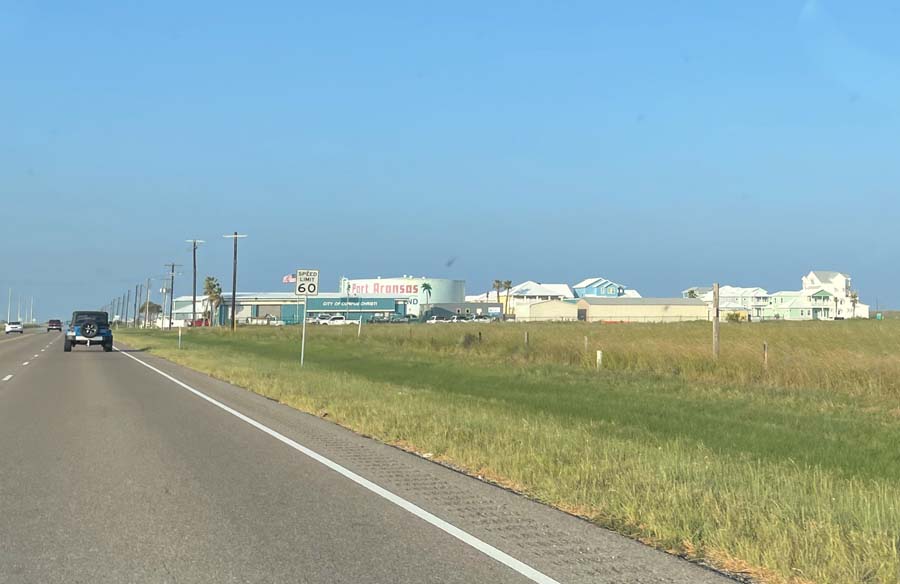 Along the drive up the only main road on the island (Texas State Highway 361) we see these really nice waterfront homes, some have boats out front.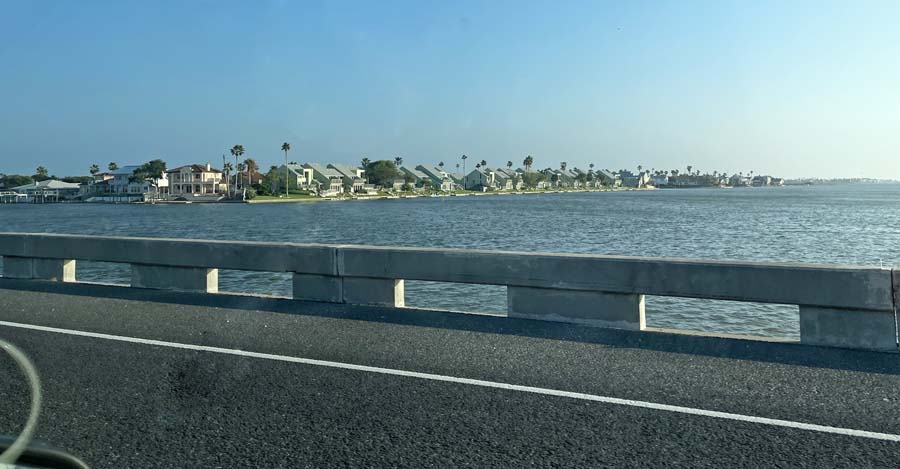 Below is a close up of the nice homes, some with boats. If you click on the picture below you get a bigger version.

This neighborhood is called "The Island". The marlin fish statue was made by Kent Ullberg who is a Swedish sculptor who lives in the area.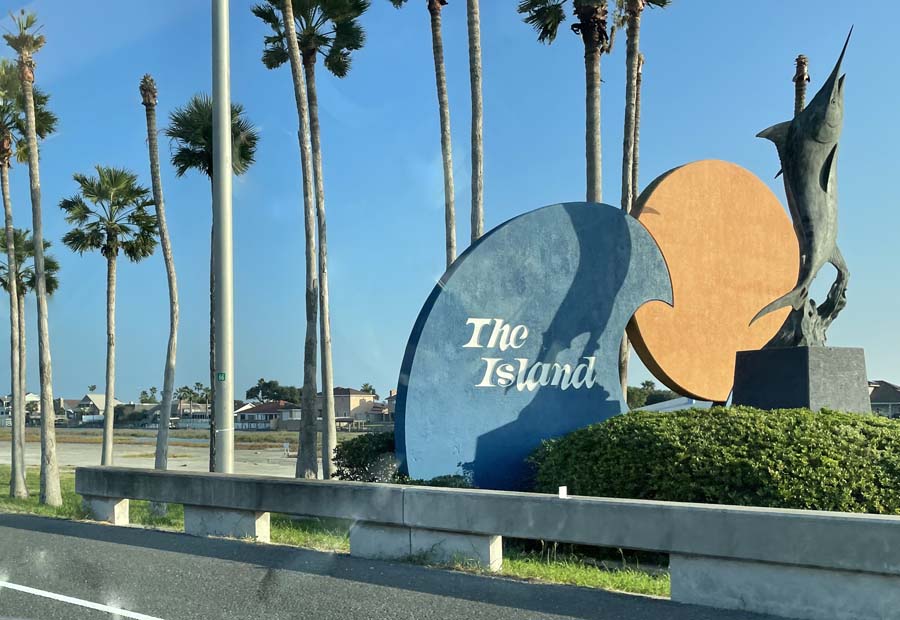 More buildings on our way north.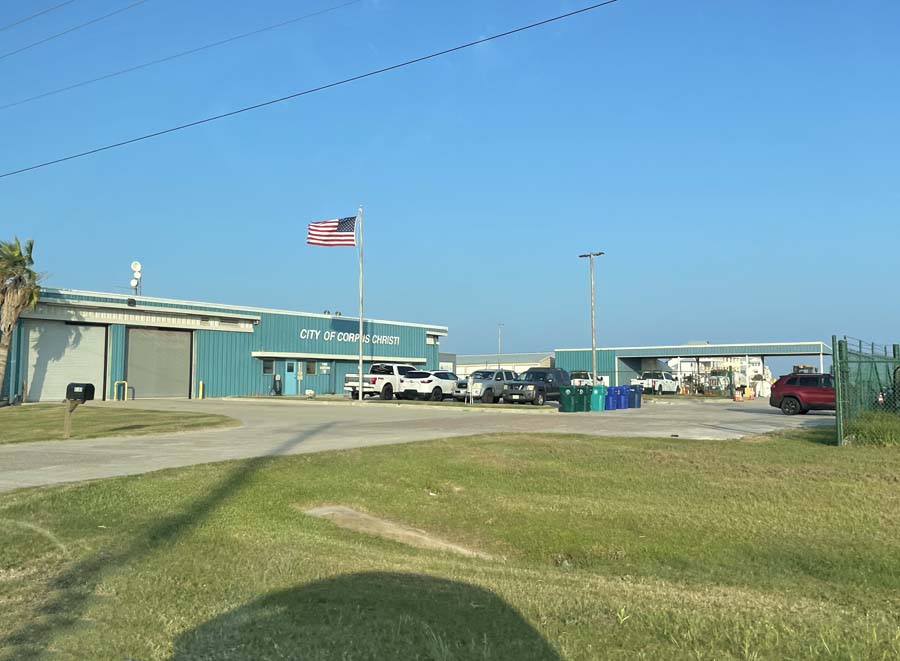 Port Aransas Mustang Island area. In the picture you can see Fire Station No16 located at 8185 TX-361, Port Aransas, TX 78373.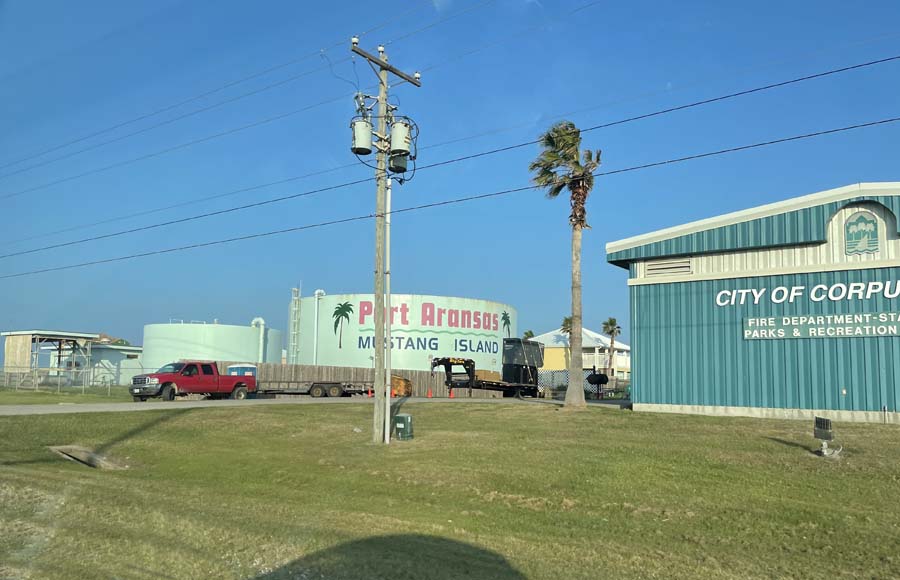 Brightly colored homes.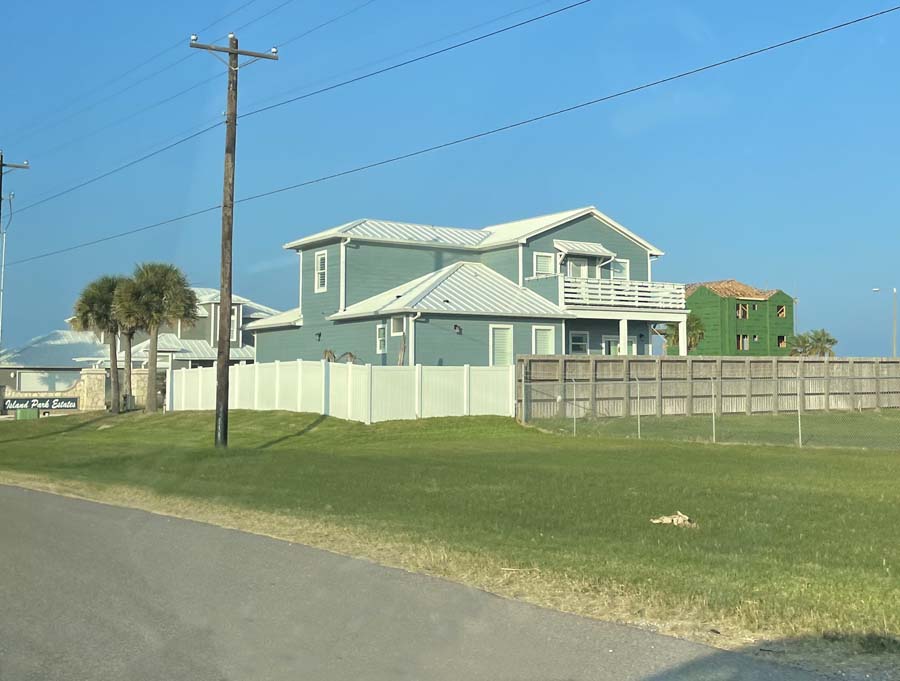 If you click on the picture below the name of the large building center right is "Mayan Princess Vacation Rentals".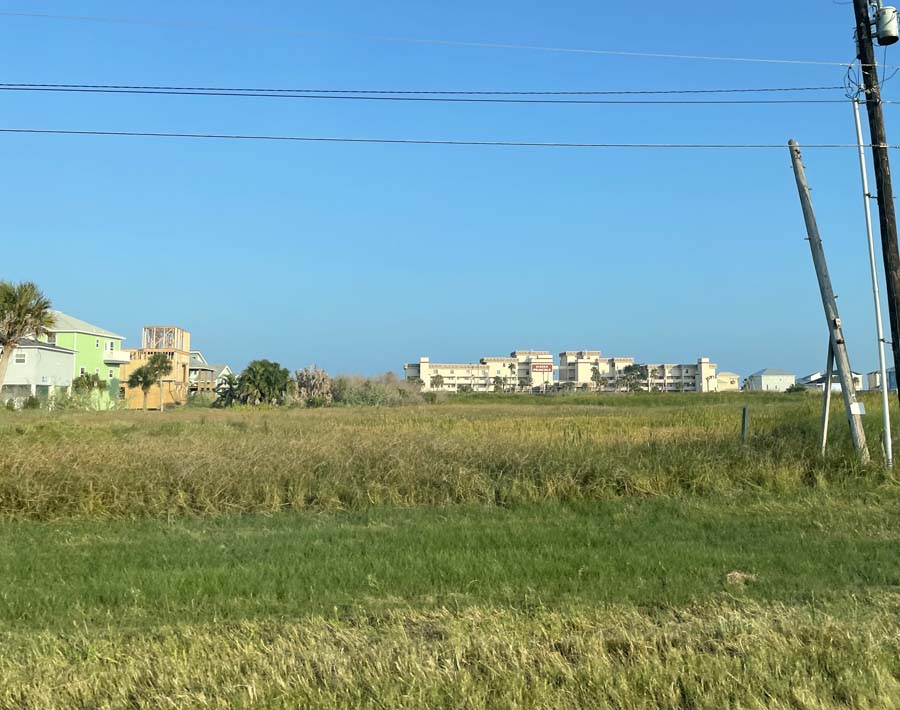 If you click on the picture below, the sign at the far left says: "Sea Gull Condominiums and Vacation Rentals".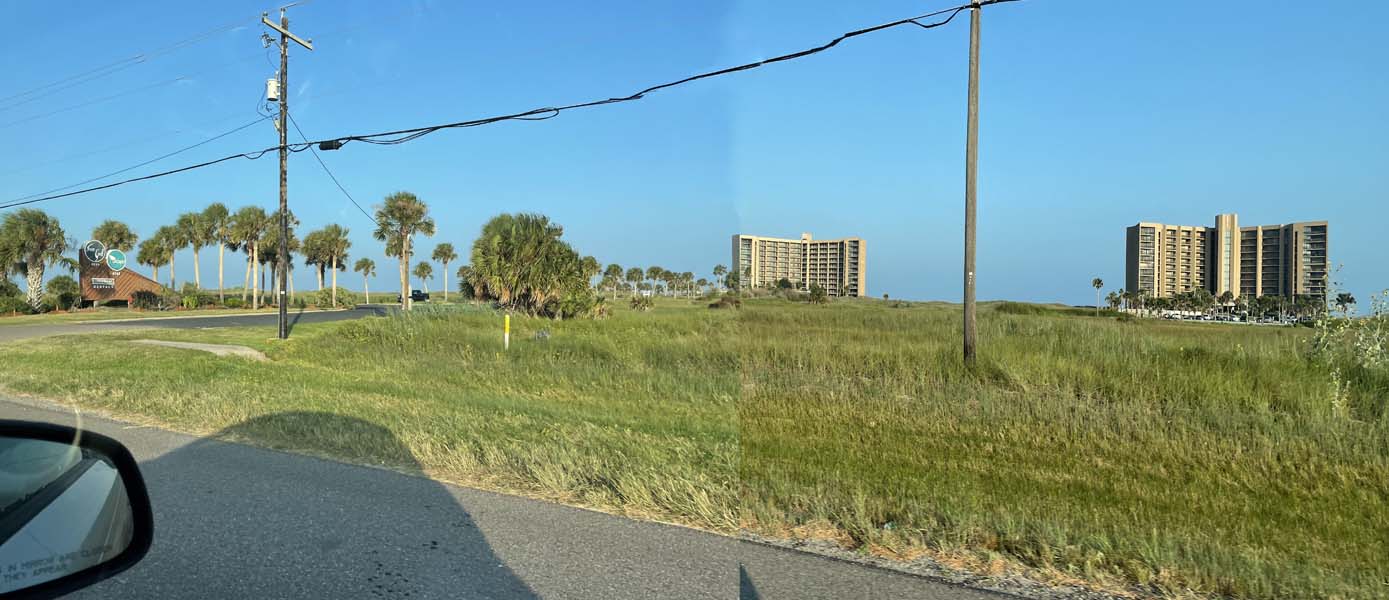 The buildings are old and big.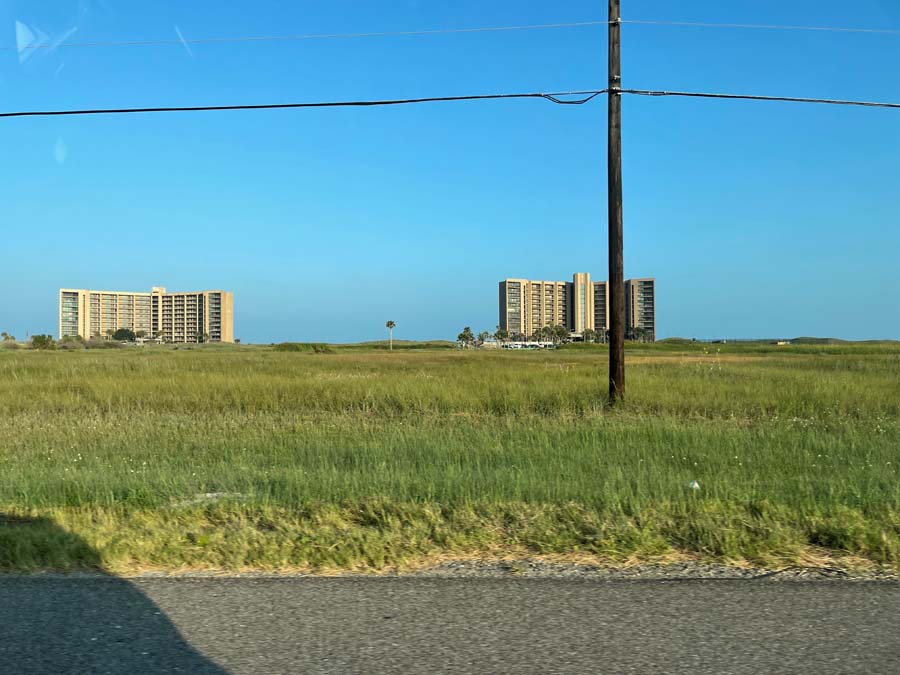 We stopped at Tortuga's Saltwater Grill for dinner. They were dog friendly on the outside deck.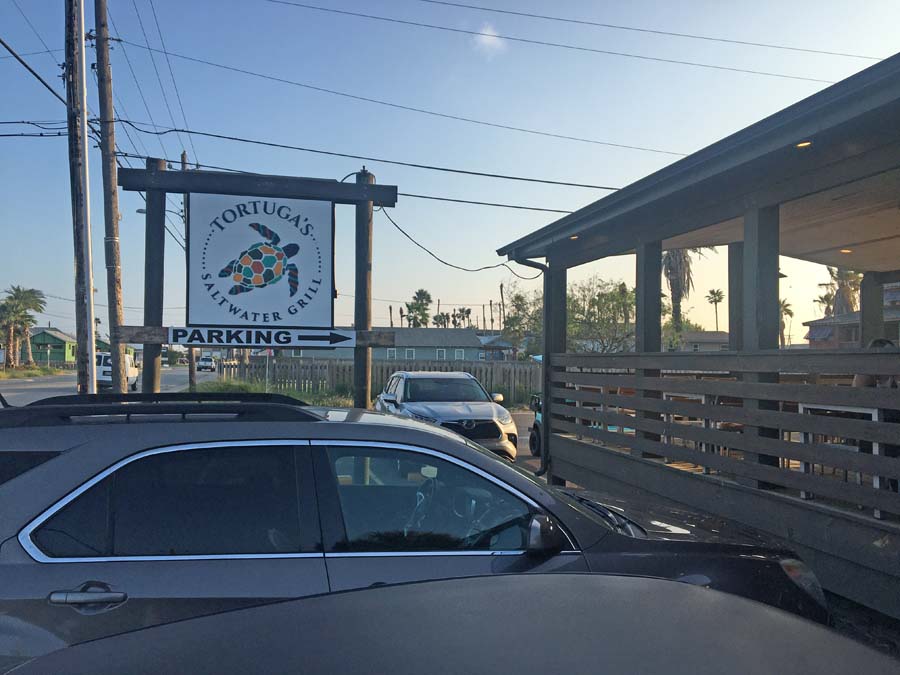 All over Port Aransas there are these electric and gas powered golf carts driving on city streets. The locals explained you can go all the way to the beach on them, it is LEGAL to drive them out onto the beach anywhere you like, it is explicitly LEGAL to drive these golf carts on the streets also, and you can't get a DUI on a golf cart in Texas. The locals also explained there are no police in Port Aransas, so you can do pretty much anything you like.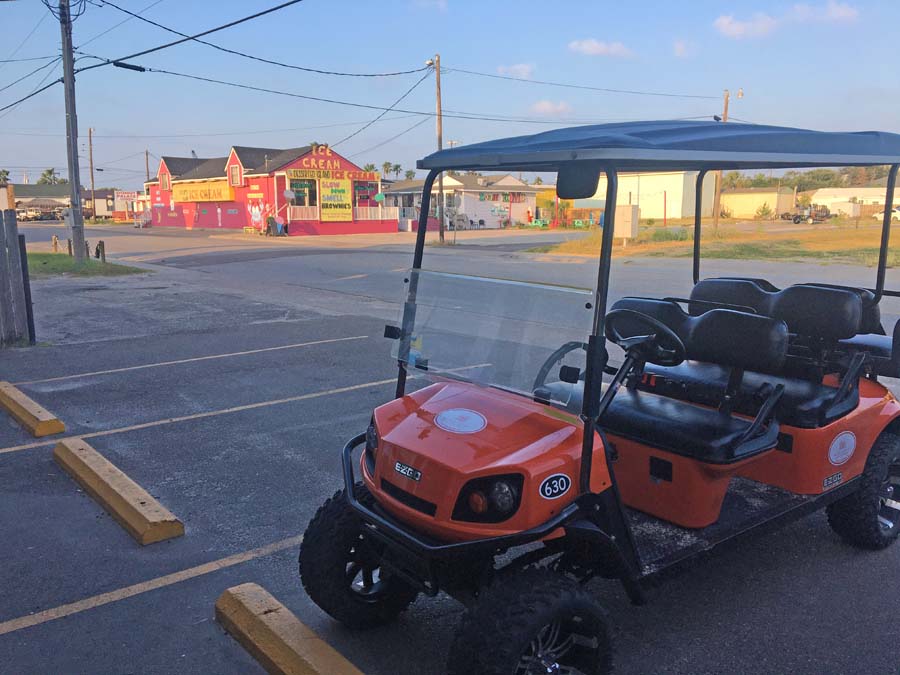 After dinner we drove directly from the restaurant out to the Gulf of Mexico which was a few hundred yards away. Click here for a map of where I'm standing in the picture below, it is called "Port Aransas Beach".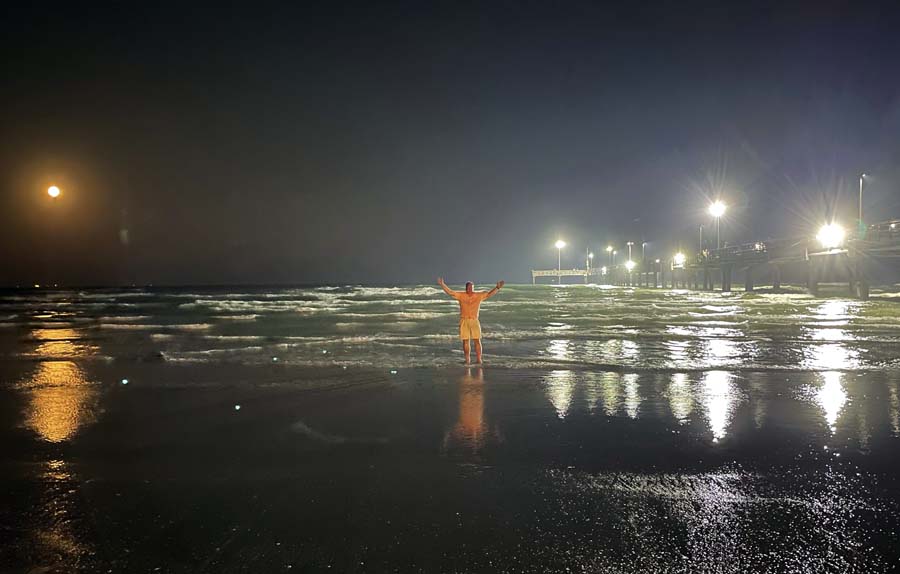 I took a picture of the moon. Katherine is taking my picture.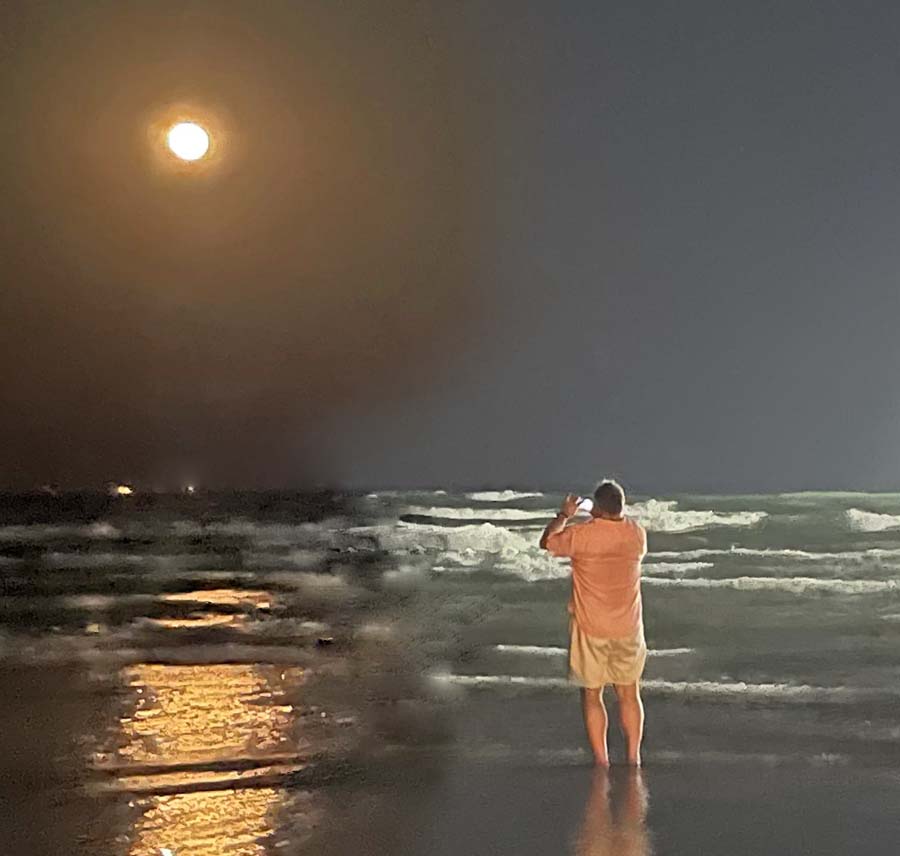 Below you can see a fuzzy picture (my old iPhone 6 is not great at low light). From left to right: Chou Chou, the white dot is Ava, then Katherine is luring Ava out into the Gulf of Mexico.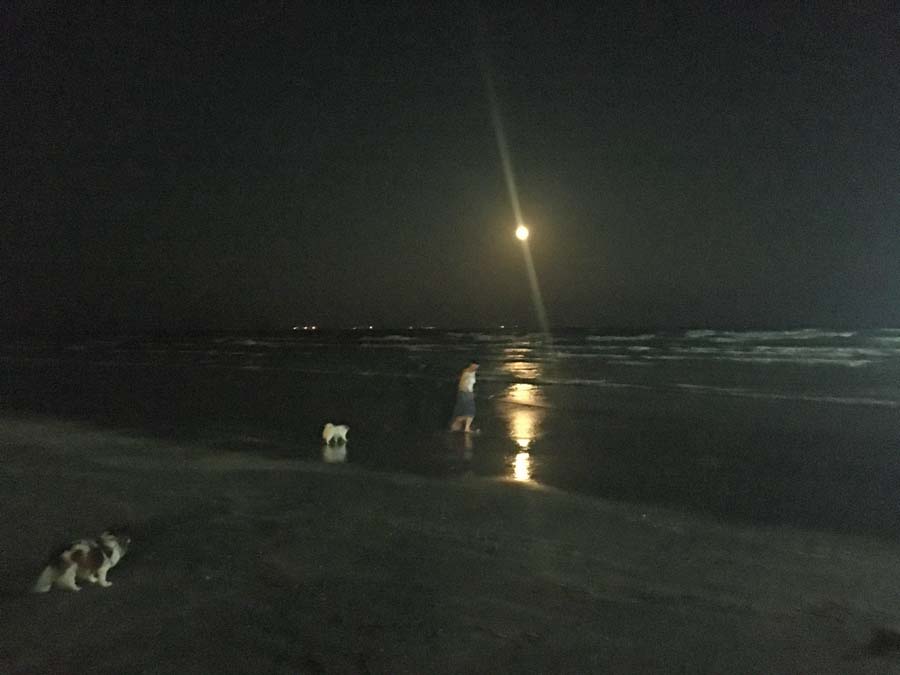 An absolutely pointless 10 second movie of the waves in crappy iPhone 6 low light, just to prove I was there at the Gulf of Mexico in Port Aransas Texas. Click here for the highest quality original.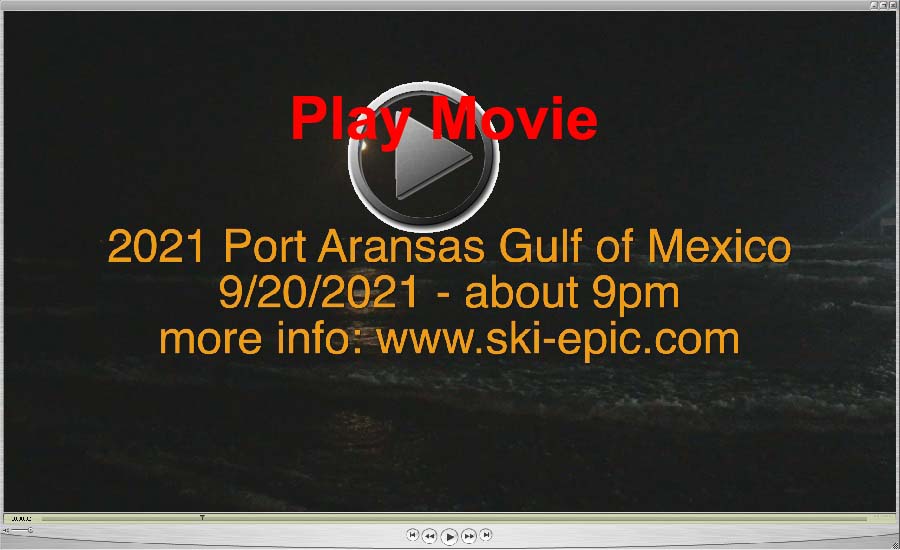 A second to last picture of the moon.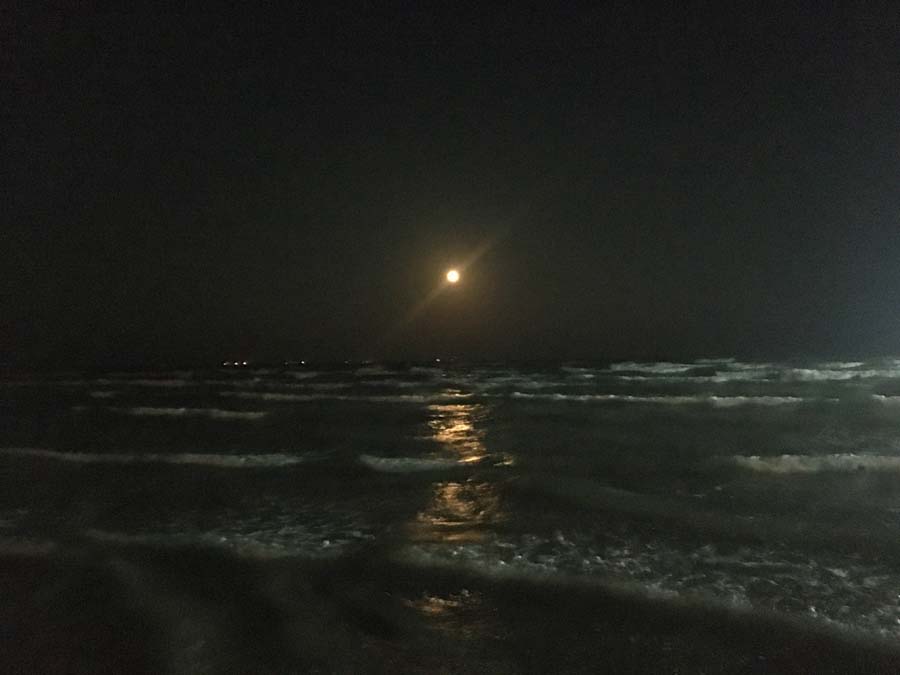 A picture of the moon.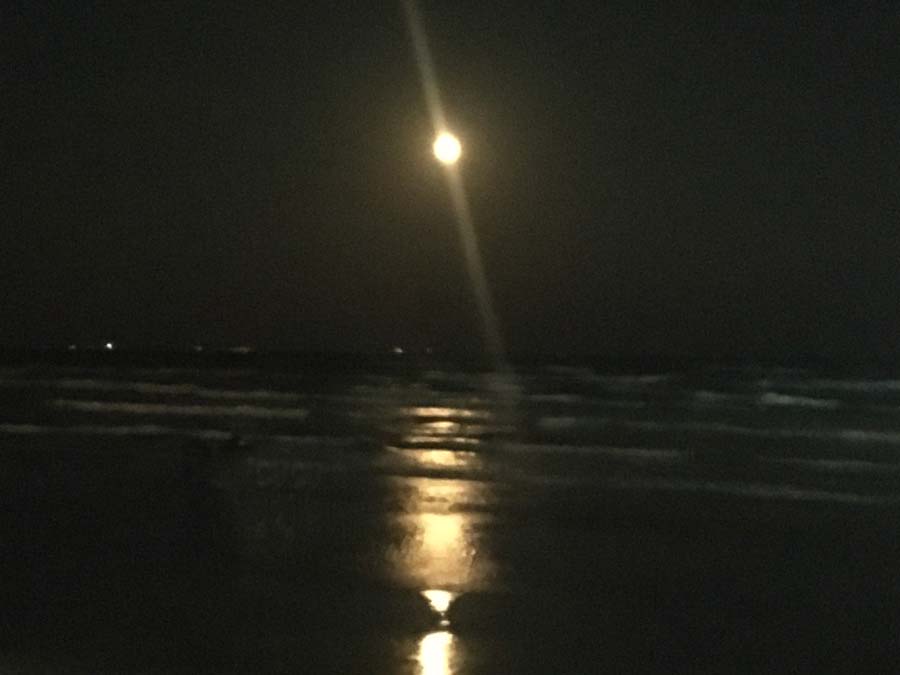 We went back to our hotel in Corpus Christi and crashed out. The next morning I took more pictures from our balcony.

Below after breakfast you can see Chou Chou is tired and wants to go home. Ava just loves driving and doesn't care where we go next.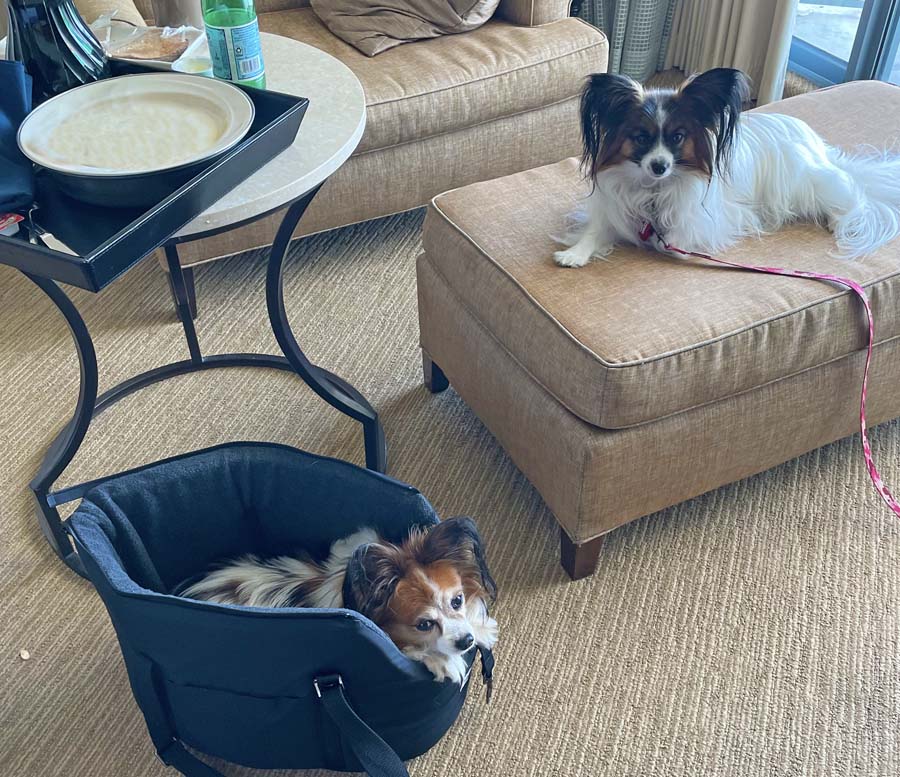 Chou Chou is exhausted. He tends to hyperventilate and have anxiety in the car, so we give him a quarter of a Trazodone. So Chou Chou is zonked out, and just wants to go home.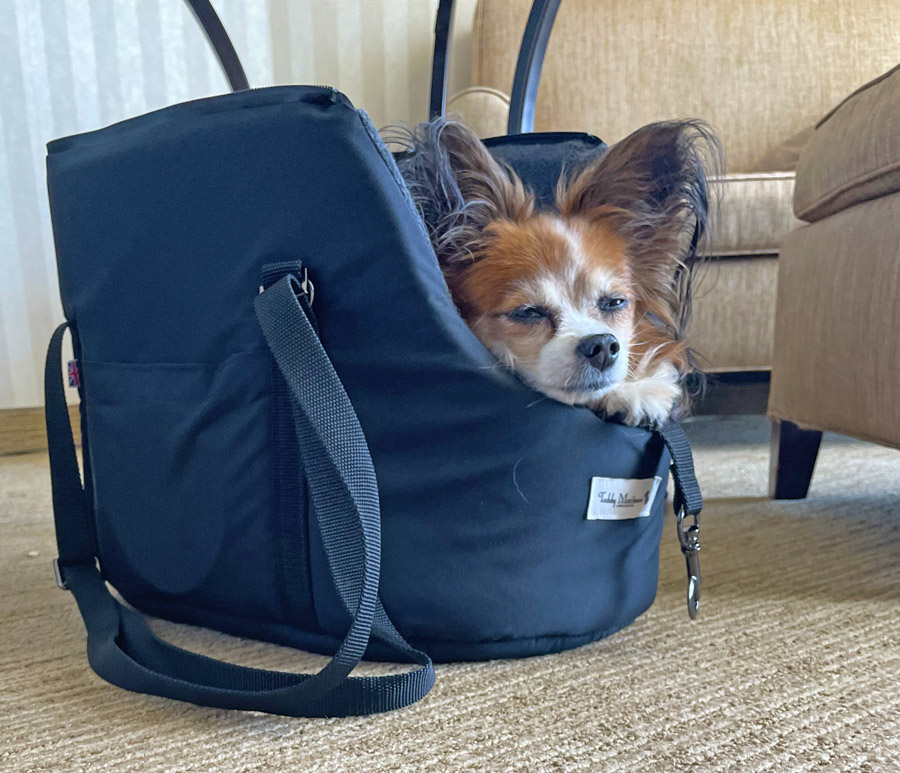 That's it! That's all the pictures and movies.
Things to bring on Texas Driving Trips: (this isn't for you! Stop reading! I'm old and forget things.)
- alarm clock
- glasses (? mostly I just use my "thin lenses" from my wallet anyway ?)
- swimsuit
- car GPS holder
- iron
- blow dryer
- shoes and crocks
- complete change of clothes to drive home
- dop kit with toothbrush, toothpaste, caffeine, nasal spray, band aids
- jacket?
- umbrella? check weather
- vaccination card picture.
- ipad
- drug patches to ease withdrawal symptoms
- Travel CPAP
- coffee kit for Katherine
- remember: Hotels room service is touch and go. Hotels no longer have paper handouts and paper menus anymore in the rooms - maybe book mark the menu for breakfast room service before we leave. Covid changed things..
All done!