2022 Miriam Latshaw Memorial Service

(Miriam Arline Latshaw born 1934, died 2022)

(Service was Saturday, May 21, 2022)



Brian attended Aunt Mim's Memorial service (Miriam Latshaw's Memorial service). First, at the top, here is a family tree showing me (Brian Wilson) in relation to my Aunt Mim. You can click on any photo on this page for a larger, clearer version.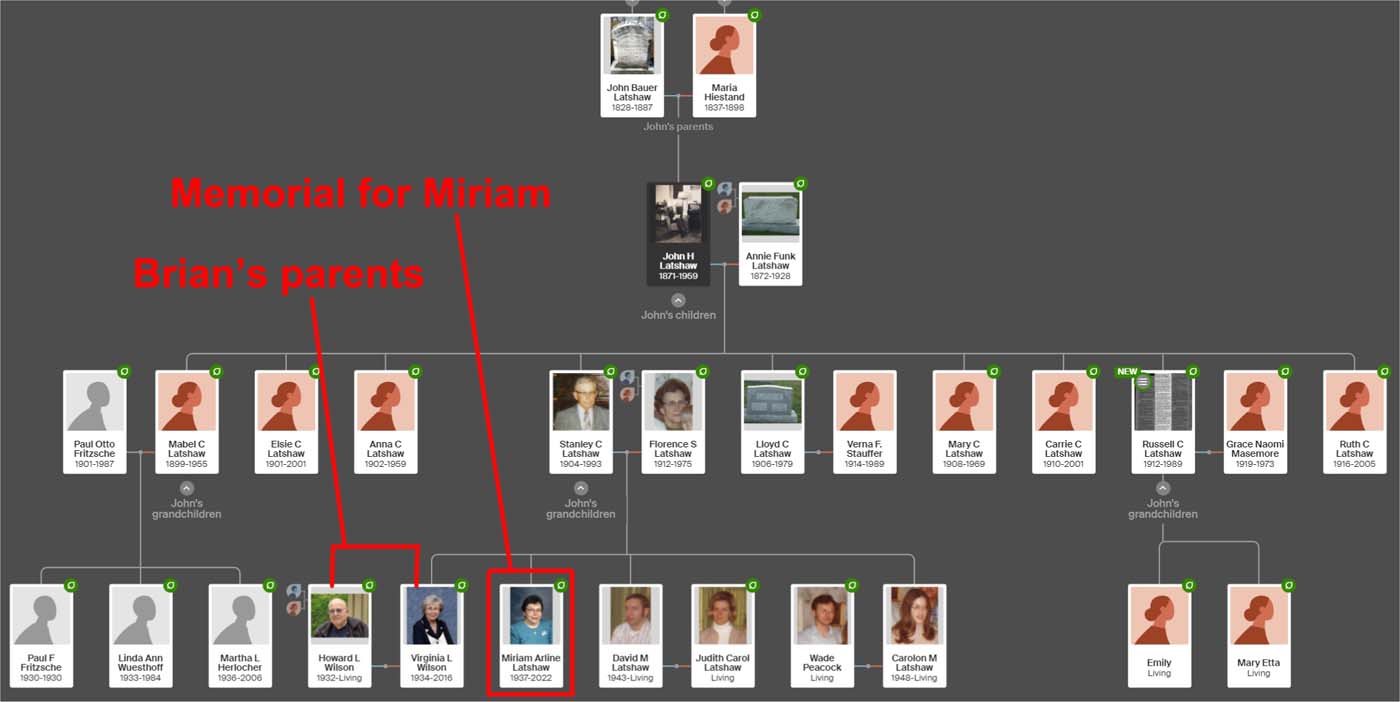 Here is Miriam Arline Latshaw's Obituary: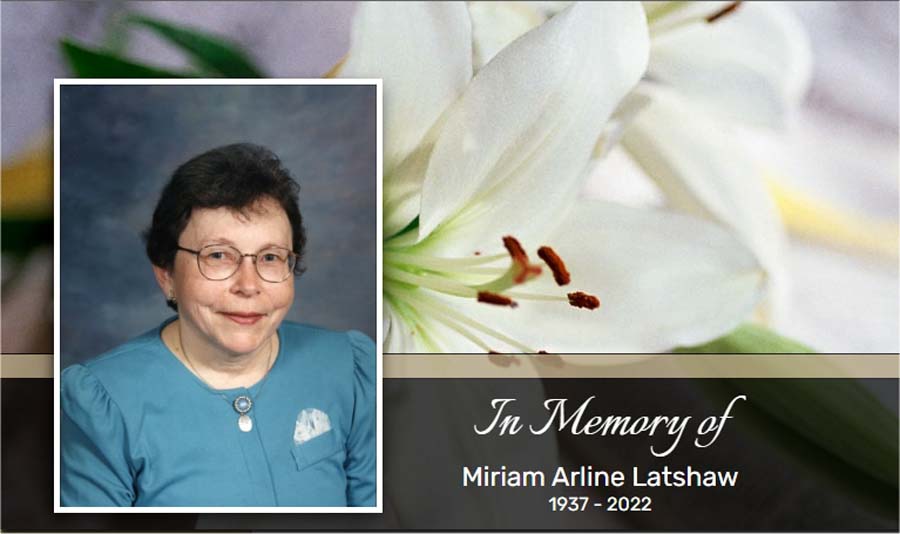 Obituary of Miriam Arline Latshaw
Miriam Arline Latshaw, 85, of Lancaster, PA, passed away on Sunday morning, April 17, 2022 at Mennonite Home. Born at home outside of Bechtelsville in Montgomery County, she was the loving daughter of the late Stanley C. and Florence S. Moser Latshaw.

She graduated from Boyertown Area High School in 1955, as valedictorian of her class. In 1959 she graduated from Pennsylvania State University with a BA in Education. She earned a master's degree in mathematics from University of Illinois in 1963. She taught 7th grade math in West Chester, PA and in Hammonton, NJ. Later, she worked as a senior actuarial analyst at Towers, Perrin, Forster & Crosby in Philadelphia. Since 1987 she was a member of Leacock Presbyterian Church in Paradise where she served as a deacon.

Miriam liked to volunteer in the Lancaster community. She volunteered as a guide at Landis Valley Village & Farm Museum and as a pink lady at Lancaster General Hospital. She also volunteered at the Railroad Museum of Pennsylvania and at the Women & Babies Hospital in Lancaster. Miriam lived at Mennonite Home Communities in Lancaster since 2005, where she volunteered as a "friendly visitor" to other residents.

Miriam was a caregiver to her parents, particularly her father who was a widower for 18 years. She was preceded in death by her parents and by her older sister, Virginia Wilson. She is lovingly survived by a brother, David (Judy) Latshaw, a sister, Carol (Wade) Peacock and a brother-in-law, Howard Wilson. She is also survived by two nieces, Cheryl Hoffmann and Jennie Moses, and four nephews, Jon Latshaw, Joseph Latshaw, Randall Wilson and Brian Wilson.

A memorial service was held on Saturday, May 21, 2022, at 11:00 AM at Christ Lutheran Church, 222 Niantic Road, Barto, PA 19504. Interment will take place in Union Cemetery immediately following the service. There will be no visitation. The family invites guests to a light luncheon at the church Social Hall following services.

Memorial contributions can be made to Mennonite Home Communities (for Benevolent Care), 2001 Harrisburg Pike, Lancaster PA 17601 or to the charity of your choice. You can view a YouTube video of the service here: https://www.youtube.com/watch?v=_e3f06NvqoQ

Movie of the 40 Minute Service:
Here is a 40 minute movie of the main service: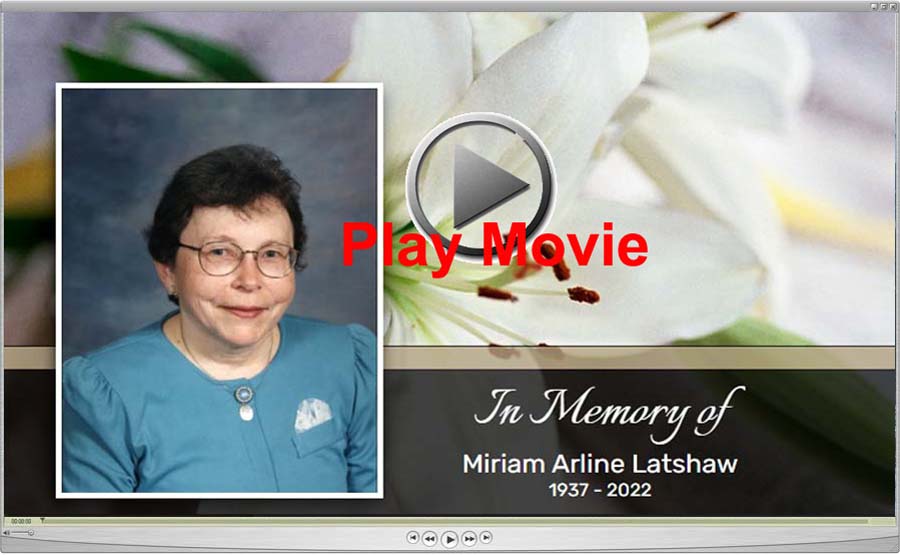 Program Handouts Scanned In:
Below here are the handouts from the service, starting with the cover and back of the single card with info: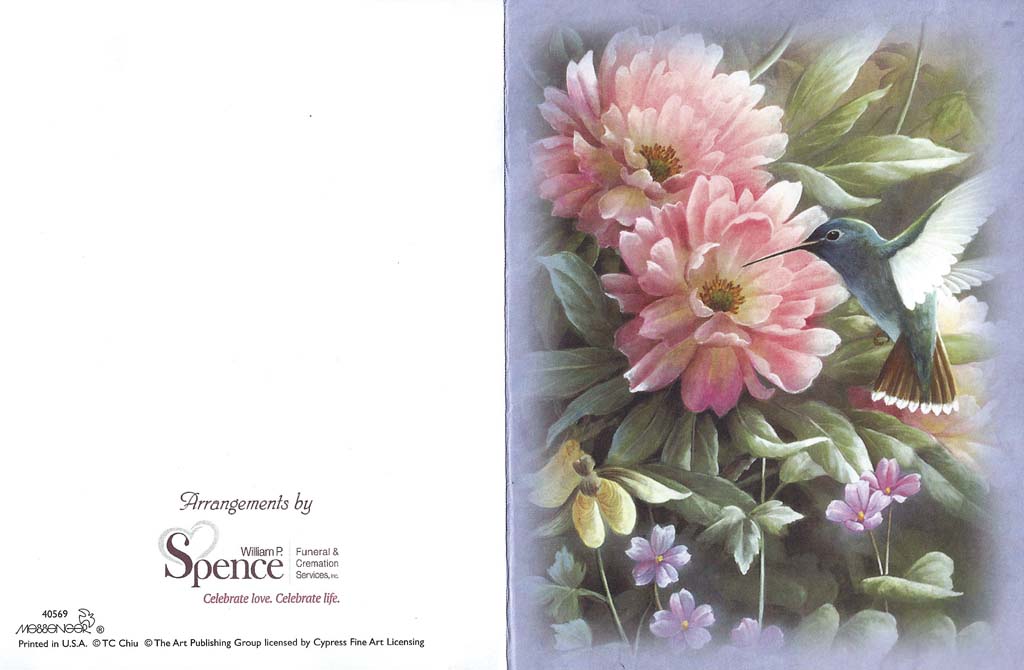 The insides of the single card with info: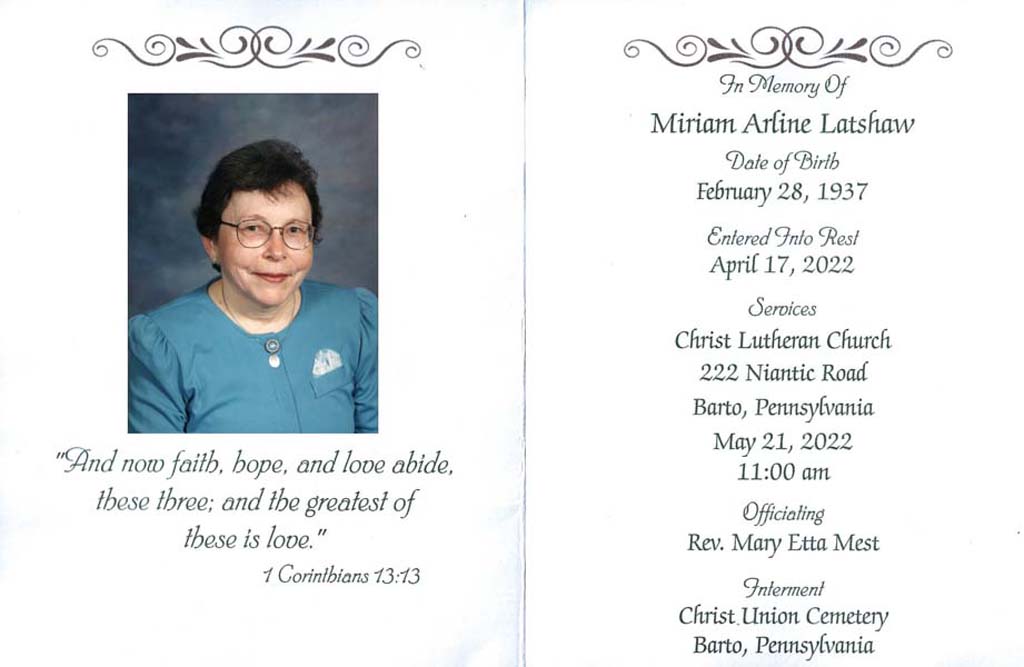 Then an 8.5 inch by 11" packet front and back as seen below: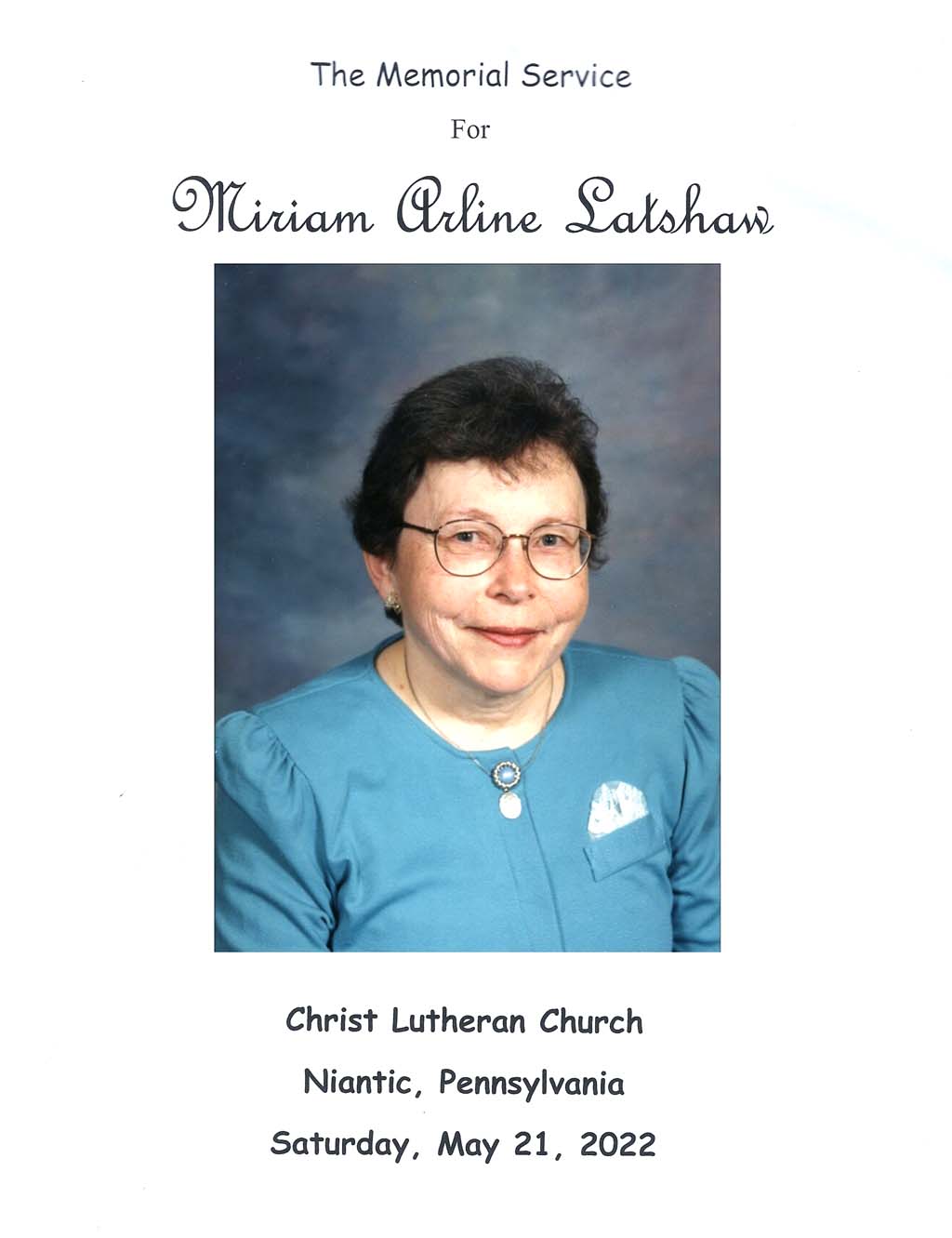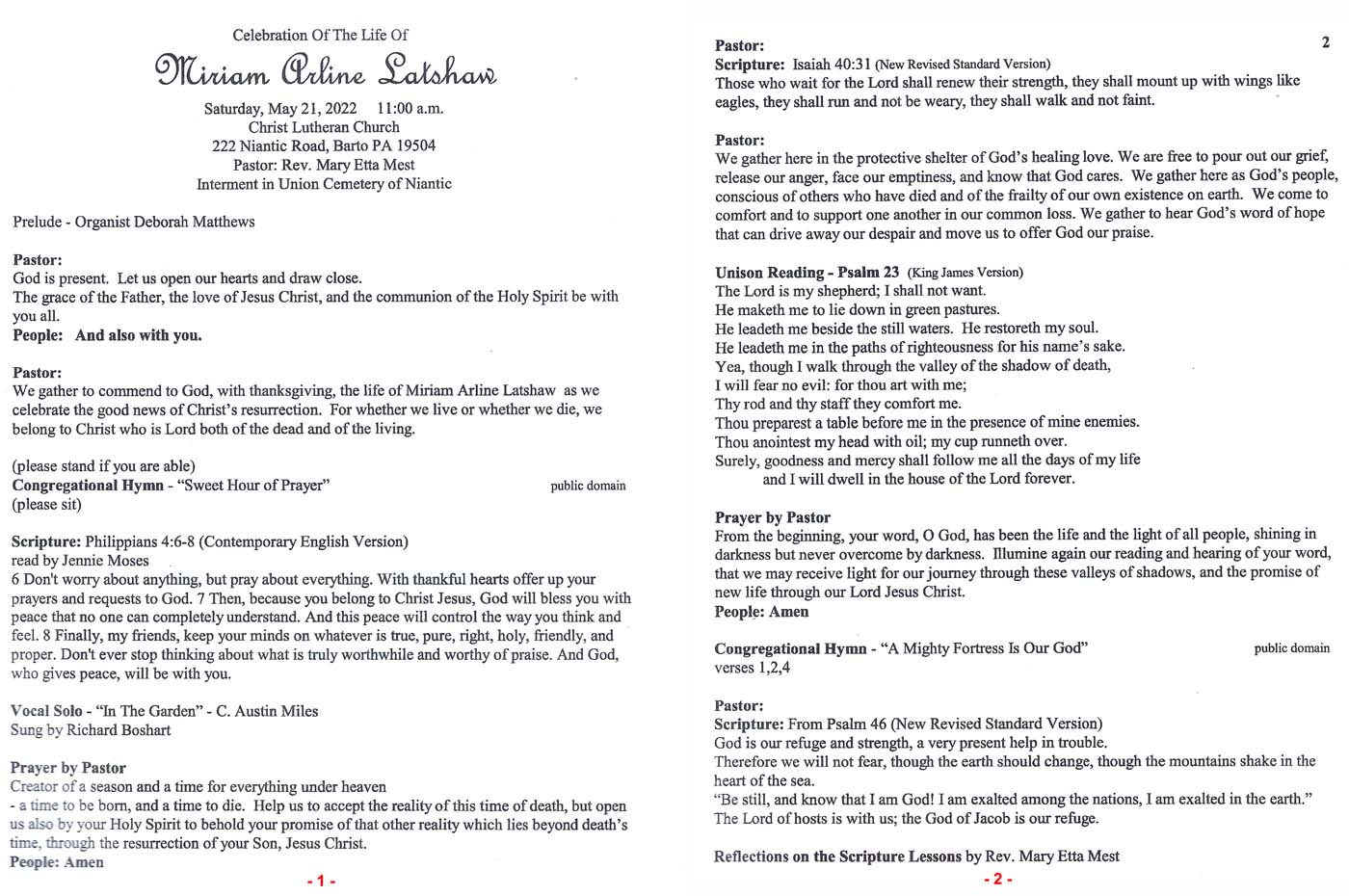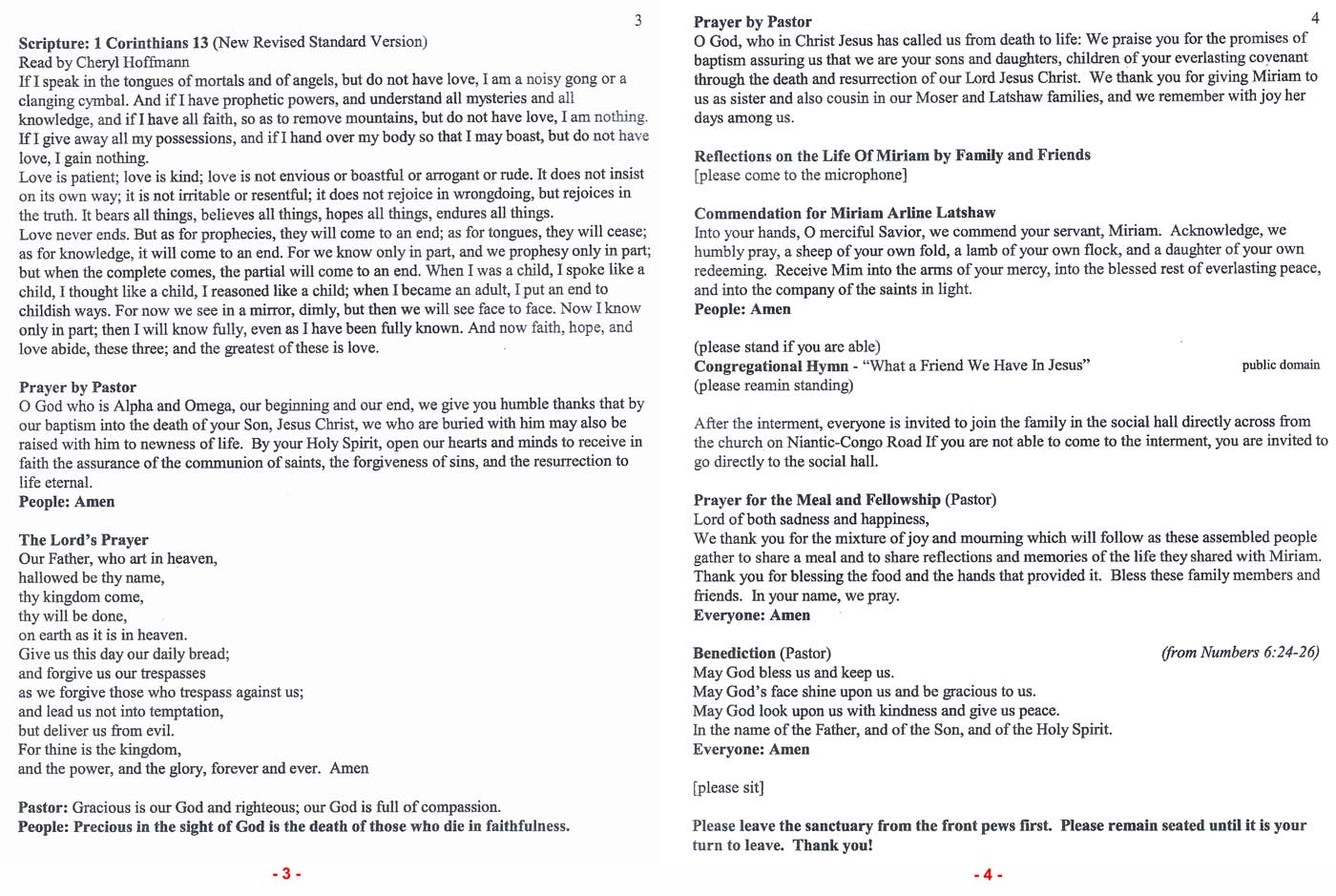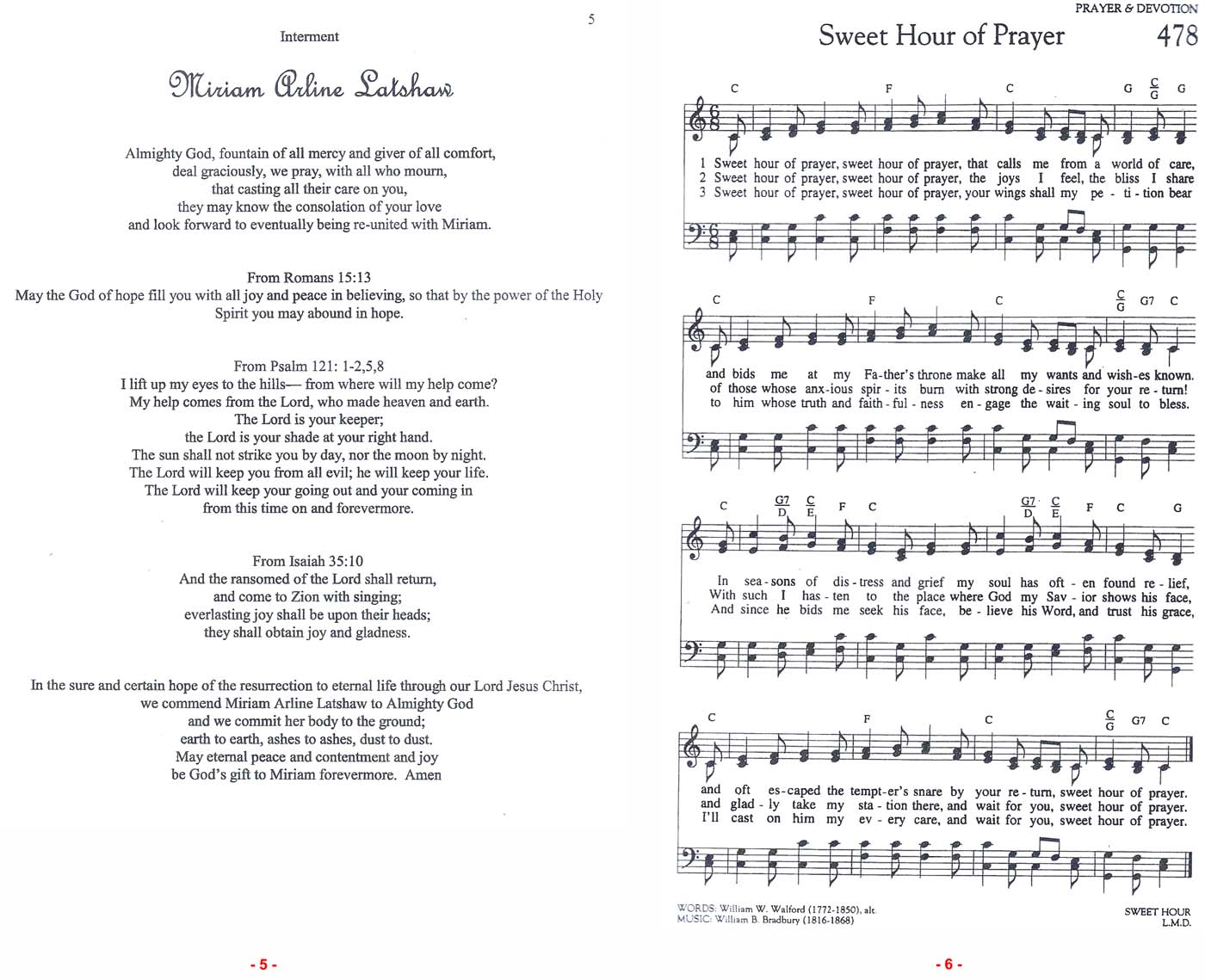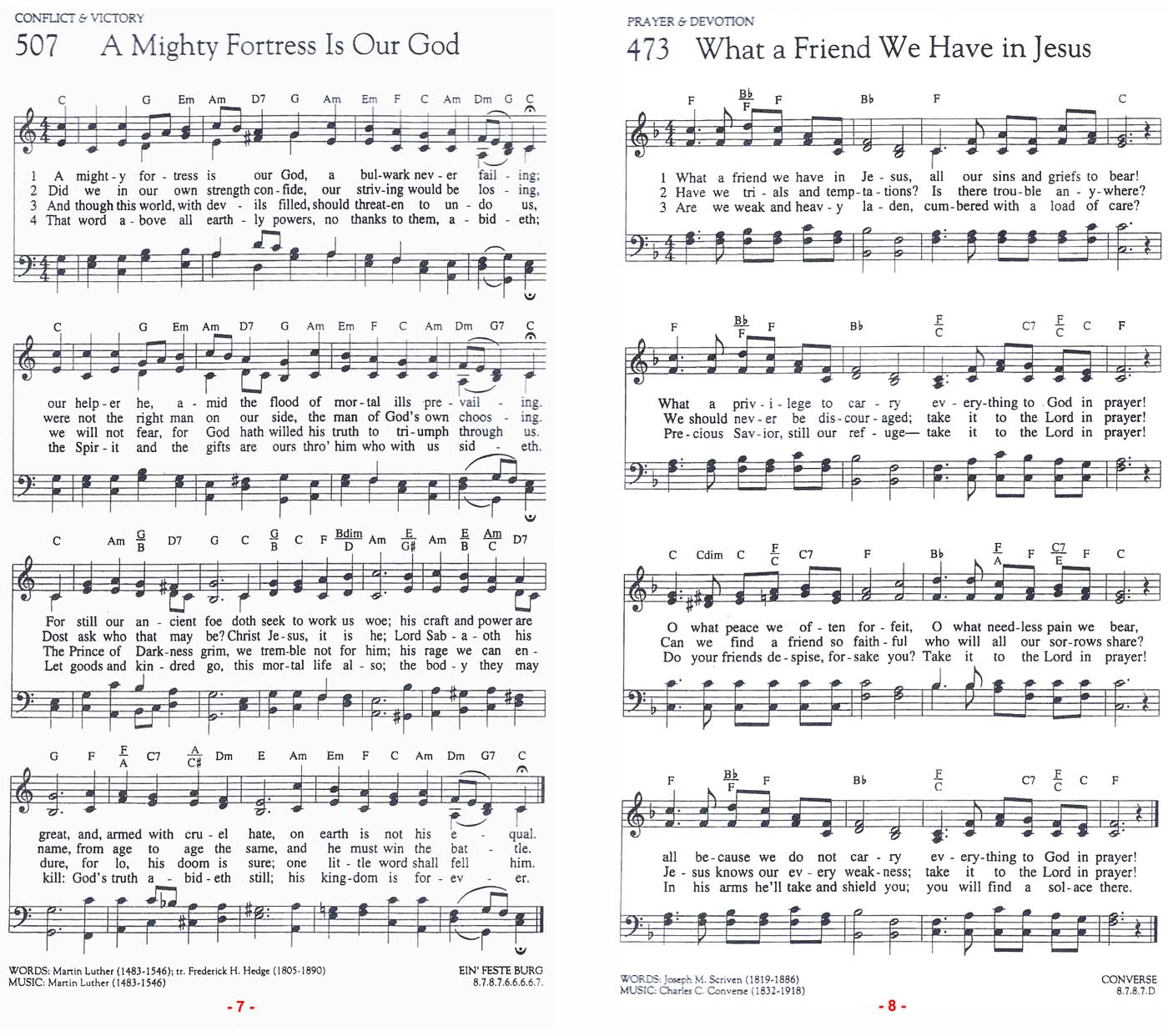 Now the pictures below are in chronological order of my trip arriving into Philadelphia Pennsylvania International Airport (PHL) first. American Airlines is doing this really odd thing of printing out cards that look like hand written notes and handing them to customers. I think it's wasteful and silly: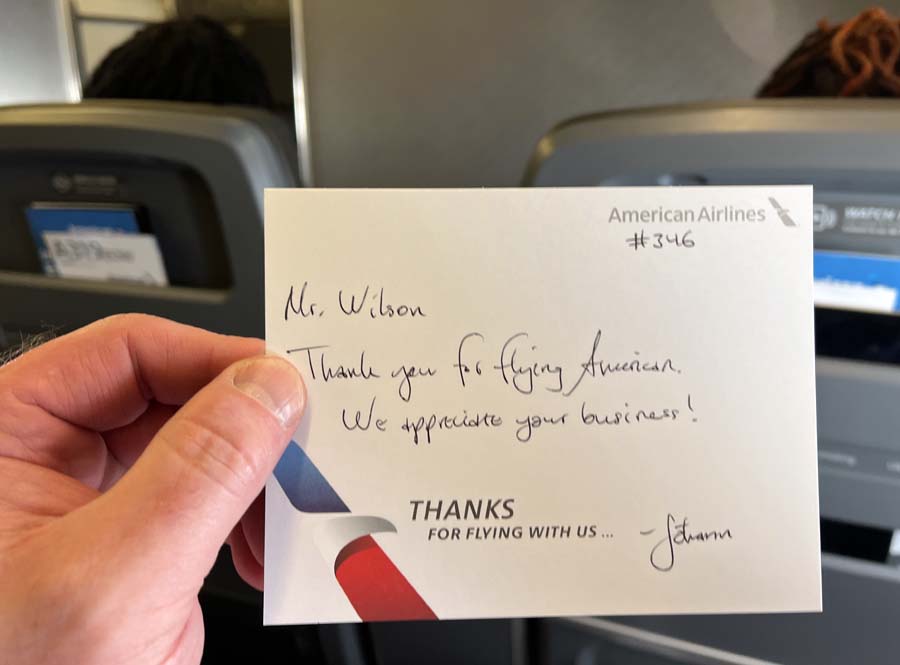 Inside the Philadelphia airport headed to my rental car.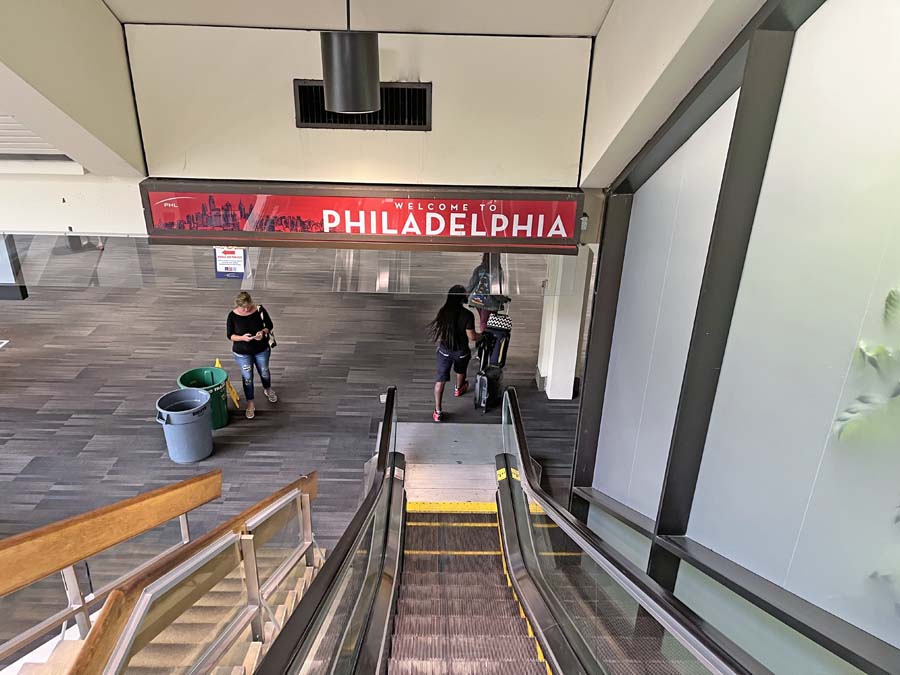 I met Cheryl Hoffmann (my sister) soon after landing at "North Italia King of Prussia", seen below. It is located at this 350 Mall Boulevard, Suite 1000C
King of Prussia, PA 19406. Google map link: https://goo.gl/maps/4v4EphykdpuHymGh6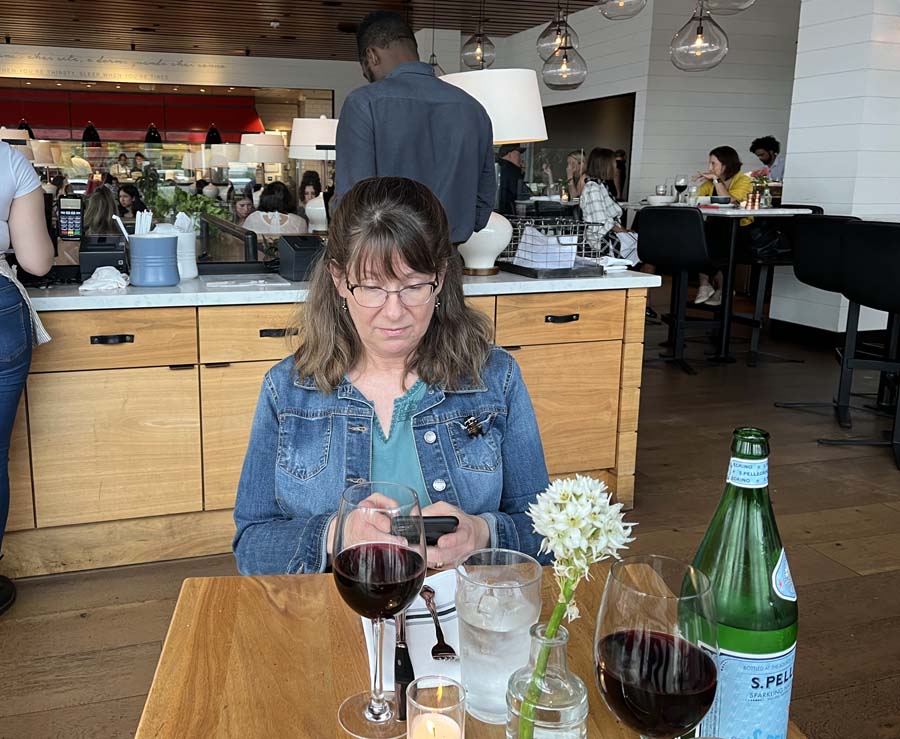 After dinner with Cheryl I went to my hotel which was a bed and breakfast called "The Globe Inn" in East Greenville, Pennsylvania. Google Map Link: https://g.page/TheGlobeInn-East-Greenville-PA?share One room panorama is below, it's a little funky (but close to the memorial service the next day):

I got up the next morning, here is my mirror selfie to prove I was on the trip. :-) I'm about to check out the hotel and drive to the memorial service.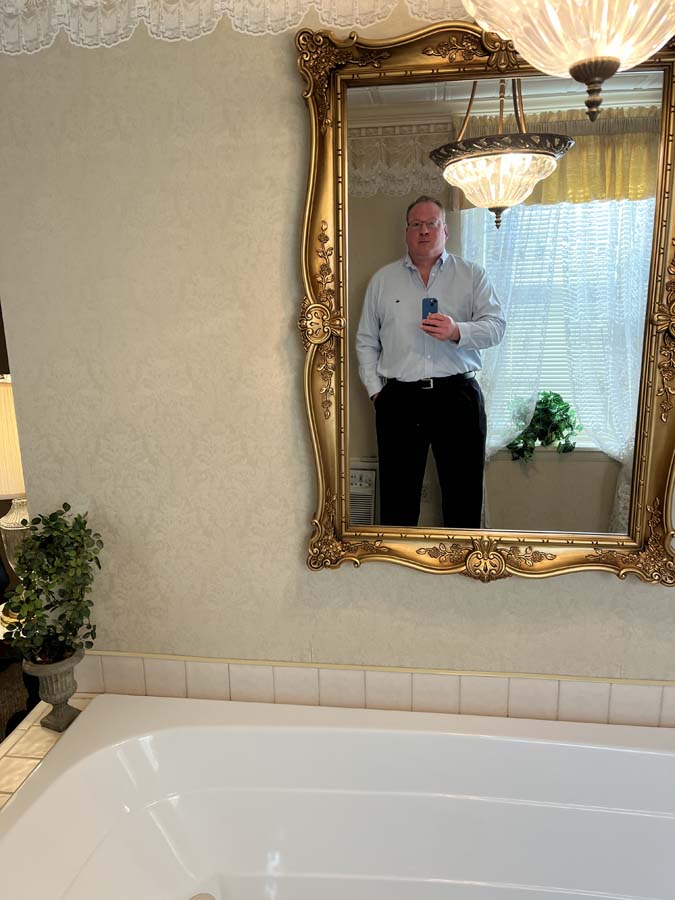 Arriving at the church where the Memorial Service for Miriam Latshaw will be held in another two hours, it looks like the picture below (stolen from Google Street View since I didn't have a better version). This is: Christ Lutheran Church at 222 Niantic Road, Barto, PA 19504. Google Map Link: https://goo.gl/maps/mUe7cbKrvysoV9WQ7
: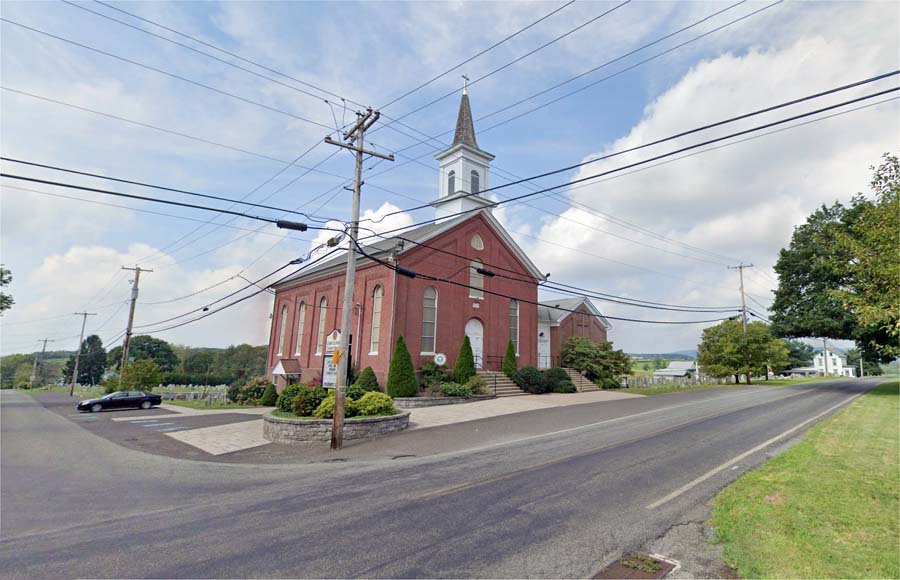 I arrived a little early to help with setup, below are Cheryl Hoffmann and Carol Peacock (Mim's sister). We're standing in the church parking lot of the Christ Lutheran Church at 222 Niantic Road, Barto, PA 19504. Google Map Link: https://goo.gl/maps/mUe7cbKrvysoV9WQ7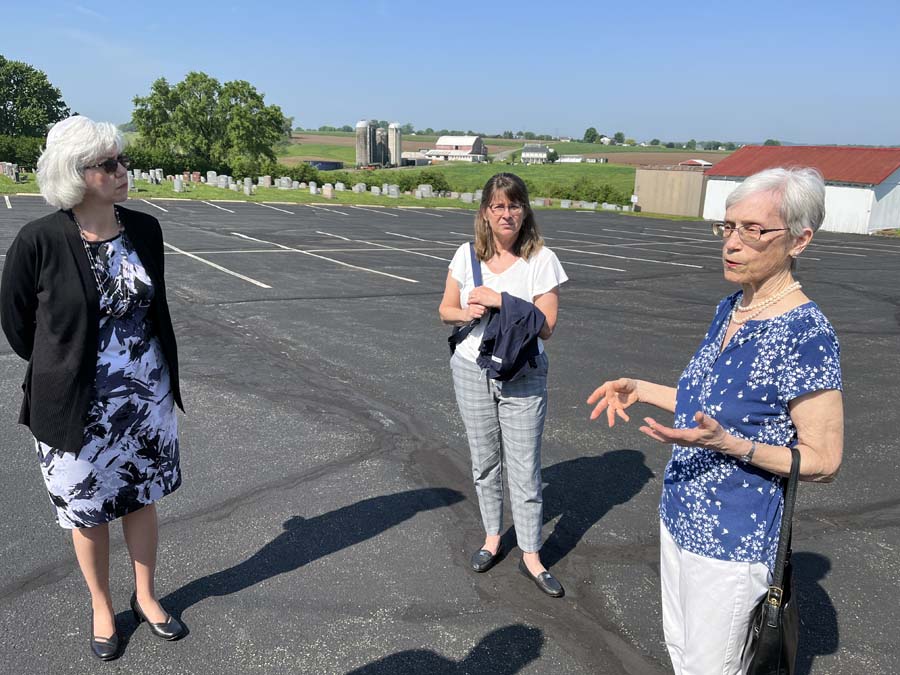 David Latshaw (Mim's brother), Cheryl Wilson, and Carol Peacock.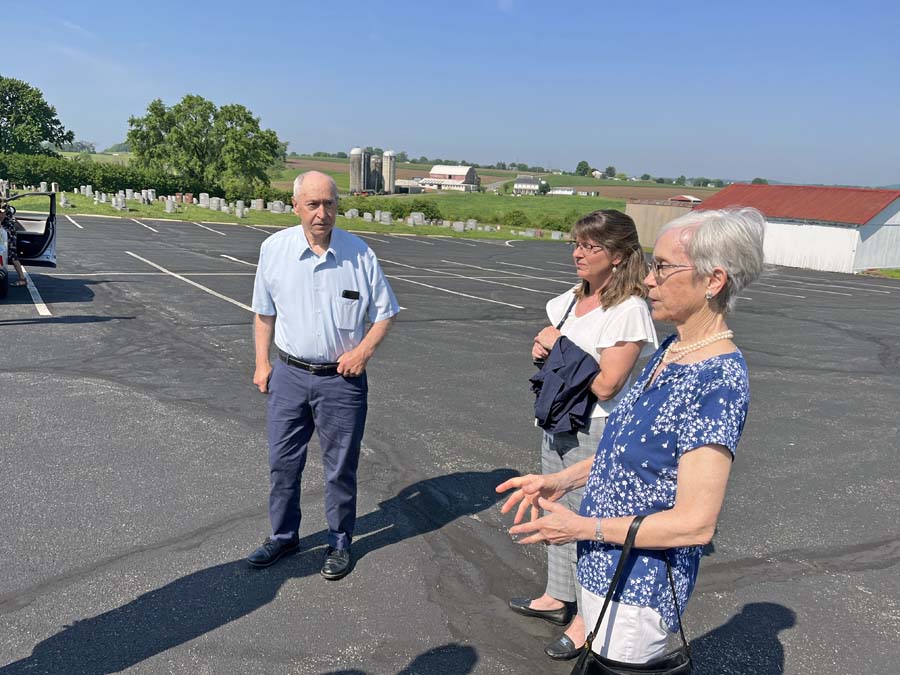 Jennie Moses on the far left, and Wade Peacock on the far right: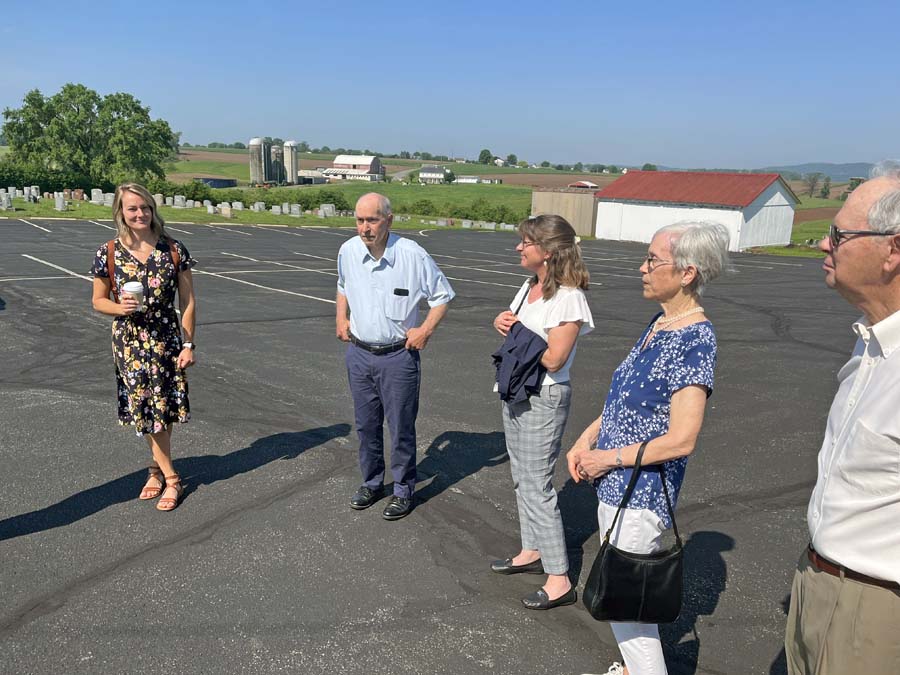 Family who haven't seen each other in years catching up.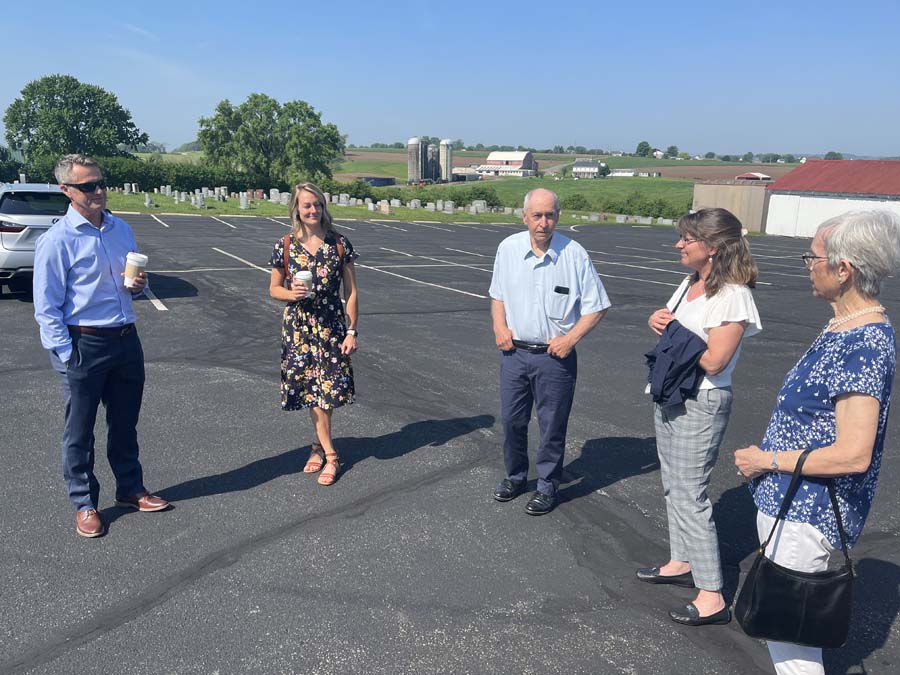 We had to prepare the lunch area for later, below is Cheryl, Carol, and ?? talking.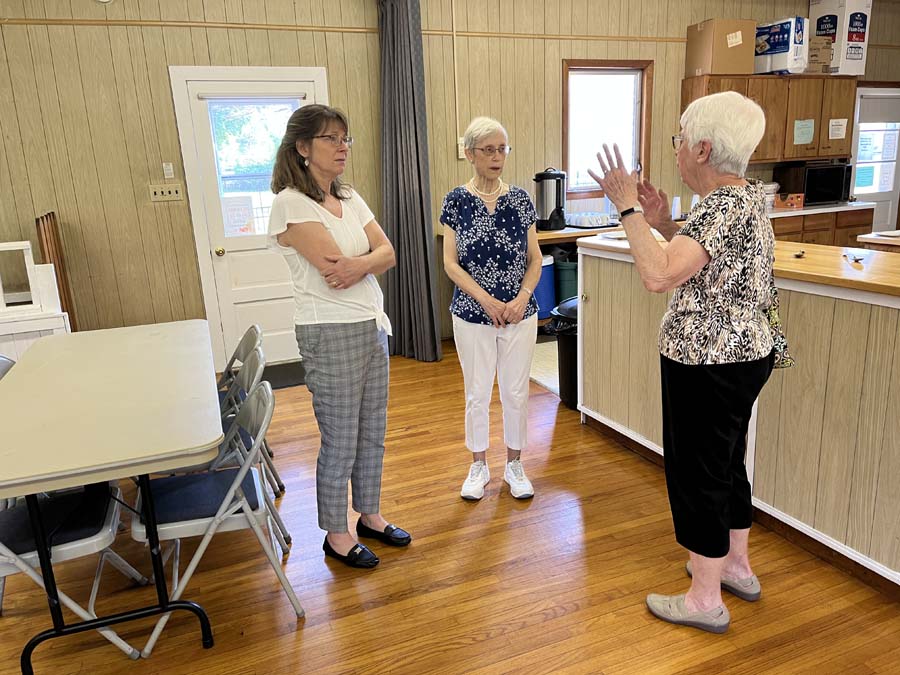 Now in the main church, the memorial service is about to begin.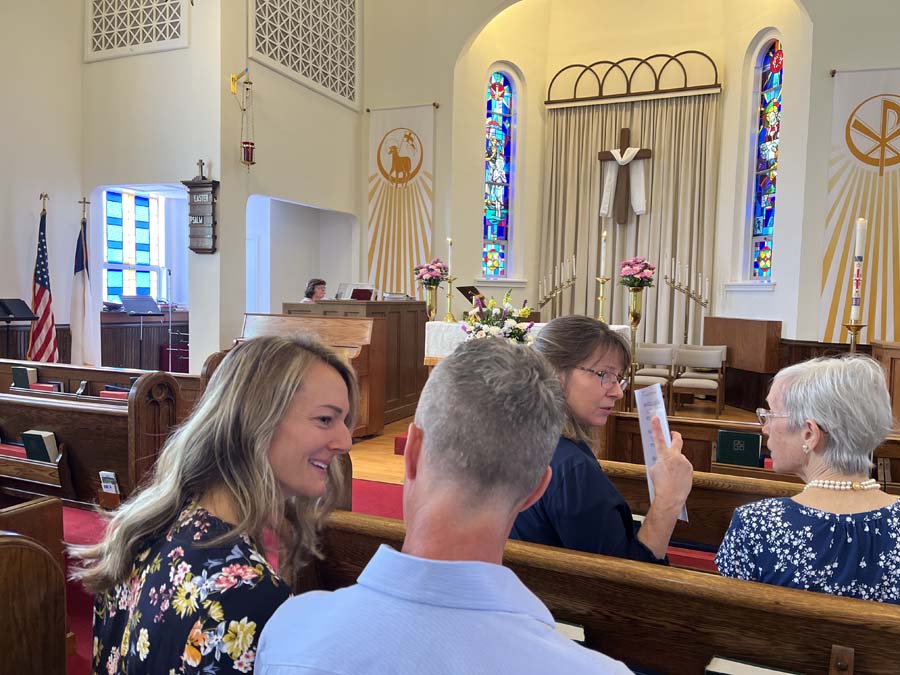 After the service we walked over to a small internment ceremony in the cemetary.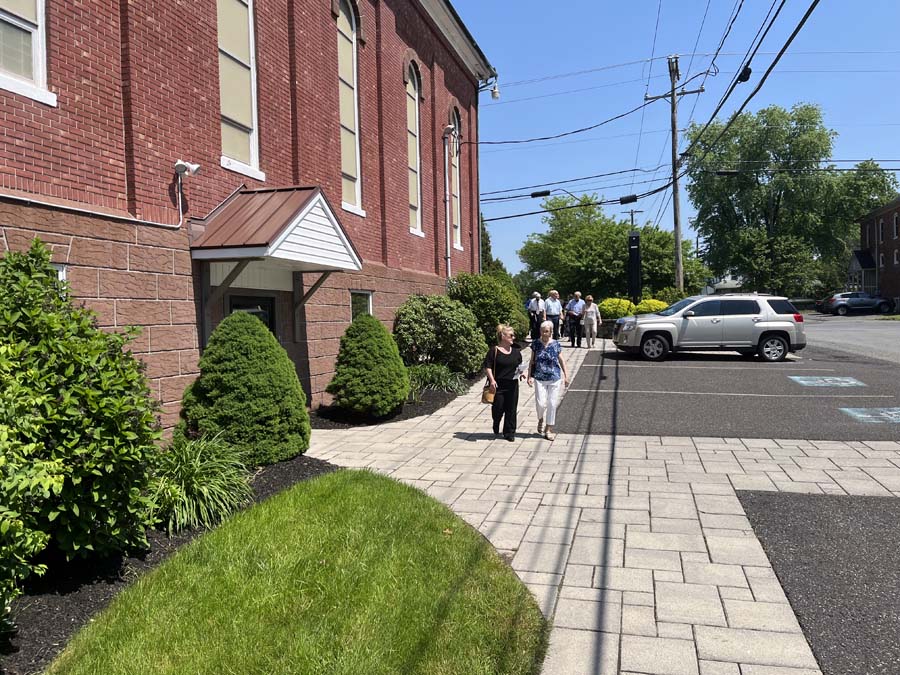 Walking over to the internment ceremony.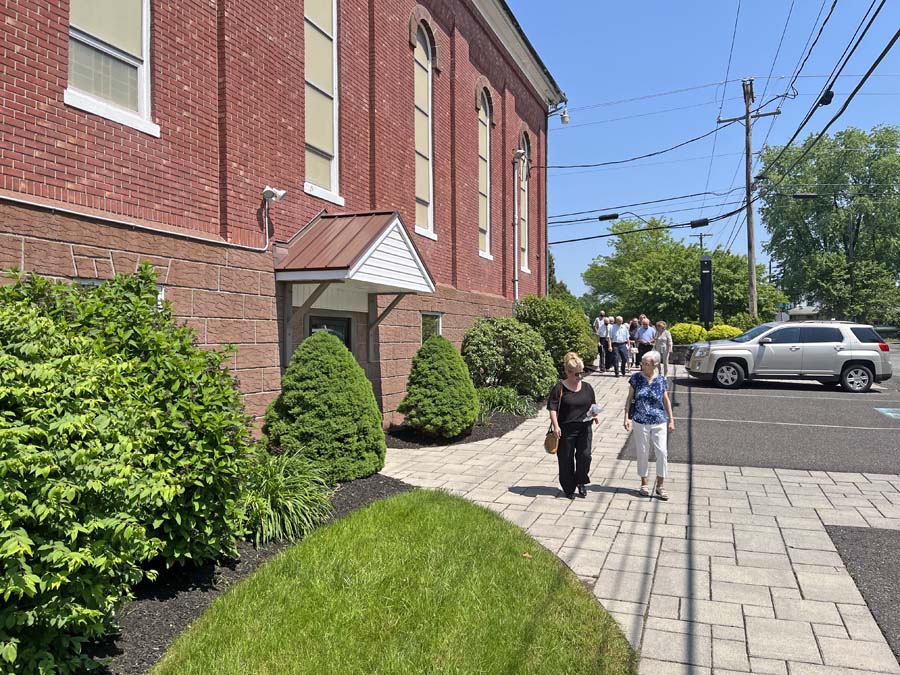 Still walking over to the internment ceremony.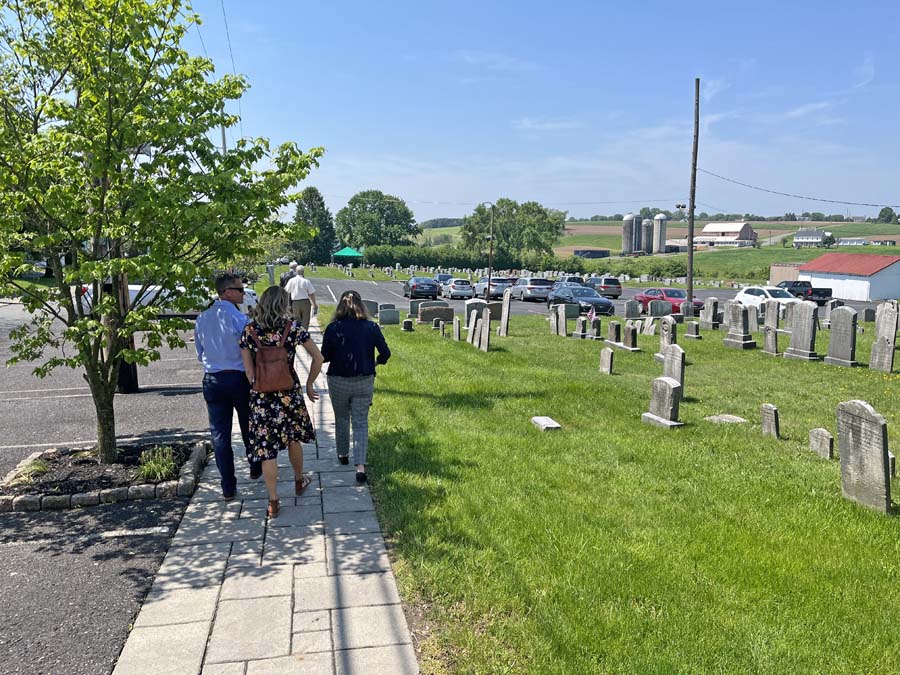 A random picture of the back of the church and some headstones.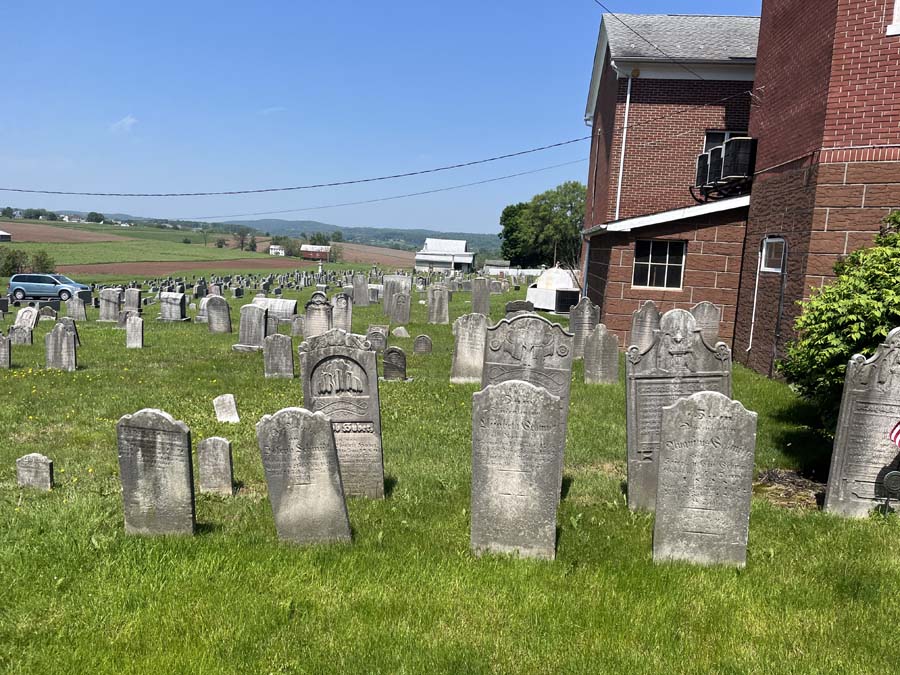 Walking over to the internment ceremony.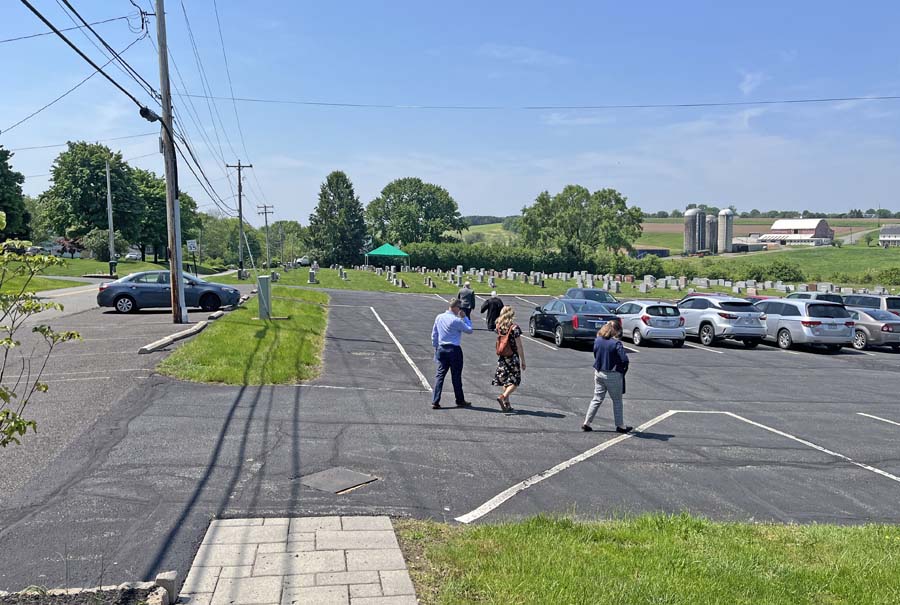 The internment ceremony is seen below.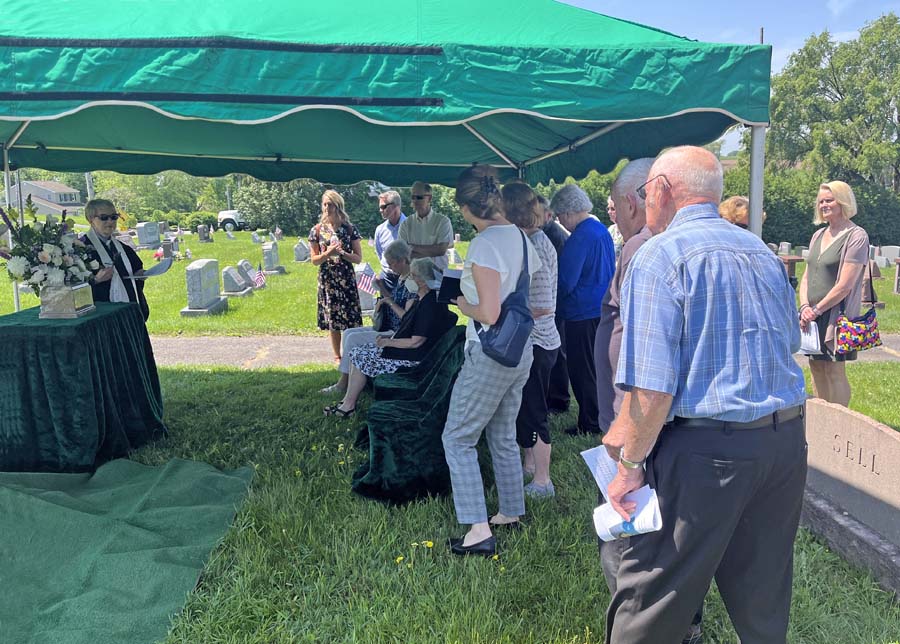 Miriam's casket.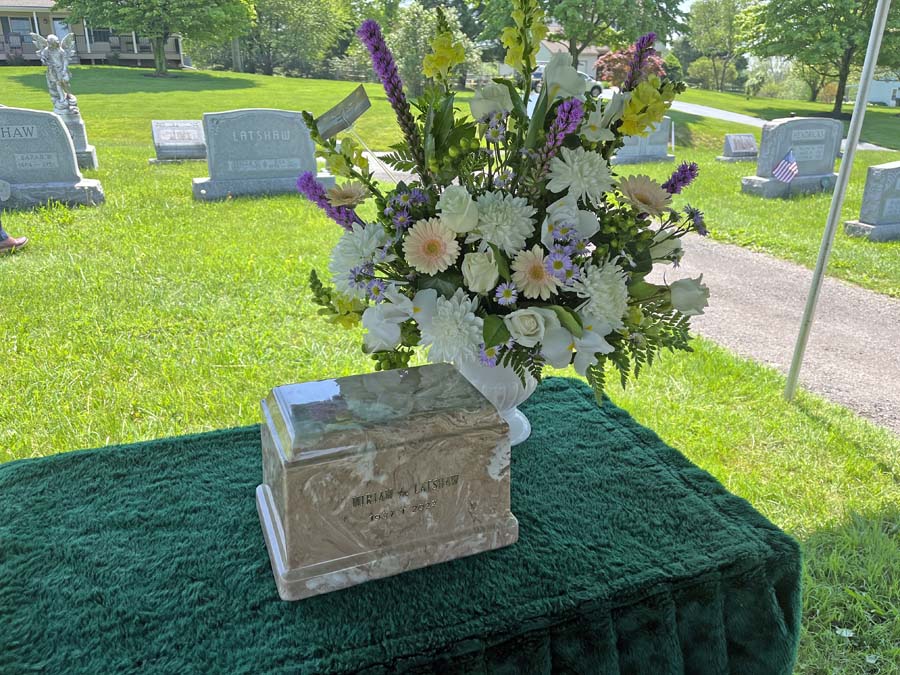 Miriam Arline Latshaw's headstone.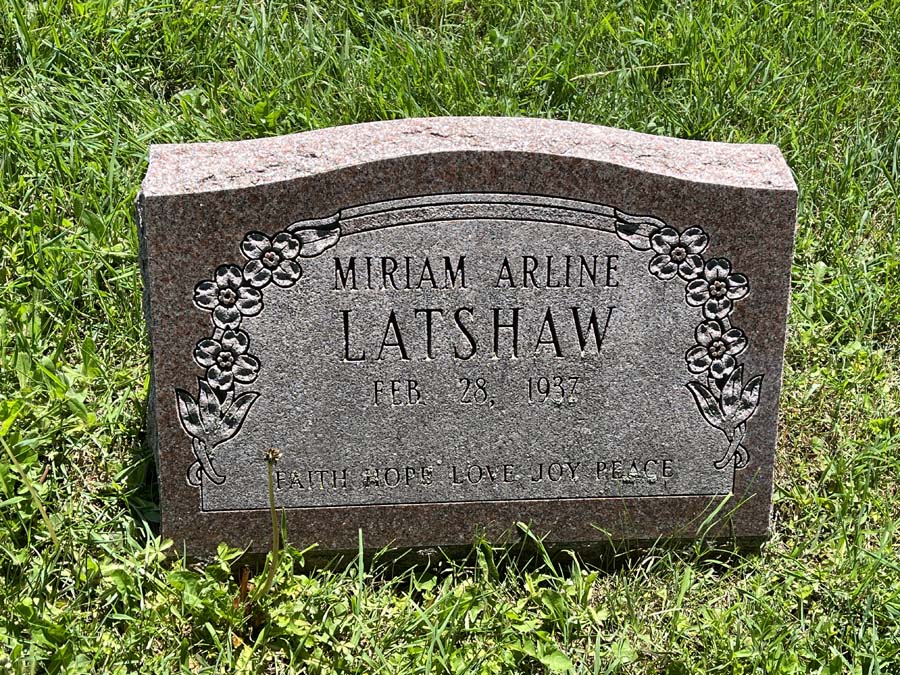 Miriam's headstone is right next to where her parents are buried. Miriam's parents (my grandparents) were Stanley Latshaw and Florence Latshaw. The picture below just shows the locations of the graves.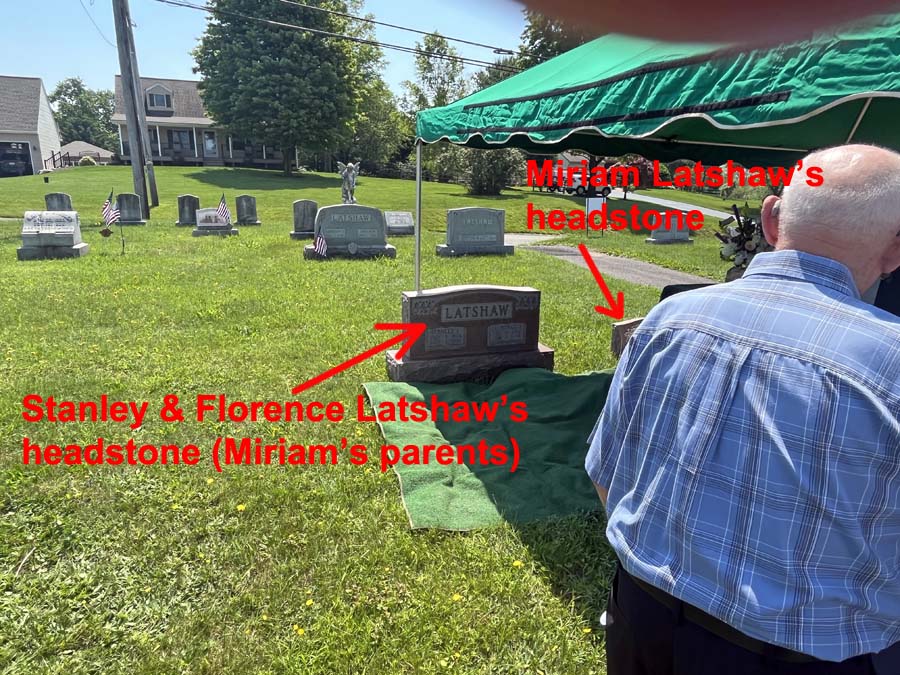 A close up of Stanley Latshaw and Florence Latshaw's headstone.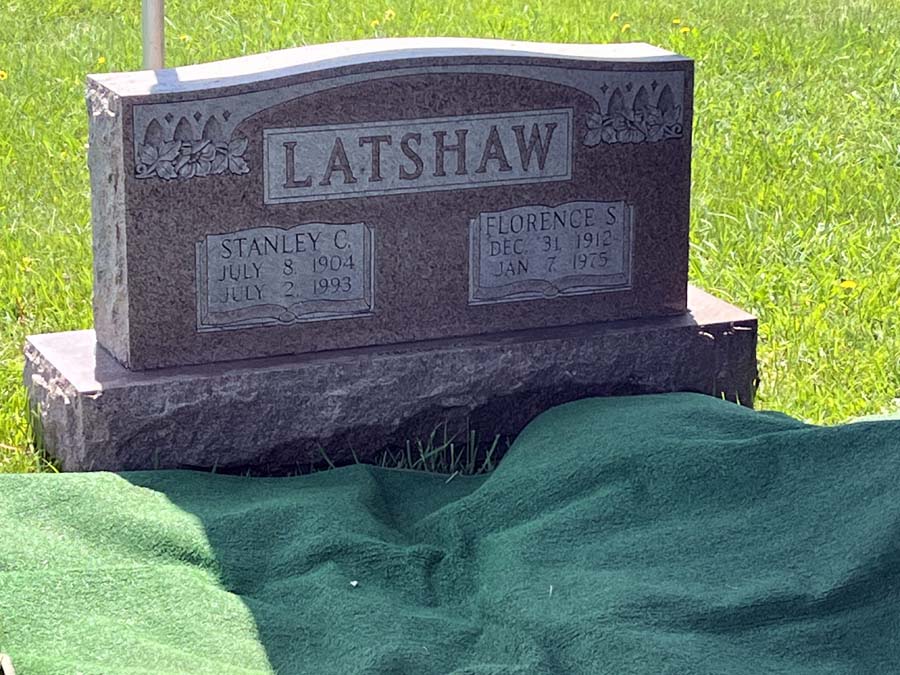 After the ceremony, I stepped back to take the picture below of the church on the far left, and the location of the internment ceremony on the right.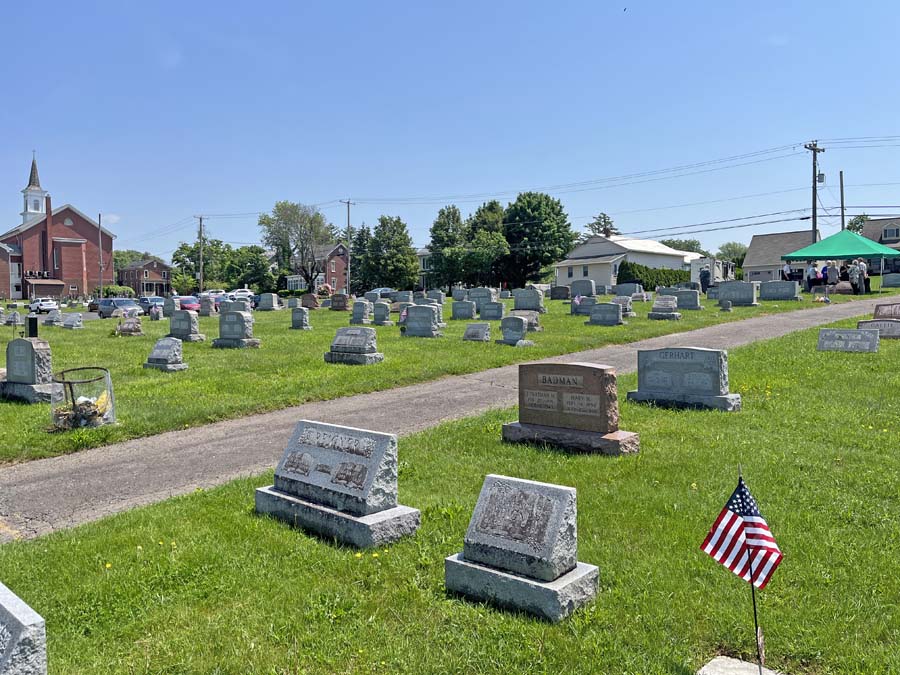 Below is a very wide panorama of the cemetery and church and surrounding countryside in Pennsylvania. If you click on the panorama below you can see an absolutely gigantic version of this.

I'm probably related to these people, but I'm not sure how. There are many "Moser" buried here.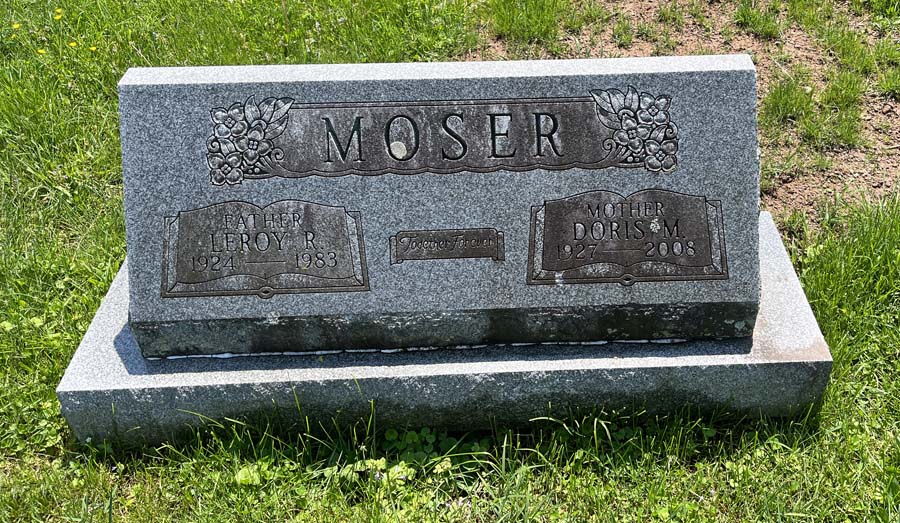 There was a lunch served for anybody who wanted to stay.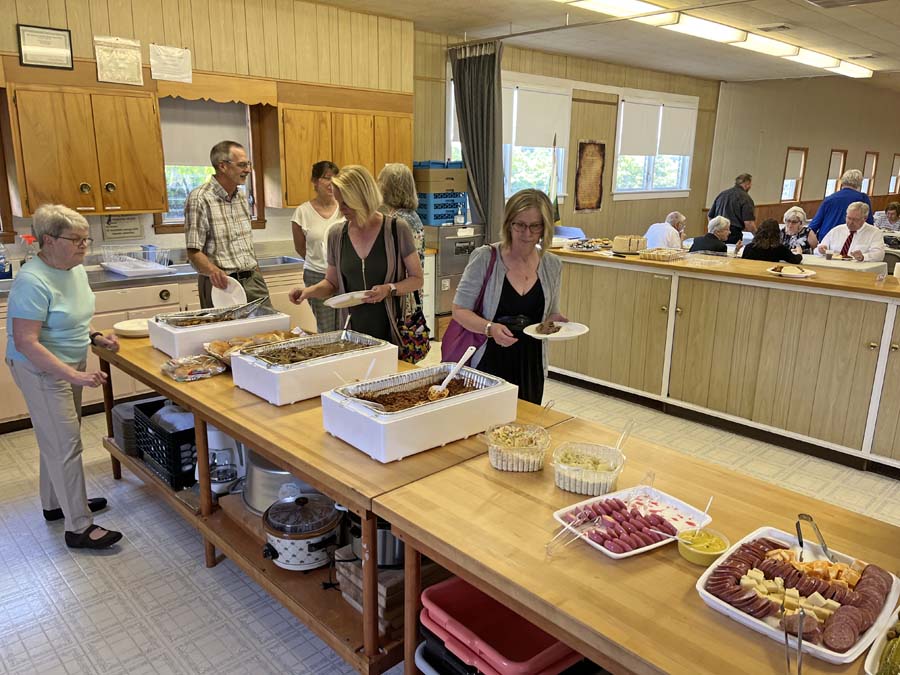 Below you can see some of the food served.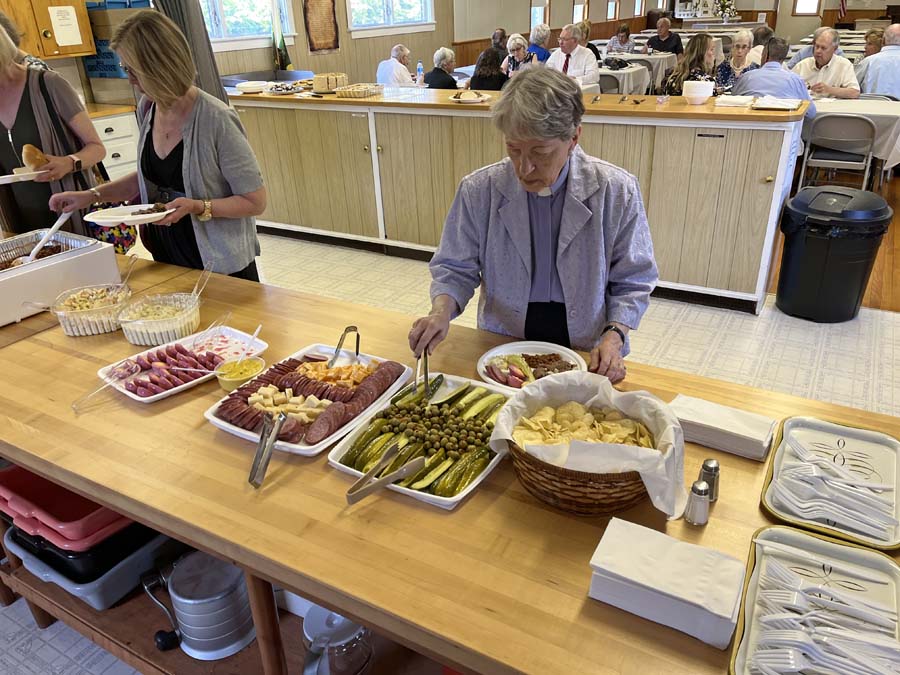 What you see below are Pennsylvania Dutch pickled eggs. I grew up with these. My mother is Pennsylvania Dutch and made them for us, sometimes for our school bag lunches. The recipe is basically that you shell a hard boiled egg and drop it in pickled beet juice for a few hours. I haven't even seen one in probably 30 years. They are quite tasty!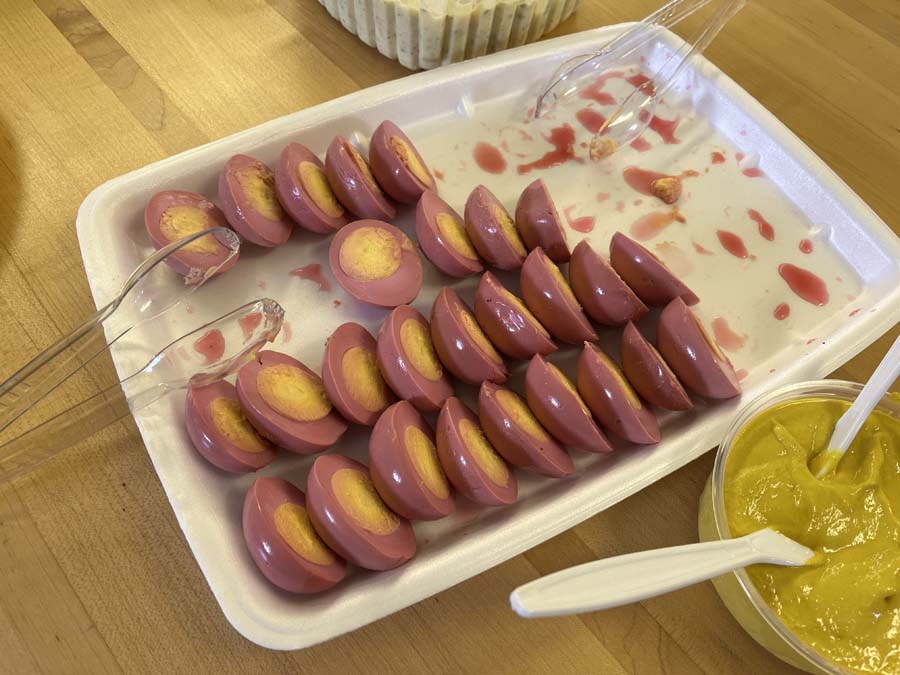 A home made cake.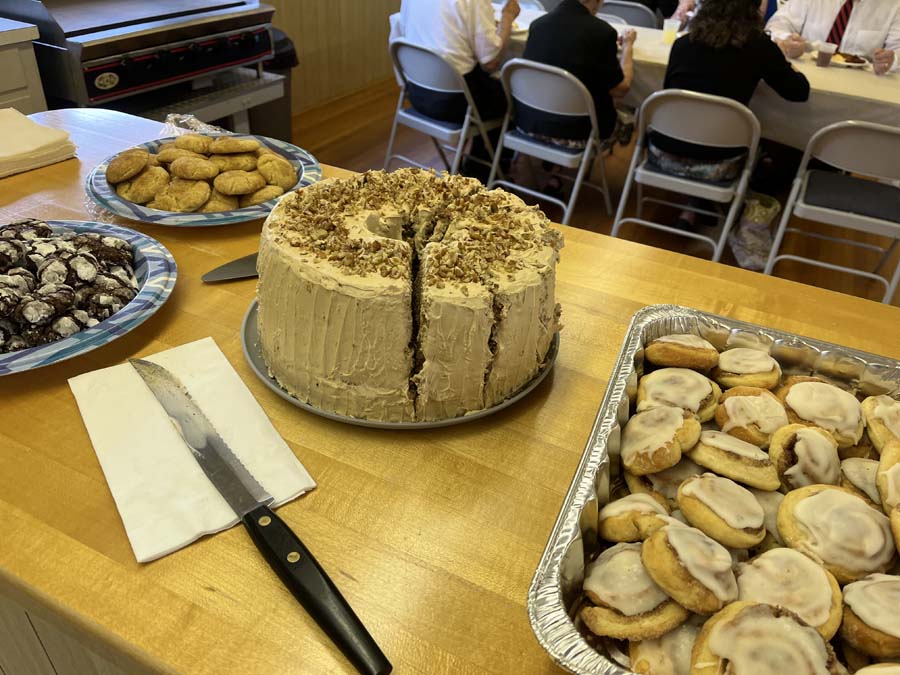 Iced tea and lemonade.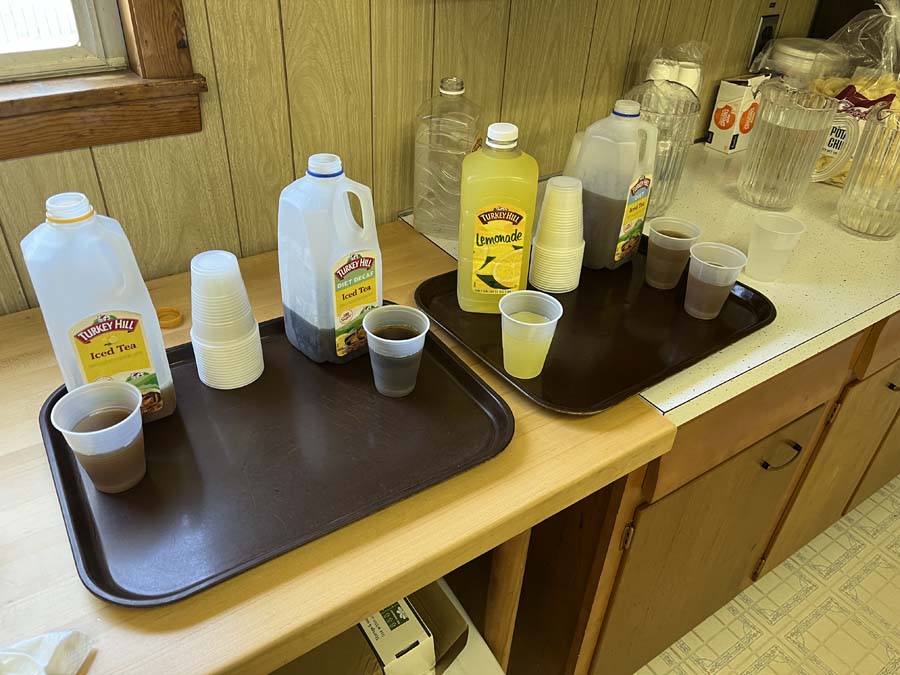 After lunch, a few of us drove about a mile to "Longacres Ice Cream" at 1445 PA-100, Barto, PA 19504. Google Map Link: https://goo.gl/maps/ho6eiwd1Sh9mEAtt5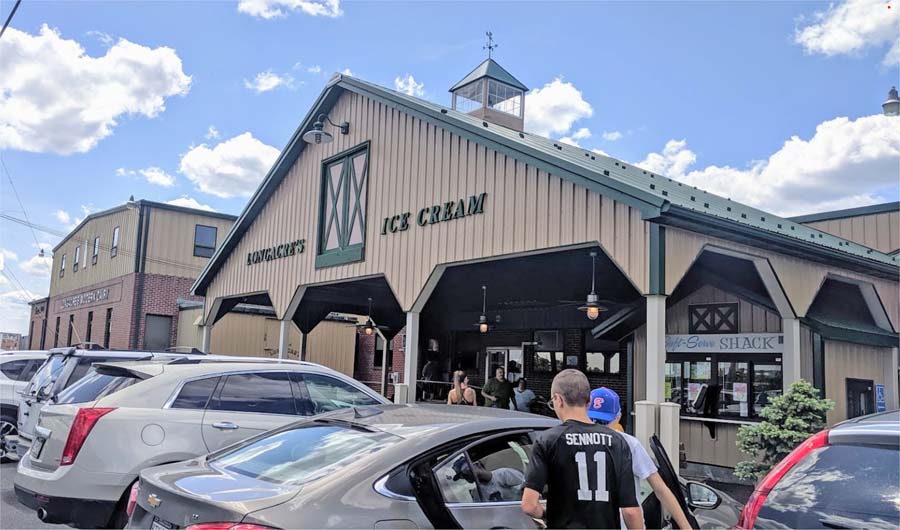 Inside the ice cream shop.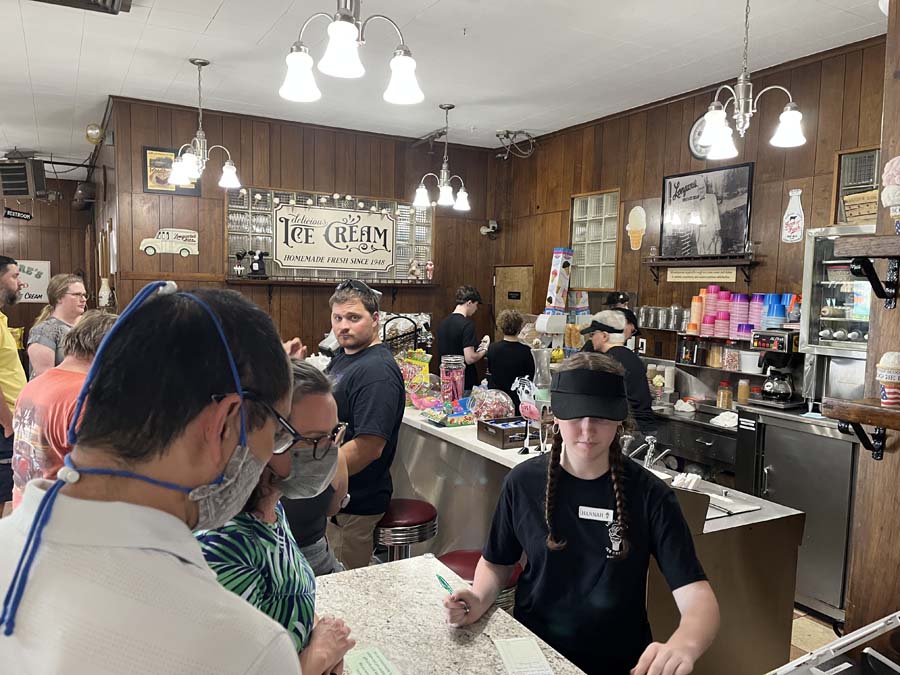 The flavors available.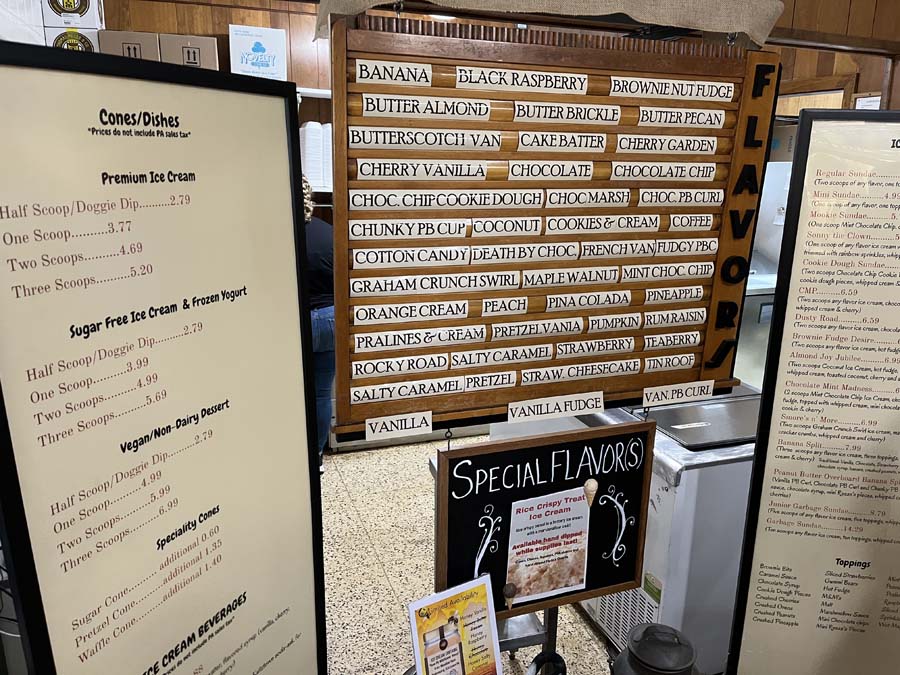 Cheryl (my sister) and I drove out to the Latshaw family farmhouse. Our family doesn't own it anymore, but we would spend some time in the summers here living in the house when my grandfather Stanley was still alive. The farmhouse is located at: 132 Miller Road, Bechtelsville, PA 19505. Google map link: https://goo.gl/maps/S4jrz5cmKvXUomgy7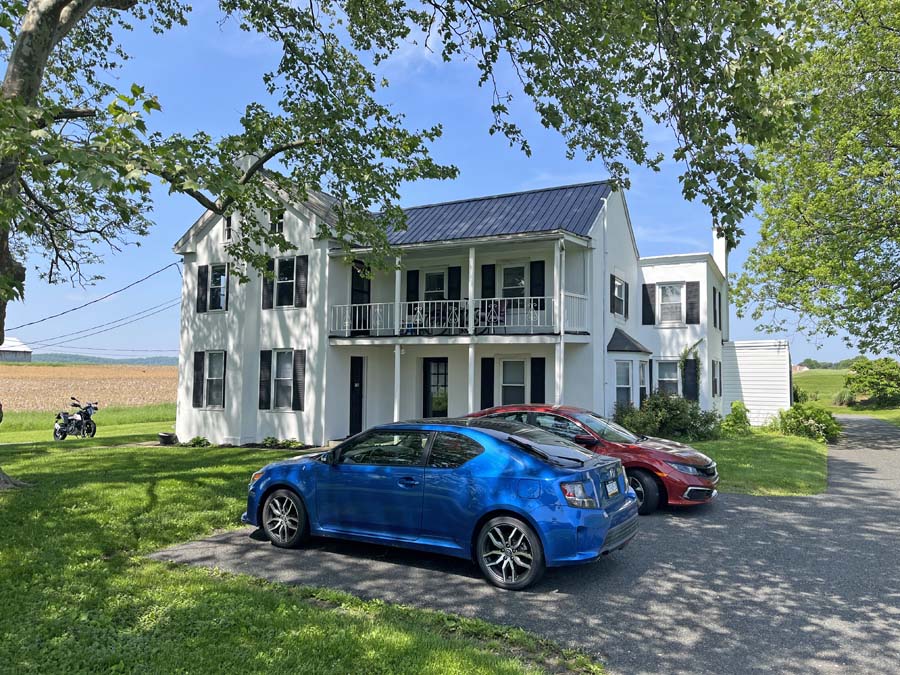 Below is not from this trip (obviously) but it's an old family photo taken of the farmhouse and farm from an airplane with my red annotations on it. The picture ABOVE is what is marked as "C. Porch" is red below: You can find more old photos on this other web page (scroll down to look for them): https://www.ski-epic.com/family_photos/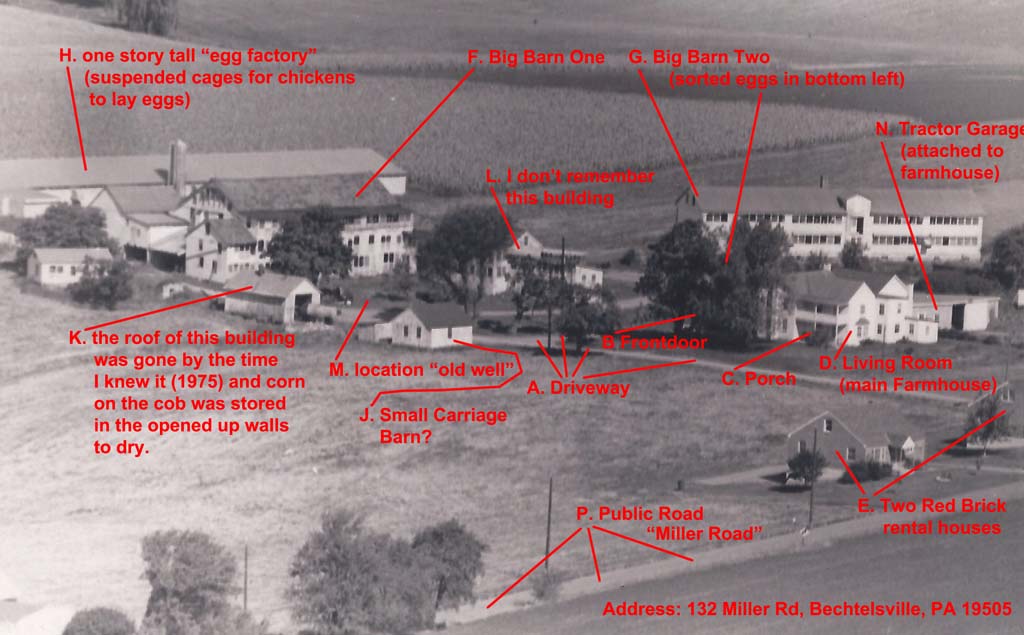 Back to pictures taken on this trip, the Latshaw family farmhouse taken from the front: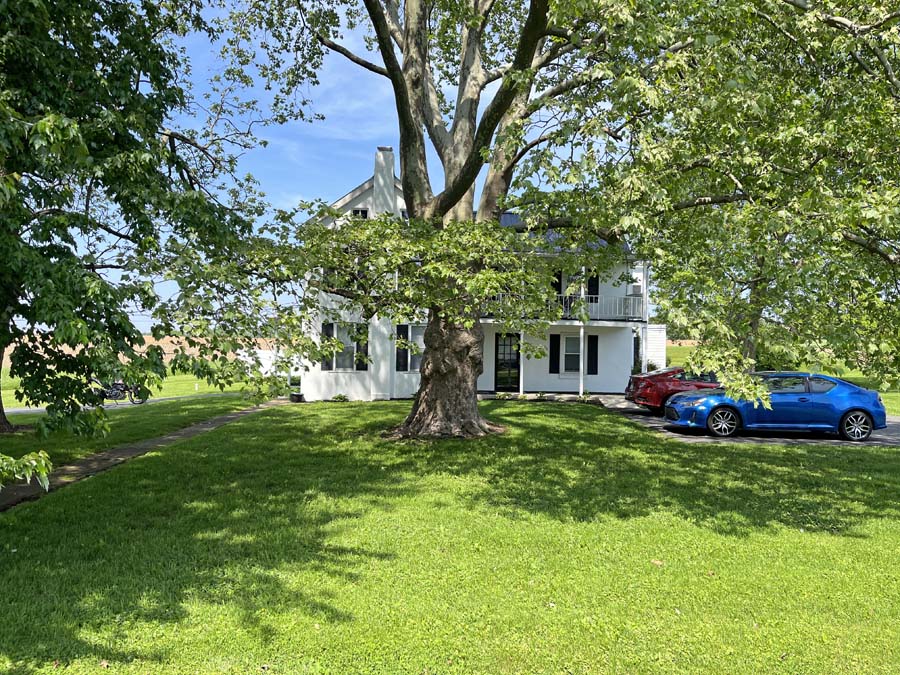 Below is the Latshaw family farmhouse taken from the driveway. It has been converted to a few different rental units.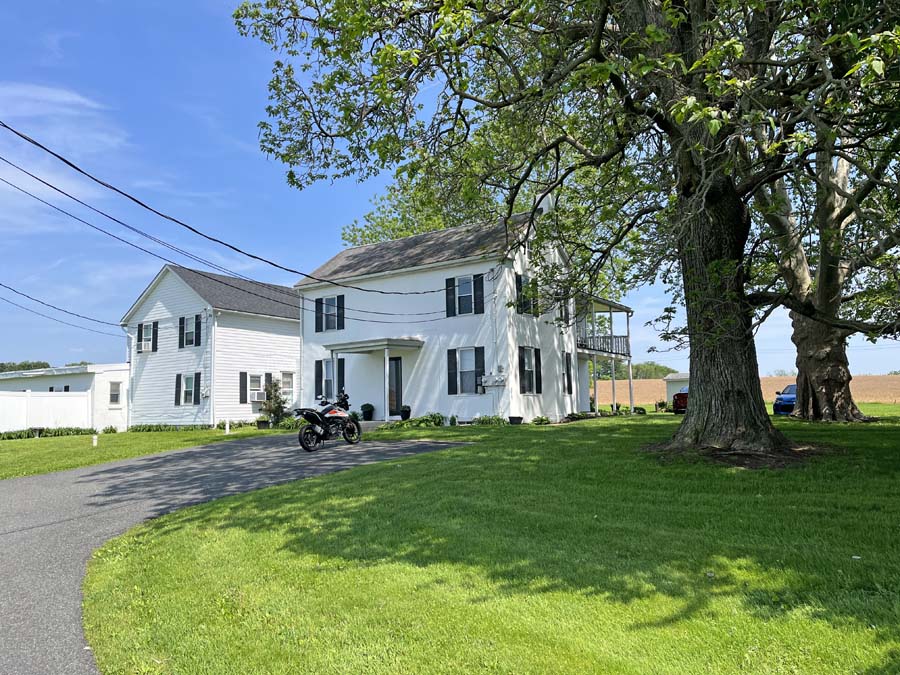 Below is a panorama of the Latshaw family farm where I would spend some time in the summers. A lot of the buildings that were here are gone, but on the left (behind the vertical pole in the foreground) is the "Egg laying barn". If you scroll to the right you see the farmhouse. You can click on any of these photos for a larger version.

A picture below of the "Egg Laying Barn". When I was 10 years old (45 years before this picture was taken) it was filled with individual cages with one chicken in each cage. It was almost floor to ceiling cages, but they were suspended from the ceiling so the floor could be cleaned. The hens would lay eggs there (to be sold) and what I remember most was how unbelievably loud it was with like 1,000 chickens squawking in close quarters. To be clear, the "Egg Laying Barn" is the shorter building further back, there is an older structure without walls in front of it.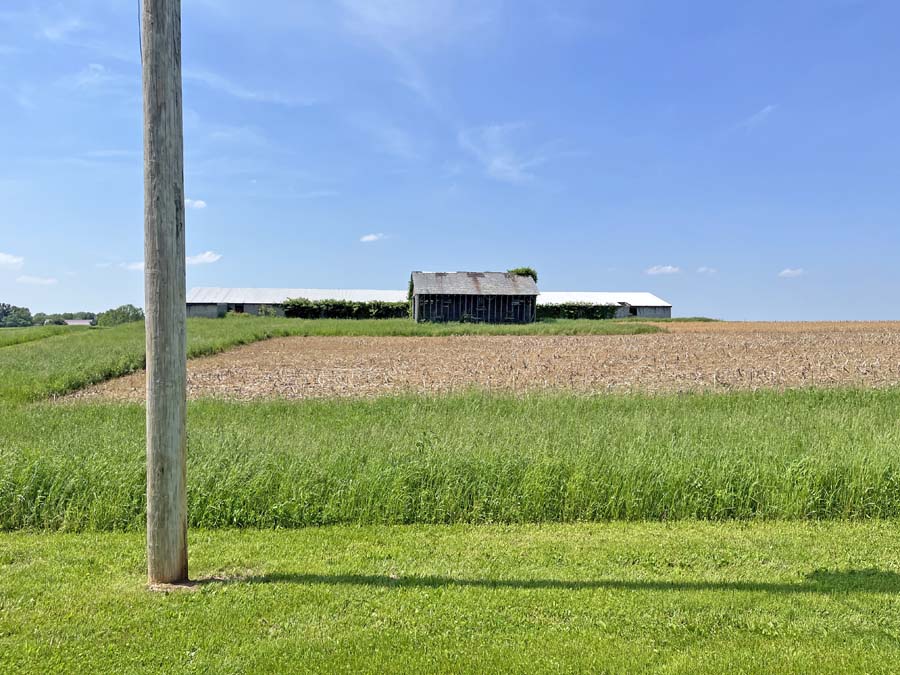 We got in our cars to leave, and the GPS directed us around to this spot on the highway where we could see the farm from a different angle so I took one last photo of it. The spot we are standing is here on a map: https://goo.gl/maps/s8GUpCU25n8pvpq9A The egg laying barn is the building on the left, the building with no walls is to the right of that, and the Latshaw farmhouse is squarely in the center of the photo. To the right are two brick buildings that were built on the farm originally. Stanley Latshaw (my grandfather) built those when his father retired and his father moved into one of the brick buildings. At least that was the story I heard. All my life they were rented to people or families.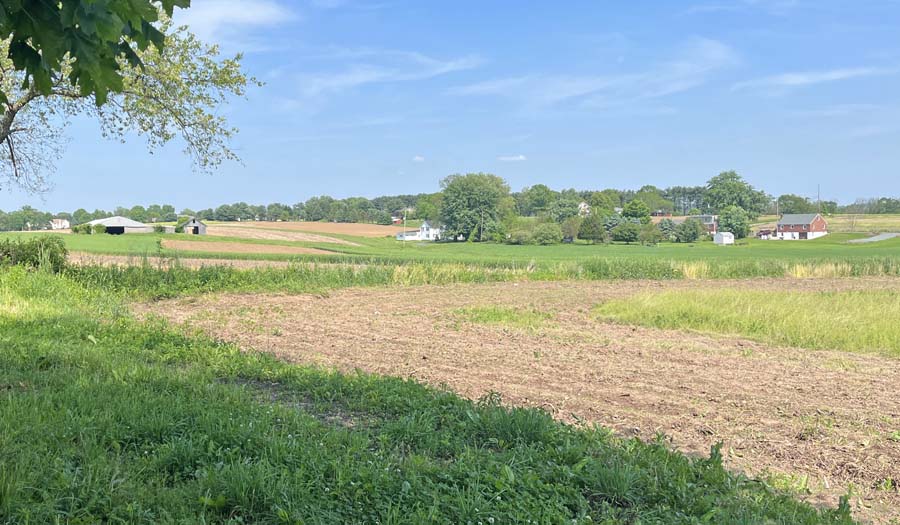 I dropped Cheryl off, and it was time for me (Brian) to head back to the airport and fly home. I took the picture below because I'm in a rental car and I got on this "Toll Highway" (the onramp is that green sign at the center left of the picture below) and I don't know if the rental car company (Hertz) can handle that or if I'll get a ticket in Pennsylvania for not paying a toll. :-) It was all "automated", there was no way I could talk to a person there about how to pay the toll.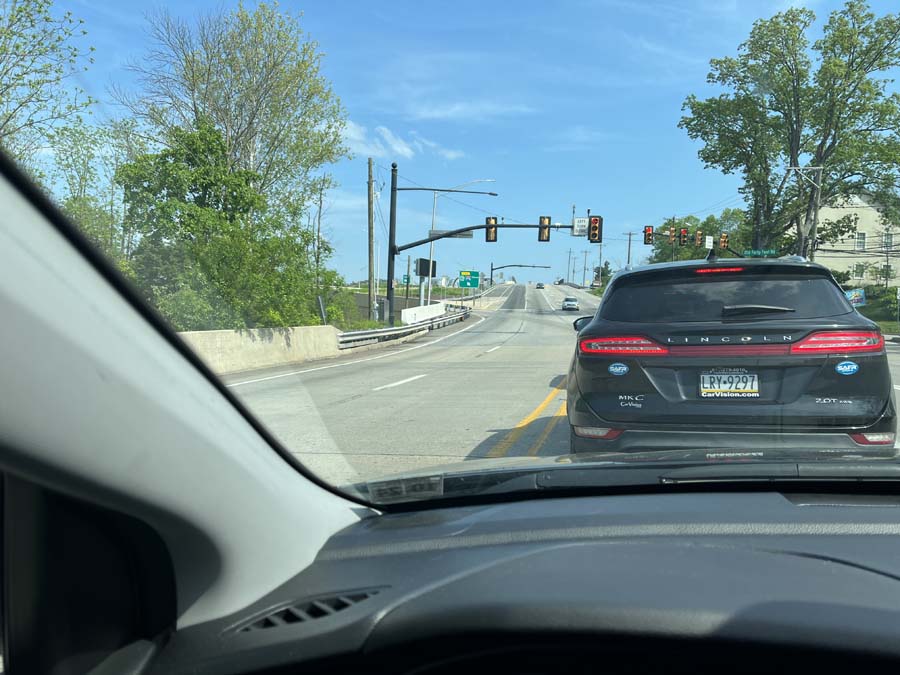 I noticed that EVERY restaurant and gate in the Philadelphia Airport had these automated kiosks to order things.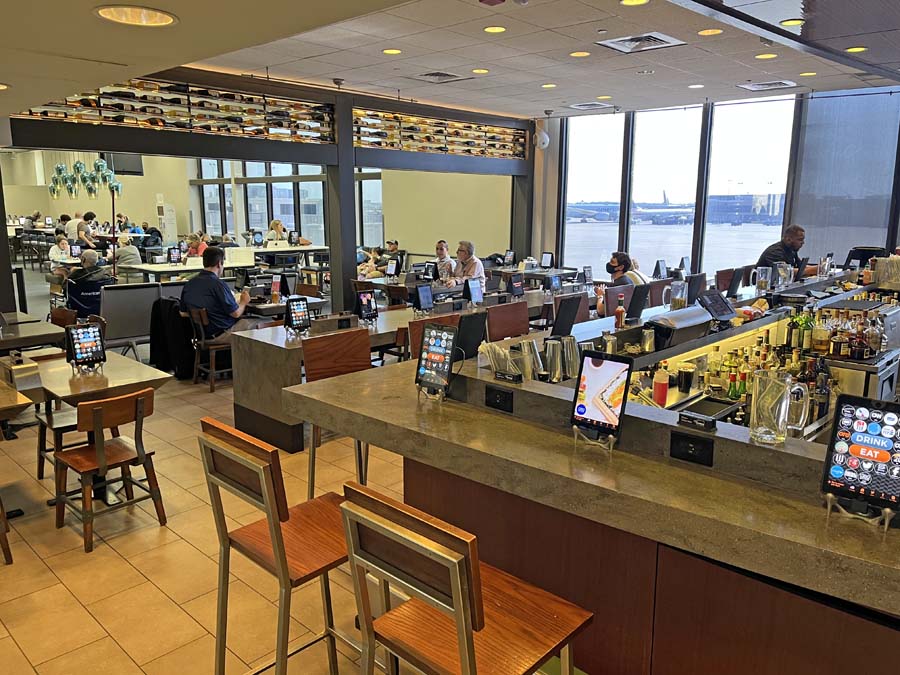 The first step to using the kiosks was to scan your boarding pass! Which I think is super strange and not relevant, but I did it.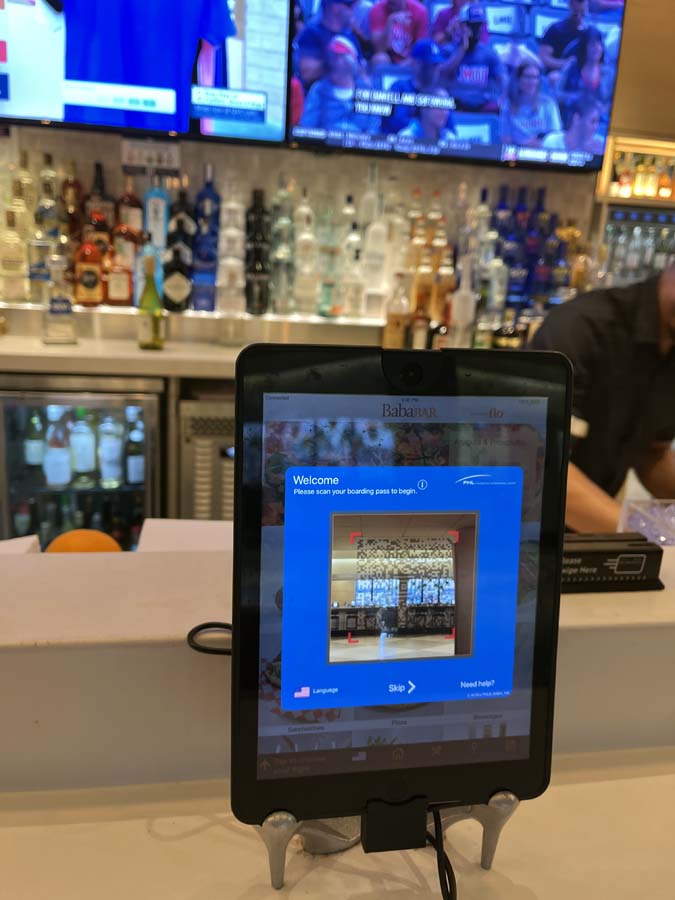 Below you see $55 worth of food in the Philadelphia airport. Ha! I call this "field rates" which is taken from the Frank Herbert "Dune" books. In the "Dune" books, they were on a desert planet and water had two prices: the low reasonable prices you paid at home, and 100x that much money when you were "in the desert (in the field) and you could die without it and you didn't bring enough". It was considered perfectly fair prices in the books for supplies you lost or didn't bring with you. Whenever I buy overpriced things in an airport or on a trip I just consider it amortized against the price of hotel, rental car, airline ticket, and everything else the trip entailed. Another colloquial phrase that might apply that I've heard is: "it's the price of doing business". There is no other source of food (and beer) on these trips, so it's part of the price of the trip.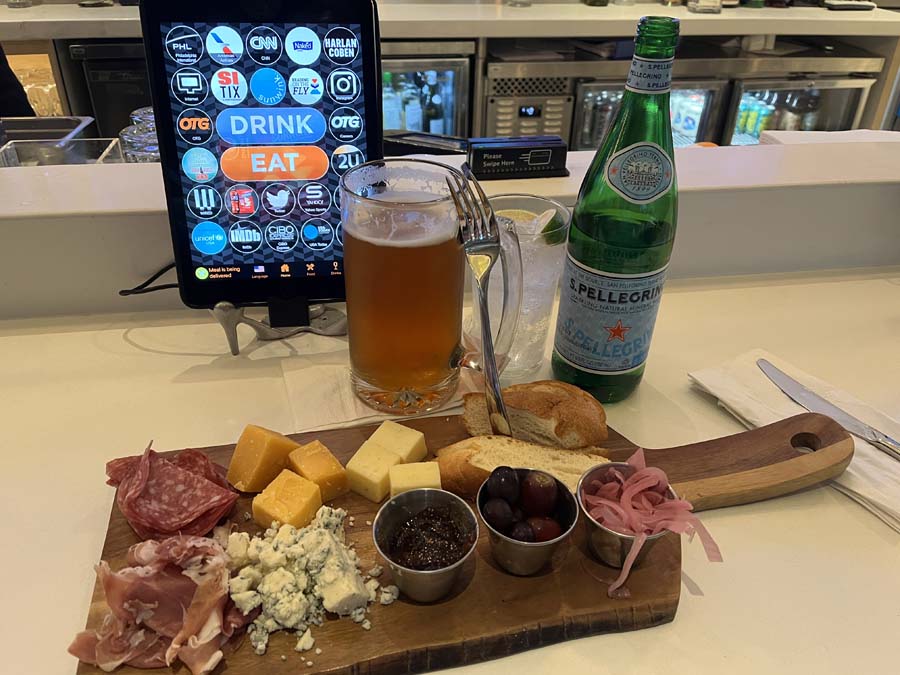 The interesting thing is that there is one of these food ordering kiosks at EVERY chair directly in the boarding area, as seen below.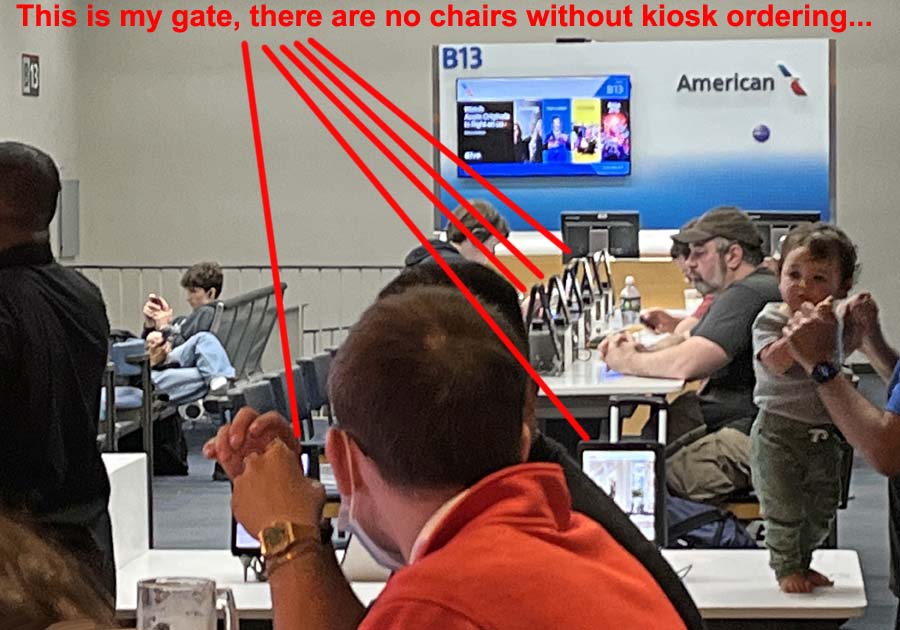 As my airplane takes off headed for my home in Austin, I say "Bye bye Pennsylvania".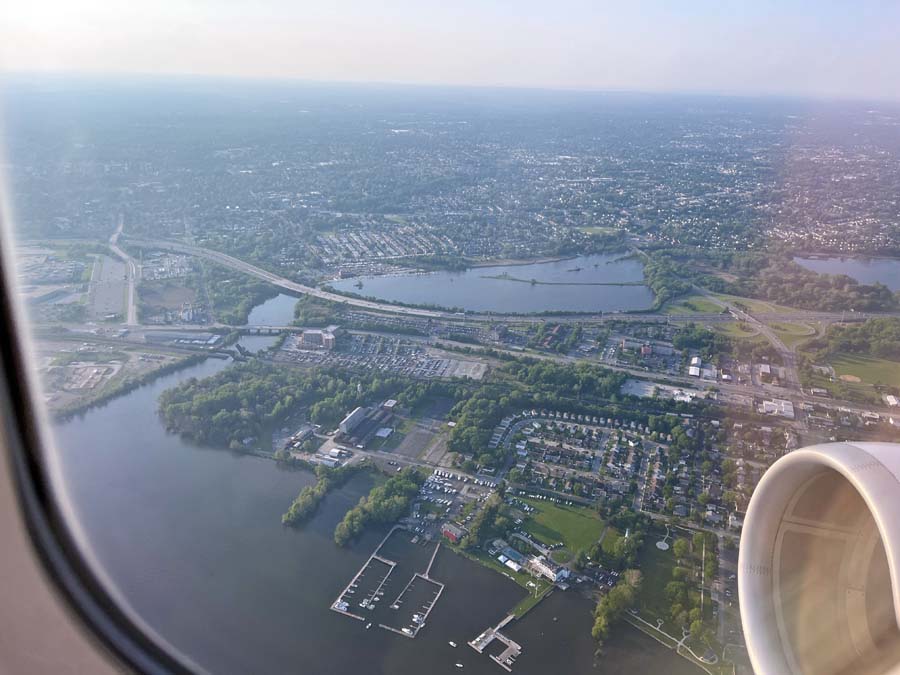 Ok, the following few pictures can be skipped, these are just for my own records, and they are OUT OF TIME ORDER, here are some pictures of "The Globe Inn" in East Greenville, Pennsylvania. This hotel is a bed and breakfast called "The Globe Inn" in East Greenville, Pennsylvania. Google Map Link: https://g.page/TheGlobeInn-East-Greenville-PA?share
a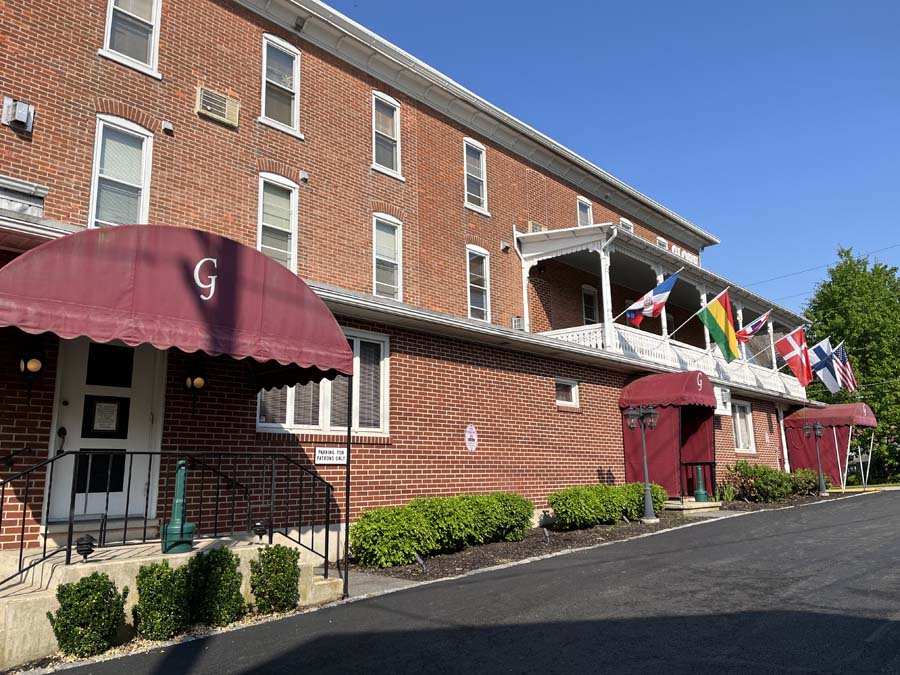 Below is a panorama of the slightly funky room.

At the end with the bed, viewing into the small bathroom. Here is what I think occurred: this used to be a large room in this old building, like a living room. To make it into a hotel room style, the owners added a non-structural room jutting out into the middle of the larger room with a fairly straightforward simple toilet, shower, and sink. Then added the Jacuzzi gigantic crazy tub in addition on the OUTSIDE of that small basic bathroom. Make sense?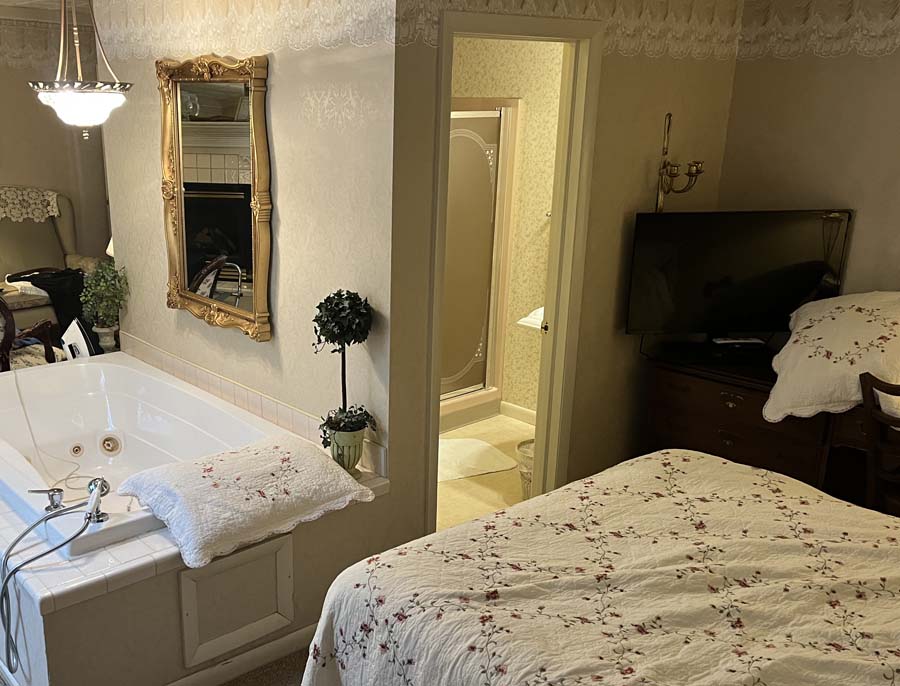 The small basic bathroom and shower: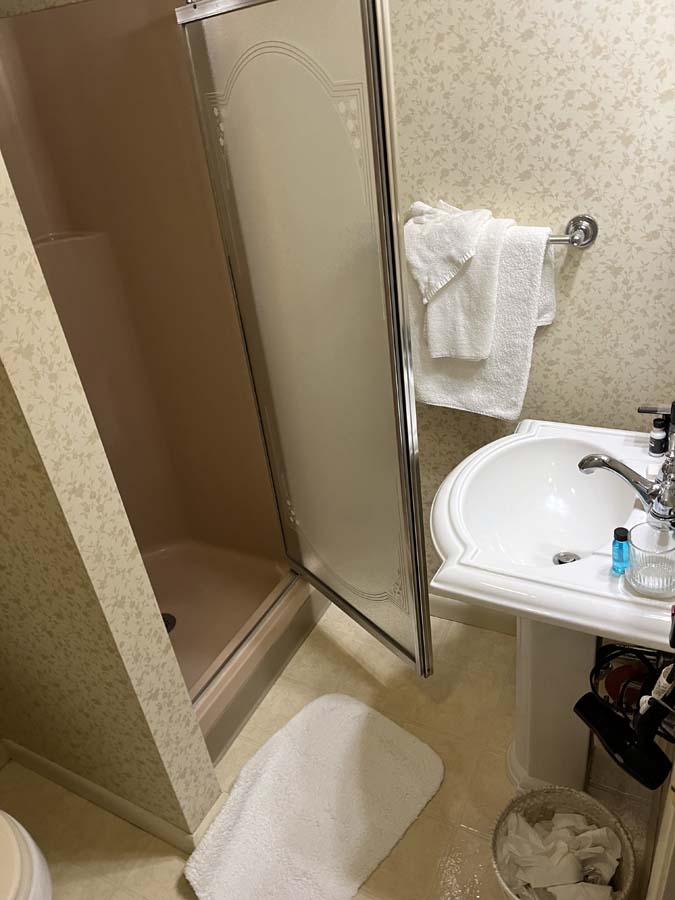 Small (very) basic shower. But it was clean.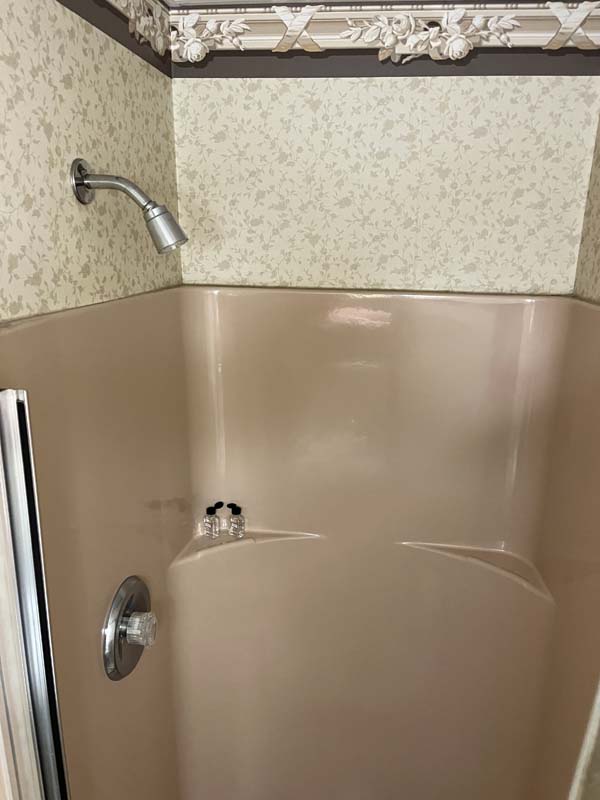 The iron was not clean. I had to be careful and use a white towel between the iron and my clothing. Ha! This is the dirtiest hotel iron I've ever used, but it did work and I always have to be careful.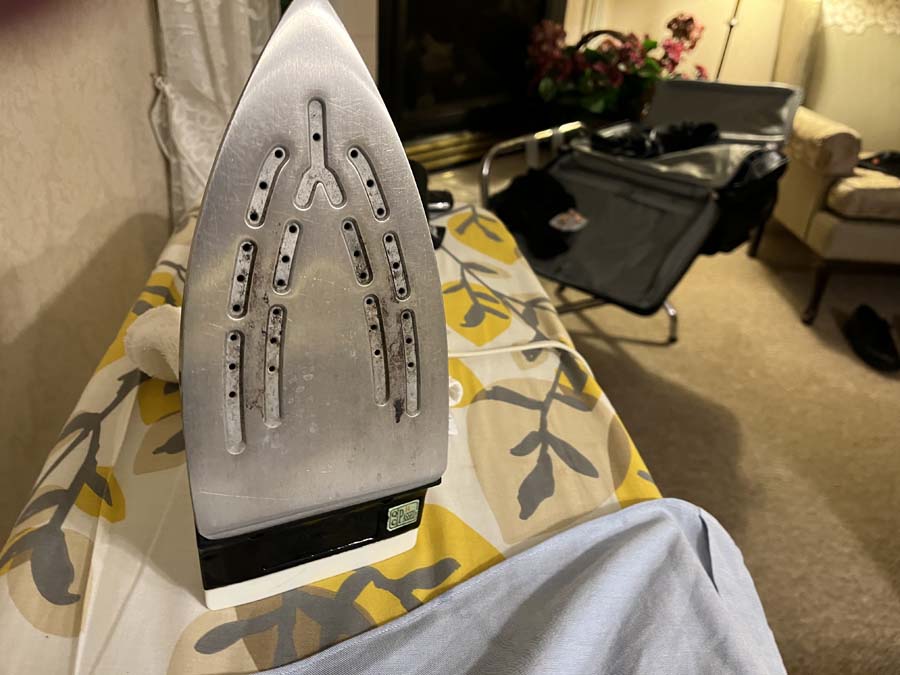 All done!