2022 Puerto Vallarta, Mexico

(2/12//2022 - 2/15/2022)



Brian and Katherine travelled from Austin Texas to Puerto Vallarta for a few days from February 12th - February 15th. Lia was there also.
First, a very short one minute cut edit video of some things we saw and did. Click here to download the highest quality version: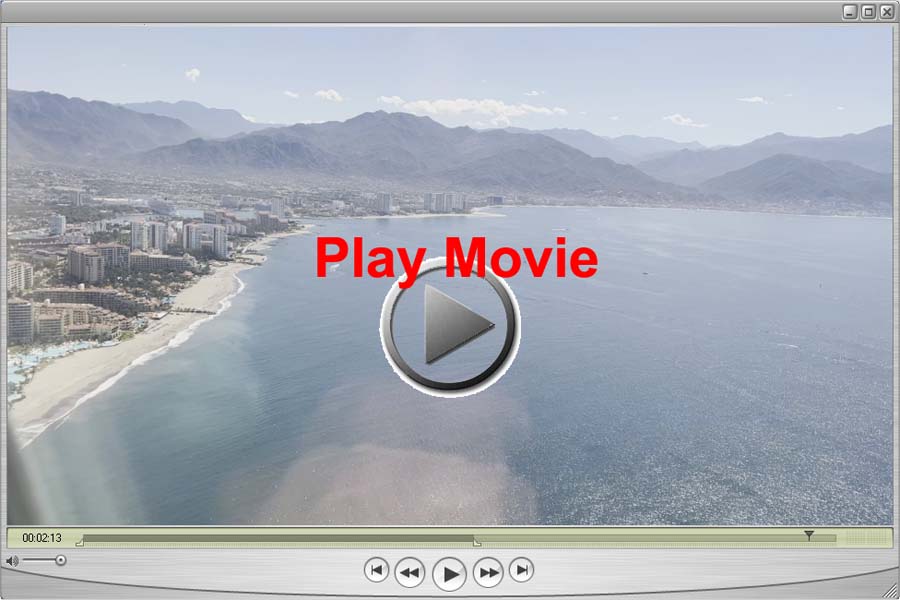 Now on the the pictures! Below Katherine and Brian enter Puerto Vallarta International Airport (PVR). There are direct nonstop flights from Austin, it takes about 2 hours.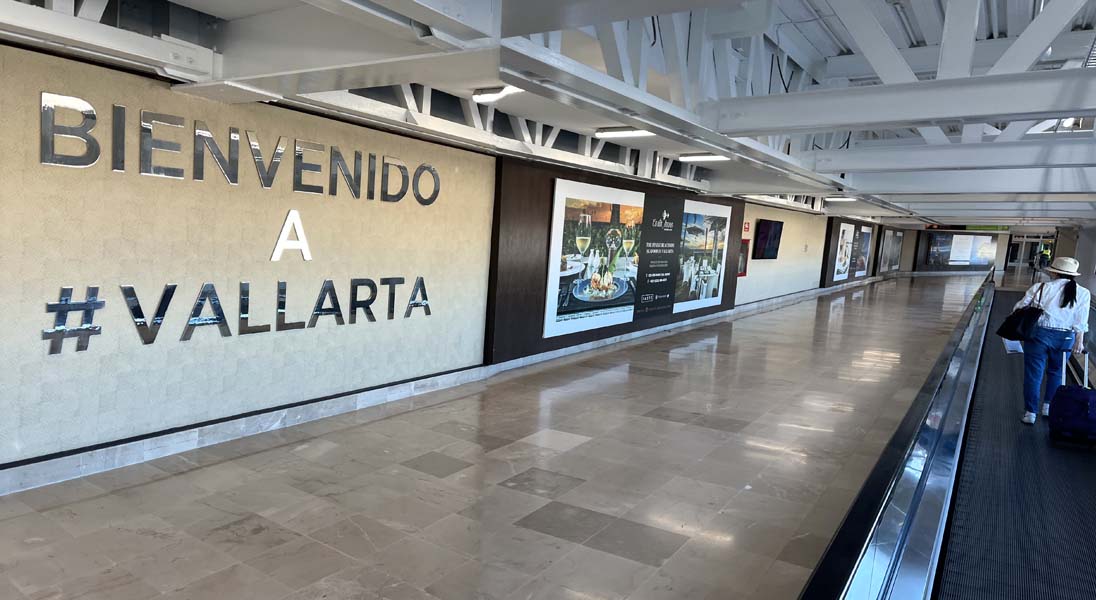 I think it is very important to follow all government rules, and one of the most important rules all governments have is that you are NOT allowed to use cameras or cell phones in certain areas of the airport. To remind everybody of this, I took this picture of the sign with my cell phone camera. Following government orders keeps us all safe and obedient, and I think we can all agree that's the most important thing. Especially when the government doesn't have any flaws or corruption, like Mexico. Also, wearing hats is PROHIBIDO (forbidden)!! Katherine is pictured to the right of this sign she walked by wearing a hat.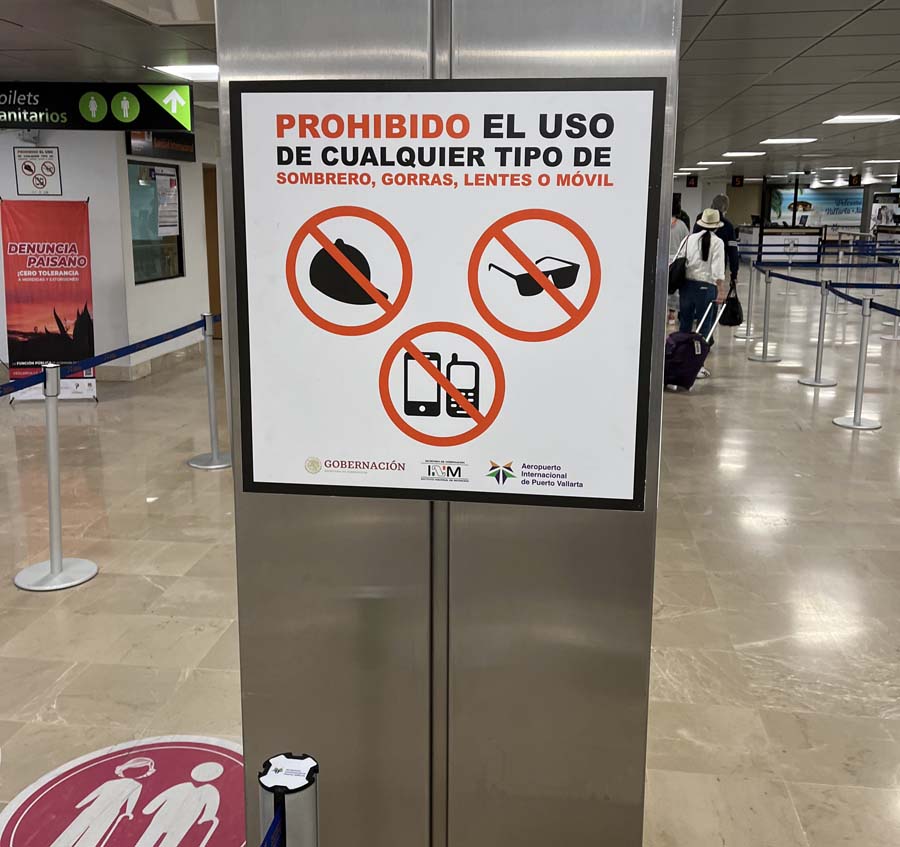 I saw this other sign while arriving as a tourist into the international terminal to enjoy a weekend in Puerto Vallarta from my home country (which is the only reason to be in Puerto Vallarta: for fun). This sign says to avoid non-essential international travel. Words to live by. And VERY useful in the arriving terminal when international tourist flights arrive where they can see it clearly! Governments all over the world are run by the most thoughtful people who CAREFULLY place helpful signs like this at REALLY useful locations (facing tourists getting off of airplanes in their country). With so much thought and care put into this, and such introspection as to realize placing this sign AT THE DESTINATION would have the exact desired effect of dissuading non-essential international travel, we need to heed what these skilled government employees say. It is not "in style" or "hip" in 2021 and 2022 to point out hypocrisy or clinically stupid directives by a set of self-congratulatory yet utterly incompetent individuals holding government service positions (that we pay the salaries of) that are handing out these authoritarian dictates. No, exactly the opposite, we applaud their dull-witted, ham-fisted, autocratic dictates as "good health theater". Compliance is more important than intelligent action in 2022.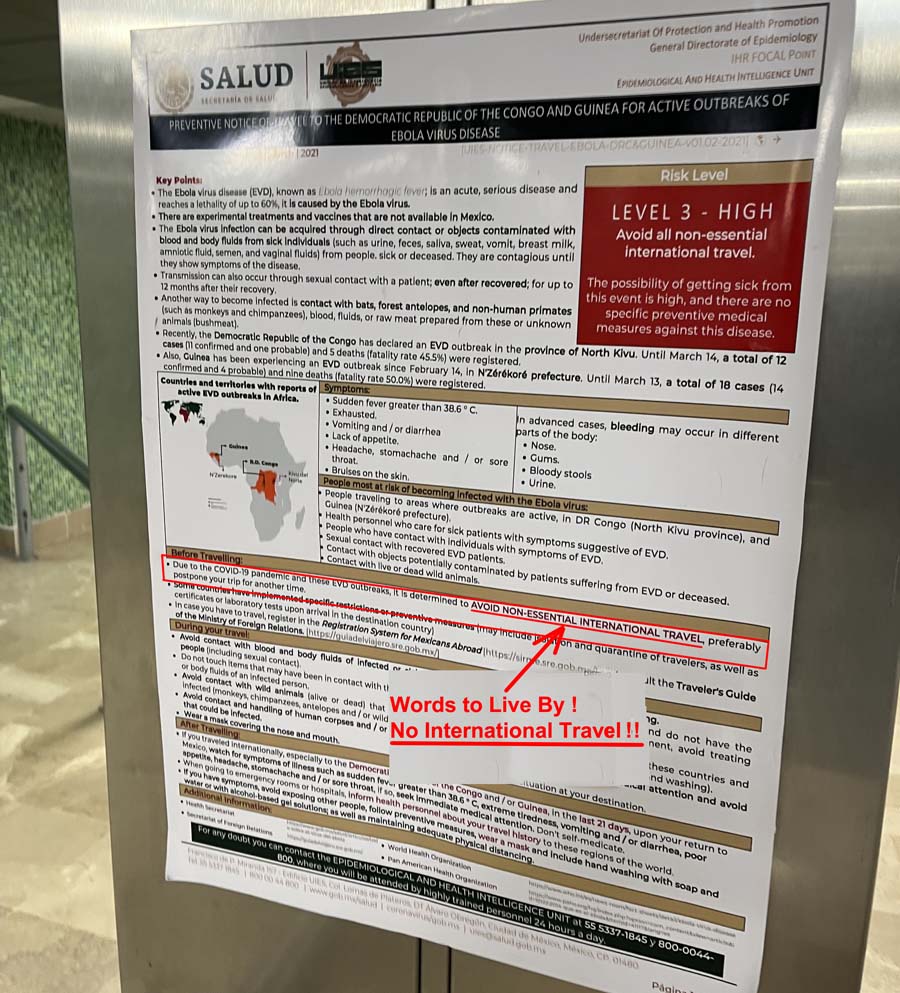 Again, this is so important there are signs all over... you CAN ABSOLUTELY NOT use cameras or cell phones in this highly sensitive government processing center in the airport!! The government has spoken, and I for one am firmly in favor of following all orders, so I am including another picture of this sign to remind you all. Do what the government says, no matter how much it seems motivated by their corruption and sheer unmatched ineptitude at functioning in a modern world, they know more than any of us can possibly fathom! Even if not one of the individuals SERVING in government can operate any technology, or keep their stories straight day to day, or tie their shoes properly in the morning by themselves.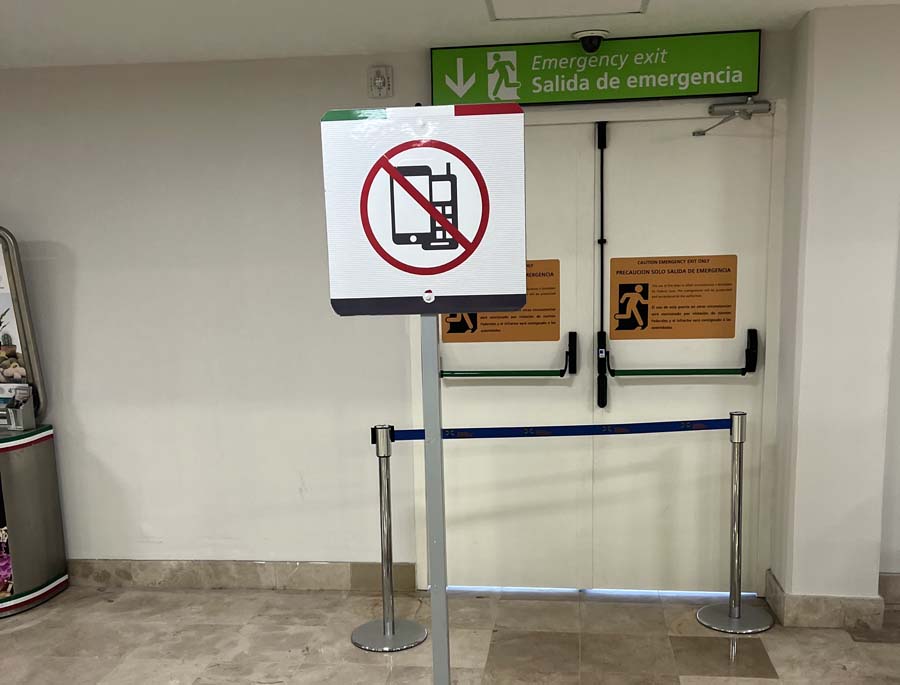 One final time, and this is the last time, DO NOT TAKE PHOTOS or use cell phones in this area! Somebody was paid to put up all these signs, and we all are better for it. Even if it cost a lot of our money to fund the printing, distribution, bribes, graft, and intellectual corruption and destruction of logic to put them up for no apparent reason.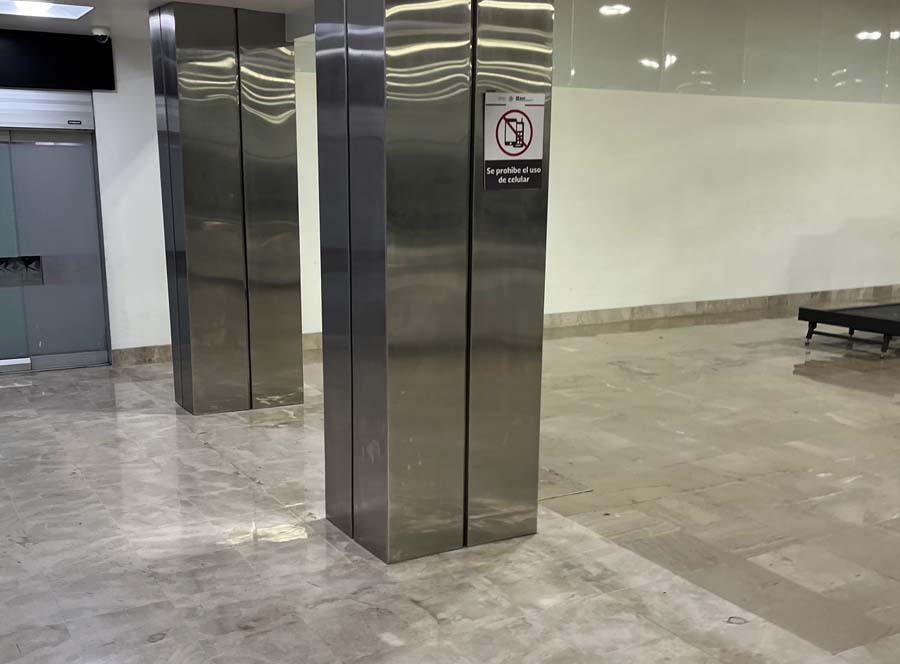 As we arrived, I turned on "Find My Friends" to see where Lia was, and she was out in the ocean whale watching. Katherine was standing next to me but hadn't turned on her phone so it said she was still in Austin. The limits of modern technology...


Westin Marina Hotel and Resort located at Paseo de la Manna Sur #205, Puerto Vallarta, Mexico. The picture below is of a hallway past the lobby.
.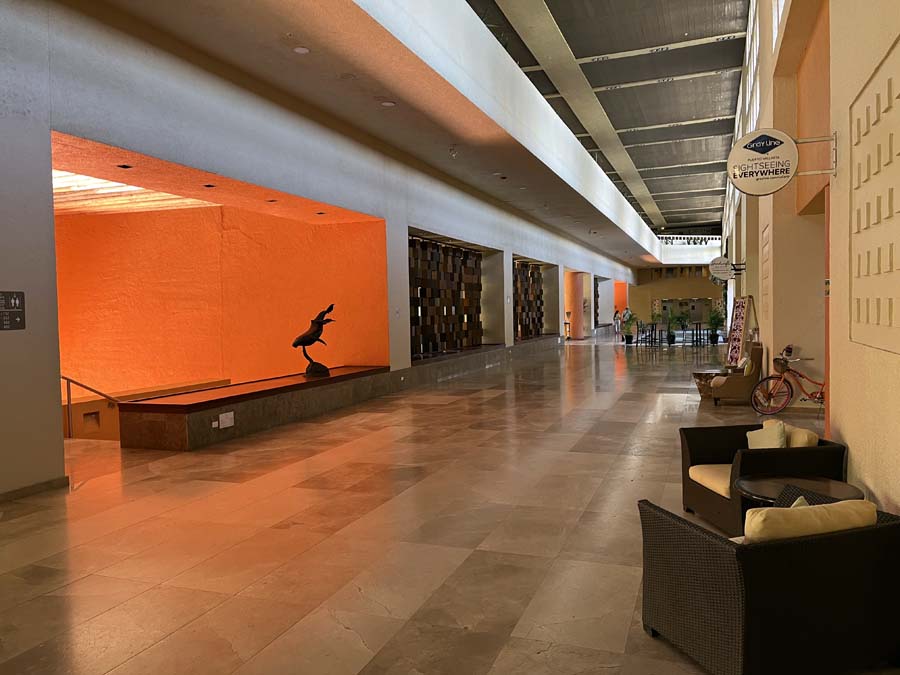 Our room was not ready when we arrived, so we wandered over to the pool side restaurant to eat lunch. We found a kitty cat along the way. Below is a picture of Katherine petting the cat.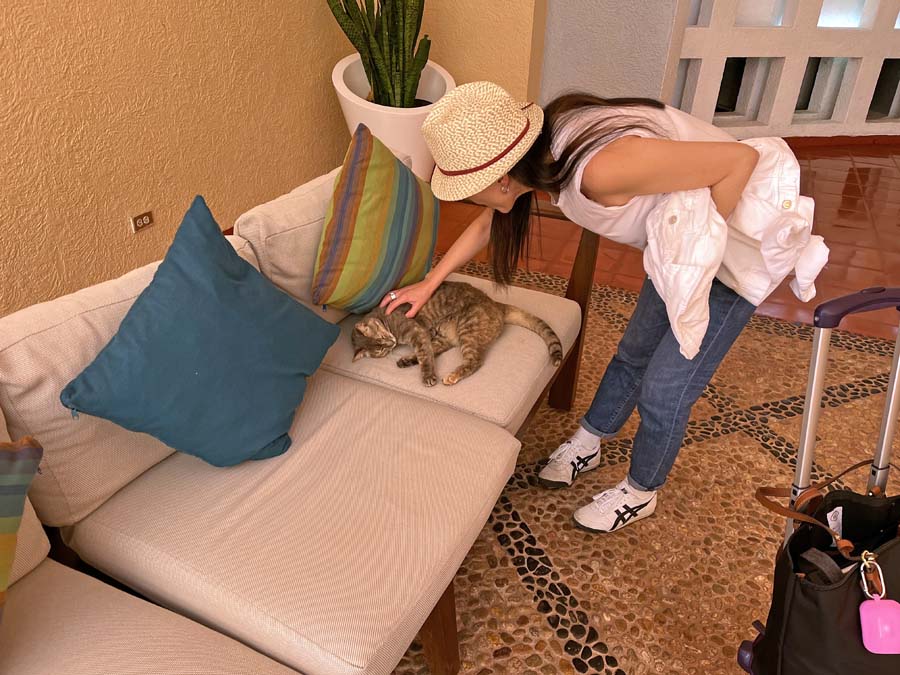 This is how we left the cat. I have a theory that cats belong in warm climates, based on how much they like heated blankets at home. I think cats are probably happier in Puerto Vallarta. This one wandered around breakfast by the pool getting fed bacon and eggs by most of the guests.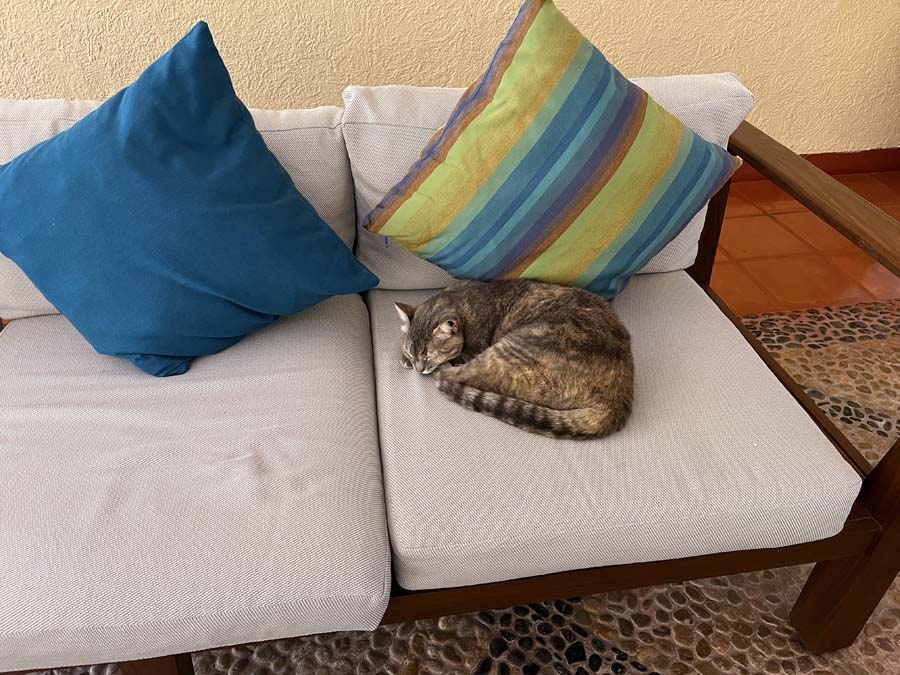 This is a screenshot of the satellite view of the area. This is called "The Marina" because (this will come as a shock) there is a large marina here.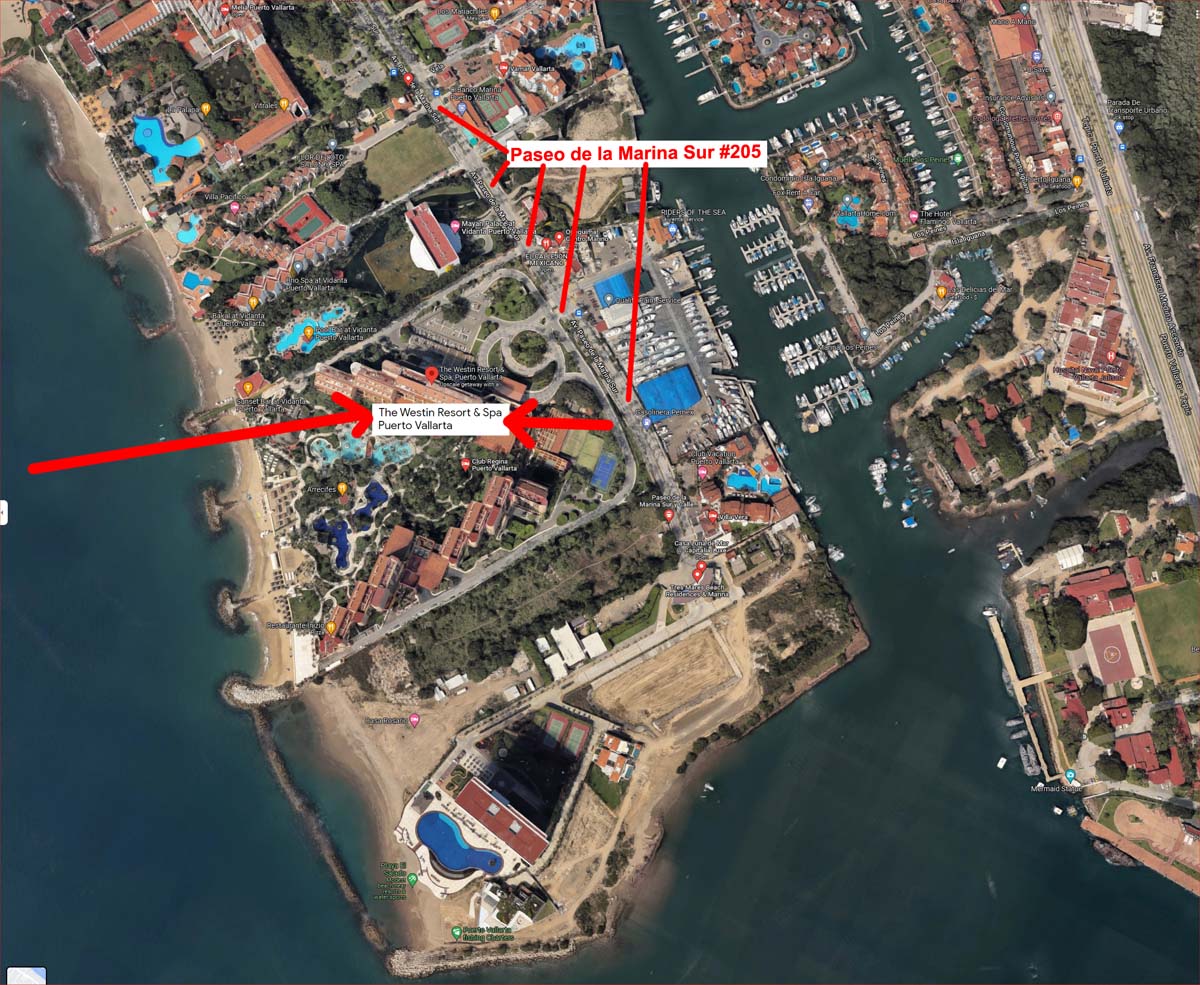 Later on our room was ready. It is a two floor suite, the top floor is the bedroom and master bath, the bottom floor is a living room and another master bath. A video online showed the area where our lower master bathroom was a kitchenette (in the video), so it was a little strange in layout. It also had two balconies, the top one you can see glaring out in the photo below...

The view from the upper balcony. There is a small hot tub on this level.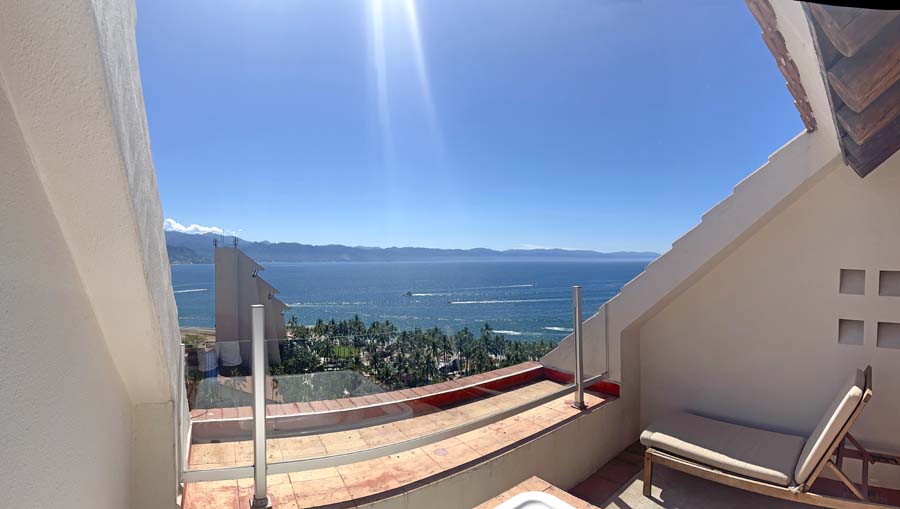 This is a picture outside the "door" to our room. It looks out away from the ocean towards the marina.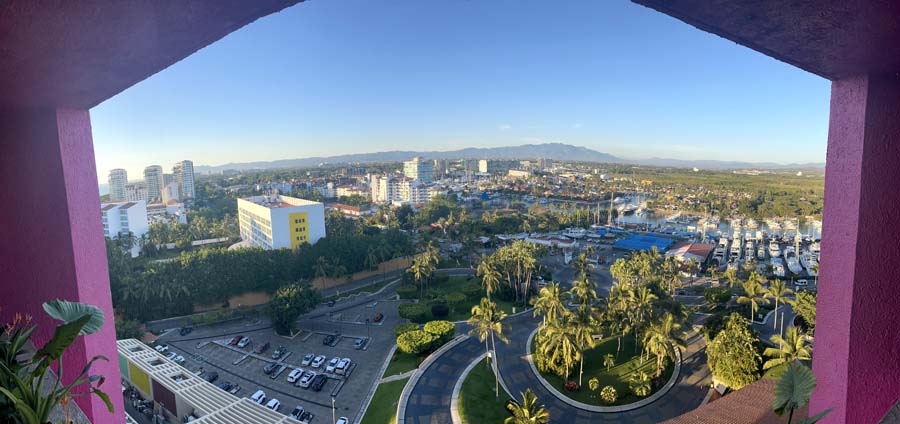 Below is the same photo as above, but with annotations. The area marked with the big red "Marina" in the picture below was very pleasant with a lovely walk/promenade and rows of restaurants and bars.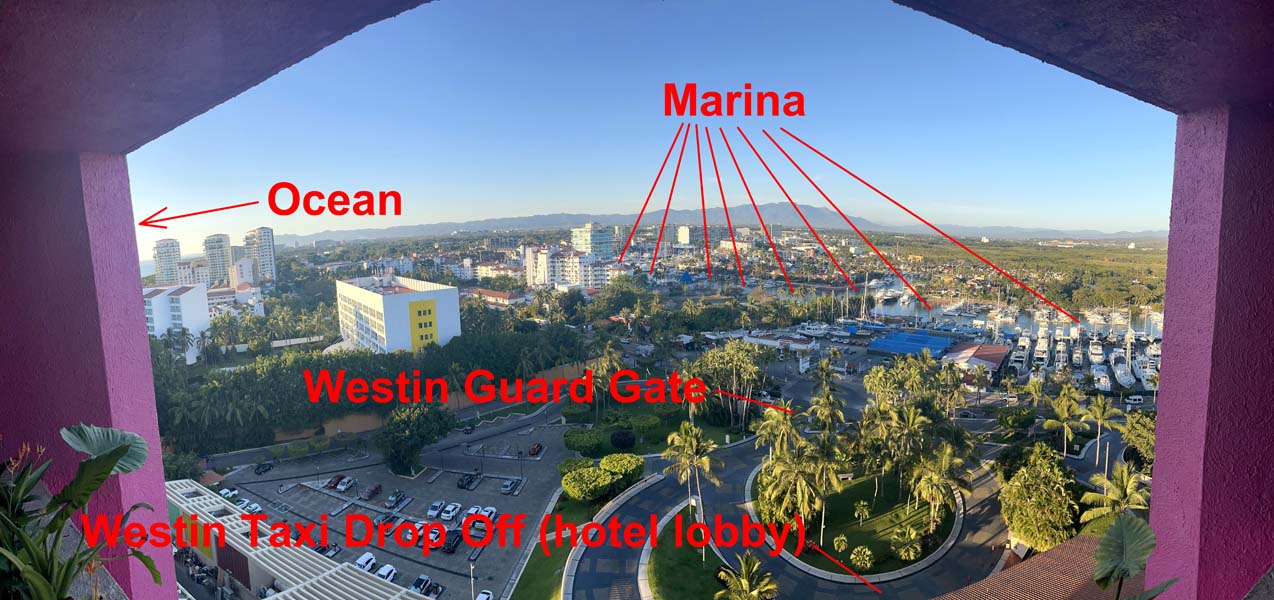 The view from our upper balcony as the sun sets on the first night.

Same place, angled downward to see more of the pool area.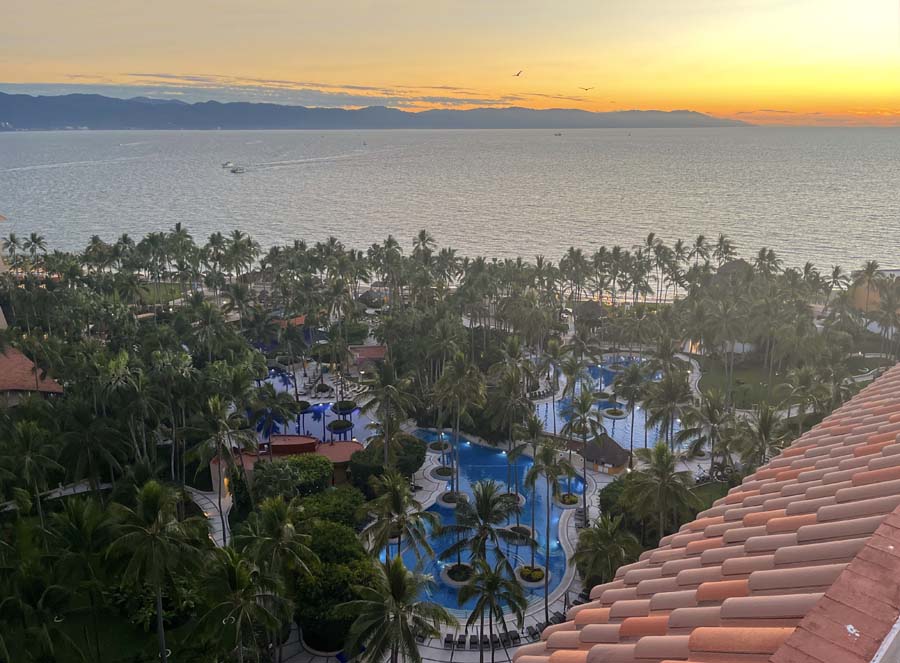 Katherine took a nap, so after dark I went exploring the beach and pool area which was lit up and very pretty. There were signs saying you could pet the crocodiles that run up on the beach to say hello to tourists!! So I went looking for crocodiles on the beach at night down by the water. Supposedly only the little crocodiles like to be petted, the large mother crocodiles are just hungry and kind of fast.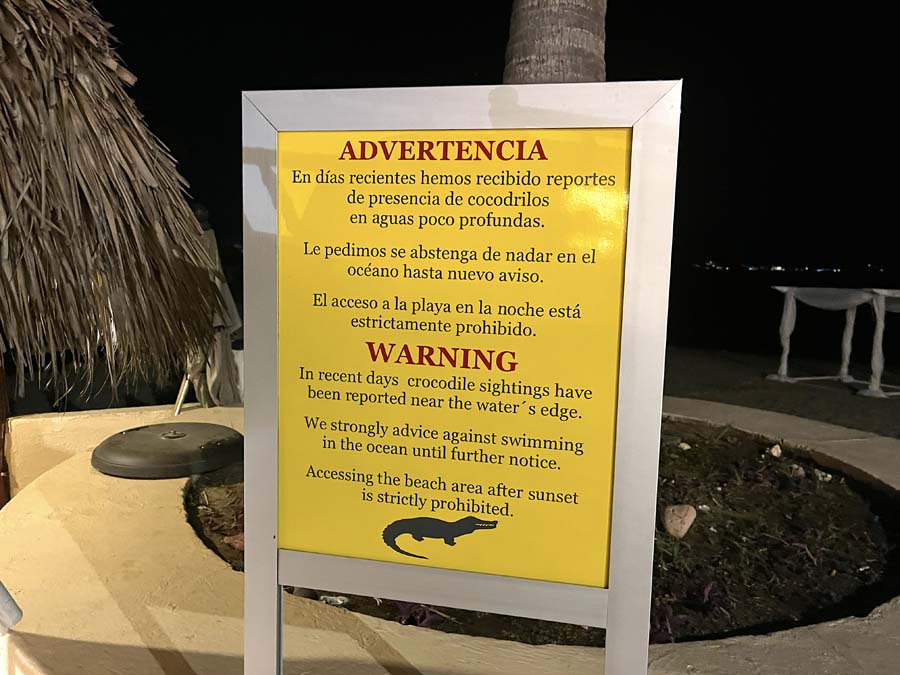 As I walked down the beach, each hotel in turn had more warnings about the fun things to find at night on the beach! This sign says there are some flying things, wolves, crocodiles, and some sort of space ships in the area. They said to call a number but if I find things I'm not going to call a crowd to the beach, they can find their own flying wolves from space. What am I, their "scout"?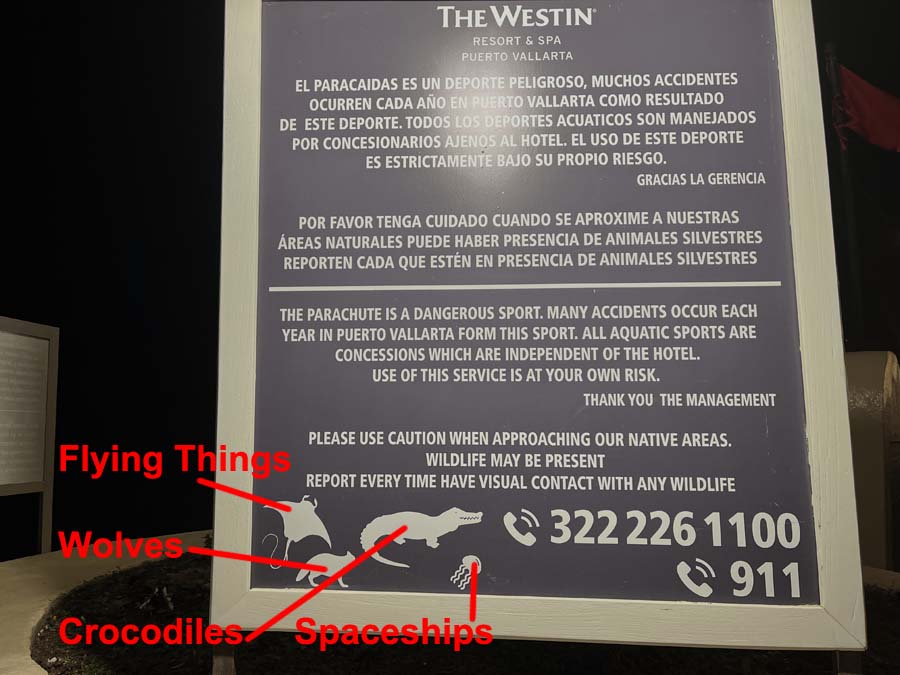 This was Saturday night, February 12th, and I attended two different weddings on the beach. This one seemed to be inside the Westin property. It was very festive, all in Spanish.

The next resort over from the Westin is called the "Club Regina". It had a pool and buildings that looked like it belonged to the same ORIGINAL resort, but along the way was subdivided by some cheap cyclone fencing. Club Regina seems to have gotten the half of the pool with swim up bar including submerged barstools, picture below. Oh, I got here by walking along the beach and just walking into the property and waiting for a security guard to walk through and disappear around the corner so I could investigate the pool.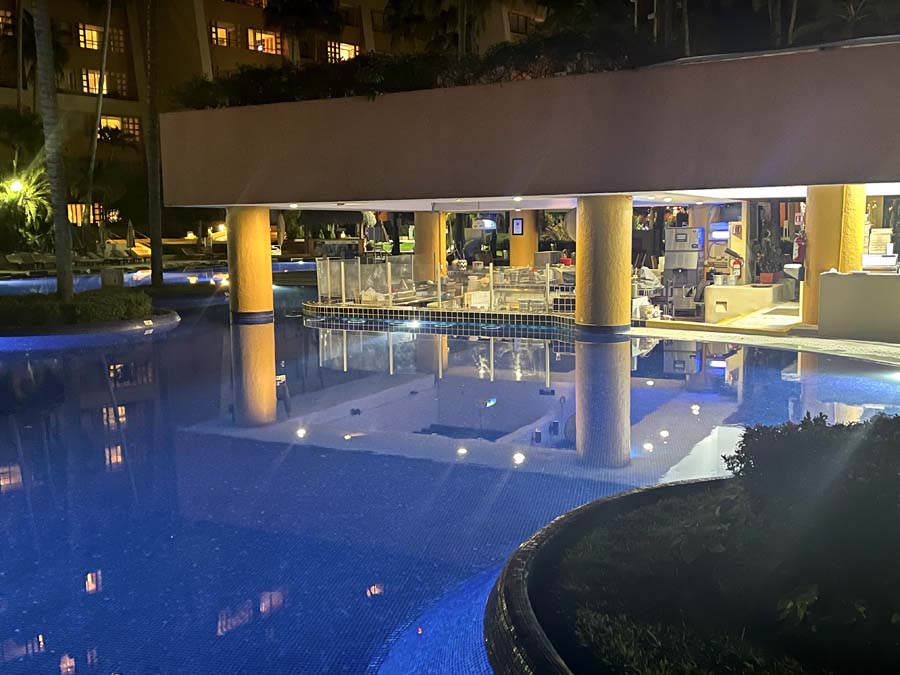 A little further along the beach was the "Inizio Restaurante & Bar" pictured below. It seemed nice!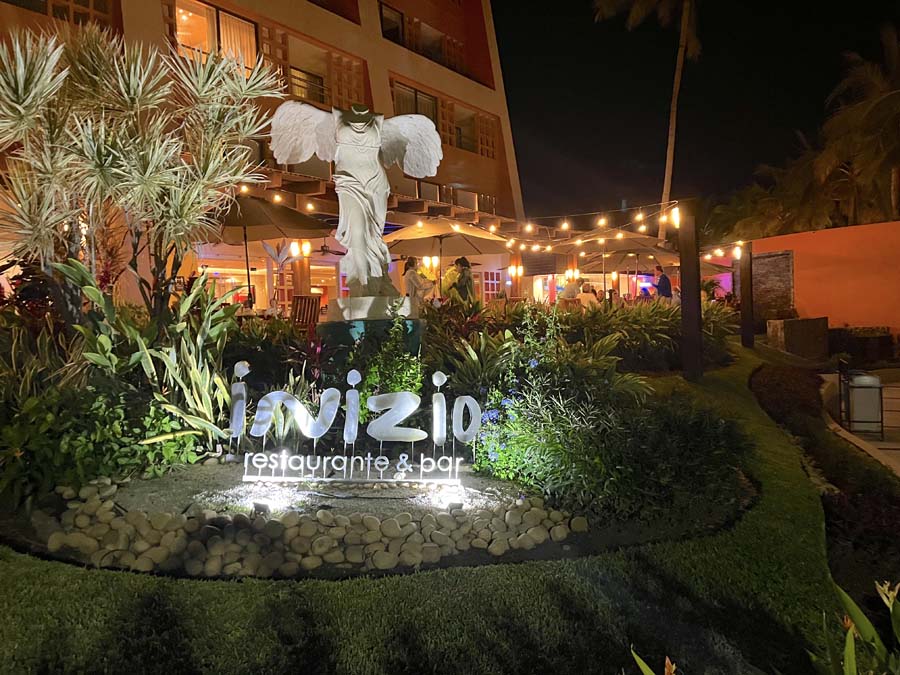 The tall building on the left is very modern looking, and I think it is called the "Tres Mares Puerto Vallarta". It looks nice, it has what I call "gap floors" where they leave out part of the high rise for breezes to blow and for common areas.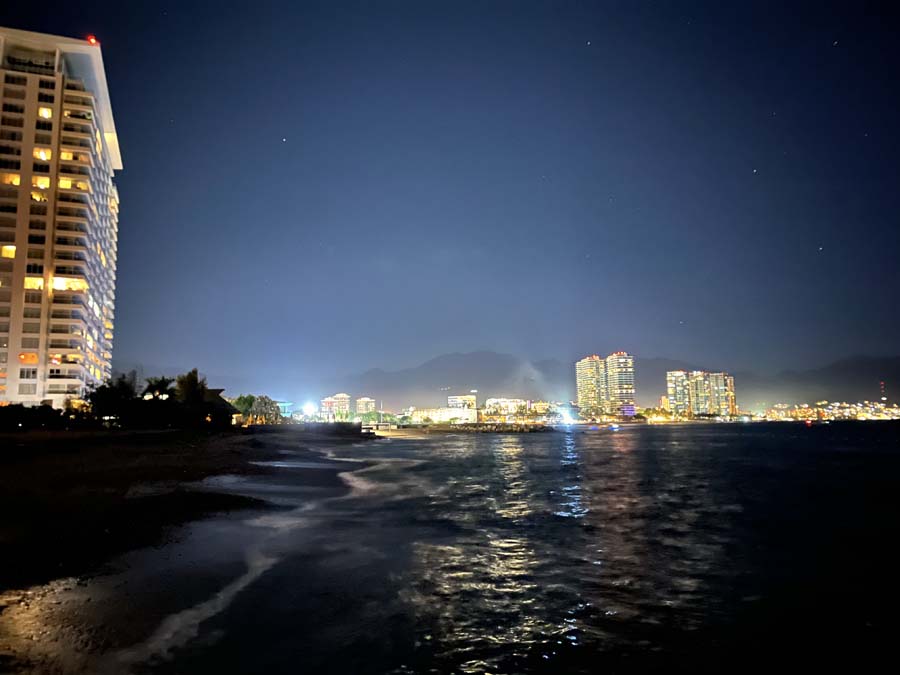 Katherine and I were invited to Puerto Vallarta to tag along on a trip planned by others, which was Lara's birthday party. This involved a few different people coming and going, we showed up a day or two late. Below are some of the people on the trip (photo by somebody else on the trip). From left to right: Beate Mordasini (Lia's longtime friend), Adria Moss, Lia MacDonald, Lara (the birthday girl), and two more people I can't remember the names of. :-)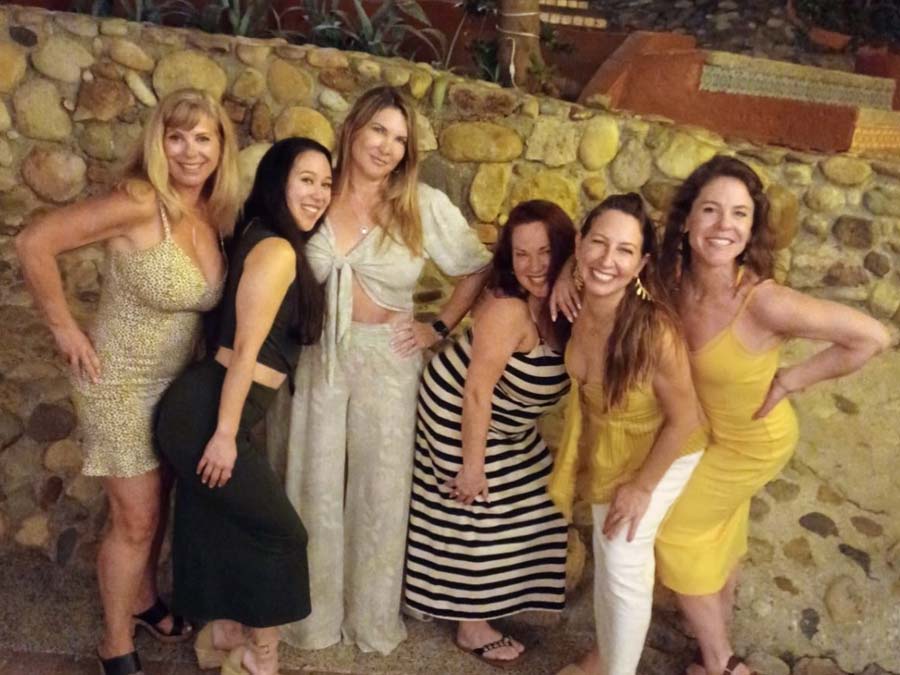 The next day was Sunday, February 13, 2022 - Superbowl Sunday. This is some sort of sports-ball tournament that involves drinking and cheering, I think it's a traditional Mexican thing. We were meeting a bunch of people (including those above) at this bar seen below in the Marina with the screen setup to watch the game. We sat directly in front of that screen you see, and it was very very loud. The half time show was good. Eminem was asked not to "take a knee" and he's always been such a well behaved, play by the rules type of young man, but he didn't do what they told him. You should always do whatever the authority figures in your life tell you, or you might end up like Eminem - wealthy (ewwww!). Here is Eminem and some other highlights: https://www.youtube.com/watch?v=yZvp6RYUlOc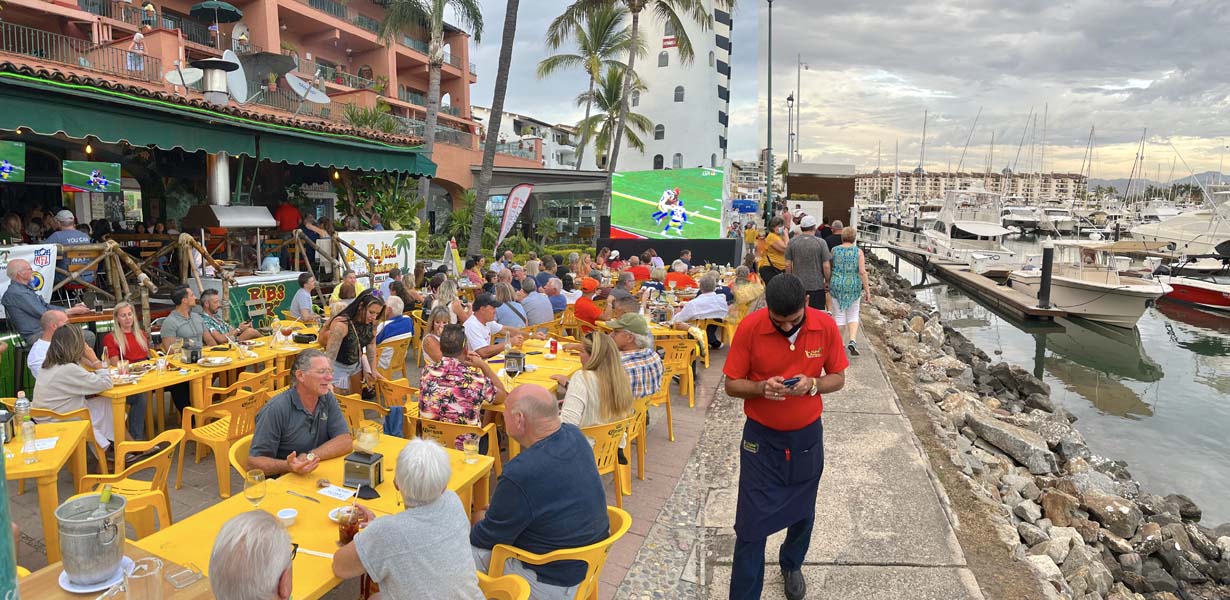 A slightly wider panorama showing the marina and promenade.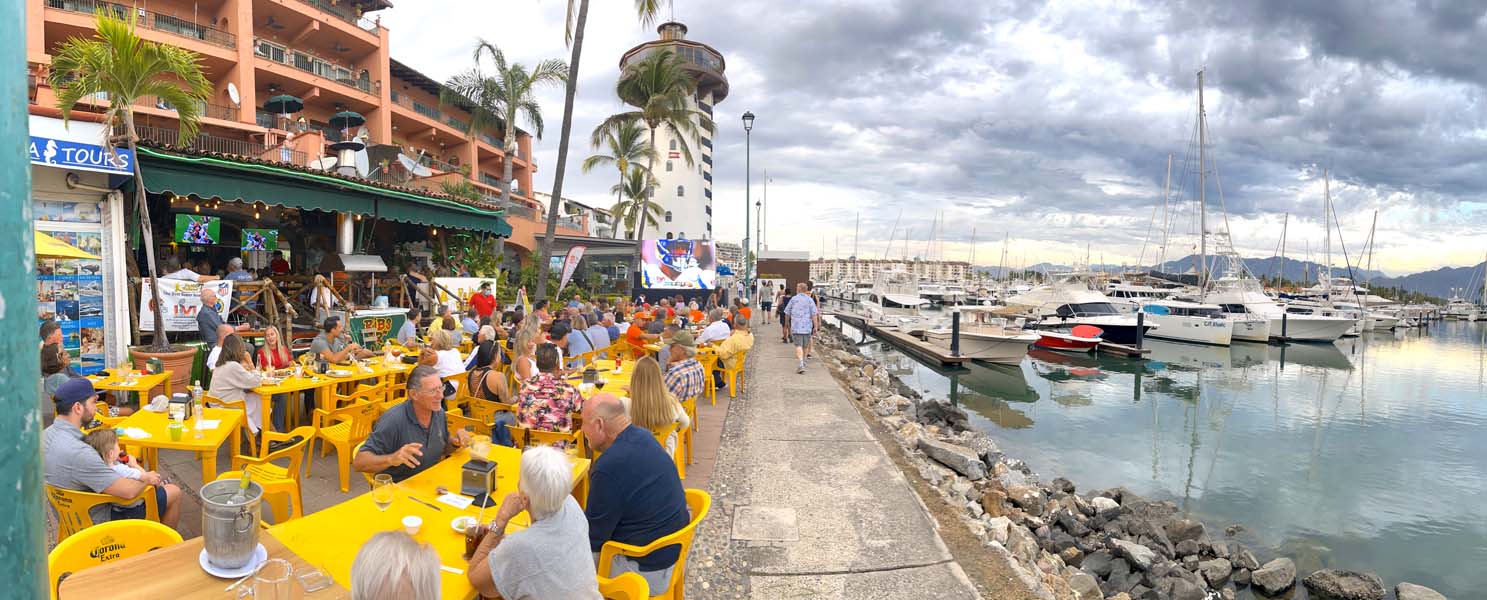 The game was very loud so for the second half I wandered around the marina. I liked this "San Jerry's Bar & Snack" that says "WE FIX HANGOVER".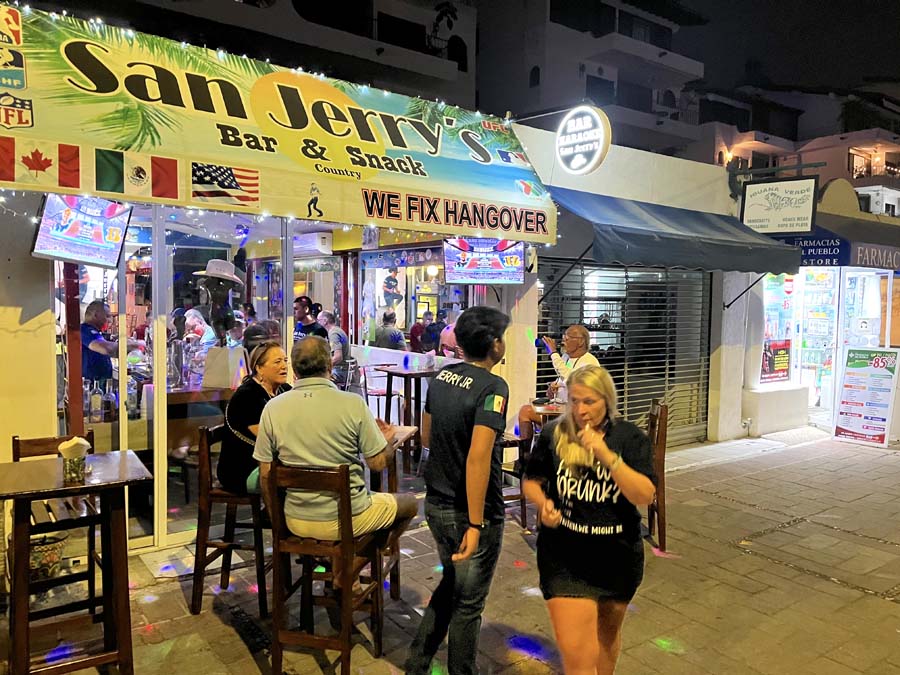 There are a lot of pharmacies in Puerto Vallarta. Like you can always see two more pharmacies when standing in the front door of any other pharmacy. Technically you need a Mexican doctor's prescription for most of the stuff they sell, but they don't seem to care much. They'll sell you anything, and they are glad to do it! They seem to have too much inventory and want to make money, and they are SUPER helpful and offer more. The one below seemed to be promoting anabolic steroids in English to tourists. I feel like you should always follow whatever arbitrary rules the "medical establishment" puts in place, even if they designed the whole system in the USA before any computers, the internet, or technology existed. And the system somebody put in place seems to have a regulatory hold on the whole industry and be SUPER expensive in the USA and it's really inexpensive in Mexico to buy the things I have incredibly expensive prescriptions for in the USA that insurance won't cover. So we didn't buy anything here, no matter how convenient and what a good deal it was and how easy it was to deal with the nice helpful pharmacists. But I kind of wish the USA would adopt this system, it's way, way less expensive than our crappy system of making me pay out the nose for medicine the doctor prescribes and insurance won't cover for made up BS bureaucratic jump through artificial hoops reasons in a byzantine process nobody understands. But again, following rules is really important, some sort of cabal or "authority" designed our crappy system for very good reasons, even if they can't state what those are anymore (out loud anyway). Do what they tell you, the authorities are always right, even when it takes more money away from you and gives more money to them, right? I'm sure there is no bias or flaw in there anywhere...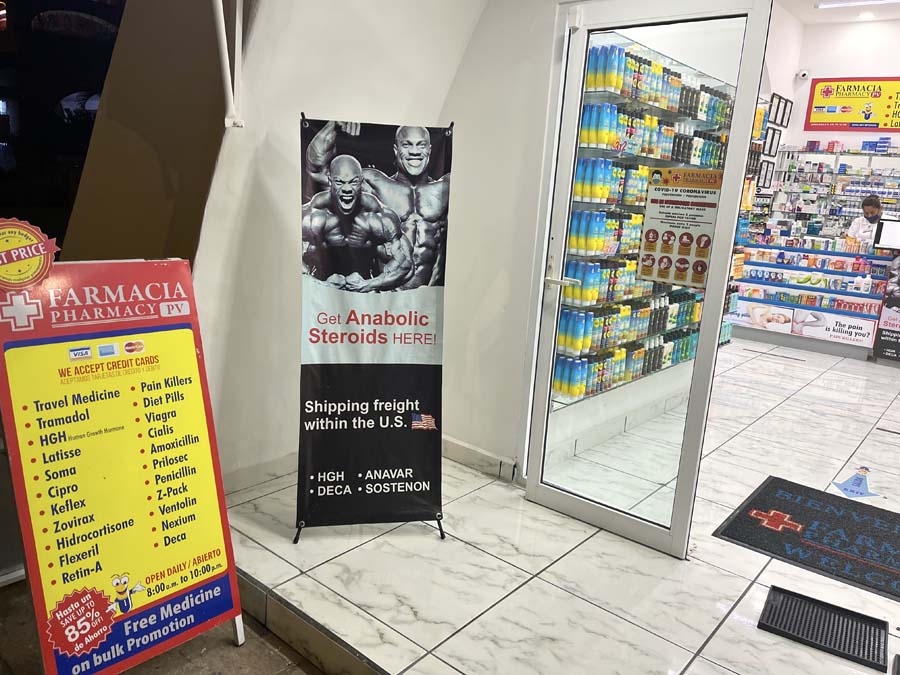 Below is a random picture from down at pool level looking up at the hotel we are staying in.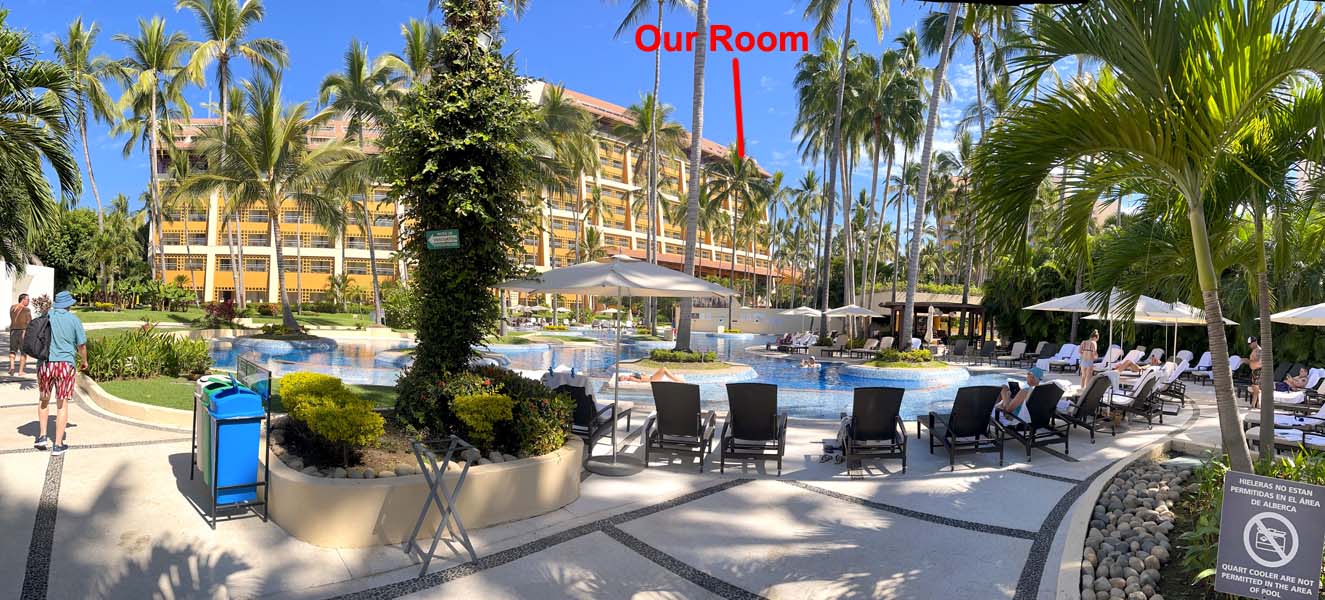 Random picture below of the pool and the Westin in the background.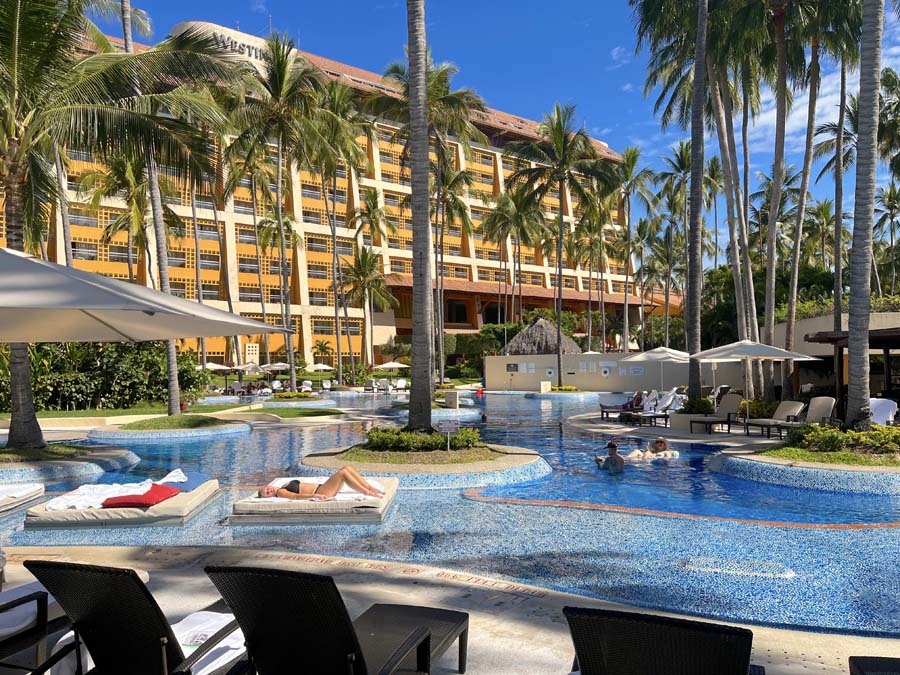 The picture below is if you walk just past the pool to the beach in front of the Westin. I wandered around here looking for the baby crocodiles at night, but I wanted one picture during the day. The men there will sign you up for various whale watching boat rides, and maybe fishing trips. You board the boat right here. It's pretty convenient. Lia booked a trip 24 hours in advance, met the boat back here the next day at the agreed upon time, and saw whales breaching! It is whale season, the humpback whales come to the warm water here to have baby whales from mid-December through mid-April each year in this area.

This iguana was wandering around by the pool. All of us tourists were afraid of it, but then a waiter walked through carrying a tray of drinks and didn't even care or go around, as the waiter came near the iguana the iguana stepped aside.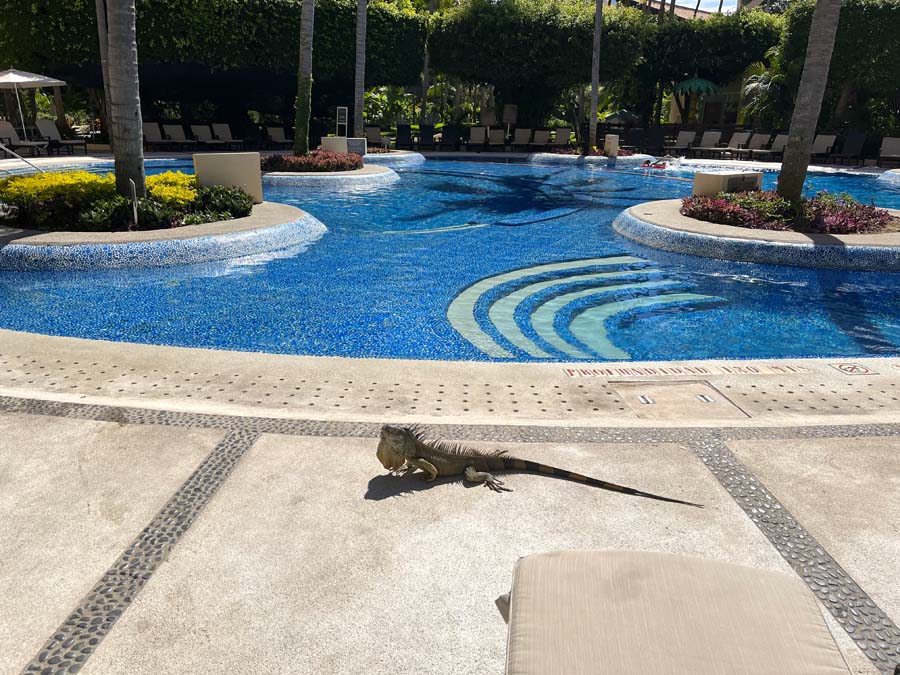 Another iguana climbed up this tree while we watched. The tree is next to the pool. I didn't see any iguanas take a dip in the pool.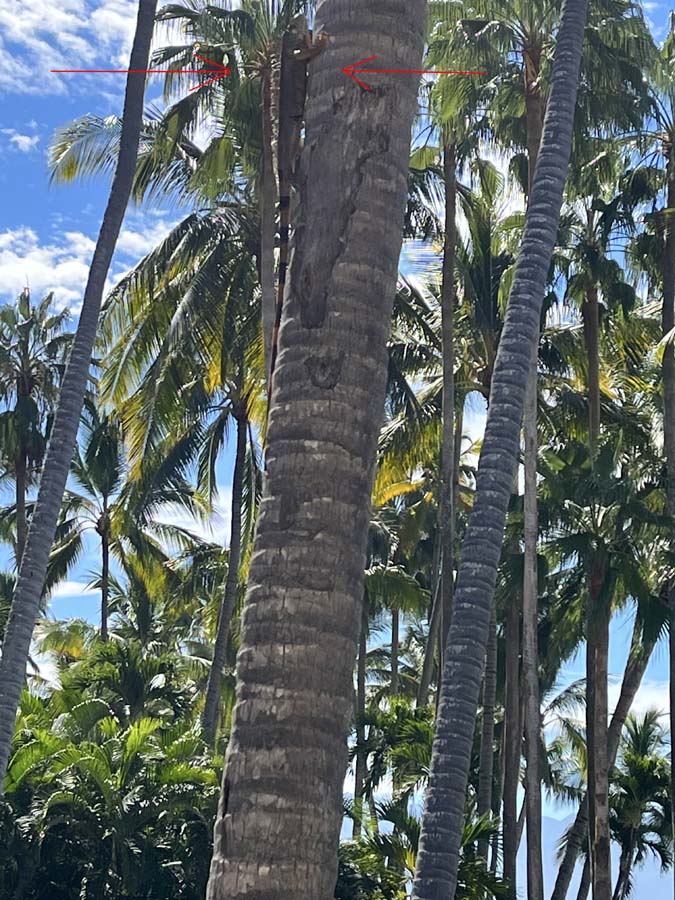 On Valentine's day (Monday, February 14, 2022) Katherine and Brian spent the day together. First we went out to lunch at "Saphire" (Address: Malecón 1, Zona Romática, Amapas, 48399 Puerto Vallarta, Mexico) pictured below which is located in the "Zona Romática" (the old town area).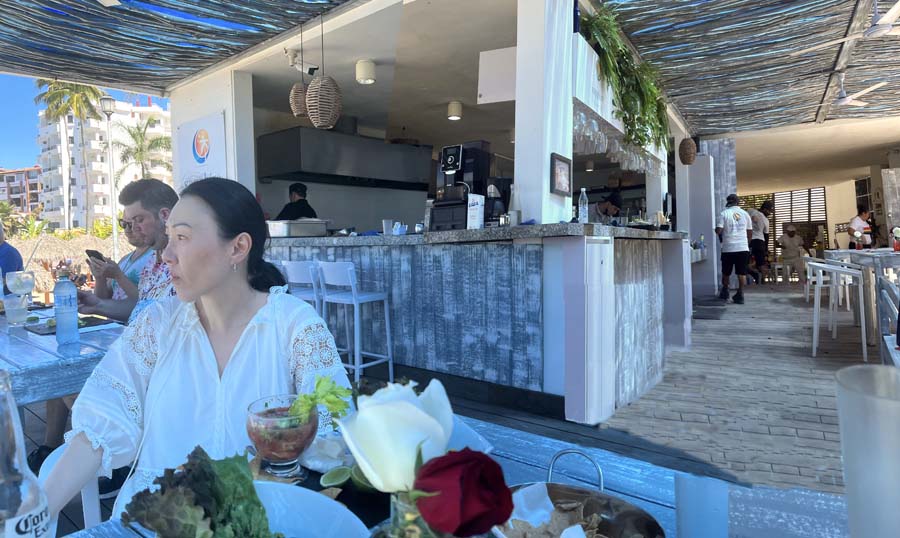 This is what Katherine and Brian's view was. People would launch, go up parasailing suspended by that big parachute behind a boat, go way up and around in a big circle and land back directly on the beach.

After lunch we walked along the "Malecón" which is a 1 mile long beach front board walk-style esplanade in Puerto Vallarta. The sculpture below is called "Rain" (in Spanish it is "Lluvia").
Further along the "Malecón" which is very near the road Paseo Diaz Ordaz in Puerto Vallarta, Katherine is pointing into the distance at some things.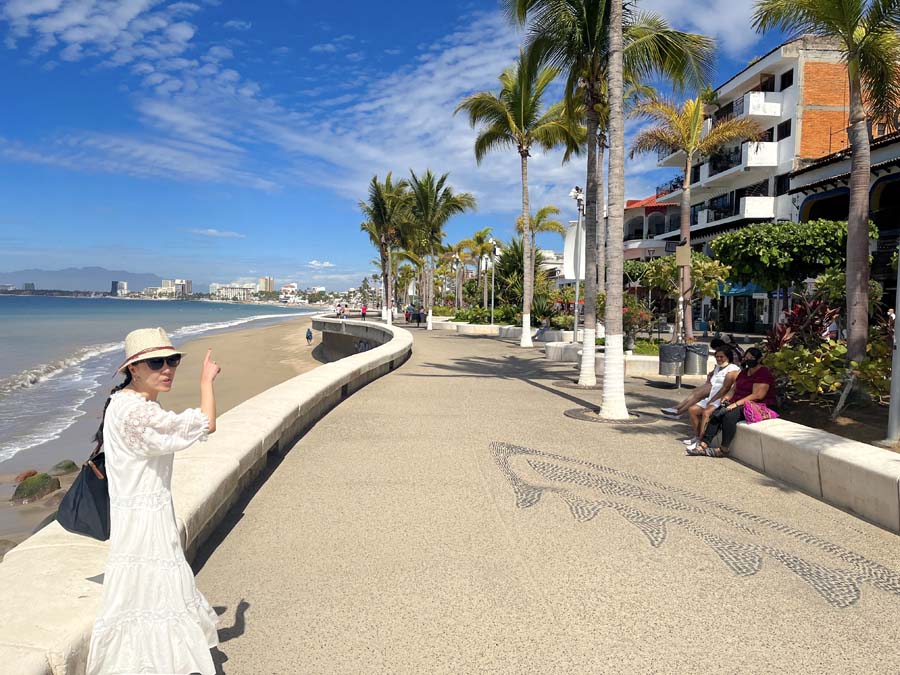 Over the beach and over the ocean you can see some parachutes. Click on any photo for a higher resolution version.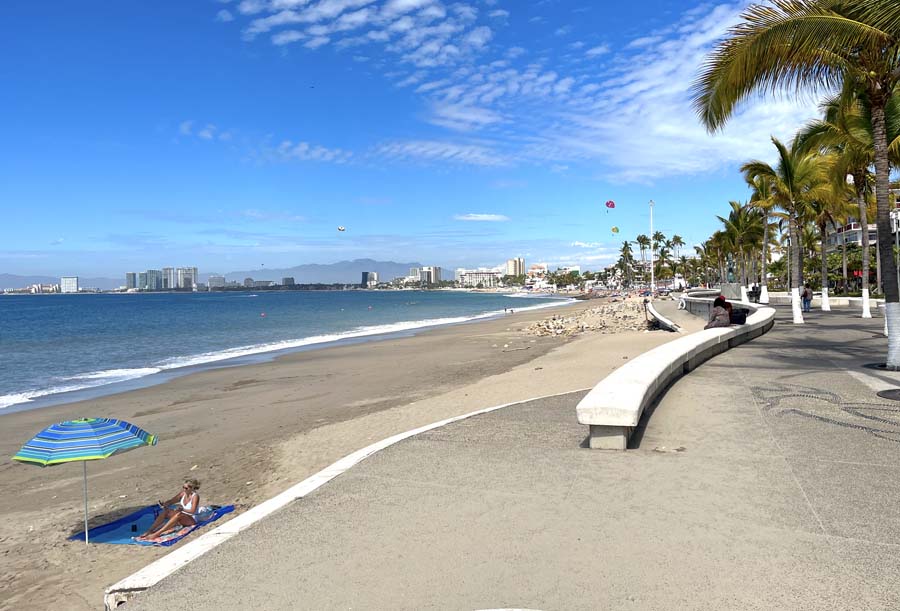 Getting near the end of the afternoon, we stopped in "Señor Frog's" along the "Malecón". Katherine remembers seeing these (possibly going in) when she visited Mexico in the past.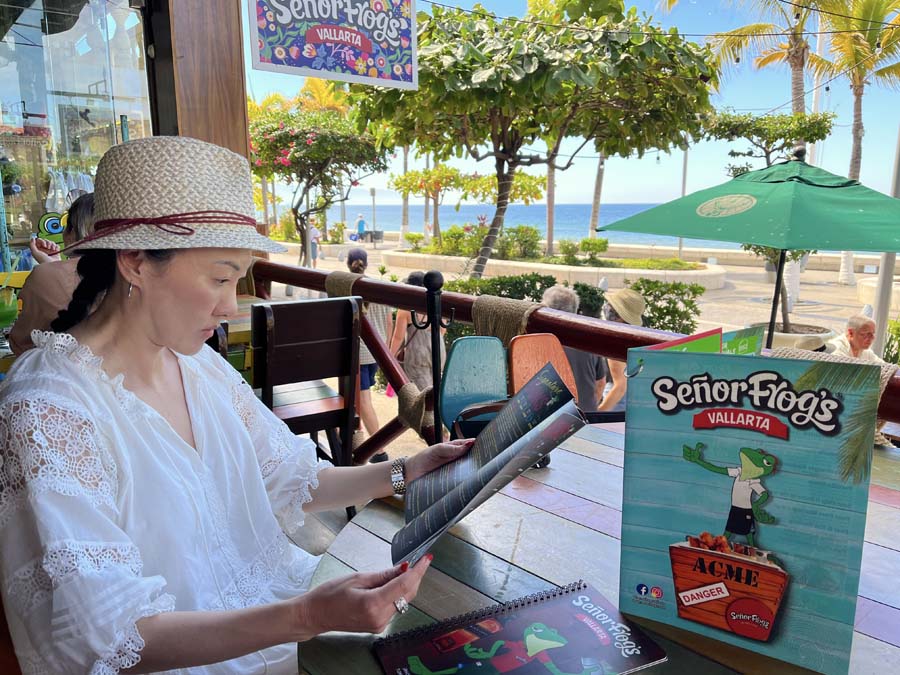 When returning from the bathroom, I noticed the "Señor Frog's" had a live DJ who was organizing music on a Macintosh. I took the picture below of his setup.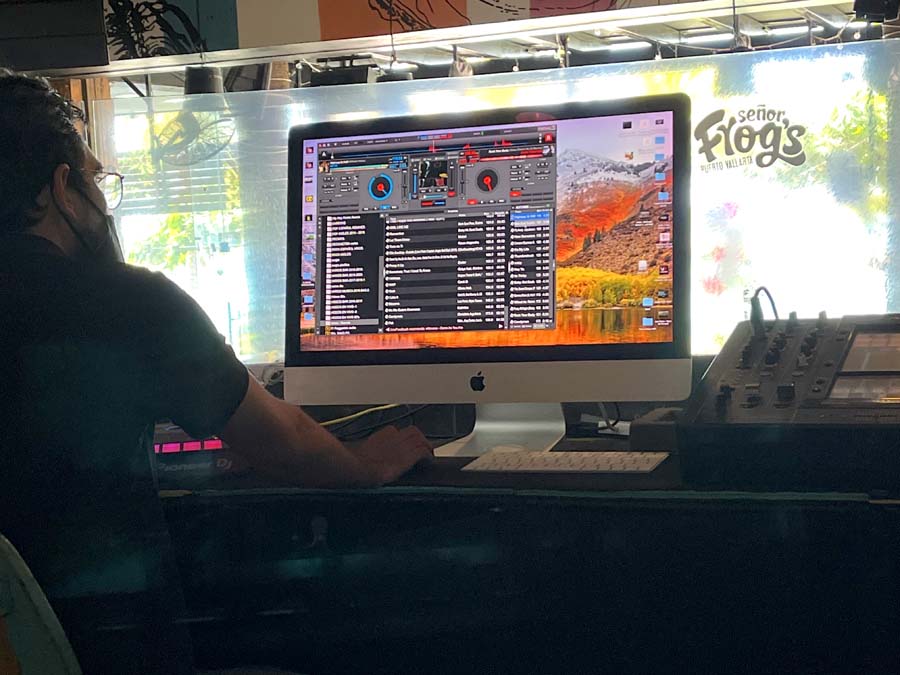 Ok, to go to Mexico doesn't require a Covid test. But to get back into the USA you have to take a Covid test. The USA isn't quite aware that Covid is now everywhere, and endemic, and they can't prevent it from entering the USA if literally everybody in the USA already has it. But like I said before, I believe in doing whatever the inept morons in government tell you to do because they ALWAYS know what is best and there is never any bias or corruption. So there are some interesting parts of this. It has to be 4 hours before your flight, and if you wait until the airport you might miss your flight. So there are several ways to do this test, one of which is right in the hotel you are staying! Unfortunately for us, the tests close at 1pm and we didn't know that, so we ran out to a Covid testing location (back at the marina we were at before) and installed the "Verifly" app on our phones (we were flying on American Airlines). A few hours later (12 hours before our flight) the results appeared in the Verifly app, which then allows us to check into the flight and get boarding passes on our phones. The panorama picture below was of the marina again.

Ok, if you end up taking the test at the airport, not only do you miss your flight home on a positive test, but ALSO you get put in a crappy 3rd world hotel. By taking it before you check out of your own luxury resort, you can just extend your stay at the resort! This hint brought to us by a friend in Austin before we departed. Thanks RJ!!

And here we are showing all of our credentials to depart Puerto Vallarta!
That's it! That's all the pictures and movies.
Things to bring on Mexico Trips: (this isn't for you! Stop reading! I'm old and forget things.)
- Alaska and United don't have USB chargers on airplane, bring wall wart.
- alarm clock
- glasses (? mostly I just use my "thin lenses" from my wallet anyway ?)
- sunglasses
- swimsuit
- car GPS holder
- iron (there has always been an iron in higher end hotels, I've been leaving this behind)
- blow dryer (mine is small, sometimes better than hotel's)
- shoes and crocks
- white plastic garbage bags for dirty clothes
- small clear sandwich bags - for cell phone, etc
- complete change of clothes to fly home
- put copy of one-sheet trip summary in checked bag
- dop kit with:
- caffeine, nasal spray, band aids, ear plugs, travel razor, ambien,
- toothpaste, toothbrush, deodorant, hairspray, sunblock,
- imodium, time release drug patches to ease withdrawal symptoms,
- alcohol lens cleaner packs, alcohol prep wipes,
- travel alarm clock
- jacket? - did not bring to Puerto Vallarta, checked weather - 86 degrees F.
- umbrella - check weather
- travel CPAP (battery if international flight)
- coffee kit for Katherine
- table leveling wedge kit
Street Clothing:
- shorts - 1 pair for every day (or possibly plan on using hotel laundry service)
- light short sleeve dress shirts - 1 for every day
- light cotton slacks - 1 pair for every 4 days
- belt (?)
- polo t-shirts (like with Backblaze logo)
- white socks
- underwear
- pajama shorts
- shoes (hiking boots, tennis shoes, dress shoes?)
- jacket?

For Airplane:
- 120V wall plug to USB C wall wart
- USB C to lightning charger
- USB C to old USB plug converter
- iPad
- ear plugs
- ear phones for music or videos (now streamed to iPad)
- lightning to headphone jack adapter
- toiletries 1 quart container
- Travel CPAP plus battery if international flight
- travel blanket / travel pillow (for longer trips) - airlines no longer supply these
- buy internet in advance if possible, if not as soon as sitting on airplane (two-factor fails in the air)

Electronics:
- cell phone (obviously)
- SmartWatch (new?)
- cell phone inductive charger, watch inductive charger
- iPad
- laptop and compact headset if video conferencing or longer trip
- lightning to headphone jack adapter
- put B2 and B3 "AirTag" in bags for tracking lost luggage
- travel alarm
- Garmin inReach?(two way satellite tracking/SMS messages)
- car Nuvi GPS if renting a car?
- car cell phone hands free air vent clip if renting a car
- car USB cigarette lighter adapter (charge things in car)

Documents and Cards to Bring:
- passport
- vaccination card (also pictures of it in phone, also on ski-epic web page)
- Empty wallet, only bring: 1 credit card, 1 ATM card, Health Insurance Card, Driver's license
- Business Cards
All done!