2022 Visiting Ari in Annecy, France

(6/29/2022 - 7/6/2022)



Brian and Katherine travelled from Austin Texas to Switzerland and France for a few days from June 29th, 2022 - July 6th, 2022. Why? It was planned a long time in advance to visit our niece Ari, we also got to see our friend Ed Bugnion and we got to visit arguably the prettiest parts of Europe again after being away too long.
Our schedule looked like this:
Wed, Jun 29 - Virgin Atlantic "Upper Class" departs 6:25pm from Austin, TX - arrives London, England (LHR) then short hop to Geneva.
Thu, Jun 30 - arrive Geneva, Switzerland at 5pm, stay Ritz-Carlton lake front in Geneva
Fri, Jul 1 - drive 1 hour to Verbier, Switzerland around noon through Chamonix France, dinner and stay at Ed Bugnion's place
Sat, Jul 2 - drive 1 hour to Annecy, stay 1st night Imperial Palace, Annecy, France
Sun, Jul 3 - stay 2nd night Imperial Palace
Mon, Jul 4 - stay 3rd night in Imperial Palace
Tue, Jul 5 - Drive to Geneva, stay near airport (very early flight next day) Ritz-Carlton lake front in Geneva
Wed, Jul 6 - Virgin Atlantic "Upper Class" departs Geneva (GVA) 7am, - arrives London, England (LHR) then long flight to Austin, TX.

Here are some pictures...Try to remember you can click on any photo for a higher resolution picture! That is the original!
In the picture below, Katherine is getting settled in Virgin Atlantic "Upper Class". This is a direct non-stop flight from Austin to London. I blurred out the guy's face next to Katherine because he looked upset that I was taking pictures.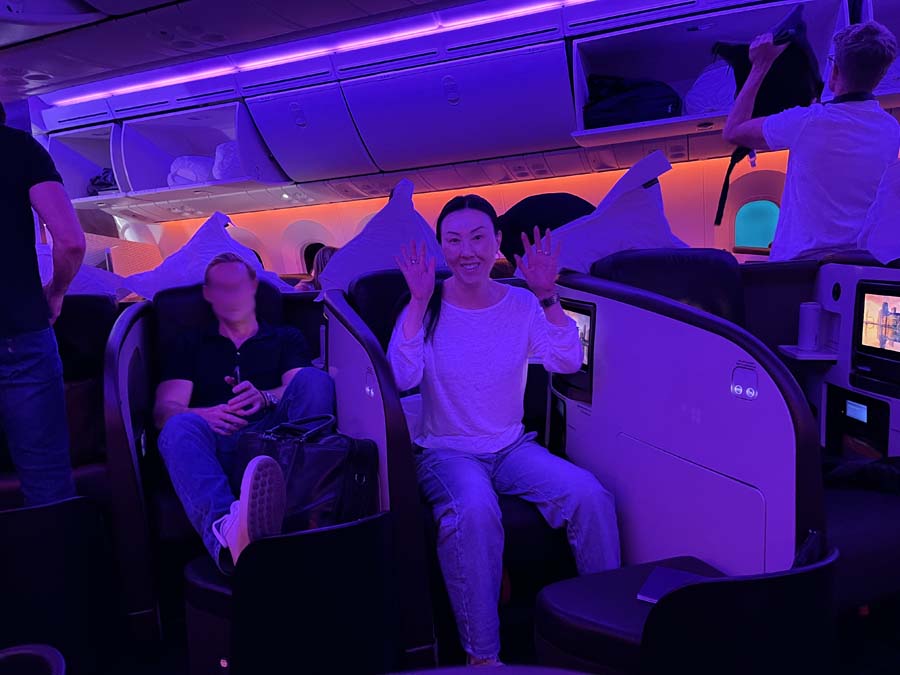 If you look at the "foot stool" for each person, it can act as a "guest seat" for dinner. It even has a seat belt for the "guest".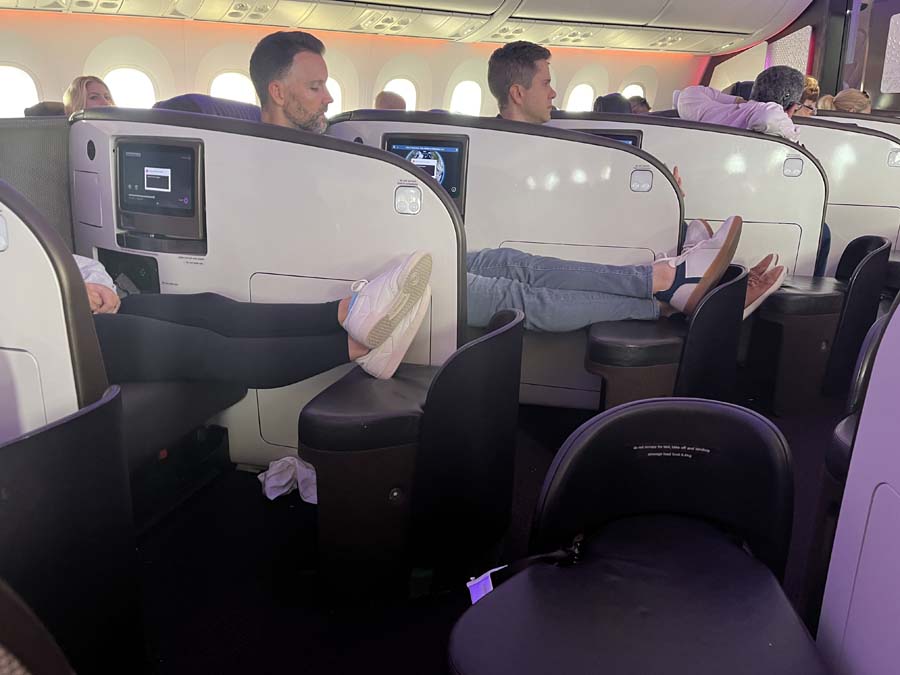 In the picture below, Katherine is sitting on the foot stool eating dinner with me in Virgin Atlantic Upper Class.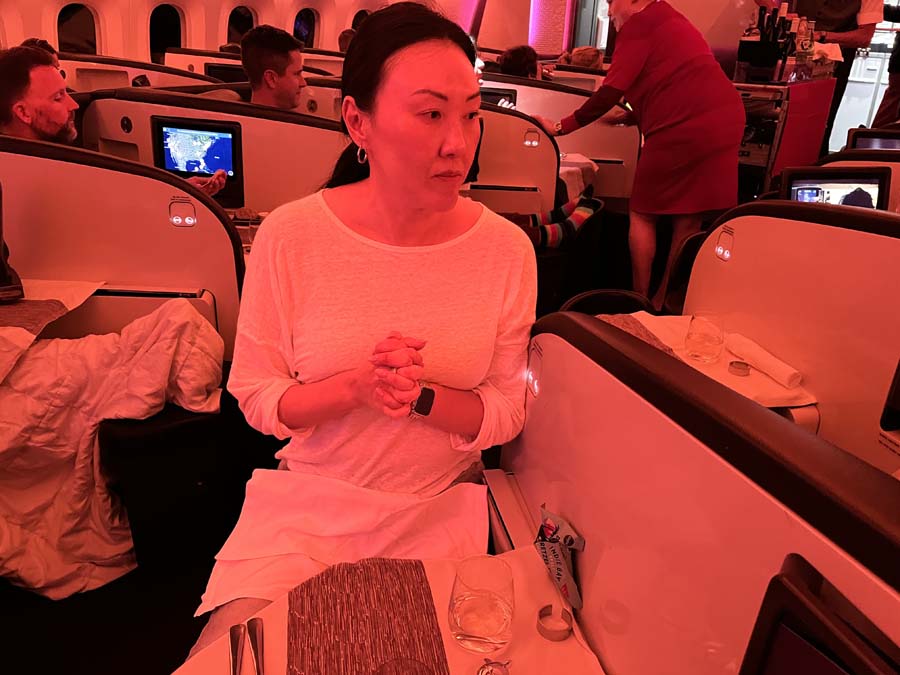 Landing in London, England and London-Heathrow airport.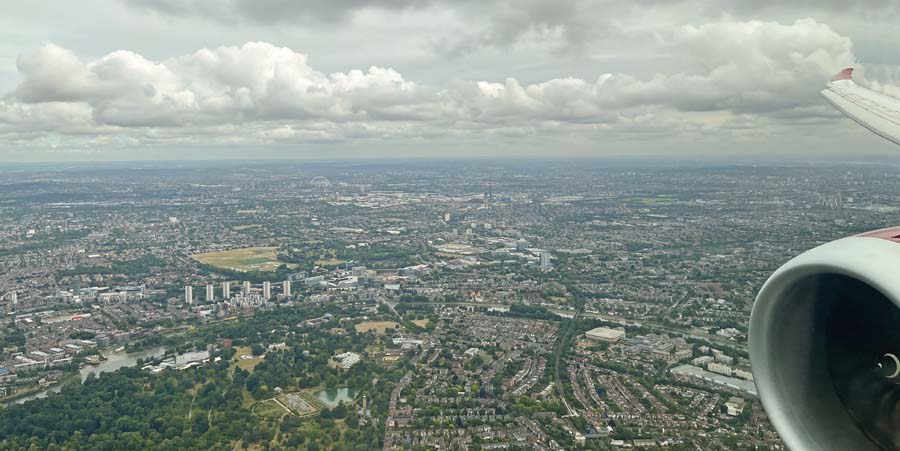 Random "Welcome to London" sign.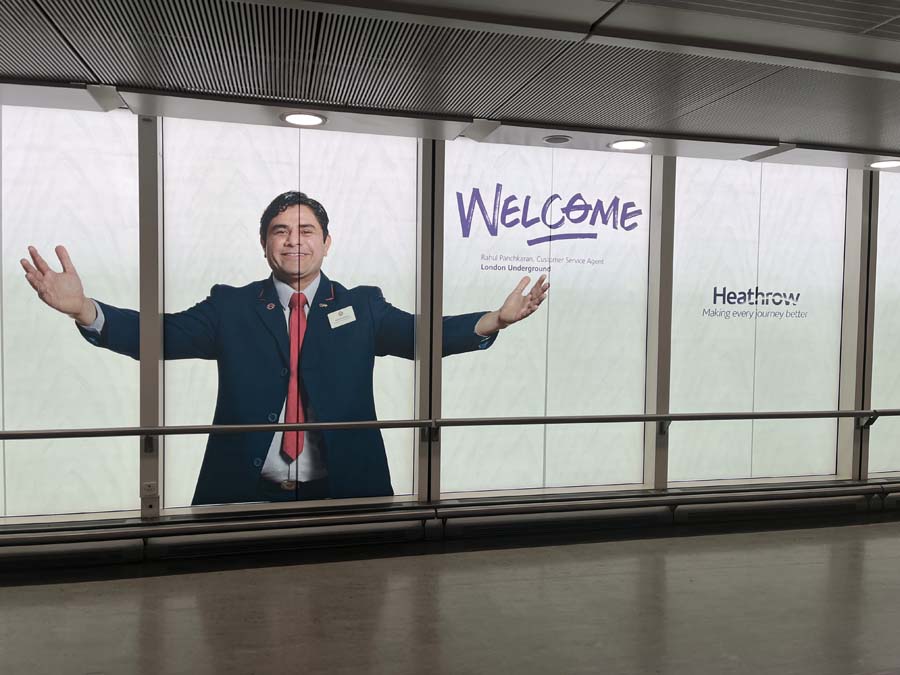 Ok, here was the situation: we purchased the flights end-to-end on Virgin Atlantic, but the "second leg" from London Heathrow airport to Geneva Switzerland was on British Airways. For a few days leading up to the flights we tried to get British Airways to assign us seats together, and they refused to assign us seats at all, they kept saying "once you are in London Heathrow, we will assign you seats". They also said repeatedly we were guaranteed to have seats in business class, they just didn't know which seats. So about half the British Airways flights were cancelled, and the story we heard from a flight attendant later was that London Heathrow didn't have the ground crews to fuel and unload the airplanes so British Airways was told they had to cancel flights. I think they knew this in advance, and it's just fraudulent to sell tickets and not warn passengers and not allow us to sort it out before we depart. So in the picture below, there is a line of stranded passengers about 150 yards long in the airport hallway. The British Airways employee has a fully mobile, battery operated terminal and several employees with rolling terminals would just pick random spots in the line and start processing customers. So why couldn't I do this from my own web browser you ask? I have no idea.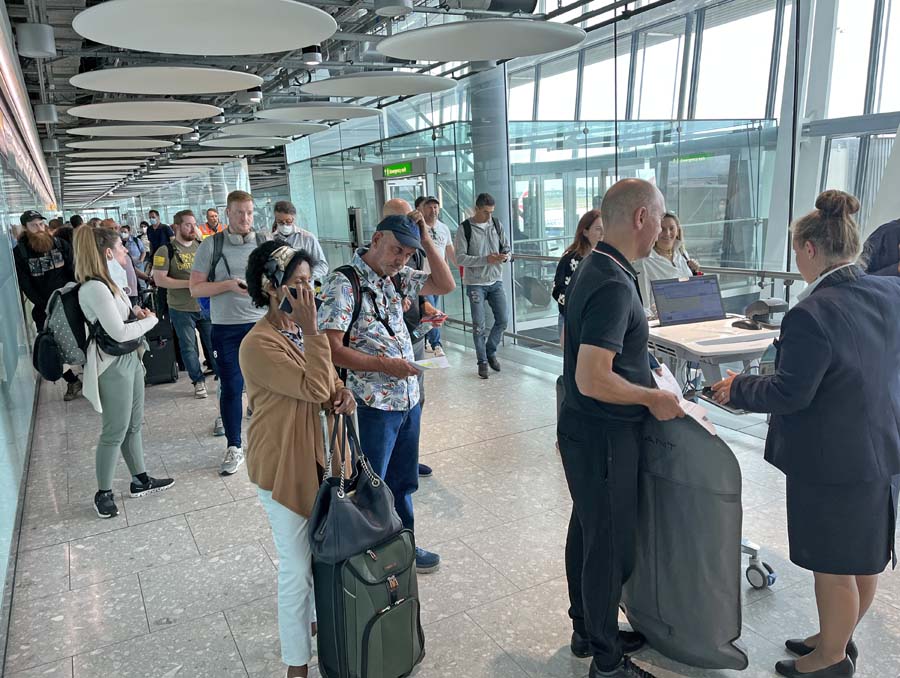 In the picture below we are getting processed and I'm told I won't have a business class seat on the next flight. Notice the line stretches hundreds of yards down the hallway?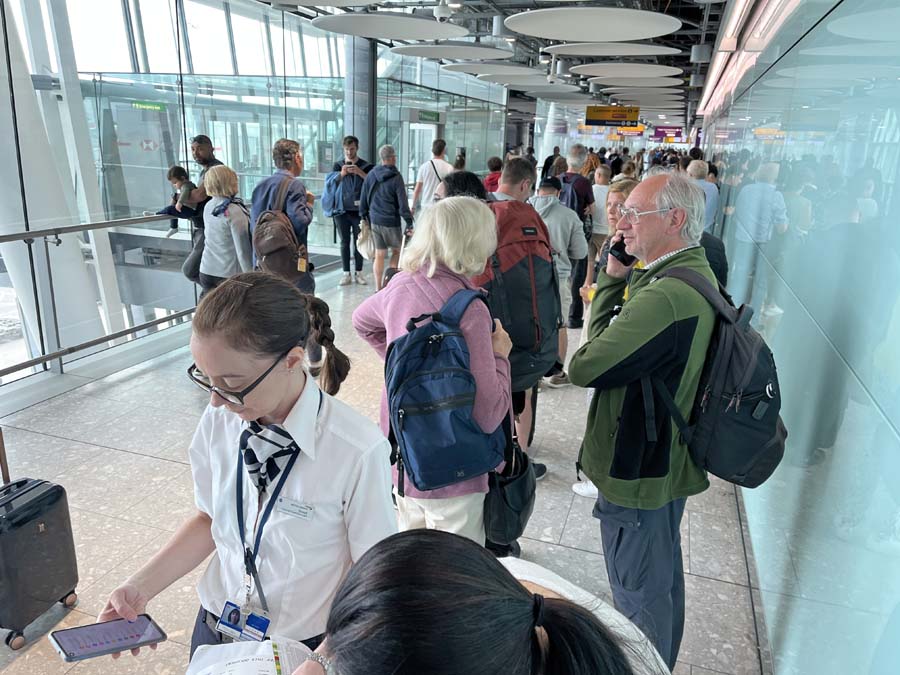 Ok, well at least we have a flight and can get to Geneva Switzerland, so here we are going through security. Please notice the sign which says "Keep a safe distance from others". Ummmmmm.... what really is the point of that sign?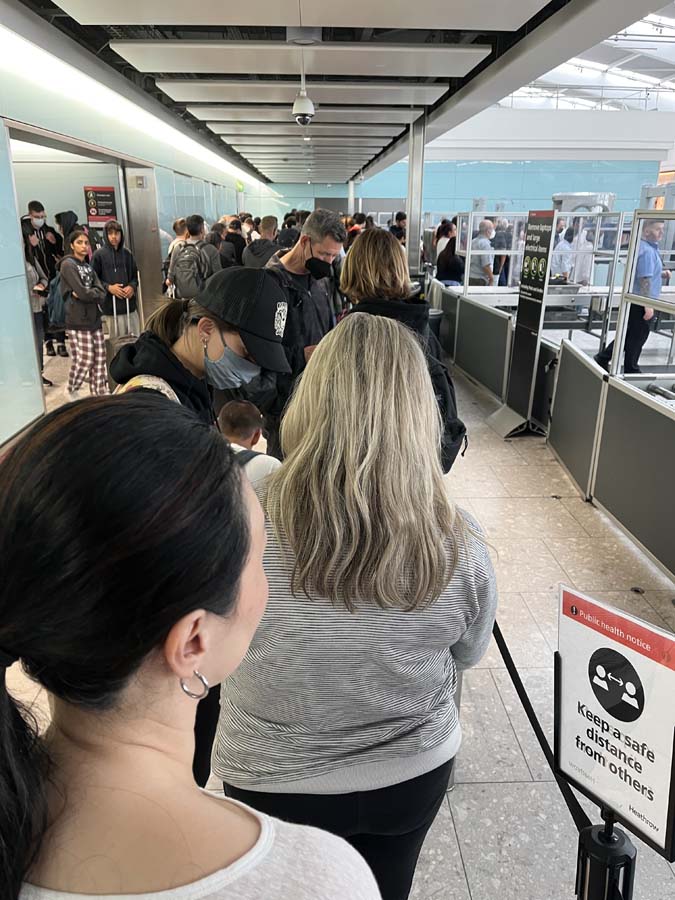 One of the very important rules in London Heathrow is NO PHOTOGRAPHY of any kind! This is really important, so I took a picture to remember it.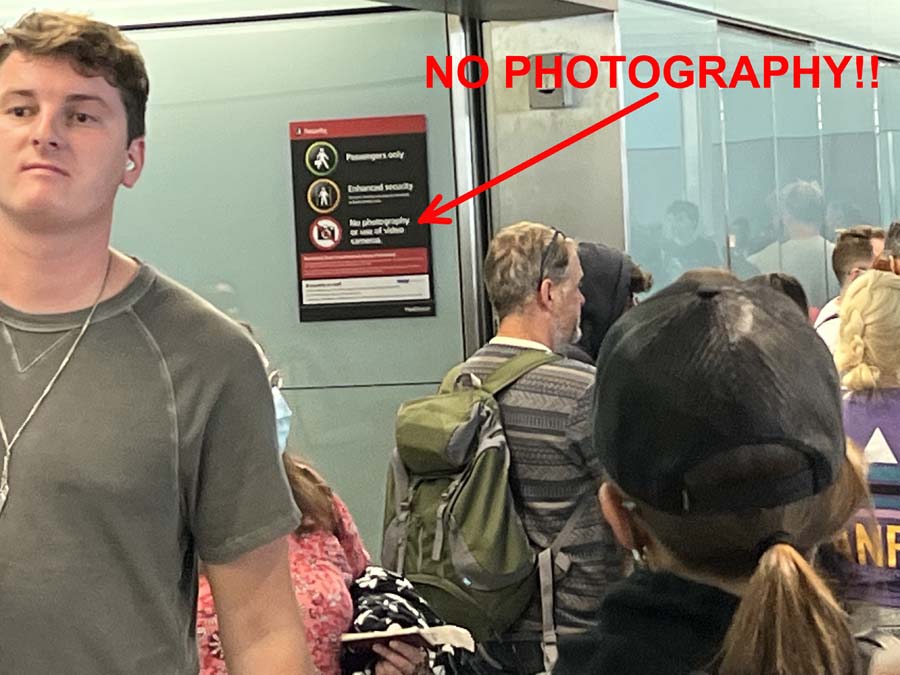 A flight board showing how a ton of flights are cancelled. This is why they couldn't assign us a seat on British Airways 2 days ago, or yesterday, or today as we left Austin. There was no seat, they were just liars.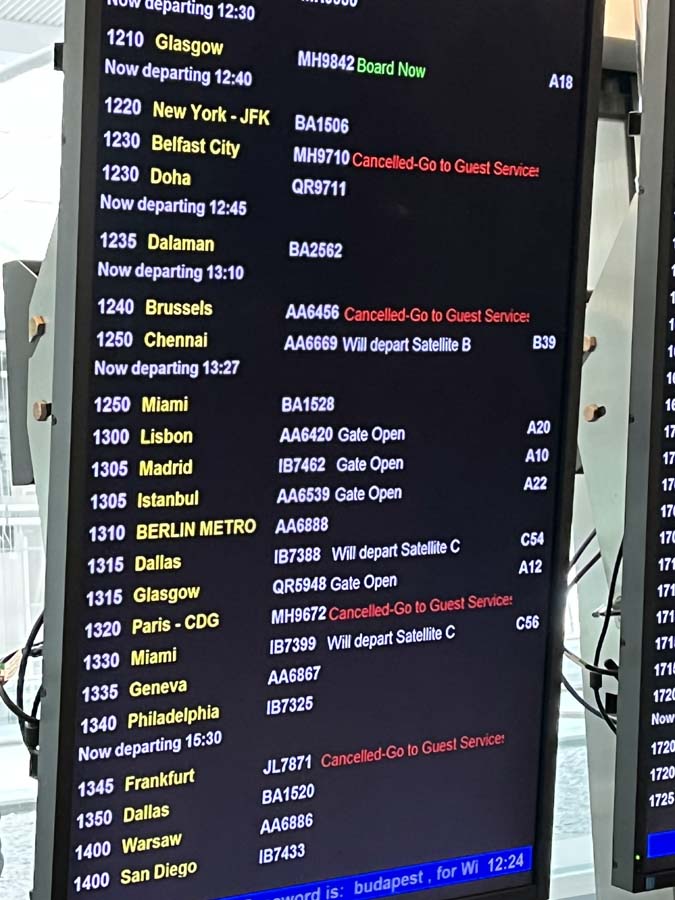 Arriving in Geneva Switzerland Airport, I took this random photo of a video board. It turns out we were staying at the location pointed to by the arrow to rest up one night before driving to see our friends.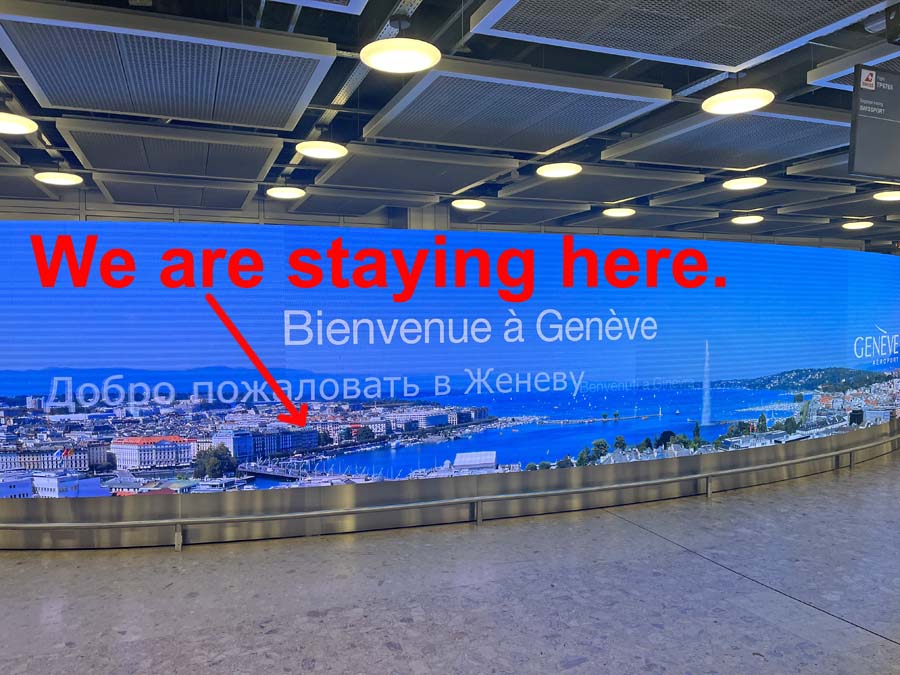 This is our "Lake View Room" at the "Ritz-Carlton Hotel de la Paix", in Geneva Switzerland.

It is super common for hotels all over Europe to have heated towel warmers, like the one pictured below in our room. This is such a good idea, more USA hotels and homes should figure this out.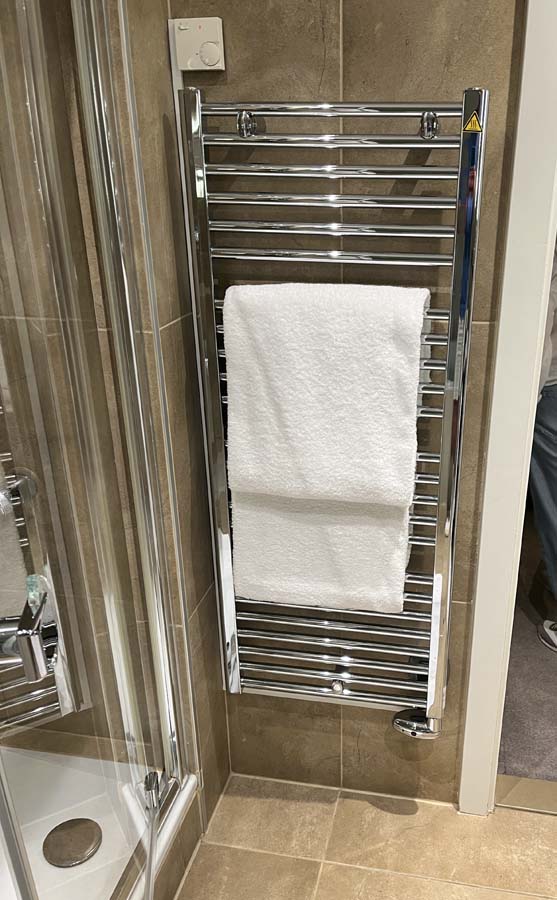 The panorama below is from our window. On the left you see a fountain shooting water into the air 140 meters tall. That is called "Jet d'Eau". I think the story is really funny, it was originally a safety valve to release water pressure in 1886, but people liked it when the "valve opened" so much aesthetically that they moved it a little ways to a better scenic location and just created a permanent water sculpture out of it.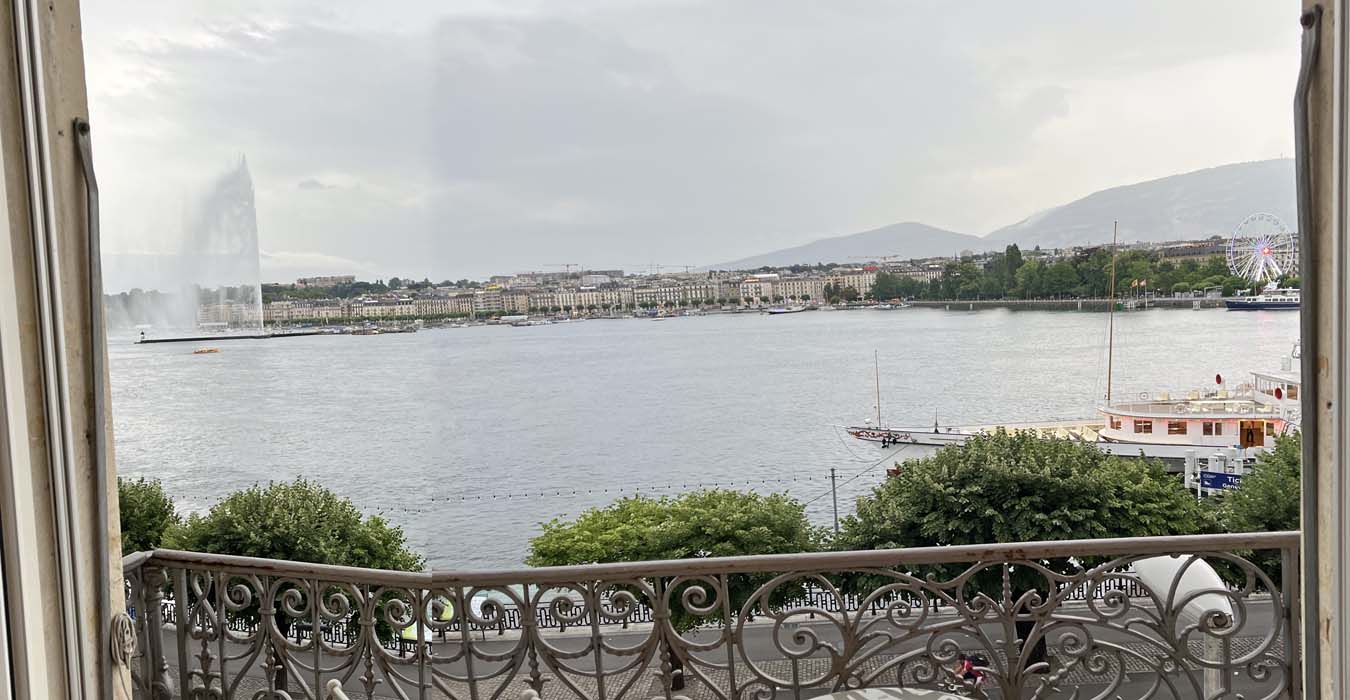 Picture the next morning (panorama taken on my iPhone) of our balcony view.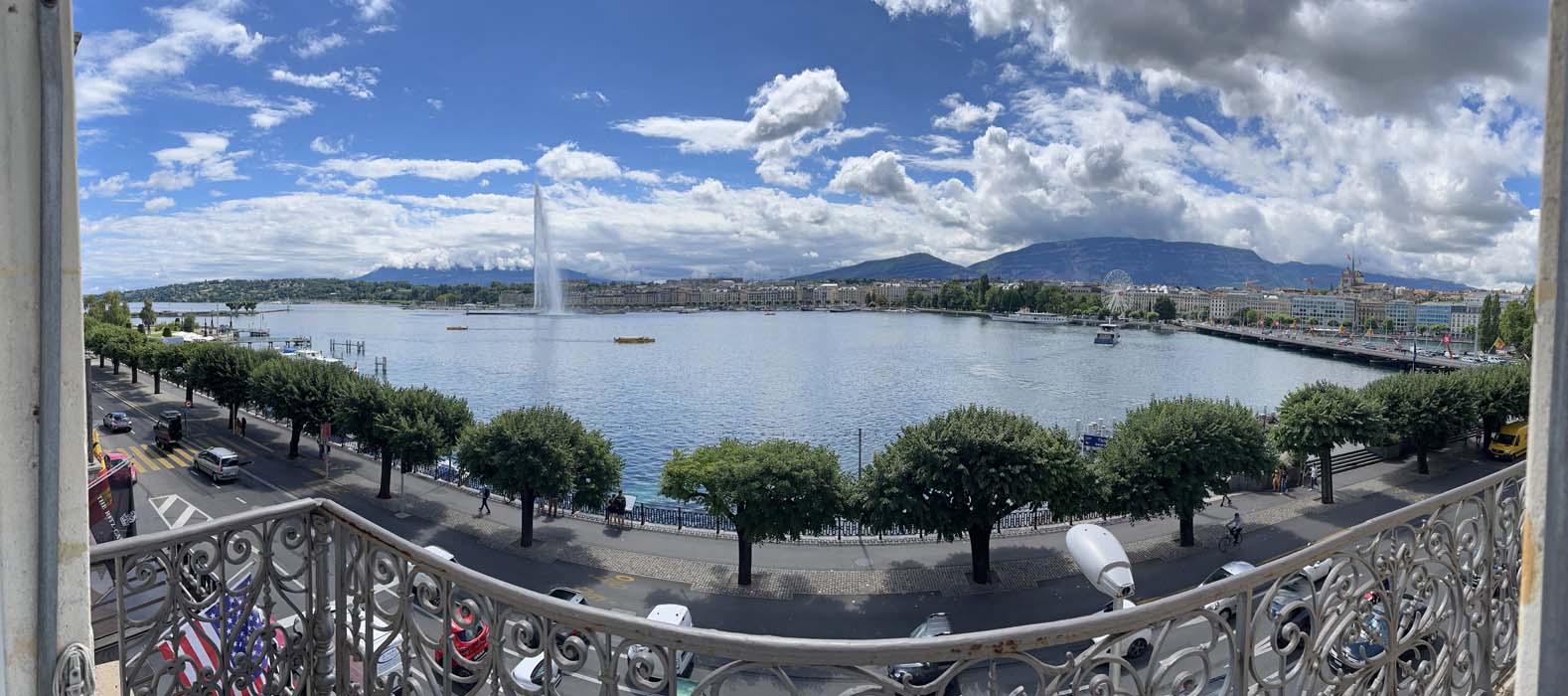 Below is called "Jet d'Eau". I thinks it's nice.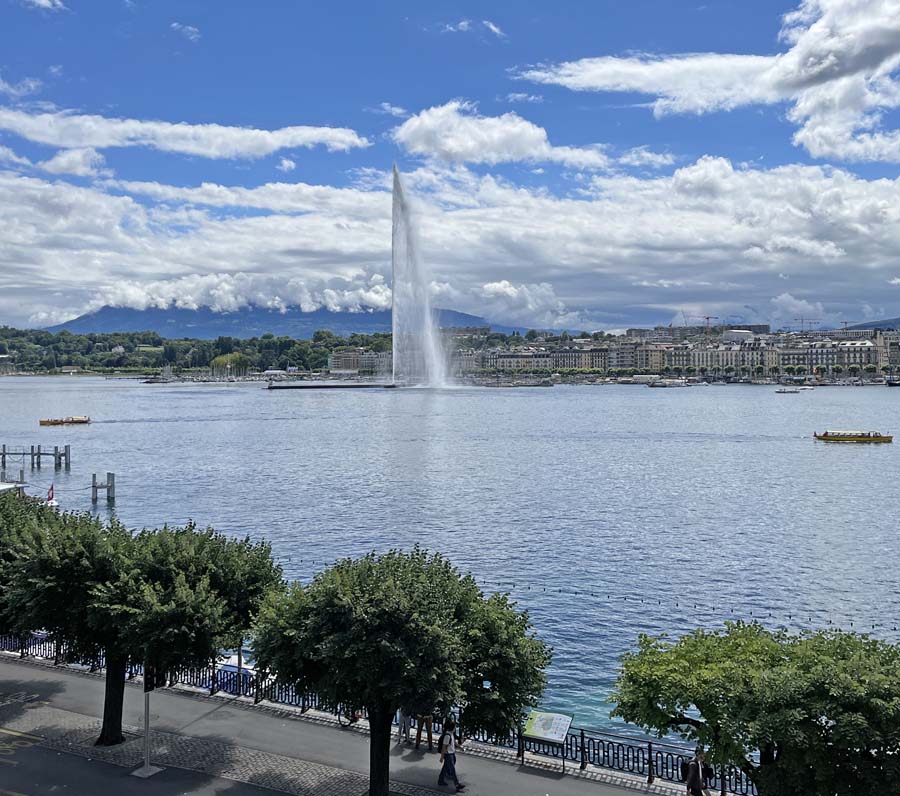 Ok, after resting up for a night, we are waiting for our car to be brought around out front. This is the front lobby of the hotel.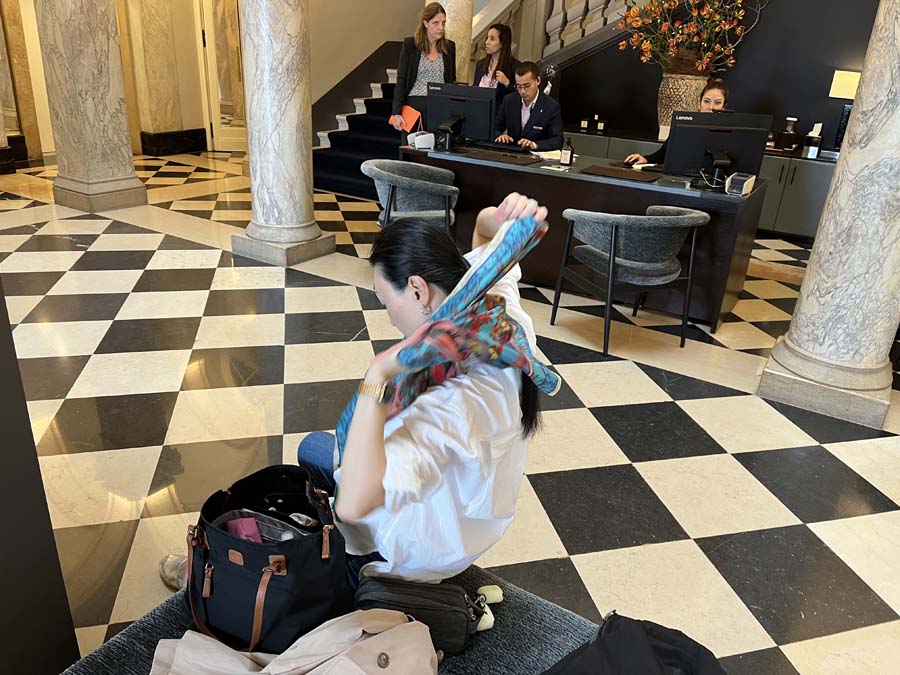 We rented a convertible "Mini Cooper" for our week in Europe, and the picture below shows how I tracked where we went. It is a "Garmin InReach Satellite Two Way Communicator/GPS" thingy. I just stuck it on the dash with some two sided tape.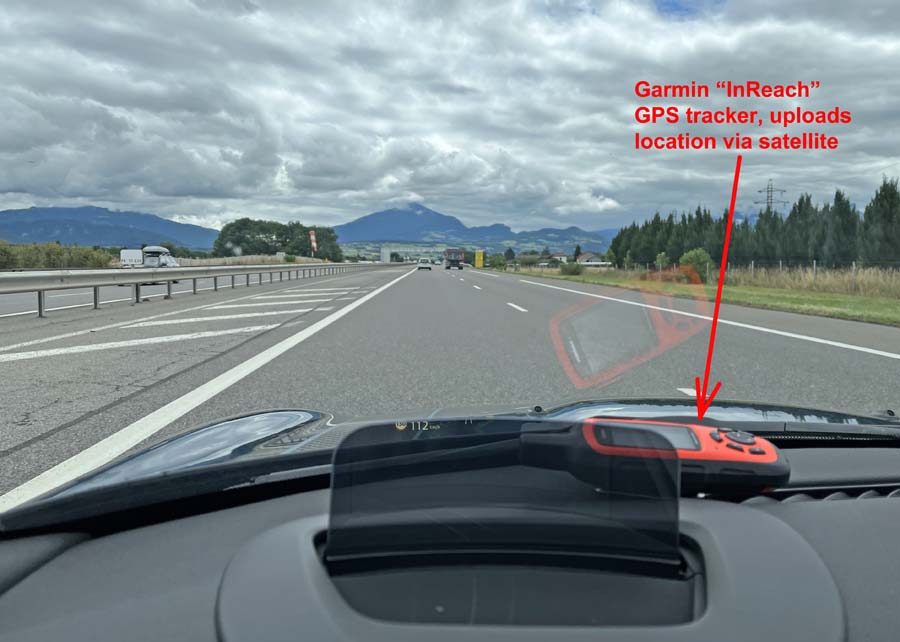 So this first day we drove from our hotel in Geneva, Switzerland to Ed Bugnion's ski chalet in Verbier, Switzerland, passing through Chamonix France on the way. Below is how the Garmin InReach website looks tracking us in "real time" (every 10 minutes it uploads a waypoint). Ed could track our progress by a URL: https://share.garmin.com/brianwski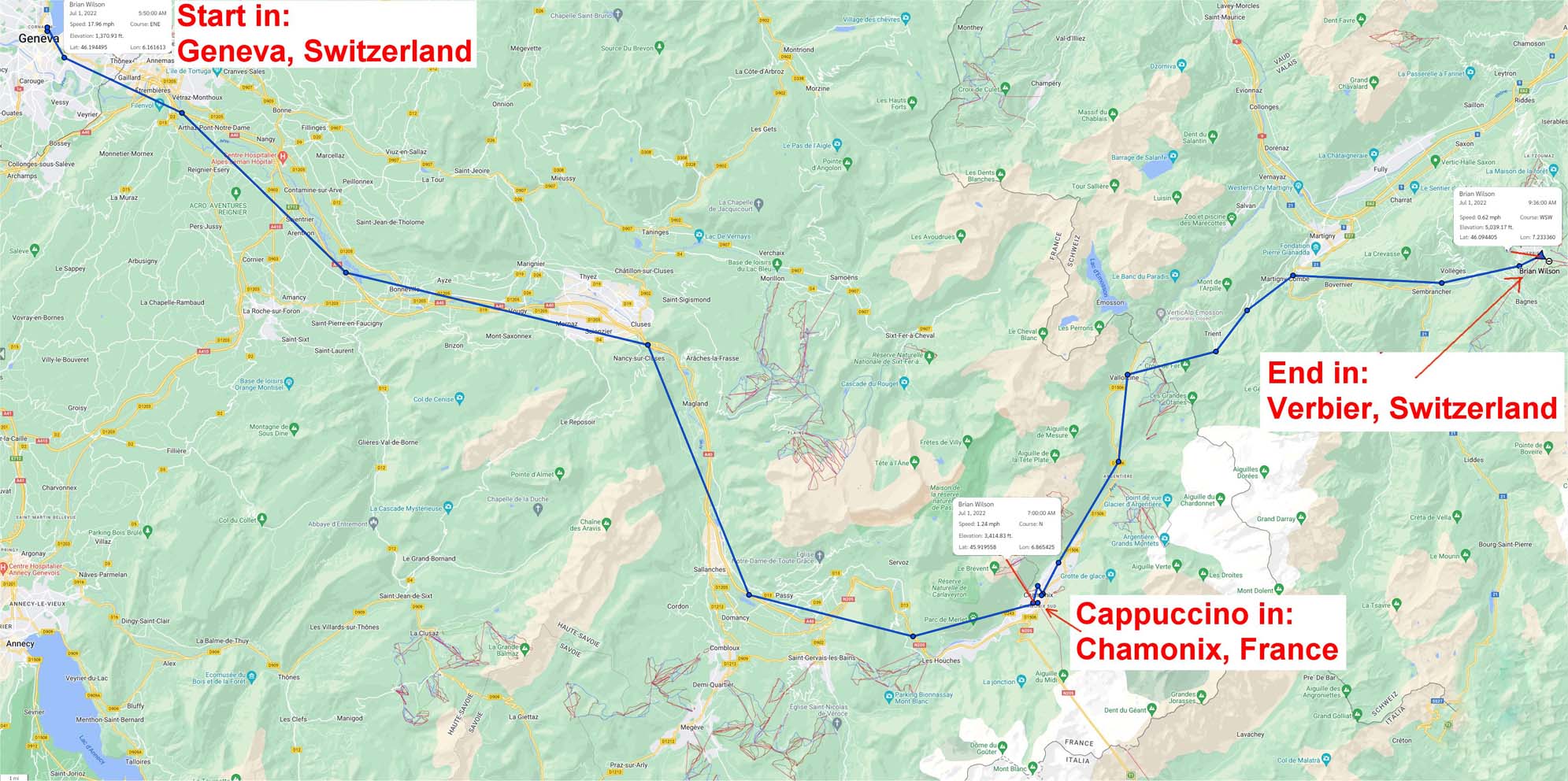 Below is a time lapse video showing the ENTIRE drive in 10 minutes from our dashcam. Just something silly to do with the dashcam footage.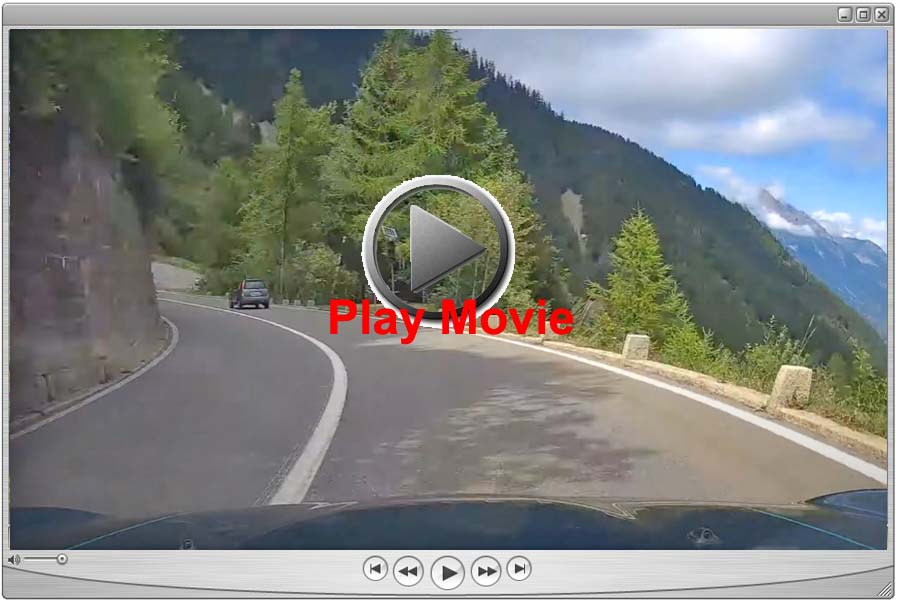 Half way through we stopped in Chamonix, France for a cappuccino. Some friends and I stayed at the Hotel Les Balcons Du Savoy pictured below in 2007 on a ski trip, you can see pictures from that ski trip here: https://www.ski-epic.com/2007_chamonix_ski_trip/index.html The picture below I took on the CURRENT summer trip (2022).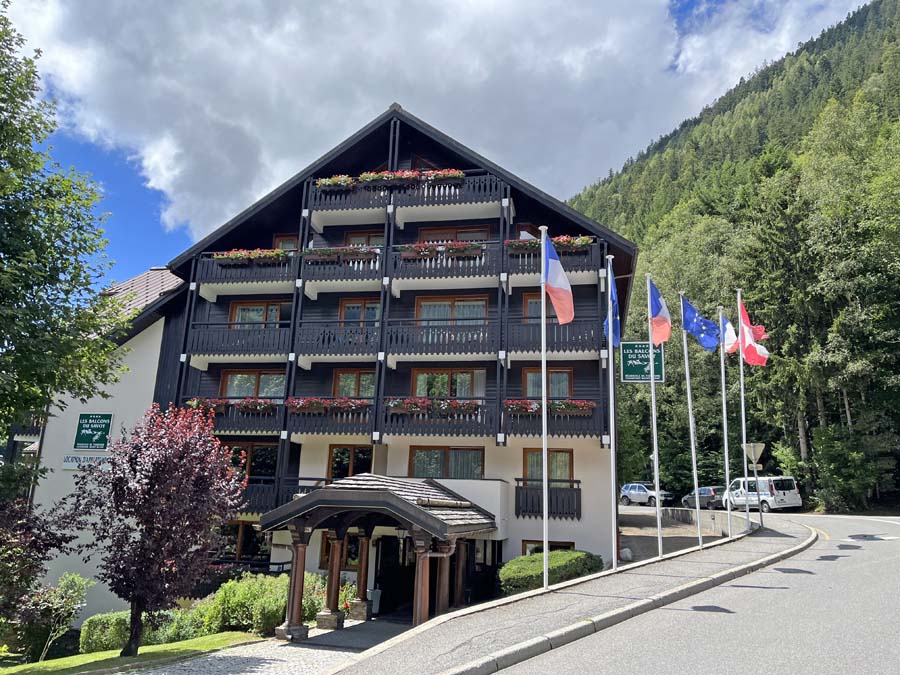 Just a picture of the hotel sign.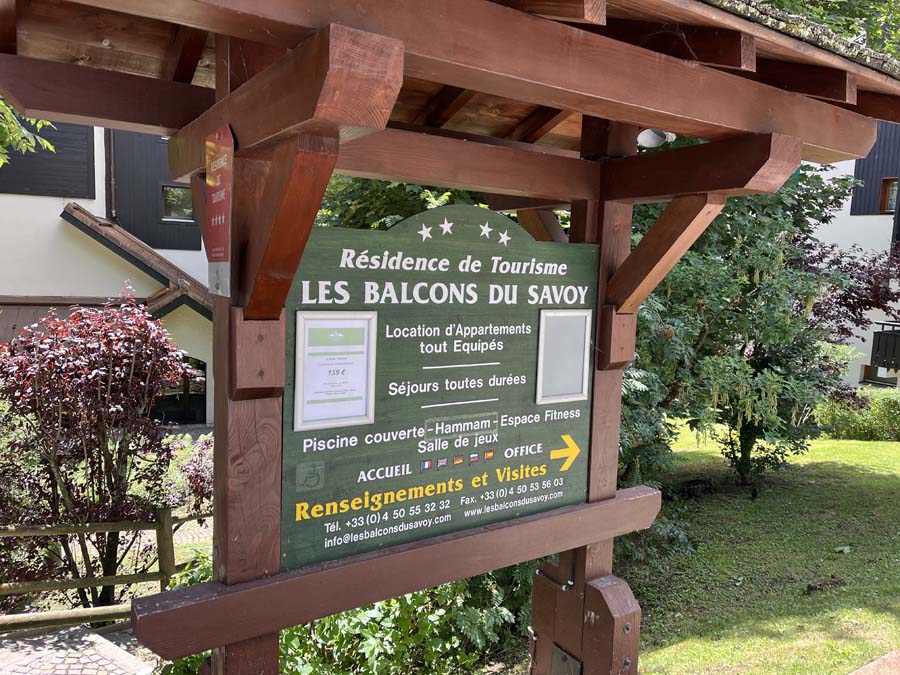 The picture below can be found here: https://goo.gl/maps/Y6SURziBiXTR4jv96 and the town in the valley below is Martigny, Switzerland. I love these roads and this region of the world, it's very beautiful here. I have stood at this same spot and taken several photos like this one over the years.

Same spot, less of a panorama.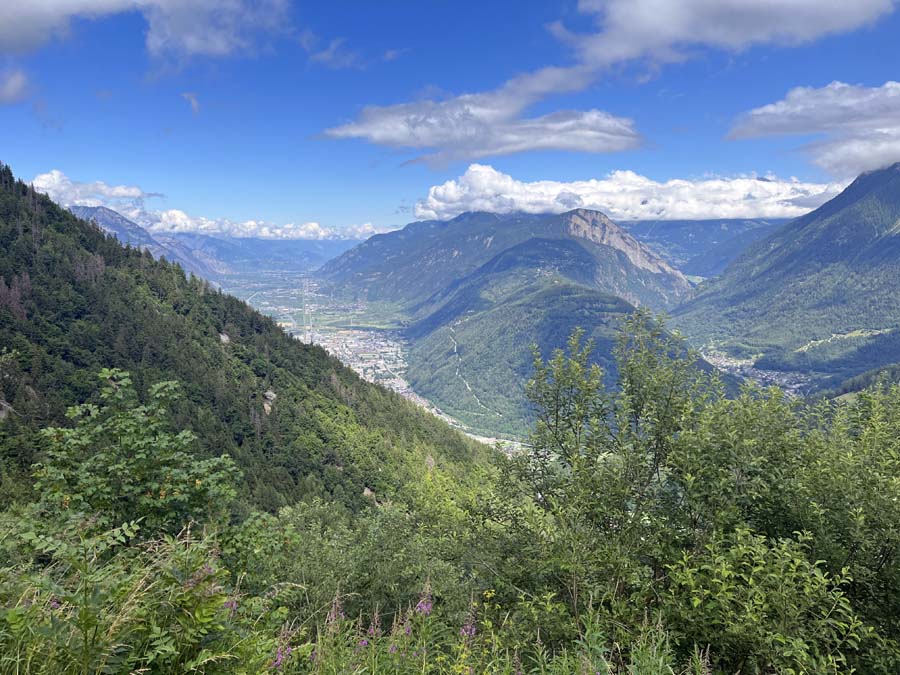 Below we found Ed Bugnion at his ski chalet in Verbier, Switzerland. This panorama below is the view from the deck. Ed is on the far right if you scroll horizontally far enough. It's just ridiculously beautiful here in Switzerland.

Below we are having a beer with Ed. Katherine is on the right.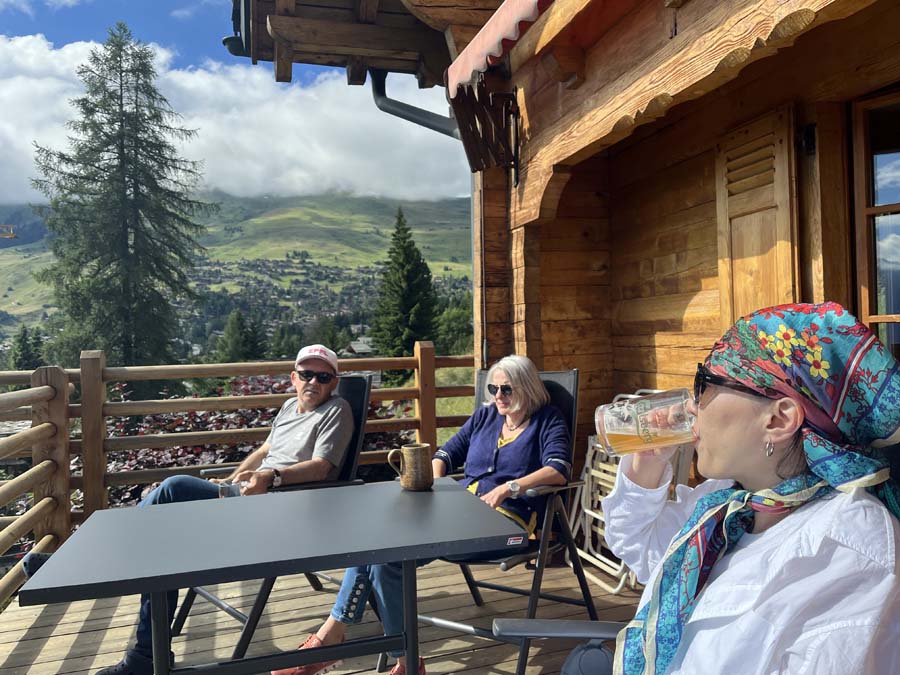 For dinner, we had Raclette which is really fun, social, and very delicious. You place a slice of cheese on a little personal frying pan and put it in the dedicated heater at the center of the table, and when it is melted you slide it off onto potatoes on your plate.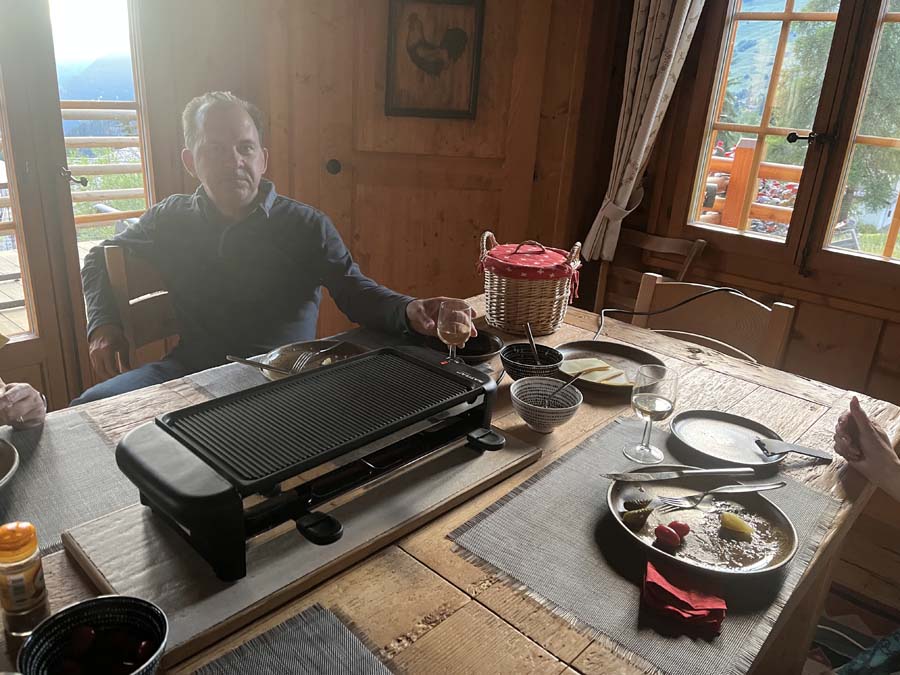 Ed had this "McCormick Raclette" mix of spices that were optional. I'm not sure what's in it.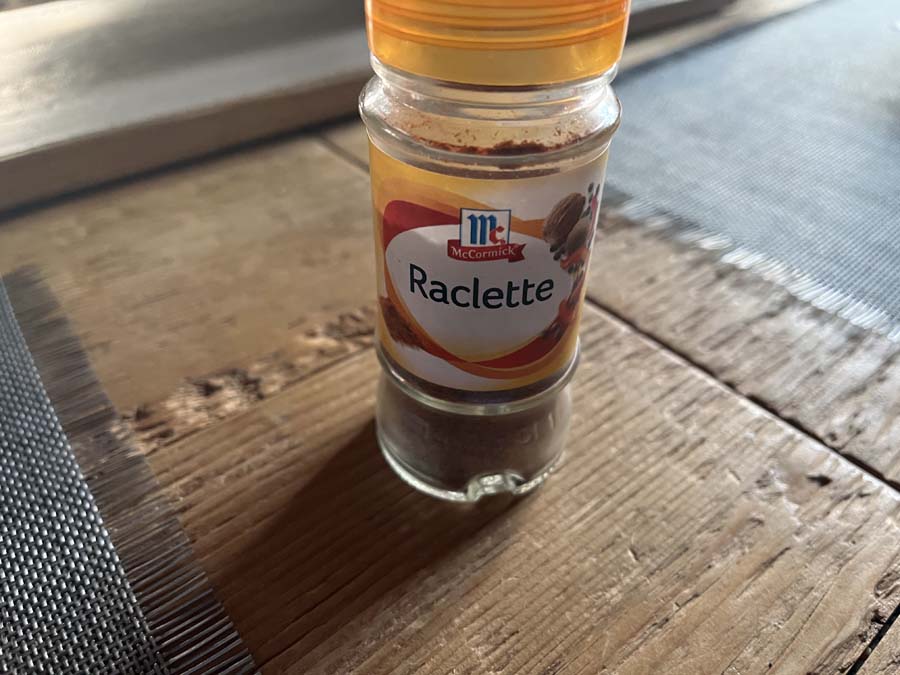 The view from Ed's Verbier Switzerland ski chalet either as the sun went down or early the next morning.

View from the front yard.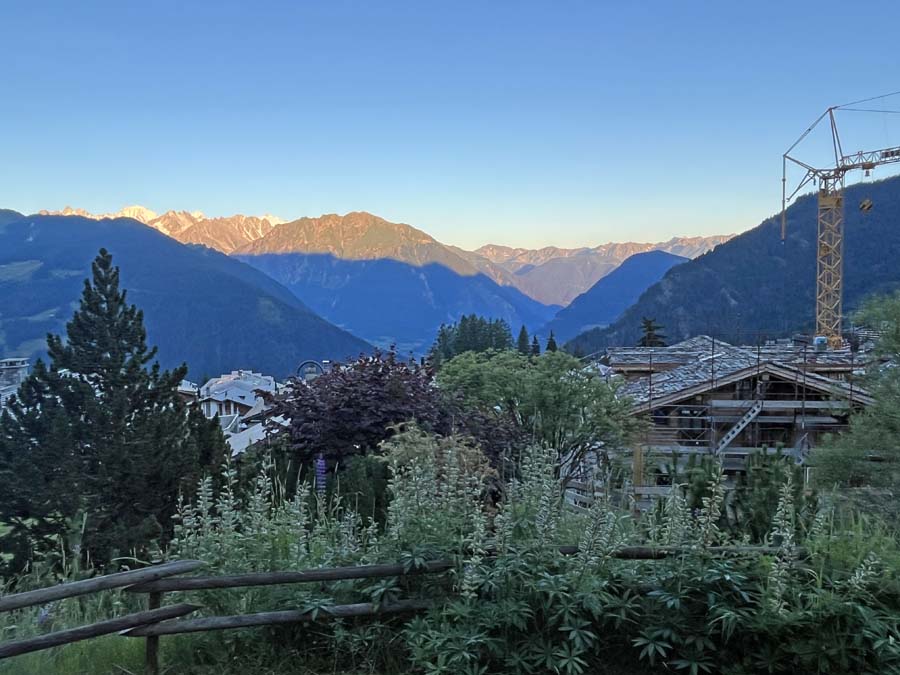 We stayed the night in the "guest suite" in the ski chalet. I really like the efficient little bathroom in the guest suite, and took the picture below to remember the design. You can see how the shower opens at the corner sliding both wall doors to open it. It works really well, and the vertical bar for the shower head allows you to adjust the height of the shower head. Both Katherine and I thought this was literally more functional and a better design than the shower we had at the Ritz Carleton the night before which had a showerhead in the middle of the shower so low I couldn't stand up straight without bumping my head on it. Also notice the towel warmer on the left of the photo - so common in Europe, almost unheard of in the USA.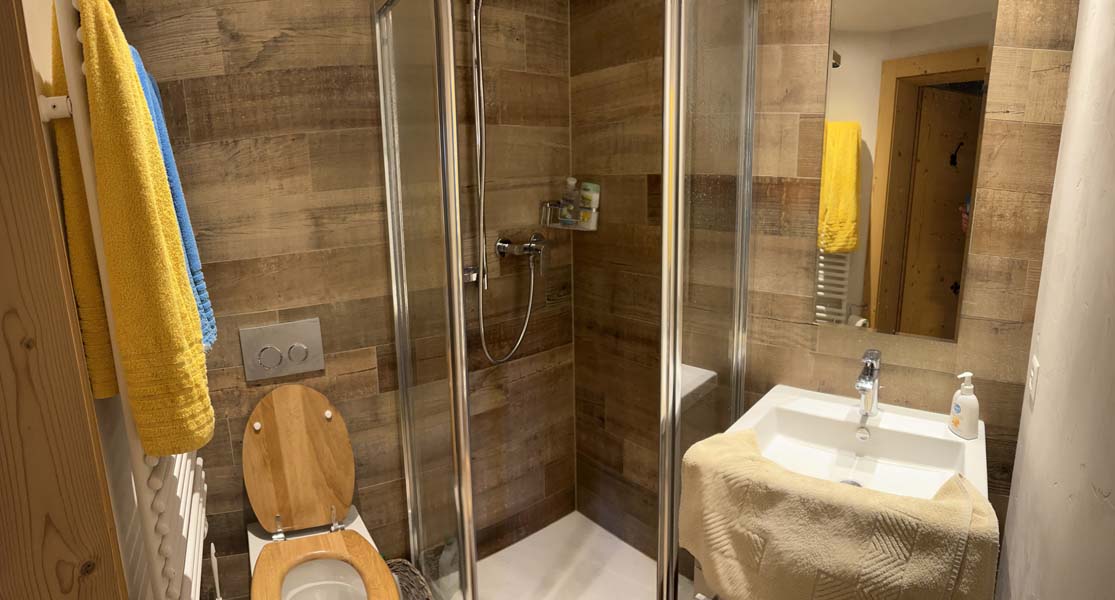 A vertical picture to see the shower more clearly.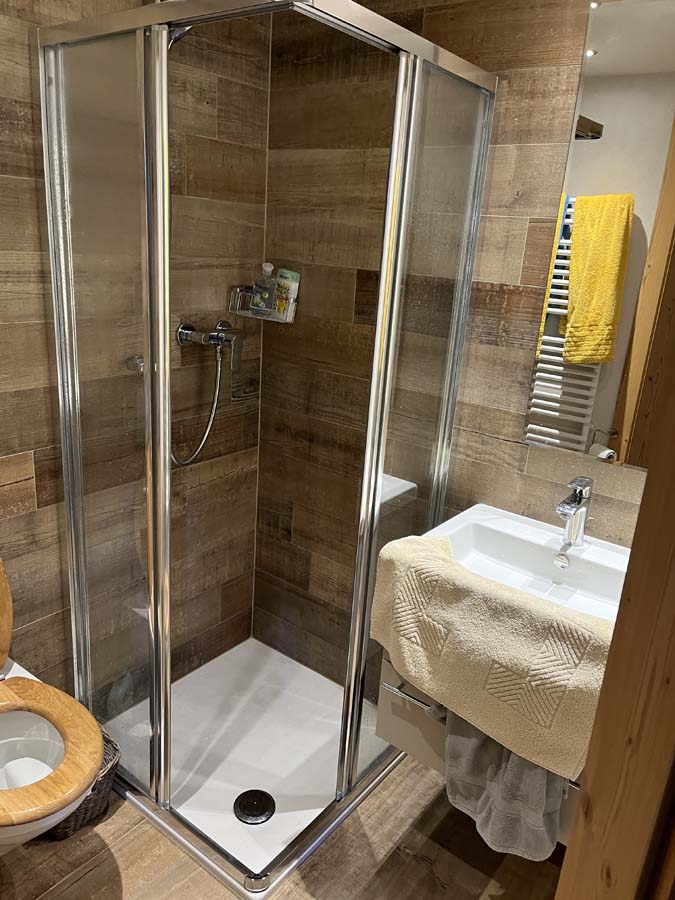 The picture below was taken the next morning looking backward up at the deck of Ed's chalet.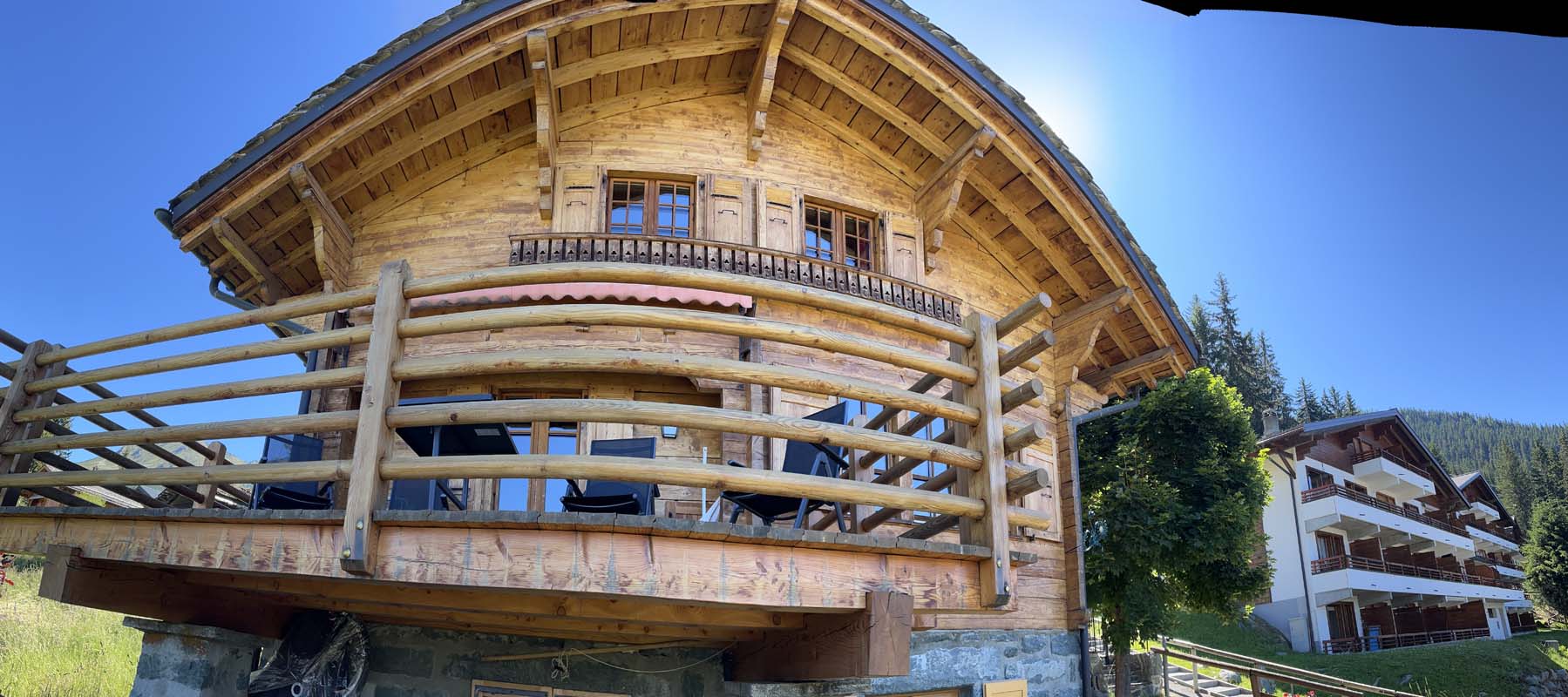 The chalet is three stories tall. Below I'm standing in the front yard looking at the lowest level.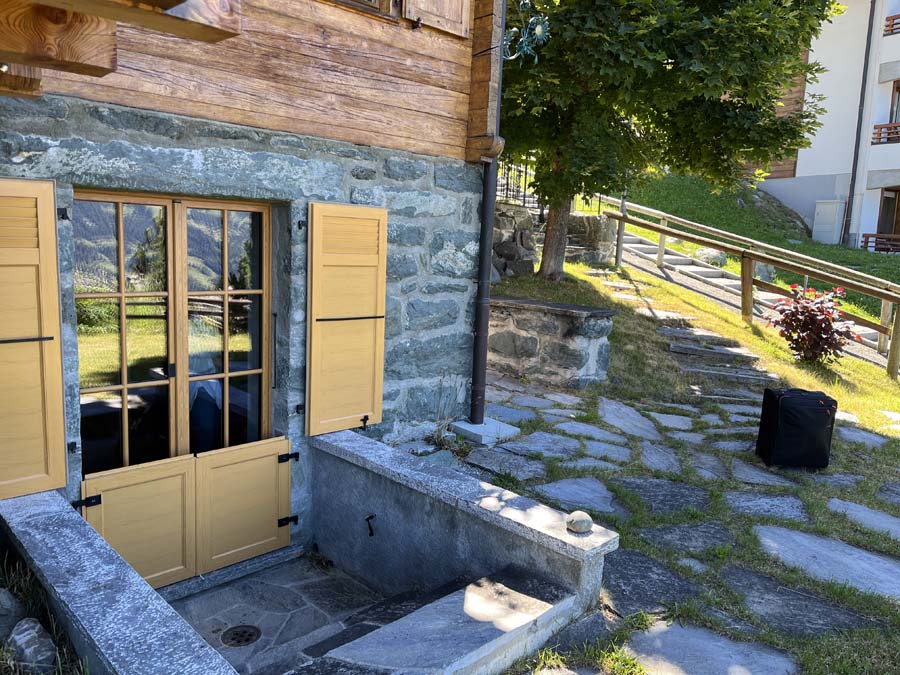 Picture looking outward standing in the front yard.
We decided to ride the gondolas and trams to the top of the Verbier ski mountain, and we stopped in this store to purchase Katherine a warm jacket. It's not a great angle, but look at the muscles in this sales person's arms! Geez, she was ripped!
The brand of jacket was Norrøna, see the picture below.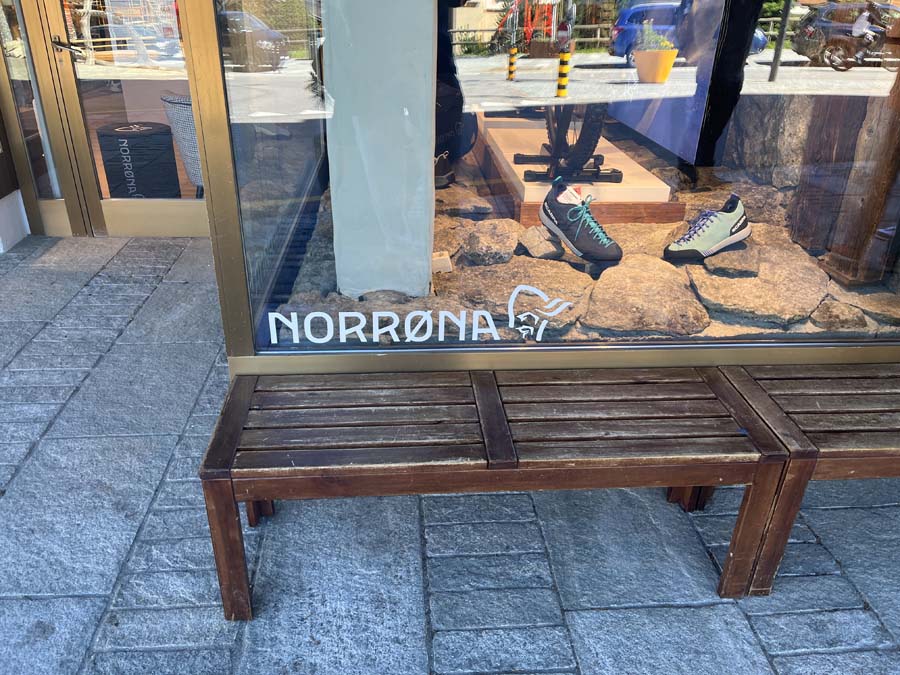 The store's name is "No 1 Sports" in Verbier, Switzerland.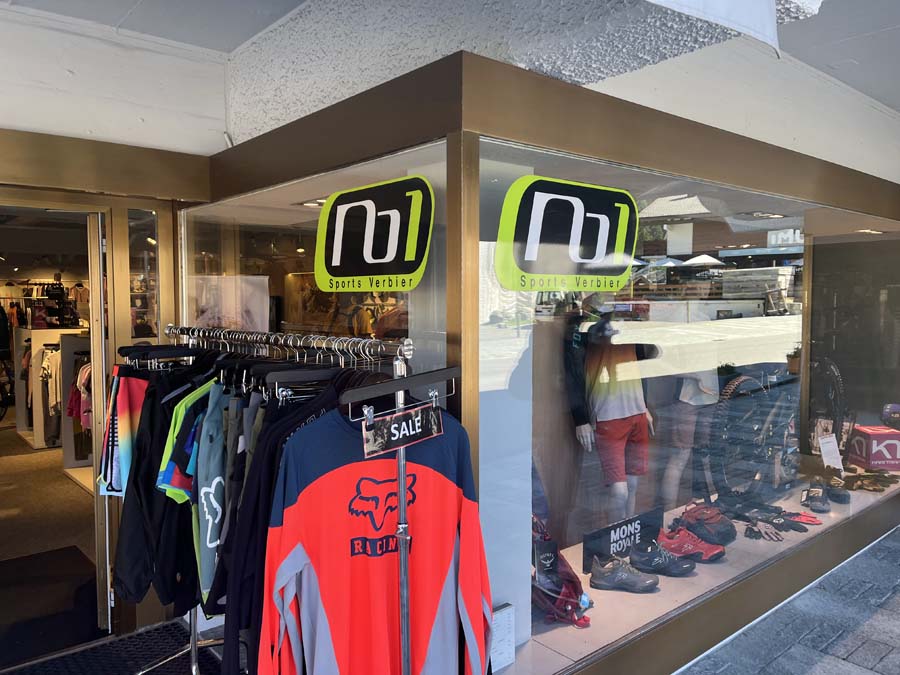 So here we are at the base, about to take the first gondola. It is 4 different gondolas and trams to reach the top.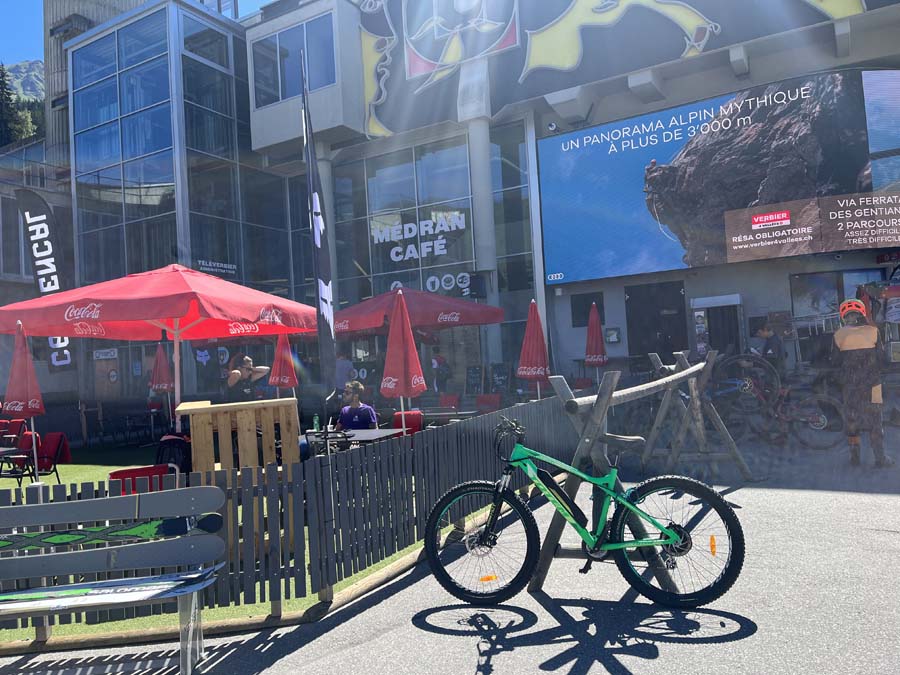 And up we go! Picture of the base of Verbier as we start to ascend.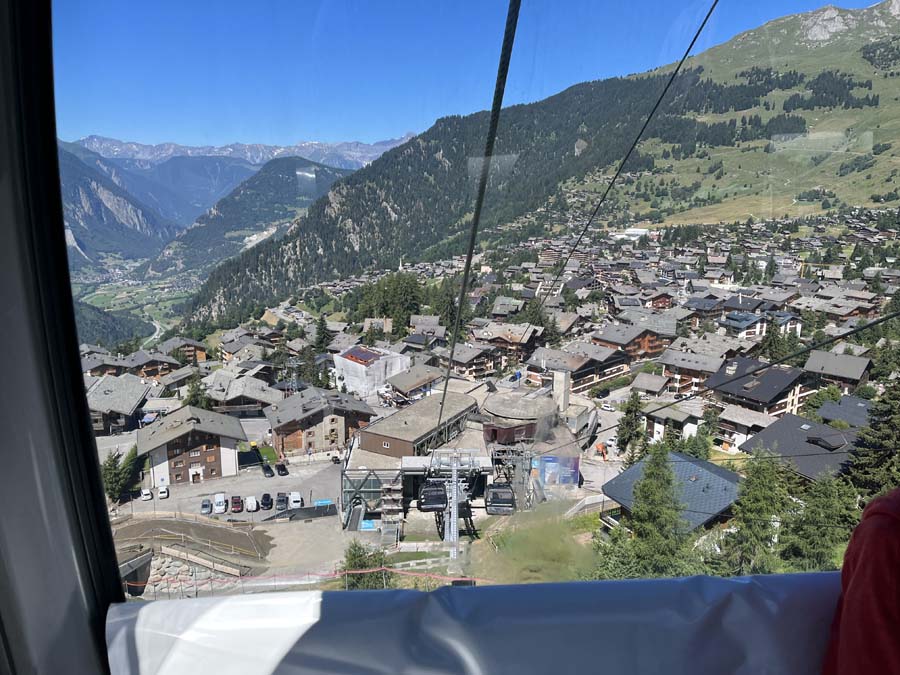 A paraglider can be seen in the picture below, there were several of them flying around all day.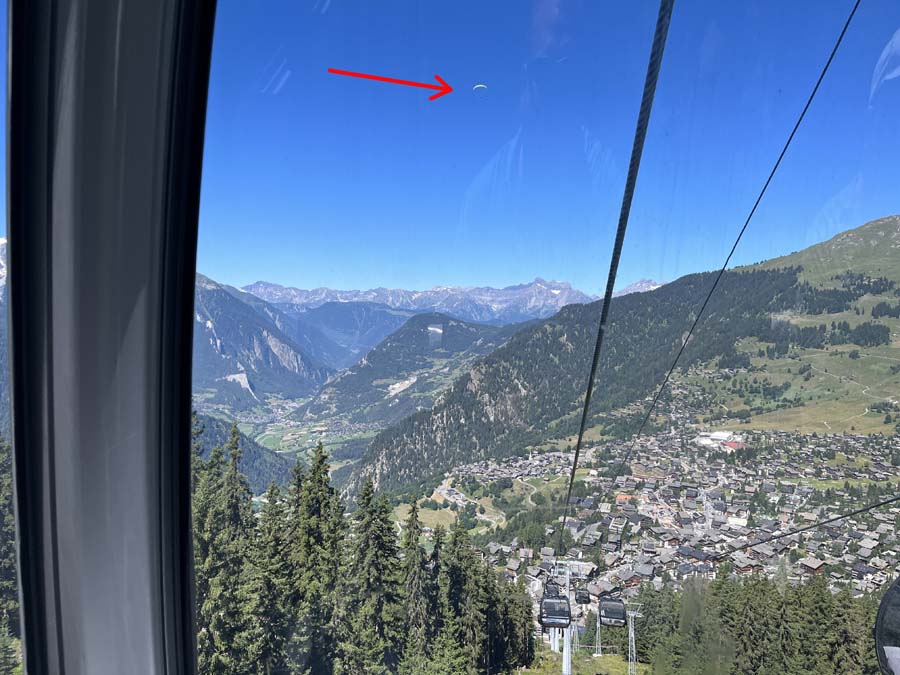 Picture from the gondola, it's a little fuzzy and has glare because it's taken through the glass window bubble.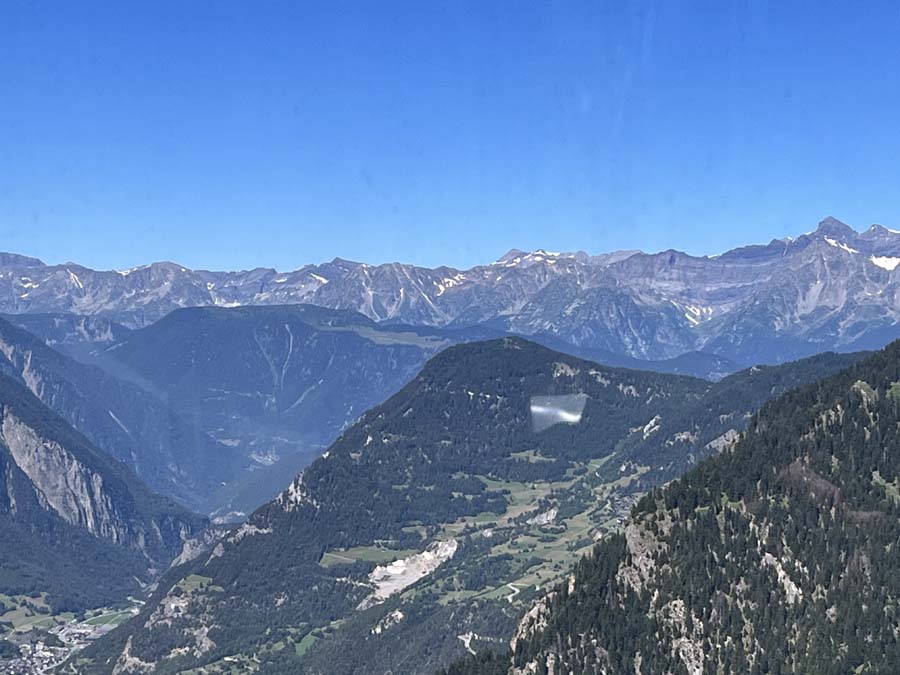 Up we go!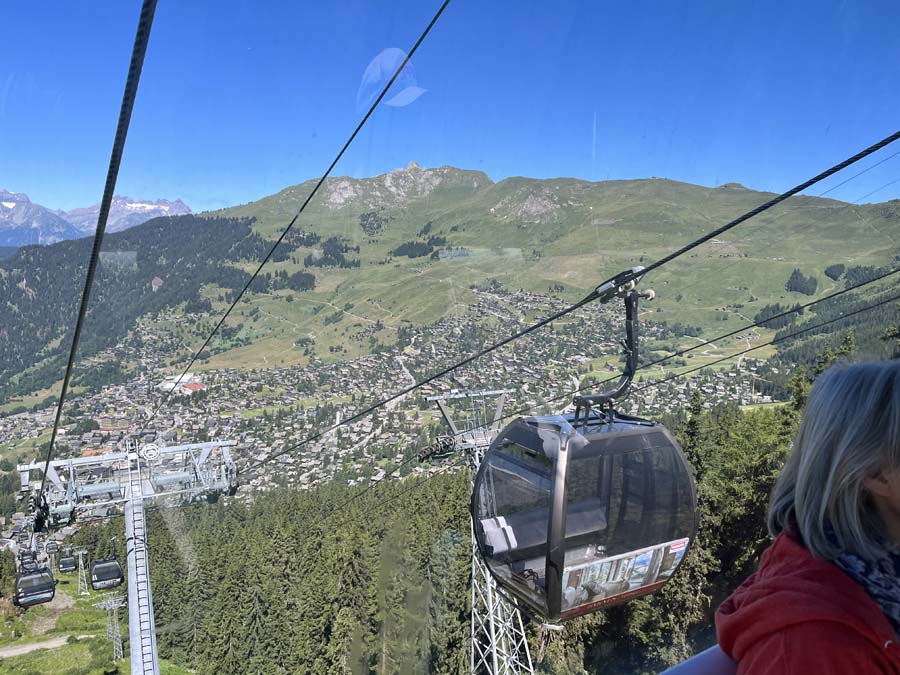 In the picture below, you can see where some of the paragliders launch from.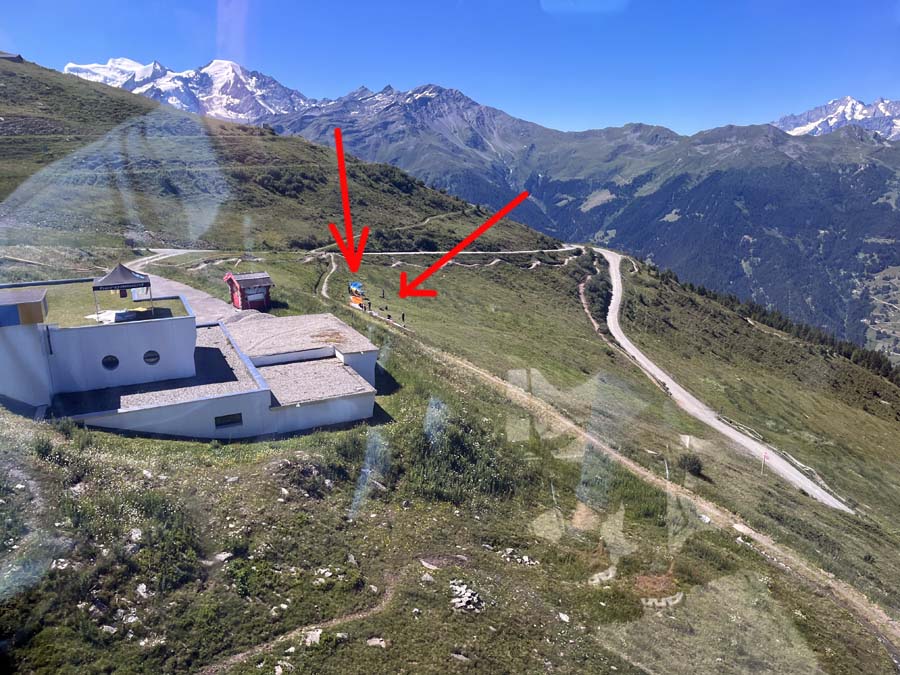 As we got off one gondola to walk over to the next gondola, I saw these bicycles I think you can rent there. Notice in the picture below how the bicycle does not have any pedals? And no seat?
A row of this type of "downhill coasting standing bicycle" for rent: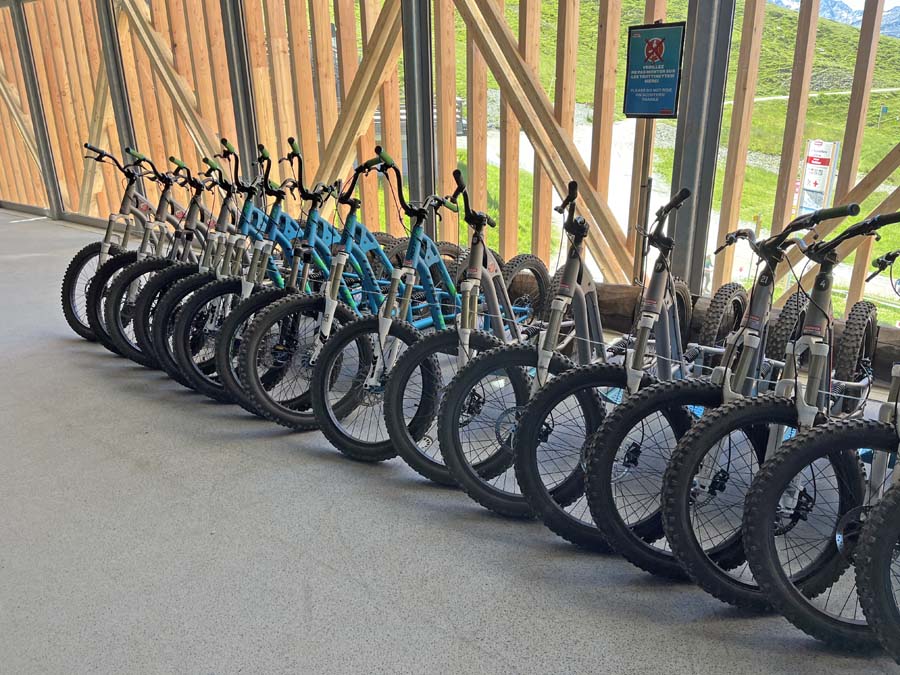 The restaurant we will eat lunch at later is called "Le Dahu". The name "Dahu" is from a fictional mountain creature that is only found in Switzerland and parts of France: https://en.wikipedia.org/wiki/Dahu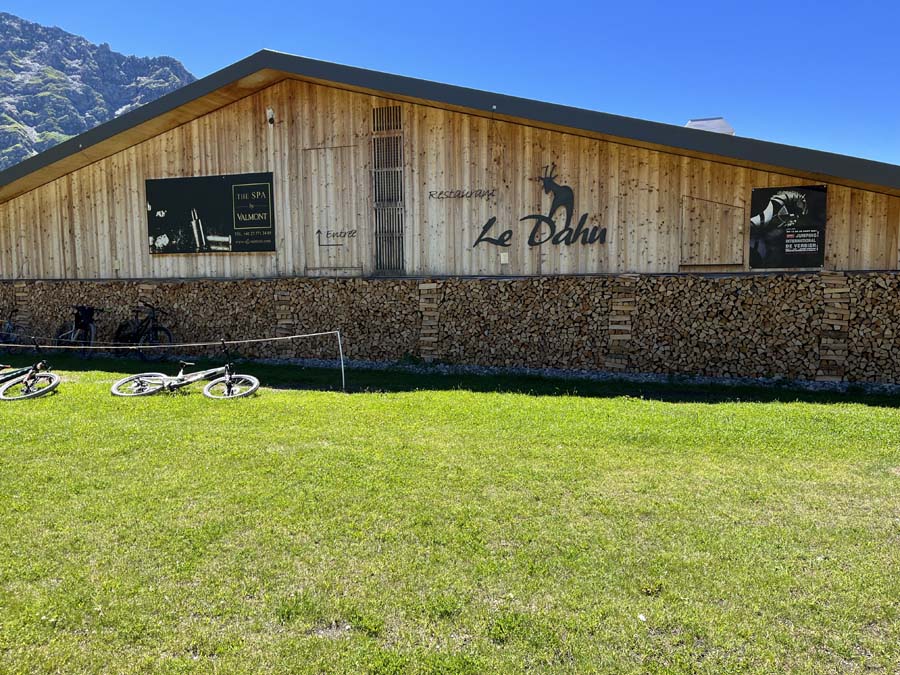 On our way up the Verbier resort in Switzerland, next ride!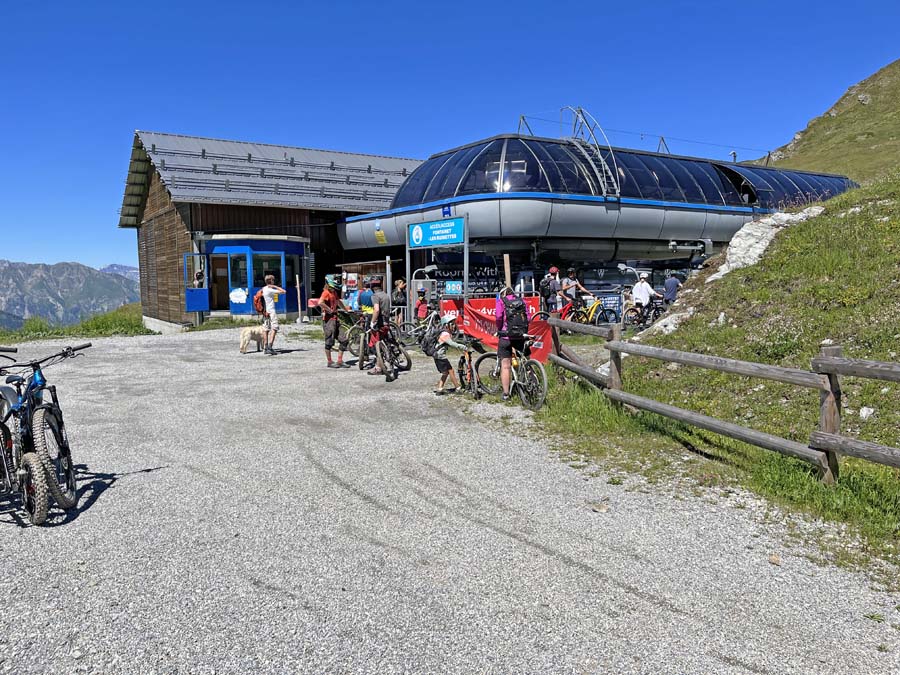 This ride is a "tram" not a gondola. Gondolas run a cable in a circle where they are scooping up people each minute or so always travelling in the same direction. Trams only have 1 car that goes up and then returns back. Sometimes two trams operate side by side (always going in opposite directions) which I think is to counterbalance against the weight of the other tram.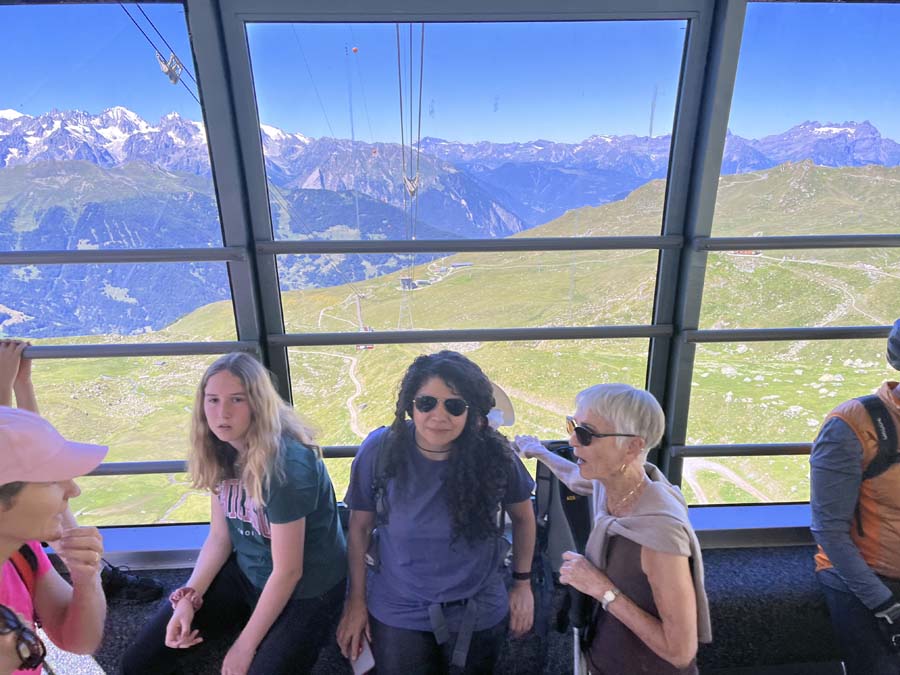 Katherine and Ed looking at the remaining glacier.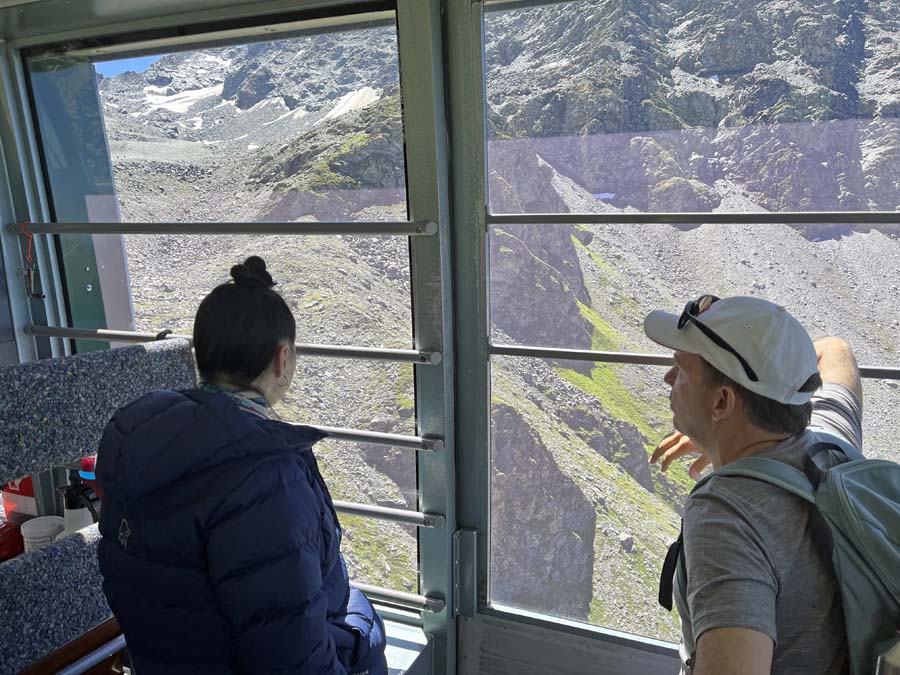 Here we are on the final (smaller) tram to get to the summit of what I think is "Mont Fort". There are several glaciers surrounding Mont Fort, but they will most likely be gone within our lifetimes.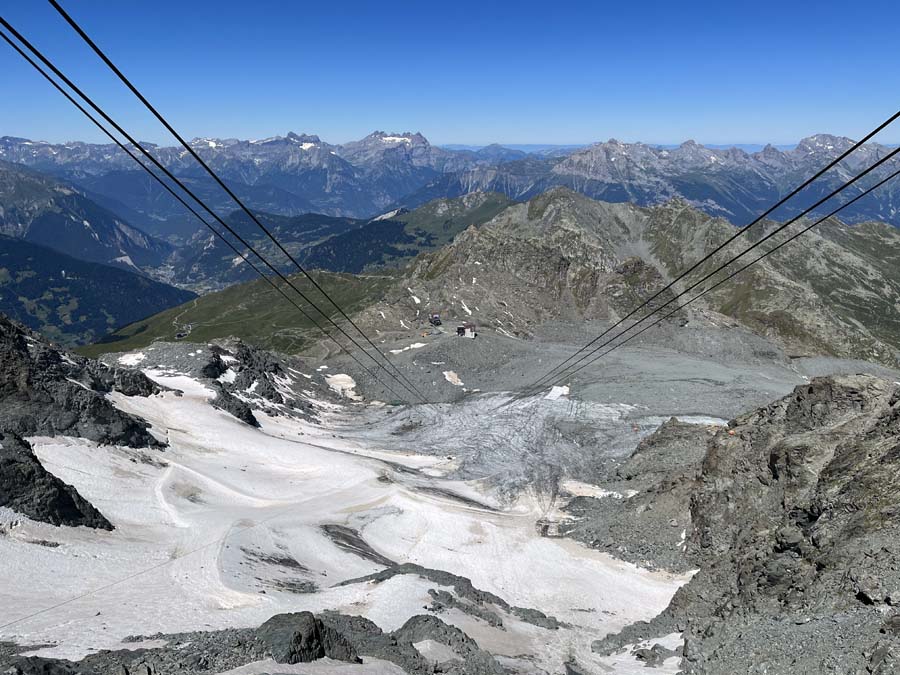 And here we are, at the summit! Ed walked up to the top, the elevation is 3,328 meters (10,919 ft).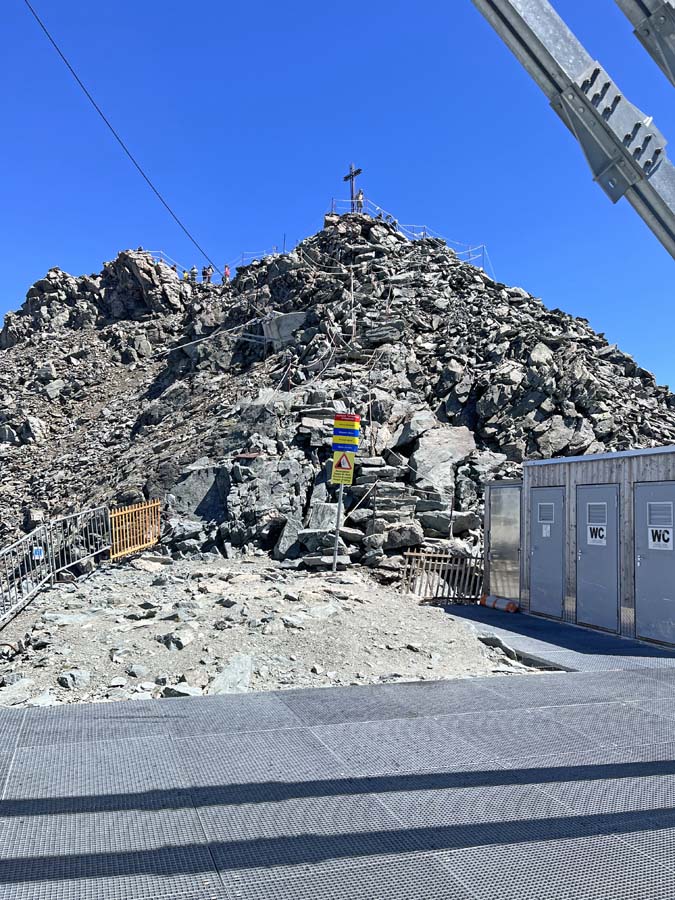 Below is a panorama of the area. Use your horizontal scroll bar to see more of it to the right.

If you click on the picture below, you can see the map names all the Swiss mountain peaks you can see.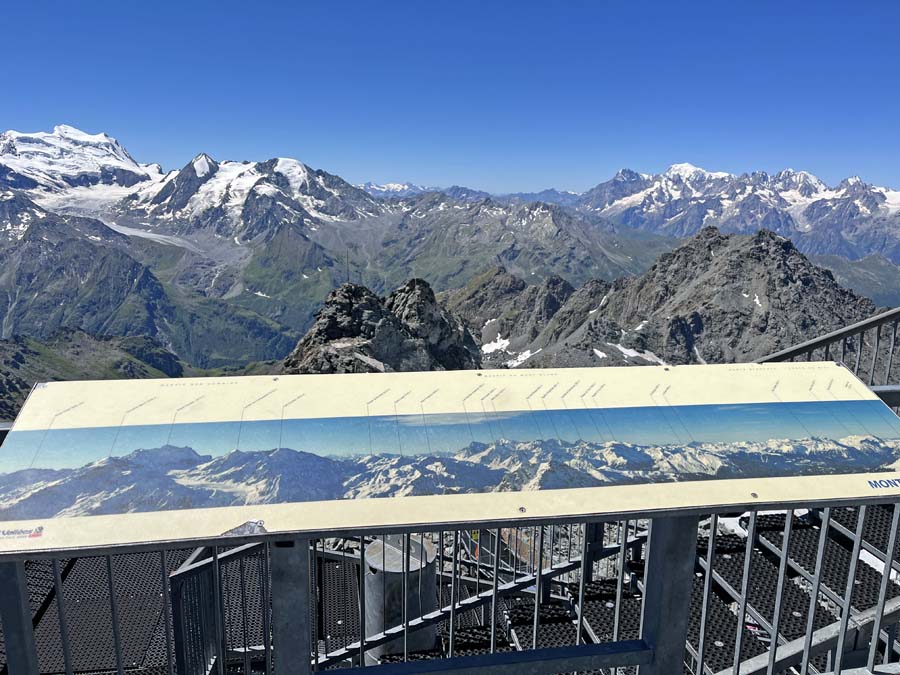 If you need directions to places like Verbier from here, you are probably in trouble. (That was a joke.) But the sign below can help.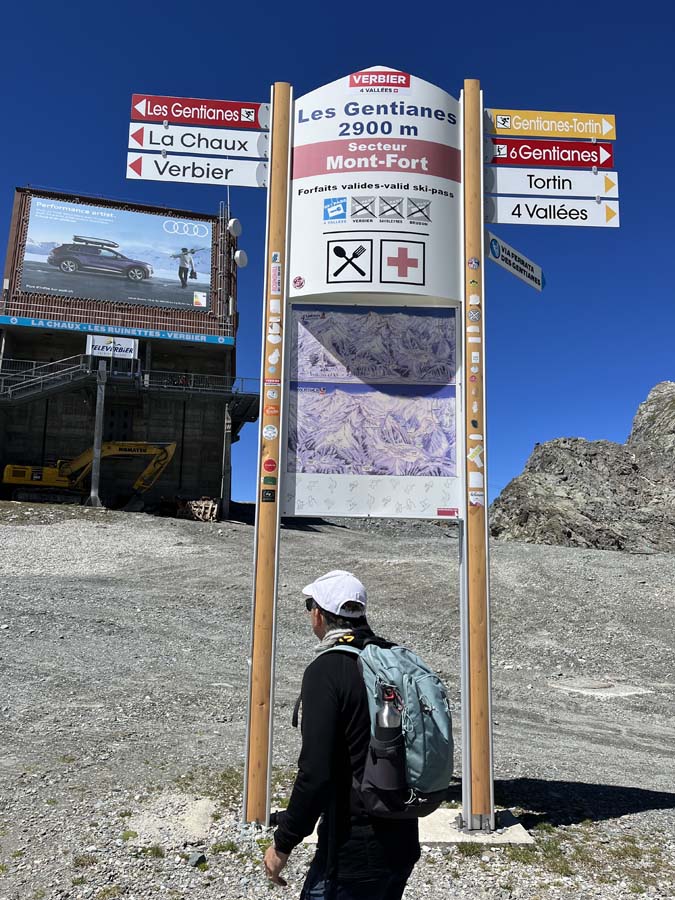 A closer in picture of the ski map in Verbier, Switzerland. Remember you can click on any photo for a larger version.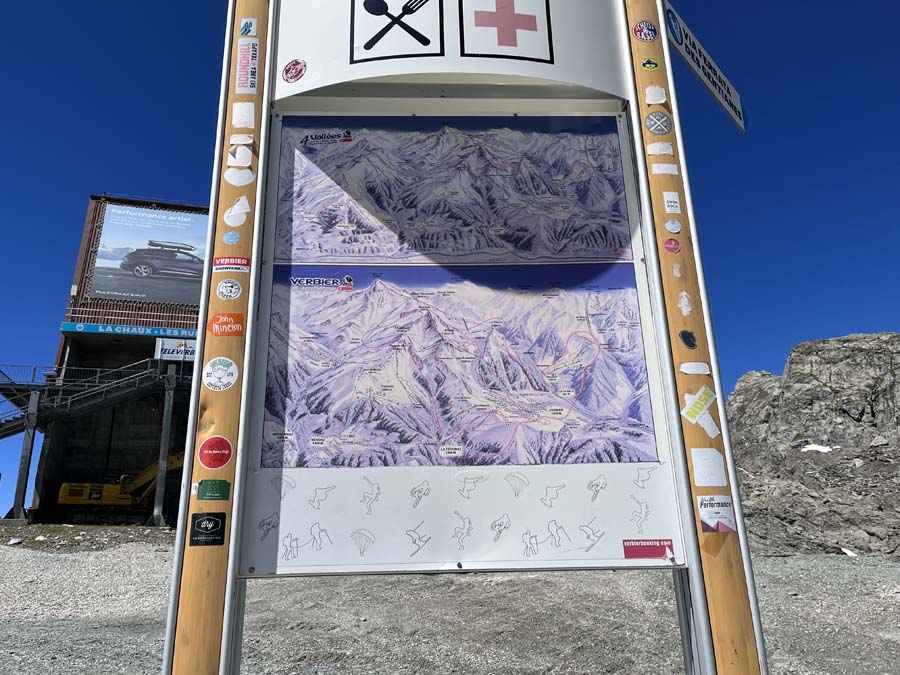 At the summit is this hut where you can buy cappuccino or fondue.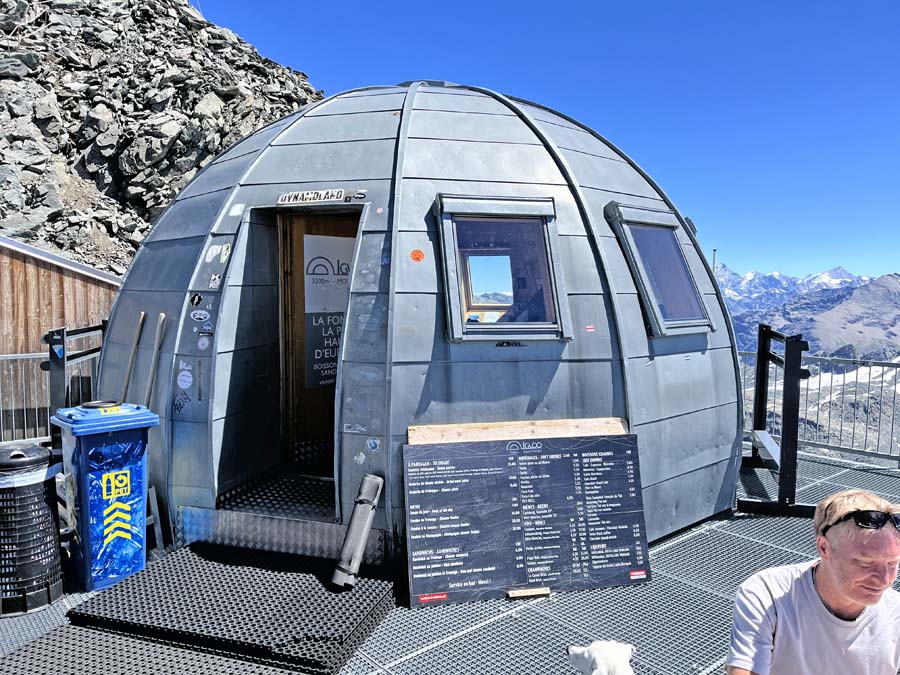 Pictures of some really famous explorers and mountaineers decorates the side of the tram building at Mont Fort. They are:
Perpetual Planet Mountain Expedition, 2019
Rolex Watch - it's an advertisement for a watch that can't even synchronize time over the internet. (That's a joke poking fun at Rolex in the age of Apple Watches.)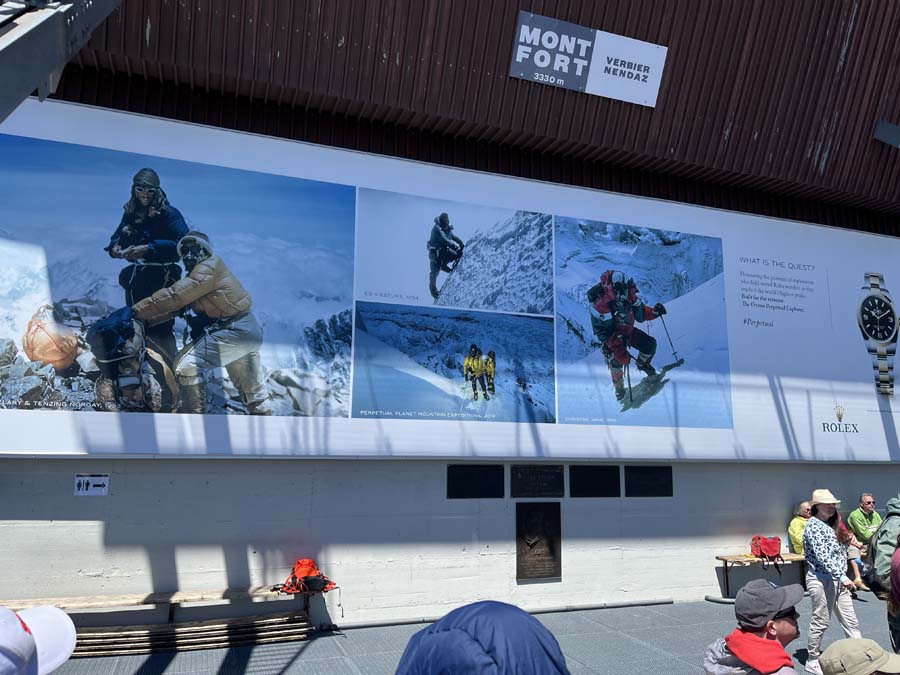 And time to descend back down again.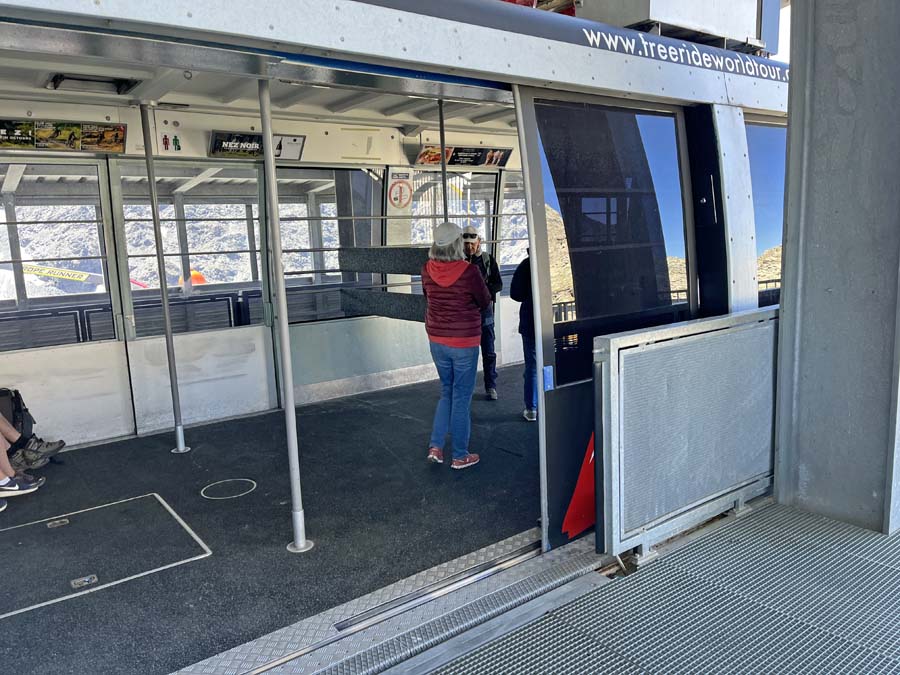 Descending further.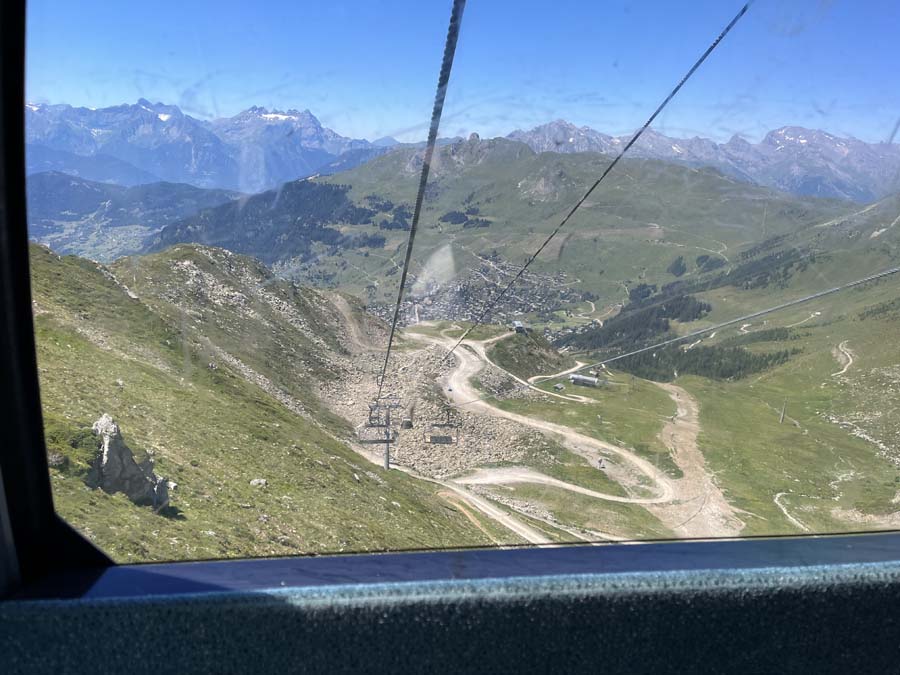 The sculpture is: "Le Dehu" by sculpture William Besse. The sculpture was done in 2013. "Le Dehu" are mythical beasts rumored to be in these parts of Switzerland. William Besse is also known for being an Olympic Champion skier from Switzerland. From 1988 - 1996 he won a whole lot of downhill ski races. He was also a ski instructor at Verbier after his competition days were over.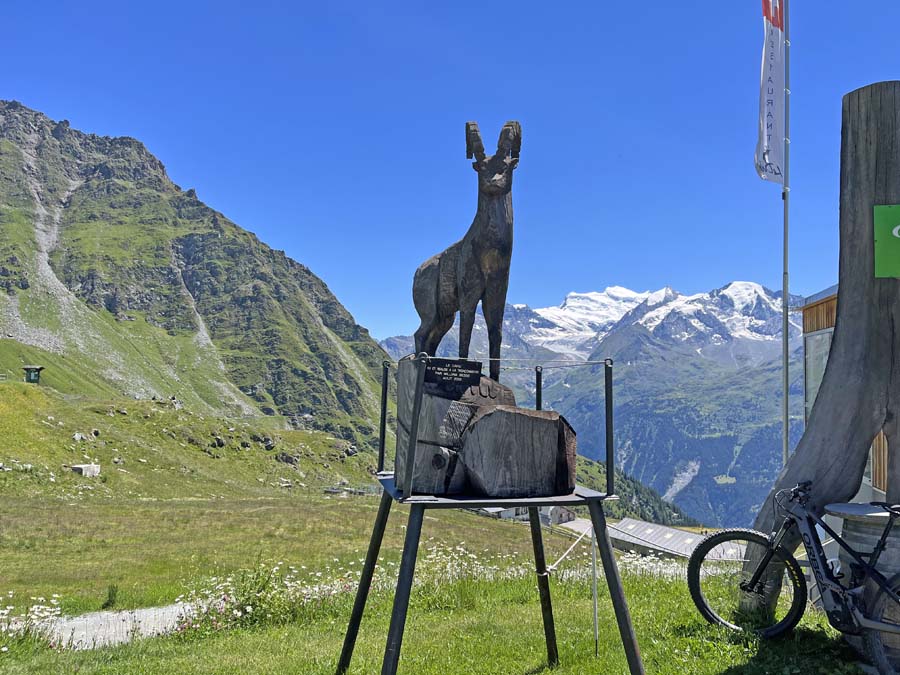 After lunch we said goodbye to Ed and drove from Verbier, Switzerland to Annecy, France. The route is shown below, tracked by GPS:

Below is the ENTIRE DRIVE by time lapse in 9 minutes, just something fun to do for with the dashcam footage: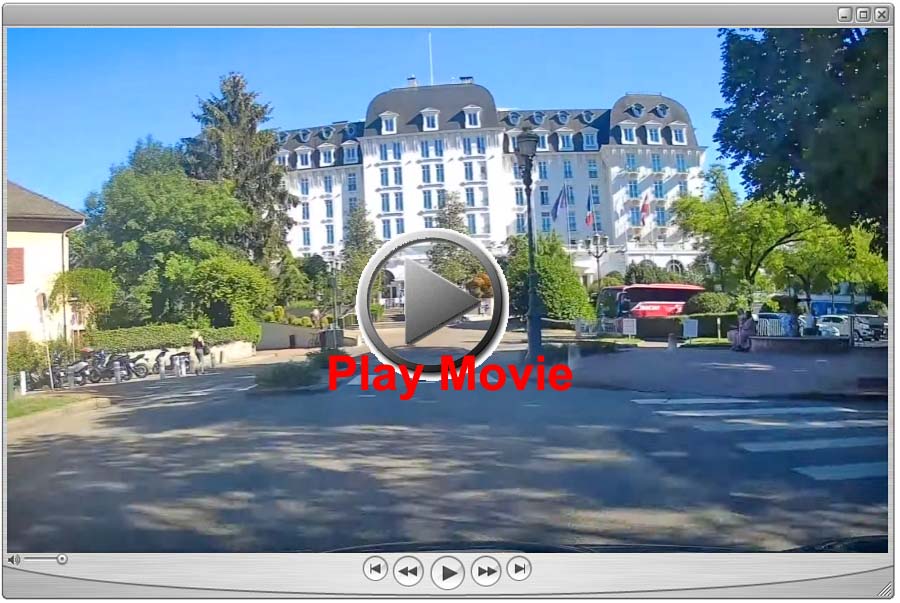 In Annecy Katherine and I checked into room 812 of the "Imperial Palace at Annecy". For some reason they upgraded us to the best suite in the hotel: https://www.hotel-imperial-palace.com/suites-exception-1198 It is two opulent floors of crazy nice. There is a master bedroom and a guest room. A kitchen, three balconies. It is really very nice.
This is the view from one of the balconies of Lake Annecy.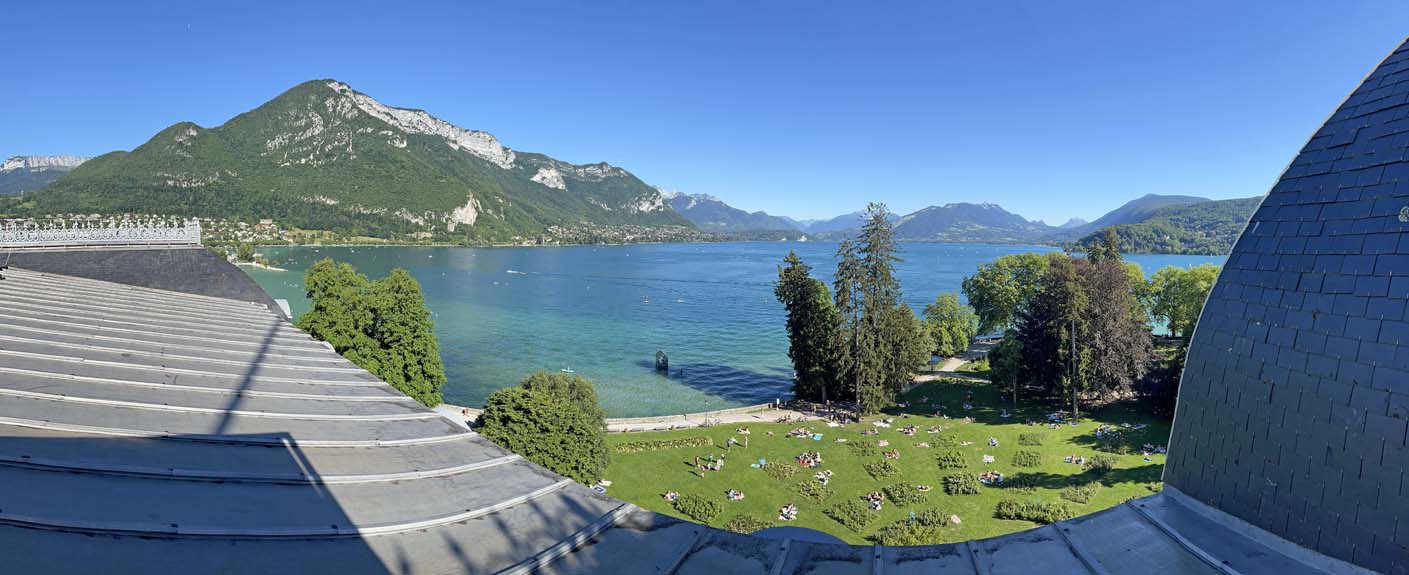 This is one of the decks (same location as above photo but facing backwards).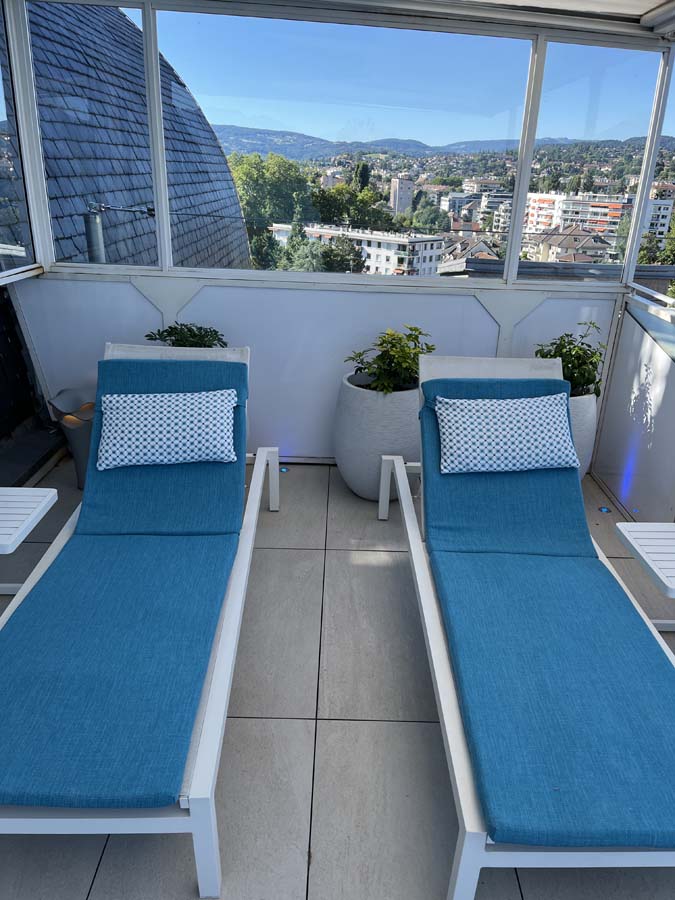 Pictures from our hotel room.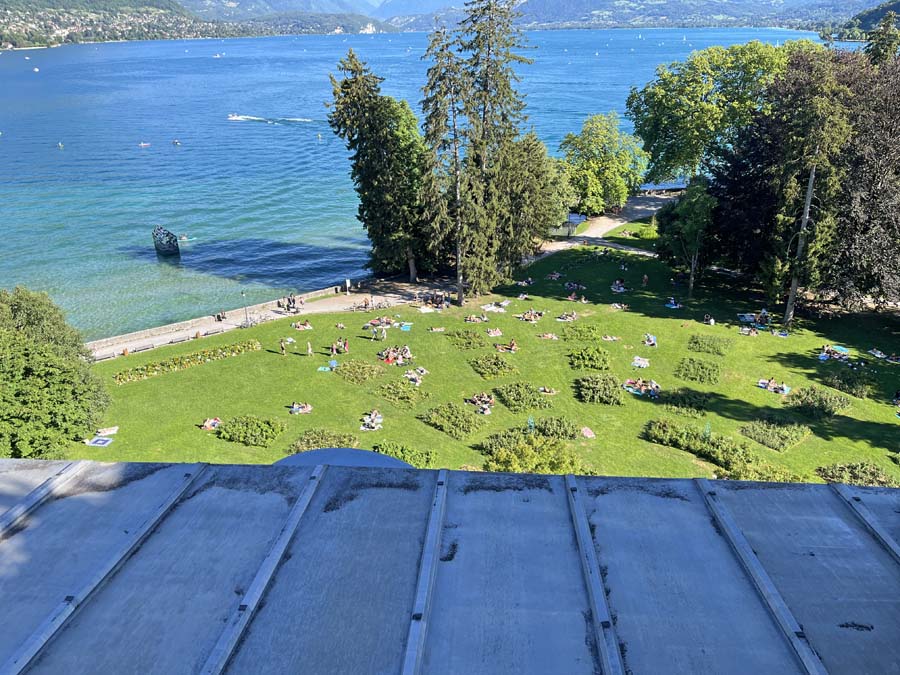 This is the master bedroom shower room. There isn't a toilet in here. That door at the hallway past Katherine is to the showering area. I think I've lived in apartments smaller than this bathroom.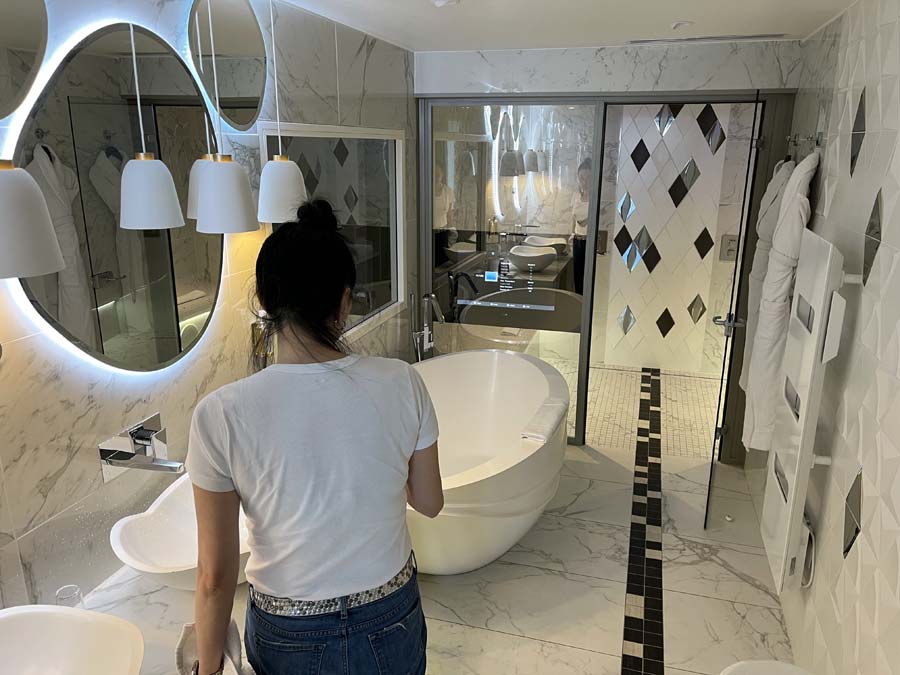 A panorama of the showering area sub-section of the master bathroom. There isn't any mirror in this picture, look at the diamond shapes on the far wall if you don't believe me, this is like 2 showers in a room the size of a garage:
This is a little half bath by the front door to our hotel.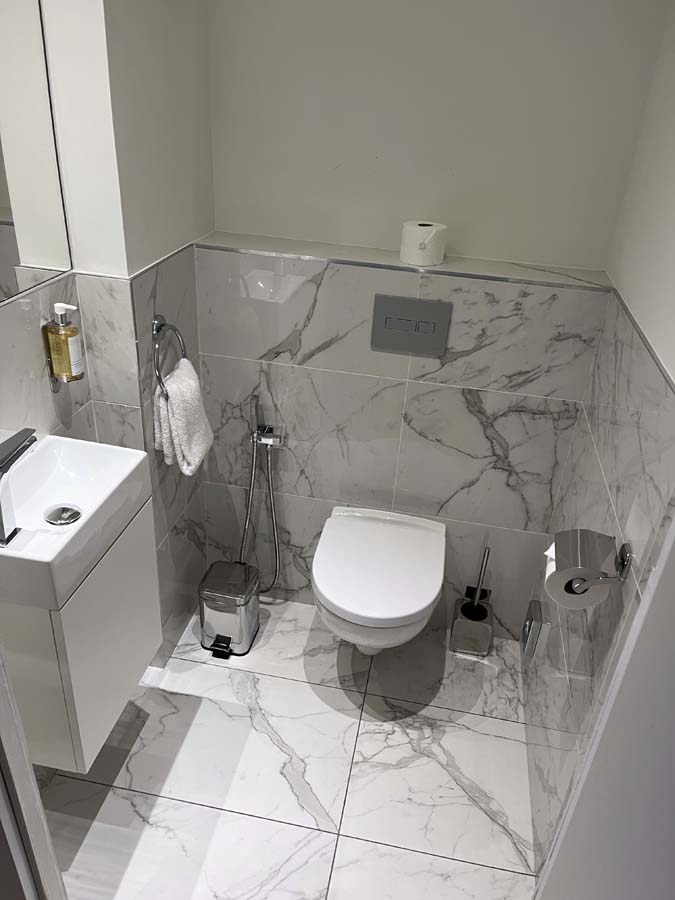 The picture below is the "guest room" inside of our "suite". The guest room has it's own private bathroom.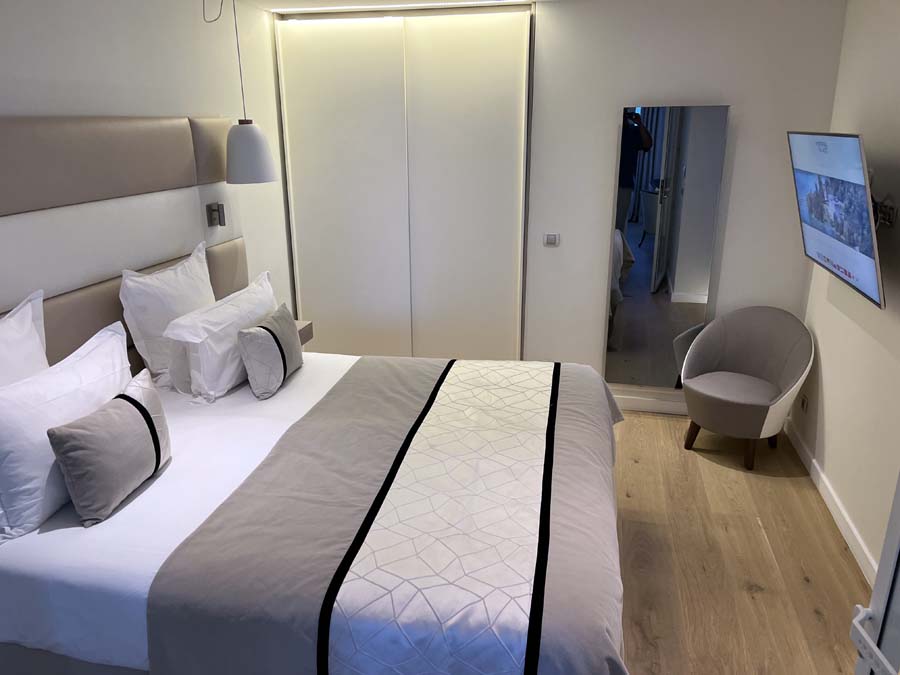 This is the guest room's private shower room.
Ari Echt-Wilson, our niece, is on the far left in the picture below. We are ordering room service and eating on one of our private decks in this hotel. Katherine is opening Champagne.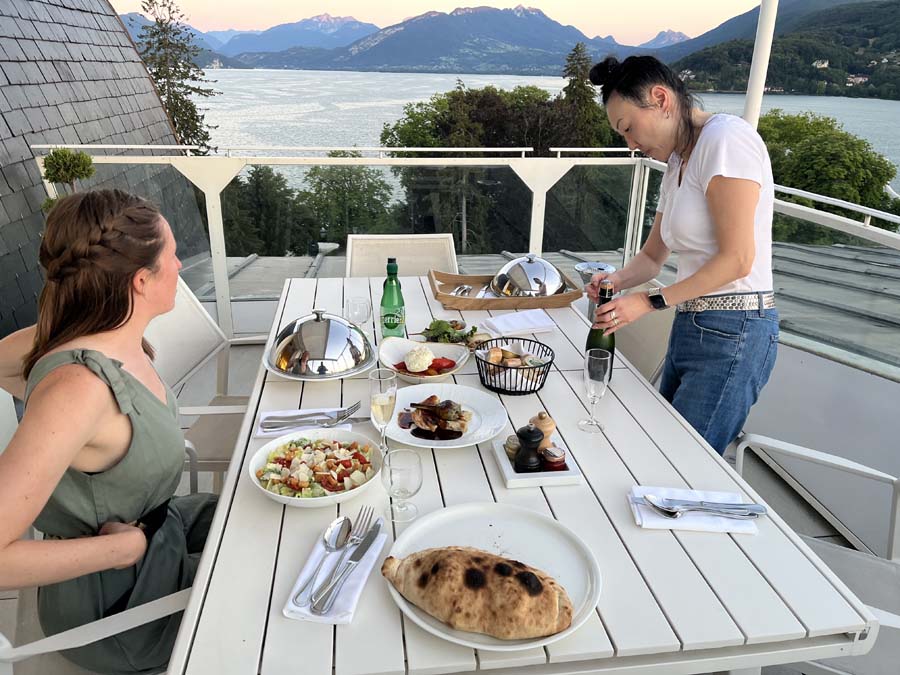 The next night Ari and I had pizza at this place. The guy was showing the woman in a white top how to skateboard.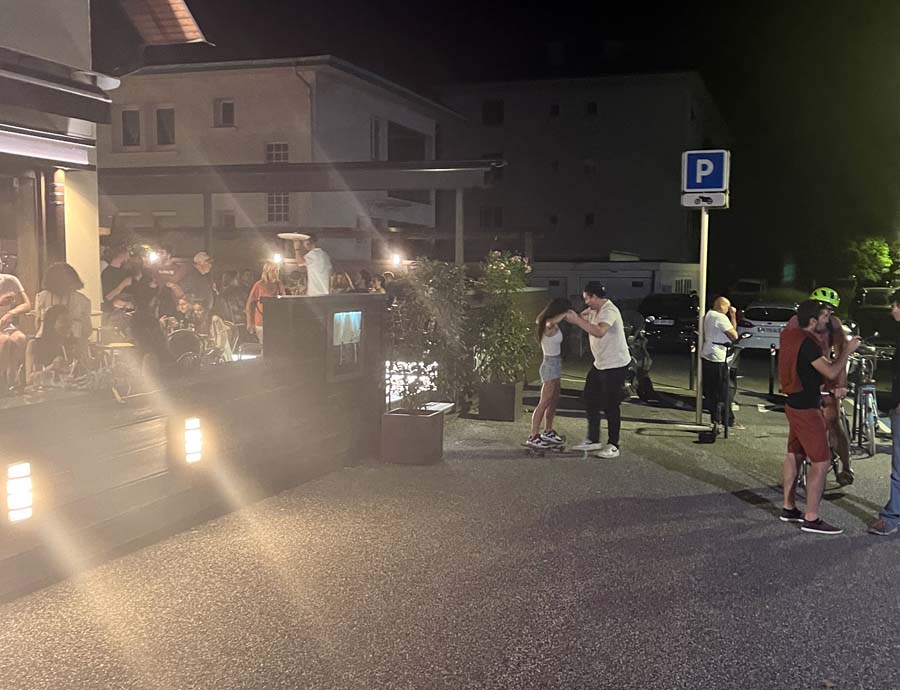 I think the picture below is from the next day from our main lower level in our hotel suite?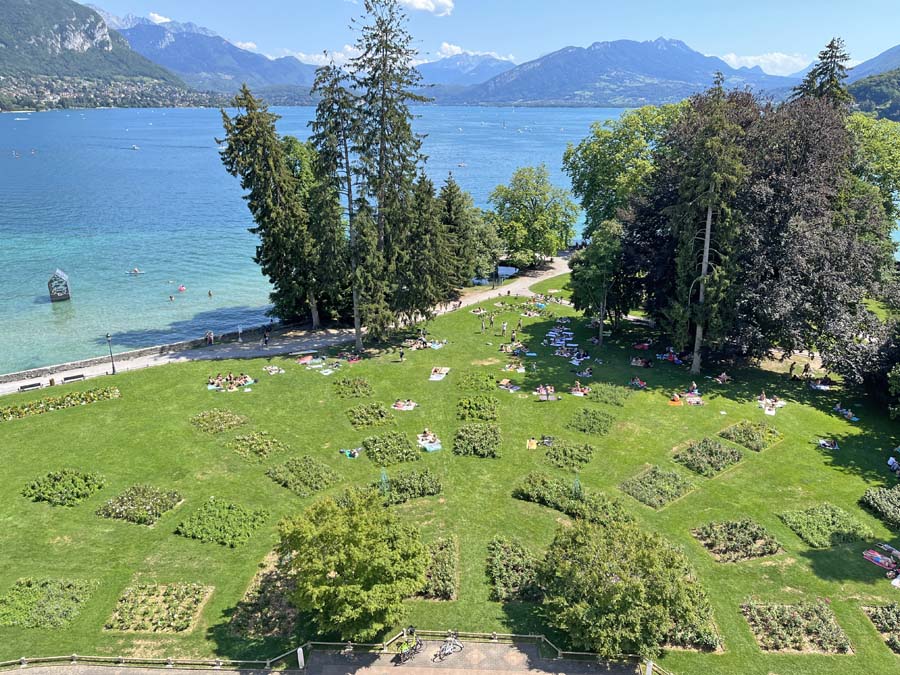 I eventually found that our hotel suite had 3 mini bars in different locations. One in the living room, one in the master bedroom, and one in the kitchen. It was stocked with various things, including this item I had never seen before. It is Absinthe!! The type is: Génépi, and this drink is: "Génépi L'Ancienne".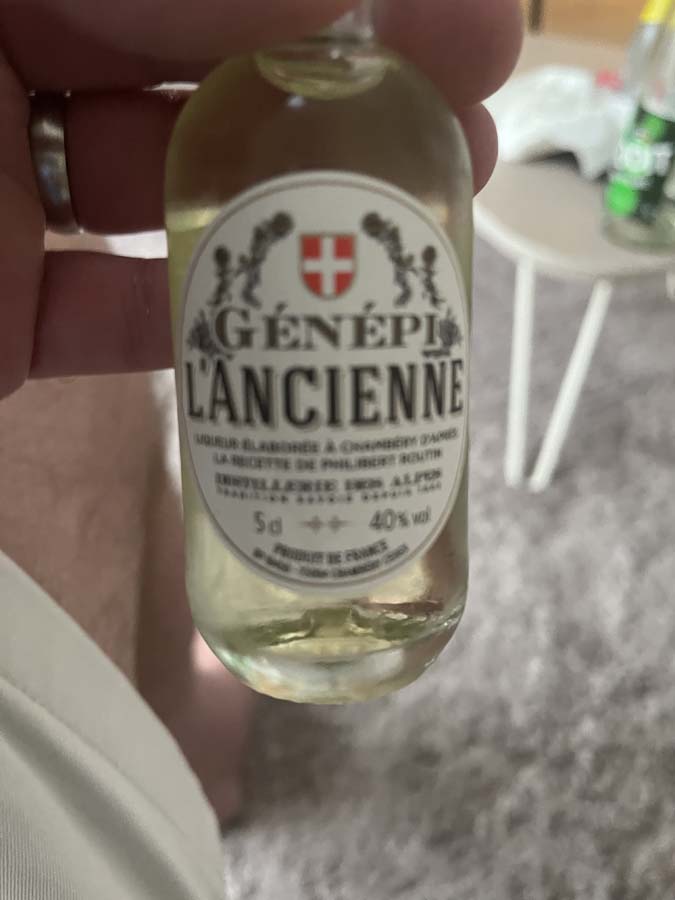 The next day I met up with Ari for dinner. The location I'm standing at is here: https://goo.gl/maps/Bi8qMh8uT986B1uFA The "river/inlet" here is called "Le Thiou".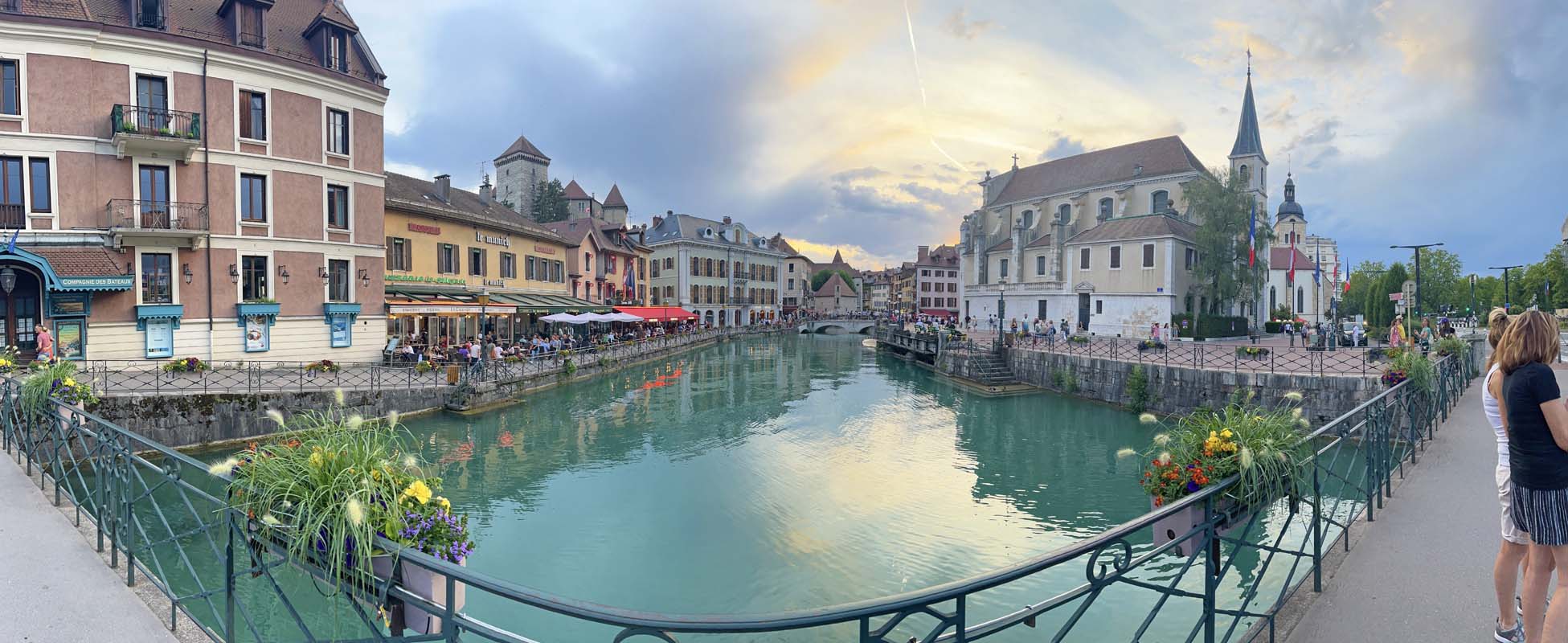 The picture below is taken from the exact same location as the picture above, just facing the main Lake Annecy.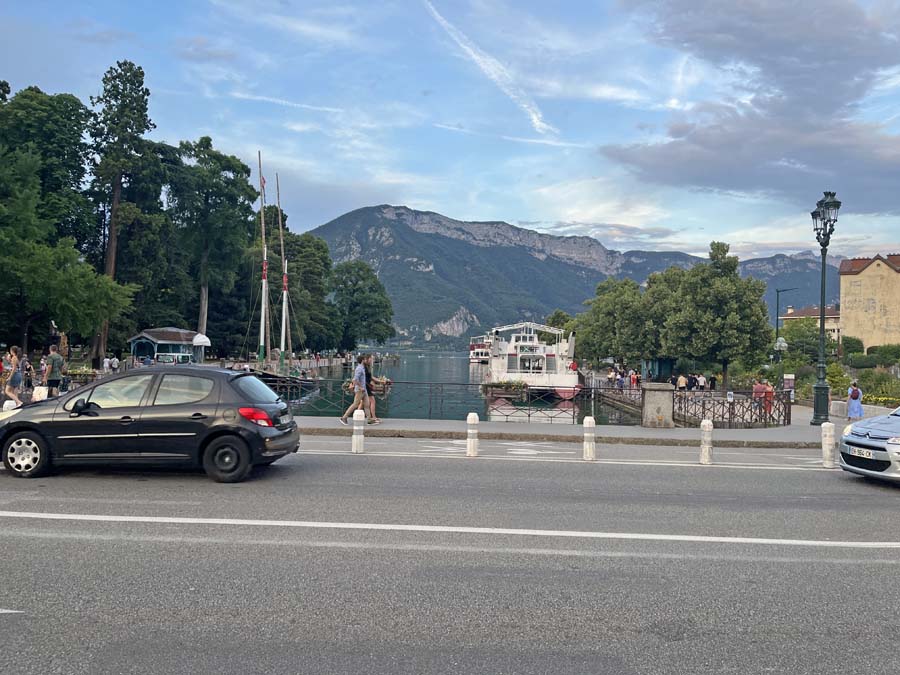 Ari and I had some snacks, and the cheese came with an Opinel knife. These wooden handled knives are made in France and are from this region (the headquarters of the knife company is Saint-Jean-de-Maurienne France which is a few miles away from where we are).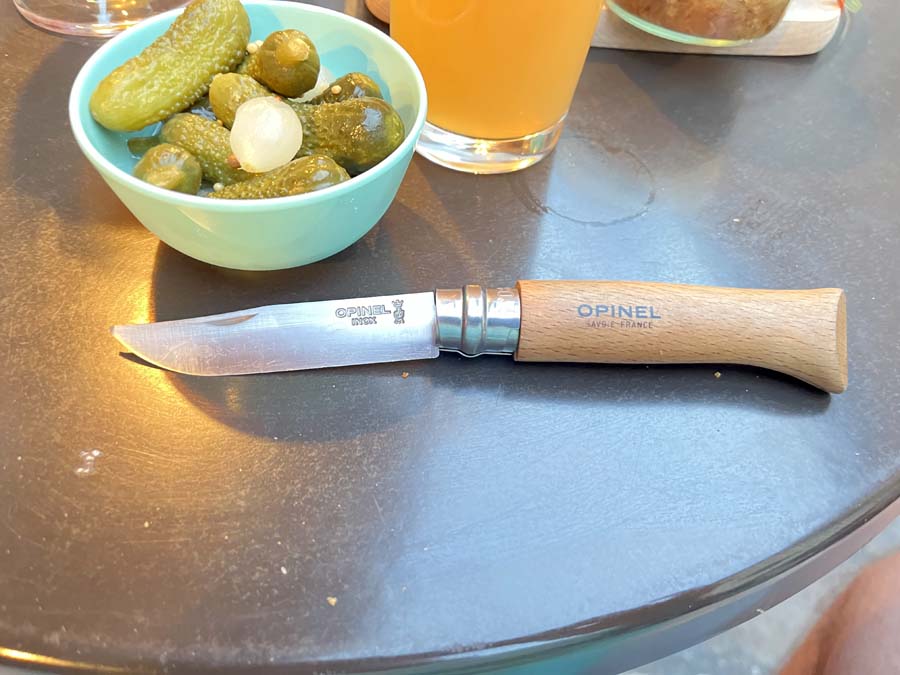 After snacks we got ice cream. In the picture below Ari is ordering in French.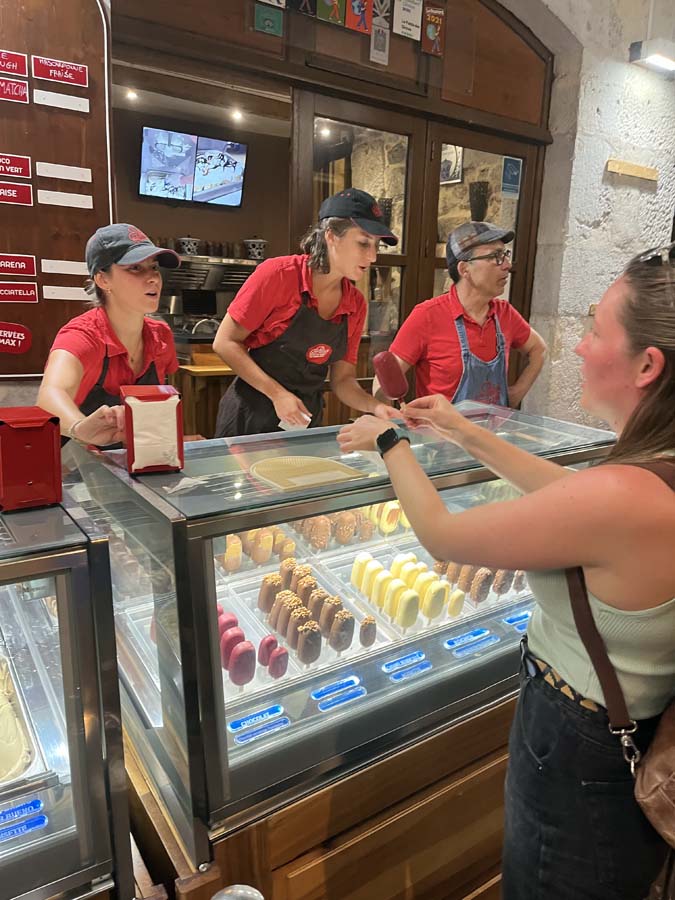 Walking home after dinner with Ari, the Lake Annecy is lit up at night.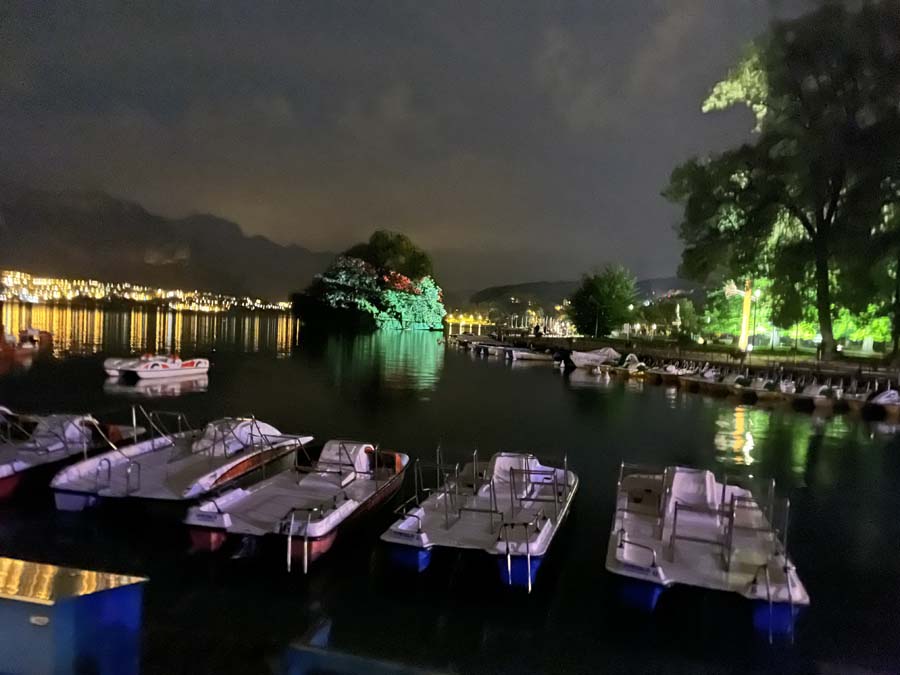 The Imperial Palace Hotel and Casino (where we stayed) at night.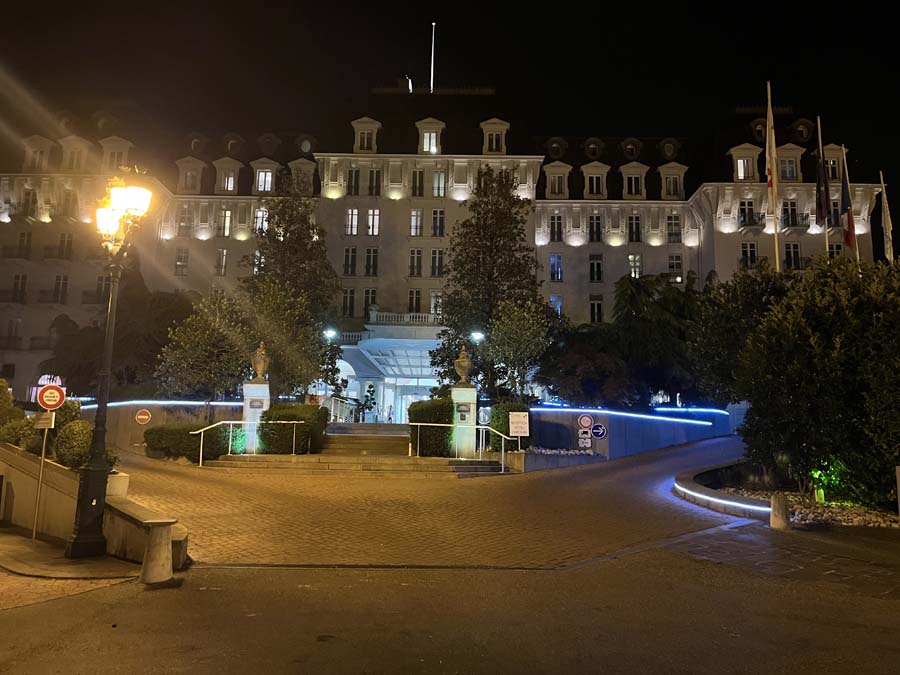 The next morning Ari brought us pastries from the Boulangerie "Pan et Gatô".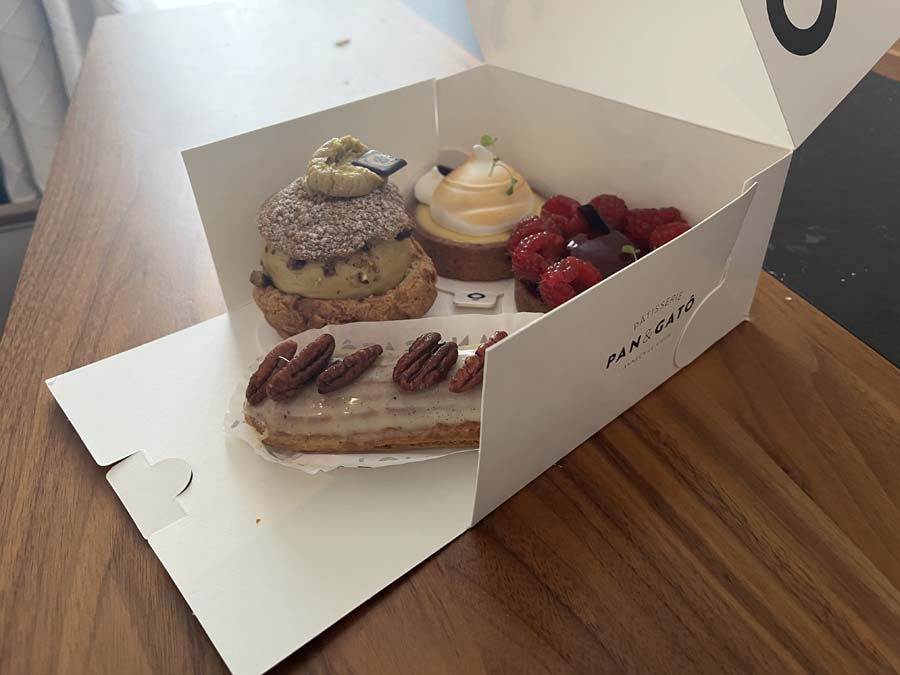 Another panorama from our room window the next day.
Random photo I took by leaning out the window on the 8th floor (our room).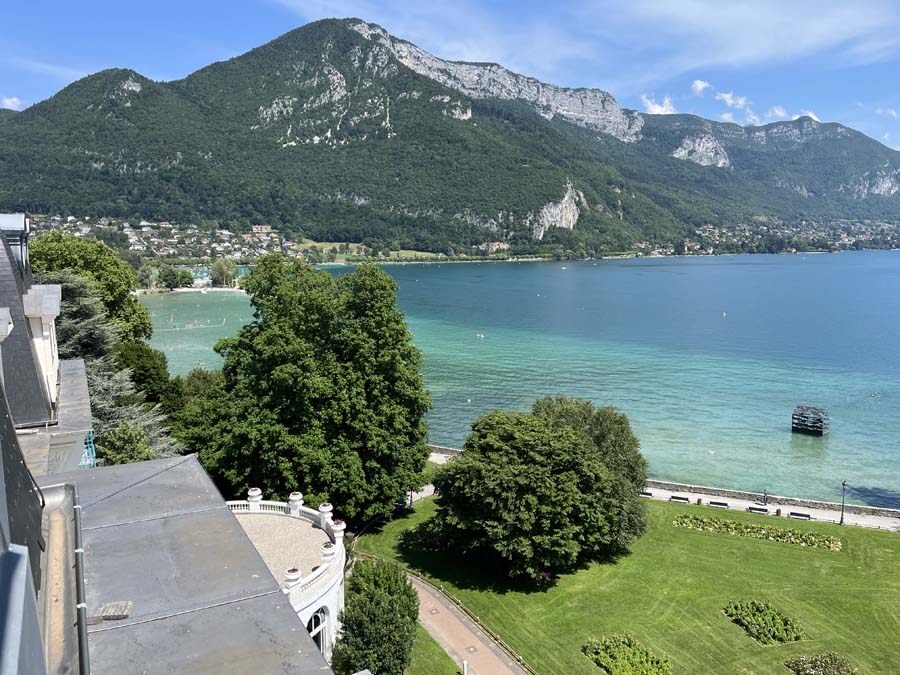 This is kind of random, but there was this thing in the room plugged into the wall. What you see below is a telephone.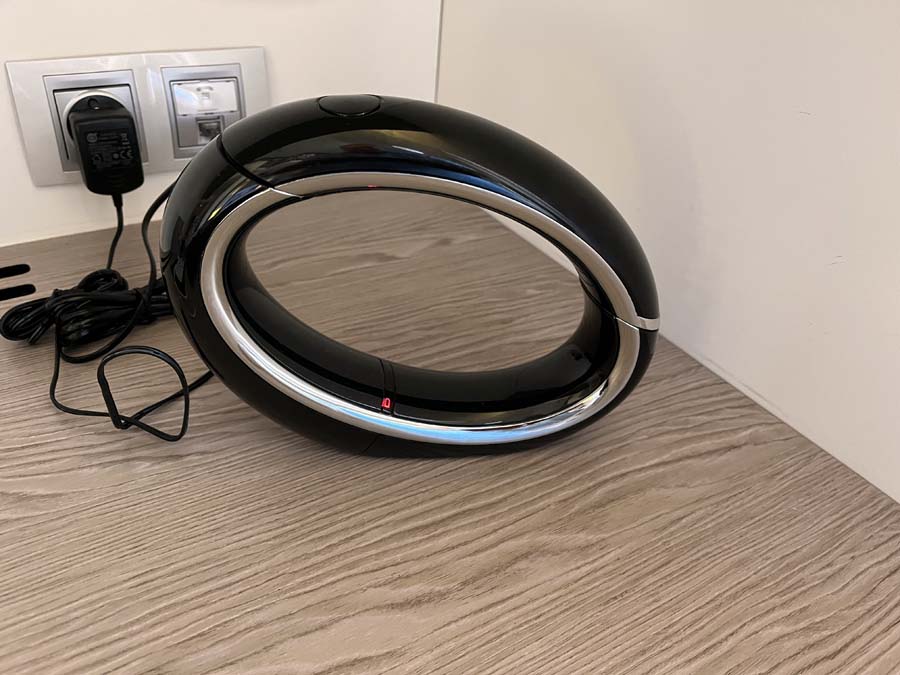 The telephone with the handset pulled off.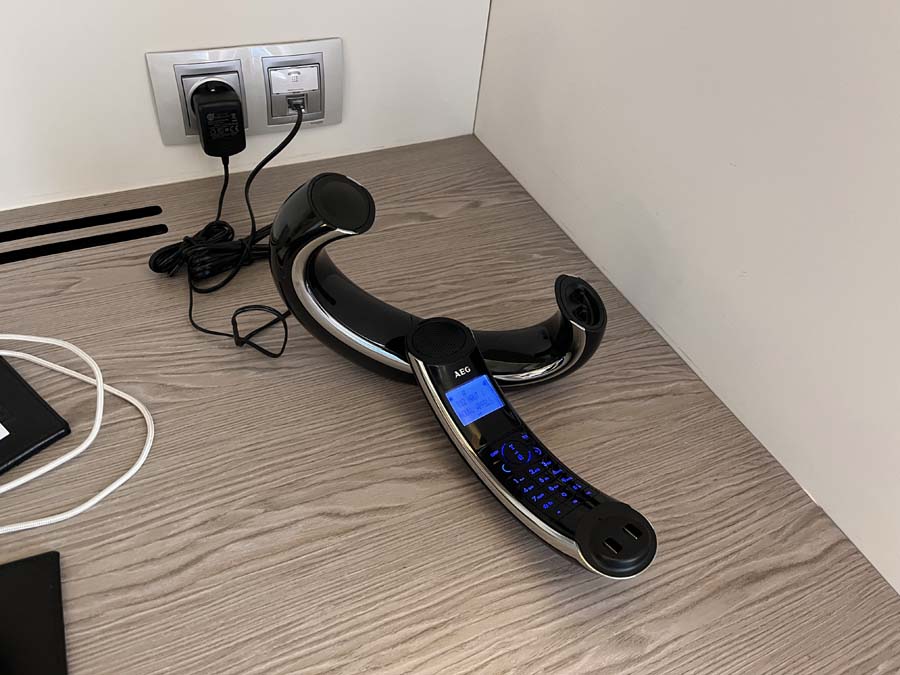 Ari and I wanted to drive the Mini Cooper convertible up into the French Alps for lunch. This is the screenshot I took of my phone of my suggested route.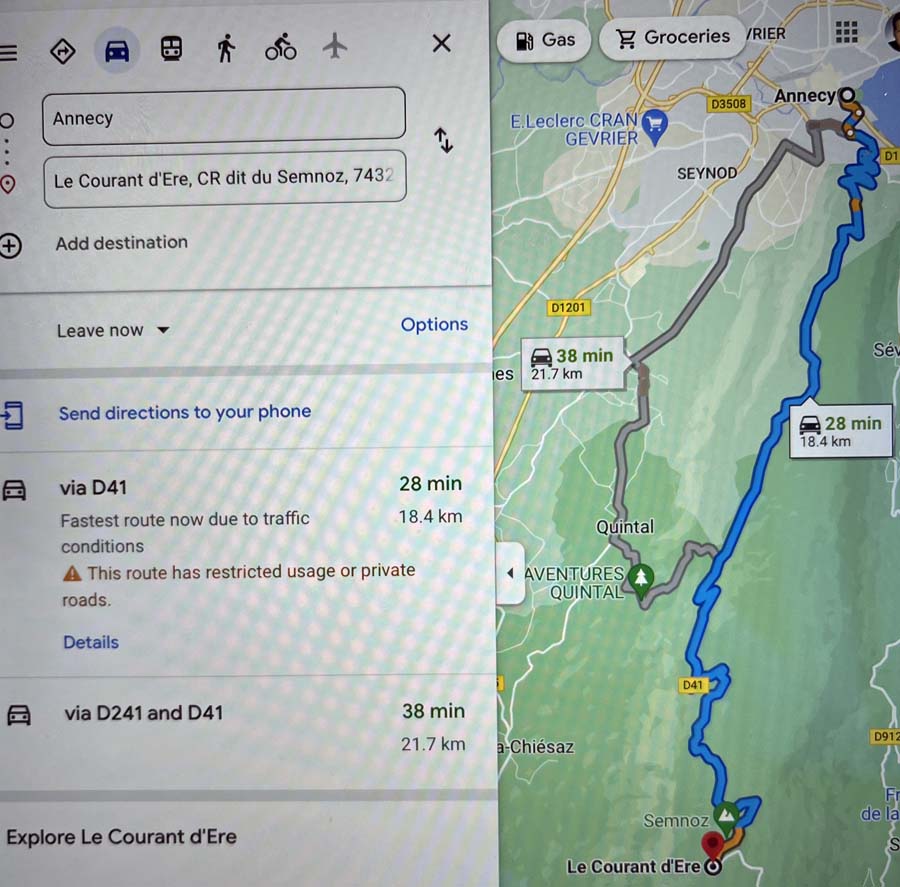 Here is the map of what the GPS tracked us driving that day.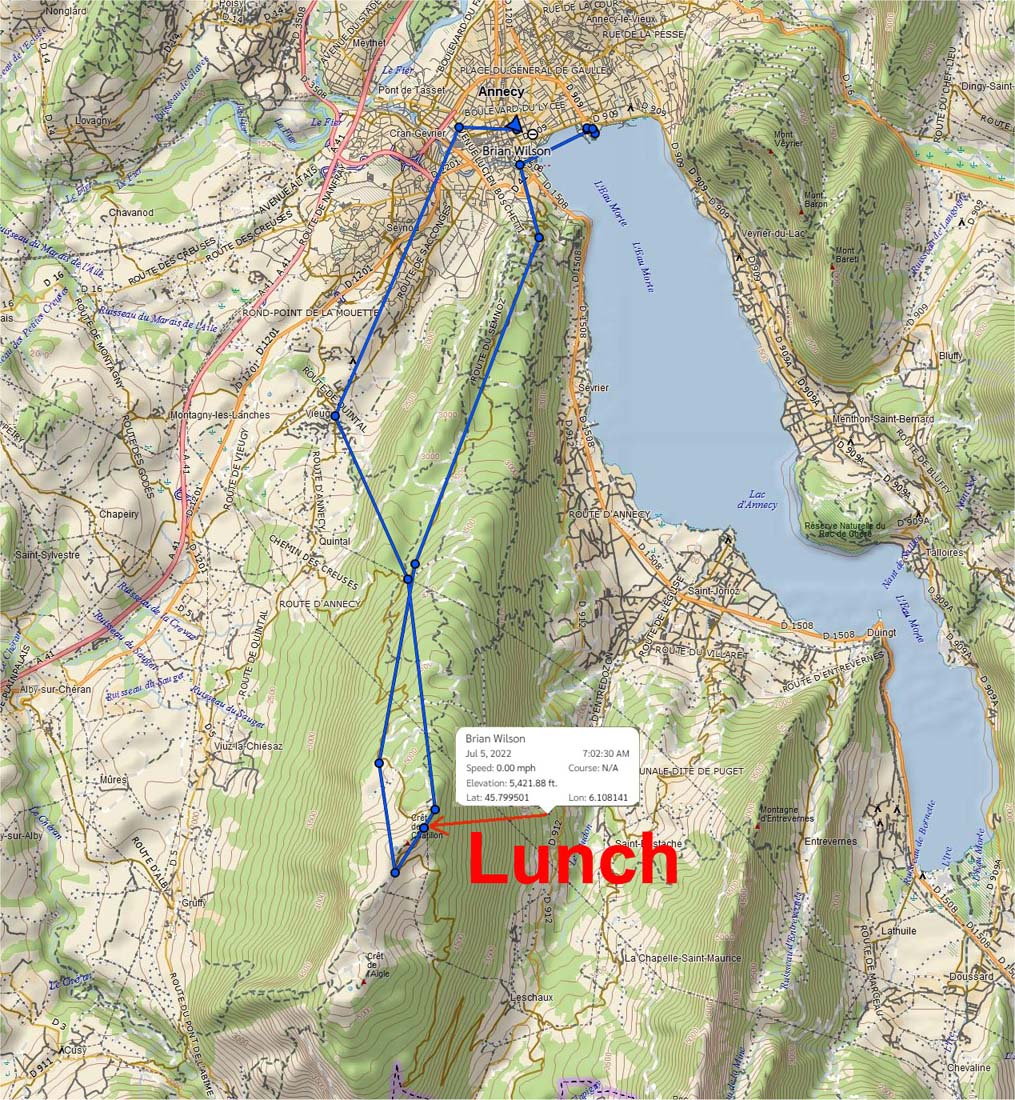 Below Ari is mugging for the camera. We have the top down on the Mini Cooper Convertible.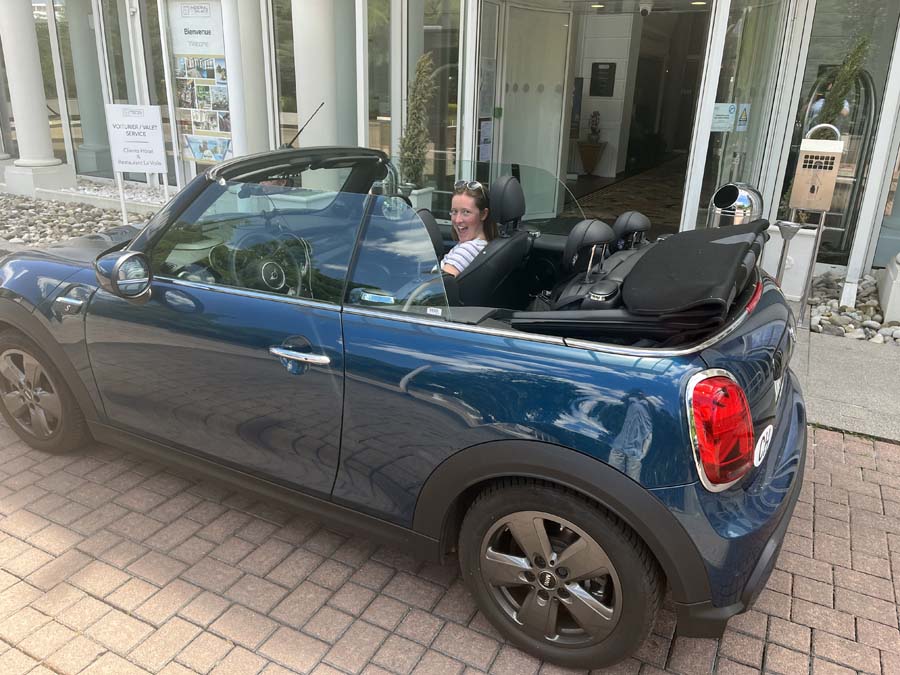 Another shot of the Mini Cooper Convertible we rented from Hertz.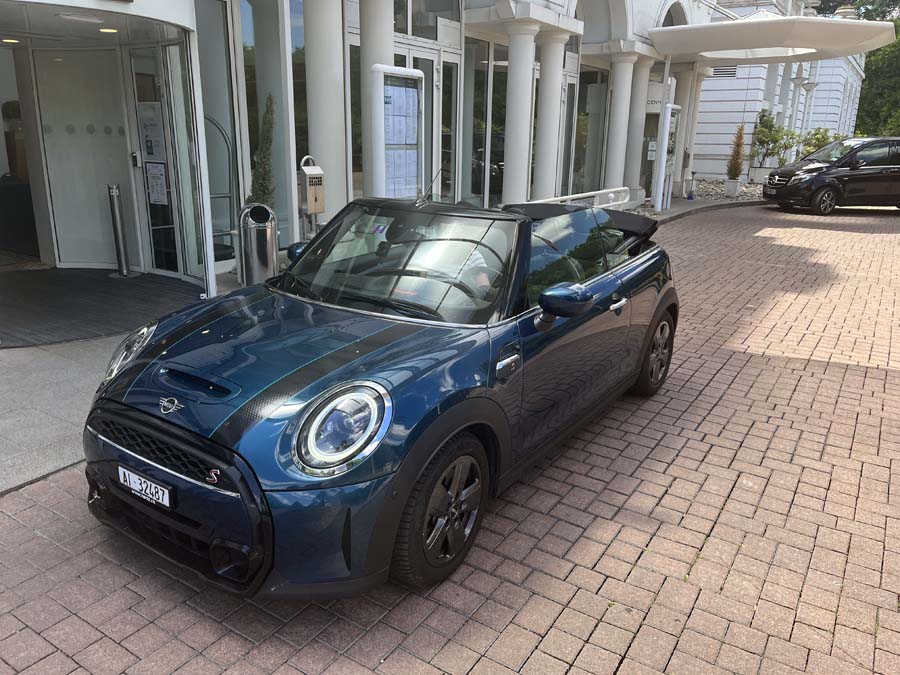 We stopped on the way up the mountain to take pictures of French Cows.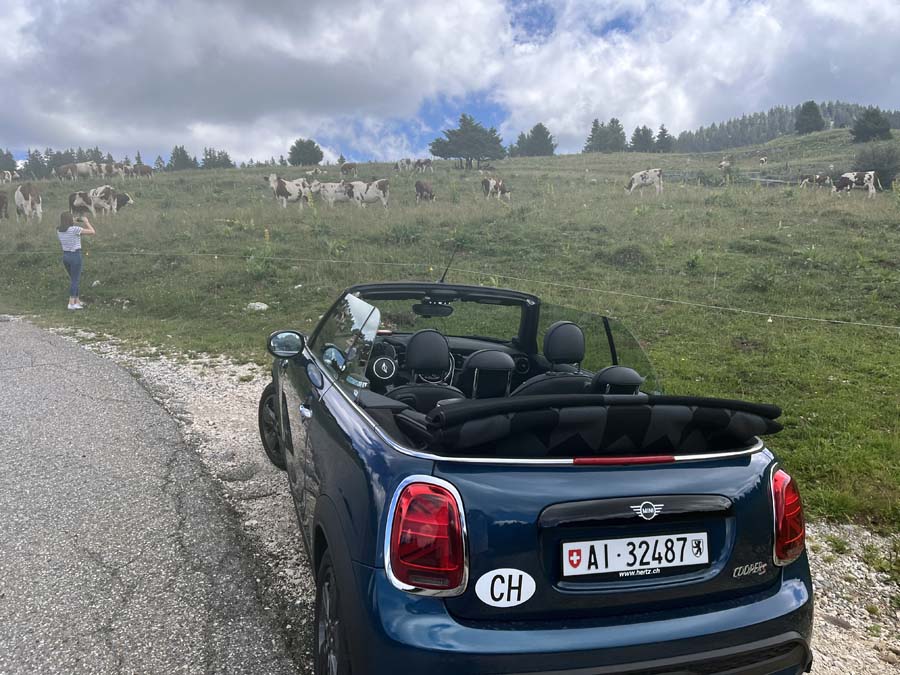 We had lunch here at the place pictured below, this is "Les Rochers Blancs".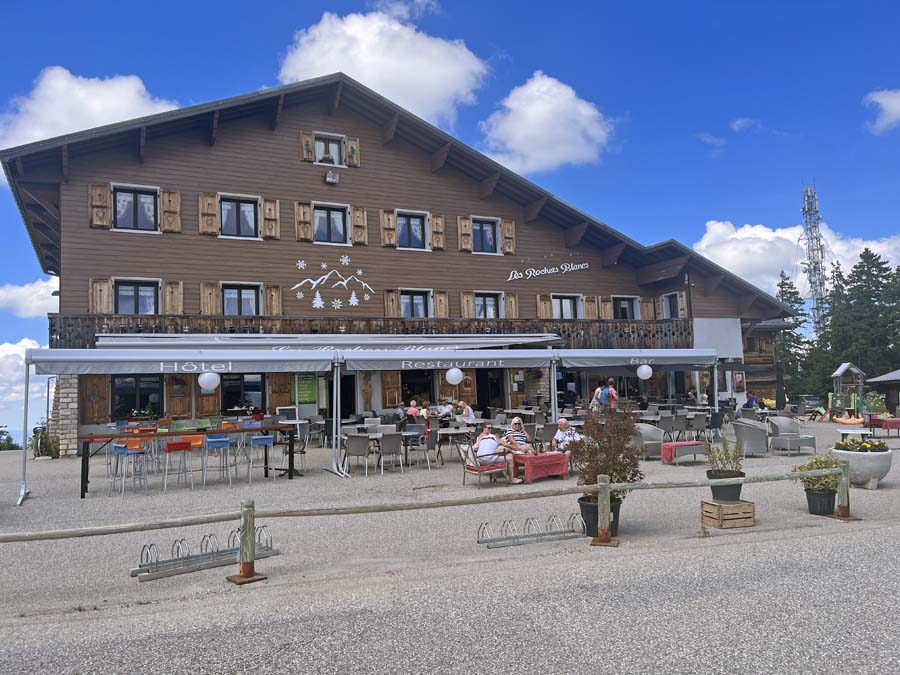 Ari and I at lunch.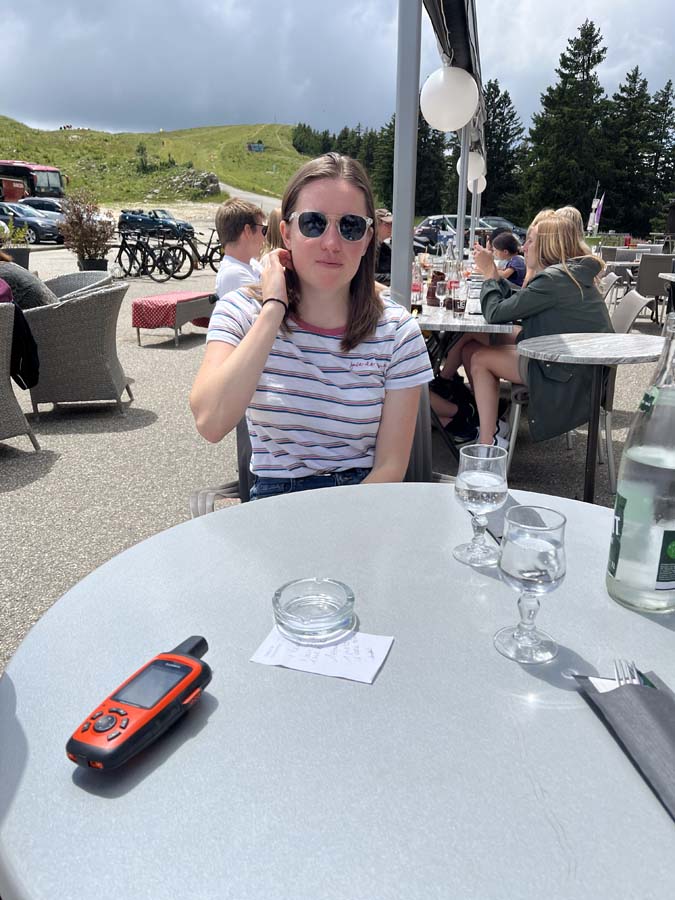 Ari after lunch having an espresso.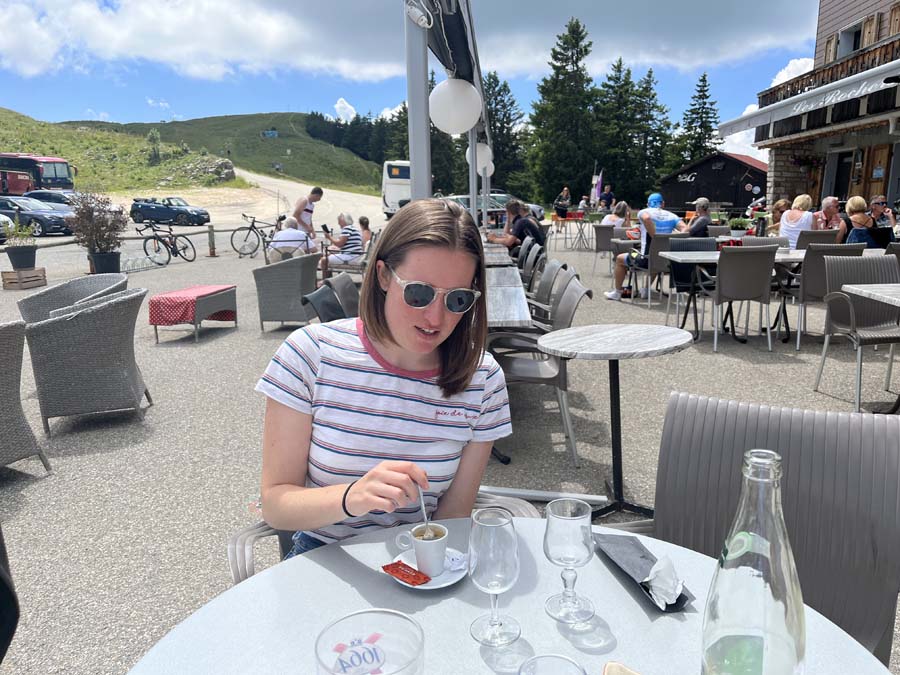 Random side photo of the place we had lunch.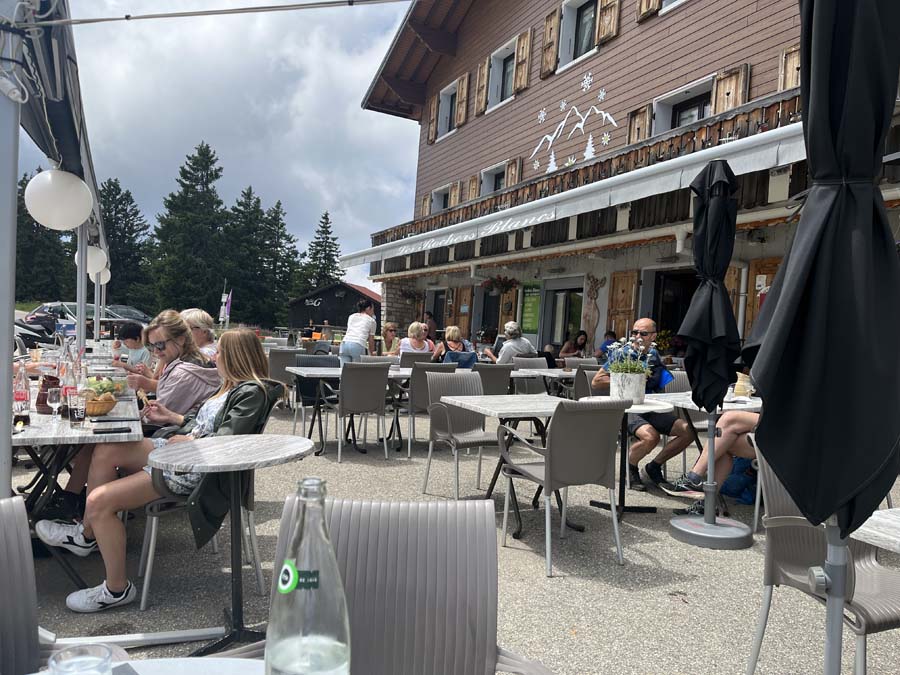 After lunch Ari drove us down the mountain. This was the first time Ari has driven in the French Alps, it made me really happy to be there with my niece.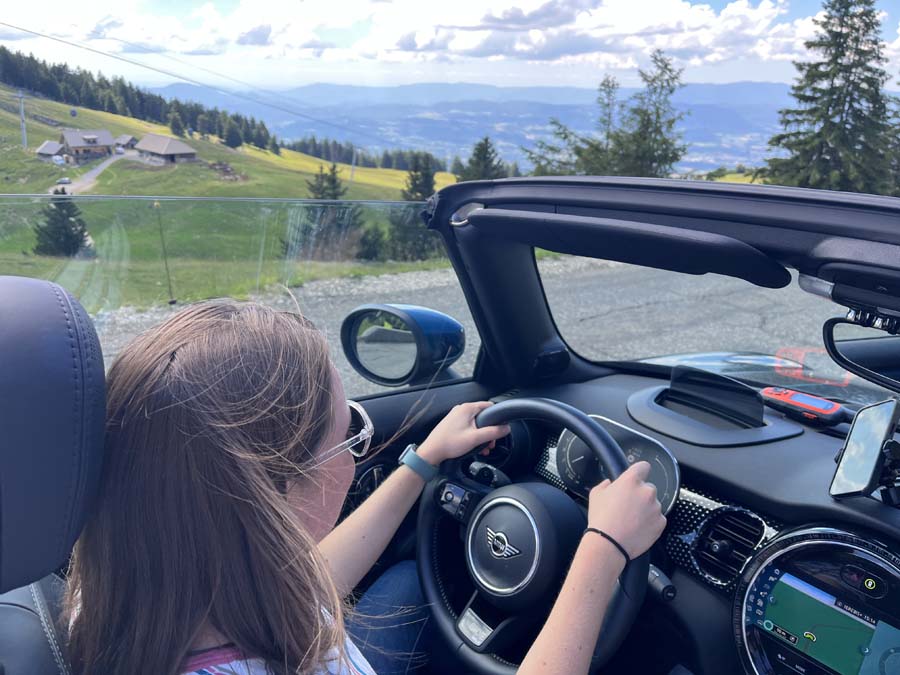 Here is a video spliced together from the dashcam and a little of my iPhone footage showing Ari driving in the French Alps: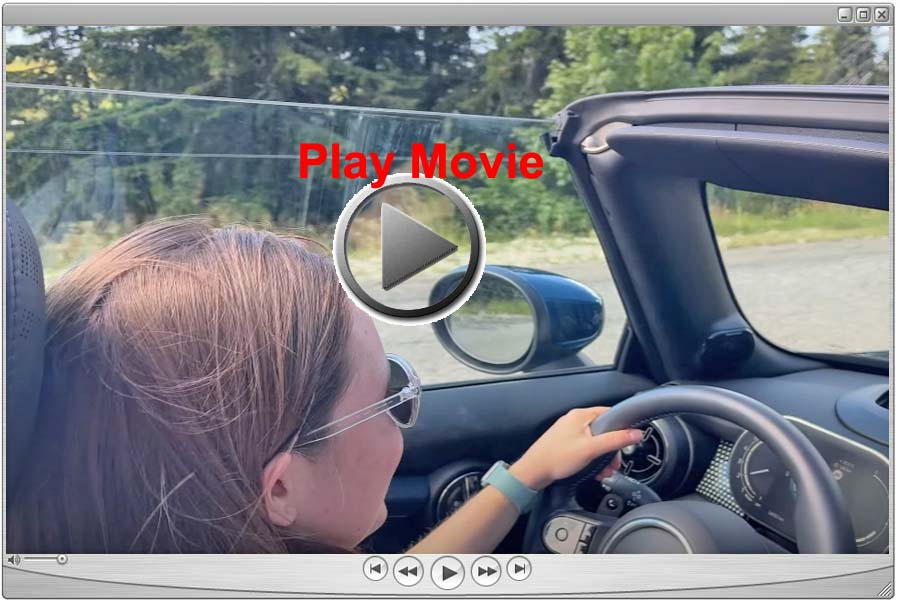 Ari's new apartment in Annecy, France.

Kitchen of Ari's new apartment.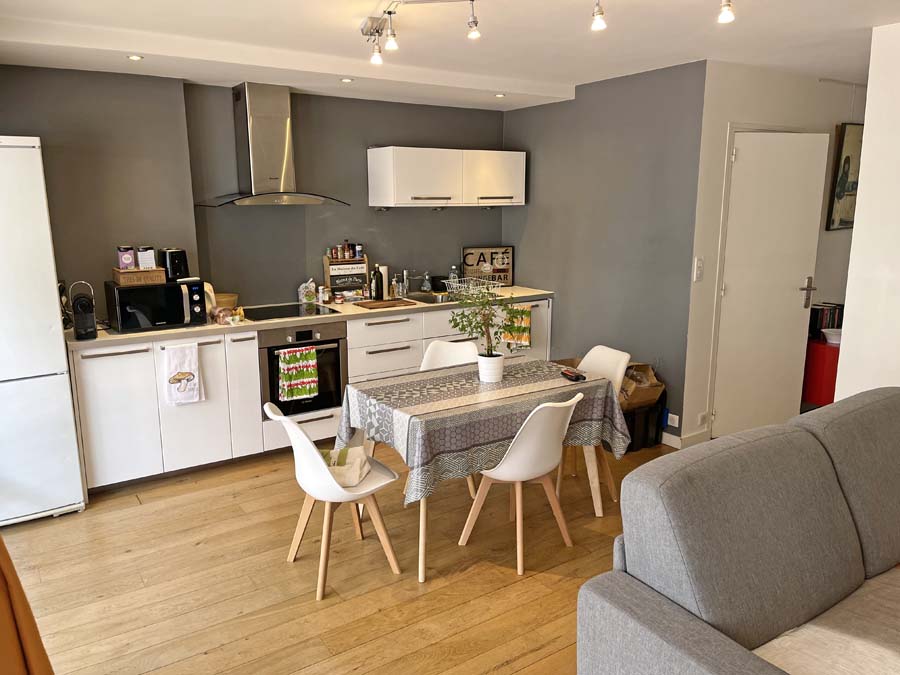 Picture taken across the living room, you can see the doors to the two bedrooms in the distance.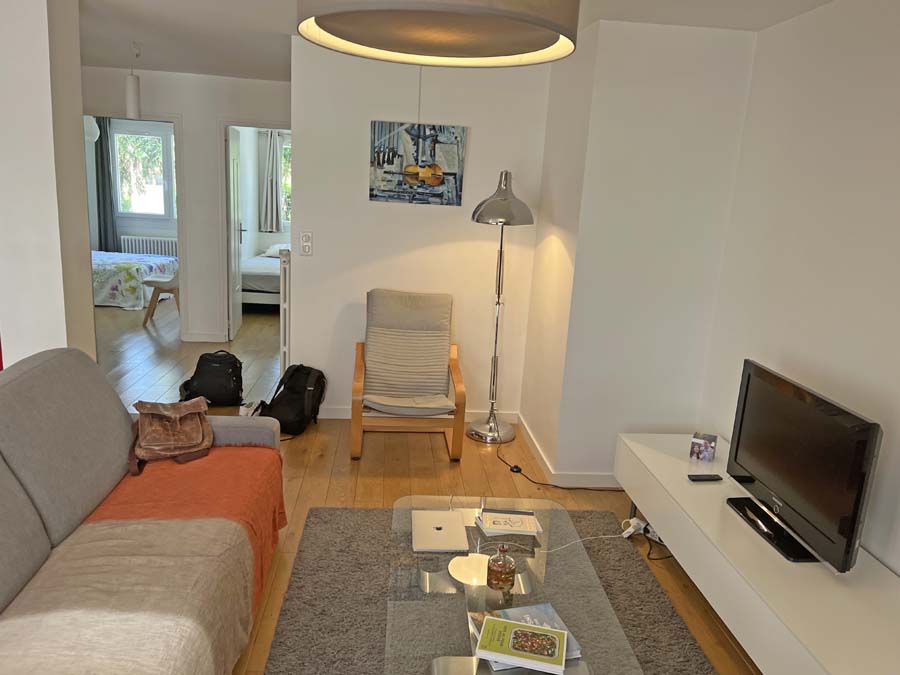 Shower and clothing washing machine below. There is no dryer, a lot of the French people don't like dryers, they hang their clothing outside to dry.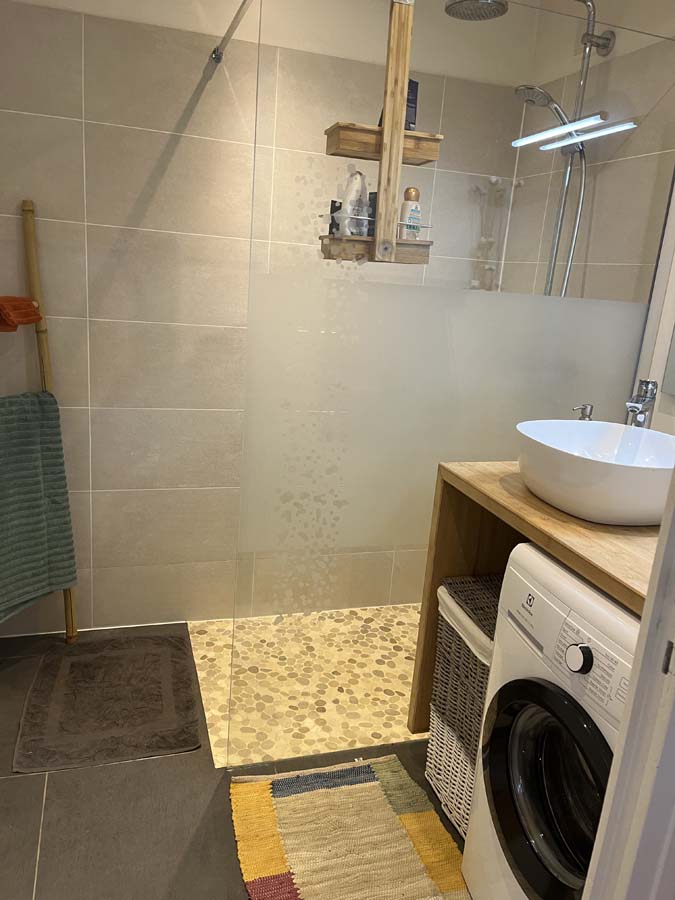 "Toilet room". Notice there is no sink to wash your hands? Some customs like heated towel warmers that are common here in France and Switzerland should be adopted by more cultures. The French need to adopt the idea of washing their hands after using the toilet at a small sink in what we call a "half bath" or "powder room" in the United States.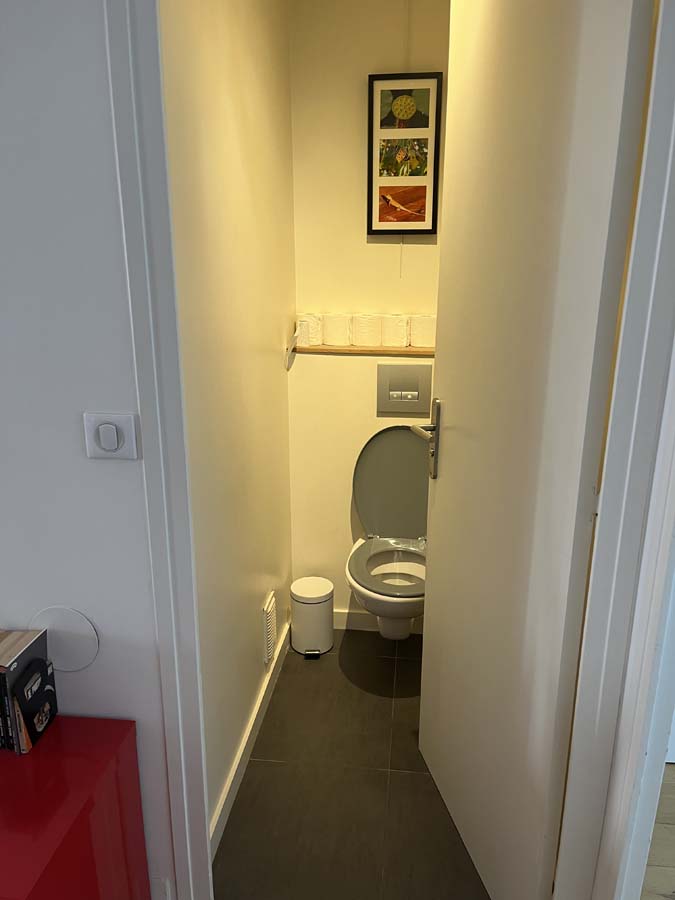 Ari's master bedroom.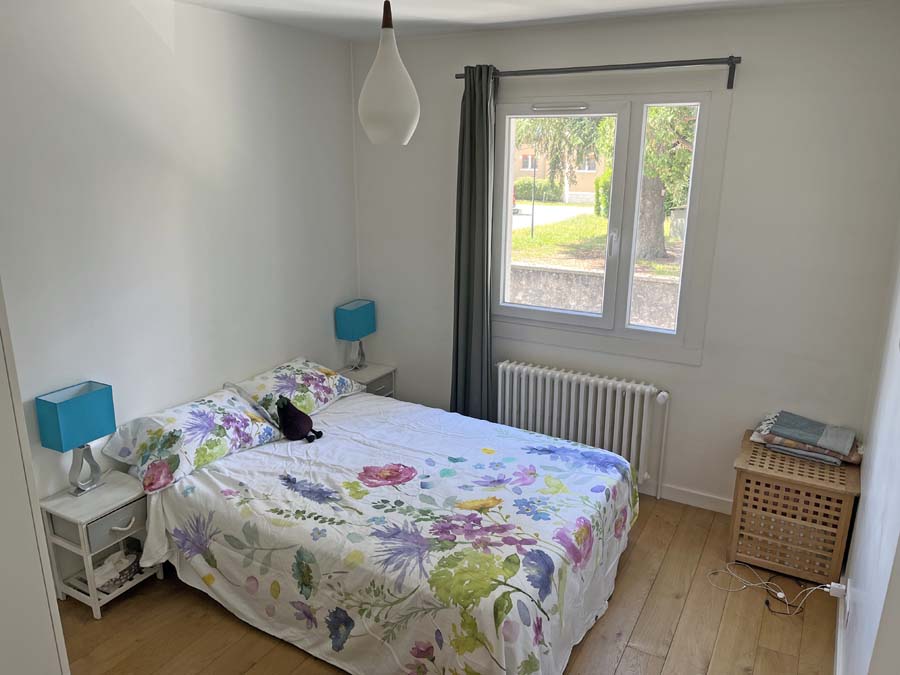 Ari's guest bedroom.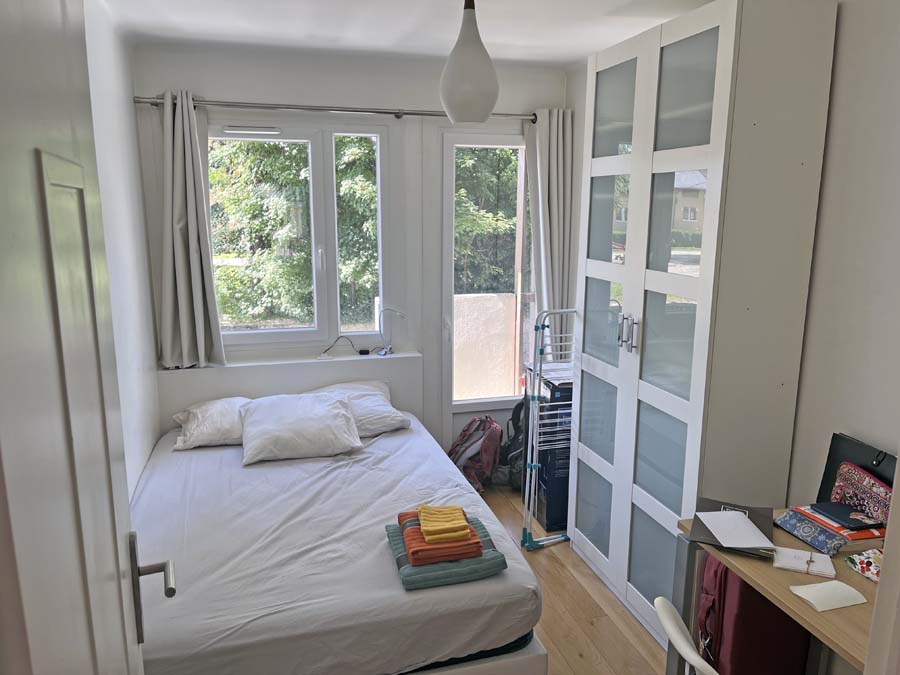 I believe the picture below is of Ari's French circuit breaker panel. I actually never thought about how these might be different in different countries, so I found it interesting.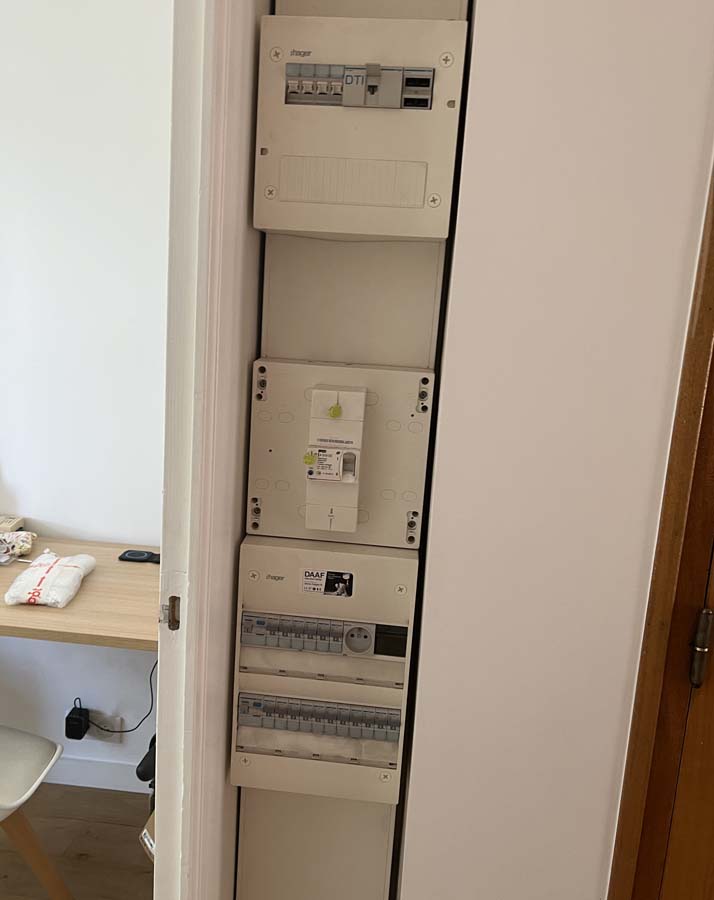 Ari and I stopped by the store for a few supplies after seeing her new apartment. In the store, Ari pointed out that they take butter and cheese very seriously in this region of France. Below is a picture of the butter selection. This is in a relatively small food store.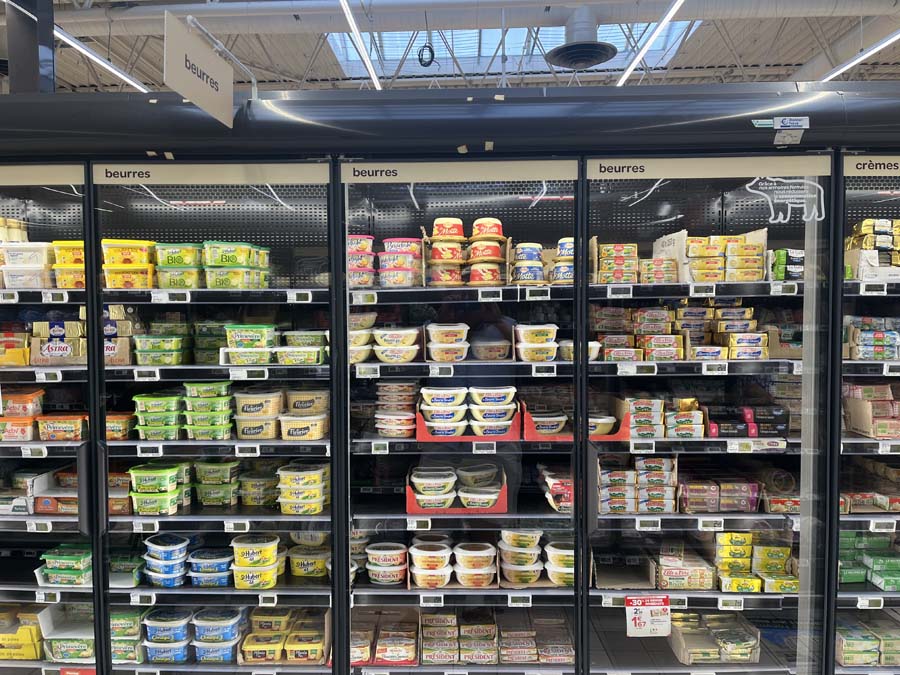 The picture below is the cheese aisle. Wow, that's a lot of cheese of all different kinds.

The ONLY picture of the three of us proving we are there together, LOL: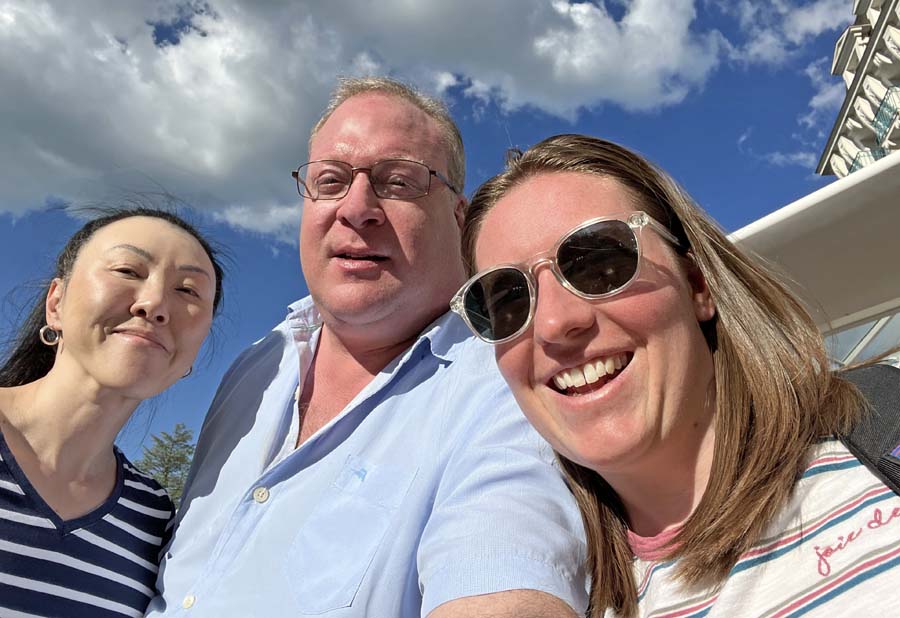 Katherine and I drove back to Geneva that night, stayed in the hotel there, then got up to arrive at the Geneva Airport at 4:30am to try to make sure we got a seat on an airplane. Below is the line we encountered at 4:30am in the Geneva Airport.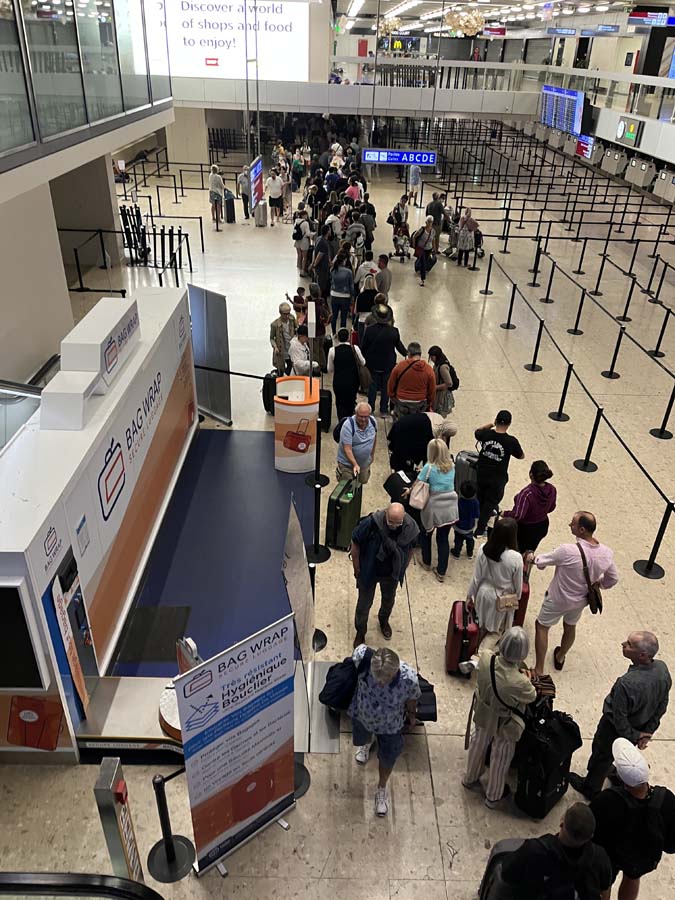 Our first hop is on British Airways from Geneva Switzerland to London Heathrow Airport. I took a picture of my watch showing 4:10am as preparation for later when they claimed we didn't arrive early enough to get on our flight.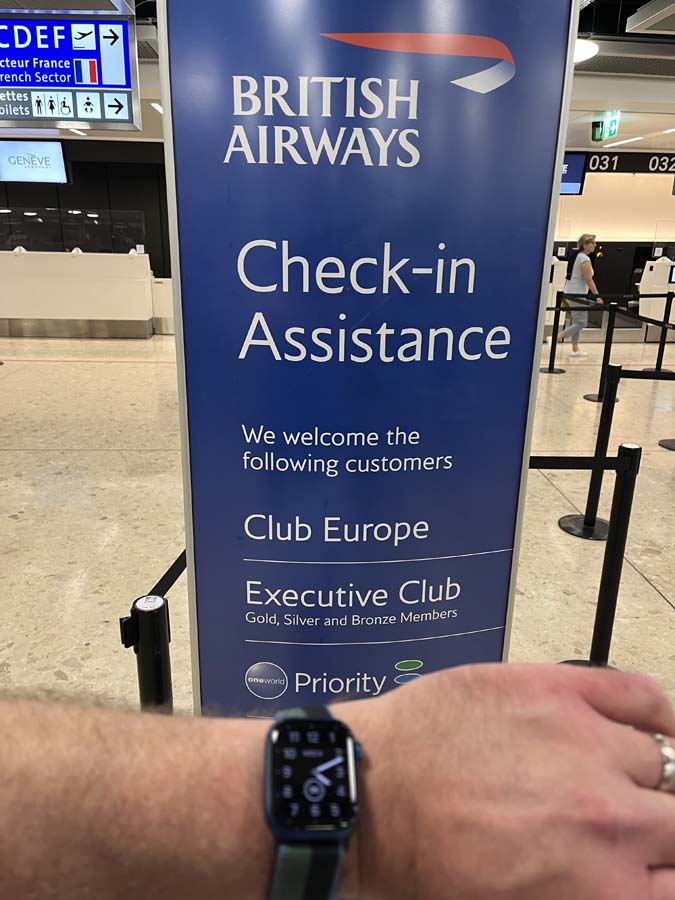 While we are waiting for the British Airways employees to show up to work, this is what the line looks like to get through security to board the airplanes. It literally goes forever. Some people say these people are still there, waiting in line, to this day.

We actually did get a seat on the airplane! Yay! In the picture below we are flying from Geneva to London. I stick my GPS on the airplane window with two sided tape so it can update our location. Does anybody remember Malaysian Airlines Flight 370? It's an airplane that just mysteriously vanished, and they didn't know where it went. What baffles me is these airplanes cost $100 million new, and they don't even stick a GPS to the window like I have below. It's battery operated, and sends it's location to satellites every minute or so.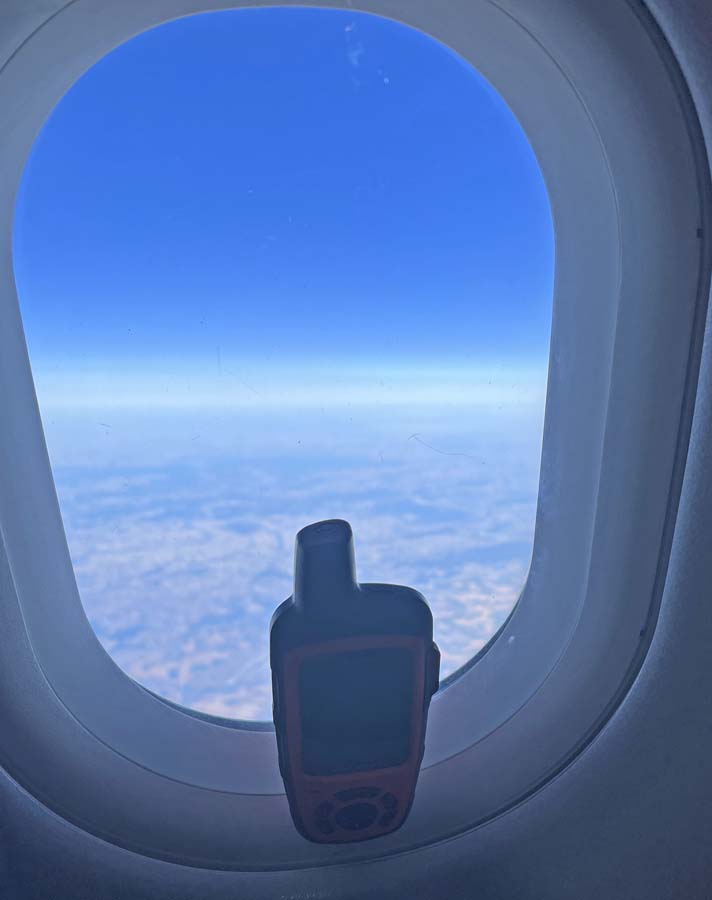 Below is the output updated in real time of the Garmin InReach seen in the picture above. If you click on the dot in the interface you see the white popup showing we are travelling at 467.78 mph, it gives our latitude and longitude, the date, time, course, and an elevation of 37,084.68 feet. (The picture below is just a screenshot, you cannot click it). Remind me again, how do you lose a $100 million aircraft?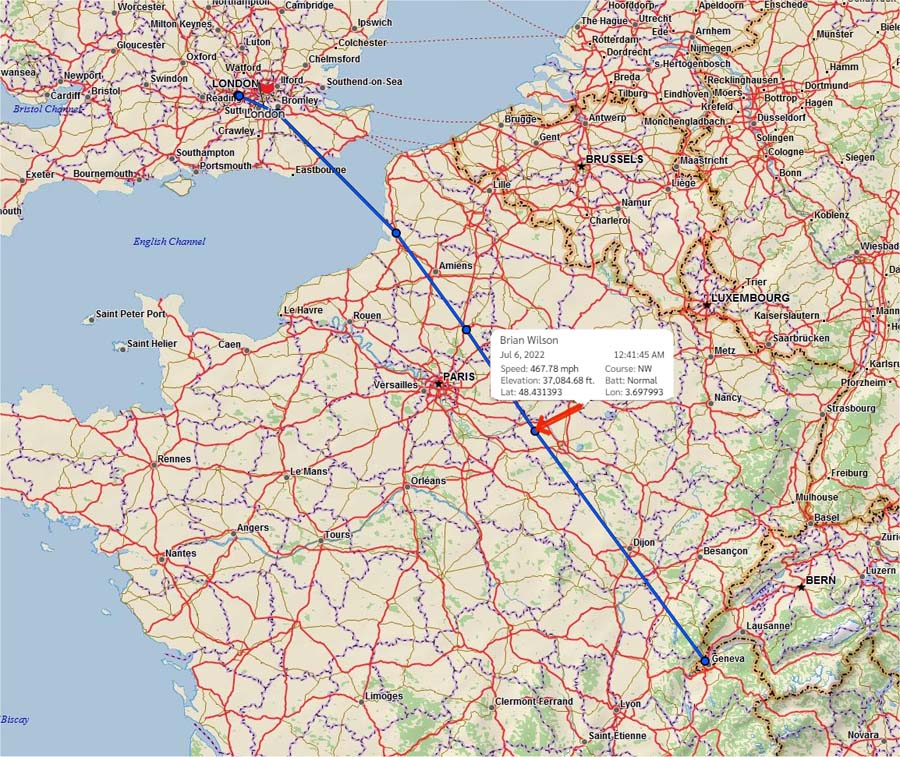 I think this is landing in London. But it might be taking off from Geneva. :-)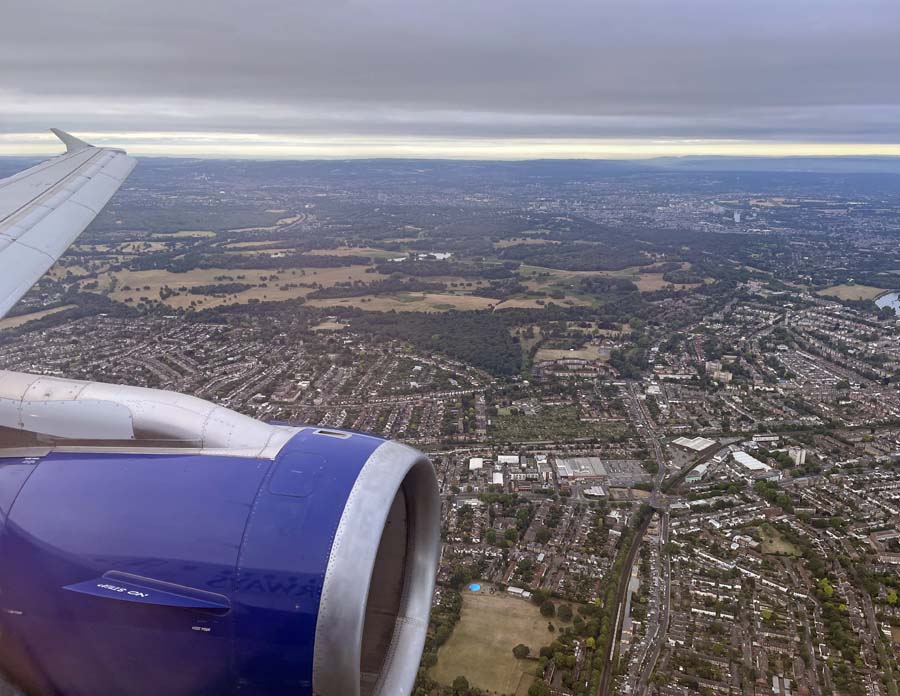 We had a couple hour layover in London Heathrow Airport, and so we went to the Virgin Atlantic Lounge. Now if you ever get the chance, go see this lounge. It is the flagship of Virgin Atlantic at their home base, and it's really nice. Katherine was away in the bathroom, and I saw the "Scan for champagne" sign below so I scanned it and they brought us champagne. Ha!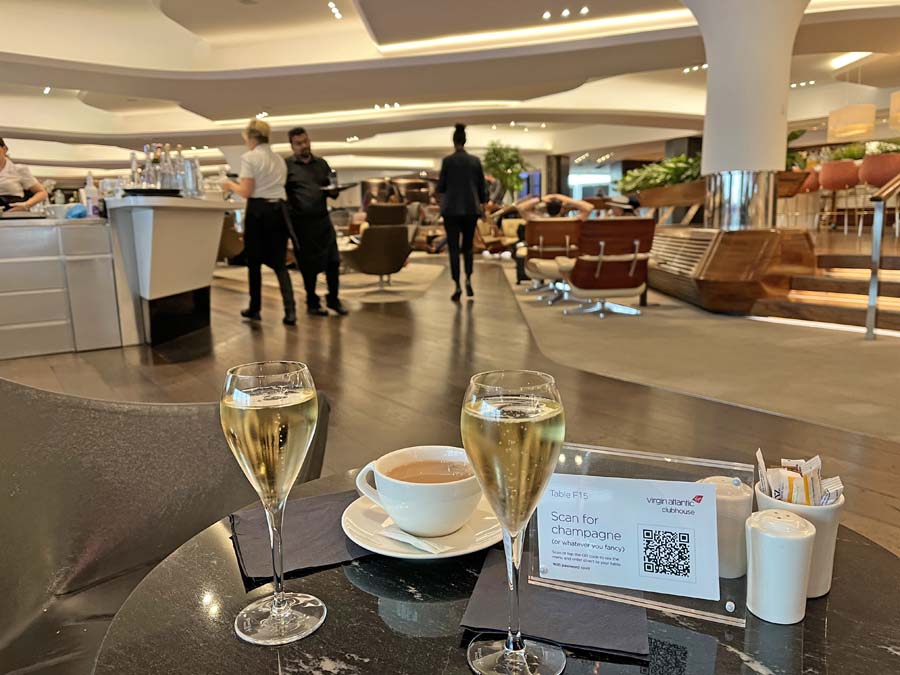 Below is a panorama of the lounge.

Below is one corner of the Virgin Atlantic Lounge in London Heathrow. It is called "The Relaxation Area".

Inside the lounge, they have boards displaying flight info. As soon as our departing flight was assigned a gate we would know where to go. It says "Gate will be shown at 10:35am" for the flight headed to Austin.

The picture below is a screenshot from my iPhone. I ordered Ari a portable air conditioner from Amazon.fr (French Amazon) as a house "warming" gift (get it? "warming"?), this one: https://www.amazon.fr/gp/product/B083X59QZF/ These are kind of uncommon in France. The French need to accept air conditioners are a required part of civilization now. Anyway, in the screenshot below I was SMS messaging Ari showing her when her air conditioner was going to show up at her building. I wanted to do this before we boarded our long leg flight home to Austin.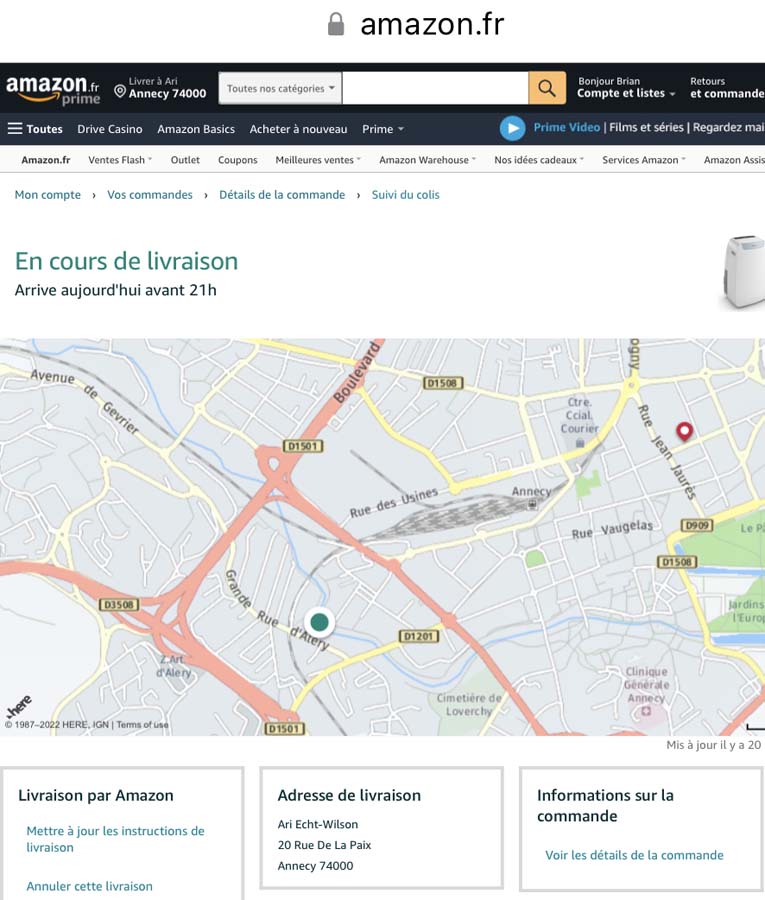 A picture of the Virgin Atlantic Lounge bar area. There are like 9 bartenders and one waiter and no customers.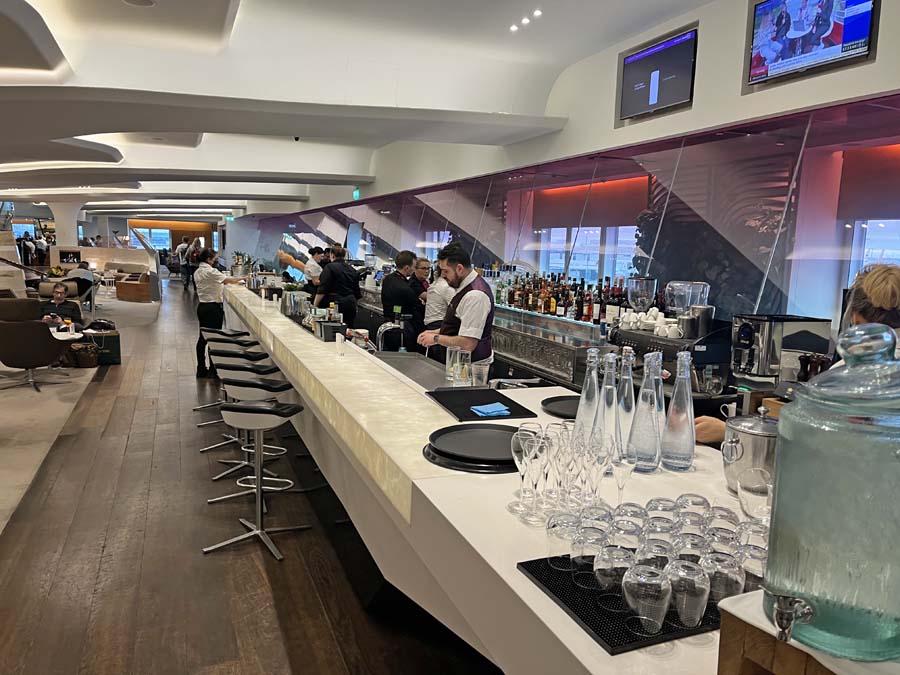 And here we are onboard our Virgin Atlantic "Upper Class" flight home direct to Austin. I took the picture below because they had cute little salt and pepper shakers in the shape of airplanes.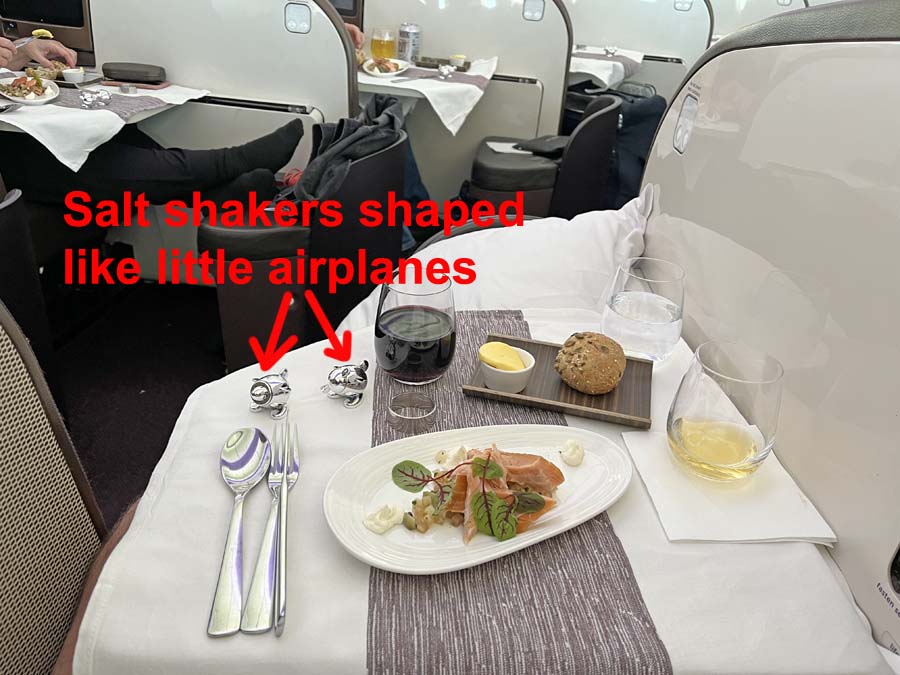 Katherine joined me for dinner.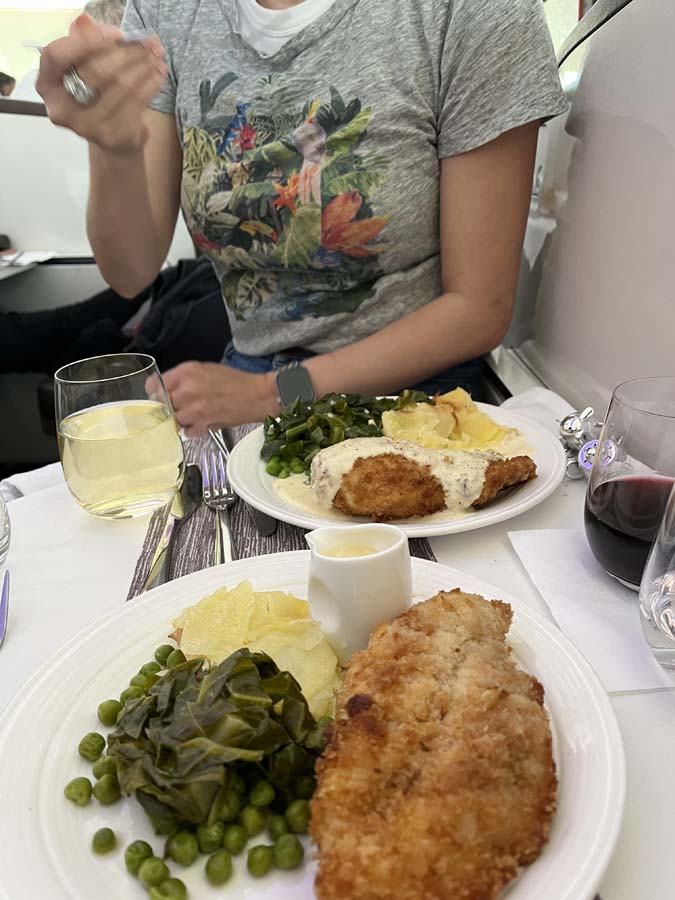 And here we are, home again in Austin, passing through U.S. Customs and Border Protection.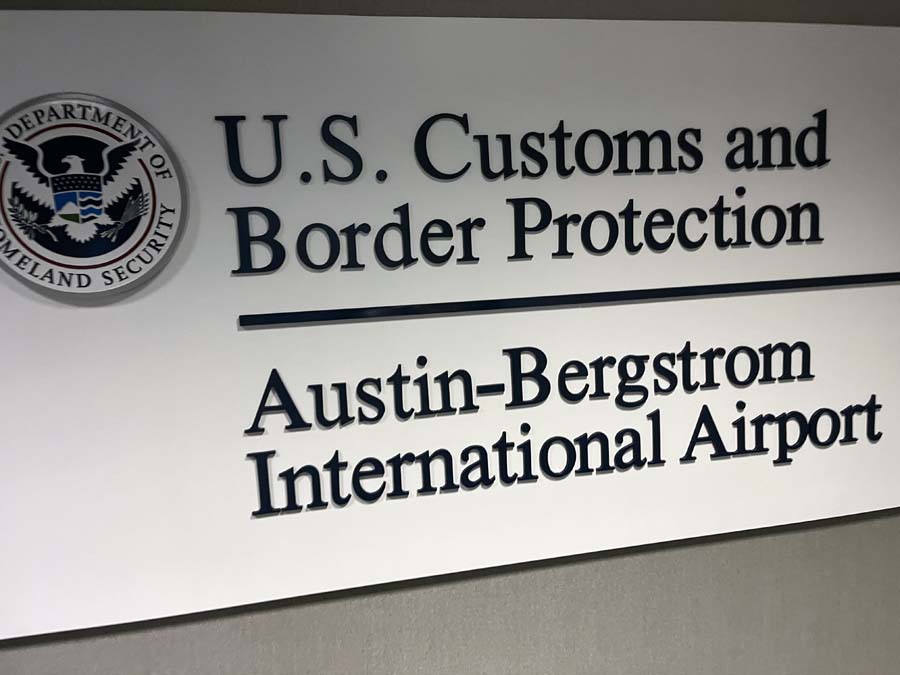 That's it! That's all the pictures and movies..
Things to bring on European Trips: (this isn't for you! Stop reading! I'm old and forget things.)
- alarm clock
- glasses (? mostly I just use my "thin lenses" from my wallet anyway ?)
- sunglasses
- swimsuit
- car GPS holder
- iron (there has always been an iron in higher end hotels, I've been leaving this behind)
- blow dryer (mine is small, sometimes better than hotel's)
- shoes and crocks
- white plastic garbage bags for dirty clothes
- small clear sandwich bags - for cell phone, etc
- complete change of clothes to fly home
- put copy of one-sheet trip summary in checked bag
- dop kit with:
- caffeine, nasal spray, band aids, ear plugs, travel razor, ambien,
- toothpaste, toothbrush, deodorant, hairspray, sunblock,
- imodium, time release drug patches to ease withdrawal symptoms,
- alcohol lens cleaner packs, alcohol prep wipes,
- travel alarm clock
- jacket? - did not bring to Puerto Vallarta, checked weather - 86 degrees F.
- umbrella - check weather
- travel CPAP (battery if international flight)
- coffee kit for Katherine
- table leveling wedge kit
Street Clothing:
- shorts - 1 pair for every day (or possibly plan on using hotel laundry service)
- light short sleeve dress shirts - 1 for every day
- light cotton slacks - 1 pair for every 4 days
- belt (?)
- polo t-shirts (like with Backblaze logo)
- white socks
- underwear
- pajama shorts
- shoes (hiking boots, tennis shoes, dress shoes?)
- jacket?

For Airplane:
- 120V wall plug to USB C wall wart
- USB C to lightning charger
- USB C to old USB plug converter
- iPad
- ear plugs
- ear phones for music or videos (now streamed to iPad)
- lightning to headphone jack adapter
- toiletries 1 quart container
- Travel CPAP plus battery if international flight
- travel blanket / travel pillow (for longer trips) - airlines no longer supply these
- buy internet in advance if possible, if not as soon as sitting on airplane (two-factor fails in the air)

Electronics:
- European electric plug adapters! Switzerland are different nowadays and my current adapters don't fit them anymore.
- cell phone (obviously)
- SmartWatch (new)
- cell phone inductive charger, watch inductive charger
- iPad
- laptop and compact headset if video conferencing or longer trip
- lightning to headphone jack adapter
- put B2 and B3 "AirTag" in bags for tracking lost luggage
- travel alarm
- Garmin inReach?(two way satellite tracking/SMS messages)
- car Nuvi GPS if renting a car?
- car cell phone hands free air vent clip if renting a car
- car USB cigarette lighter adapter (charge things in car)

Documents and Cards to Bring:
- passport
- vaccination card (also pictures of it in phone, also on ski-epic web page)
- Empty wallet, only bring: 1 credit card, 1 ATM card, Health Insurance Card, Driver's license
- Business Cards
All done!