Brian's Japan Trip
( 2/21/01 - 3/1/01)
Click on any picture to get a HUGE (about 200k) version.


(Read a personal description of Backblaze here.)
I visited Japan for a week. I had never been to Japan before, and my buddy Jason Knight moved to Tokyo recently to work for Ogilvy, and so I came to visit. Below are some pictures from my trip. These are an absolutely random collection, based on when I was holding my camera, so forgive the organization.
Here are some pictures of Jason's (very nice) apartment in the Shibuya area of Tokyo. You can see his wrap around balcony, and the view from his living room window here.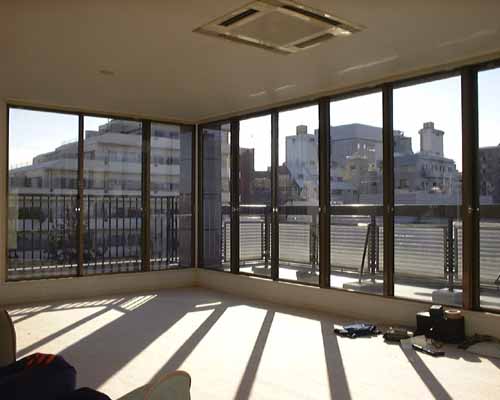 Jason's dining room.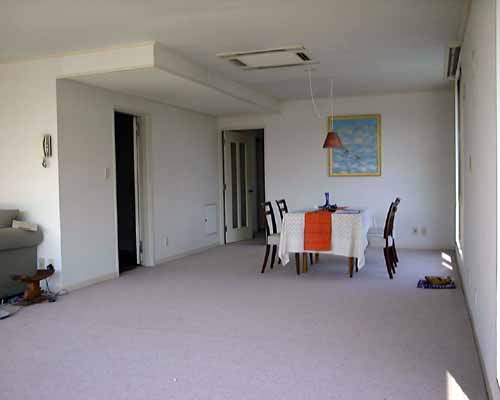 This is the SPARE bedroom that I was staying in with walk in closet. Check out that view and wrap around balcony.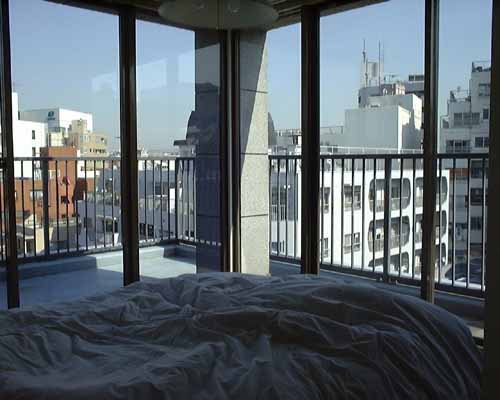 Jason's kitchen.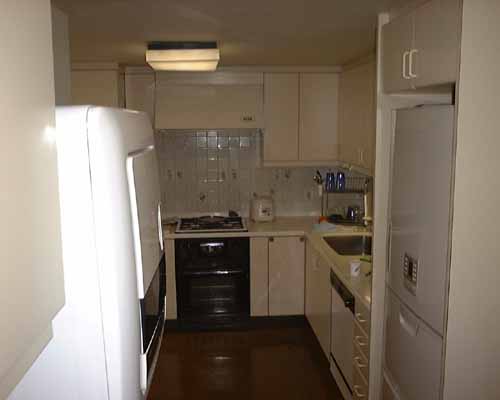 This is Mayumi, Jason's friend, in front of her 1100 cc Kawasaki. Mayumi helped me rent a motorcycle, and then she and I went for a ride a little South and West of Tokyo.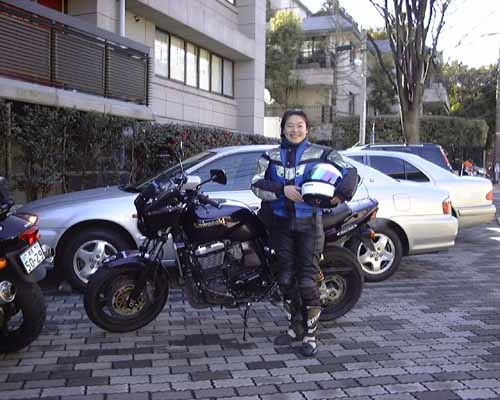 Me in front of my rental motorcycle. This is a 2001 Suzuki GSX 1300R Hayabusa, which is a 1300 cc MONSTER of a fuel injected sportbike. You can't rent this anywhere in the USA for any price. This bike tops out at 201 MPH, and can generate 175 HP at the rear wheel. It was absolutely fabulous to drive.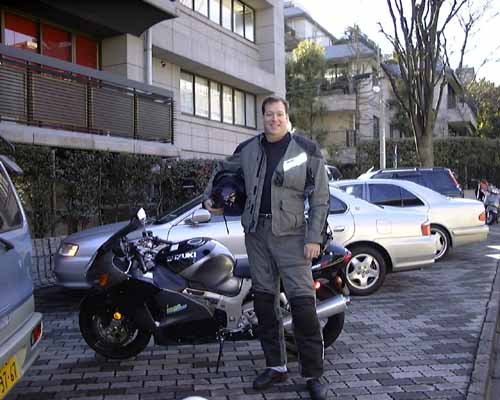 On our motorcycle trip, it was snowing in the Japanese mountains, so Mayumi and I detoured by the beach. Here is Japanese fishing trawler.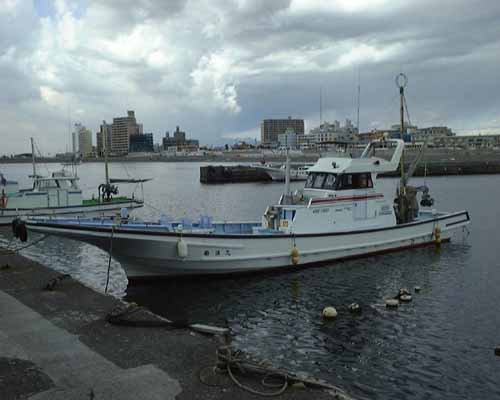 Mayumi on the beach.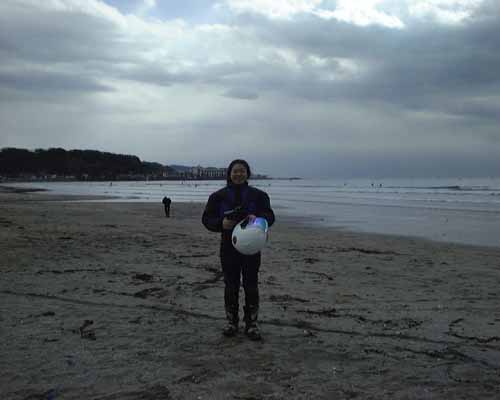 We were out on a breakwater protecting the marina, and saw a bunch of windsurfers.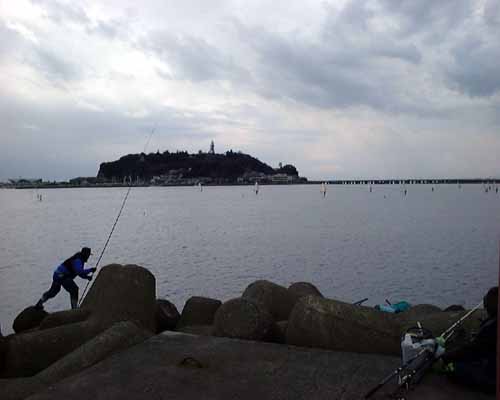 That's me on the same breakwater.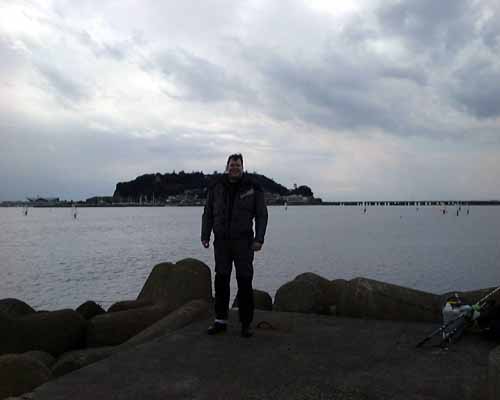 Along the trip, we stopped at "Kamakura", which is a collection of temples built about a thousand years ago set among very pretty gardens and trees and paths. Below is a picture of a Buddhist custom of "Omikuji" where you pay a buck or two and get a "fortune". You can keep this fortune, but if you do not like what it says, you can tie it to this wall (shown below) and the monks will pray for you. You can then return and buy another fortune and hopefully it will be better.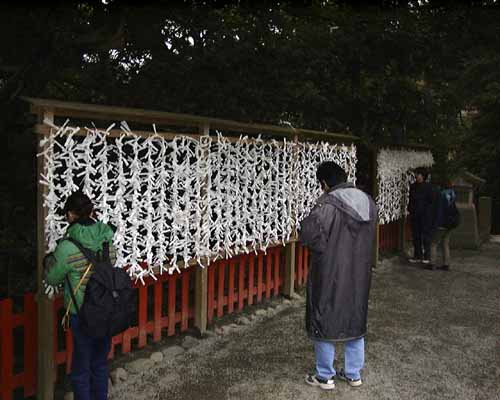 These are kegs of sake, donated to the temple. I'm not exactly sure who drinks all this booze, whether it would be the Gods or the monks or somebody else.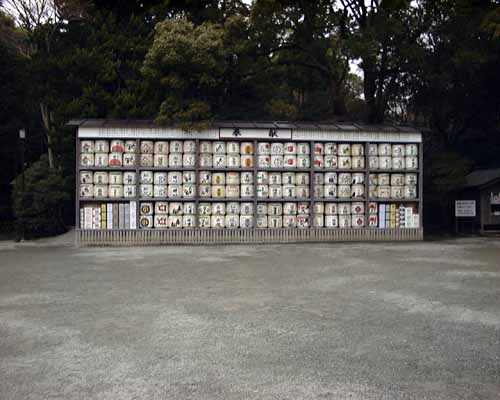 Mayumi in a garden of roses. Each rose bush has a little grass hut built over it to protect it from the snow and cold weather.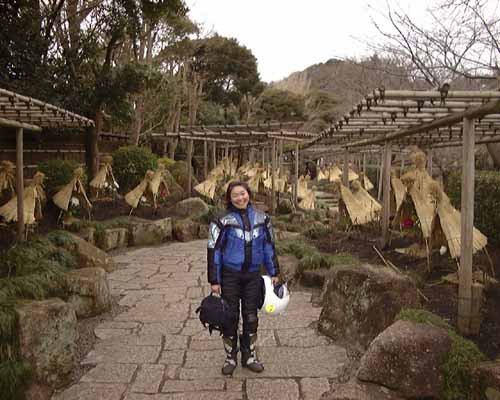 A close up shot of the roses in their grass huts.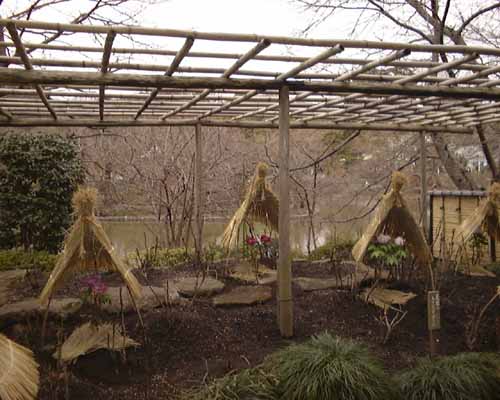 A shot of one temple at the top of the hill, and a really old tree on the left.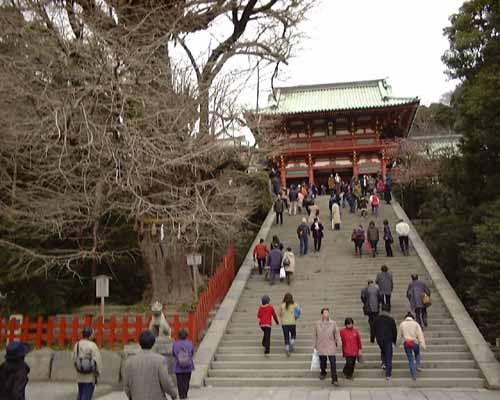 Mayumi took this picture of me at Kamakura.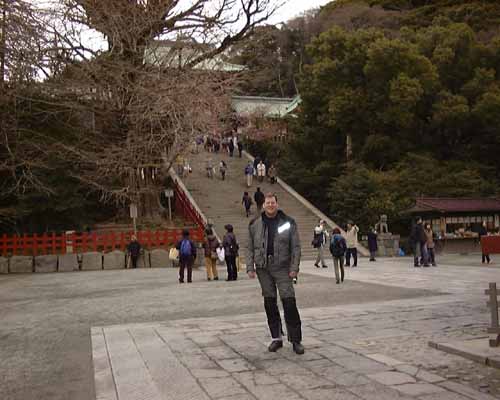 Back in Tokyo, I spent the next day visiting Akihabara. This is a 10 block by 10 block area of Tokyo that is a super concentrated collection of electronics stores. Below is a picture of a "corridor" through the bowels of Akihabara. It is about 5 foot 6 inches tall, so I have to hunch over walking down the hall. On each side are tiny shops PACKED with electronics gear like wire, resistors, op-amps, stuff like that.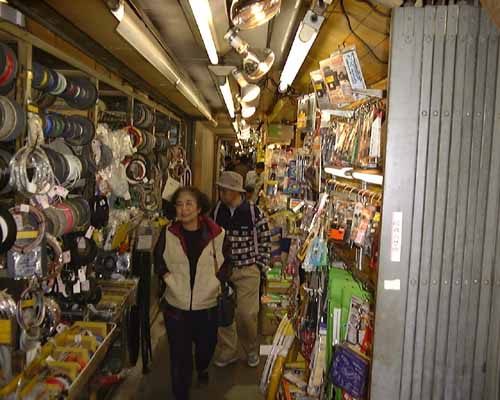 This is a picture of a typical shop. It is about 6 or 8 feet wide, and about 5 feet deep. Then the shop owner walls themselves in with stuff. Seriously, there is NO EXIT for this woman. She has to move the counter top and then crawl under it, and she has very little space to move around. Click on this picture for a larger version.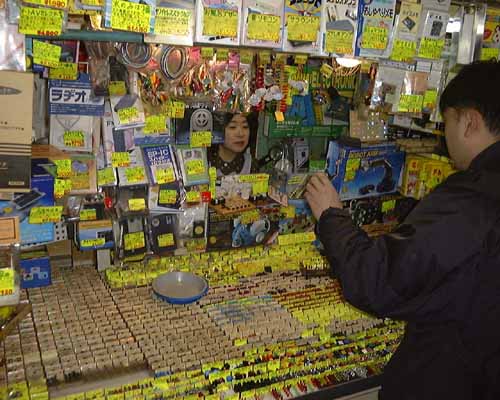 Another shop, selling different stuff. This one has bigger electronic gear like little TVs. The person would be on the left side (you can see the human's peek hole).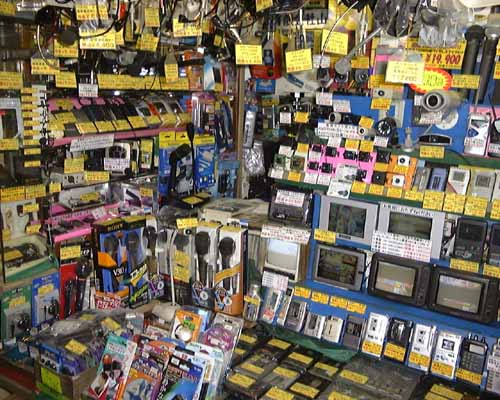 Back out on the street in Akihabara, a store selling cell phones and MP3 players.
The building on the left is 5 or 6 floors tall of electronics. And there are another 10 buildings like this one on this street alone.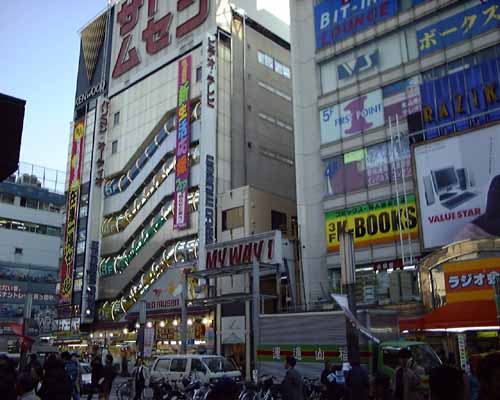 On another day, I visited Asakusa, which is a set of old Temples inside Tokyo. This is a picture of the entrance. The big hanging decoration is a lamp, and there was one under each arch.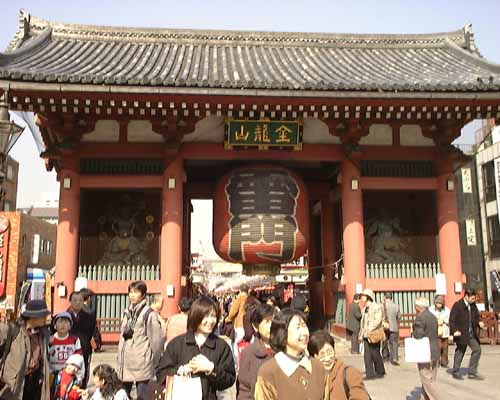 A random picture of Asakusa, the road which has a bunch of tourist shops on it.
This is one of the temples at Asakusa. One thing I noticed was that the decorative "fringe" surrounding those slightly upraised roofs were swastikas. (Below is a close up shot.)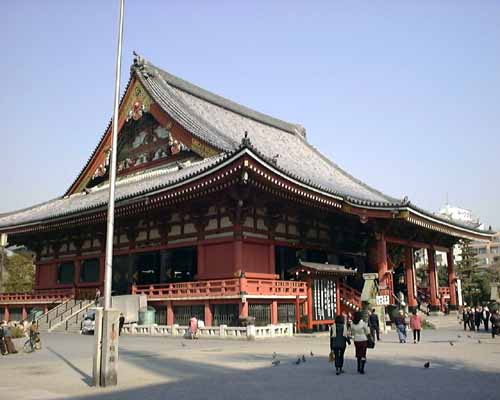 A close up of the corner, with the swastikas. Actually, I'm told these are the REVERSE direction from Nazi swastikas, and it is a Japanese good luck symbol that predates the Nazis by thousands of years.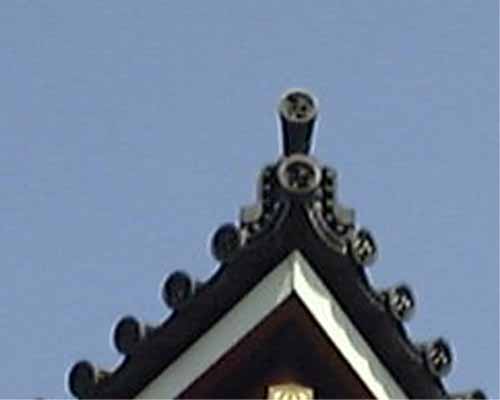 Another shot of a big temple.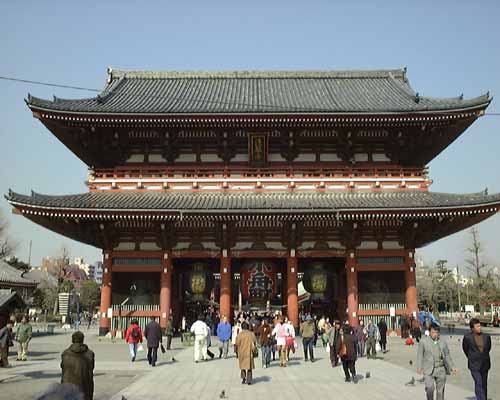 Inside the above temple. If you look at the bottom of this picture, you can see a grating. The people here are praying by first throwing in a few coins through the grating, then clapping their hands together and making a wish.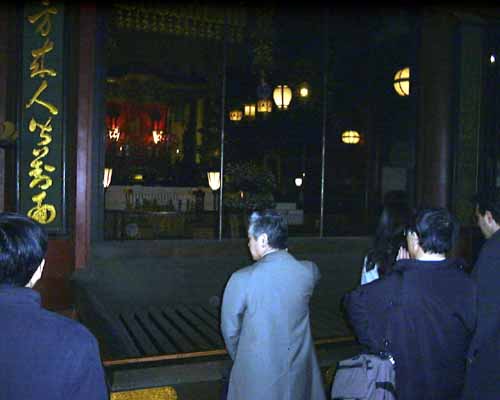 Tall thin temple. Also known as a "Pagoda".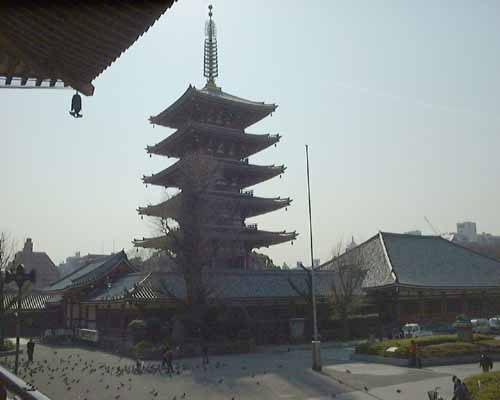 This is a picture of the Harajuku shopping area very near Jason's apartment. This area is famous for the Kogiaru (pronounced kogeeyaaahroo, ko prefix for child, giaru is japanese for girl) which are a group of teenagers in Japan which bleach their hair, wear certain light colors of clothing, and wear SUPER HIGH platform shoes.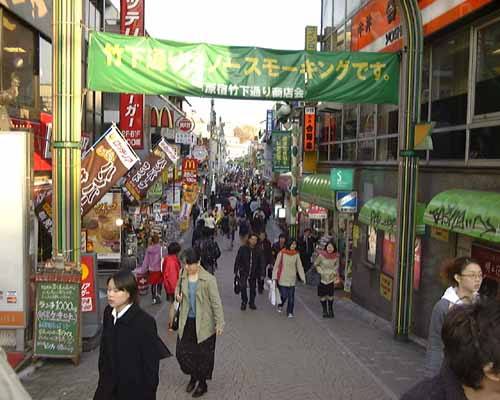 A shoe display in the Harajuku shopping area, selling the super high platform shoes. Check out those heels, those things are like 9 inches high. Walking on these makes women look like they are walking on stilts.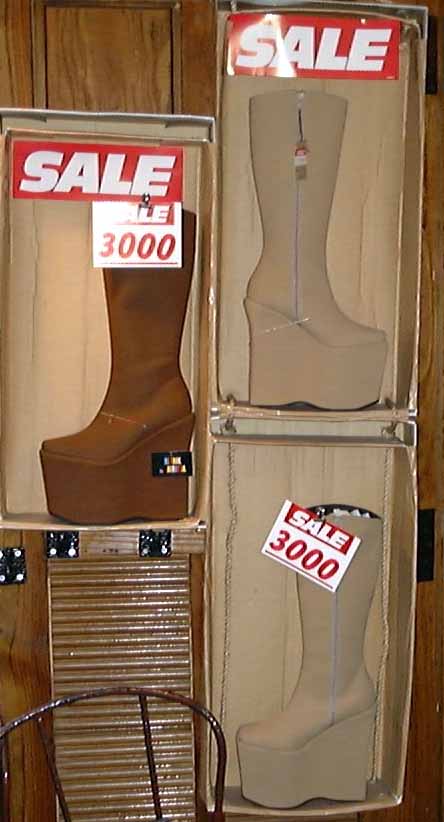 A random woman in the Harajuku shopping area district. Nice shoes huh?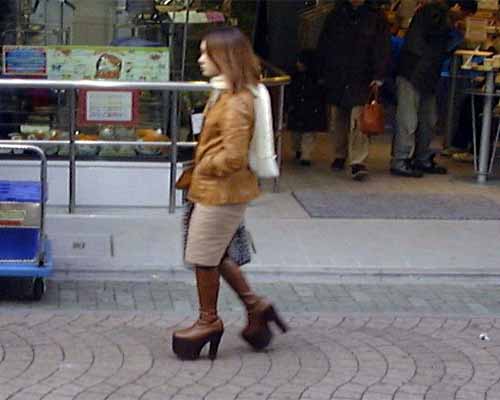 Another shoe display. Notice that even the TENNIS SHOES have 6 inch platforms and 8 inch heels.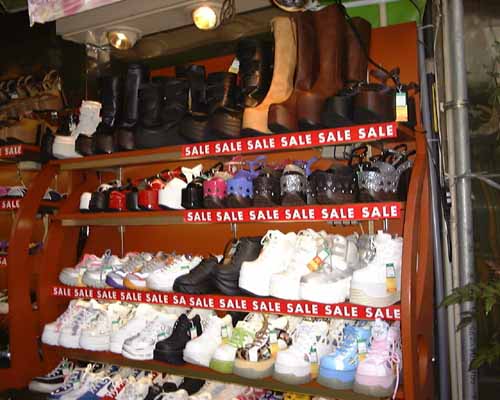 Some of the Koguru kids, wearing the wacky shoes.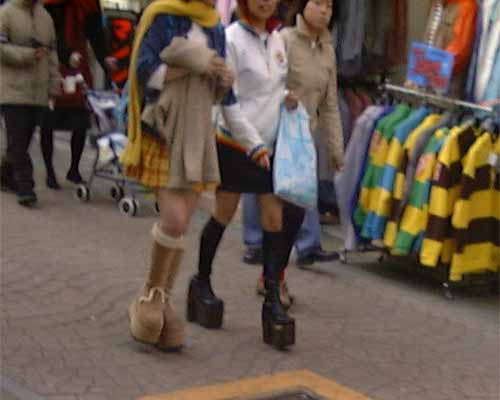 Nice 10 inch heels lady.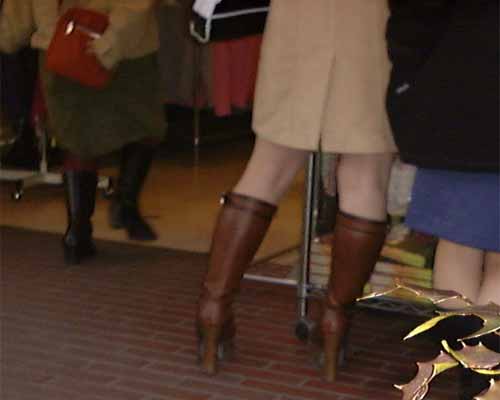 A couple young Koguru, wearing their 5 inch platform tennis shoes with 7 inch heels.