Telluride Tune and Tour Gallery
Click on any picture to get a HUGE (about 200k) version.
March 3rd, 1999.
Some background: Lance and his younger sister Lise (my age) are brother and sister who I have known since I was about 7 years old. They grew up about a block from my house in Corvallis, Oregon. Both have now lived in Telluride, Colorado for over a decade.
Yesterday Lance noticed I had a few gouges in my skis, and made an offer I couldn't refuse: he has a very good friend (Johnny Haas) that owns a ski shop (Easy Rider Mountain Sports on main street next to the Floradora) and lets Lance borrow the equipment from time to time, and Lance offered to show me how to repair and tune up my skis. So I jumped at the chance. Pictures down below...
After we tuned the skis, we decided to give them a whirl. And since the snow coverage was thin, I managed to rock them up about like they were before the repair and tune up. :-) But it was a great day, and here are some pictures:
This is the "Easy Rider Mountain Sports" shop in Telluride, owned by a really good guy Johnny Haas. If you're in Telluride, drop by and check out the store. It's next door to the Floradora on main street, on the corner: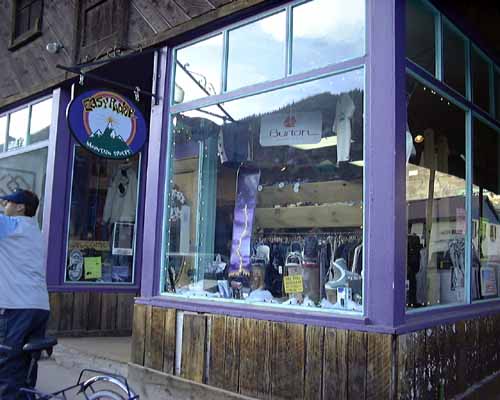 Here's Johnny (the owner) tuning up a snowboard on the belt sander. Notice the different sandpaper belts in the upper right corner of the picture: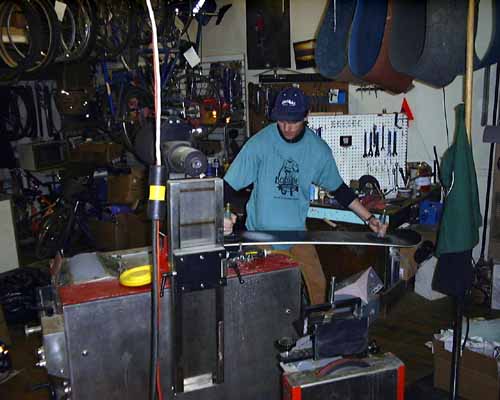 Here is Johnny at work again, different angle: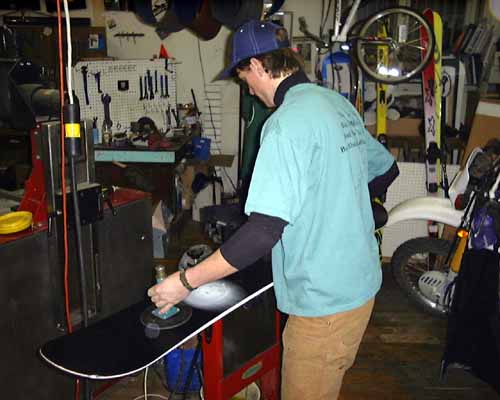 Here is Lance, lighting a p-tex stick to fill in some gouges on his skis and mine: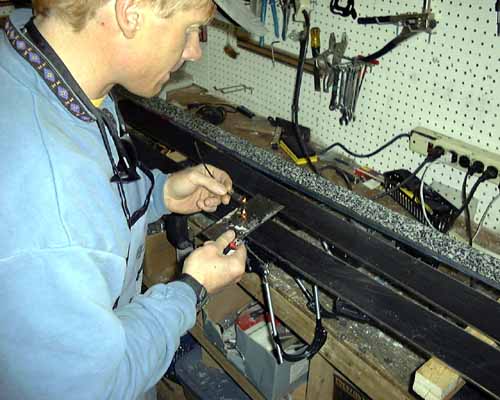 Here is Lance, adjusting the belt sander (the stone grinder is on the other end of the big machine). We are about to run our skis over the belt sander. That's Keith in the background:
After we finished repairing the skis, we stopped off at Lance's workplace (Mountain Film) to pick up Rick, where we met the workplace dog Barra (who belongs to Cameron Brooks):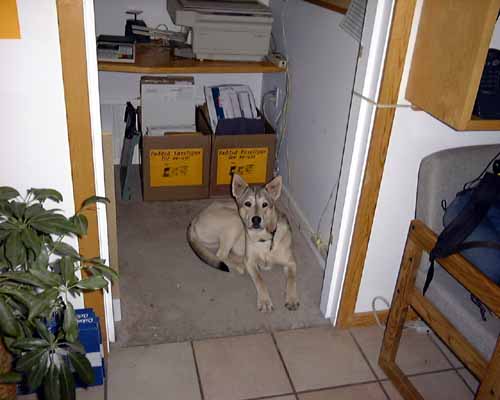 This picture shows (from left to right) Rick Silverman, Lance Waring, and Jim Pettegrew at the top of chair 9 at Giuseppe's restaurant. Rick is the Director of Mountain Film in Telluride, and it's Jim's birthday today. We skied together for the next few hours, and they are are all AMAZING skiers. Fortunately, they are also good guys who were willing to wait for me and tried not to make it look too obvious. :-)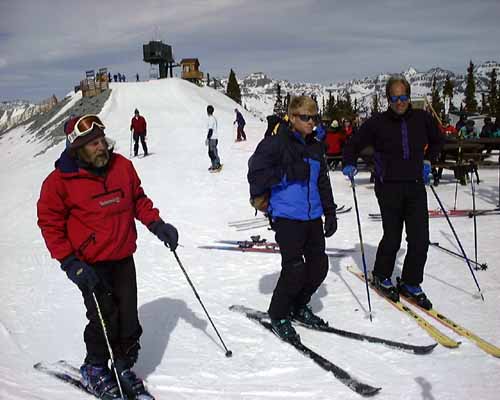 A view from the top of chair 9. Is it any wonder Rick, Lance, and Jim live here?