1980 Suzuki GS1000L vs. 2006 Honda ST1300 ABS
(5/20/06)



(Read a personal description of Backblaze here.)
In 1988, I bought a used 1980 Suzuki GS1000L shaft-drive motorcycle. Here is a picture (although mine is shaft drive and the one below has a chain-drive):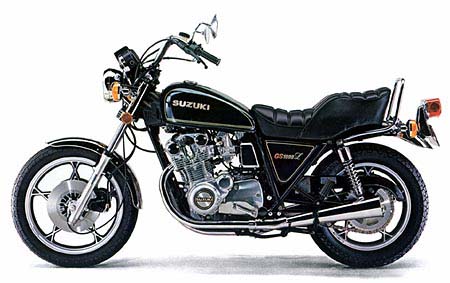 The GS1000L (shaft drive model might have been officially called "GS1000GL"?) was manufactured between 1980 and 1982, and is 551 lbs dry (without any gas in it), 88 horsepower, with an engine which is air-cooled, 997 cc inline-4, DOHC, 8 valves, 4 carburetors. See this good web page about it: GS10000.
In 2006, I bought my second motorcycle, a 2006 Honda ST1300 ABS, which is also shaft-drive. Here is a picture: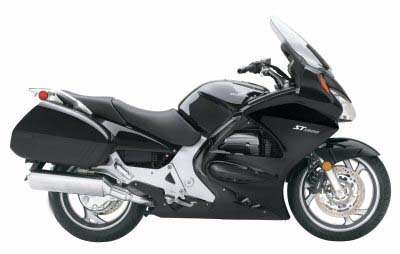 The ST1300 ABS is 659 lbs dry (without any gas in it), 125 horsepower, has an engine that is liquid-cooled, 1261cc longitudinally mounted 90-degree V-4, DOHC, 16 valves, fuel injected. The "ST" stands for "Sport-Touring" which means this bike is made to be somewhat sporty, but supports long touring rides with an upright position and hard saddlebag luggage. The "ABS" means this is the model with Anti-Lock-Brakes (which adds about 12 pounds of weight). So it is about 42 percent more powerful than a bike manufactured 26 years earlier, and 20 percent heavier. Note: I put aftermarket windshield and saddlebags on my GS1000L which would add another few pounds, these come standard on the ST1300.
Below is a picture of my actual 1980 Suzuki GS1000L shaft-drive, right before I sold it. At this point it is 26 years old, and was never parked inside, so a little rusty around the edges. :-)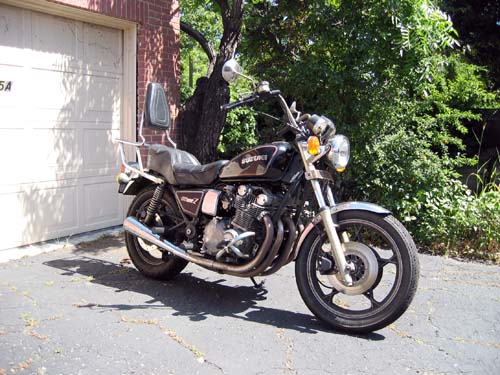 Final shot.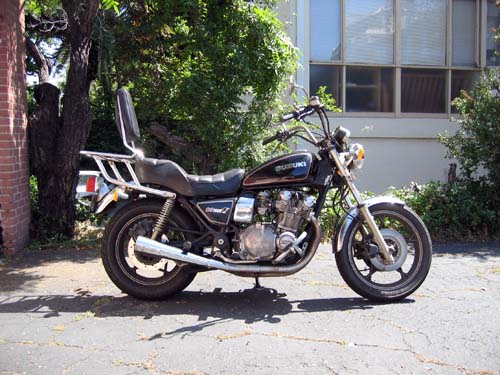 Here is my brand new 2006 Honda ST1300 ABS in the same spot, a week later. Here it is "stock".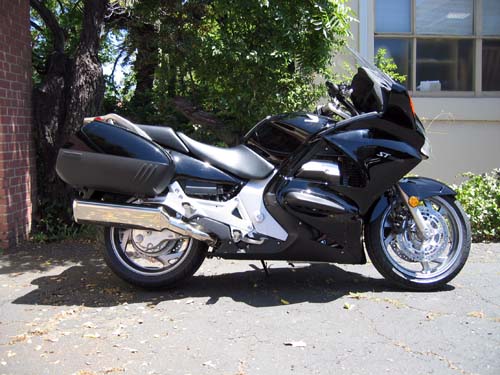 Just a different angle.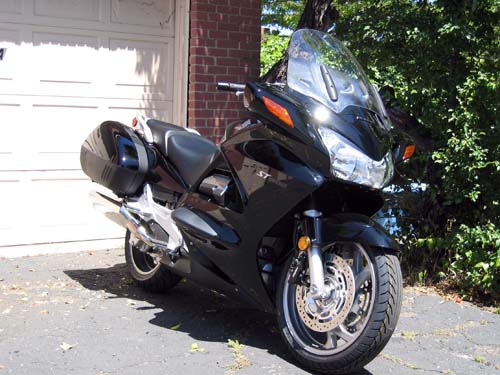 The control panel and dash of the 2006 Honda ST1300 ABS (Click on this photo to zoom into a HUGE version).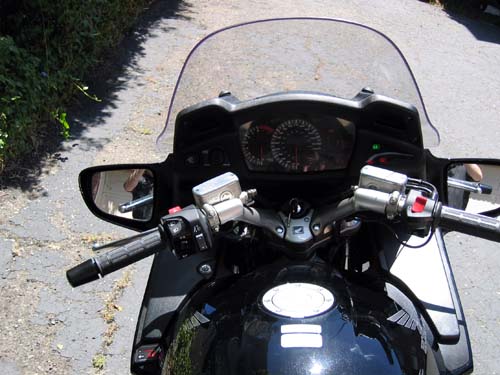 The control panel and dash of the 2006 Honda ST1300 ABS (Click on this photo to zoom into a HUGE version). You can choose from various options to display on the right digital LCD area (stuff like "miles left on this tank" or "instantaneous miles per gallon", etc).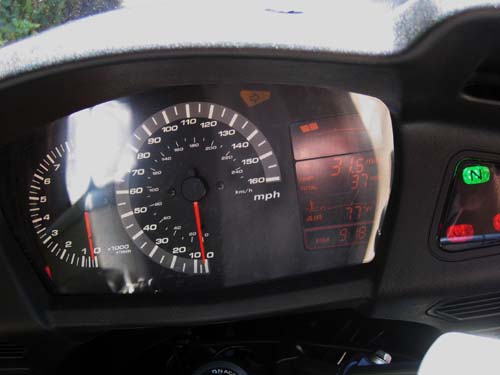 Farkles for the Honda ST1300 (a "farkle" is a techno gadget or extra aftermarket gizmo for a motorcycle) I bought a "ST1300 Stealth Backrest" from http://www.pirateslair.net/ and you can see it mounted in the picture below. It was expensive, but I'm REALLY happy with it, it looks great, blends right into the factory look of the motorcycle, and provides a place to tack on some extra luggage and added comfort for passengers. Installation took about 15 minutes, (which includes 10 extra minutes because I dropped the factory screw the instructions warned me not to drop). :-) The VERY TOUGH metal luggage rack that replaces the factory ST1300 luggage rack I think looks nicer than the original cheap piece of plastic, and then provides the new secure mounts for the backrest. So after installation of the steel luggage rack, you can take off the backrest in in less than a minute.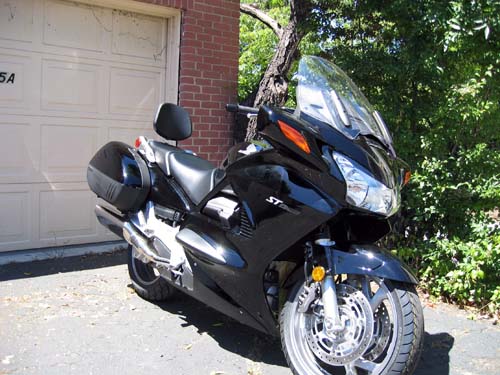 A closer shot of the backrest (click on the photo to zoom in even further).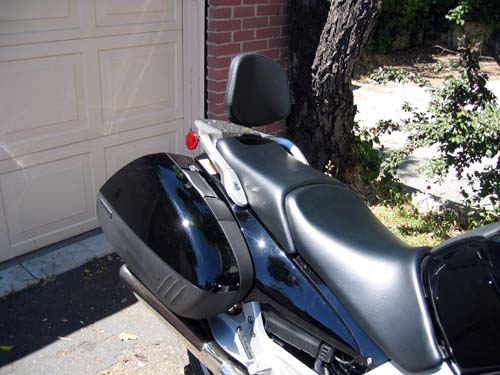 A back shot, you can see the black flat piece on the luggage rack is the steel thing that replaced the factory cheap plastic piece in the same spot.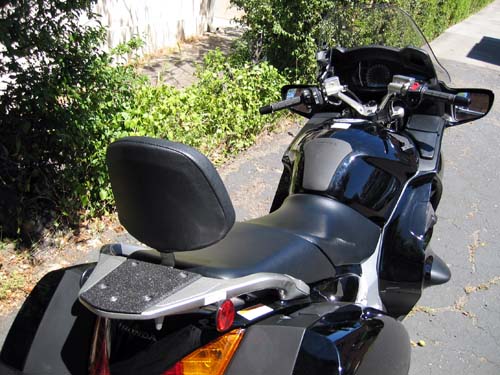 I bought the "Universal Helmet Bag" that goes pretty well with the Stealth Backrest. Here is a picture below (the bag is not filled with anything in this photo).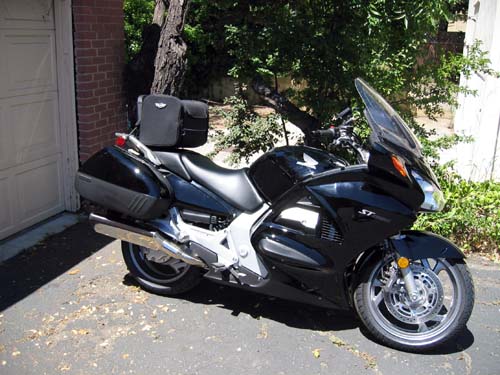 The bag slips over the backrest, then you clip a couple of adjustable straps to make sure it doesn't go anywhere. Seems pretty nice (I haven't ridden with it yet). Update on 8/2/06 -> I just got back from a 10,000 mile trip through Canada with this rig, and I LOVE MY STEALTH BACKREST and T-Bag!! Click 2006 Canada Motorcycle Trip to see 300 photos of my Honda ST1300 with the Stealth Backrest and T-Bag on them. This bag and backrest are rock solid, took a beating, and after 10,000 road miles still look and function just like new. Take seconds to get on and off. I saw plenty of other riders with T-bags on different motorcycles, and there are some other models that are interesting, like the "backpack" that mounts to the motorcycle much like the bag below, but then you can walk around with it mounted over your back like a backpack.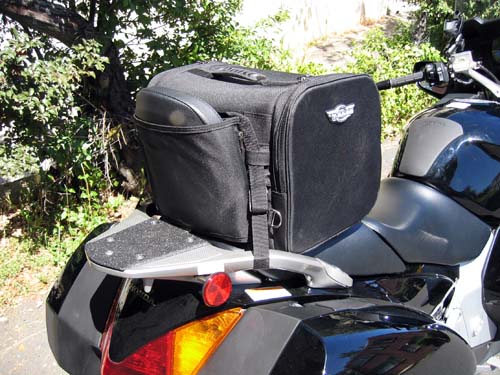 Here it is flipped around BACK of the backrest, which I might do if I was taking a passenger on a longer trip.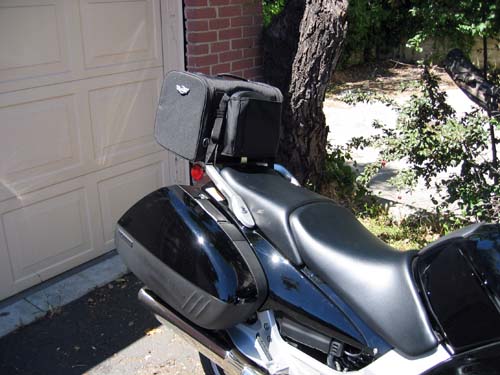 I mounted a Garmin Rino 530 GPS onto my Honda ST1300 using RAM-Mount parts. Below is a picture: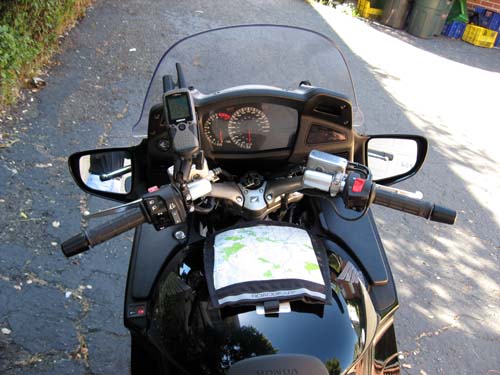 Below is a close up of the GPS mounted to the Honda ST1300 with red letter labels. "A" are two new slightly longer bolts that replace the original stock bolts that were in the exact same location. "B" is the part of the RAM system that is specific to the ST1300 that ends in a nice universal round ball for everything else to mount to. "C" is the extension arm of the RAM mount system that you can put a 3 inch arm, or 6 inch arm, etc. You use the big paddle looking thing to loosen, move the mounts around to a new location, then tighten down (directly to the left of the "C" and just slightly higher than the "C"). "D" is the part of the RAM mount that is specific to the device you are mounting, in this case a Garmin Rino 530 GPS. "E" shows the Rino in place, you can "pop" it out in less than 2 seconds. Why a Rino 530? Well, it is better if the GPS is waterproof on a motorcycle, and sometimes I'm traveling with others that have helmet radios and the Rino is also a FRS/GMRS Radio, and finally it is fairly small and compact and fits in a pocket which is nice when you stop for a coffee break and take the GPS/Radio into the cafe with you so it doesn't get stolen.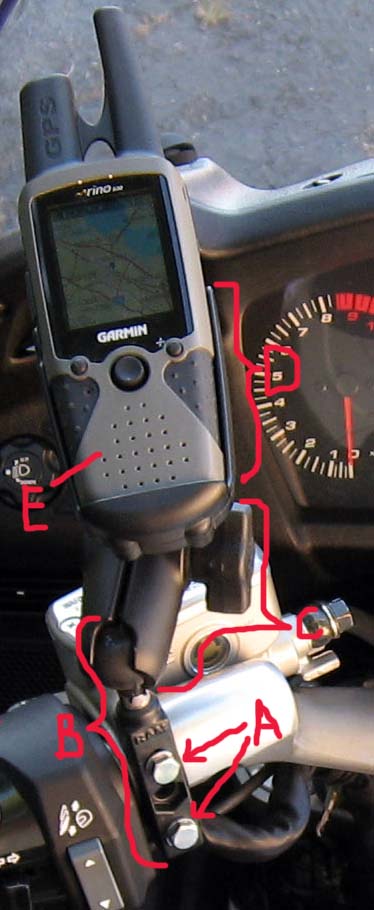 Additional note on 8/2/06: If you mount the GPS the same way I did, *USE A TETHER*. After 3,500 miles of working flawlessly in the "snap in cradle", I hit a medium size pothole at the right frequency, and the GPS popped right out of it's holder and bounced across the road at 70mph. You can see pictures of the end result on this page: ../2006_canada_motorcycle_trip/index_07_14_thru_07_17.html (You will need to search for "GPS" on that page.) Or see this annotated photo below. The GPS still worked at first, but in the first big rainstorm after this accident it went off and could never accept a charge or work properly again (I assume it had a crack and water leaked in and killed it). There is a place on the back of the GPS for a tether strap, if I had just thrown the loop over the back of the RAM mount it would have saved the GPS.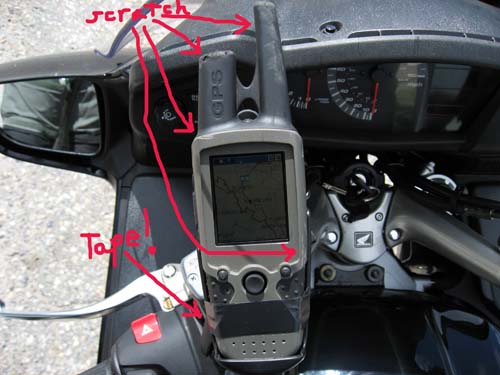 I came out of the Moss Beach Distillery in Half Moon Bay and found this shiny black Hummer 2 parked next to my shiny black Honda ST1300, and could see a HECK of a reflection in the side so I took this photo.
Standing back from a different angle so you can see less reflection and more ocean behind the two black vehicles.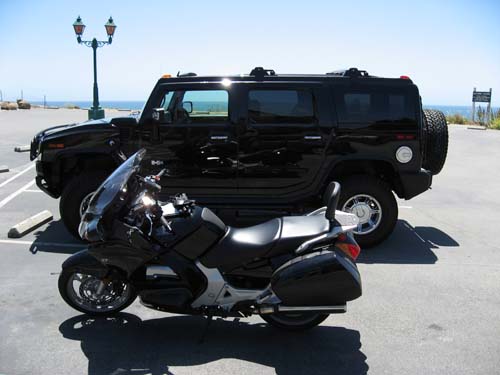 (Read a personal description of Backblaze here.)